PRACTICE
Practice one - Friday am
The session started with every team eager to evaluate the various performance tweaks and aerodynamic upgrades that have rolled off the production line over the three weeks since the Malaysian Grand Prix. Unfortunately, overnight rain ensured that it was a slow start to the session and after around half an hour only nine drivers had posted serious lap times as the track dried up.
Mark Webber was fastest when the rain returned and forced the disappointed teams to switch back to intermediate rubber. It wasn't until the final 10 minutes that conditions were dry enough for slicks, and even then the track was far from perfect for the untreaded rubber, leading to a flurry of drivers posting their best times late on.
Lewis Hamilton led an inconclusive session © LAT
During that frenzied few minutes, McLaren driver Lewis Hamilton, running McLaren's tweaked front and rear wing and new floor, posted a fastest time a massive one second faster than second-placed Nico Rosberg's Mercedes, as all of the top 16 drivers improved their times during that phase.
Sauber drivers Sergio Perez and Kamui Kobayashi were two of the biggest movers late one, climbing to fourth and fifth to end the session ahead of Mark Webber and Sebastian Vettel, the Red Bull Racing duo respectively running the latest and old-specification exhaust configurations.
Two drivers made their race weekend debuts as third drivers in the session. At Force India, Jules Bianchi took over from Paul di Resta, while Giedo van der Garde was in action in place of Vitaly Petrov at Caterham.
Practice 2 - Friday pm
After a disappointing lack of meaningful running in the morning, the day's second 90-minute session was always going to be a busy one and the vast majority of drivers launched straight into their programmes when the pitlane opened.
Hamilton picked up where he left off in the morning, setting fastest time during the first of two six-lap runs on medium tyres. With the field universally opting for the medium rubber for their first runs, the faster times, as usual, came later in the session when teams bolted on the single set of option rubber that is usually run on Friday.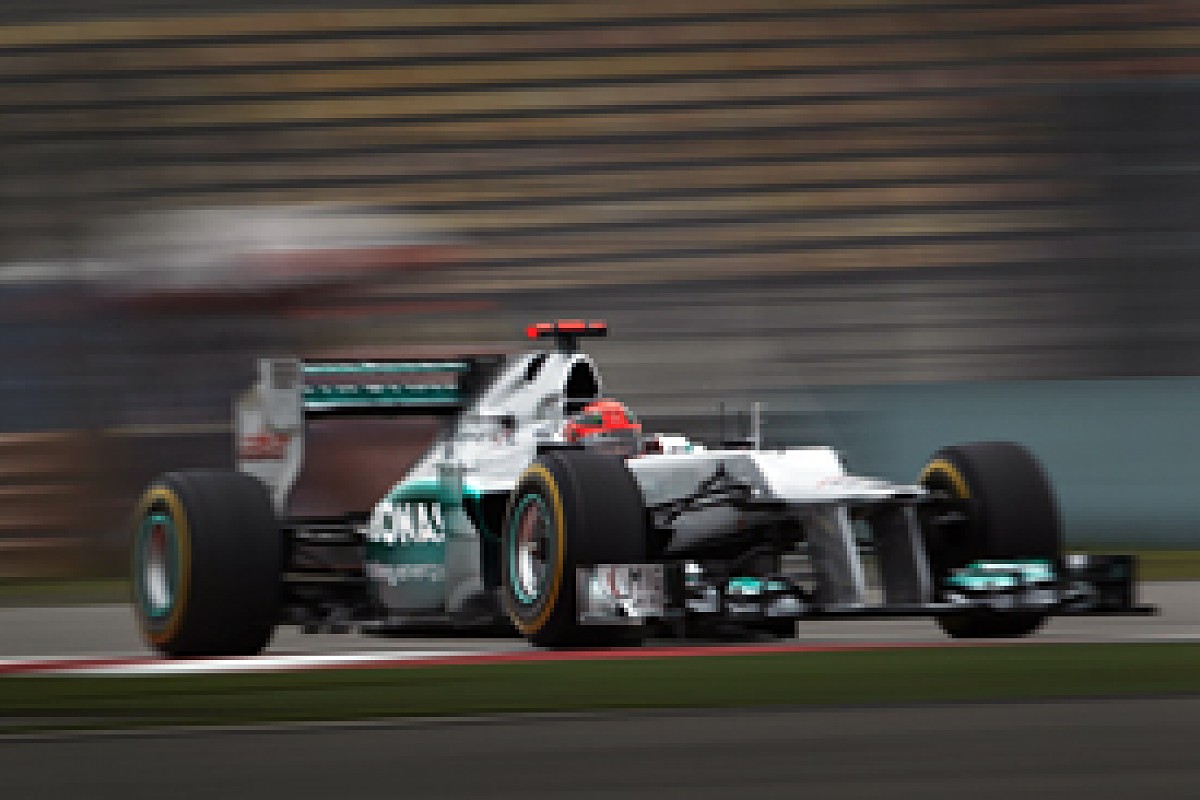 Michael Schumacher ended Friday on top © LAT
Red Bull Racing's Vettel was the first frontrunner to go with the soft rubber, improving on his time by a total of six tenths of a second, but taking several laps to get the best out of the tyres. Team-mate Mark Webber did a similar thing, but both Hamilton and Mercedes driver Michael Schumacher proved capable of nailing a lap on their first flier.
At first, Schumacher held the edge, but Hamilton looked to have the pace to knock him off top spot after setting the best times in both sectors one and two. He lost that time in the final sector, allowing the German to end up on top, but it was an ominous indicator of the pace of McLaren.
Timo Glock became the first driver to crash during the Chinese Grand Prix weekend after losing his front wing under braking for Turn 1 and rattling through the gravel trap. After initially reporting a pain in his hands, he was later cleared of any injury.
Practice 3 - Saturday am
Despite the five-place grid penalty hanging over him, Hamilton demonstrated that he would be challenging for top spot in qualifying by beating McLaren team-mate Jenson Button to the top of the timesheets.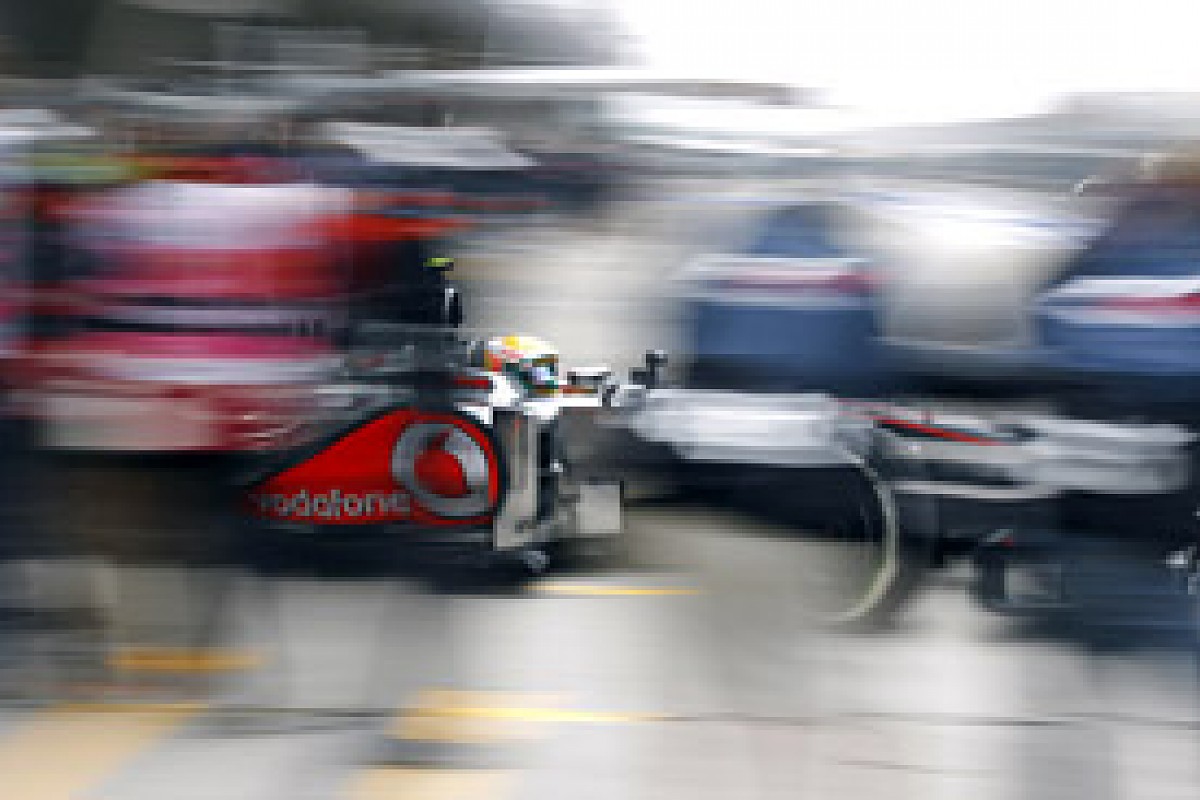 McLaren's one-lap pace still looked good © LAT
As usual, it was the proverbial game of two halves, with the first part of it dedicated to longer runs on medium compound rubber as teams evaluated overnight changes and the influence of a big increase in track temperature from Friday to Saturday.
Red Bull Racing's Webber was the fastest man on the timesheets during the long-run phase, but once the qualifying simulations started it was, as expected, McLaren versus Mercedes.
Schumacher and Rosberg were the first frontrunners to switch to softs and it was the latter who headed his team-mate by just over one tenth. But in the final minutes of the session, both Hamilton and Button eclipsed them.
Red Bull Racing didn't complete a serious qualifying simulation, although the indications were that even had it done, the RB8 didn't have Mercedes or McLaren-troubling pace.
In total, the top 18 were covered by less than two seconds, with struggling Ferrari man Felipe Massa at the bottom of that group.
QUALIFYING
1 NICO ROSBERG
"It's a great feeling, getting a good lap in, and it shows that as a team we are moving forward. In qualifying we are very strong but in the race we are not there yet. But we are getting there. It was a good lap and saving a set of tyres for the race was good."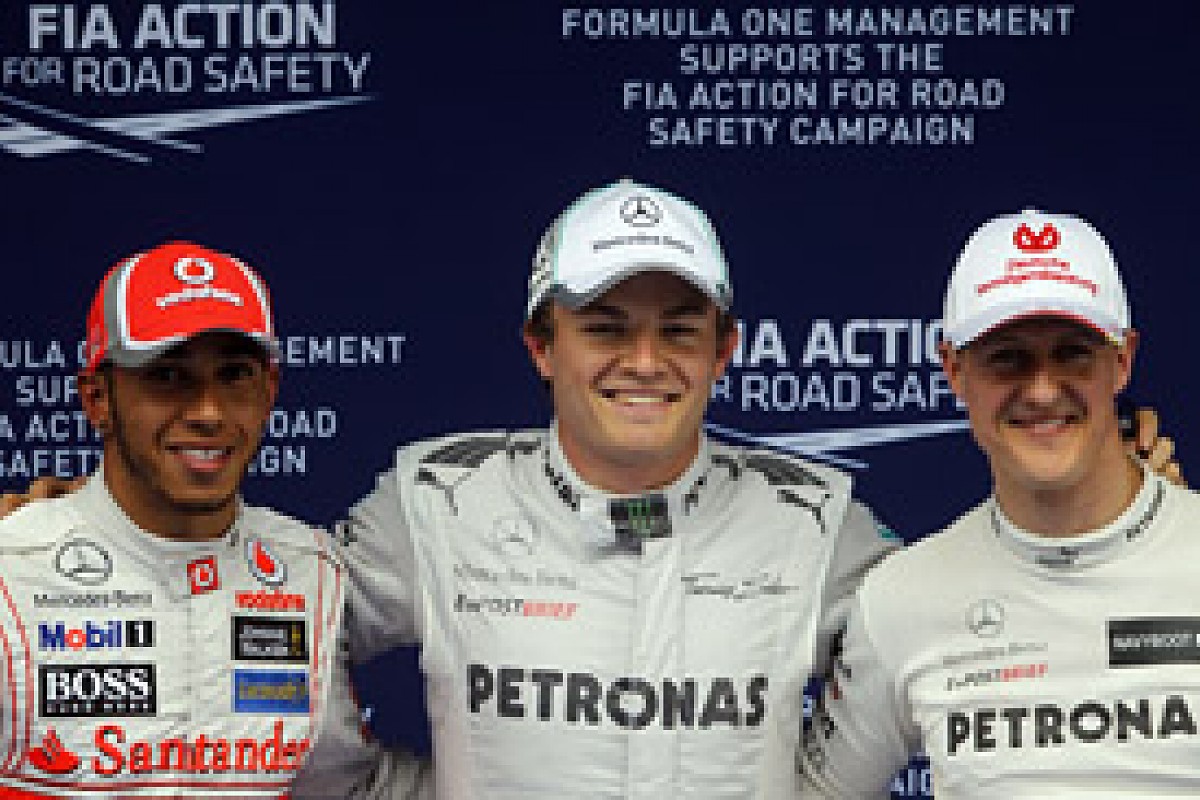 With a penalty hanging over Hamilton, it would be an all-Mercedes front row © LAT
2 MICHAEL SCHUMACHER
"To achieve this with all the effort Mercedes has put in is great. It is a first front row for Silver Arrows for I don't know how many years. I didn't think we would fight for pole position, but seeing what Nico could do was a big surprise for all of us."
3 KAMUI KOBAYASHI
"I am very happy. The team did a great job. For quite a while we have kept saying we need to improve our qualifying performance and I think this was a clear improvement today. This grid position means a lot for my chances. But the target remains to score as many points as you can."
4 KIMI RAIKKONEN
"Qualifying was not too bad. I am a bit disappointed with the gap to the front and I think we were stronger in the last race than we were here. The car couldn't go much faster. We tried, but we couldn't."
5 JENSON BUTTON
"It wasn't a good day. This morning the car felt great but this afternoon with decreasing temperatures I really struggled. Q3 was the biggest issue for me. It was getting cooler throughout the session and we went out too late because the quick times were set at the start of the session."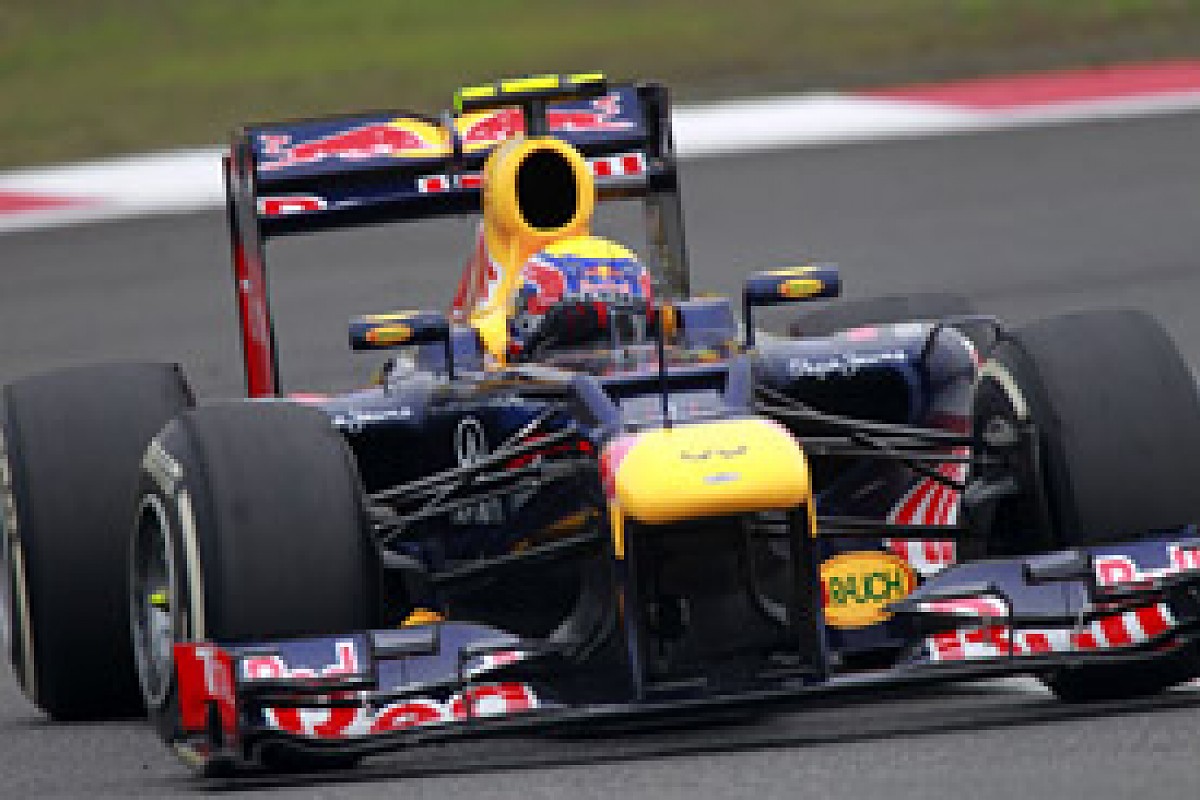 Webber was quickest Red Bull on a tough day for the champion team © LAT
6 MARK WEBBER
"The conditions were tricky. We saw a lot of fluctuations in lap-time from session to session and compound to compound. I was surprise what big chunks of time people found on options. We only had one set of tyres left for Q3 and the lap didn't come together. We could have had seven sets of options and we wouldn't have been on the front row."
7 LEWIS HAMILTON
"It wasn't such a bad lap. I probably could have gone another tenth quicker but it wasn't enough to close the gap to Nico. We are in a good position. We made some set-up changes but the car feels good on long runs. I have a lot of work ahead of me. Moving forward is what I am aiming for."
8 SERGIO PEREZ
"It is a good qualifying result. Personally, I must admit I even hoped for more than P8. After the previous runs had been very promising, on the final lap in Q3, when I was on a fresh set of soft tyres I suddenly had understeer. I don't know where this came from."
9 FERNANDO ALONSO
"We knew this would be a difficult qualifying and that's how it turned out. We managed to get into Q3 ahead of Vettel. Then, from Q2 to Q3, the wind changed direction and that was penalising. This position corresponds more or less to our current potential."
10 ROMAIN GROSJEAN
"The lap time in Q2 was very good but unfortunately I didn't have any new tyres for Q3. I had a lack of running from yesterday and it's not so easy a track to get to the maximum. It's never been so tight to get to Q3."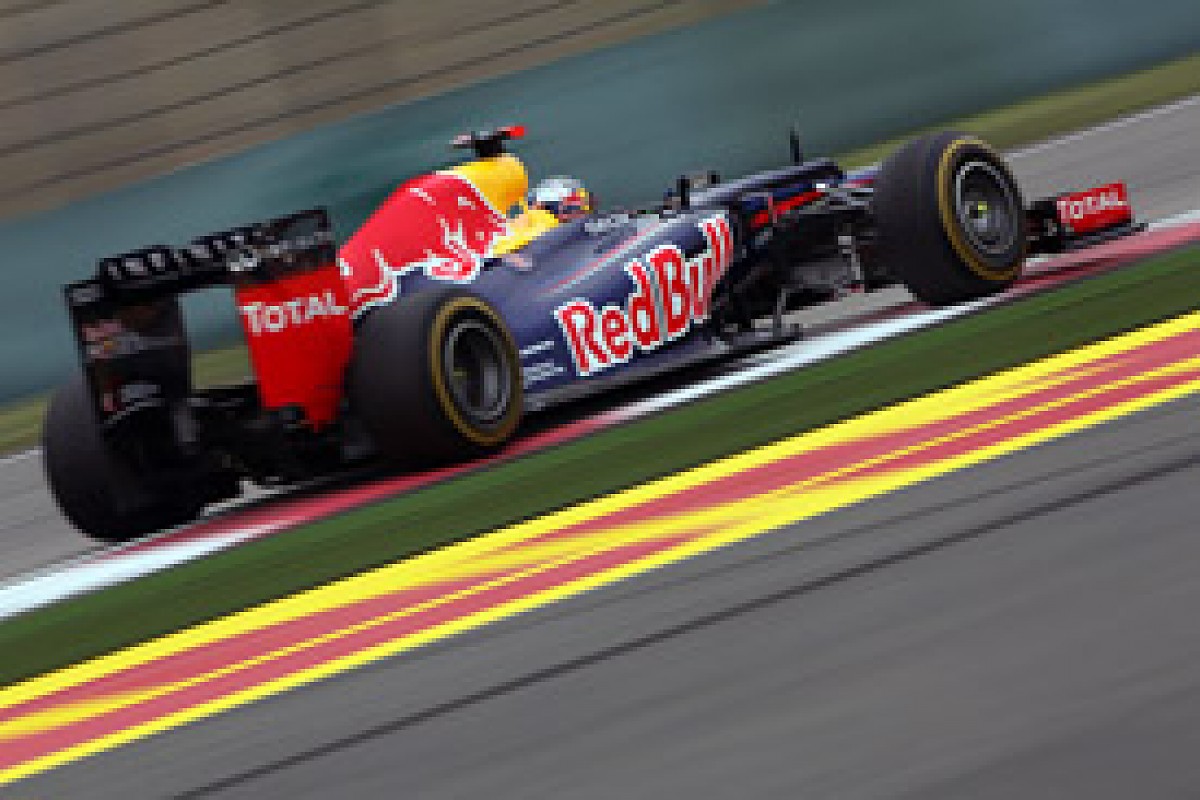 Vettel didn't just fail to make it four straight Shanghai poles, he couldn't even crack Q3 © LAT
11 SEBASTIAN VETTEL
"I was pretty happy with the car in qualifying. We made a step forward with the car compared to the morning when I had quite a lot of oversteer. Doing the same laptime three times in qualifying showed that this was more or less it so there wasn't a tenth on the table."
12 FELIPE MASSA
"I am unhappy not to have made it through to Q3 but, on the other hand, I have to be pleased with my position if I consider where we were this morning. In the afternoon, the car had much more grip and I managed to be more competitive, but I couldn't say exactly why."
13 PASTOR MALDONADO
"We knew it would be difficult to get into the top 10 today but we were very close. I feel that our car will be stronger in the race so I'm looking forward to tomorrow. We are in a good position to fight for points."
14 BRUNO SENNA
"We got the car into the right window too late today. We didn't get a good run in P3 and had to do it all in qualifying, which is never ideal. But it went well and I was a few thousandths off my team-mate, so that's good news."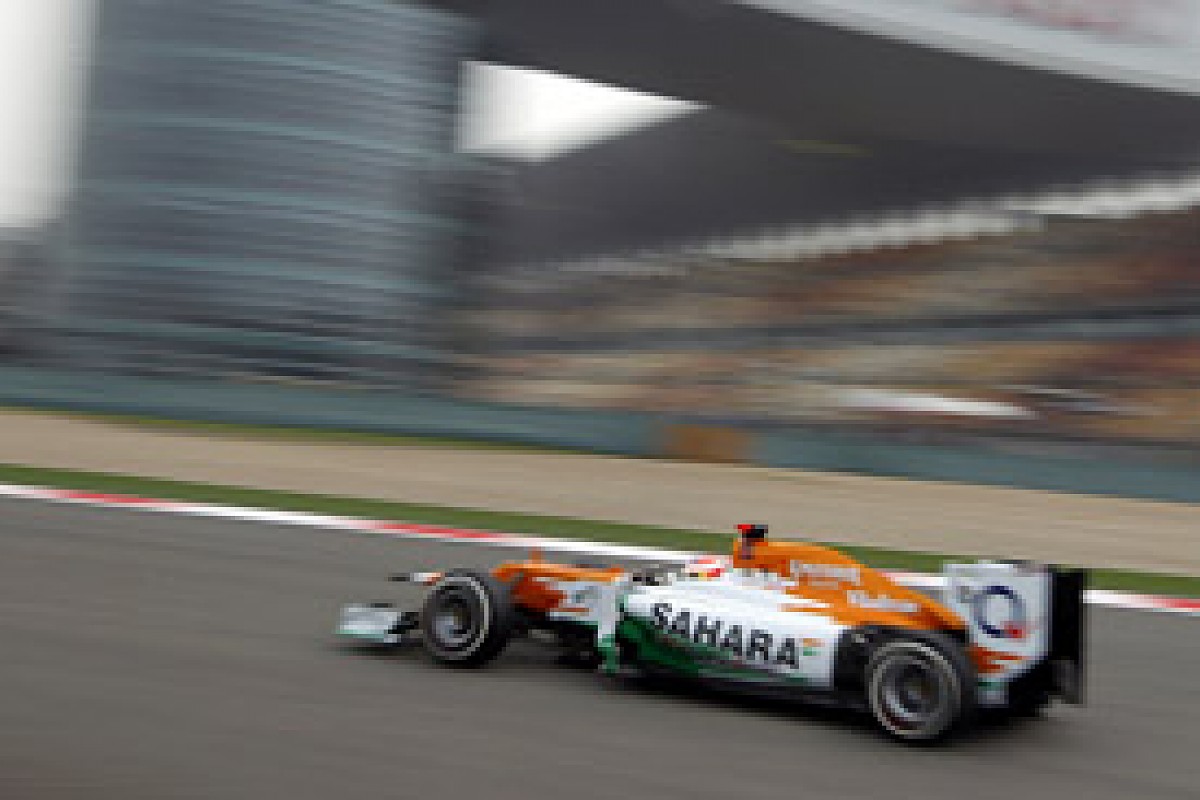 di Resta lined up on an all-Force India row eight Qually © LAT
15 PAUL DI RESTA
"It was a very close qualifying session, especially Q2 where finding a few tenths could have gained us another five places on the grid. My Q2 lap was good and I think I got the maximum from the car, but it only puts me P15."
16 NICO HULKENBERG
"It was quite a tough qualifying session for us, but I think the conditions had changed since free practice and I didn't feel as comfortable with the car. My final lap in Q2 was a little compromised by some traffic coming out of the pits, but I guess P16 reflects the pace we have."
17 DANIEL RICCIARDO
"I had expected to do better today. I drove as hard as I could but that did not produce a good enough laptime. With the package we had, I don't think I could hve got much more out of it."
18 JEAN-ERIC VERGNE
"I am not feeling good after that. I'm not really sure what happened this afternoon, but we lacked speed. My lap was not exceptional, nor was it bad, so we have to understand why it was so slow."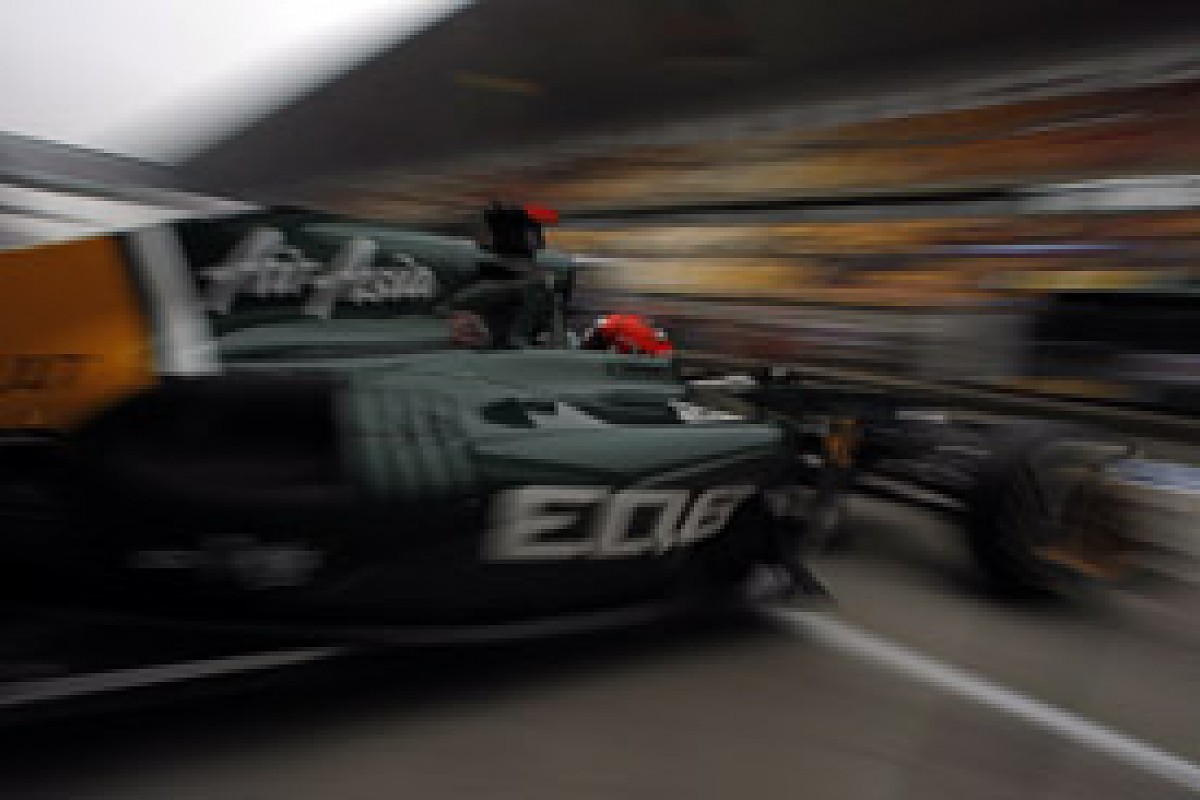 Kovalainen took his regular spot © LAT
19 HEIKKI KOVALAINEN
"It was pretty much what I expected from qualifying. Apart from a little mistake at the last corner, everything went quite well. The balance was okay, the tyres were working okay so all weekend it has been working reasonably well."
20 VITALY PETROV
"I've had a couple of issues with finding the right balance, but on the second run in Q1 I had a pretty good lap and I think it all came together to put that time in. We know from the first two races we can fight on Sundays and we've looked relatively easy on the tyres."
21 TIMO GLOCK
"This morning, I picked up massive understeer that we couldn't get rid of in FP3. So we had to make some changes for qualifying and I lost a bit of confidence in the car. I had to get used to it again during qualifying but at least we made the right improvements."
22 CHARLES PIC
"I'm a little disappointed that I wasn't able to put my best sectors together today, but I think we can be happy with the progress we have made with the car this weekend."
23 PEDRO DE LA ROSA
"In this qualifying session we've made various changes to the set-up and the car responded well and, even though this morning there was no way of making the car turn well, in the afternoon, once I got in I felt the car was better."
24 NARAIN KARTHIKEYAN
"I got blocked on my first lap and didn't clock a good time on the first set of tyres. On the second set I made a flatspot, so that's the reason I didn't do so well, but nevertheless we're comfortably inside the 107 per cent and that's important."
GRID
Pos  Driver              Team/Car
 1.  Nico Rosberg        Mercedes
 2.  Michael Schumacher  Mercedes
 3.  Kamui Kobayashi     Sauber-Ferrari
 4.  Kimi Raikkonen      Lotus-Renault
 5.  Jenson Button       McLaren-Mercedes
 6.  Mark Webber         Red Bull-Renault
 7.  Lewis Hamilton      McLaren-Mercedes*
 8.  Sergio Perez        Sauber-Ferrari
 9.  Fernando Alonso     Ferrari
10.  Romain Grosjean     Lotus-Renault
11.  Sebastian Vettel    Red Bull-Renault
12.  Felipe Massa        Ferrari
13.  Pastor Maldonado    Williams-Renault
14.  Bruno Senna         Williams-Renault
15.  Paul di Resta       Force India-Mercedes
16.  Nico Hulkenberg     Force India-Mercedes
17.  Daniel Ricciardo    Toro Rosso-Ferrari
18.  Jean-Eric Vergne    Toro Rosso-Ferrari
19.  Heikki Kovalainen   Caterham-Renault
20.  Vitaly Petrov       Caterham-Renault
21.  Timo Glock          Marussia-Cosworth
22.  Charles Pic         Marussia-Cosworth
23.  Pedro de la Rosa    HRT-Cosworth
24.  Narain Karthikeyan  HRT-Cosworth

* Five-place penalty for gearbox change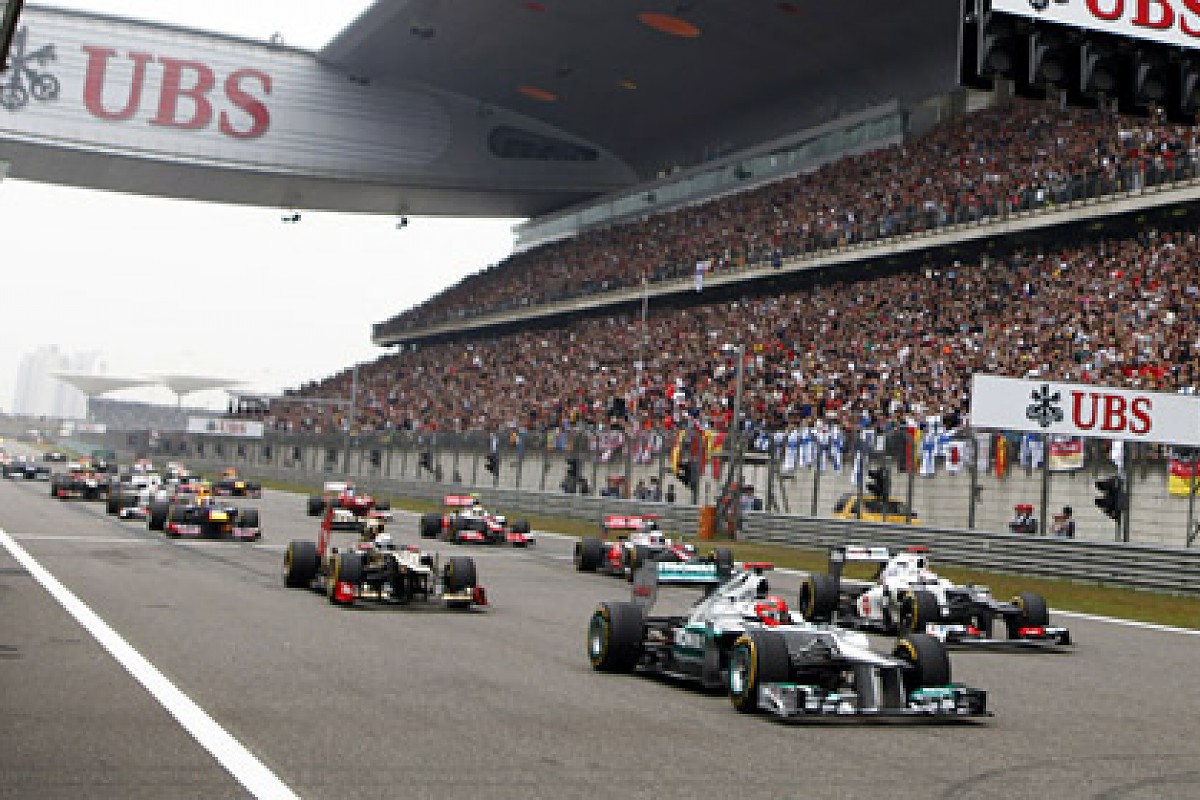 RACE
It's rare indeed that the chasing pack heads into a grand prix so confident that the cars starting first and second on the grid will go backwards in the race. As Nico Rosberg and Michael Schumacher rolled onto their grid slots, the suspicion was that the Mercedes F1 W03 wouldn't have the race pace to stay there thanks to tyre degradation problems.
After qualifying, McLaren driver Jenson Button had said that he fully expected the Mercs to go backwards and even team principal Ross Brawn confession that "we still had this fear with the tyres" as he celebrated the first Silver Arrows Formula 1 victory since the 1955 Italian Grand Prix. Barring a disastrous pitstop blunder that forced Schumacher to retire and cost a shot at a one-two finish, it was the perfect day for the three-pointed star.
For Button, Brawn and the rest of them the race was a story of the slow realisation that, yes, Merc did have the machinery to pull it off. Rosberg, starting from pole position for the first time in 111 attempts, made so good a start that even though he left his team-mate standing, Schumacher had little trouble holding a distant second heading into the first corner.
In the laps that followed, Rosberg took a vice-like grip on the race. At the end of the opening tour, he headed Schumacher by seven tenths of a second and continued to consolidate his lead, extending it to over 10 seconds after 10 laps.
Despite not being able to match his team-mate's pace, Schumacher held on to second and had little trouble keeping the pack behind him. The leading participants in that squabble for third - the McLarens of Jenson Button and Lewis Hamilton in particular - still reckoned that they were battling for a likely victory. What they were actually participating in was the early stages of a frenzied scrap in which many of those who fancied their chances of defeating Rosberg would spend most of the race tripping over each other and slowing each other down. Button led the group early on ahead of Raikkonen, Hamilton and Sauber pairing Sergio Perez and Kamui Kobayashi.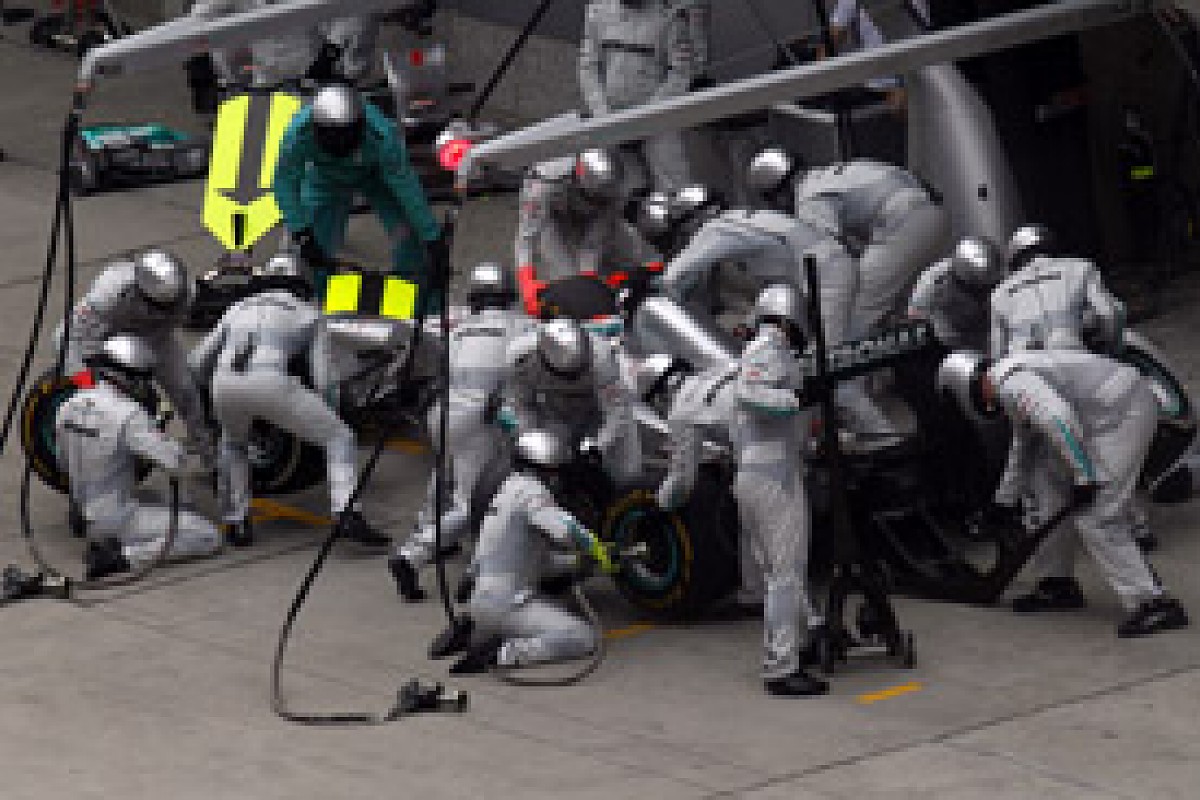 Schumacher's race didn't last long © LAT
The first realisation of the strength of the Mercs came as the pitstops began, with Red Bull Racing's Mark Webber the first to dive into the pits at the end of the sixth lap. One by one, the group headed for the pits and by the time that the first Mercedes, that of Schumacher, headed in on lap 12, both Red Bulls, both McLarens and Kobayashi's Sauber had already stopped. When Rosberg pitted a lap later, emerging with a 3.5-second lead over Button and with only Perez and Fernando Alonso having yet to stop, it was clear that his was not a race he would simply be giving away. It was going to be up to someone else to win it.
But at the same time, the German marque's hopes suffered a setback. Schumacher had rejoined the race behind Button, but the failure to tighten his right-front wheel before he was released from his pitstop meant that he would only last a few more corners before having to pull off. One Mercedes down, one to go. Without Schumacher to worry about behind him, it was starting to become clear that Button was the man best-placed to attack Rosberg.
While Button remained on soft Pirellis for his second stint, Rosberg had opted for the medium compound. The McLaren driver had pitted two laps earlier than Rosberg and the gap settled to between four and five seconds, with Button crossing the line 4.392s behind Rosberg at the end of lap 23. At the end of the next lap, he was in again for mediums and it soon became emphatically clear that the race was boiling down to whether Button, on a three-stopper, would have the pace to catch and pass the Mercedes during the final stint.
Button did a good job of dealing with traffic and by the time Rosberg came in for his second stop, for a second set of mediums, the McLaren man was a little over 12 seconds behind and right in the game. Inevitably, Rosberg used his fresh rubber to close the gap from a peak of 9.5s to around seven seconds, when Button dived into the pits for his final set of mediums a few laps later. Needing a quick turnaround, Button sat in his pit box for an agonising nine seconds as a problem with locating the wheelnut on the left-rear held him up. He rejoined down in fifth, 20 seconds behind Rosberg. But it was worse than that, he had also slipped behind Raikkonen and Vettel (as well as second-placed Felipe Massa, whose position was an illusion as he had yet to stop). Now mired in traffic, any hopes of victory were over.
All of this mean that Rosberg was home free. On a two-stopper and with degradation not a problem, he reeled off the remaining laps without any difficultly and even though he was taking it relatively easy, he still crossed the line 20 seconds clear of the rest.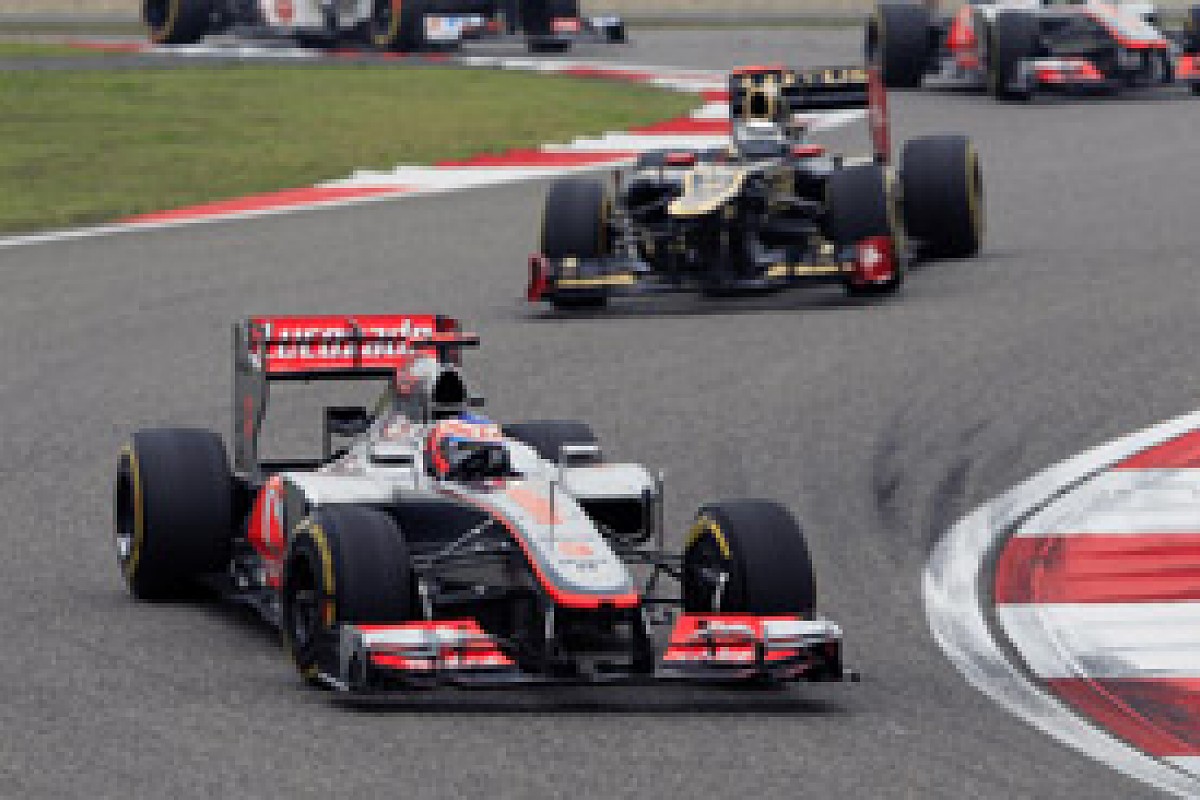 Button was Rosberg's main rival © LAT
"It has been the perfect weekend," said Rosberg after celebrating his maiden victory. "It was a great race and impressive to see how we have progressed so quickly. We had struggled in the first two races, made some changes and it has all come good. It is never easy, especially taking care of tyres. That was a big difficult and a big challenge today. There was a lot of tyre wear but it worked out well."
The bottom line is that, while Button's pitstop problem meant that he was not under serious pressure in the closing stages, Rosberg hadn't put a foot wrong. Even if Button's pitstop had gone swimmingly and he'd put on a charge, the Mercedes would still have been well-placed to pull off the win, even if the gap would have been far smaller. As it was, in clear air up front, Rosberg was blissfully unaware of the enormous scrap going on behind him for second place.
After Button's final stop, Raikkonen had the advantage in an astonishingly tight pack, with 11th placed Perez within seven seconds of the Finn. As of the end of lap 43, when the pitstops had shaken out, Vettel held third ahead of Button, Romain Grosjean, Mark Webber, Bruno Senna, Hamilton, Pastor Maldonado, Fernando Alonso and Perez. Any one them was still within striking distance of the podium, but it would boil down to a scrap between the Red Bull and McLaren drivers.
Two-stopping Raikkonen was the first to drop out of the equation. Having pitted for his final set of mediums on lap 28th, he was always in the firing line to hit tyre trouble. At the start of the 48th lap, he was still second, but at that point, his Pirelli rubber fell off a cliff. Vettel, whose tyres were four laps younger, attacked Raikkonen exiting the Turn 6 hairpin, completing the move into the left-hander at Turn 7. This forced the Finn onto the marbles, allowing Button to breeze past. Hamilton, who passed Webber moments before, then dispatched Raikkonen into the final hairpin off the back of the DRS zone, with Webber getting the power down mid-corner to relegate Raikkonen to sixth. A lap later, any hope the Finn had of points was gone as he slipped down to 12th.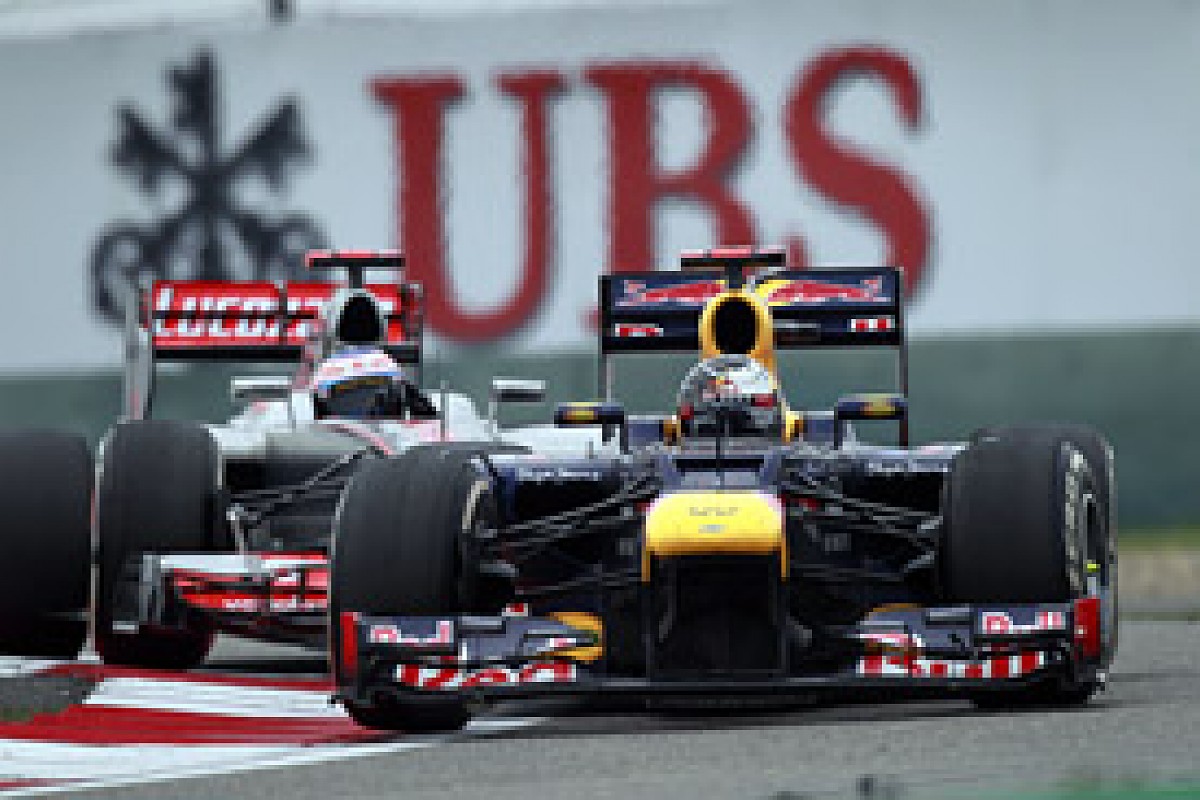 Vettel briefly got to second place © LAT
Vettel was the next to hit trouble. While his Pirellis didn't drop off anywhere near as badly as Raikkonen's, he soon came under attack from Button. On lap 51, Button passed Vettel into the hairpin to take second and promptly started to pull away from the reigning world champion. Next up was Hamilton, who had made the most of a three-stop strategy that had led to traffic losing him time earlier in the race having climbed as high as third in the second stint after jumping Raikkonen in pit-stop head-to-head between the McLaren and Lotus. He dived inside the ailing Vettel at Turn 14, making the move stick into the final corner. A lap later, Webber, who had driven a combative race after gambling on an early first pit-stop but was fortunate to escape emerge without damage from being launched into the air after running wide, went around the outside of Vettel at the hairpin to earn his third consecutive fourth place - proving to Red Bull that a three-stopper had indeed been the right way to go.
Grosjean was the next driver in the queue bidding to pass him. The Franco-Swiss driver had climbed as high as fifth on his three-stop strategy, but on lap 45 he slipped behind Webber, Hamilton and Senna. Having been passed by Webber, he attempted to retake the position on the outside of Turn 7 but got onto the marbles and ran off the track. Relegated to eighth, he capitalised on the traffic caused by his team-mate to overtake Senna for sixth into Turn 1 on lap 49, picking up another place from the fading Raikkonen later that lap to take his first points in F1.
While the fastest cars were able to make three-stop strategies work, in the battle for the lower points, such an approach proved to be a mistake. Senna and Williams team-mate Pastor Maldonado both stopped only twice, which allowed them to finish ahead of three-stoppers Fernando Alonso and Kamui Kobayashi, who had run strongly in the first half of the grand prix. They also got ahead of Perez, who had the right strategy but struggled for pace on the medium-compound tyre once the final stops had shaken out.
Behind them, Force India pairing Paul di Resta and Nico Hulkenberg never seriously had the pace to threaten for points. They finished 12th and 15th, sandwiching Massa, who had a decent race on two stops to finish only 5.5s off Alonso but always looked likely to miss the top 10, and then Raikkonen. The two Toro Rossos of pitlane starter Jean-Eric Vergne and Daniel Ricciardo were next up but propped up the tight midfield pack on pace.
Not that Rosberg would have seen much of the titantic battles that raged behind him. Remarkably, the German only lapped the HRTs, Marussias and the Caterhams and Ricciardo was only 1m03.1s behind after a 56-lap race that wasn't interrupted by safety cars. If ever you needed evidence of just how tight the 2012 F1 season is, this was it.
Rosberg's maiden victory came as something as a surprise given the pre-race expectations. But it's unlikely to be the last unexpected result of what is turning into a classic season.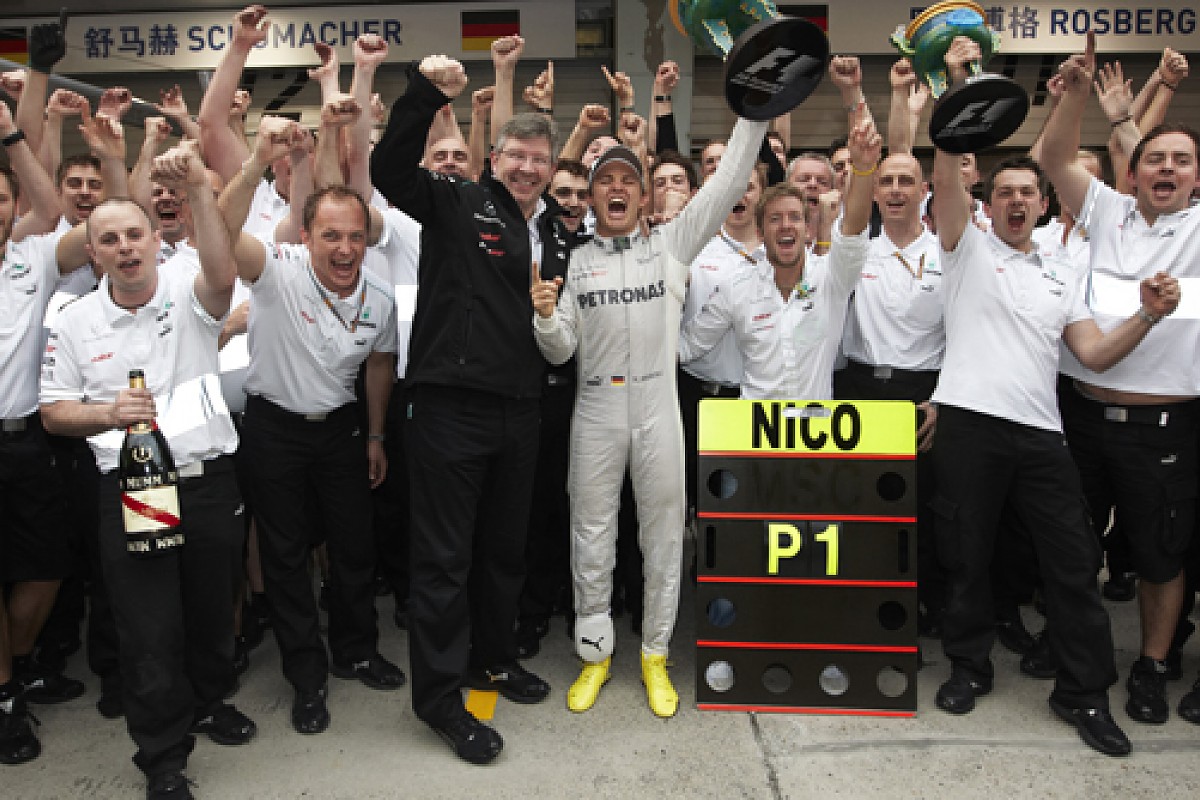 Lap-by-lap as it happened on AUTOSPORT Live
RACE RESULTS

The Chinese Grand Prix
Shanghai, China;
56 laps; 305.066km;
Weather: Dry.

Classified:

Pos  Driver        Team                       Time
 1.  Rosberg       Mercedes                   1h36:26.929
 2.  Button        McLaren-Mercedes           +    20.626
 3.  Hamilton      McLaren-Mercedes           +    26.012
 4.  Webber        Red Bull-Renault           +    27.924
 5.  Vettel        Red Bull-Renault           +    30.483
 6.  Grosjean      Lotus-Renault              +    31.491
 7.  Senna         Williams-Renault           +    34.597
 8.  Maldonado     Williams-Renault           +    35.643
 9.  Alonso        Ferrari                    +    37.256
10.  Kobayashi     Sauber-Ferrari             +    38.720
11.  Perez         Sauber-Ferrari             +    41.066
12.  Di Resta      Force India-Mercedes       +    42.273
13.  Massa         Ferrari                    +    42.700
14.  Raikkonen     Lotus-Renault              +    50.500
15.  Hulkenberg    Force India-Mercedes       +    51.200
16.  Vergne        Toro Rosso-Ferrari         +    51.700
17.  Ricciardo     Toro Rosso-Ferrari         +  1:03.100
18.  Petrov        Caterham-Renault           +     1 lap
19.  Glock         Marussia-Cosworth          +     1 lap
20.  Pic           Marussia-Cosworth          +     1 lap
21.  De la Rosa    HRT-Cosworth               +     1 lap
22.  Karthikeyan   HRT-Cosworth               +    2 laps
23.  Kovalainen    Caterham-Renault           +    3 laps

Fastest lap: Kobayashi, 1:39.960

Not classified/retirements:

Driver        Team                         On lap
Schumacher    Mercedes                     16


World Championship standings, round 3:                

Drivers:                    Constructors:             
 1.  Hamilton      45        1.  McLaren-Mercedes           88
 2.  Button        43        2.  Red Bull-Renault           64
 3.  Alonso        37        3.  Ferrari                    37
 4.  Webber        36        4.  Sauber-Ferrari             31
 5.  Vettel        28        5.  Mercedes                   26
 6.  Rosberg       25        6.  Lotus-Renault              24
 7.  Perez         22        7.  Williams-Renault           18
 8.  Raikkonen     16        8.  Force India-Mercedes        9
 9.  Senna         14        9.  Toro Rosso-Ferrari          6
10.  Kobayashi      9       
11.  Grosjean       8       
12.  Di Resta       7       
13.  Vergne         4       
14.  Maldonado      4       
15.  Ricciardo      2       
16.  Hulkenberg     2       
17.  Schumacher     1       
       
All timing unofficial


TEAM BY TEAM
Red Bull
The dominant days seem like a distant memory already. As is now customary, Red Bull was quite quick but not quick enough in China, with Webber starting sixth after Hamilton's penalty and Vettel - who had reverted to an older exhaust spec - only 11th, failing to make Q3 for the first time since late 2009.
Both were in the thick of the massive podium-to-midfield battle in the race. Vettel lost more ground with a poor start, but a two-stop strategy with both tyre changes done relatively early meant he eventually appeared in third, passed Raikkonen for second, then got elbowed back to fifth by three-stoppers with better rubber.
One of those was Webber, who made his first of three tyre changes as early as lap six, then worked his way back forward and eventually battled past his team-mate to claim his third fourth place in as many races.
McLaren
Hamilton was quickest in two of three practice sessions and was second to Rosberg in qualifying, but his gearbox change penalty would drop him back to seventh on the grid - which meant he started two places behind Button, who felt he missed the ideal track temperature slot in Q3.
Button made a fantastic start and swept around the outside of the pack to emerge in third. On a three-stop strategy, there were times when he looked poised to hunt down and beat Rosberg, but a mixture of the Mercedes' late-race pace an a slow final stop that dropped Button into traffic meant the best he could do was second. Hamilton battled through to third on a similar strategy.
Ferrari
Ferrari brought upgrades for China but admitted that the car might be so ill-suited to the circuit that their effect would be hard to see. Certainly there was no obvious step forward in dry pace as the red cars languished down the order in practice, and Alonso and Massa qualified ninth and 12th respectively, closer together than they had been so far this year.
Massa led the race for a while on a two-stop strategy, but ended up at the wrong end of the massive lower top 10 queue after his last stop, and didn't have enough speed to make any gains as the three stoppers came in. Alonso found himself in the wrong pack of this pack a few times too, and also visited the run-off while trying to pass Maldonado. The final outcome was ninth for the Spaniard and 13th for the Brazilian.
Mercedes
Rosberg and Schumacher looked quick all weekend and achieved a breakthrough front row sweep - thanks to a commanding pole lap from Rosberg and Schumacher's third place becoming second when Hamilton was penalised.
Rosberg went on to dominate the race from the front, always having enough speed to keep his rivals at arm's length and stay ahead of the action, while also proving that Mercedes' tyre troubles were conquered by making a two-stop strategy work. Schumacher couldn't quite keep up with Rosberg in the first stint, and that stint turned out to be the extent of his race as his right front wheel was not properly fitted at this first pitstop.
Lotus
A slightly scrappy weekend for Lotus, with the team unhappy with its pace through Friday and Saturday - even though Raikkonen was fourth on the grid (one place gained through Hamilton's penalty). Grosjean made a mess of Q2 and was left short of tyres for Q3, so started 10th.
Both ran two-stop strategies, and Raikkonen's pace in the first half of the grid was so strong he ended up second after all the three-stoppers had come in. But trying to do half the distance on one set of Pirellis was too optimistic, and Raikkonen plunged from second to 14th almost in an instant when his grip vanished.
Grosjean left his second and final stop later and therefore had better rubber for the final battles, so came through to finally kickstart his 2012 season with sixth.
Force India
Force India wasn't miles off the pace in China, but neither was it quite quick enough with its drivers sharing the eighth row of the grid.
Di Resta spent the race among the group of cars that stretched from second to 14th, and for a while looked like he might sneak a couple of points. But ultimately the two-stopping Scot was squeezed back to 12th.
Hulkenberg lost ground at the start and then picked up front wing damage, which he suspected came from debris rather than contact. Those first stint delays left him with too much ground to make up and he finished 15th.
Sauber
To emphasise that Malaysia was no fluke, Kobayashi qualified third (fourth quickest before the Hamilton penalty), while Perez picked up understeer and was eighth. With impressive long-run pace, they looked like podium contenders for the race, but it was not to be this time.
They were quick enough to be major factors in the battle with the McLaren, Lotus, Ferraris, Red Bulls, Williams and di Resta, but a slow start cost three-stopper Kobayashi and while stopping twice allowed Perez to lead for a spell, he came out too far down the traffic jam. They would finish 10th and 11th, Kobayashi ahead, after some tough racing late on.
Toro Rosso
Toro Rosso just didn't have the pace to join the antics ahead this weekend. Ricciardo made it beyond Q1, Vergne did not, and they still found themselves 17th and 18th in the order. Vergne made major set-up changes and started from the pitlane. The Frenchman felt the changes paid off and augered well for the coming races, but they didn't deliver more than 16th, which was one place ahead of the off the pace Ricciardo.
Williams
The quietly impressive Williams resurgence continued. Although its cars were only on row seven after qualifying, in the race they were quick enough to hang in with the fight for most places from second back - and both Maldonado and Senna got thoroughly stuck into the hard racing involved.
Successfully running two-stop strategies, they delivered a double points finish in seventh and eighth, with Senna leading the formation.
Caterham
No great change to Caterham's performance level in China, but some encouragement - with Kovalainen able to hold off Hulkenberg and Ricciardo for the first stint, and Petrov pleased that with the pace he showed (and the size of the gap to the midfield) on the way to 18th. Kovalainen fell back to finish 23rd after a wheel problem forced an unplanned pitstop.
HRT
The Spanish squad may have been slowest still, but it felt there was plenty to be optimistic about. The 107 per cent cut-off was comfortably met, the team felt it edged closer to Marussia, and thanks to Kovalainen's pit delay, de la Rosa and Karthikeyan got to finish ahead of a Caterham too.
Marussia
Glock's weekend started with an odd practice crash when he shed his front wing. Though he outqualified Pic, the rookie was quite close to him at times in the race, but Glock ultimately prevailed and took 19th despite having to drastically save fuel near the end.
RACE DATA