Ask Pastor Maldonado about his propensity to make stupid errors behind the wheel of a racing car and he has a simple answer: "You can always learn from your mistakes, but to be quick is always more difficult than to learn. That's the advantage I have."
He has a point. That said, the record books state that Maldonado's 21 grand prix starts have yielded just a single world championship point. Ammunition, surely, for those who have dismissed him as nothing more than an undeserving no-hoper who glided into Formula 1 on the back of a flutter of bolivas. It was, and remains, an unfair assertion.
While nothing Maldonado did in the junior formulas suggested he was a future world champion, his record was actually extremely good coming into F1. His GP2 crown alone should have guaranteed him passage to F1, but his CV also includes winning the very competitive Italian Formula Renault Championship in 2004, as well as race victories in Formula Renault 3.5 and F3000.
On paper, that record actually makes Maldonado better qualified than the top four in last year's world championship in terms of lower-formula success.
Nobody is arguing he's a superstar, but he's certainly a very worthy, if a little rough-round-the-edges, grand prix driver.
There is, of course, the great contradiction in Maldonado. On track, he's a maximum attack merchant, all steering inputs and corrections, and it usually works.
Yet this is also a driver capable of the precision needed to excel in the tight confines of Monaco, not only in last year's grand prix, but in the junior categories too.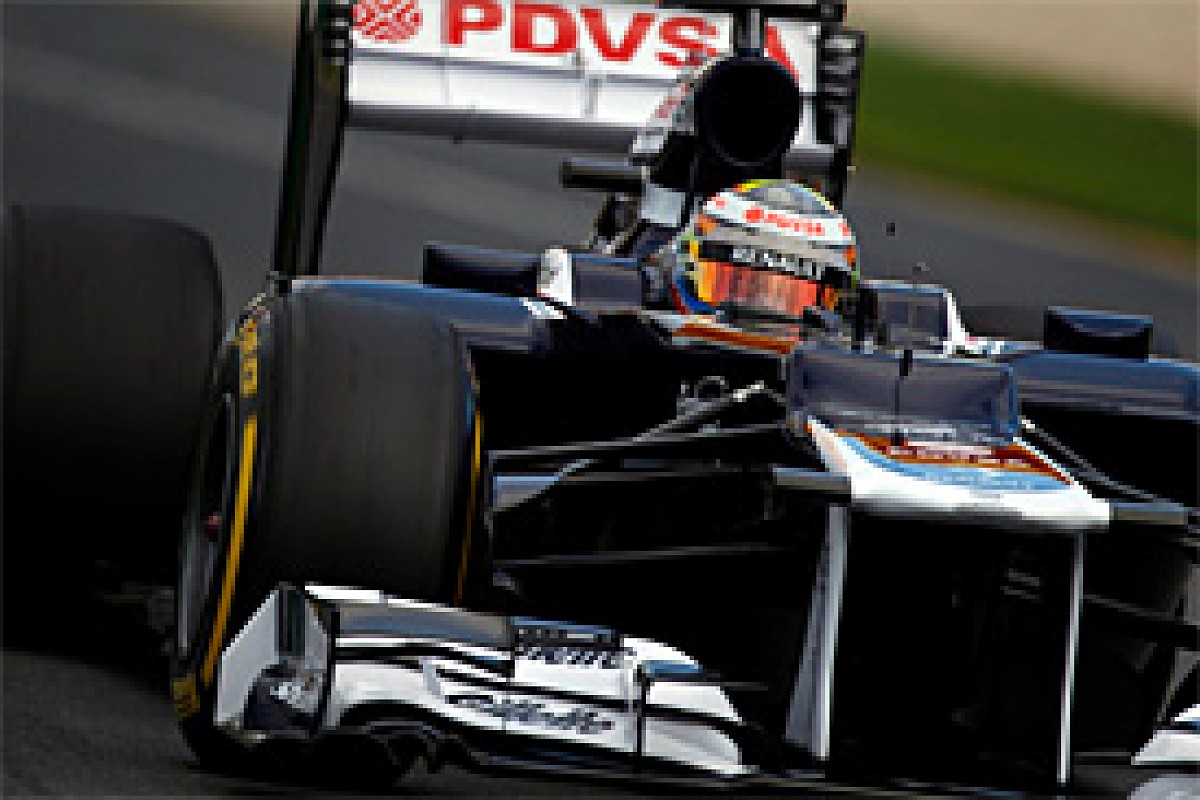 Maldonado crashed out of the points in Australia © LAT
The 27-year-old is ragged, certainly, but he's continuing to improve as demonstrated by his Australian Grand Prix performance that was, until the final-lap crash, impeccable.
"It's always important to show your potential whether you have sponsors or not," says Maldonado. "Last year, I was learning and I learned quickly and this year I'm benefiting from what I learned.
"The situation is much easier than last year. We were trying to do the impossible to be in the points and it was very difficult. Because of the change in the rules and the team coming back, it gives me the opportunity to show my potential and make the difference."
What Maldonado showed in Australia - and in Malaysia where he again outqualified team-mate Bruno Senna and was on course to score a point - was that he was very quick.
But the wildness that has always been there, the potential to make a terrible mistake at a crucial moment, also reared its head. It came as no surprise to those familiar with the Maldonado of old that if there was a driver who was going to throw away a great result on the last lap, it was him.
The crash, while running sixth with half-a-lap to go, was a result of a man trying that bit too hard. While he had accepted that he wasn't going to take Alonso, who was just ahead, it seems that the sight of the Spaniard making a small error at the entry to Turn 6 reignited Maldonado's hopes of nabbing fifth when it would have been better to focus on consolidating his position.
"I pushed too hard maybe and lost the car because I got too close to Fernando," he says. "I put the wheel on the kerb, lost downforce and spun.
"It's so tight there that there was nothing I could do. Fernando made a mistake so I was closer than ever and wasn't able to react to the movement of the car.
"It's important to learn from that mistake. For me, even for the team to know how to manage the race in a different way.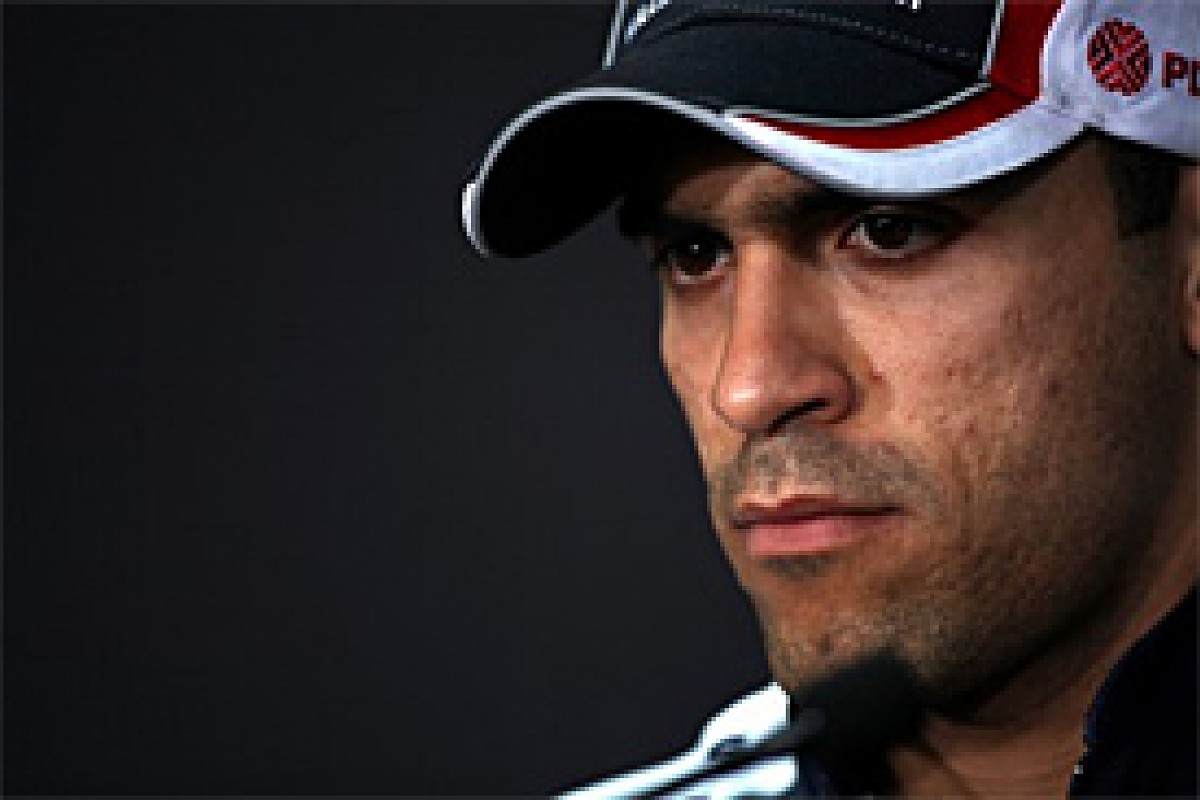 The Venezuelan says he is learning from his mistakes © LAT
"We are going to have a different approach in the future and I learned from the experience how to manage the last couple of laps when you are in a good position. This is very important."
In some ways, it's no surprise that a driver in Maldonado's position might make an error in that situation. Last season, he struggled with a dreadfully uncompetitive Williams that was only a points contender in unusual circumstances.
While he impressed frequently during the European season with his qualifying speed, beating team-mate Rubens Barrichello enough to raise some eyebrows, it was his Monaco performance that really caught the eye.
There, he was battered out of sixth place by a late-race assault from Lewis Hamilton. Having toiled for a whole season to replicate that result, the pressure to close out the same position in Australia was likely intense.
The team wasn't too hard on him, seeing him as a driver who is still improving, but next time he is in such a strong position he will be expected not to repeat his error.
"Pastor was very strong in Australia all the way through the week and did a really good job," says Williams chief operations engineer Mark Gillan.
"We have chatted about the incident and obviously it was disappointing to lose the points, but it was good to be in that position so we weren't too harsh on him.
"I'm very pleased with how he is doing. In the short time I've been at Williams, he has changed quite a bit and settled into the car well."
Reading between the lines, consistency remains the main objective for Maldonado. While his mistakes are far rarer than they used to be (the nadir for him in F1 being crashing in the pit-entry in Malaysia last year), there's still a little way to go before he can be considered the finished article.
It seems a little odd to say that about a 27-year-old, but given his relatively late arrival in F1, it's important not to over-estimate his level of experience.
He deserves to be judged as a second-year driver in a competitive car for the first time, and at least knows that he has another 18 attempts to pick up the kind of result that he squandered in Melbourne.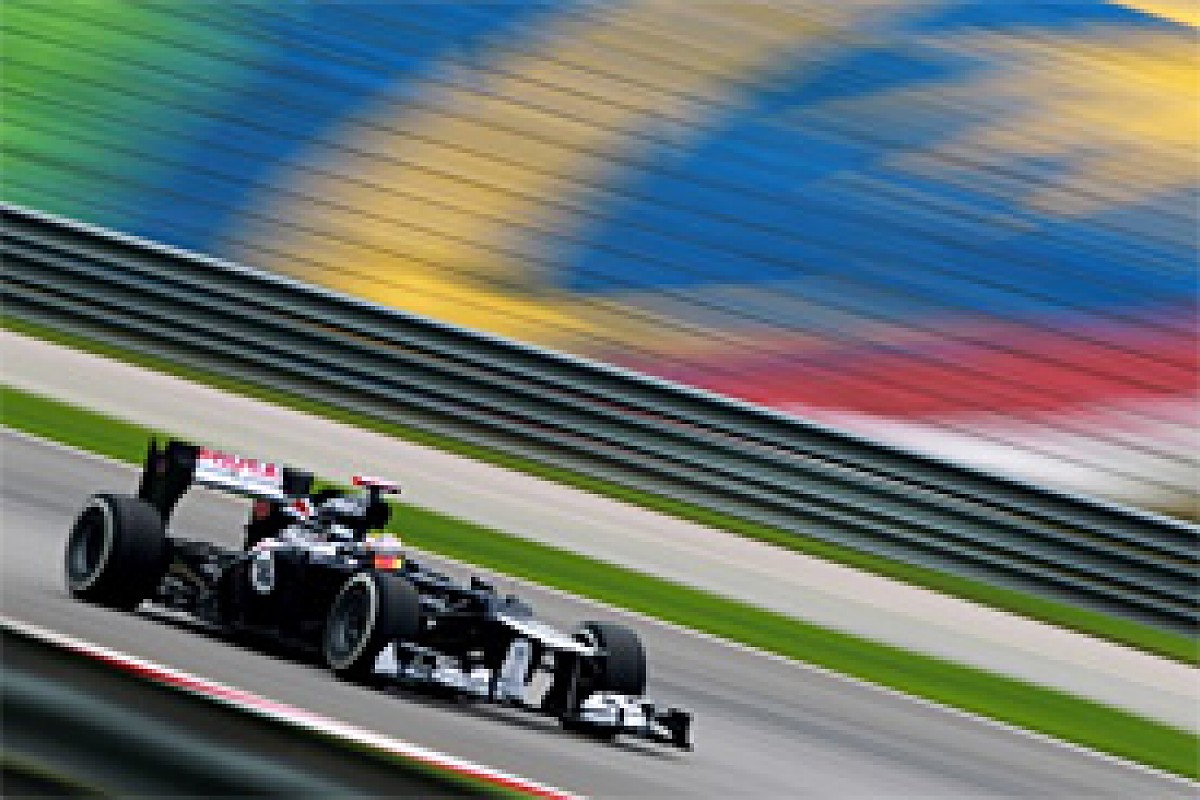 Can Maldonado turn his speed into points finishes? © LAT
The perfect measure of Maldonado's delight at the performance of the new car - and the Renault engine in particular - came after his first installation lap in testing: "It's a big difference, not just in terms of power. The whole car is now more consistent and compact with this engine. Everything works better with it.
"It's not like last year - we only had half an engine and now we have a full one, but there are some things that make a big difference to the drivers, like the electronic maps. It makes it more comfortable to drive during the race and qualifying and has made the difference on tyre wear. The whole car is a big step forward."
Chances are, Maldonado's big moment will be Monaco. Make no mistake, he is as fast as anyone around the principality and if he keeps it out of the wall, which he's done there more often than not, he will be gunning for more than just sixth place.
As he points out himself, if he went that well in such a poor car last year, imagine what he can do in a good one...
Whatever happens, Maldonado should at least be able to prove to a doubting world that there is more to him than just Venezuelan oil money.
Just how far he can go will likely depend on him shedding his wild man image.