I don't know whether it's the success of the Senna movie that's demonstrated how motor racing is not too specialised a theme for a mass audience, but all of a sudden we have a lot of racing films to look forward to.
Ron Howard's portrayal of the 1976 world title battle between Niki Lauda and James Hunt will not be short on drama, given that the reality was so compelling and implausible you simply couldn't have made it up. And now, Sir Jackie Stewart is helping Brokeback Mountain producer Bill Pohlad make a movie about the relationship between Jackie and the late Francois Cevert, his Tyrrell team mate in 1971-'73.

Like the Senna movie this one, obviously, will not end happily. But not everyone will know that. I was shocked recently to discover that it was a revelation to a visiting teenager to have the Senna movie end the way it did... Then again, it is almost 18 years now.
Scarily perhaps, I remember Cevert's passing as if it were yesterday. For those of you still pondering the choice of full highlights on the BBC or paying extra for live coverage of every session on Sky in 2012, it was all a bit different back then.
Francois was killed in Saturday practice for the '73 season-closing US Grand Prix at Watkins Glen, where he'd won two years earlier. With the US being five hours behind, by the time Cevert's death was confirmed, most of the Sunday papers had already gone to press. It was a school friend who told me about it; he'd heard the news on the radio.

"I'm sure they said Cevert," he said, "but they also said something about Jackie Stewart."
Having been a massive JYS fan from the age of eight, I found this hugely alarming. I remember risking a painful end to Sunday evening by smuggling a not-so-portable radio into the school chapel service and hiding it under the hymn books, so I could listen to the sports news.
Problem was, my mate thought it was a great wheeze to keep retuning it to the Top 40 on Radio 1 and pulling the earphone out. During hymns, we therefore had a blast of Wizzard's Angel Fingers, as well as Eye Level from the Simon Park Orchestra.
He had a nose that bled if you so much as looked at it, which I inadvertently made contact with when flicking out a quick jab to dissuade him from further messing. Much to everyone's amusement he couldn't stem the flow and by the time the time the service was over our pew looked like the scene of a massacre. We got away with it but I was none the wiser about Cevert. And this was almost a day and a half later.
Pohlad's film The Tree of Life won the Palme D'Or at last year's Cannes Film Festival and the Stewart/Cevert/Tyrrell dynamic has the potential to make a tremendous film if handled properly.
In Malaysia, (AUTOSPORT Group F1 editor) Jonathan Noble, Dieter Rencken and I were fortunate enough to have lunch with JYS, during which the subject of the film came up. In so many successful movies conflict is a key theme and I wondered what the storyline would be here?
Jackie Stewart and Francois Cevert were close friends © LAT
"It's about how two drivers who are normally opposed to each other as team-mates become really close, all the great relationships we had," Stewart explained. "There will be a lot of tears. Racing people will know the ending but the circumstances are complicated: Francois getting an approach from Ferrari; was I going to retire, because I hadn't told anyone, not even Helen [his wife]. There is plenty of drama there."
He's not wrong. The dynamic between the Stewarts and Cevert was unusual from the start, given that the man on the other side of the garage is the only man in the same car as you. If he's better, it can be career shortening.
In those days, perhaps, the feeling was not so acute as now because the phrase "life's too short" was so often horribly apposite.
It was Stewart who first mentioned Cevert to Ken Tyrrell, after an F2 race in which JYS had struggled to get the better of Francois in a Tecno.
When the good-looking Parisian - he arrived at the Paris Motor Show with Brigitte Bardot on his arm - with the zest for life joined Stewart at Tyrrell in 1970, it was an open relationship from the start.
Stewart, who would win his second title a year later, did not see Cevert as a threat to his position in either the sport or the team, and found the youngster more than keen to listen and learn. "You'd be surprised how many were not," JYS points out.
Having won his first and sadly only GP at Watkins Glen in 1971, Cevert had a tough '72 season but by the end of '73 had finished second no fewer than 10 times.
Stewart knew he was going to retire at the end of '73 but had told only Ken Tyrrell and Ford's Walter Hayes. He didn't want it to be leaked to the media. And he didn't want Helen in a ten green bottles situation, counting down the races. Back then it was far from certain that you would make it through.
He was also going through personal angst about his decision. He was still winning. Was it right to retire? How would he earn a living? In the US for the ABC TV network mid-year, he suddenly felt weighed down and slightly desperate.
A meeting with a priest in room 109 of the Speedway Motor Inn, where Stewart was confirmed, helped settle his mind, and Jackie was now certain he would finish the year well - that the future with Helen and the boys would be good.

So many close neighbours in Switzerland - Piers Courage, Jochen Rindt, Jo Bonnier - had died in racing cars that Paul Stewart one day asked Helen in all seriousness, "When is our Daddy going to be killed?" He had just assumed that it was what happened to all racing driver fathers at some point.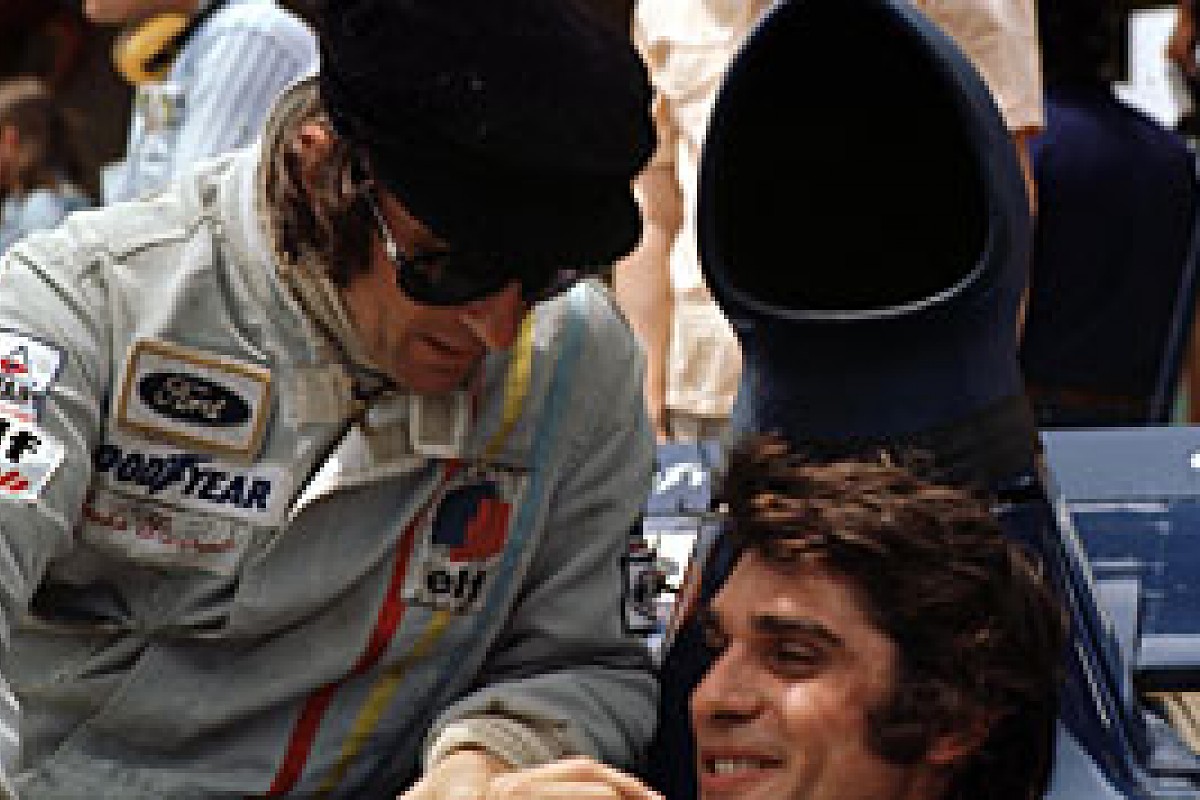 Cevert's only win came at Watkins Glen, two years before his death at the same track © LAT
Stewart was increasingly convinced that Cevert had what it took to lead the Tyrrell team in '74. The pair had finished 1-2 at Zolder, where Stewart had to contend with a lot of hostility over the fact that they were racing there, and not at Spa, for safety reasons.
Then they finished 1-2 at Zandvoort, Stewart surpassing Jim Clark's then-record 25 GP victories. Again, there was precious little celebration after Roger Williamson lost his life in an awful accident reminiscent of that which had claimed Piers Courage at the same circuit three years before.
A week later they were 1-2 again, Stewart no doubt relieved to be able to leave Nürburgring Nordschleife behind one last time.
It was that race that truly convinced him. Cevert had sat behind all through the race and afterwards Stewart told Ken Tyrrell that he thought Francois could have beaten him any time he wanted to.
The plan was that Francois would lead the team in '74 with Jody Scheckter as number two.

The Canadian GP, the first of two season-closing North American races, was held at Mosport. It didn't go well. Stewart, now confirmed as champion for the third time, came into the pits when he spotted a line on his wet tyres, which turned out to be paint.
When he arrived, Chris Amon, running in a third Tyrrell for the North American races, was already there and in the confusion JYS ran over a mechanic's foot.

He earned himself one of Ken Tyrrell's famed 'froth jobs' in which Tyrrell tended to dispense sputum in all directions while enumerating the shortcomings of the object of his ire. To make matters worse, Cevert injured his ankle in a collision with Jacky Ickx.
It meant that Francois was on crutches for the 10-day break that he, Jackie and Helen had planned before the Glen. And so they headed off to Niagara Falls in a Ford Fairlane with Stewart driving, Helen in the passenger seat and Francois in the back with his ankle in the air.
When they arrived, Cevert couldn't be bothered with crutches and so Stewart carried him on his shoulders, like a kid. From there, they flew to Bermuda and checked into a fine hotel.
By the pool, Cevert told Stewart that with Jackie having such a fantastic relationship with Tyrrell, he figured he'd never beat him and had been talking to Ferrari. Stewart told him to wait 10 days...
Every evening Cevert, a classical pianist, would charm guests with his rendition of his favourite piece of music, Beethoven's Piano Sonata No8 in C minor, commonly known as Pathetique.
On they went to the Glen, where Francois had his awful accident when the Tyrell uprooted the barriers at the fast, uphill Esses.
Stewart arrived on the scene, saw the blue wreckage and then spotted Amon, trackside. Amon shook his finger to indicate it hadn't been him. Stewart parked up, ran to the wreckage and saw what he saw. Cevert was still in the car, obviously beyond help.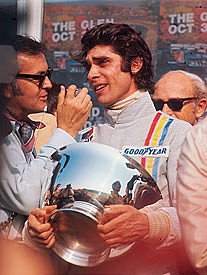 Cevert's performance at the Nurburgring in 1973 was what convinced Stewart the Frenchman was ready to lead Tyrrell © LAT
Ken Tyrrell had suggested to Stewart that if they had been running 1-2, he pull over and let Francois win, to symbolize the passing of the baton to the new team leader. Stewart, keen to go out with one last win, said it was asking a lot but he'd think about it and they'd discuss it after practice.
Now though, Tyrrell withdrew. JYS would not start his 100th GP and would retire on 27 wins from 99 starts. When the death was confirmed, Stewart went back to the Glen Motor Inn, to where Helen had already returned.
He told her that, as of that moment, he was an ex racing driver. They held each other, cried, and looked forward to growing old together.
A natural ending for a movie?
Maybe not. Cevert, who was also close to the Stewart children, had told Helen that if anything ever happened to him, he would send a message to let them know he was okay.
A few weeks later the Stewarts were having Christmas in Switzerland. Five-year-old Mark told his Mum that he would like some money to buy them a Christmas present.
Touched, Helen gave him some cash and took him shopping in Nyon. He went into a record shop while she waited outside and selected a record, based purely on the album cover. He carefully hid it in the bag while they returned home.
On Christmas morning, Jackie and Helen unwrapped their present. Beethoven's Piano Sonata No8 in C minor...