When Ferrari flops, it inevitably triggers a feeding frenzy in the Italian media. Felipe Massa has had plenty of time to come to terms with the fact that, barring a miraculous turnaround in form, he will be cast aside at the end of the season. Out of contract, he could hardly have any complaints if his performance level in 2012 mirrors that of the previous two seasons. But thanks to Ferrari's struggles, the goalposts have shifted dramatically.
Once again, the Brazilian finds himself under severe pressure, with the Italian media suggesting all manner of candidates queuing up to grab his seat. As Massa pointed out when he faced the media today, it's not an unusual situation for him to be in.
"When I arrived here in 2008, I was out of Ferrari because I didn't finish in Australia," he said. "But it was my best season. Things change very quickly."
Indeed they do, but it is going to take something pretty extraordinary to dig Massa out of this hole. With the vultures circling and life at Ferrari pretty stressful right now, it's hard to see that the pressure won't get to him despite his claims to the contrary. Certainly, he cut a somewhat forlorn figure in the paddock today despite his best efforts to be defiant. Should his change of chassis not trigger an upturn in form, he's going to face a tough time post-race.
Inevitably, Ferrari is trying to push out a positive vibe about progress, but Fernando Alonso did little to boost hopes with what can only be described as a dose of realism.
"We have been testing at different circuits - Jerez, Barcelona and then in Australia with the same car with the same problems," he said. "The cars are nearly identical for everybody compared to Australia, so I don' think there will be any big surprises here. We saw the true performance."
That can only be bad news for Massa, who at least needs to bank a few points to ensure that the team's struggles, rather than his lack of form, is the story for the two weeks between the Malaysian and Chinese Grands Prix. It would probably be no bad thing for Ferrari if the focus was on its second driver rather than its car struggles, especially if Alonso is unable to pull a great performance out of the bag on race day as he did last weekend.
The one thing he was adamant about is that claims there is a visibility problem for the Ferrari drivers - which would explain both drifting onto the grass and spinning into the gravel during the Australian Grand Prix weekend - are wide of the mark.
"No," was his in-depth reply when asked about this by La Gazzetta dello Sport's Paolo Ianieri...
While Ferrari's struggles and the closeness of the midfield pack dominated discussion, there remains a little mystery about the situation at the front. McLaren had the best car in Australia, that much was clear, but there remain some questions about where Red Bull really stands in comparison with the Woking squad.
"We are motivated and hungry to make sure that McLaren doesn't keep the upper hand," said Sebastian Vettel. "But for now, we have to accept that they had a very good preparation in the winter, a very good weekend in Australia, so we will see what happens this weekend.
"I don't think that we have a problem with the car, it's about fine-tuning here and there. That can make quite a big difference if you know what the car needs to fine-tune it. It's not a secret that if you feel comfortable in the car, you have the confidence, you allow yourself to push it to the limit."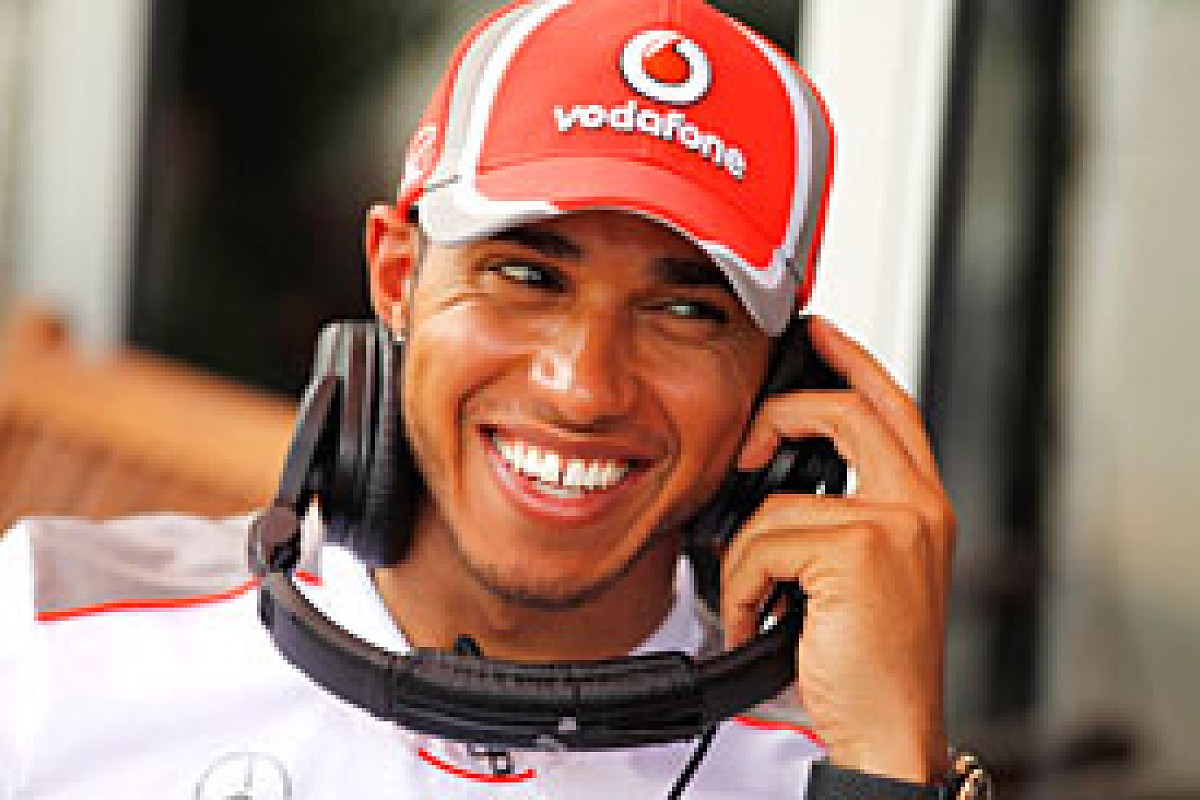 Hamilton insists Australia was not a continuation of last year's woes © LAT
If that sounds like a veiled threat from Vettel, it is. While McLaren has the edge at the moment, only a fool would write off the team that has had the best car for most of the previous three seasons.
What we can conclude is that it's going to be difficult for Red Bull to establish the kind of gap that it has enjoyed in the past. That can only be good news for the closeness of the world championship fight.
Not that world championship leader Jenson Button is getting too worried about that. He's happy simply to know that McLaren isn't playing catch up for the first time since he joined the team. No wonder he looked his usual ultra-relaxed self today. As for his vanquished team-mate, Lewis Hamilton, he was eager to play down suggestions that what happened last week represented a continuation of last year's struggles.
"It wasn't a reminder of last year," he said. "It just wasn't a great start to the season."
And you can bet that if McLaren completes back-to-back wins on Sunday, Hamilton will be determined to be the one on the top step of the podium. If not, Felipe Massa won't be the only driver feeling the pressure.