Australia could hardly have gone any better for McLaren, and while the loss of Lewis Hamilton's second place due to sheer bad luck was a little frustrating, the big picture was very positive.
Of course, everyone knows that the Red Bulls are not going to qualify on the third row at every race this year but, equally, it's evident that McLaren has sufficient pace to be a real contender for pole, and that other cars have the potential to join in the fun.
All that means that Red Bull or anyone else will have to get everything absolutely right in order to start from the front. In contrast, there were times last year when the RB7 had such an advantage that Vettel could bounce back and get pole after all kinds of frustrations and mishaps over the course of a weekend. That is unlikely to be the case in 2012.
And, as we saw so often last year, for all the fuss about DRS and tyres, starting at the front is how you win races in the current era. The seeds of McLaren's victory were thus sewn in qualifying. And nobody, not even the top number crunchers at the big teams, could predict how it turned out.
Button took the lead at the start © XPB
"You can't tell from all the practice sessions the fine differences that eventually emerge in qualifying," says McLaren technical director Paddy Lowe. "So that's very tense. It doesn't matter how well you go. Even in P3 I thought this is going to be tough! Qualifying is just so intense these days, it's just decision after decision. You don't know other people's run plans, so even then I wasn't expecting the result."
Matters were made more complicated by the lack of dry running on Friday, which meant we had even less idea of people's ultimate pace. However, Lowe says that the restricted preparation did not in itself compromise qualifying.
"I'm not sure that was such a problem for anybody. Probably what suffered most was the looking at tyres for the race aspect. Typically, the qualifying aspect you are practising in P3 and through qualifying itself."
The way qualifying eventually panned out came as a surprise to everyone, in that Hamilton's first lap - the one that ultimately counted for pole - was extraordinarily fast. Where did that come from?
"Him! Lewis pulled out a phenomenal lap on his first run. I don't actually know what happened on his second run, but he baled out of it, the first sector was slow, so he saved the tyres.
"I thought we were going to be very, very close with Mercedes, Lotus and Red Bull. There was no way to tell who was going to come out on top. In the end both our drivers pulled out extraordinary laps, and there was a reasonable margin there."
As Lowe notes, Jenson Button was also right there with his time from his second run, and while it's fair to say that Lewis might have gone faster on his second lap, he nevertheless didn't, so the final margin of just 0.150s between the two McLaren drivers was worth taking note of.
The internal battle was of interest, but the real significance was that after being pummelled by Red Bull on Saturdays for the past couple of years, McLaren had finally locked out the front row and made its life so much easier for Sunday.
"The great thing about the front row as the guys next door [Red Bull] showed last year is that you can control the race," says Lowe. "They didn't have the race pace last year, they had the qualifying pace and we had reasonably equal race pace. But you can't catch them..."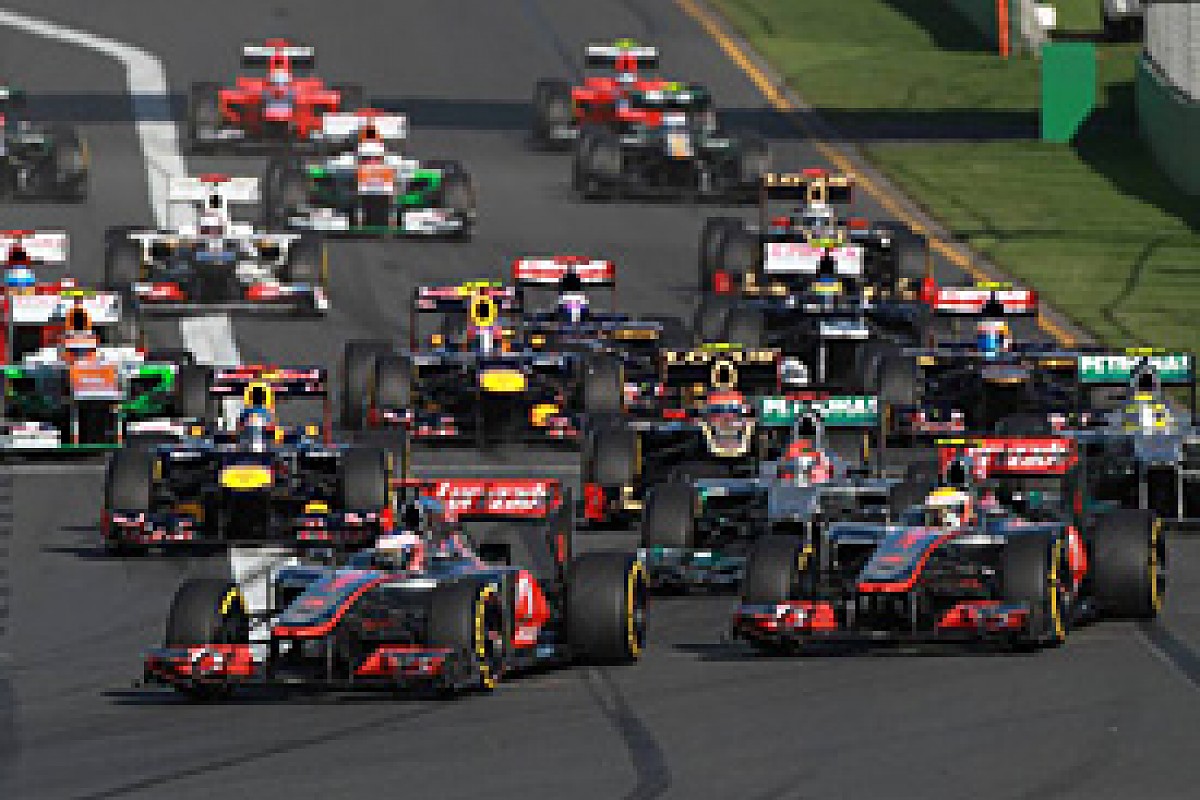 Vettel had an unusually difficult qualifying © XPB
There was some excitement on Saturday evening when the FIA took a close look at the McLaren front wings - some sources suggest in response to lobbying from rivals who had seen pictures showing them running close to the ground - but Lowe insists it was not a concern: "They were doing some routine inspections and it was just something they wanted to look into in more depth."
On Sunday it was down to Hamilton and Button to convert those grid positions into first and second by the end of lap one, and they had a little extra cushion knowing that Webber and Vettel, the men they really had to worry about, were back in fifth and sixth.
And to the surprise of Hamilton as much as anyone else, it was Jenson who emerged in front.
"Jenson obviously had a better start," says Lowe. "We haven't analysed it yet but I don't think Lewis's start was terrible, in that he stayed well clear of the guys behind. In fact it looked like he had to give a little ground to let Jenson through, so it was reasonably close there.
"Then we had good pace right from the off. We were into a bit of fuel saving in the race from early on, more than we really would have planned. That was just something we managed."
"We made a mistake this weekend with the fuelling of the cars," Martin Whitmarsh confirmed. "And being at the front allowed us to manage the race and deal with that. Had you been further back you probably wouldn't have been able to do that.
"We were more than marginal, had we raced unfettered we would not have got to the finish line with either car, so from lap 8 they were in severe fuel-saving mode."
Given that restriction, the pace of both Button and Hamilton was mighty impressive. They also had to keep on top of the tyre situation, as no-one knew quite how the used softs on which they started would perform in the race.
"With tyre life being so poorly predicted it's always an interesting gamble to see whether it might end up being a one stop," says Lowe. "But actually the tyre endurance seemed to be worse than predicted, I would say. The tyres went off in the first stint quite early really."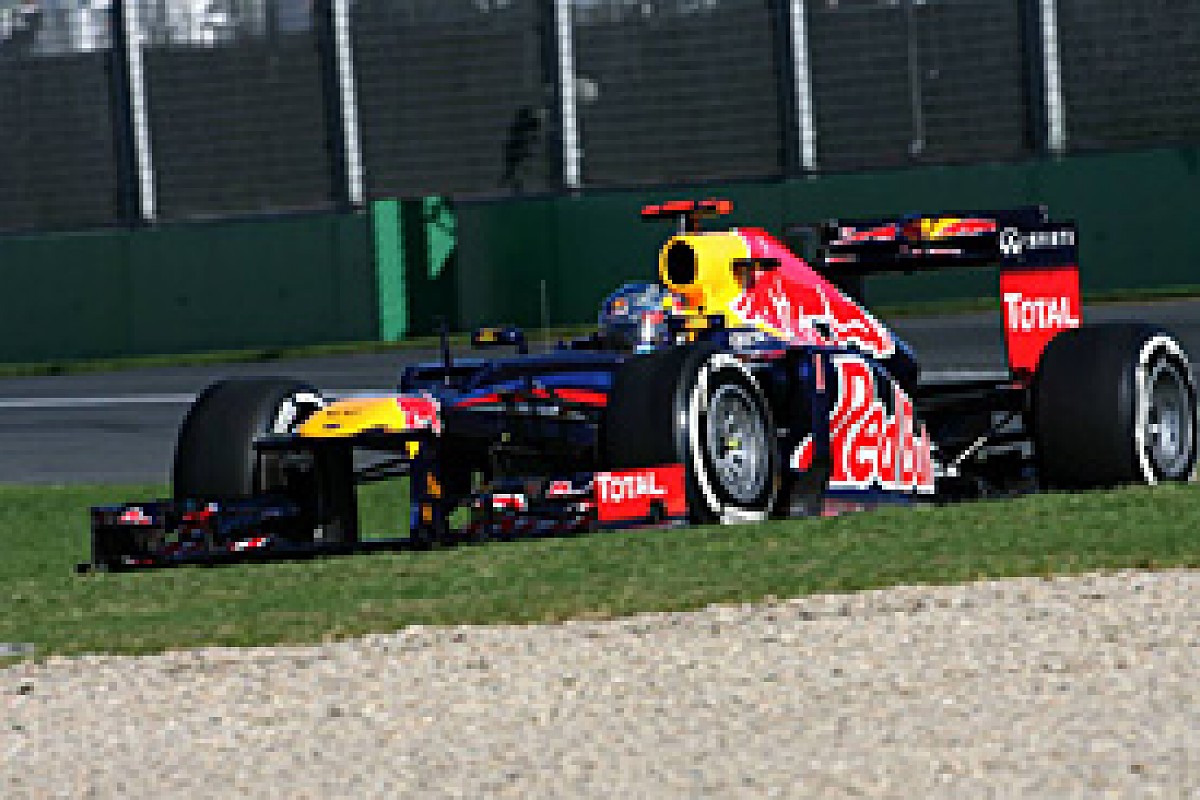 Button stayed out longer than his rivals © XPB
Button still stayed out longer than most frontrunners, coming in on lap 16, a move that was mirrored by Vettel. With the second call on stops, Lewis had to stay out until lap 17. By then the tyres were past their best, and that combined with losing time after the stop behind the amazing Sergio Perez - who had yet to pit - meant he dropped further behind Jenson.
Both McLarens switched to the medium tyre, but Lowe insists that it was not in response to what Perez or anyone else was doing: "We pretty much intended to go on the prime in the second stint."
Intriguingly, while Webber also went for mediums, Vettel went for the soft tyres in that middle stint. In effect that fulfilled Pirelli's desire to see different strategies played out with the 2012 tyres.
"It was leaning on the side of an aggressive two-stop for Mark," says Christian Horner. "And he had the benefit of not having used an extra set of primes yesterday, so he had two new sets, which leaned us towards running the prime tyre on his car in the middle of the race. He looked very, very competitive once he got into clear air on that tyre."
Early in that stint we heard Button complaining about a vibration, although he was keen to point out that it was "not from locking."
"Jenson came on the line and said that he had a vibration," says Whitmarsh. "And that vibration he stressed, as you heard, wasn't a flat spot. I suspect occasionally the tyres creep round on the rim and they go out of balance, I think that's what happened. It's not helpful, but it's not a concern."
It didn't seem to hold him up much, and Jenson kept his advantage over Lewis. The extended gap of around 10.8s created since the first stops had one advantage for Lewis - at least in theory - in that it allowed McLaren to pull off two stops on the same lap.
That meant Hamilton wouldn't be stranded out for an extra lap on deteriorating tyres. It was a great move by the team that was very soon stymied by Vitaly Petrov parking on the pit straight and triggering a safety car.
"There were periods when Lewis was going a lot quicker than Jenson in that second stint," Lowe notes. "They were both in the same tyre state in the same lap. It was the right time to stop for both of them, and we'd got enough gap. We knew that was the right point, we could go to the end from there. We were trying to manage gaps as well. The bit of bad luck was that we couldn't have anticipated the safety car on the next lap..."
Vettel came straight in for his second and final stop, and the time he gained by doing it under yellows was just enough to allow him to merge back onto the track between the two McLarens, Hamilton thus losing second through no fault of his own.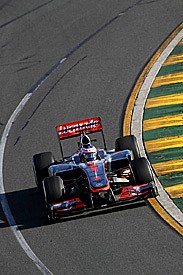 Hamilton was disappointed with third place © XPB
"I can't do the mathematics," says Whitmarsh, "but you gain about 10 seconds in that situation, so that's what had happened. It's unfortunate that had we chosen not to double shuffle them, we would have been able to stay ahead."
As Whitmarsh says, had Lewis stayed out and pitted the lap after Jenson his second place would have been safe. In fact there's an argument for saying that by so doing he might actually have stolen the lead from his team-mate, in which case their respective demeanours after the race might have been very different...
Having Vettel on his gearbox during the safety-car period obviously created some extra stress for Jenson, but he judged the restart to perfection and reeled off the remaining laps in perfect style to secure his third Albert Park victory.
"His tyres even at the end of the race were in very good nick," notes Whitmarsh. "And he had the ability just to get the heat straight into the tyres. At the start, at the restart, and at each tyre change he was straight on the pace. Between him and his engineer he just got the temperature there, and when you have that you can really deliver those times."
"What was impressive was Jenson's pace off the restart," Lowe confirms. "He'd got the tyre working quicker than Vettel, although after that the pace became reasonably matched between us and Red Bull."
It was an awesome performance by both Button and his team, and given the loss of his lead when the safety car came out - not to mention the economy-running early on - it could have looked even better.
"Unquestionably we could have gone a little bit quicker," says Whitmarsh. "I think we had a quick car here, we should have got a one-two and didn't but we're not too displeased with where we are. And we'll see if we can do it again in Malaysia."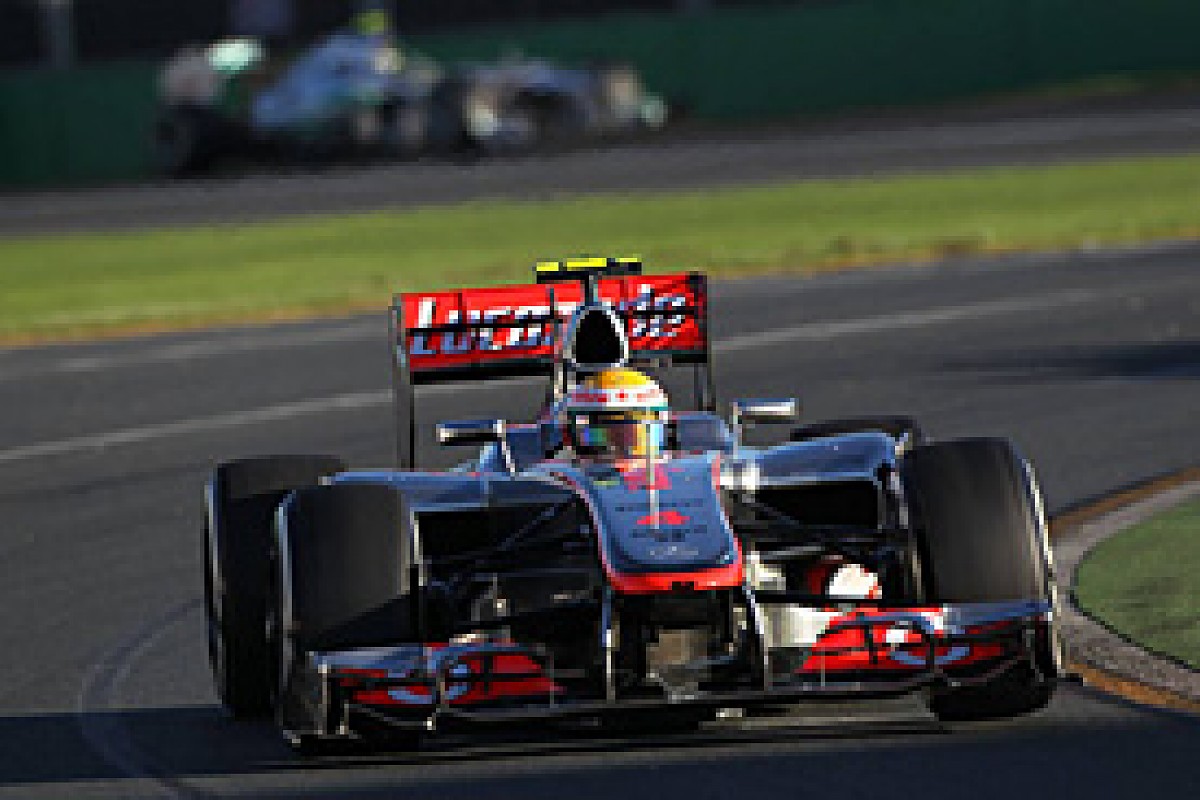 "It's almost a perfect result Saturday/Sunday in terms of how you'd want to start a season," says Lowe. "I think we'll need to see how it settles down. But you want to start the first race at the front - that's generally the team that carries it through the season, so it's a good place to start. When we get to Malaysia we'll see a different circuit characteristic, and we'll see how the cars come out then.
"We've always been happy with the car, but it's all about relative pace. Everybody could be completely happy with their car and it wouldn't make you the winner. So we're pleased to see that we could secure the front row. That's particularly satisfying. I know you only get points for winning, but qualifying is the enabler to controlling the race. In many ways Saturday's result is more significant than Sunday's."