PRACTICE
Practice one - Friday am
It may have been the first chance of the season to get some mileage in an official session with the whole field on track at the same time, but that didn't mean they were in any hurry to slither around on a damp surface as the new world championship got off to a rainy start in Melbourne.
Rookie Jean-Eric Vergne took the honour of being first on track in 2012, and the Frenchman and Toro Rosso team-mate Daniel Ricciardo had Albert Park to themselves for long periods while the rest waited for conditions to improve.
Button started 2012 on top © XPB
Eventually others joined in, with Sauber's Kamui Kobayashi ending up fastest during the damp period before becoming the first man to try slicks - with which he comfortably blew away his previous pace. Michael Schumacher then spent a long spell on top, before Jenson Button and Lewis Hamilton made it a McLaren one-two ahead of the Mercedes.
Fernando Alonso was fourth, but his team-mate Felipe Massa dumped his Ferrari in the Turn 9 gravel with a late spin. The Red Bulls were only fifth (Mark Webber) and 11th (Sebastian Vettel).
HRT started the season in the troubled manner to which it has become accustomed. Pedro de la Rosa's car was not ready in time, and Narain Karthikeyan stopped on track due to rising engine temperatures.
Practice two - Friday pm
There wasn't much to go on if you were looking for any guides to form ahead of the weekend, but if you were a Michael Schumacher fan - which tends to be the case more often than it was when he was wearing red nomex - then there was plenty to cheer about. The Mercedes man was quick for much of the session; through the 60 minutes of track dampness, and the last 20 minutes of drier running.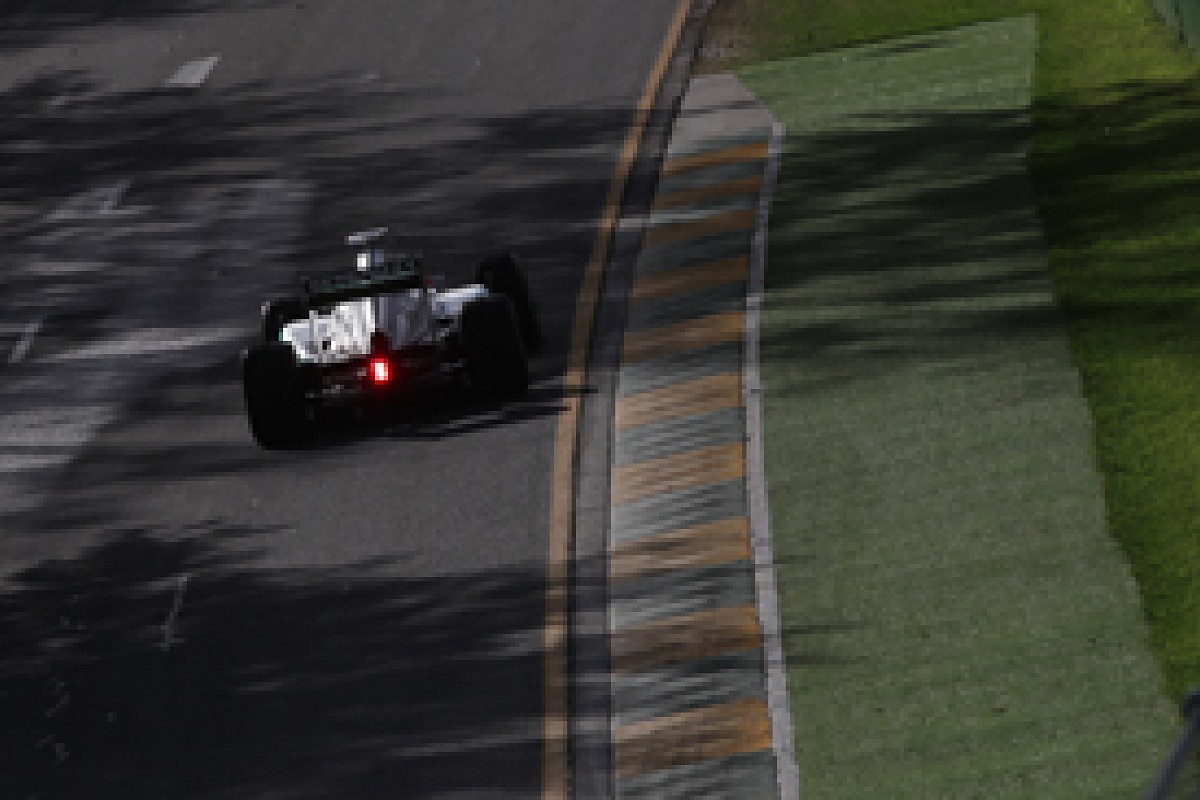 Mercedes hit the front when it finally dried out © XPB
An enormous rain storm washed away any chance of meaningful set-up and tyre learning time between FP1 and FP2 and it was perhaps ominous for the others that McLaren remained confident enough not to bother making any real effort in the first hour. Red Bull too.
The last 20 minutes were frantic however and, predictably, the times cascaded lower as each lap was completed and the circuit conditions improved. Schumacher was among the last to register a time, usurping Force India's Nico Hulkenberg to second as he did so. Sergio Perez was third fastest. All three would show further glimmers of pace, to varying degrees, as the weekend went on.
Practice three - Saturday am
Totally dry conditions gave the field a chance to make up for lost time in the final session, and as the serious business really began, it was McLaren back in front.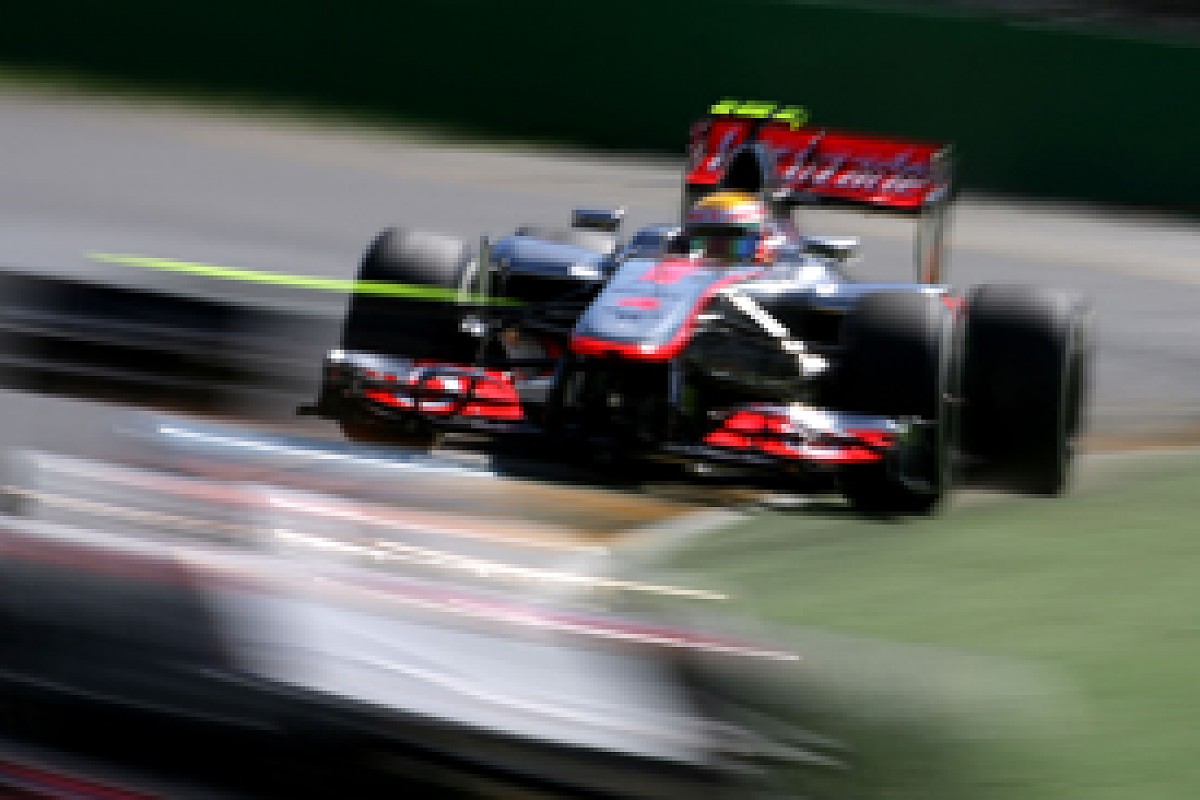 Hamilton beat Grosjean to the practice three top spot © XPB
Hamilton ended up setting the pace - his late 1m25.681s seeing him pip
Lotus's Romain Grosjean by just 0.077s. Webber's Red Bull was third, but team-mate Vettel's low-key weekend went further downhill when he spun into the gravel.
The reigning champion wasn't the only legend to do so - Schumacher's morning ended in exactly the same way shortly afterwards. Schumacher and Vettel's times still held up for sixth and seventh, behind Button and Nico Rosberg.
At the back, de la Rosa managed his first timed lap in the HRT, albeit 7.4s off the pace.
QUALIFYING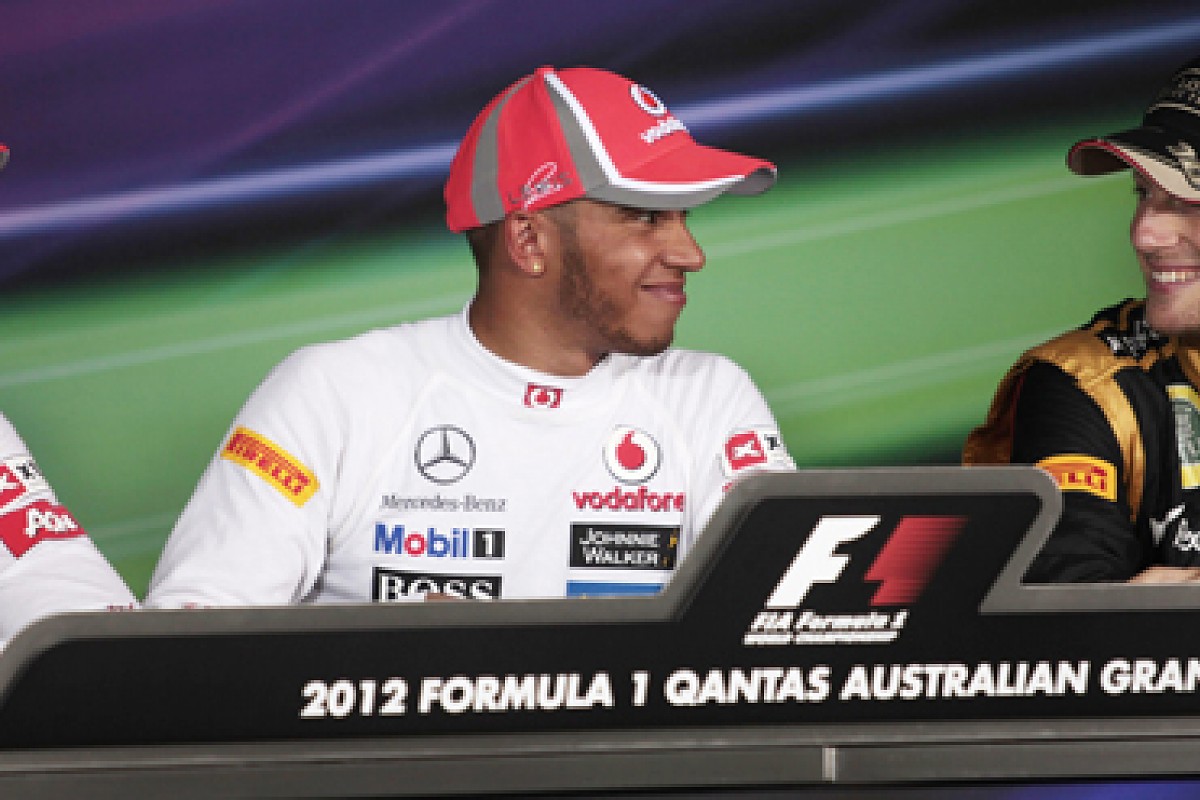 1 Lewis Hamilton (McLaren)
Time: 1m24.922s
"It's an incredible feeling to be back here and to get off to such a good start. This is mine and Jenson's first one-two in qualifying, so it's fantastic to start the season this way. It's going to be an incredibly tough, intense race."
2 Jenson Button (McLaren)
Time: 1m25.074s
"Obviously, you want to be first on the grid but Lewis did a good lap in Q3. We're all just really happy to be on the front row. I made a bit of a mistake but I'm on the front row. It has been a long time coming, us two being on the front row, and hopefully we'll have a good race."
3 Romain Grosjean (Lotus)
Time: 1m25.302s
"This is a fantastic job from everybody. It's really nice to be back in F1. Winter testing went pretty well and today I'm proud to be part of this with Lotus. I hope we can keep going this way all season long."
4 Michael Schumacher (Mercedes)
Time: 1m25.336s
"It was a reasonably clean lap and I don't think there was much [else] in it to take out. Nico could have been further up obviously, so it's more or less what we would have expected from winter testing, with the exception that we all expected Red Bull to be in front of us."
5 Mark Webber (Red Bull)
Time: 1m25.651s
"We weren't quite firing on all cylinders and this is the result. You know starting the lap without KERS is certainly not a positive thing. I had to go again in Q2 to understand the braking without KERS and that lap wasn't ideal because I made a mistake then I had only one lap in Q3. I couldn't have done any more."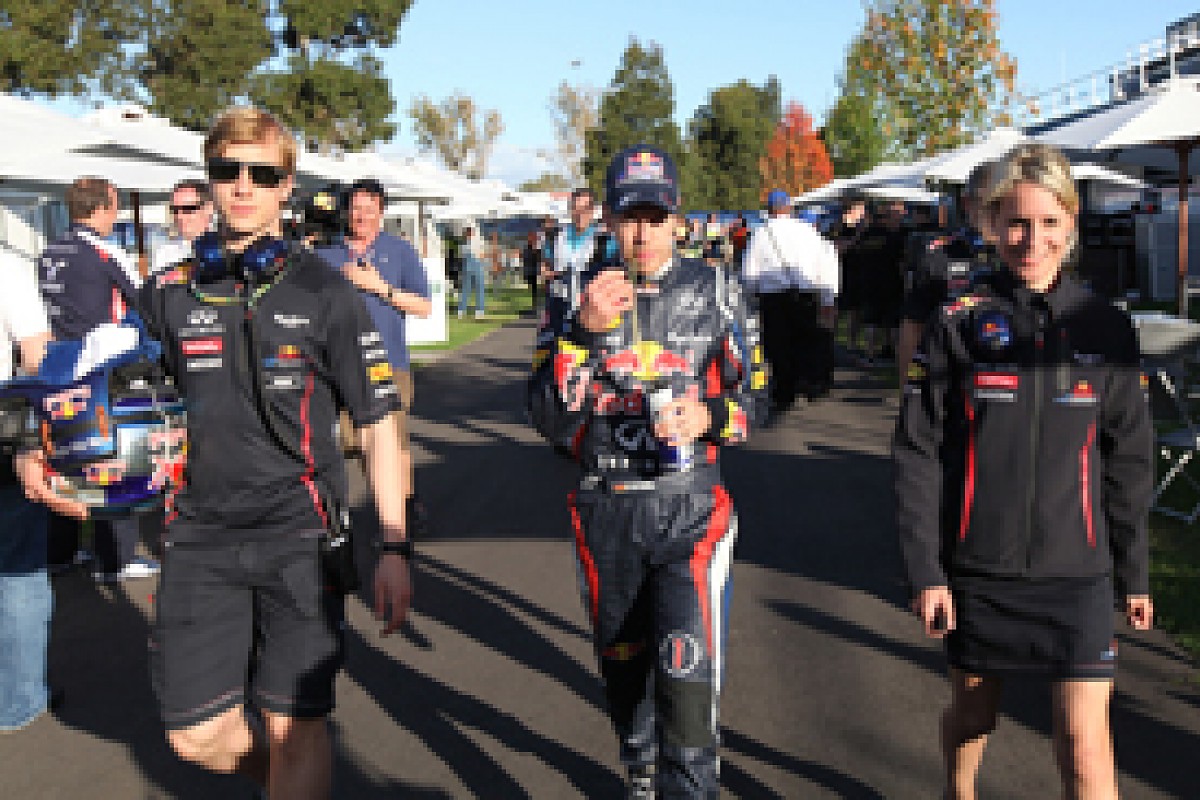 Vettel found himself not required in a top three press conference for once © LAT
6 Sebastian Vettel (Red Bull)
Time: 1m25.668s
"It's not a disaster. We would have loved to have been further up. I wasn't entirely happy with the second run in Q3 because I made a mistake in the first sector and lost quite a bit. I knew I could probably have gone faster, but it doesn't help if you make a mistake."
7 Nico Rosberg (Mercedes)
Time: 1m25.686s
"I locked up the fronts on braking - I made a mistake. In general it has been a positive day because we are moving forward and are much closer to the front. That's great news. Tomorrow the race should look better than last year."
8 Pastor Maldonado (Williams)
Time: 1m25.908s
"With the gaps so close, the driver can make the difference, especially when it comes to getting in Q3. I did my best today and it was a good lap. Even in Q2, it was a good lap. The car is looking strong and consistent in the corners and it's getting better and better."
9 Nico Hulkenberg (Force India)
Time: 1m26.451s
"It surprised me because I didn't expect this after practice as things looked a bit more difficult. We improved the car since then and really stretched ourselves in Q2 to squeeze in Q3. The midfield is very tight."
10 Daniel Ricciardo (Toro Rosso)
Time: 1m26.319s*
"I'm happy with that. There was still more in the car but with what we had it was a good job to get in Q3. As for balance and the little details, I think we could have been better and snuck a couple of places up the grid. But top 10 was solid."
*No time set in Q3.
11 Jean-Eric Vergne (Toro Rosso)
Time: 1m26.429s
"That was not bad, even if it is a bit disappointing to have missed out on Q3 by a very small margin. I got a very good lap in Q1, a bit less so in Q2. But I still have a lot to learn at this stage and the main thing is that everything went well."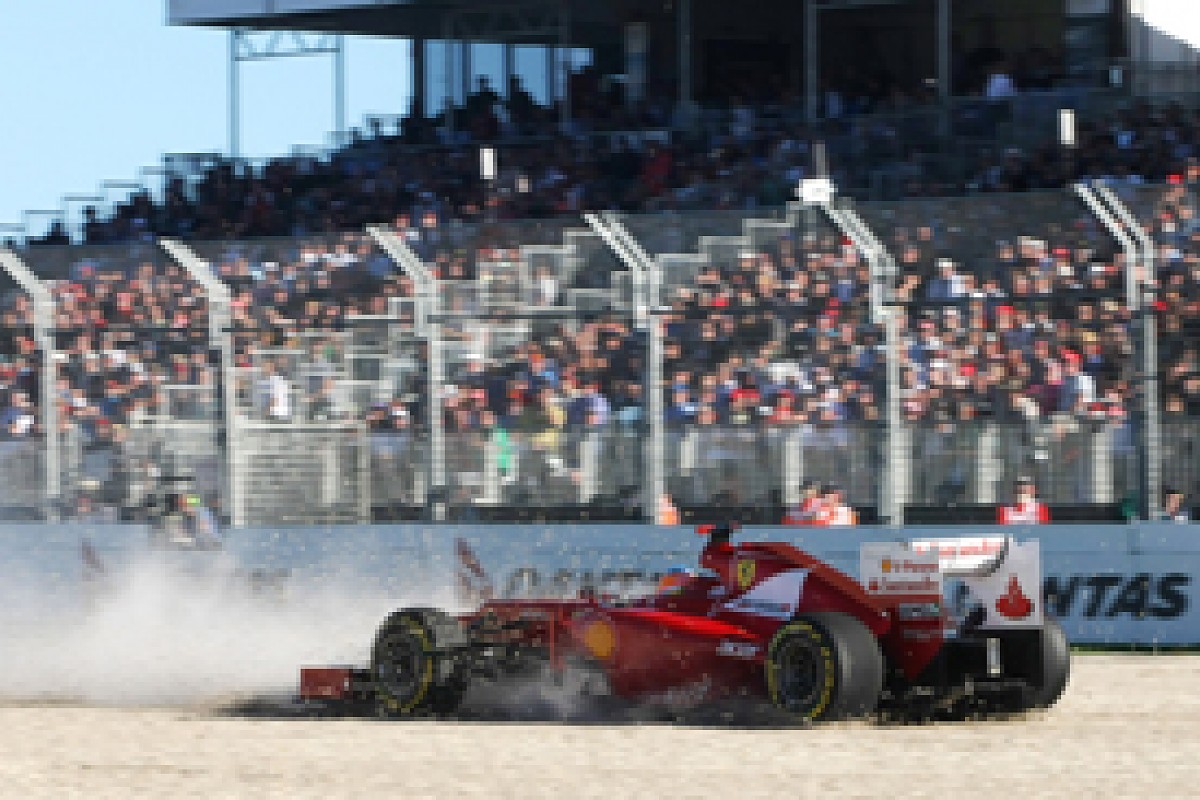 Alonso spins out of qualifying © XPB
12 Fernando Alonso (Ferrari)
Time: 1m26.494s
"I think I touched the grass. I didn't realise obviously but looking at the TV the left tyres were on the grass so I spun putting the tyres there and qualifying finished in the gravel. I don't know what could be the position without the incident, maybe it was possible to go in Q3, maybe not."
13 Kamui Kobayashi (Sauber)
Time: 1m26.590s
"This is obviously disappointing. In Q1 I was really happy with the car and the grip and, of course, it felt great to have set the fastest lap. But then on my second run in Q2 with another new set of soft tyres I just could not find grip."
14 Bruno Senna (Williams)
Time: 1m26.663s
"Qualifying was disappointing. I struggled with the soft tyres and had very scruffy runs with them. The only non-scruffy run with soft tyres was in Q2, but that was below the limit. I didn't take everything out of the car."
15 Paul di Resta (Force India)
Time: 1m27.086s
"Obviously, I'm disappointed to qualify where we are but the car looks reasonably strong if we can get it together. On the last run, I had a terrible out-lap with traffic and I had to back off. As a consequence, I had no temperature in my tyres."
16 Felipe Massa (Ferrari)
Time: 1m27.497s
"I was fighting all of the time to try to find the balance and the grip. I struggled massively without grip in the car. That was really the main issue I had. When I find the balance, I'll improve a lot. This weekend is more difficult than we expected."
17 Kimi Raikkonen (Lotus)
Time: 1m27.758s
"We had plenty of speed, but I ran wide in corner 12. We were supposed to have one more lap and that's why I slowed down. If I had kept going it would have been fast enough to go through. But nobody said that it was so close to the time."
18 Heikki Kovalainen (Caterham)
Time: 1m28.679s
"Looking at the data, I lost six to seventh tenths [behind an HRT]. It happens sometimes. I don't know what Pedro de la Rosa was thinking, perhaps he didn't see me. But that's life."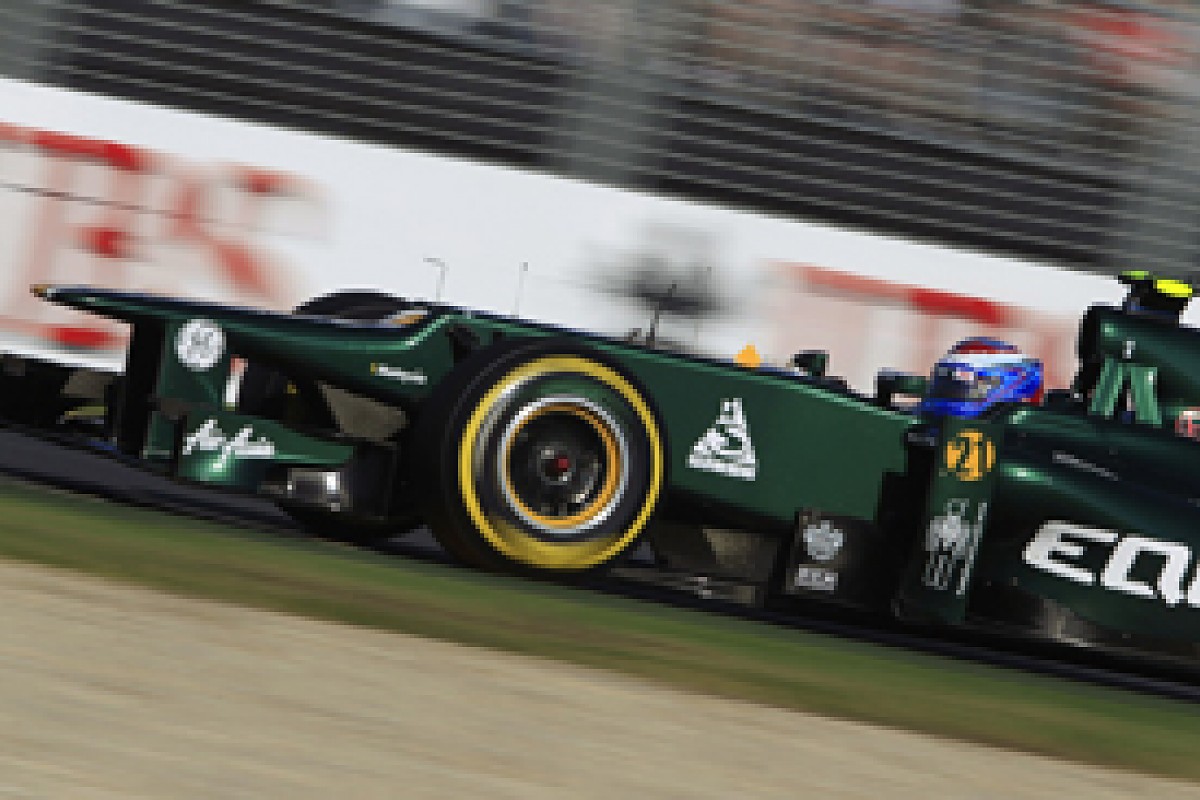 In his first qualifying session for Caterham, Petrov found the team still some way off Q2 pace © LAT
19 Vitaly Petrov (Caterham)
Time: 1m29.018s
"That was an OK qualifying, maybe not quite what we had hoped for but we know there's more to come. We lost time yesterday and today the performance run was cut short in P3 with a hydraulics issue but I pushed as hard as I could."
20 Timo Glock (Marussia)
Time: 1m30.923s
"Mechanically, I'm very happy with the car and everything is working well. The baseline is right but we have a lot of catching up to do. I am looking forward to the future and it feels great to have fun driving a Formula 1 car again."
21 Charles Pic (Marussia)
Time: 1m31.670s
"Everyone has worked so hard to get us to a good position for qualifying and the race and I would like to thank the whole team for their support, which was incredible. Tomorrow is another day and I have to keep pushing hard for the race."
22 Sergio Perez (Sauber)
Time: 1m26.596s
"We made some set-up changes to the car today and in Q1 I was busy adapting my driving style a bit. In Q2 I knew exactly what to do but then I could not shift anymore because of a gearbox problem."
23 Pedro de la Rosa (HRT)
Time: 1m33.495s*
"We did all we could today. The team put in a great shift and just making it to today was an accomplishment for us. Now all we can do is work for Malaysia and the following races and focus on the important areas to make the car quicker."
24 Narain Karthikeyan (HRT)
Time: 1m33.643s*
"We didn't have the DRS working and had issues with the power steering, so we could have easily been in. The DRS alone is worth about nine tenths, and the power steering is virtually non-existent, it's almost impossible to drive."
* Both HRTs were deemed not to have met the time standard required to start the race. The 107 per cent cut-off time was 1m32.214s.
FINAL GRID

Pos  Driver                Team
 1.  Lewis Hamilton        McLaren-Mercedes
 2.  Jenson Button         McLaren-Mercedes
 3.  Romain Grosjean       Lotus-Renault
 4.  Michael Schumacher    Mercedes
 5.  Mark Webber           Red Bull-Renault
 6.  Sebastian Vettel      Red Bull-Renault
 7.  Nico Rosberg          Mercedes
 8.  Pastor Maldonado      Williams-Renault
 9.  Nico Hulkenberg       Force India-Mercedes
10.  Daniel Ricciardo      Toro Rosso-Ferrari
11.  Jean-Eric Vergne      Toro Rosso-Ferrari
12.  Fernando Alonso       Ferrari
13.  Kamui Kobayashi       Sauber-Ferrari
14.  Bruno Senna           Williams-Renault
15.  Paul di Resta         Force India-Mercedes
16.  Felipe Massa          Ferrari
17.  Kimi Raikkonen        Lotus-Renault
18.  Heikki Kovalainen     Caterham-Renault
19.  Vitaly Petrov         Caterham-Renault
20.  Timo Glock            Marussia-Cosworth
21.  Charles Pic           Marussia-Cosworth
22.  Sergio Perez          Sauber-Ferrari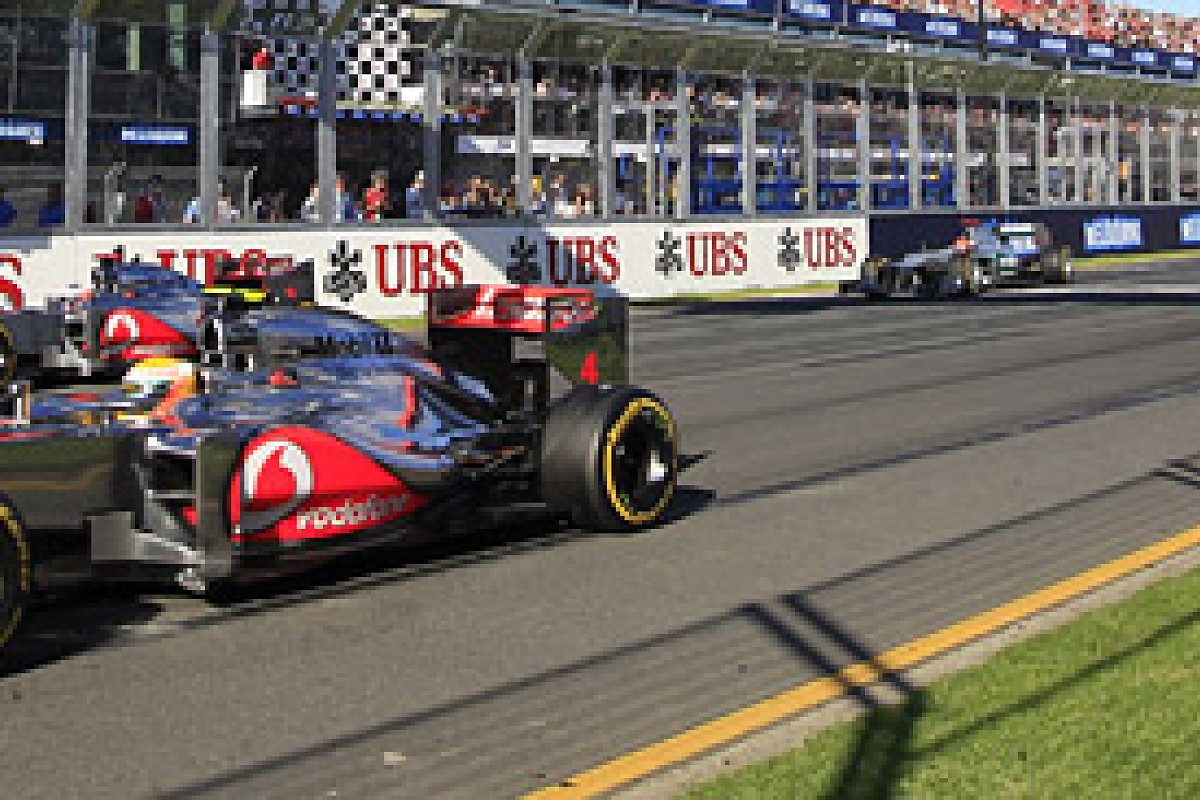 RACE
So it wasn't all wild winter optimism. Red Bull isn't unbeatable this year. McLaren does have a car that can fight for the title from the outset. Both its drivers are rapid in it. The Red Bull duo seem more evenly-matched than in 2011. Mercedes and Lotus are very fast, even if they have issues to solve. Ferrari isn't quite that bad, at least with Fernando Alonso at the wheel. Williams is back. Toro Rosso, Sauber and Force India have top 10 pace too.
Even allowing for the fact that Melbourne is incapable of delivering a truly tedious race, the 2012 Australian Grand Prix gave fans abundant reasons to be excited about what is to follow, with the prospect of a season as close-fought and unpredictable as the 2010 title battle, but with more wheel to wheel action, now seeming very real.
So there were plenty of people grinning after the race finish - but none quite as widely as Jenson Button. His third Melbourne win in four years was a masterful affair, not as rampantly dominant as his 2009 demolition of the field for Brawn, but more commanding than the 2010 wet/dry triumph. While he no longer needs to convince anybody that he can win in the dry in a McLaren or that he can outpace team-mate Lewis Hamilton even when his compatriot is firing on all cylinders, doing exactly that in the first race of the season was a neat way of underlining the point.
It also removed any doubt whatsoever about McLaren's potential for 2012 - and getting that early edge was what Button was most excited about.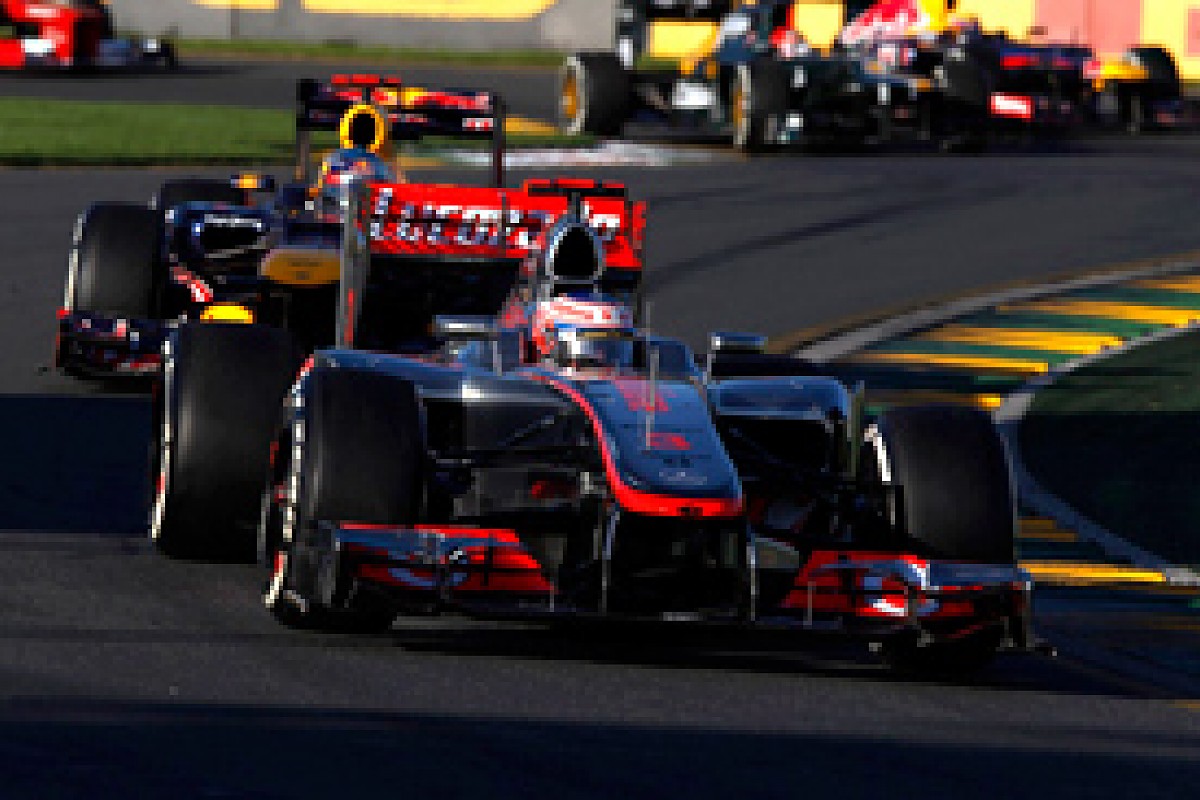 Once out front, Button did not put a foot wrong and eased away from both Hamilton and Vettel during the race © LAT
"We always said if we had a good winter we would start the season on a high and we have done exactly that," he said. "I'm in a great place with the team right now and feel so at home in the car - which is so important to me. It is a car that gives me a lot of confidence so hopefully more of this [winning], this year."
It was one of those races where there was plenty going on, but the leader kept himself ahead of it. Once Button had made a better start than his team-mate and claimed the lead, he simply kept things neat and quick, stayed cool and collected following the late safety car period, and completed a masterclass in controlling a race from the front.
In his wake, both Red Bulls, Romain Grosjean, Pastor Maldonado, Alonso, both Mercedes and Hamilton were all factors in the podium dice at various stages.
Grosjean made a slow getaway and immediately fell to sixth, as the two Mercedes and Sebastian Vettel came through to fill the gap between the McLarens and the Lotus through the first corner. Things then got significantly more depressing for Lotus when Maldonado dived inside Grosjean at Turn 13 on the second lap. They banged wheels, breaking Grosjean's suspension in the first big anti-climax of F1 2012.
"I just tried to overtake him, did it and he went wide. It was a clean one. Very little contact," said Maldonado.
Grosjean was unimpressed - "He just arrived too quick and couldn't turn his car. I was not going to go straight into the gravel to give him space" - but so upbeat about Lotus's pace that an early retirement after a sensational qualifying performance wasn't going to stop him smiling.
"The race was quite brief, but I think we have to take the positives from it," he said. "I was easily following the guy in front of me at the beginning. I'm sure we can achieve some great things this year."
Another team whose promise would fade was Mercedes. Vettel picked off Nico Rosberg with a bold outside-line move on lap two, then closed on Michael Schumacher. A visit to the Turn 1 grass delayed the world champion slightly, but didn't cost him any positions, and he moved into third when gearbox problems ended Schumacher's race on lap 10.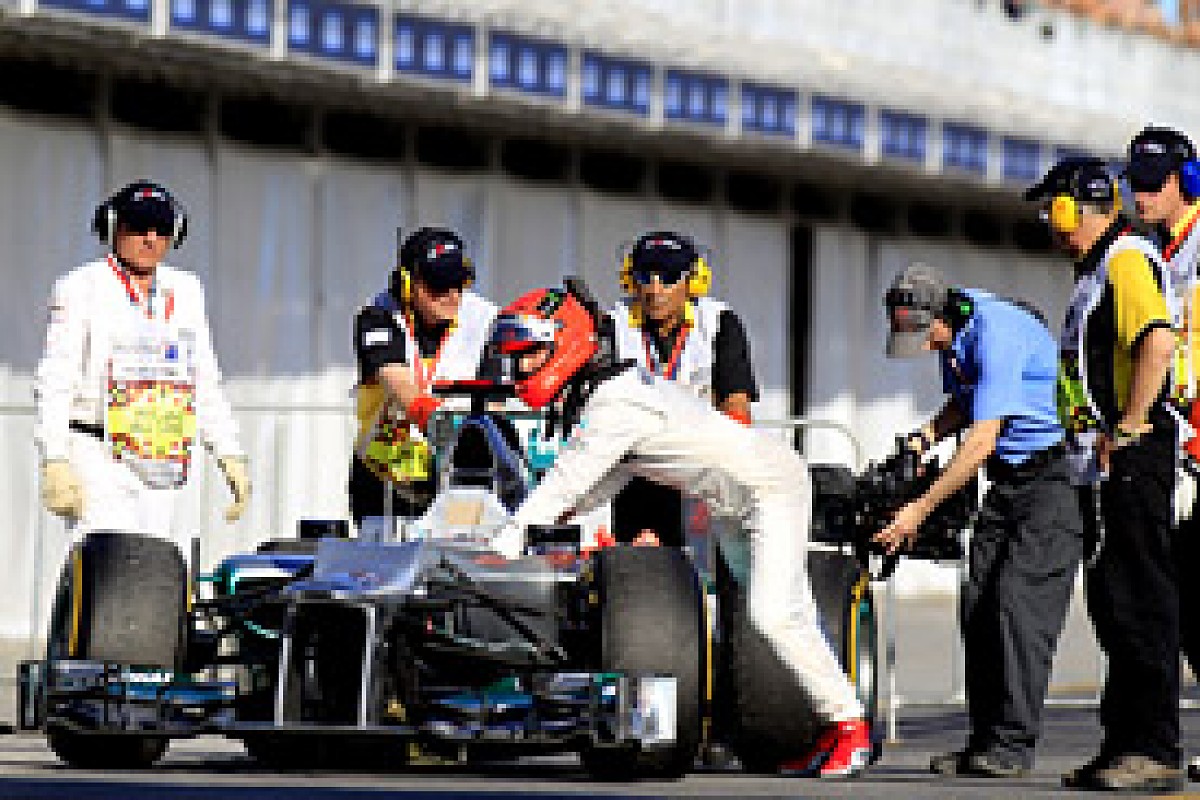 Michael Schumacher's race ended prematurely when he suffered gearbox problems on lap 10 © LAT
Vettel and the rest of the top six group then had a chance to threaten Hamilton. Through the first stint the McLarens had been a consistent three seconds apart, but when they pitted on laps 16 and 17 (Button first), significantly faster in- and out-laps by the elder Briton stretched a gap that got larger still as Hamilton rejoined behind Kimi Raikkonen's Lotus and Sergio Perez's Sauber, both of which were planning on staying out for long first stints.
By the time Raikkonen had pitted and one-stopper Perez had been overtaken, Hamilton was 11.4s behind Button and had Vettel, Alonso, Rosberg and Mark Webber looming in his mirrors, with Maldonado catching up too.
This was a typically dogged drive from Alonso, who had made up several places at the start, then passed Rosberg in the first stops. Webber was also on a recovery charge, having dropped to ninth off the line, while Maldonado had lost several places visiting the Turn 6 gravel, but was swiftly making amends.
The prospect of a six-car scrap soon faded, though, as Vettel could not quite put the McLaren under pressure, and Alonso dropped back into a lonely fourth as the tyre-troubled Rosberg worked to fend off Webber and Maldonado, before finally pitting on lap 31. Unlike all the frontrunners bar Vettel, the Mercedes only took on medium tyres for the final run-in after two stints on softs, rather than ditching softs for an afternoon on mediums following pit visit number one. It was an unsuccessful tactic for a car not kind to its tyres, and after his last stop Rosberg fell back into the pack behind, where he would have some more adventures later.
The podium battle was shaken up when Vitaly Petrov parked his Caterham on the pits straight with steering problems, prompting the safety car to come out on lap 37 - right in the middle of the leaders' pitstop sequence. The McLarens and Alonso had already stopped, whereas the Red Bulls had not and could dive in under the caution, which helped Vettel jump Hamilton for second and Webber get ahead of Alonso for fourth.
Although the prospect of a bunched-up restart with 17 laps to go looked enticing on paper, Button had everything in hand, and Hamilton wasn't able to really threaten Vettel for second. Pole becoming third place on a day when his team-mate had won meant a less than ecstatic reaction from Hamilton afterwards, while Vettel seemed relieved to have proved that Red Bull was not in dire crisis, it just had some tough opposition again. It also had two drivers in contention: Webber finishing right on Hamilton's tail after a strong recovery drive to fourth.
Alonso's priority in the closing laps was to fend off Maldonado - a task he had basically achieved by the time the Williams driver reminded everyone of the erratic side of his reputation by crashing heavily on the very last lap. The crash left him puzzled, but not too downcast - like his lap two sparring partner Grosjean, Maldonado felt his team had made such a big step forward that one lost chance didn't hurt too much, for there would be plenty more to come.
Fifth had to count as a good result for Ferrari in the context of its Saturday disaster, and Alonso was suitably pleased.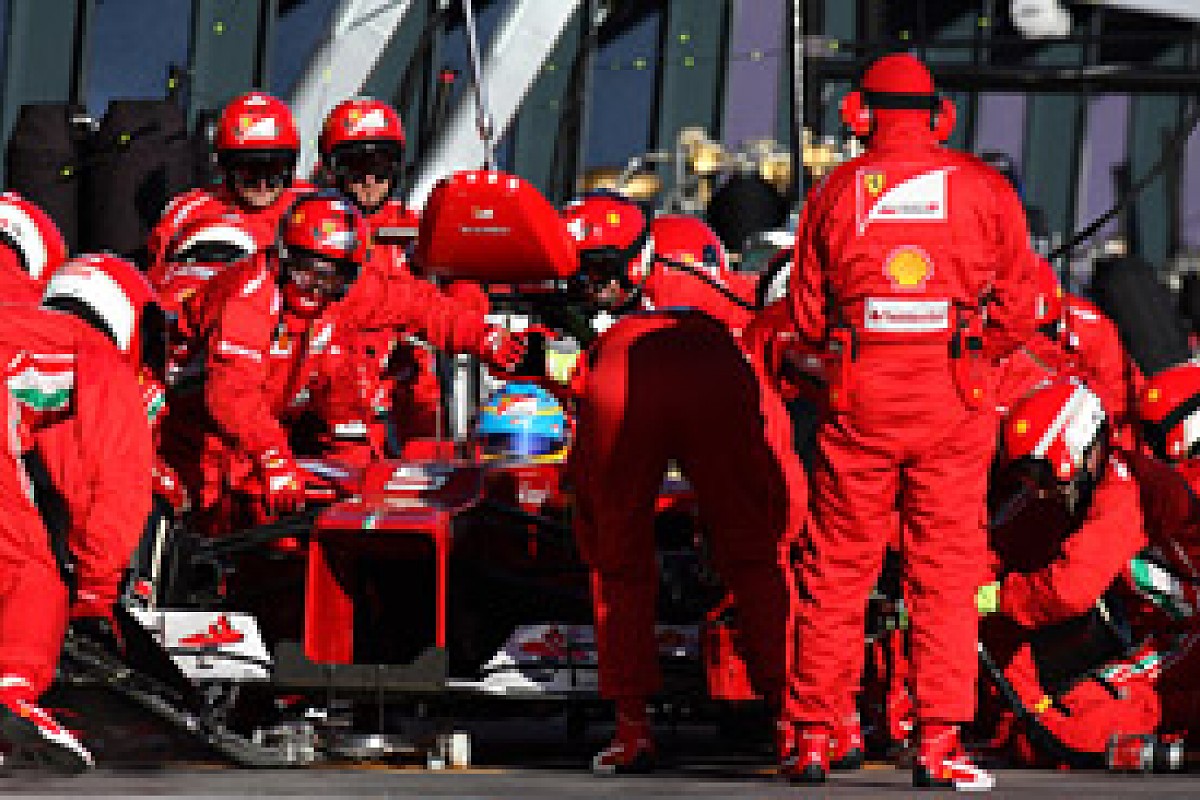 Fifth represented a good result for Ferrari and Fernando Alonso after the F2012 struggled in qualifying © LAT
"I think it was damage limitation with the number of points that we got from this weekend," he said. "It was a tough weekend from Friday and then both cars out of Q3 was not the best result from us.
"To be in fifth, just behind the two McLarens and the two Red Bulls, was the best news from the weekend in terms of the team but for sure there is a lot of work in the next couple of weeks to improve the car. We were one second off the pace in qualifying and this is too much."
The remaining points-scoring positions were settled amid complete chaos as a group of hard-racing, tightly-packed cars, several in varying degrees of tyre strife, dodged around Maldonado's wreckage.
Just beforehand, Perez had been fending off Rosberg, Kamui Kobayashi and Raikkonen (who had banged wheels and overtaken each other a few times during the afternoon), the Toro Rossos of Jean-Eric Vergne and Daniel Ricciardo, and Paul di Resta's Force India. As the carnage erupted, Rosberg and Perez clashed, allowing Kobayashi and Raikkonen to sweep through to sixth and seventh ahead of the Mexican, Ricciardo to get up to ninth, and di Resta to beat Vergne to the final point in a KERS drag race over the line, as Rosberg limped home 12th with a puncture.
Bruno Senna (Williams) and Felipe Massa (Ferrari) might have been somewhere amid all this too, had they not collided near the end. Massa had briefly appeared in the top 10 but fell back with appalling tyre wear and had to make three pitstops, while Senna was among several victims of the usual Melbourne first corner mess, which also saw Ricciardo having to pit for a new wing, Nico Hulkenberg sustain terminal suspension damage after contact with Webber, and Vergne end up on the grass.
As usual in Melbourne, mess up front allowed a back-of-the-grid team to pick up a result that could be very significant when championship countbacks are carried out in November. With both Caterhams stopping with steering issues and HRT not in the field, it was Marussia that could celebrate: Timo Glock came home 14th and Charles Pic stopped with oil pressure problems in the final moments but was classified 15th.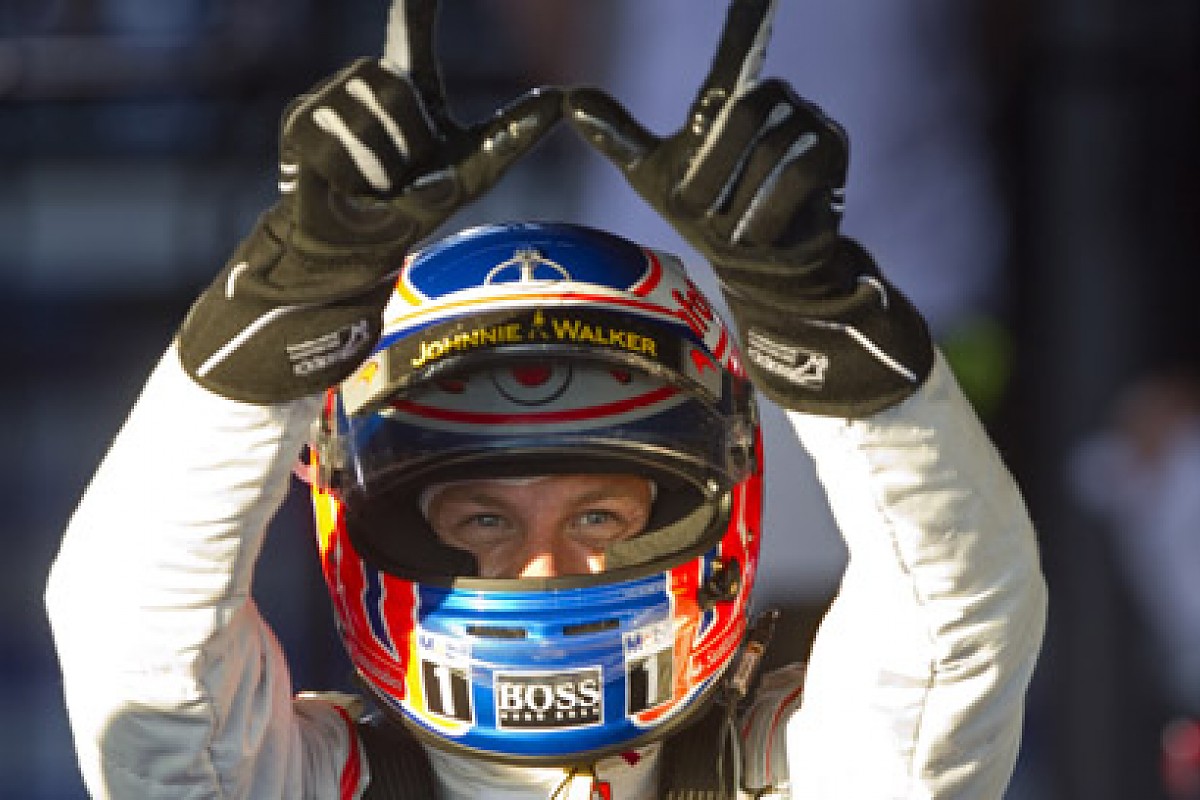 Lap-by-lap as it happened on AUTOSPORT Live
RACE RESULTS
The Australian Grand Prix
Albert Park, Australia;
58 laps; 307.574km;
Weather: Sunny.

Classified:

Pos  Driver        Team                       Time
 1.  Button        McLaren-Mercedes           1h34:09.565
 2.  Vettel        Red Bull-Renault           +     2.139
 3.  Hamilton      McLaren-Mercedes           +     4.075
 4.  Webber        Red Bull-Renault           +     4.547
 5.  Alonso        Ferrari                    +    21.565
 6.  Kobayashi     Sauber-Ferrari             +    36.766
 7.  Raikkonen     Lotus-Renault              +    38.014
 8.  Perez         Sauber-Ferrari             +    39.458
 9.  Ricciardo     Toro Rosso-Ferrari         +    39.556
10.  Di Resta      Force India-Mercedes       +    39.737
11.  Vergne        Toro Rosso-Ferrari         +    39.848
12.  Rosberg       Mercedes                   +    57.642
13.  Maldonado     Williams-Renault           +     1 lap
14.  Glock         Marussia-Cosworth          +     1 lap
15.  Pic           Marussia-Cosworth          +    2 laps
16.  Senna         Williams-Renault           +    4 laps

Fastest lap: Button, 1:29.187

Not classified/retirements:

Driver        Team                         On lap
Massa         Ferrari                      47
Kovalainen    Caterham-Renault             42
Petrov        Caterham-Renault             37
Schumacher    Mercedes                     11
Grosjean      Lotus-Renault                2
Hulkenberg    Force India-Mercedes         1
Karthikeyan   HRT-Cosworth                 DNS
De la Rosa    HRT-Cosworth                 DNS

World Championship standings, round 1:                

Drivers:                    Constructors:             
 1.  Button        25        1.  McLaren-Mercedes           40
 2.  Vettel        18        2.  Red Bull-Renault           30
 3.  Hamilton      15        3.  Sauber-Ferrari             12
 4.  Webber        12        4.  Ferrari                    10
 5.  Alonso        10        5.  Lotus-Renault               6
 6.  Kobayashi      8        6.  Toro Rosso-Ferrari          2
 7.  Raikkonen      6        7.  Force India-Mercedes        1
 8.  Perez          4       
 9.  Ricciardo      2       
10.  Di Resta       1       

TEAM-BY-TEAM
Red Bull
It's too early to say whether the tide has turned, but Red Bull's RB8 does not currently possess the regal dominance of its all-conquering predecessor and the evidence was there whenever the track was dry in practice. Qualifying confirmed it with Mark Webber only fifth fastest (albeit with a KERS issue) and world champion Sebastian Vettel - the qualifying king - sixth having made a mistake on his flier.
Red Bull promised vastly improved race pace and performance and it largely delivered on that. Vettel fought his way up to third prior to the first pit stops and took Lewis Hamilton for second during the safety car period. He could do nothing about Jenson Button though: the Briton was quite simply faster and able to ease away in the last third of the race.
Webber's car was damaged at the start and he dropped several places. He spent some time stuck behind Alonso in seventh, but once free of the Ferrari the Australian was rapid. The safety car helped him rise to fourth and gave him a shot at the podium, but it remained tantalisingly out of reach as he could do nothing but follow Vettel and Hamilton home.
McLaren
Right from the beginning of the weekend the team's air of confidence hinted at something special. It didn't bother running in the rain on Friday, looked fast and in control on Saturday morning and then swept the front row with a brilliant lap from Lewis Hamilton eclipsing that of team-mate Jenson Button's. It was their first 1-2 as a driver pairing.
Button made the better start and commanded from the front. Hamilton shadowed him initially, but emerged from his first pit stop behind a long-stinting Sergio Perez and Kimi Raikkonen which cost him around 10s. He dropped to third behind Sebastian Vettel during the safety car period and that extinguished any hope Hamilton had of victory.
Button meanwhile had no problems managing Vettel's initially marauding Red Bull immediately following the safety car, setting the fastest lap on his 56th tour to underline his formidable pace. As good, and flawless, a win as the 2009 world champion has ever produced.
Ferrari
Whatever Ferrari paid Fernando as a retainer must seem like money well spent on weekends like these. Practice and qualifying proved what winter testing had hinted - namely that the red team, by its own high standards, was struggling badly. Fernando Alonso spun out of Q2, but wasn't sure if he would have made Q3 anyway and started 12th.
Felipe Massa struggled immensely with a car he made no secret of disliking and qualified 16th.
Expectations were low for the race, but Alonso was at his resilient best. He was sixth by the end of lap one, and diced with Sebastian Vettel in the early stages. That pace wouldn't last but he remained fifth for much of the race and resisted enormous pressure from Pastor Maldonado's impressive Williams late on to score 10 valuable points. Massa was running 13th when he and Bruno Senna collided, ending a miserable weekend.
Mercedes
The team dominated the headlines for much of the weekend with its rear wing F-duct system, and the pace had definitely improved in the W03. Michael Schumacher - much happier with this year's car - qualified a confident fourth, while team-mate Nico Rosberg should, and would, have done better if he hadn't locked up the fronts on his best lap.
Schumacher ran third in the early stages and looked good for his 155th podium until a gearbox problem ended his race on lap 11. Rosberg made a good start and jumped to fourth but from there on in it went bad as the Mercedes burned through its tyres and could not stay in contention. Despite this, the German was heading for eighth place when he and Perez touched on the straight on the last lap and Rosberg dropped to 12th, having finished the race with a puncture.
Lotus
A great deal of anticipation over the return of Kimi Raikkonen met with a fairly low key build up for the Finn as he opted for a steering rack change - the power steering is currently not to his liking - on Friday. But Romain Grosjean's strong practice form translated into a brilliant third on the grid - demonstrating the E20s inherent pace. Raikkonen should have been in the top ten too, but his rustiness showed as he was caught out, and dumped out, in Q1.
It all went wrong for Grosjean in the opening laps as he made a poor start and dropped to sixth. The following lap he collided with Pastor Maldonado, a clash which damaged his front suspension and ended his race instantly. Raikkonen put in a tremendous performance in the race and charged up from 17th to seventh - with his race pace suggesting he could have been fourth, and that there is clearly more to come from him and Lotus.
Force India
Came into the weekend with strong expectations after an encouraging winter. Nico Hulkenberg's pace in practice and then the Q3 spot that netted him ninth on the grid seemed to cement that theory. Paul di Resta was less happy however, not really finding a rhythm or a balance on Saturday and hoping that 15th place on the grid could be transformed into strong race pace.
Hulkenberg's weekend came to a dispiriting end when he was hit by Webber in the first corner melee and retired further around the lap with suspension damage. Di Resta never got the long run pace he was hoping for, particularly at the beginning of his stints, and it was racer's instinct that got him on the tail of the Rosberg/Sauber/Toro Rosso battle at the end - the Scot snatching the last point from Vergne on the line.
Sauber
Pinpointed by Jenson Button as a team to watch out for, there were flashes of promise all through practice and qualifying for the C31, culminating in Kamui Kobayashi and Sergio Perez posting the first and fifth best times in Q1. Disappointingly that translated to 13thand 22nd on the grid - Perez forced to take a gearbox change.
The Mexican went long into the race on his first set of tyres, as he did on his debut last year, and ran as high as second before being absorbed back into a fresh-tyre-shod pack. In the end he was drawn into a compelling battle for lower order points, despite shot tyres and a battle-damaged car, and finished eighth.
Kobayashi put in a customarily combative performance after he was tagged by Perez at the start. Despite a damaged rear wing, he fought in the points all day, and having bravely passed Kimi Raikkonen after the safety car, benefitted from problems for Rosberg, Perez and Maldonado's crash to finish a strong sixth.
Toro Rosso
Came into the weekend maintaining an air of optimism installed by the neat STR7 and two highly-rated young chargers during testing. The rookie pair survived a learning day on Friday unscathed and then Daniel Ricciardo snuck into Q3, just ahead of his team-mate Jean Eric Vergne.
Both men were involved in the first corner kerfuffle and Ricciardo pitted for a new nose. Vergne meanwhile went off-track while battling with di Resta later on. The safety car brought both back into contention for points and each was involved in the dramatic last lap scrap for ninth that saw Ricciardo snatch two points and Vergne miss out on a maiden haul to di Resta on the line.
Williams
What a difference a year makes. The Renault-powered Williams FW34 proved to be one of the surprise packages of the weekend, particularly in the hands of Maldonado who easily made Q3 and then qualified a solid eighth.
In the race the Venezuelan was a factor all day and, despite contact with Grosjean early-on, gave Alonso a seriously hard time for fifth position before stepping over the limit on the last lap and crashing hard into the wall. Team-mate Bruno Senna was less impressive - a scruffy qualifying lap meant he started 14th and he clashed with Felipe Massa late on in the race to end an under par weekend in the pits.
Caterham
The team is constantly pointing to its progress towards the midfield, but there were signs that it might actually compete towards the back of that pack in Australia. Lack of reliability scuppered the ambition though.
In qualifying Kovalainen admitted a lack of KERS had cost him any chance of realistically making Q2, but it was at least a feasible target. Petrov was not so close, admitting there was more for him to learn about the car and the team. In the race Kovalainen ran as high as 11th early on, in spite of intermittent DRS and no KERS. Both he and Petrov were eventually taken out of the race with steering issues - Petrov's causing the race's prolonged safety car period when he stopped on the pit straight.
HRT
This was an appalling weekend for the rebranded Spanish squad as it once again found itself preparing cars for the first race, at the first race.
Narain Karthikeyan completed 19 laps on Friday, while Pedro de la Rosa managed just one installation lap in FP2! Unsurprisingly neither driver could lap closer than nine seconds from pole in qualifying - and were more than a second off the 1m32.214s cut off time. The team requested permission to start the race but was denied.
Marussia
Came to Australia having completed just 100km of running with its new MR01, so was always on the back foot. Nevertheless Marussia's men calmly set about completing 51 laps of trouble-free running in free practice on Friday.
Both cars made the grid, Timo Glock some 0.7s faster than accomplished rookie Charles Pic. Both cars also finished the race - which, given the circumstances, was a good result even if they were running last on-track, having been lapped again after the mid-race safety car period had reset the order.
RACE DATA