Tony Dodgins didn't manage to get to last week's Barcelona test but still got his annual brain-picking call from a brash, successful, annoying 'friend'.
When my mobile rang last Friday evening the number looked vaguely familiar and, from the timing, I should have known.
It was an acquaintance, a friend of a friend, a currency trader by profession - sickeningly successful - and a man, let's call him Mike, who bets heavily on F1 but whose partner is blissfully unaware.

Sebastian Vettel is the bookie's favourite going into 2012 © LAT
Mike figured I might have been at Barcelona and able to give him some insight into the latest round of pre-season testing.
"Sorry," I said, "the intention was to go to at least one test but due to unfortunate family events I'd been on hospital-watch instead. I'm not going to pretend to know the first thing about the true picture. Without full details of who's doing what, when, on which tyres and on what fuel load, it's a total waste of time. All I'll do is give you a bum steer."
"Appreciate your honesty," he said, "I've already got a bit of info to go on. You not heard anything at all?"
"The only real thing," I said, "and it's second hand, is that the Merc still seems to have higher tyre degradation than it'd like."
This time of year to Mike, is like the Glorious Twelfth to a grouse shooter. He boasts that he's not made less than 50k profit from any F1 season for the past decade. Can't understand why we don't all do it.
The bookies, he says, haven't got a clue. F1's a high-profile sport so they have to offer odds, but it's way too complex for them. They don't know what they're doing.
When I counter that you don't meet many poor ones, he snorts dismissively.
"That's because most punters are tossers. Are you saying that you've never turned a bit of inside information to your advantage?"
"Once," I said, "back in 1988 when we heard how indecently quickly the McLaren MP4/4 had gone at Imola just as AUTOSPORT closed for press on a Tuesday afternoon. I risked a hundred quid on Senna at 5-1, which was a lot of money then, but it paid off handsomely.
"Hey, Big Spender!" he mocked, before adding: "and what about three years ago, after Button turned up at Barcelona with the Brawn when he was 80-1 to win the championship. You must have..."
"No," I said, through gritted teeth, "I didn't. Logic said that when Jenson went as quickly as anyone and, rumour had it, with 40kgs of fuel on, he was going to have a damned fine start to the year but, even so, the idea he'd win the championship was still a fairy tale."
"So you did nothing at all?" he pushed, quite amused now.
"No, nothing. And you? Did you know about the heavy fuel?"
"I'm sure the team guys all phoned their mates before they took the fuel out but let's just say I knew soon enough. I got something down each-way, a fifth of the odds, and still did very nicely thank you..."
Confident and forthright, Mike's cockiness can be grating but he does his homework, has cultivated one or two contacts close to certain teams and is always an entertaining listen.
Come on then, I said, let's hear it: "What are you doing this year? Put your mouth where your money is."
"It's pretty straightforward championship stuff," he replies. "Vettel at even money is being offered all over the place and that's a steal. Even if the McLaren turns out to be quicker, Lewis and Jenson will screw each other up. Vettel can't fail, he's a dead cert, you can put your house on it."
So have you?
"I've gone pretty heavily for that, yes. Then, Alonso is second favourite at 11-2, which is a joke."
Why?
"Because Ferrari's all over the place, you can see that. The bookies are obviously a bit windy about Fernando but they're being too conservative, which has pushed the odds out on the McLaren guys, which is good news.
"You can see how terrified of Alonso they are because you can get Massa at 100-1 in the same blooming car. Can you believe that? That's with Bet 365, so obviously Ray Winstone's not bought the poor cherub not being able to heat his tyres up last year.
"Everyone thinks Felipe's history. You might want to cover him each way at those odds but I'm going with their judgment - he's toast."
So, I said, what's the situation with Jenson and Lewis.
"Well, Stirling Moss might reckon that Jenson's going to beat Lewis again in 2012 but the bookies don't, and I'm with them. Bringing Didier Coton in to look after Lewis instead of those celebrity luvvies has got to be a good move. He'll tell Lewis that Ferrari's closed, Vettel's too entrenched at Red Bull, so do your McLaren deal early and get on with what you're supposed to be doing, which is driving.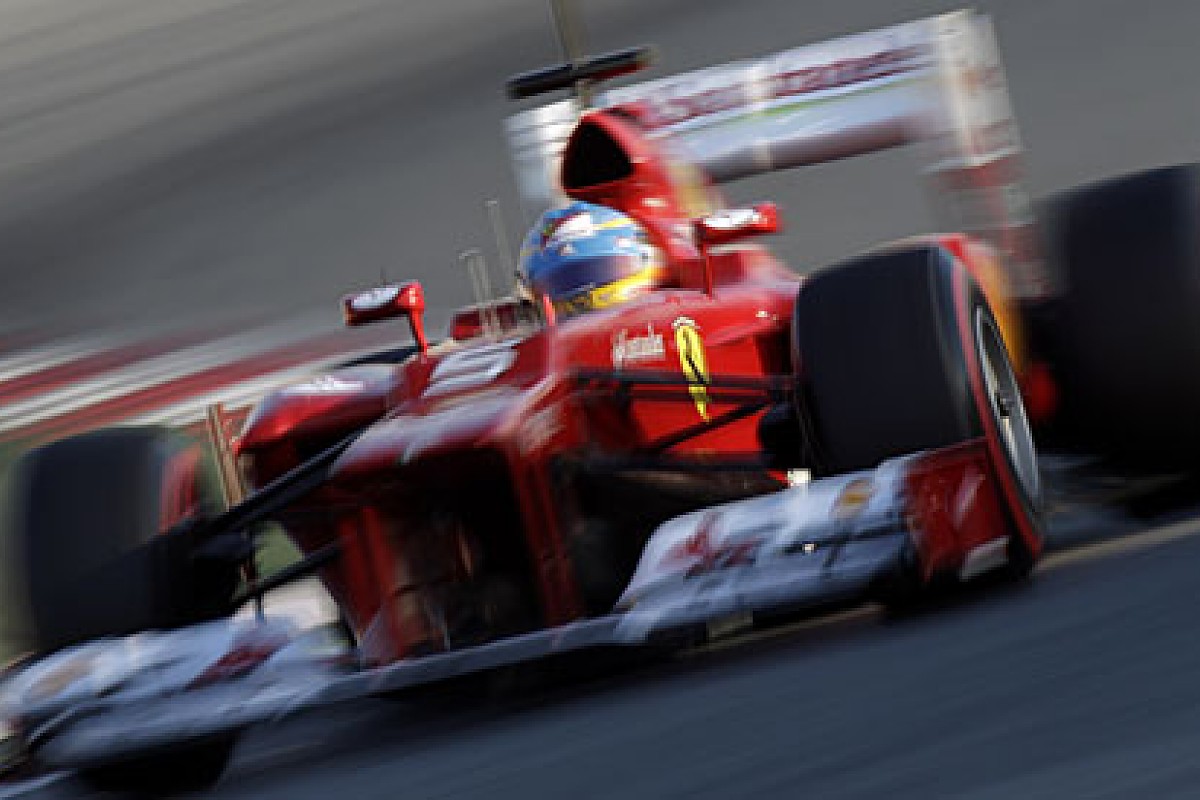 Lewis Hamilton seems re-invigorated in 2012 © LAT
"Lewis, typically, is 6-1 and Jenson's 10-1, which means you can cover your Vettel money without spending a fortune. That works out as 2-1 for Jenson to finish in the top three, which is great. Who else, apart from Sebastian and Lewis, is going to beat Jenson?"
Webber?
"He's 14-1, so you can cover him off each way as well."
Anything else interesting?
"Yes. Rosberg at 25-1 with Ladbrokes. I mean, how long does someone have to paste Schumacher for the world to realise he's bloody good?
"I know they call him Britney and he's way too pretty - looks like that kid who played opposite Kate Winslet in Titanic - but Keke's genes must be in there somewhere. Keke was my hero - the only bloke who could look macho in a canary race suit."
"What about the tyre wear?" I said.
"Yeah, bit of a worry that. Will keep an eye on it at the last test. Had heard it already incidentally - straight up. But still the usual modus operandi: two percent commission if you tell me something I didn't know that turns out to be true, and profitable."
It was my turn now: "Hey, Big Spender!"
"Toodle pip, speak to you next year..."