Charles Pic has only been out of the car for half-an-hour, yet he shows few of the stresses and strains that you might expect of a 22-year-old rookie who has just completed nigh on two grand prix distances on the first day of the Barcelona test.
The Frenchman's marathon stint of 121 laps driving the 2011 Virgin MVR-02, only 11 laps short of two full race lengths, is all part of the team's effort to even out a very steep learning curve for Pic, whose grand prix debut is less than a month away.
Pic has earned an unfair rap as a driver who owes his place on the F1 grid exclusively to sponsorship dollars. While he is a pay driver in the literal sense of the word, in that he is bringing money, those dismissing him as a well-backed no-hoper need to pay a little more attention to the lower formulas.
For while Pic doesn't have a major junior title on his CV, he has won races at every level - and that includes GP2 and Formula Renault 3.5. With a fair wind, he might have had a clearer run at last year's GP2 crown as well. He certainly had the speed.
Given his CV, anyone claiming that Pic doesn't have the pedigree for a crack at F1 is plain wrong. At this point, it would be customary to say just wait and see how he does and in six months time come back and say he's a no-mark F1 driver, but that argument doesn't really work. Barring a miracle, the renamed Marussia team will be lurking in the vicinity of the rear of the field this year and as Lucas di Grassi and Jerome d'Ambrosio have proved, doing a decent job in a slow car is no way to get yourself noticed. The way of the world means that the casual observer will probably not change their perception even if Pic does show well in the circumstances.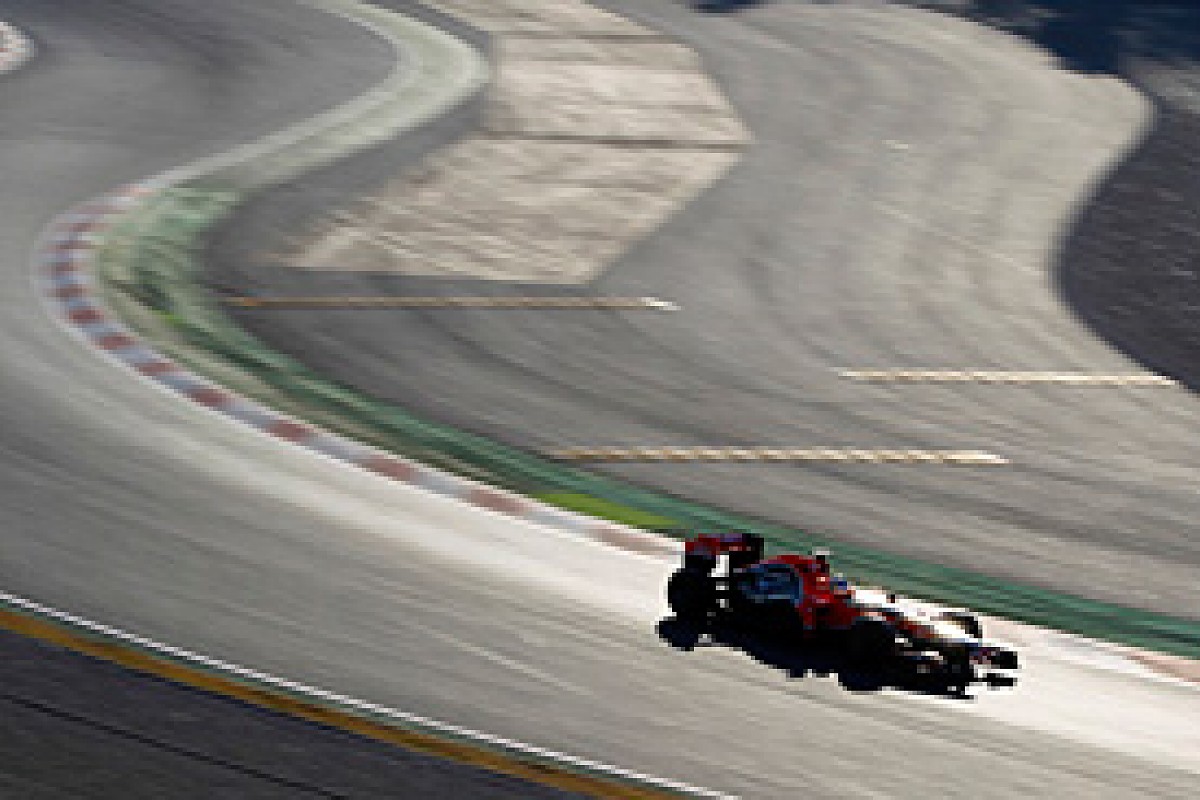 Pic completed a marathon stint on his first day of work with Marussia © LAT
Fortunately, Pic isn't getting bogged down in those kinds of problems. He is focused on delivering the best that he can and showing those that bother to pay attention that he is able to cut it at this level. With a view to that, this week's Barcelona test is a huge boost. While it's far from ideal that the 2012 Marussia won't appear until the third and final pre-season test, in many ways it's great news for Pic. Prior to his week, the sum total of his F1 experience was 140 laps in the same car in last November's Abu Dhabi young driver test, and with three days of running at Barcelona in a proven package, he can focus completely on his own development. That's more important than people levelling the accusation of pay driver, in the pejorative, rather than the literal, sense at him.
"It's very good for me because I have a lot stuff to learn," explains Pic. "There are all of the procedures, knowing how the car reacts to high fuel and how that changes the way we can push with the tyre degradation. There are many things that I can learn with the old car so it's a good opportunity.
"The important thing is that we improve and I'm sure that we will. The team has worked very hard over the winter and so have I. It's still new for me because I've only done three days but I feel that there are many things to learn. Step by step, I am getting a little bit more natural with everything."
Central to that effort is tyre behaviour. The car is a known package, so during this week he will get a chance to complete qualifying simulations, race runs and stints with every conceivable combination of tyre and fuel load. It's a rare advantage in these days of restricted testing and were the team to run its new car from the off, the focus would inevitably be on the machinery rather than the driver.
Team-mate Timo Glock will also run for one day, on Thursday, and will act as a valuable reference point for Pic before he returns to the cockpit on the final day. In fact, his performance relative to the very capable German will likely be the only relevant barometer to assess his performance this year.
"The priority is to understand how the tyres work and what the difference is between the compounds and how they work in qualifying and the race," he says. "This is a very good test for experience because the old car means I can concentrate on learning.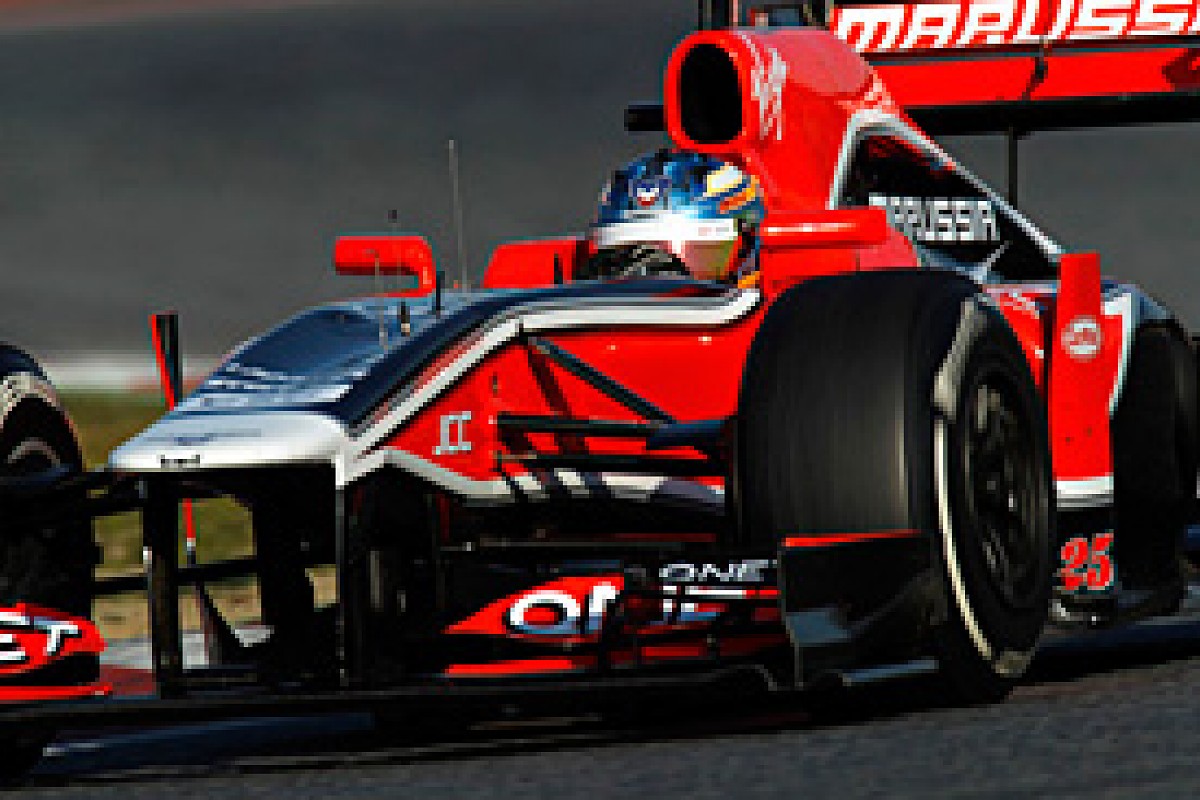 Pic is aware of the challenge ahead of him © LAT
"The most important thing is for me to improve. I have Timo [Glock] as a team-mate, who is very strong, and I will have to learn from him. He's a good reference point. My personal target is to reach the level of my team-mate this season."
That reference point is something that the critics need to pay very close attention to. On his good days, d'Ambrosio compared very well to Glock and even outqualified him at no less a circuit than Suzuka. But on his bad days, the gap was often far larger. If Pic can show similar flashes of form in his maiden seasons, he will have gone some way to proving the doubters wrong. Not that he's too worried about what the uninformed critics might claim.
"Some people will see it like this," he says of the pay driver criticisms. "But to get into F1, you need the results [in the junior categories], the performance and the support either from a Formula 1 team like, for example, Red Bull with Jean-Eric Vergne, or from a big company. Without that support you cannot get to F1, whether it comes from a team or a company."
No one can begrudge Pic that support, particularly at a time where rookies have something of a raw deal in F1. With strictly limited running combined with the impatience of a world that expects drivers to deliver instantly having become accustomed to drivers like Lewis Hamilton setting the world alight after having plenty of testing miles, it's going to be a long, hard season for the softly-spoken Frenchman.
So next time your eyes glaze over as the lower reaches of the grid are shown in the build-up to a race, or curse when a backmarker gets in the way of your favourite driver, spare a thought for a young, quick guy like Pic who is trying to make a name for himself in tough circumstances.
After all, half of the top four drivers in last year's world championship started off at Minardi, where being lapped was a far more regular occurrence than finishing in the top 10.