Last season's opening round of the World Championship in Australia showed Vitaly Petrov at his best. A good qualifying performance, an excellent start and a flawless run in the race earned him his first, and to date only, podium finish in Formula 1.
In Malaysia two weeks later we saw his worst side. While running eighth on the 53rd of 56 laps, he ran wide exiting Turn 8 and, once on the patch behind the kerb, kept his foot in. But he'd pushed his luck, using too much of the run-off beyond the track, finding a bump that that launched him into the air and, inevitably, crashing back down to earth a few moments later.
Granted, he was profoundly unlucky to have found a ramp that shouldn't have been there, but that's the risk you run when you take liberties with the track extremities. It was his mistake and it cost him four points when most of the hard work had been done.
Little errors like this have dogged Petrov throughout his two years in F1 and leave him with just 64 points on his CV, when the potential was there to score much more heavily. What's more, it's not just errors with big consequences - there have been a number of moments that were invisible unless you happened to be looking in the right direction.
These were squandered seconds here and there, but such small setbacks make a big difference in the congested F1 midfield.
The newly-announced Caterham deal is a fresh start for Petrov. His relationship with Renault hit the rocks last year and team principal Eric Boullier ran out of patience with a driver who was good for team owner Genii Capital's business dealings in Russia, but who could not be compellingly argued as being the best available driver.
It's difficult to question the decision of the team now known as Lotus, as in Kimi Raikkonen and Romain Grosjean it has arguably the strongest two-driver line-up that it has fielded in years. That means that the Russian heads to Caterham once again as a driver regarded as capable at this level, but needing cash to find a seat.
Now 27, he needs to fulfil a greater percentage of his potential if he's ever to put himself in a position where teams covet him purely as a driver, rather than an attractive financial proposition who won't disgrace himself in the cockpit.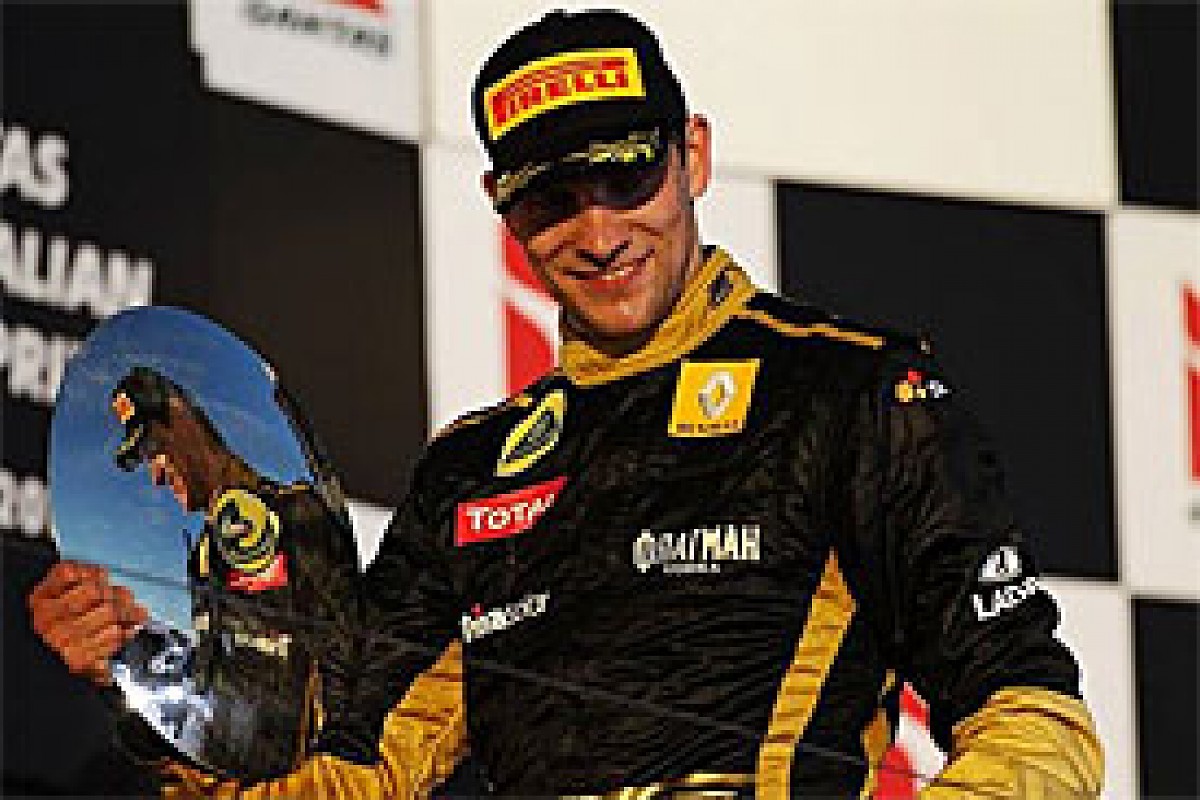 Petrov made the podium in Australia last year for Renault © sutton-images.com
To do that, Petrov needs to consistently deliver the level of performance that he showed not only in Australia, but also in Canada, where he finished fifth in trying conditions, and in taking ninth places at Spa and Suzuka in a car of fading competitiveness. But he won't if he repeats his form of the final few races of last season.
In qualifying at Interlagos, he compromised himself by positioning himself too close to Lewis Hamilton, much to the frustration of the team, while in India a few races earlier a series of little errors made the difference between a couple of points and a finish outside the top 10. And in the penultimate round in Abu Dhabi, there was a brief off in the race that cost precious seconds.
If that tendency continues this year, it could mean he's in for a tough campaign. Caterham will surely be in the midfield this year, but points will be hard to come by and the odd few seconds squandered here and there could make a big difference in his final points tally. But the positive side is that if he can eliminate those blunders, the performance is there to be a consistent points scorer in a car that is in the environs of the top 10 on pace.
It's still relatively early days for Petrov, and at the end of last season he was happy that the steep learning curve of the past two years had left him a better driver. One thing is for sure: even if the Caterham is only quick enough to be at the back of the midfield, it's likely to be a more benign car than last year's Renault was at times. Perhaps that will help him to iron out those mistakes, perhaps helped by the ambience of a new team that might make it easier to shrug off the monumental pressure of expectation from Russia.
"It was a difficult season," he says of 2011. "Even 2010, my first year, was not so difficult because it was about picking up speed from session to session when there were always updates on the car and Robert Kubica was in the team.
"In 2011 it was the opposite. The car did not improve, it stayed the same, and it became harder to fight to get into Q3."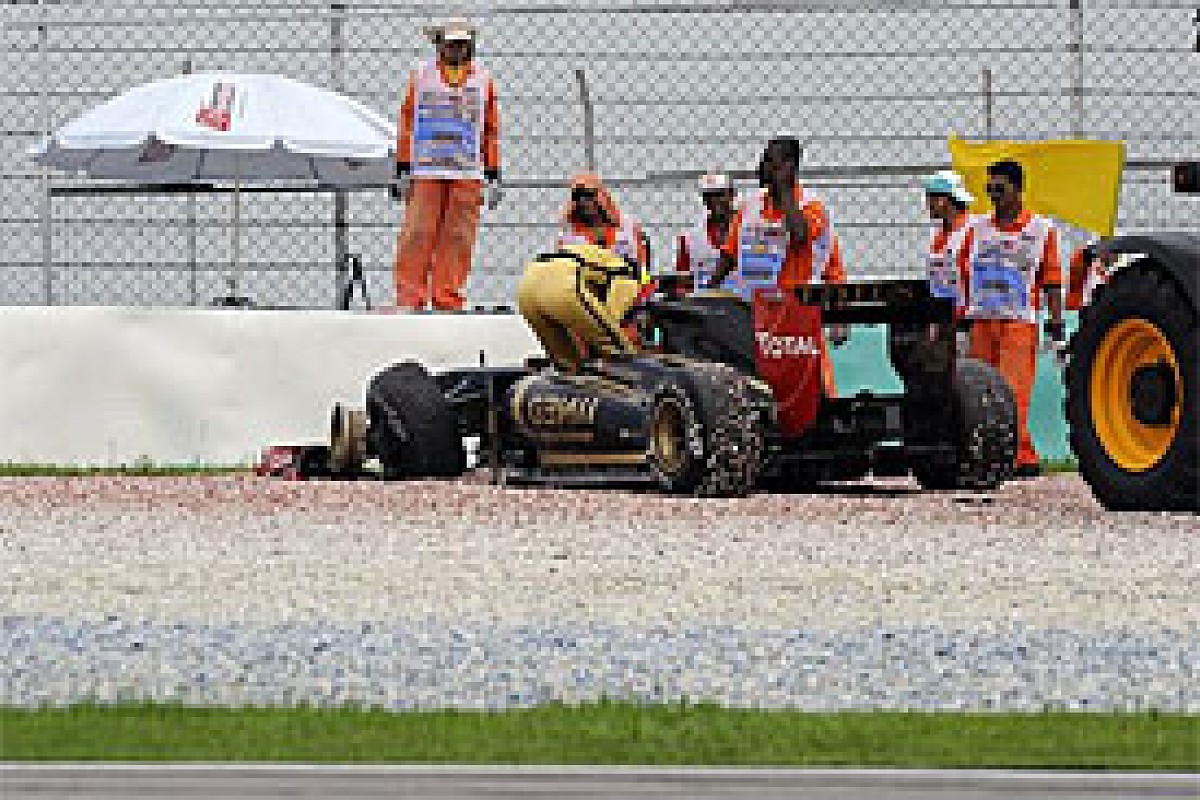 Petrov will need to avoid mistakes in 2012 © sutton-images.com
Petrov has certainly shown flashes of the steel he will need to harness if he is to make a go of his Caterham career. Take his remarkable drive in Abu Dhabi in 2010. Thanks to Ferrari's strategic blunder, Fernando Alonso ended up behind Petrov.
The Russian, despite a less-competitive car, managed to keep the title-chasing Spaniard behind him for the rest of the race. OK, overtaking is incredibly difficult on this track, but he didn't put a foot wrong. To do that with someone like Alonso behind you, with the world championship at stake for the Spaniard, is exceptional.
The curious thing with Petrov is that when the pressure is at its most intense, the errors seem to be eradicated. Abu Dhabi and Australia were great examples of that. Then you have races like the 2010 Korean Grand Prix, where he'd done the hard work, made it through the most difficult of track conditions and consolidated his position in the top 10. And then, under no pressure, he crashed heavily. Once again, his team was frustrated and perplexed in equal measure.
"It's frustrating when we had a strategy which put him back in the points. He was on a strategy to save tyres so we are investigating why he lost the car," an exasperated Boullier said after the race. Petrov had, quite simply, dropped it. More points thrown away.
The environment at Caterham will be very different. Renault was a team where morale plummeted last year due to a combination of the loss of talismanic lead driver Kubica and a car that had limited development potential with its innovative forward-facing exhausts. That didn't make life easy for Petrov, who in 2010 was sometimes guilty of pushing too hard trying to match Kubica's pace and make up for his limited dry running pre-season.
At a time when rookies have it tough, Petrov found it harder than most, but just about anyone would have struggled when paired with Kubica. Then, with a year of experience in the bank, he found himself being encouraged to take the opportunity to show that he could become Renault's focal point. In some ways he did up his game, but for the most part it was a missed opportunity, despite comparing well to vastly experienced stand-in team-mate Nick Heidfeld.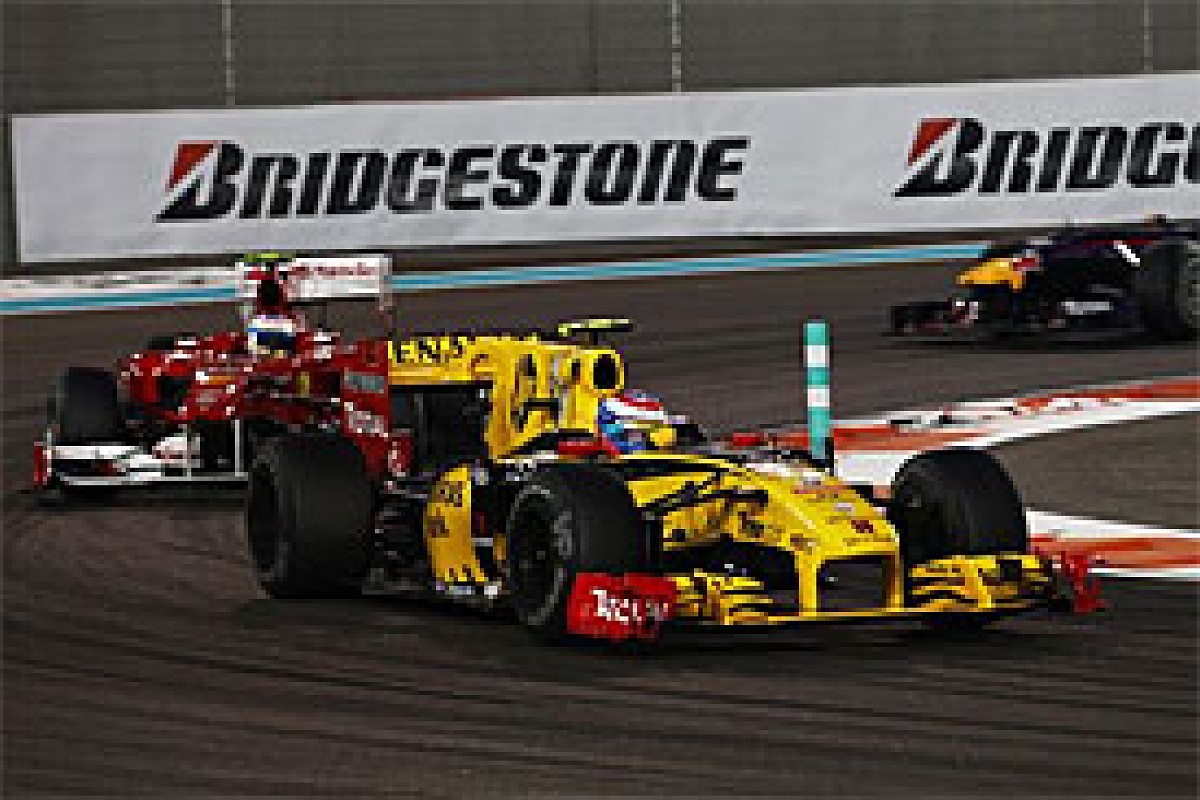 Petrov's drive to keep Alonso at bay in Abu Dhabi is still popular © sutton-images.com
Petrov also didn't make life easy for himself at times, such as when he expressed his frustration after the Abu Dhabi Grand Prix in a Russian TV interview. Renault had decided to switch to the slower prime tyre for Petrov's second stint of the race because his DRS wasn't working, making passing almost impossible.
"People say the team criticised the drivers," he told Russia 2. "But excuse me; read my interviews, I haven't criticised the team despite what we have lost so many times. How much have we missed at pitstops? With strategy?
"We have lost positions in about 10 races, or even more. Even without a fast car we could have gained good points; we could have finished with points if we had had a good strategy.
"But I couldn't say in interviews that we lost it with the pitstops, and I cannot talk about that now either. But I can't keep silent any more - it's over. I can't keep everything inside anymore."
In some ways, that interview proved to be the final nail in his coffin. Already, the feeling among those who mattered was that there were better driver options out there, and an outburst like this played very well in convincing Genii Capital that Petrov's Russian appeal did not outweigh the disadvantages on track.
That said, what Petrov said in the interview was not completely unjustified, and there were a few odd strategy calls by a team perhaps trying too hard to overcome its performance weaknesses. But if you're going to criticise your team publicly, you need to make damned sure that you're getting the absolute maximum out of the car and you could not say that of Petrov - other than by cherry-picking only his strong weekends.
So now he has the opportunity to prove his former employers wrong. New team-mate Heikki Kovalainen has done an excellent job of rebuilding his reputation after it took a beating when he raced for McLaren, and that's something that Petrov must aspire to match. With two full seasons under his belt and a change of scene, he has everything he needs to do so.
The bottom line is that Petrov is not world champion material. But there's no disgrace in that - very few are.
He's in that large pack of decent grand prix drivers, a spectrum that stretches from the very good to the good-on-their-day and encompasses much of the field. On last year's form he is towards the bottom end of that spread, and it will be fascinating to see if the switch to pastures new will allow him to get the best out of himself. It's time to deliver consistently rather than sporadically.
If not, he's unlikely ever to shake the rouble-racer image. That would be bad news both for Petrov and for F1 in Russia.