Kimi Raikkonen is only 192 laps into his Formula 1 comeback with Lotus, but the Enstone outfit's chief, Eric Boullier, reckons that the 2007 world champion has already shown his true colours. Kimi is fast, we knew that, but he has also proved that he is capable of being the leader that every Formula 1 team needs.
For Lotus (nee Renault), Raikkonen's return is timely indeed. There was a time when it had an iron man in the cockpit in the form of Robert Kubica, a driver who imposed his personality on the team and left no one in any doubt as to what he wanted... and demanded. He wasn't necessarily the most easy-going to work with, but he was loved by the team because he did the job behind the wheel and left no stone unturned in the pursuit of results. For a team that felt the absence of that kind of leadership so keenly in 2011, Raikkonen's arrival has been embraced.
But while, so far, Raikkonen has filled the hole left by Kubica, he is no like-for-like replacement. His reputation preceded him among those who had no prior experience of working with him but what he has done so far - two days at Jerez, two last month in a 2010 machine at Valencia, and a couple of appearances at the factory - has won him many fans.
There will be tougher tests to come for this marriage, which is still very much in the honeymoon period, but it's a case of so far so good for Raikkonen and Lotus.
"After the frustrations of 2011 and the loss of the model that we had built around Robert, the arrival of Kimi has been the secret to the galvanisation of the team," explains Boullier. "It has been a big boost.
"Every driver is different and is their own character. Kimi is bringing a different kind of leadership to Robert. Firstly, there is his record. He has been the world champion but by being very clear and very consistent in what he wants, he has imposed himself as a leader in the team. People want to work for him and push for him.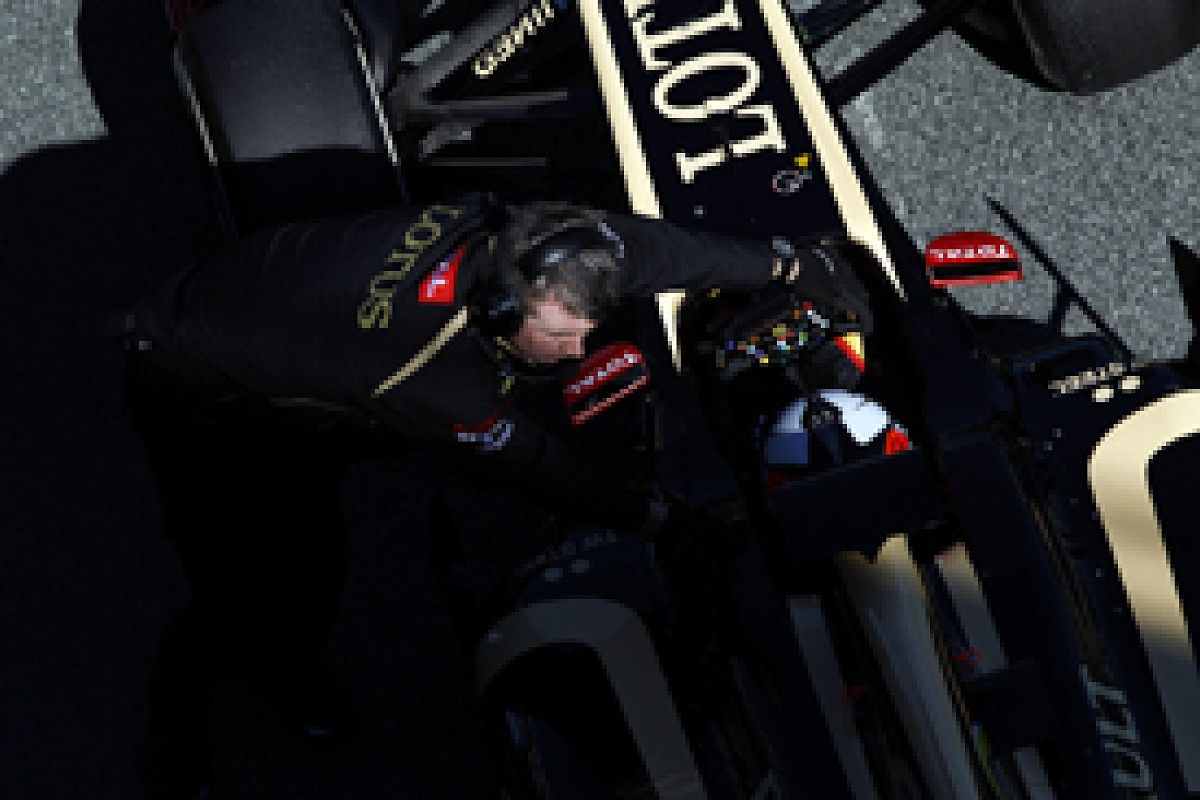 Raikkonen quickly won over his new colleagues © LAT
"You get the respect and the credibility from the guys in the team if you deliver on the track. If you can give a clear indication of what you want, it pays off on both sides."
Of course, a big part of the leadership quality of any driver is that intangible quality. When the Lotus signed Raikkonen, inevitably the workforce took notice. Here was a guy with a reputation both for the great - tremendous speed, a wonderful CV and superstar status - and the bad, with claims of a lack of commitment, two years away from F1 and suggestions that he had fallen out of love with F1.
When you have an organisation like an F1 team, the drivers are a focal point. For those busting a gut and working 24 hours a day to make the car that bit faster, the last thing you need for morale is an uncommitted, well-paid prima donna. But those looking for the negative in Raikkonen have yet to see it. So far, he has engendered a positive feeling throughout Enstone.
"It's definitely about a feeling," says Boullier of how Raikkonen's galvanising effect manifests itself. "You can feel it when he is walking around the factory. Even before the announcement, people in the team were stopping me and asking about Kimi. His reputation preceded him in the factory.
"When he met with them at the Christmas party, he was friendly enough to spend time with people. Knowing that we have this guy, a world champion, with us is a big boost for the team and the motivation. You can see it in the way people react.
"Very few people in the team knew Kimi but after the first running he did in the car, they started to understand how he worked. The charisma of the guy is strong. He is a racer, he loves competition, loves Formula 1 and racing. The reason he has come back is that he misses this competition.
"You could feel that this is a guy who knows what he wants from the start. Then, it was a question of if he will deliver on track. And he is. The people in Enstone are racers and they can see that Raikkonen is the same."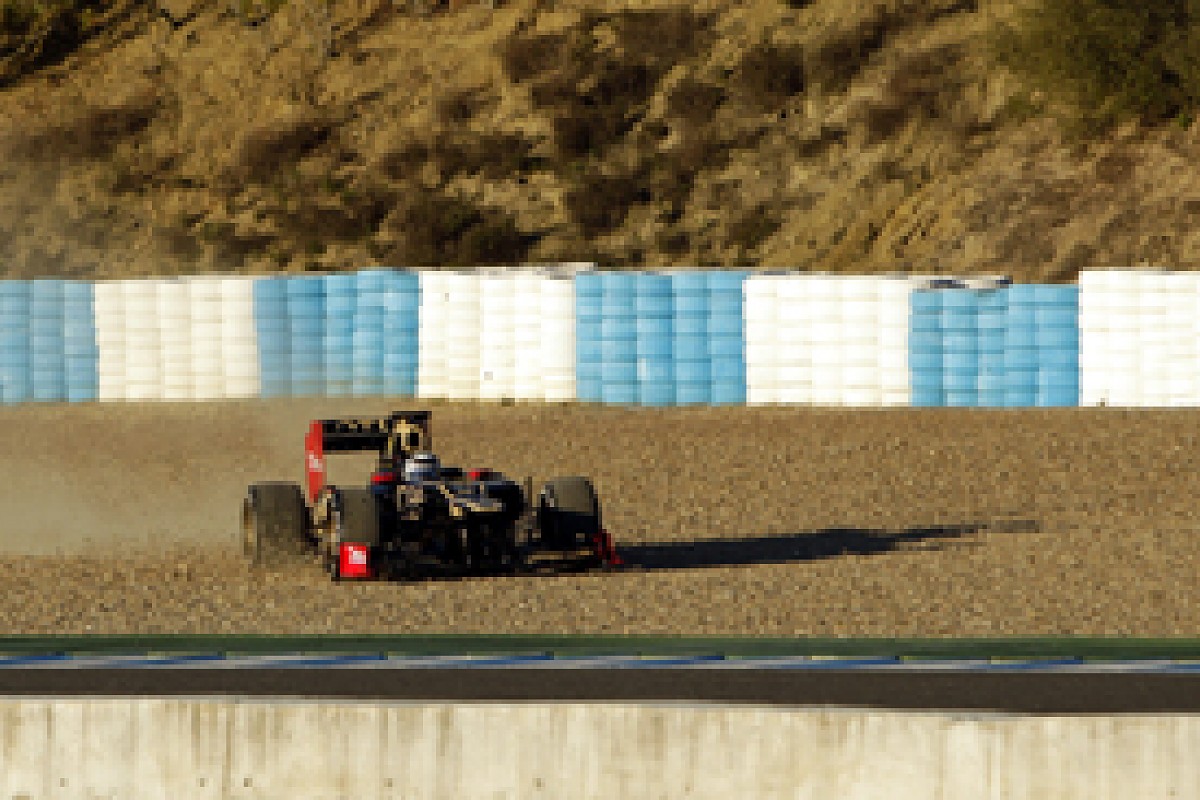 Raikkonen explores the limits © LAT
Key to Raikkonen's early success at Lotus is the fact that he has been fast straight out of the box. While the timesheets are meaningless at this stage of testing, what caught the eye on the opening day of the Jerez test was how willing the Finn was to throw the car around and start to get a feel for what it could do early on.
Clearly, he had been given a mandate to lean on the car pretty early, although there was no running programme conceived to deal with the fact that, for all of his illustrious history, for the past two years he has been a rally driver of moderate success. It stands to reason that he would be rusty, but Boullier is confident that Raikkonen is already a long way down the road to being back to his best.
"To be honest, we didn't have any special strategy for him in testing," explains Boullier. "The thing is that on Sunday we did the runs for the filming day and then we were lucky enough that our car was reliable and able to do laps and laps and laps on the first day of the test and that was why on Tuesday he was able to be fast straight away. But there was no special programme except the need to give him some mileage as soon as possible.
"The question of being rusty is all wrapped up and finished. Kimi is here. He may need some time during the first races to get completely up to speed with the full weekend, but in terms of pace and getting used to the car, he is there already.
"We know that any sportsman who has to stop training for some time will take a while to recover and get back to his peak. In Kimi's case, maybe he can go even faster but he has already completely convinced us with his speed and the way that he has adapted to the car.
"You cannot draw any conclusions from the laptimes in terms of the pace of the car. But when you put the car on the track and it is balanced and shows you can work with it, it proves that the base is good. How it develops from here is a different story."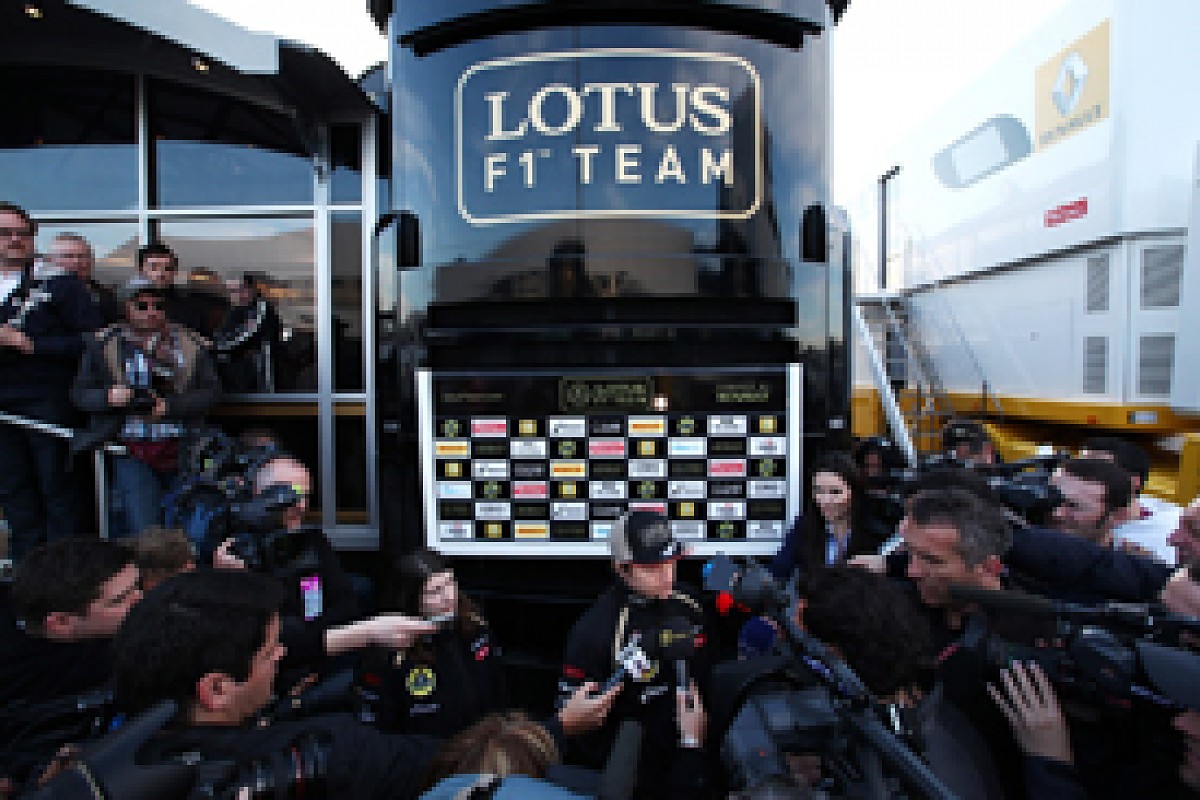 Centre of attention with the media © LAT
There's a lot at stake for Lotus, which sees this year as crucial in its aspiration of returning to top-team statues. How the Raikkonen/Lotus combination performs this season will have a big say in whether the squad can achieve its stated aim of being a top team by 2014.
To become a top team, Lotus needs to get on terms with Red Bull, McLaren and Ferrari, three outfits that, right now, are clearly bigger. But success breeds success and on-track results are what the team needs to realise its ambitions of becoming a title contender again.
"We are not equal [to McLaren, Red Bull and Ferrari]," admits Boullier. "We still don't have the resources and these are bigger teams. But this is what we want to become. We want to be a top team from 2013 or 2014. We now have two good drivers [GP2 champion Romain Grosjean is in the other car], the potential to bring in more sponsors and in the future we need to build up more resources.
"We have recruited people in the last few months. It takes time and we can't do everything in one go. We take it step by step and want to establish ourselves as a top team."
So it's over to you Kimi. There's no question that Lotus has taken something of a gamble by signing him; it would be ridiculous to suggest that there is not the element of risk in bringing any driver back after two years away, let alone from rallying. But given the alternatives, it was a justified gamble that, so far, has gone well.
There are sterner tests of Raikkonen to come, but so far he has given Lotus exactly what it expects of a driver who has 18 grand prix victories and a world title to his name.
"From my personal experience, you can feel it when a driver has that quality and that's the case with Kimi," says Boullier. "If he has the car, he can definitely do the job.
"He is a world championship-class driver and you could see that straight away."