It's the standard Friday-night dilemma: going for an Italian or a Chinese. But is it also the question that's troubling the mind of Ferrari president Luca di Montezemolo regarding his Formula 1 team's future?
During his fleeting visit to Wrooom in January, he suggested that the Scuderia's next sporting director could well be from the east - and no, we're not talking about the Adriatic coast.
"You can tell [Stefano] Domenicali his successor has already been identified; he will come from China..." said the marquis, his normally disarming smile this time a touch more enigmatic than usual, Ferrari's disappointing 2011 results no doubt at the root of the comment and accompanying steely stare.
As foreign media folk attending the 22nd edition of the week-long ski camp in Madonna di Campiglio laughed, Italian journalists scribbled furiously.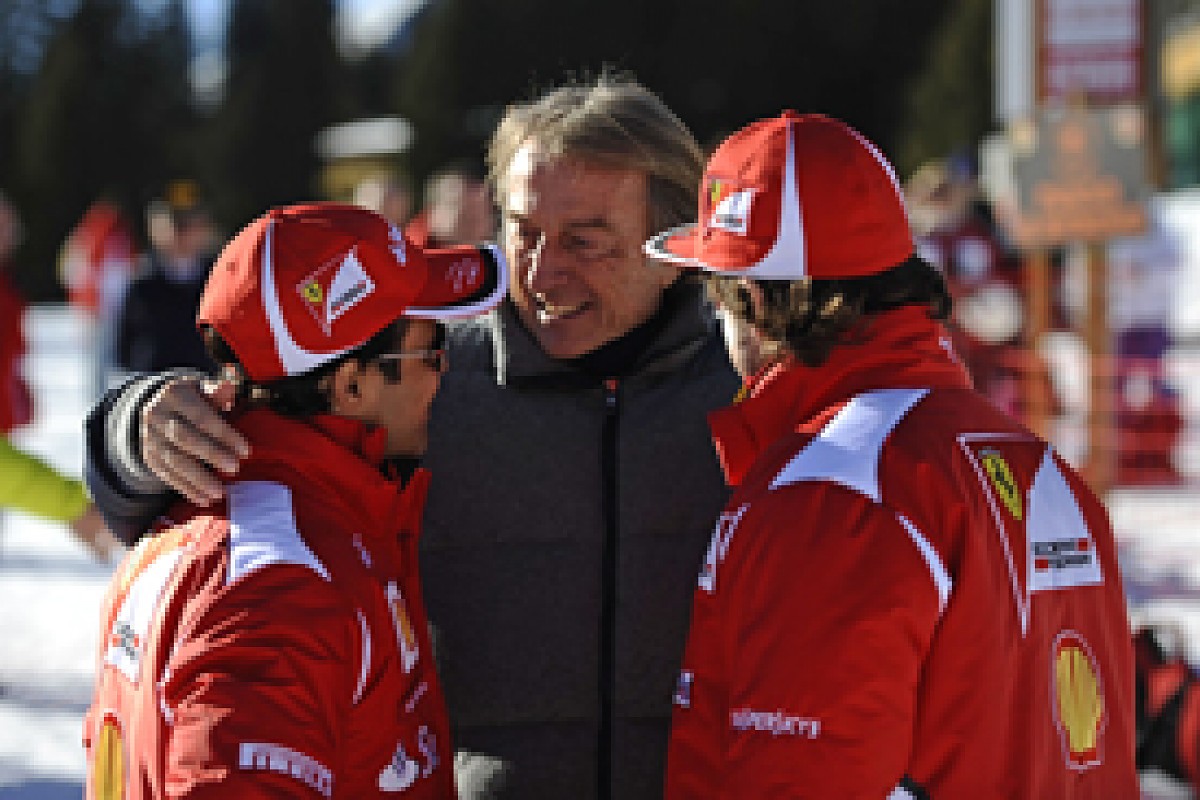 Luca di Montezemolo is hungry for success
"He was grinning when he said that, but one of our famous [comedians] says there's a way to know he's serious when he's joking," explained Alberto Antonini, Formula 1 editor for Autosprint, during a follow-up discussion, having obviously read the signs.
"On one side it shows Stefano is under pressure to deliver; on the other there's no substitute for him at Ferrari, unless they go to someone at Fiat with no experience."
Significantly, the day after Montezemolo made his comment, Piero Ferrari, on his first visit to Wrooom, made it clear that Ferrari needs to return to winning ways. "We are racing to win - not just to be in the field. That is my wish," Enzo's son, a 10 per cent shareholder in Ferrari, said.
Four years have passed since Kimi Raikkonen snuck the title in the last round of the 2007 season. On January 1 the following year Ferrari lifer Domenicali was promoted from sporting director to head of Gestione Sportiva, taking over from Jean Todt. Thus the uncharitable suggest Ferrari has not won a drivers' title under the Bolognese - it did, though, win the 2008 constructors' - and that momentum carried Ferrari to success in 2007.
To be fair, in Kimi's year Stefano was de facto sporting boss and certainly led the team from the front during one of the most politically-charged seasons on record - think 'Spygate' - while Ferrari hardly sparkled under Todt in 2005/6.
But that was then, and this is now - and Ferrari currently ranks third in F1's numerical pecking order after a season during which its car was outclassed in virtually every respect. The season before the team (narrowly) lost out through strategy; the one before was another disaster due mainly to (lack of) car performance.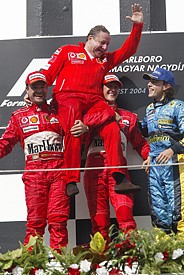 Ferrari fans got used to dominant success in the Jean Todt era © LAT
Given that for five years, from 2000-04, a Todt-led Ferrari dominated F1, surely losing for four straight years means Domenicali's head is on the chopping block if the team does not lift either or (preferably) both titles this year; surely Italy will bay for his corpuscles, particularly as the wider world views the Cavallino Rampante as Italy's totem.
But, in matters Ferrari things are seldom that red and white, that cut and dried. The same applies to the nation, which last year celebrated the 150th anniversary of its unification while watching its international ratings slide downhill quicker than Ferrari's performance during the same period.
So, who better to comment on Domenicali's situation than Italy's F1 media, folk who know the Scuderia inside out, understand the country's national psyche, and, above all, enjoy in-depth dealings with both Domenicali and Montezemolo?
There was a time when Italy won when Ferrari won; when Italy lost on each occasion the Scuderia was vanquished - a regular occurrence for 21 years - but our sources believe Ferrari and Italy are no longer synonymous, not least because F1's audience has changed radically in recent times. The country also has rather more pressing priorities than the performance of a race team, even if it has a horse on the nose.
"Of course Domenicali is under pressure, because Ferrari last year was not a normal Ferrari. After Raikkonen, they failed all the championships. The car of the last five, six years does not have enough downforce," believes Pino Allievi, the doyen of Italian F1 journalism with numerous books on the subject to his credit, and a man who knew Enzo Ferrari personally.
"[But] there's not the big pressure on Ferrari that outside Italy everybody thinks that all Italians are big fans of Ferrari, and it's not true. We have many other economic problems, we have the [economic] crisis, we have political problems, so the interest on Ferrari and on Formula 1 is not the same as 10 years ago. So if Ferrari wins; it's better, if Ferrari doesn't win, nobody will care."
Still, as Piero said, Ferrari exists to win in grand prix racing. Surely a four-year dry spell does not go down well, regardless of Italy's travails.
Ferrari unveils its new F2012
Antonini believes Ferrari must win this year - or, at the very least, lose narrowly: "I'm not absolutely convinced Ferrari will win the championship this year. I expect them to have a more decent, more dignified season, which can be achieved by winning a few races, by being always in contention for pole position and always a contender for the race. But it's very difficult, and we shouldn't expect miracles."
Allievi's colleague Paulo Ianieri holds the view that big changes will occur if Ferrari fails again: "Montezemolo said it, Domenicali has repeated it: they either win and are successful, or there's going to be many more changes again at Ferrari. I think Stefano is the first one who is at risk, because he's the boss of the team, and he's the one with the big responsibility of doing good."
On the television side, Stella Bruno, RAI Sport's lawyer-turned-pitlane pundit, has a slightly different take on the Ferrari-Italy issue, understandably viewing things from a mass-audience perspective rather than that of specialist writers, but agrees Domenicali is under pressure: "It's a little bit different than a football team, but the problem is in the last period Ferrari didn't show her heart to the Italian people.
"I'm sure Stefano is [under pressure], because Ferrari is not there to compete, it's there to win. It's too long a period they do not win. In Italy also there is big pressure for this, because it's used to having a Ferrari that is a competitive team," she says before pointing to TV's less 'sophisticated' audience, which is, in its own way, a double-edged sword.
Yes, on the one side the pressure exerted on Domenicali by the great unwashed is less vociferous than that of the more passionate tifosi; equally, though, sheer numbers add considerable weight to the force.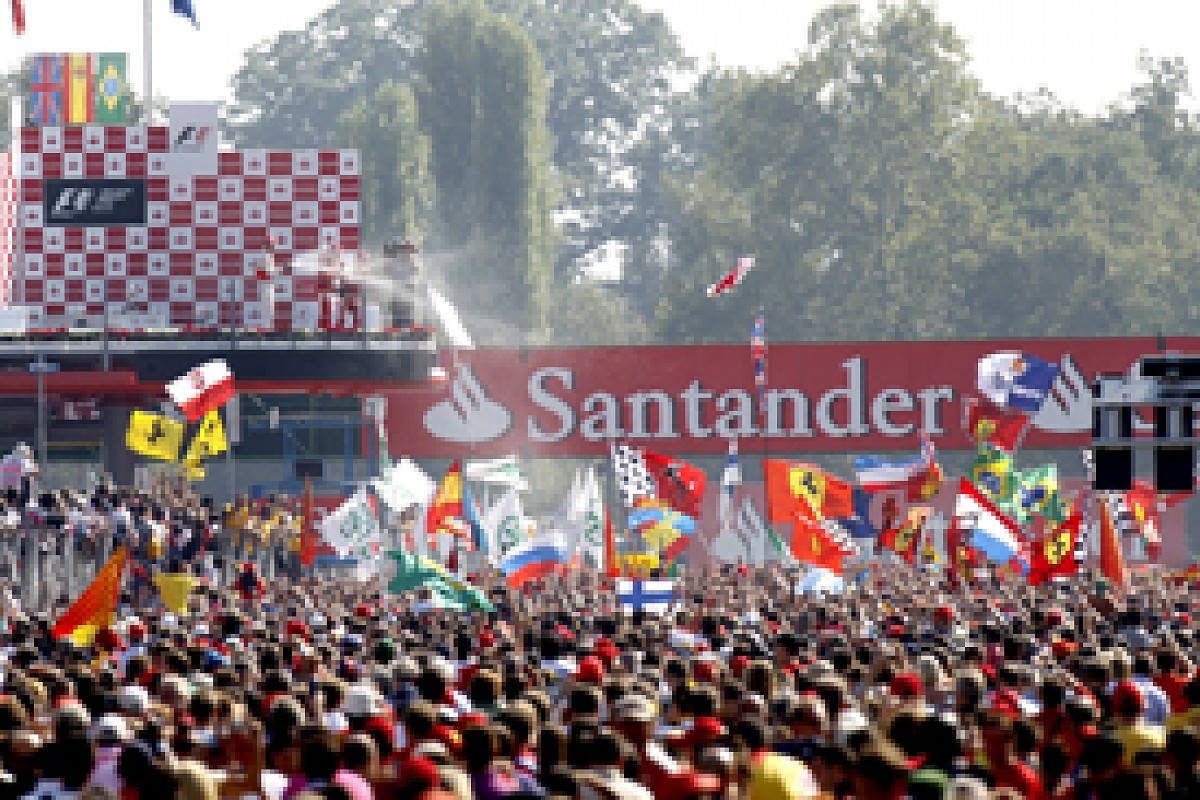 No team's fans are more passionate © LAT
"For 20 years they understood, it was very different, because the audience was very narrow, very few people. But they were people with passion.
"Now it's different. If you follow Formula 1 with passion you understand better, you understand you can lose; you can win. But if you have 10 million people watching television then it's necessary to win. It's very difficult [for the casual audience] to understand the mass of problems they had."
Either way it would surely do Italy no harm at all - particularly during these straitened times - for the country to have a little cheer. The team is, after all, based in Italy's industrial heartland and remains the only operation to manufacture a complete car, from scratch, in the same complex - and well over 60 per cent of its staff were brought up on pasta, usually topped by Bolognese sauce.
"We are currently facing more serious problems than winning the Formula 1 World Championship," believes Antonini. "But [success] would certainly help boost our morale because we're all being influenced by medals and things. It could be a big boost for our industry as well. I think, promotion aside, it would be good. It would be a source of serious satisfaction for the majority of people in Italy."
Yes, but is Ferrari essentially Italian? During the Todt era the team was totally cosmopolitan - French team boss, British technical director, South African designer, German star driver, Irish/Brazilian number twos, Japanese engine director. Then, two years ago Montezemolo spoke about an all-Latin team winning the championship. All present on-stage during the 2010 car launch spoke fluent Italian - including drivers Fernando Alonso and Felipe Massa.
History relates that the team did not succeed in its quest, and now it is seemingly all-change following a raft of 'foreign' appointments, including ex-McLaren engineer Pat Fry as technical director, and Hirohide Hamashima (ex-Bridgestone) providing input on suspension and tyres.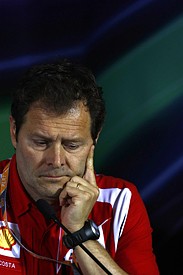 Aldo Costa was relieved of his duties early in 2011 © LAT
"They tried to have an Italian [technical] chief, [Aldo] Costa, and something didn't work, more on the political side than a practical point of view," says Allievi. "[Domenicali] continues to change men in the top positions. This year [2011] he changed five, six positions; before that more or less the same, and many changes are in areas where you don't see, because they're not public people. He's under pressure, because he must give results now."
So, how does the man himself feel, is he under pressure to deliver this season? "Well," said Stefano during Wrooom in reply to inevitable questions, "to tackle seasons with anxiety does not help, so it is useless to feel stress. However we do know the season is going to be important and delicate from many points of view, but this is part of sport in general, and especially this situation is part of the context in which Ferrari has always operated.
"Clearly," he continued, "there are expectations; we have to manage these in the best possible way, and the emotional side is surely important, especially in a team such as ours, and in the context in which we live daily. So my approach, an approach I've always had, is to be calm, relaxed, determined, without feeling demotivated if things should not go for the best at the start, but also without being too positive if things were to go well at the beginning."
Somewhat surprisingly, none of our quartet believes that the team needs to be totally Italian in its make-up; be fully Latin. In fact, Bruno views it as a compliment that experienced F1 folk are prepared to move to Italy to work for Ferrari, while Antonini says it's simply a reality that teams are increasingly cosmopolitan in their make-ups.
"It's not a problem, it's reality, namely the reality of the project to grow a generation of technicians in Italy having failed. On the other hand, Aldo Costa has been hired by Mercedes, so you could say it's just a trade-off," he says.
At least 46-year-old Domenicali is not under double public pressure, namely not only win titles for Ferrari, but with a fully Italian management team. Surely, though, a thornier issue is with whom to replace the banker's son should it for any reason come to that - a golden corporate rule is never promote or de-hire individuals unless ready replacements are to hand. Here there is no obvious internal candidate, certainly not one our panel readily identified.
"It should be someone from outside," feels Antonini, "because I can't think of anyone within the team who has the ability and knowledge to replace him. He's been in the team for some time, but on the other side [if] he has to move to make room for somebody else we don't know who that should be, and I don't think Ferrari knows either."
Could it, though, come to that? "It depends in which way you lose the championship. If they have a season like last year, the position and the role of Domenicali would be put in discussion. No doubt," believes Allievi. No Chinese whisper, that.