Much excitement inevitably surrounds Bruno Senna's move to Williams for 2012. But what about the man he has to beat? Senna's new team-mate Pastor Maldonado didn't have much chance to prove himself with last year's dire FW33, but the Venezuelan is still highly rated by those who have followed his rollercoaster career.
It was certainly a mixed rookie season for Maldonado. He made a few mistakes and, with his unfortunate 'road-rage' incident with Lewis Hamilton in qualifying at Spa, showed a flash of the wild streak that has dogged him.
But there were plenty of signs of promise too. Even with a usually-uncompetitive car he somehow managed to qualify an astonishing eighth in Monaco, one of nine occasions he started ahead of veteran team-mate Rubens Barrichello. In the difficult circumstances, the team was more than happy with his contribution on the track.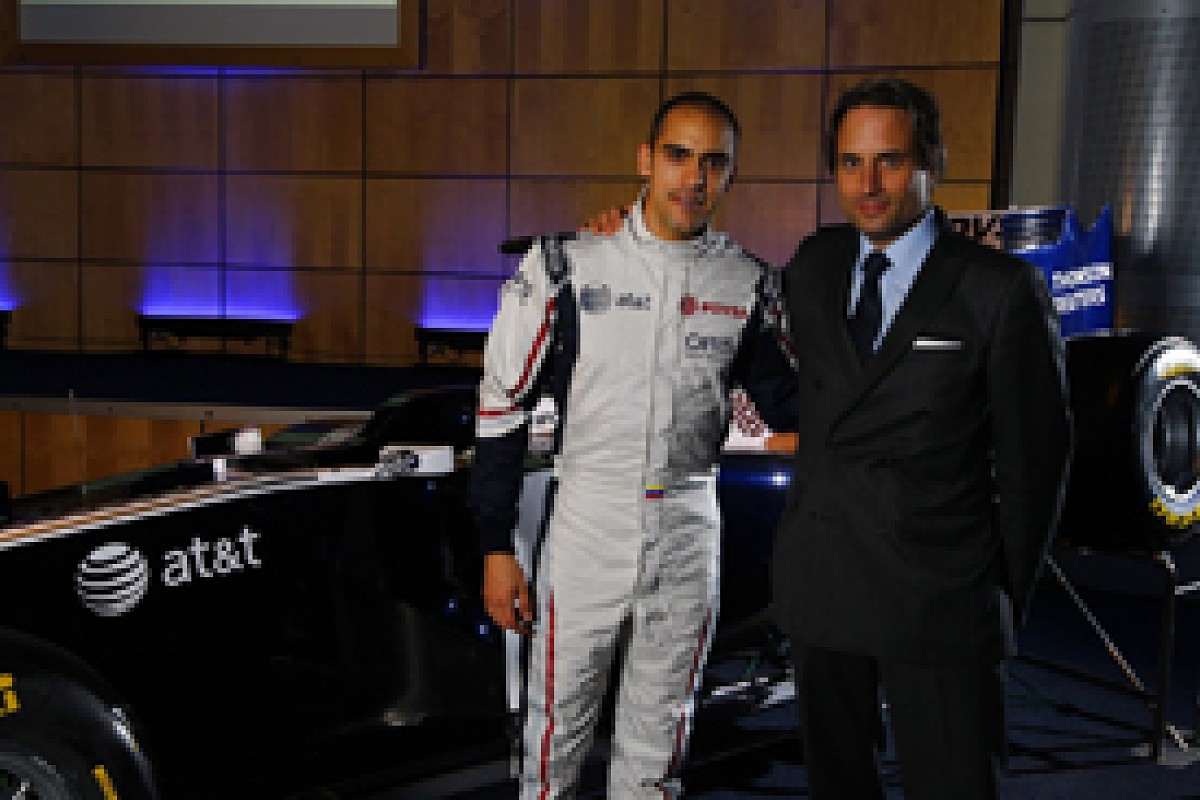 Parr has plenty of faith in Maldonado © LAT
"He was tremendous," says Williams CEO Adam Parr. "Everyone knew he was fast, but what's given people encouragement is he was much more consistent, and he was able to put together a very good qualifying performance.
"In the races he had two challenges. One is our car was very hard on the rear tyres, and as a rookie he didn't have the smoothness of a Rubens. The early part of the season, when the tracks are very harsh, was very difficult, but he's been a tremendous asset for the team."
Cynics will point out that his asset is of a financial nature and, given the turnover of young drivers up and down the field, there's little doubt that he would not have got the Williams chance without his huge Venezuelan backing. Certainly the consensus at the end of 2010 was that Brazilian Grand Prix pole winner Nico Hulkenberg had done more than enough to keep his seat.
But Formula 1 is in a harsh place these days, and Maldonado is far from the only current occupant of a seat to come in tandem with a commercial package.
"There are a number of drivers in F1 who have the backing of people who believe in them," says Parr. "Look at Fernando Alonso and Santander. F1 is a sport where you have to get the car right; it doesn't matter how good the driver is. A driver who is able to help the team in any way possible is an asset."
The bottom line is that, as the 2010 GP2 champion and a frontrunner in whatever series he's been in, Maldonado is qualified to be in F1. It remains to be seen whether he proves a better long-term prospect than Adrian Sutil, Jaime Alguersuari, Vitaly Petrov and others on the sidelines.
Experiencing your first season in a team that was enduring the worst in its history was hardly ideal timing.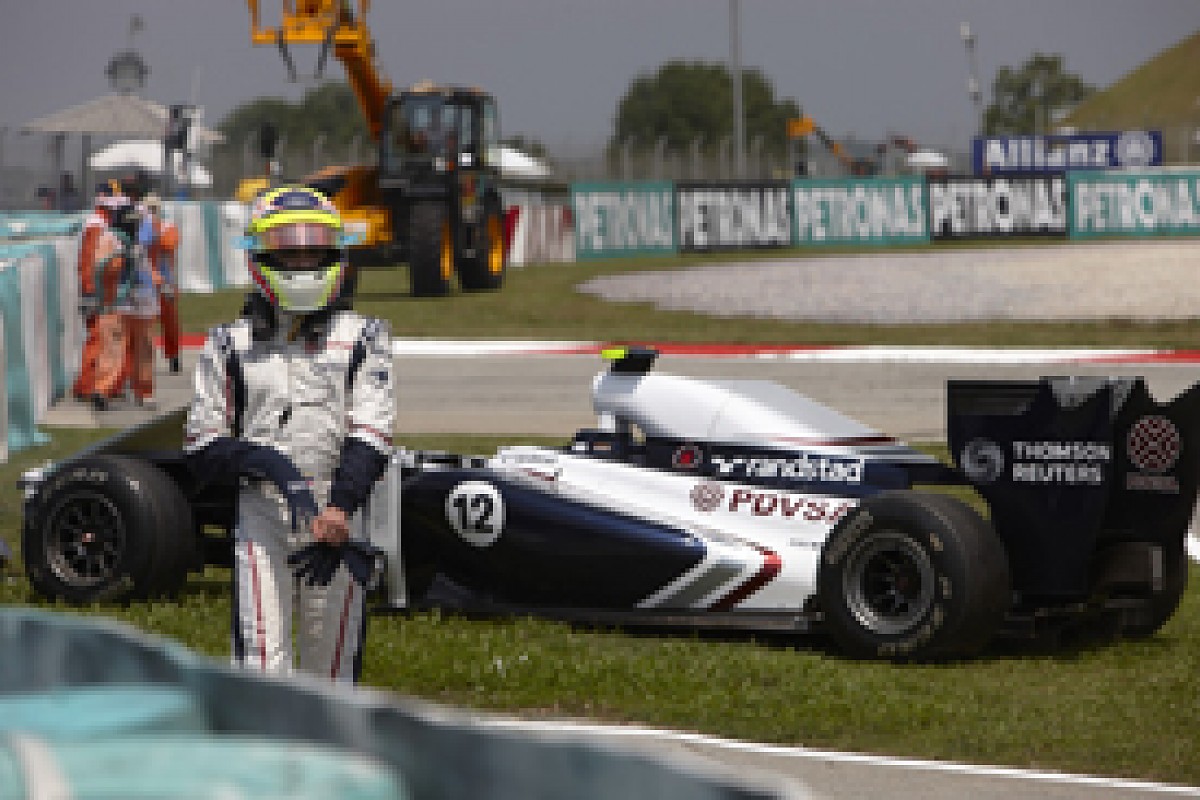 There were a few mishaps in Maldonado's debut season © LAT
"It was really difficult for me," Maldonado says of his rookie year. "Especially at the beginning of the season, because when I started I had just 800km of testing before the first race. In the first races I only did a few laps, so it was so difficult for me to adapt myself to keep the pace.
"The most difficult thing was the tyres. Between the compounds there was a huge difference in the balance of the car, and you need to compromise between them. And you never have a great car - even in the races you cannot push every lap; you need to look after the tyres.
"It's really difficult as a driver to accept that, to back off a bit when you're gaining places, when you have great pace. I think the championship now is more about planning races than going on instinct."
That's a fascinating insight from a young driver - and he has more.
"With no refuelling, F1 is getting boring again! With refuelling, even the medium teams were able to fight for more points, with different strategies. Now, the races are getting a bit boring. We have more overtaking, but not enough to help the small teams."
In Monaco, Maldonado was able to fight for points. Even allowing for his track knowledge from Formula Renault 3.5 and GP2, his performance there was mightily impressive.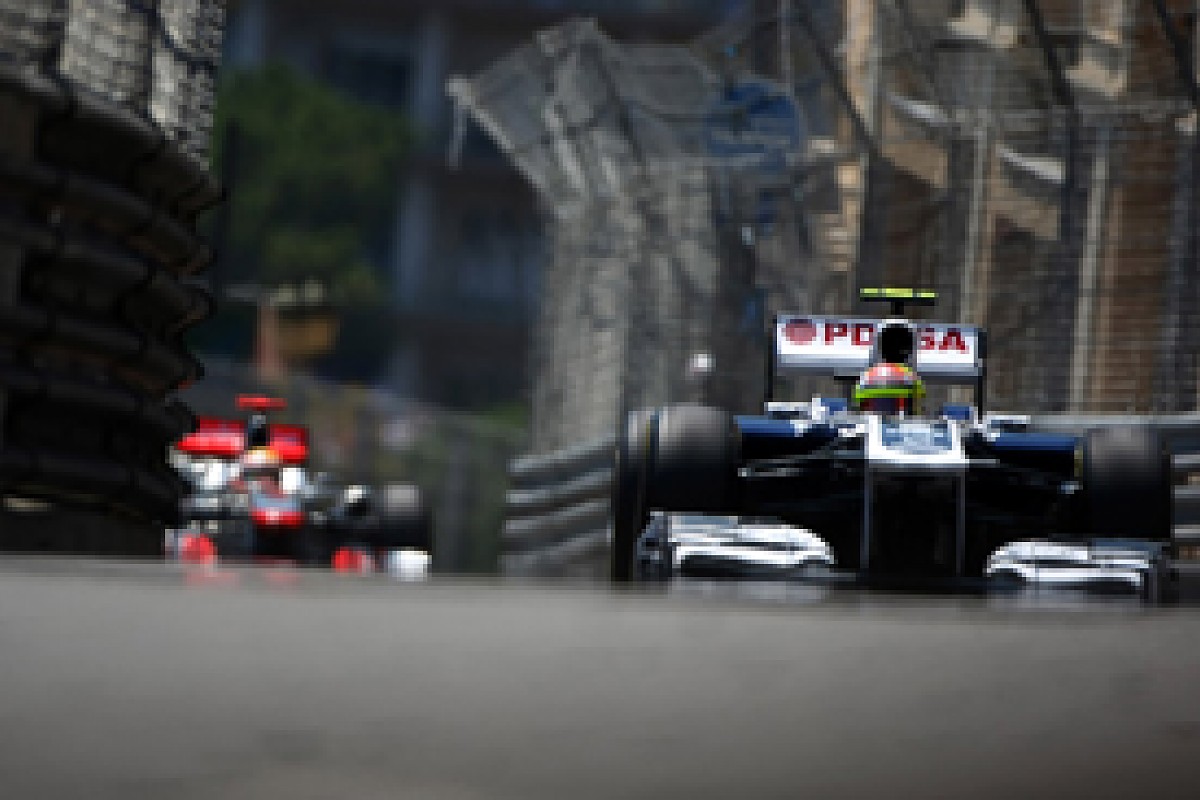 Monaco was a spectacular performance - until Hamilton got too close © LAT
"Monaco was the race of the year for me," he adds. "In qualifying I was P8, and I was running P6 near the end, until the problem with Hamilton. I had the opportunity because I knew the track very well, and I knew the car was not the most important thing in Monaco.
"And when I knew the opportunity was there I was pushing all through the weekend, with confidence. I was so disappointed about the end of the race, but anyway I did a great job. At Spa I did a great job again - I got the first point of my career, starting from 21st, so it was a great race."
He started 21st thanks to a penalty after his issue with Hamilton, the second time that the pair had come together. But unlike Hamilton's main nemesis Felipe Massa, Maldonado didn't take it personally.
"For all of us, this is our job. We're each looking out for ourselves, for our team, and one place, one second, one tenth, is always important. Sometimes you can't think about the consequences, and you only look at the results.
"That's F1, that's racing, and I understand when a driver makes a mistake, because in the past I've made a lot of mistakes as well. But Lewis last year was making so many, which was a bit disappointing because he's an incredible, great talent.
"At Spa both of us were angry; both of us were in the wrong place. We made a mistake; we accept the penalty. I think that the Lewis penalty was lenient, but this is F1: sometimes it's good, sometimes not."
The 2011 season was a tough one at Williams even for a veteran like Barrichello, and it certainly wasn't an easy ride for Maldonado, who watched fellow rookies Paul di Resta and Sergio Perez make a strong impression. But he remained upbeat.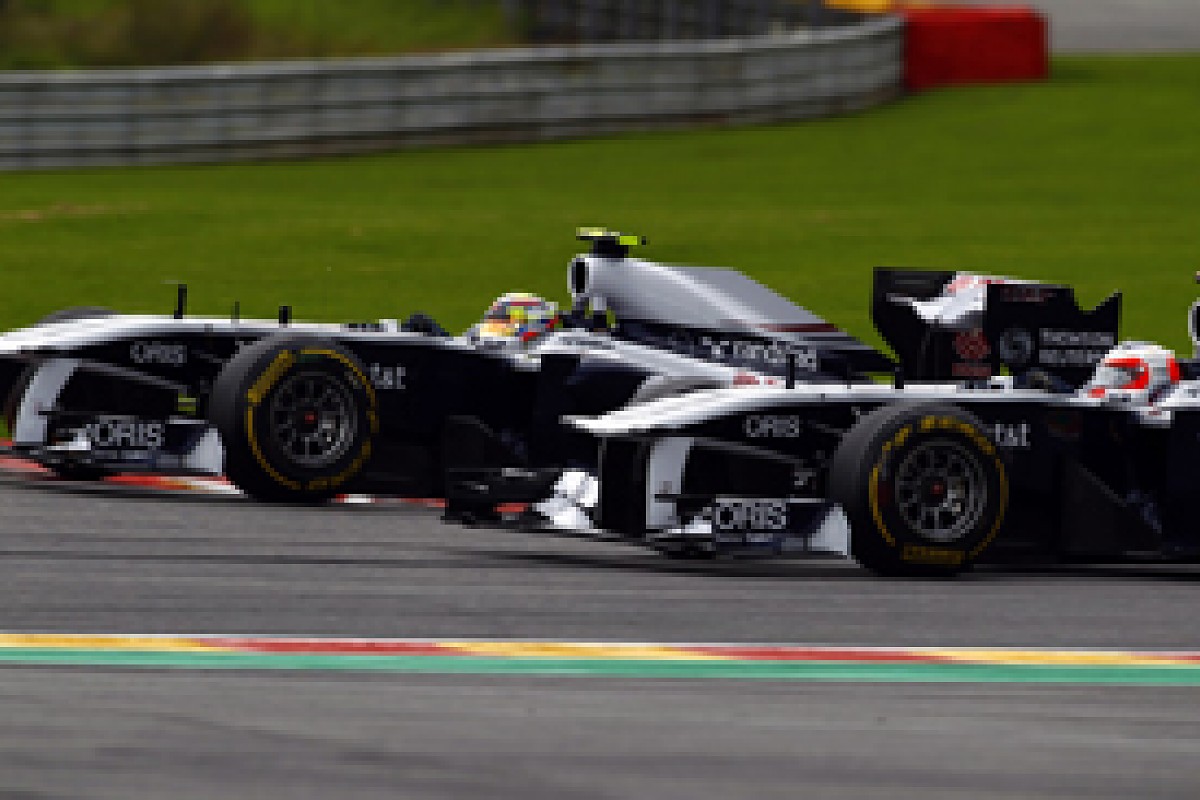 Maldonado and Barrichello were both hard-pressed to achieve much with the 2011 Williams © LAT
"It was a difficult situation in the team, because when everything is wrong everyone is down. But I learned a lot, especially with Rubens. We were working so hard to try to improve the car as soon as we could. The communication in the team was good. Even if the problems were there, we were pushing so hard to solve them.
"I enjoy every single moment here. We have all the tools to be competitive, and I'm more experienced now."
Not that he was inexperienced before. Maldonado made it to Renault 3.5 as long ago as 2005, tested for Minardi in the same year, and later did four seasons of GP2. He came into F1 at 26; his was a slow road to the top - hardly comparable with those who enjoy the support of Red Bull. All that mileage was a benefit during last year's struggles.
"I got great experience in GP2," he confirms. "I never had a great team, a great car, until 2010, so when I had the great car I won [although his ART team-mate Hulkenberg triumphed in 2009!]. That helped me last year especially, because it was a difficult situation in the team. It helped me to solve problems, and help the team to improve."
Like any rookie, Maldonado had a pretty good idea of what to expect. But nothing can really prepare a driver for the jump.
"The biggest difference for me was the people, because in GP2 you only have 10 people, maximum 15. Now it's 60 at the track, and in the factory there are nearly 500. It's a really big job to work for many engineers, but I love it."
Having big money behind you has obvious advantages. But in Maldonado's case he is in effect supported by his country's government, and surely that brings with it extra pressures. He plays down the weight on his shoulders.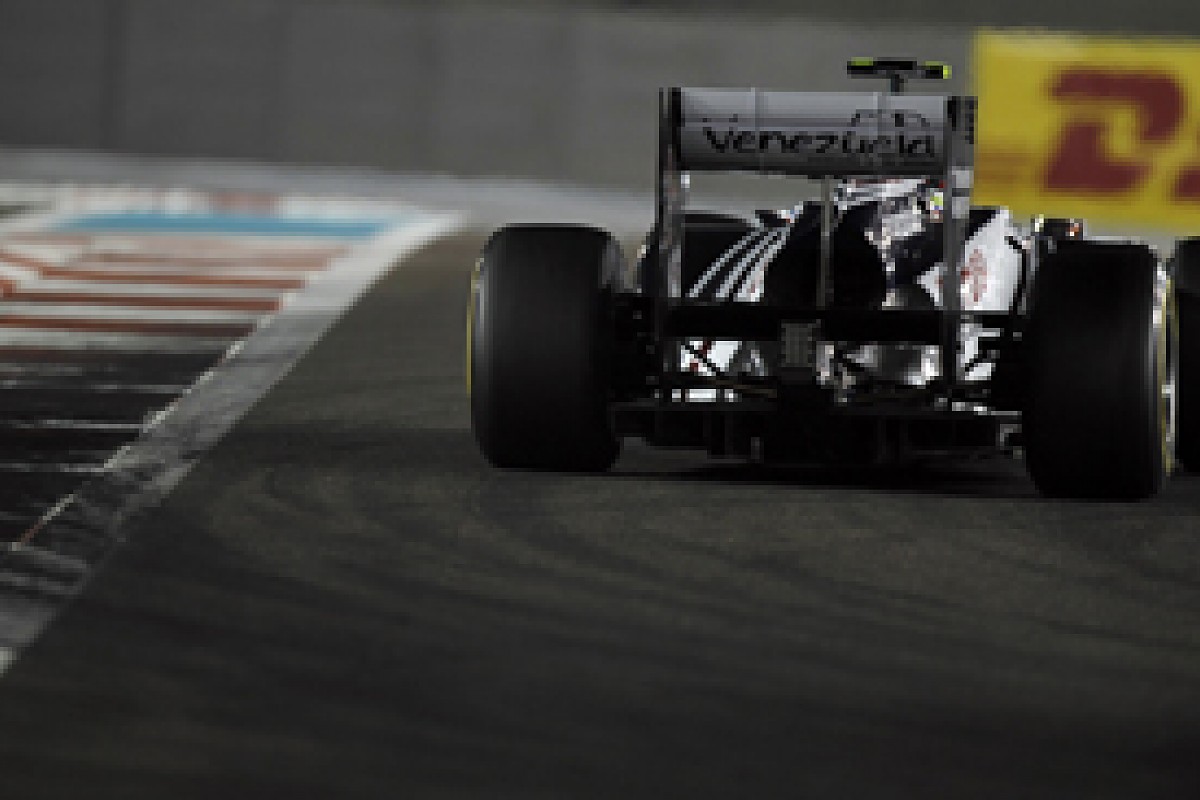 Backing from his homeland creates pressure as well as opportunities for Maldonado © LAT
"It's more a responsibility than pressure," he says. "I have not only the government - I have the whole country. I won the GP2 championship so they expect something more from me, but at the moment I don't get any big pressure.
"We need to be a bit more patient, and I think that it will come. Everyone is watching F1 - they're all looking at the Williams car, and Williams shares! It's a great atmosphere in Venezuela, not only in F1, in all sports the country is pushing so hard. We have many good sportsmen. We're a young country with great potential, so it's a fantastic moment for us."
Heading into the new season there's a quiet confidence in the Williams camp, and the move to Renault power and restructuring of the design department suggests that there will be a move up the grid.
"The engine is not everything. Maybe it will be an important tool in our package, but the most important thing will be the new people. We had to understand and analyse the problems we had. It's not easy, because they [the new technical team] didn't do the 2011 car, and they are starting from zero, more or less. But I'm really confident, because they are motivated and they have all the tools to do a great job."
And what of the man himself? He's confident that he can build on last year's solid foundations.
"After we started to finish races I was understanding the car a bit more, and improving myself race after race. I think I was very competitive.
"I'm quick over one lap - I always put the sectors together. It was just my first year, and even if the year was difficult it helped me mentally."
When Maldonado was younger, a Williams seat would have been any driver's dream. That hasn't been the case for a while, but at least the future looks brighter.
"I have a great feeling with the team," he adds. "Something inside me says that 2012 is going to be much better. I'll be more experienced, so everything is looking more competitive.
"I just need to have a quicker car, and then I can do my job on the track. This is an historic team, and this is not the usual position of Williams. It's a very famous team and they need the results - soon."