For Mark Webber victory in last November's Brazilian GP could not have been better timed. It might have taken some good fortune to get him ahead of Sebastian Vettel that afternoon, but nevertheless it was a win, and a perfect way to send him into the winter on a high.
The contrast with his demeanour after the 2010 finale in Abu Dhabi, where his shot at the title finally faded away, could not have been greater.
Webber has thus been able to enjoy a chilled off-season, and he has enjoyed a great opportunity to gather his thoughts and prepare for 2012. And he's had much to ponder, given that Interlagos was not representative of what was otherwise a bitterly disappointing year for a man who, at times in 2010, had really looked like a potential world champion.
Not only had Webber not won a race in 2011 prior to Brazil, he had only twice finished second to Vettel, in Turkey and Belgium. In all the other races that he finished - 15 of them - he was between third and fifth, and was thus beaten by at least one other car that was not a Red Bull. Given that his team-mate had demonstrated that the RB7 was a potential winner virtually everywhere, there was nowhere for Mark to hide.
Webber has never been one for dodging the truth, and he knows better than anyone else that it simply wasn't good enough.
"We had some technical challenges here and there, but in the end I haven't been ultimately and consistently fast enough on Sundays to challenge for victories," he acknowledged late last year.
"It took me a long time to get to grips with how to handle the new tyres. Obviously there was a big, big difference in terms of grip and pace and how to handle the race [compared with 2010]. I think we've seen a little bit of that with Lewis [Hamilton] as well.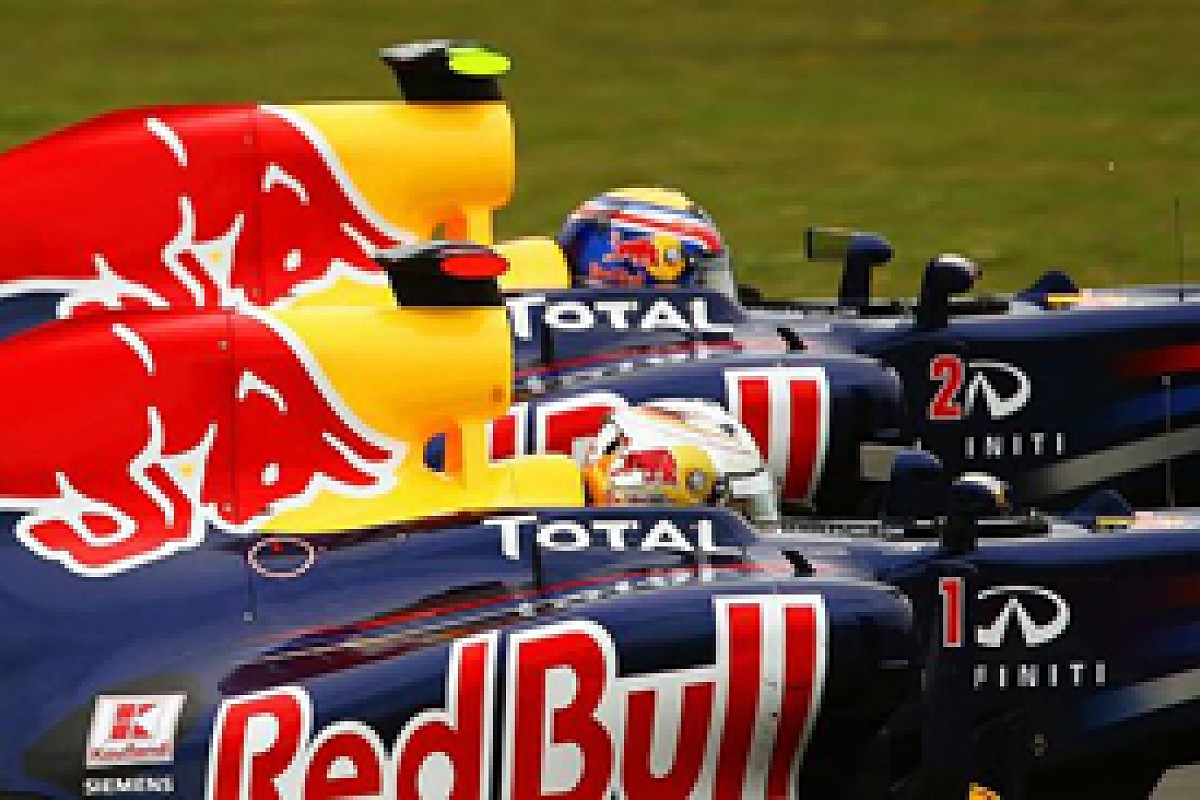 The Red Bulls were often close, but Vettel did the winning © sutton-images.com
"The way the races are now, even more than it used to be, it's about getting pole, getting in front. If you can control the first stop that unloads the other strategies, and there you go. Generally through my poor starts I've been out of position as well, and then you have to stop early, and you're in the shit. You need the first stop. You can never overcut someone these days, you can't go longer on the fuel."
As he said, tyres were a key weakness in 2011. Webber wasn't the only driver to struggle to get up to speed with the Pirellis, but his problem was exacerbated by the fact that Vettel made the transition with such ease. It's worth recalling that not only did Seb visit the Italian company in the winter, he returned from his world championship victory tour to undertake exploratory Pirelli testing in Abu Dhabi in November, while Mark was already off duty. Every little bit helps.
Webber makes no secret of the fact that Vettel came to terms with the tyres more easily: "Clearly he did, and I think it's about the ability to still go pretty quickly without having the degradation, whereas on the Bridgestones, that wasn't an issue for me.
"You can talk about Pirelli tyres, but that's just the way it is, I need to get on with it, and need to keep chipping away with it. It's all very, very fine lines."
Starts were another major weakness. Time after time Webber was sluggish off the line, or gave away valuable places later on the first lap. He knows he also has to sort that out in 2012.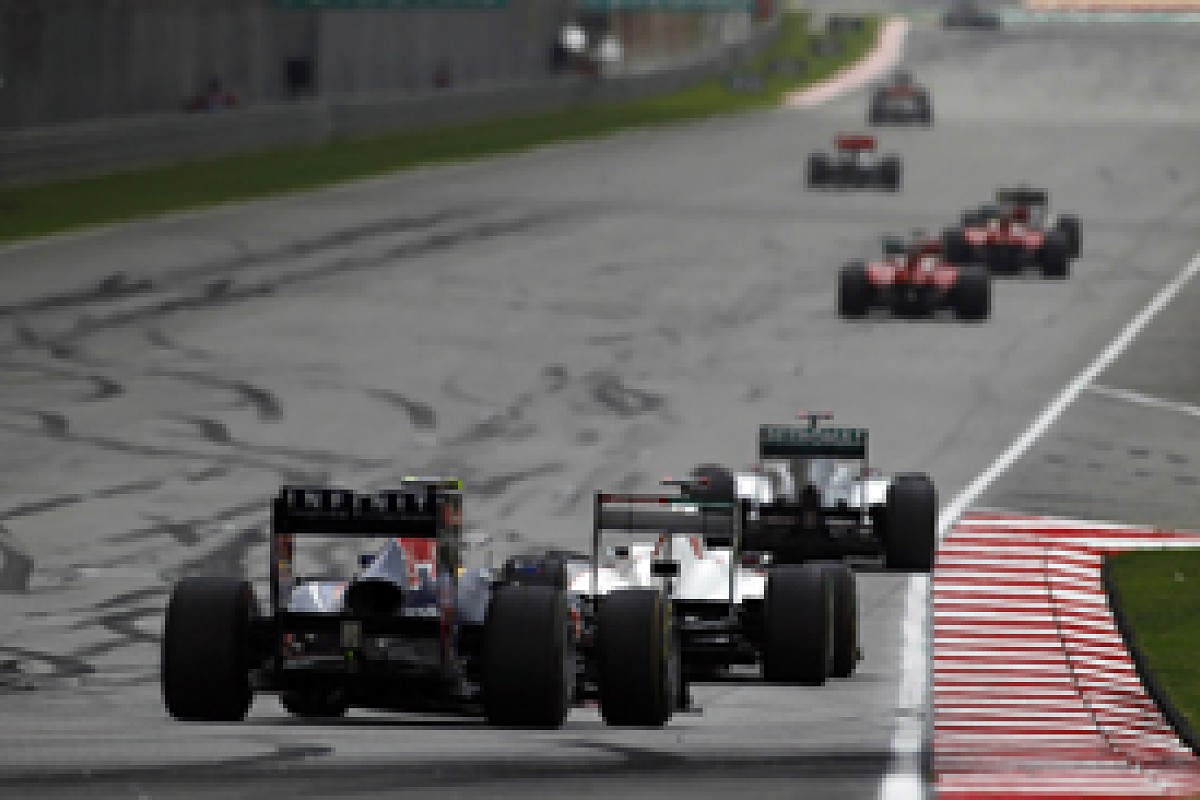 Bad starts left Webber with too much catching up to do © LAT
"We're still working on ways to make that better. Spa was nothing to do with me. In Malaysia I had no KERS down to Turn 1, and you come out of there in seventh or eighth... Seb fluffed his in China, he lost two spots there. There's been some bad starts, which doesn't help, and when I make a half reasonable start, it's only average, it's OK. I'm looking forward to that challenge, I'm actually fine with it. It's 'let's get on top of it, you can't shy away from it.'"
At the level they at which they are operating, details count, and even Vettel's weight advantage has also played a role: "Obviously on weight distribution I cannot move the weight around, because I'm quite heavy. Sebastian has an extra 10kg of ballast to move around. That's the way it is."
There might be some specific technical issues, but the bottom line is that Webber is up against one of the greats of the modern era, and like Michael Schumacher in his prime, Vettel would make life hard for any team-mate.
You could argue that Mark was perhaps flattered in 2010 after Seb suffered several early retirements and had an issue with his chassis. Nevertheless he still did a better job back then than he did in 2011. Even if you acknowledge that beating Vettel was no longer realistic and all he could be expected to do was play a supporting role to a man at the very top of his game, the stats prove that he failed to do that.
Clearly Webber has to raise his own game in all areas. He knows that's the case, and he sees light at the end of the tunnel.
"I think it's important when you've been round the block and you know how momentum can change. He's had a phenomenal year, we know that. In anyone's book it's been a phenomenal year. But there's also been a few races where his gearbox has been right there [in front of me]. You're never going to get ahead of someone if you try and get even, you need to get ahead of them. Obviously it's a pretty big task, but you've got to keep pushing.
"But you've got to be there. And things can change. It's unlikely, but you never know. All the hard work you put in, you've got a great car and a great team, you've still got to push on. So it is a mountain to climb, but we have to beat everybody, it's not just going to be him [Vettel] for the championship again."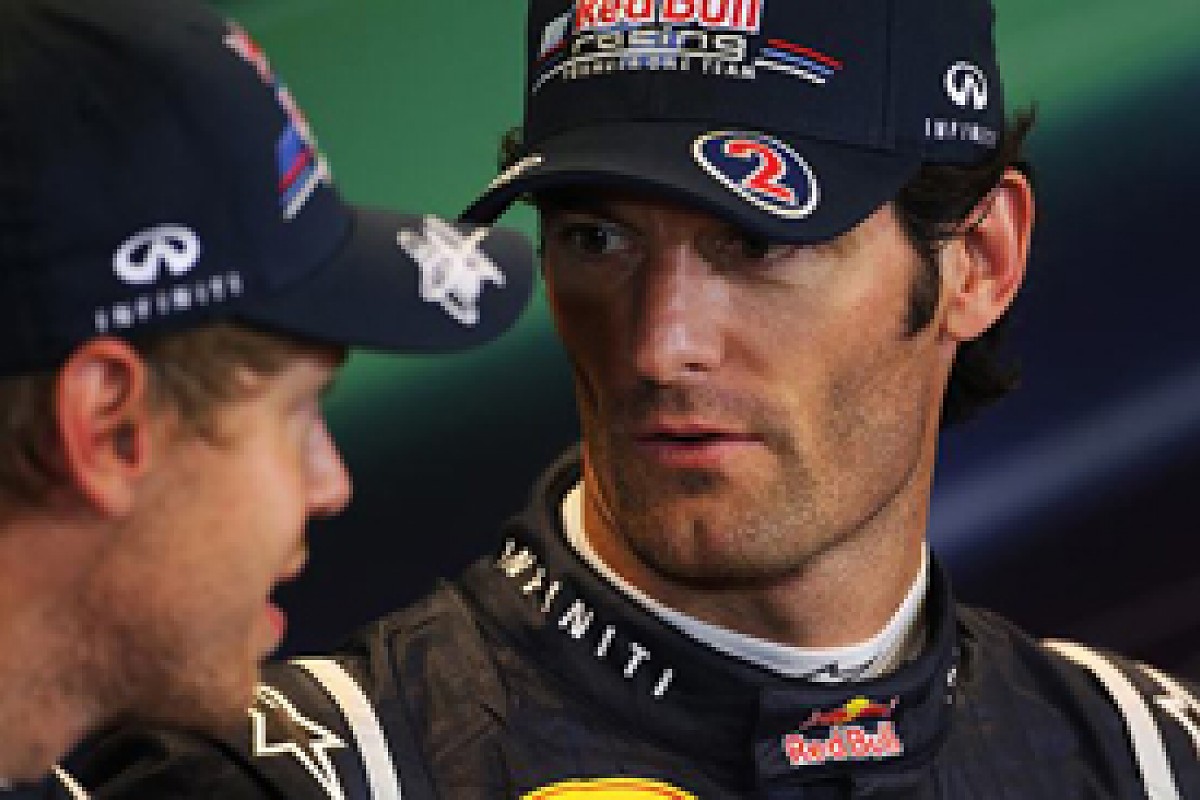 Vettel's successes increased pressure on Webber © sutton-images.com
An additional problem for Webber is that that the media spotlight will be focussed on his future from the very start of 2012. And that attention will create its own pressures.
Over the past couple of seasons Mark has signed one-year contract extensions in the summer. In the middle of 2010 he was on superb form, and it was a no-brainer for both sides to sign another deal. One year on and he was having a difficult time, and there were hints that he might not be staying. Red Bull looked at the alternatives, and kept the faith.
Heading into the 2012 season - and even before the RB8 has turned a wheel - the consensus is that this will be Webber's final year with the team, and that Daniel Ricciardo and Jean-Eric Vergne are in effect in a shootout at STR to win an RBR seat come 2013. Both men have a lot of support at Milton Keynes as well as in Austria and, as we've seen, sentimentality plays little part at Red Bull.
Will Mark jump, as did his former team-mate David Coulthard, or will he ultimately be pushed? Will he head for retirement or will another opportunity open up to finish his career elsewhere - possibly at somewhere as attractive as Ferrari? He will be bombarded with such questions in the coming months.
Much could depend on how things go for him from the start of the season. He's adamant that there are enough ingredients in the 2012 pot to make him hungry to return to top form.
"I think there are lots of things, and I absolutely have to hang around and have another crack. The blown floor is going, they are tweaking the tyres a little bit at the rear. These things are not trivial. They can move things around a bit for you. There's a good chance to do well, and that's what you should aim for.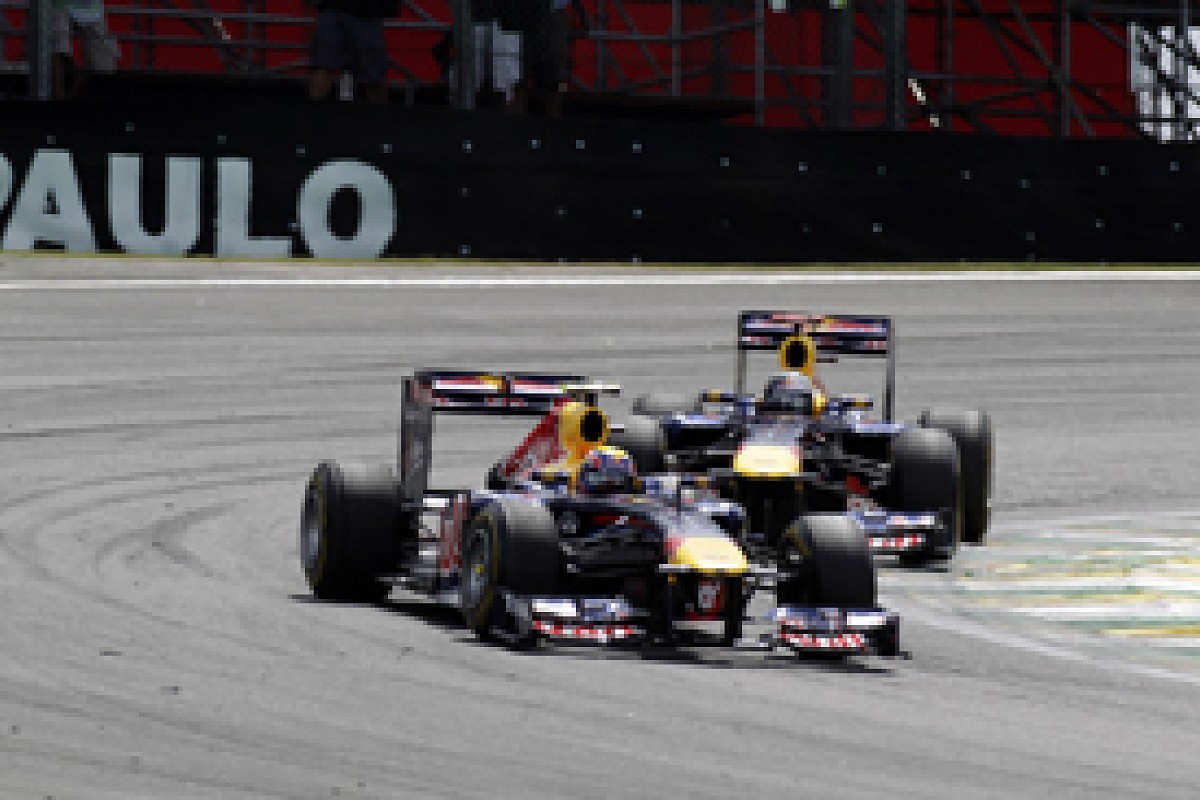 Vettel's Brazil gearbox glitch gave Webber a chance to pounce © LAT
"If we have to do more racing, then things might change. In 2011 there wasn't been much racing going on, particularly for him [Vettel]. But if there's more racing going on then things might change a bit more. Points start to leak a little bit more. So you've got to be around for those days."
Sometimes when a driver emerges from a bad season he suffers from blind optimism - this will be my year and so on - but clearly Webber is mature and experienced enough to know what he's talking about. And he doesn't have the weight of the Abu Dhabi disappointment hanging over him, as was the case this time last year.
He admits that he endured some dark days in 2011, but as far as he's concerned, it's far too early to walk away from the chance of adding more grand prix victories to the seven currently on his CV.
"I'd be lying if I said I enjoyed all of it," he said of his 2011 season. "That's the way it goes. That's what a sportsman goes through. There's always a bit of give and take. I can't say, 'This year has been awesome, I've loved every minute of it'. It's not like that.
"But it outweighs me stopping, and when on Monday morning the phone is not ringing, what am I going to do? If I see this team still smashing around and getting top results, knowing that I know what it's like to be lapped every weekend...
"I've been there, and so has Jenson [Button]. It takes a long time to forget that stuff. It's nice when you drive a car like this, to be part of it, and to have a chance to race and operate against top guys and give them a bloody hard time."
He doesn't sound like a man who sees retirement looming , but if that decision does emerge over the course of this year, it will further complicate matters. Very often we've seen a driver destined for retirement mentally wind down, however subconsciously, and he will have to overcome that trend. However it all pans out, it's going to be a fascinating to watch.