It is not exaggerating to say that Formula 1's switch from Bridgestone to Pirelli control rubber for 2011 was the single most important factor to both car design and driver performance. After all, four small contact patches determine the effectiveness of a grand prix car.
Sebastian Vettel, who had such a stunning year, grasped that, as Red Bull Racing team principal Christian Horner explains.
"It was testimony to his commitment," recalls Horner, "that having just won the 2010 world championship and gone back to Europe to do what was required of him in the media, he then got straight back on a plane back to Abu Dhabi to do the Pirelli test
"It demonstrated his eagerness to understand at an early stage what the tyres were like and what was required. He also visited Pirelli because he wanted to speak to the technicians and understand how the tyres were made. That's the kind of preparation he put in."
Early in the new season in particular, team-mate Mark Webber found that, despite not going quite as quickly as Vettel, he was suffering more tyre wear.
Technical chief Adrian Newey explains: "Mark found the Pirellis much more difficult to get on with than the Bridgestones. The Pirellis are very intolerant of high amounts of slip."
A driver who did seem to get on very well with the Pirellis though, was Jenson Button. The McLaren generated tyre temperature pretty instantaneously and, while Lewis Hamilton sometimes struggled to make them last, Button made them work. In Montreal especially...
Vettel invested time in learning the nature of the Pirellis early on © LAT
"In Canada," Newey says, "all through the wet phase Seb had good pace and was able to draw away at will. Then, in that final stint after the red flag, not taking anything away from Jenson, we struggled with tyre warm-up in cold conditions and he didn't.
"That was then a story that came back to haunt us a bit at Silverstone, the Nurburgring and in Hungary. I'd agree that McLaren got pretty much instant temperature, Ferrari struggled and we were in between.

"It's difficult to understand whether that's something fundamental to the car or whether it's something we can tune. We tried to remove it a bit but the pattern remained."
Pat Fry, who took over the reins of Ferrari's technical direction from Aldo Costa after the Spanish GP, concedes that Ferrari's characteristic lightness on its rubber did hurt the team.

"We were designing a car without knowing the tyres," he says. "And the only thing we did once we saw the tyre data, was think about making the new rear suspension geometry that came in at Silverstone. That was just more camber change to optimise the tyres better through a combination of corners.
"Our Singapore tyre issues were really down to the classic Ferrari problem/benefit - depending what type of track you're at - of generating bulk temperature.
"At McLaren it was almost the opposite - they could generate temperature straight away and are still the same now. It's fundamental to how you set up the car. I'm sure that if we still had unlimited testing it would be relatively easy to swap between the two.
"Singapore is a classically low-bulk-temperature circuit, so you struggle to get the grip. But with all the traction events you overheat the surface, therefore you slide around more, wheelspin more and overheat the surface even more.
"Whereas at, say, Silverstone, which was good for us, you have long, fast corners where you really work the bulk temperatures. That trade has been there all through this season and last. We're looking to change that and have done a reasonable amount of homework.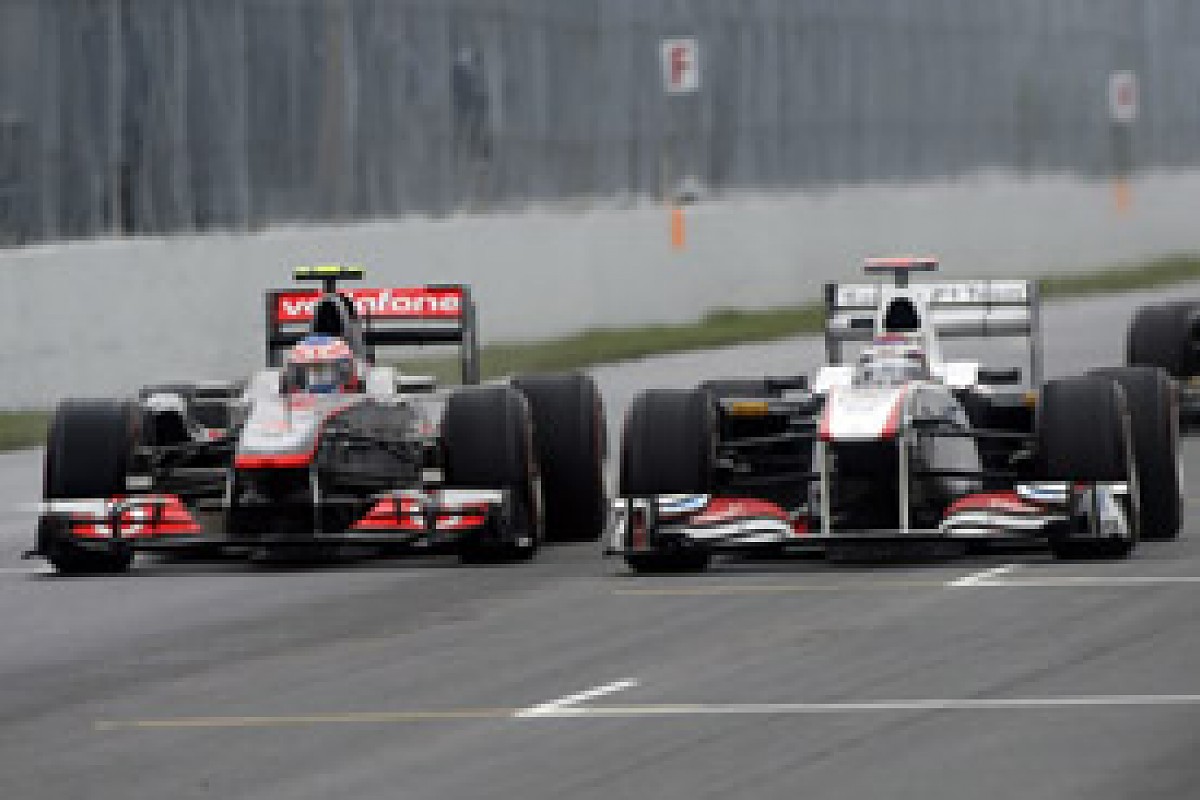 Button made the Pirellis work well in damp conditions and scored a famous win from the back in Canada © LAT
"And I think you were more likely to get more out of blown diffusers with the engine mapping if you ran a car with good tyre warm-up. For us to make that step with our current philosophy is a little bit difficult. McLaren used to be how we are now and it took all of the 2007/08 winter to get to a point of running the way they do now. Whether it was worth it then I don't know, but now that would have paid off."
Mercedes, meanwhile, fell into the category of those who did not best use the tyres, limiting possibilities for Nico Rosberg and Michael Schumacher. In its case, however, design reasons had little to do with the rubber.
Team principal Ross Brawn admits: "We probably would not have created the car concept we did if we'd understood and anticipated the exhaust technologies.
"We rather shot ourselves in the foot with the cooling system, which was quite different to the norm in terms of the two-tiered radiators. They were to keep the car short because obviously a single radiator is much longer. The reason we wanted a short car was that with the diffuser height changes from 2010 we thought that would be the way to go, but it wasn't the case.
"We thought we would want a nice, short, flat area of the floor because we'd struggle to keep the diffuser working the way we wanted, but the exhaust technologies solved that problem straight away. There was therefore no need for a short floor, which has compromises in terms of weight distribution, fuel height and all sorts of other factors."
One of those compromises was tyre usage.
"We had some fairly high rear degradation initially and the higher centre of gravity with the shorter car for sure came into it," Brawn says. "At tracks like Monaco that was an area we weren't too strong in. But when we were at tracks that are front-tyre limited, China being one of them, the car seemed to perform very well.
"We got better - Singapore wasn't another Monaco for us - but rear-tyre degradation is something we have to address for next year. Pirelli had some development tyres for the teams to try in Abu Dhabi aimed at improving that aspect. But we can't complain because other teams did a better job of looking after them.

"Pirelli did a very good job. The respect for them among the teams has gone up because I know when we decided to go to Pirelli some teams were a little bit nervous. But I think they've done a great job. It's been perfect for F1. When I say great job, I don't know about the absolute performance of the tyres, but it's not a tyre war and that was not their objective.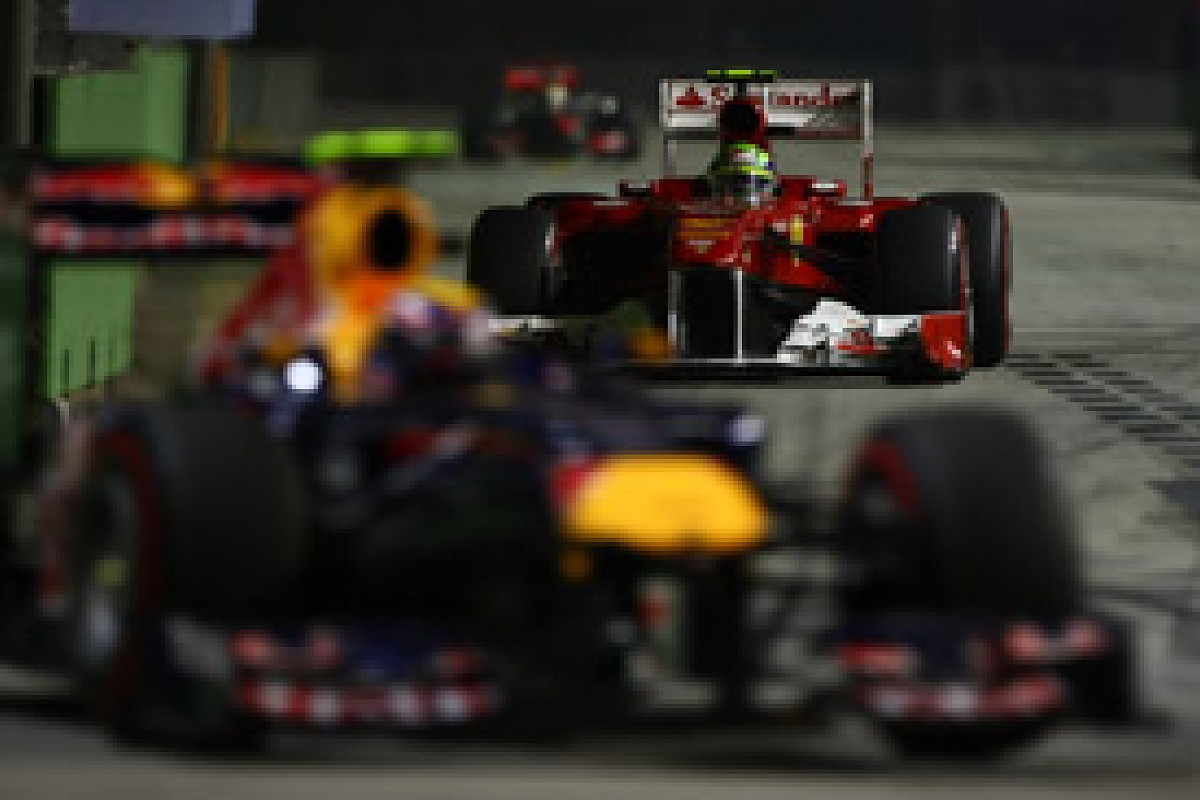 The Ferraris struggled to get enough temperature into the tyres © LAT
"Their brief was to produce a decent tyre and make sure everyone had the same tyres and that they were consistent, and that's exactly what they did. We also told them we wanted tyres with more degradation and again that's exactly what they've done."
Renault, meanwhile, took a design direction prompted by handling shortcomings on last year's Bridgestones, then found that the Pirellis were different...
Technical director James Allison says: "When we ran a blown exhaust in 2010 it gave us downforce, and plenty of it, but with a rather unpleasant handling effect on our car with the Bridgestone tyres.
"Every time you put your foot down and got the downforce it was all at the rear and you had a whole heap of understeer. We pursued rearwards blowing until quite deep into the development of the R31 then changed course mid-way through August/early September 2010.

"There are only a few places an exhaust can come out and impinge on a downforce-generating surface. One of the hypothetical benefits of a front one was that you generate most of the lift from the middle of the car and don't get that nasty understeer effect.

"It took us a while in CFD to actually find a front-blowing layout that worked. We knew that if we blew exhaust on a curved bit of the car it would generate downforce, but getting one that was competitive with a rearward blower took a while.

"Wind on to the start of the year and you find out that the Pirellis actually have very different characteristics to the Bridgestones. They suffer more under combined load and so, as you come out of the corner, when you want traction, the rear becomes unhappy quite quickly. What you really want is a load more rear downforce..."
In other words, just what they had with a rear-blown exhaust.
"We basically had a car that was fairly snappy and difficult all year in those combined conditions," Allison goes on, "And a car that was ugly as hell at all the circuits where those conditions predominate - Monaco, Hungary, Singapore, where very little of the redeeming features are to be seen, but the nastiness is on display at every corner. That's the block we found ourselves in."
The trials and tribulations of Renault's front-exit exhaust and the problems of trying to effect a mid-season fix could probably fill 10 articles but it's interesting that Pirelli's arrival meant that initially they'd been aiming at a moving target.
Pirelli and DRS took the plaudits for an exciting 2011 season in almost equal measure but towards the end of the year there was a concern that the more conservative Pirelli went with the tyres, the more like a Bridgestone race it would become.

McLaren's Martin Whitmarsh says: "I think we've got to assume that's likely to happen. This year Pirelli was thrown in at the deep end and produced some tyres that initially gave a lot of headache and heartache to the drivers and engineers and some great races as well.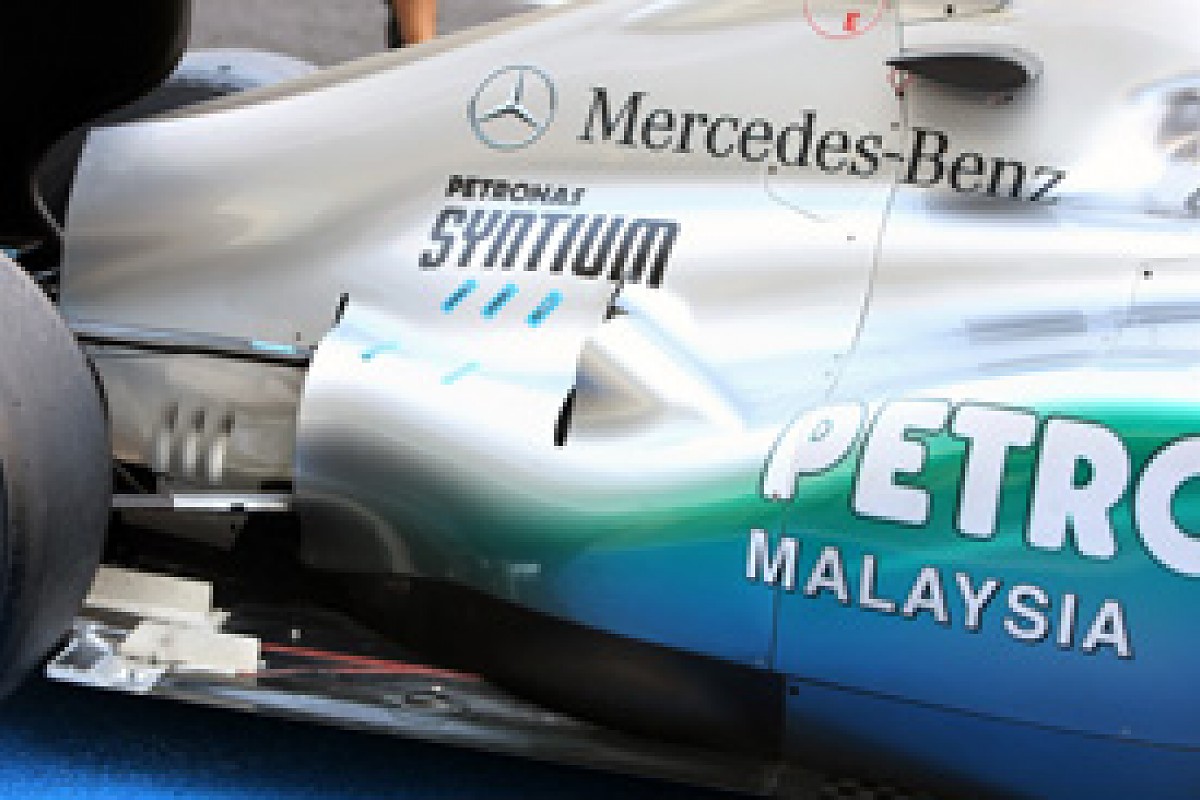 Mercedes GP tried a variation of exhaust packages during the season © sutton-images.com
"It's a tough one for a tyre manufacturer because having drivers and teams complain about the product is really not what they are in the sport for!
"On the one hand, quietly, we'll push on them and beat up on them - to give us some high-degradation tyres. And if they deliver on that, the drivers can't help themselves because they'll be in the lead, the tyres go away and in the heat of the moment afterwards they are going to say that it was these bloody tyres!"
F1 commentator Martin Brundle adds: "I think it's been the most powerful aspect of a very exciting season. Despite Vettel dominating the year, it's been one of the most exciting I can remember and just breathless at so many races.
"Paul Hembery (Pirelli's motorsport boss) should be Prime Minister, I think. He brought along a product that was universally not quite ready for F1 and somehow played that as, 'that's what you asked for.'"
Hembery himself thinks that Pirelli got even more out of F1 than they anticipated.
"The reaction from the fans, the teams, the drivers and the television companies has been extraordinary. They've encouraged us and are encouraging us even more going forward. So our return has been fantastic. We are very, very happy.
"In Brazil I spoke with 12 drivers about their feelings towards the tyres and they were all positive - and that leaves you with a lot of pride. It was truly fantastic after a tough season with a steep learning curve to get only positive feedback."

The only change next season is that the teams can choose to use more tyres from their allocation on Fridays if they wish. Some teams that ended qualifying in Q1 often had one or two sets of tyres left at the end of the race and it therefore makes sense for those tyres to be used on Fridays.
With the safety net of a year's experience, there may also be some racier compounds in 2012.
"Of course the engineers want to keep everything stable," Hembery says, "whereas the team principals probably look at the whole sport and how to best sell it, as does Bernie.
"They want an exciting sport and some aggressive compound choices, perhaps choices that on the surface may look quite strange, but which will lead to even more exciting races. That's the challenge!"
Bring it on. After an emphatic thumbs-up for 2011, Pirelli can probably afford a risk or two.