If you reckon the closest battle between teams in Formula 1 takes place on the track, then you'd better think again - because it actually goes on right in front of the garages.
While much of the focus for fans is whether Sebastian Vettel can find a few tenths to secure another pole position, or whether a new front wing can help McLaren overhaul Red Bull Racing, the competition between pitstop crews is even closer.
But although success on track is easily defined by being the first man across the line, the art of analysing pitstops is much more complicated. For a start there is no official, independent log of the pitstop times - in terms of the car being stationary. All that's recorded by the FIA is the time the car spends in the pitlane.
Then add to the mix the fact that there is also some debate about what is more important. On the one hand, fans (and pit crews for bragging rights!) are probably most interested in the overall quickest time a team can achieve.
So, taking pitstop data from the 2011 season kindly provided by Mercedes GP, it's interesting to see how three teams appear to stand clear at the head of the standings when it comes to the fastest overall stops.
Looking at the fastest stops each team executed in each race, and working out the team's average for the season, the standings look like this for the 19 races
Team average time for quickest stop
 1. Red Bull Racing      Fastest
 2. Mercedes GP          0.0020 seconds behind
 3. Mclaren              0.052s
 4. Ferrari              0.208s
 5. Force India          0.294s
 6. Renault              0.591s
 7. Williams             0.835s
 8. Team Lotus           0.928s
 9. Scuderia Toro Rosso  1.006s
10. Sauber               1.008s
11. Virgin Racing        1.374s
12. HRT                  2.984s

With teams reckoning that a few hundredths of a second can be discounted from the pitlane times for accuracy reasons, it shows that there's nothing in reality separating Red Bull Racing, Mercedes and McLaren when it comes to delivering the fastest overall stop.
However, when it comes to what in reality makes a team a better pit stop operation, then it's the average time from all the stops over the course of the season that matters.
Consistency for every stop is vital, as there's little point being able to produce a table-topping time once if each of your subsequent stops is much slower.
Inputting data from each team for the average time of every stop (excluding repairs) over the course of the season, then the picture is slightly different.
In the end, taking the total of the average time of stops, the difference between the fastest crew in 2011 - Mercedes GP (total for season - 421.96s) - and the second fastest - Red Bull Racing (424.47s) - meant that the difference came down to just 0.04s
Here is how the top 10 pans out:
 1.  Mercedes GP          Fastest
 2.  Red Bull Racing      0.004 seconds behind
 3.  Mclaren              0.22s
 4.  Force India          0.36s
 5.  Ferrari              0.42s
 6.  Renault              0.87s
 7.  Williams             1.07s
 8.  Team Lotus           1.15s
 9.  Sauber               1.21s
10.  Scuderia Toro Rosso  1.39s
11.  Virgin Racing        1.66s
12.  HRT                  3.06S


So with Mercedes GP having the rights to call itself the quickest crew of 2011, we talk to the key men behind it success to find out what makes a great pitstop.
* * *
1. Analysis, analysis, analysis
There was a time when pitstop analysis involved a mechanic with a stop watch and the crews constantly practising until they were able to achieve a certain time.
Now, though, the analysis runs much, much deeper than that - and has been vital in helping teams understand the areas in which they need to improve.
Mercedes GP not only times every stop it does, but videos each one too - so afterwards it can sit down and go through a proper slow-mo analysis to find out where tenths of a second improvement can be found.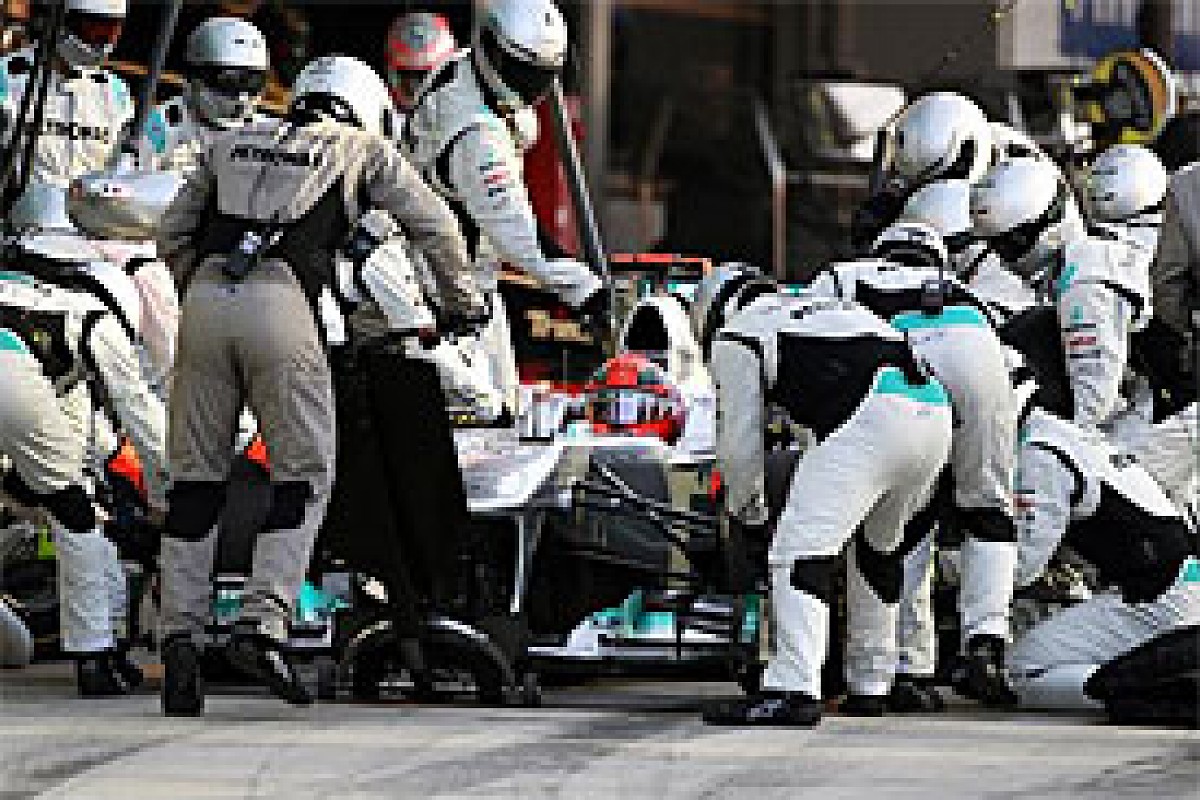 Mercedes records its pitstops in order to analyse them © sutton-images.com
Mercedes GP chief strategist James Vowles explains: "We treat the approach to pitstops like we would the car, in as much as we have data logging available to us in all the critical areas. We have four different types of men - tyre men, wheel-gun men and jack men, plus you have Matt Deane, the chief mechanic controlling the pitstop.
"By adding data into the algorithms we have a much better way of understanding our performance - and therefore improving it through technology or man management. And that was one of the first and big changes we made.
"So, by having the right measurements in place we are able to understand exactly where we are limiting ourselves, what performance there is to gain in each of those areas before we start improving the technology - and then we can understand how each part of the technology improvement will assist to make the pitstops quicker."
2. Get a light, not a lollipop
One of the limiting factors in shaving tenths off a pitstop is human reaction time - so the fewer human links involved in the process the better.
Mercedes GP was one of the first teams to get rid of the traditional lollipop man at the front of the car - and replace it with a traffic light system.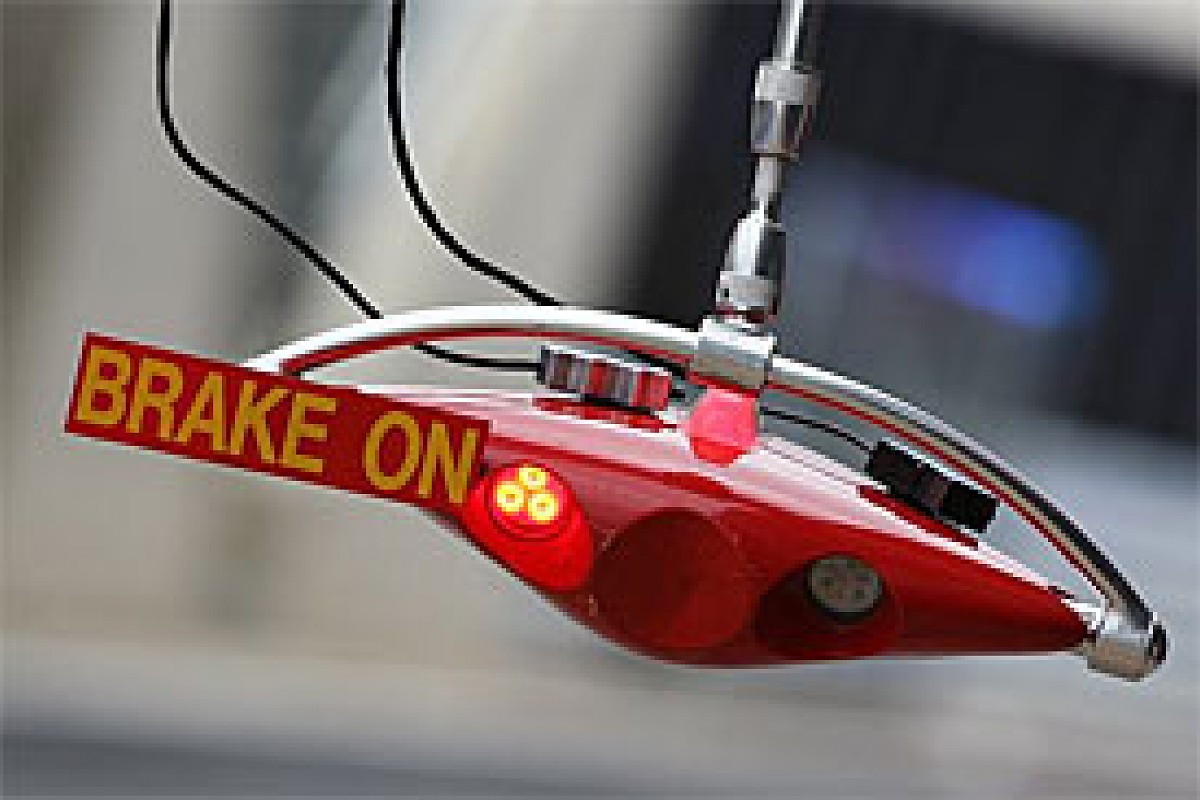 Light systems are replacing the lollipop © sutton-images.com
Vowles explains: "What light systems enable you to do is to remove reaction times from key moments at the critical part.
"The critical parts are obvious, you can watch them happen - it is the front and rear jacks, followed by the connection of the guns and the removal of the wheels, fitting of the wheels - all those big steps.
"Fitting the guns back in, tightening the nuts, signalling that you are done and then releasing the cars - that is the critical part."
3. All guns are not the same
Formula 1 wheel guns may all look pretty similar - but these days they are all individually commissioned by teams to make sure they are a perfect fit for their wheel nuts.
Much development work has been done in improving the speed of the rotation, but just as important is ensuring that the gun attaches to the nut as easily - and swiftly - as possible.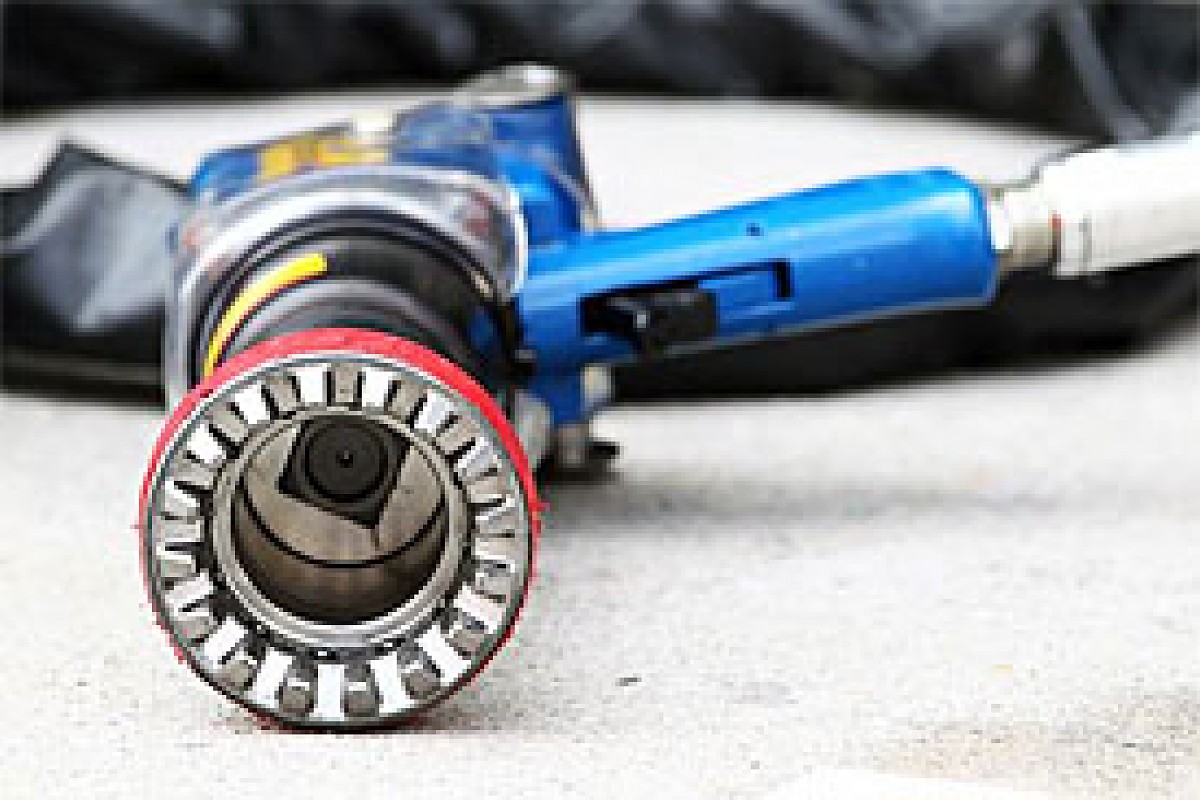 Not all air guns are the same in F1 © sutton-images.com
Vowles says: "We have had gun technology improvements, so the faster you can get the wheel nuts off the axles, and the shorter amount of time you have to gun the wheel nut up, the quicker the pitstops will be. So that is a key area that we are continuously developing.
"With wheel-nut technology, it is how easy you can connect the wheel gun to the nut - and that means doing it at an angle as the car is coming in."
Amazingly, Mercedes GP reckons that it has got this aspect down to such a fine art that the torque of the nuts is broken before the car has stopped - which means the wheels are ready to come off immediately.
"I think we are very much leading the field at the moment - with a unique wheel-nut design," added Vowles.
4. Finding the right type of gas
It is not just wheel-gun design that's important, because how the guns get powered is a major factor. In 2010, Mercedes GP led the way by using helium to power the guns.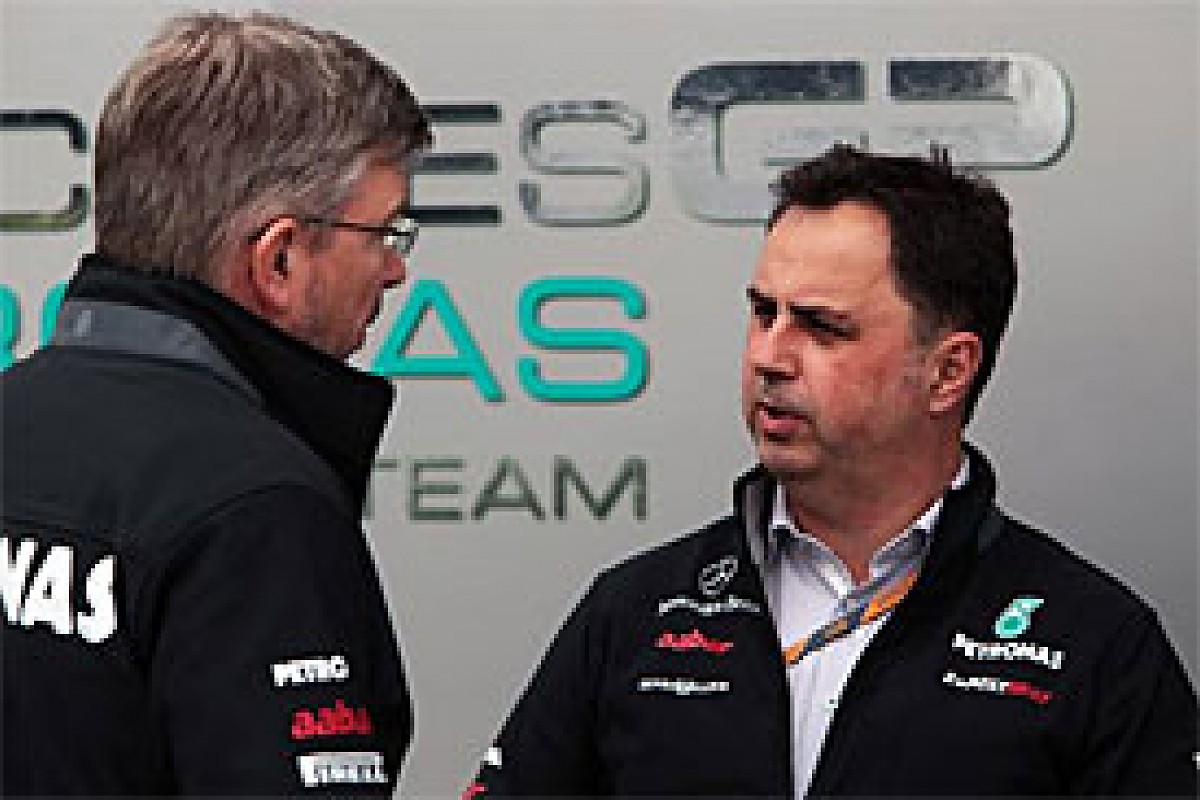 Ron Meadows © sutton-images.com
As the gas is less dense than air, it can help make the wheel guns rotate faster - which in turn helps reduce the pitstop time. That was the idea anyway, before teams agreed a few months ago to ban helium for 2012.
Team manager Ron Meadows says: "We did that last year and other teams figured it out towards the end of last year what we were doing. So that was a performance advantage that we cannot use for next year."
When asked what sort of time that is going to cost in stops next year, Meadows smiles: "Nothing - because I think we have some other ideas about what we are going to be doing.
"It is like the blown diffuser - the design office is not going to accept the car being slower, so we have a few ideas that we are working on to make it better."
5. Pushing the design of the wheel nuts
As well as the focus on finding time with the guns, the wheel nuts have not escaped Mercedes GP's attention either.
The team used a design pioneered by Mercedes-Benz in DTM - of incorporating the wheel nut actually into its wheel rim, so it is impossible for the nut to fly off during a stop.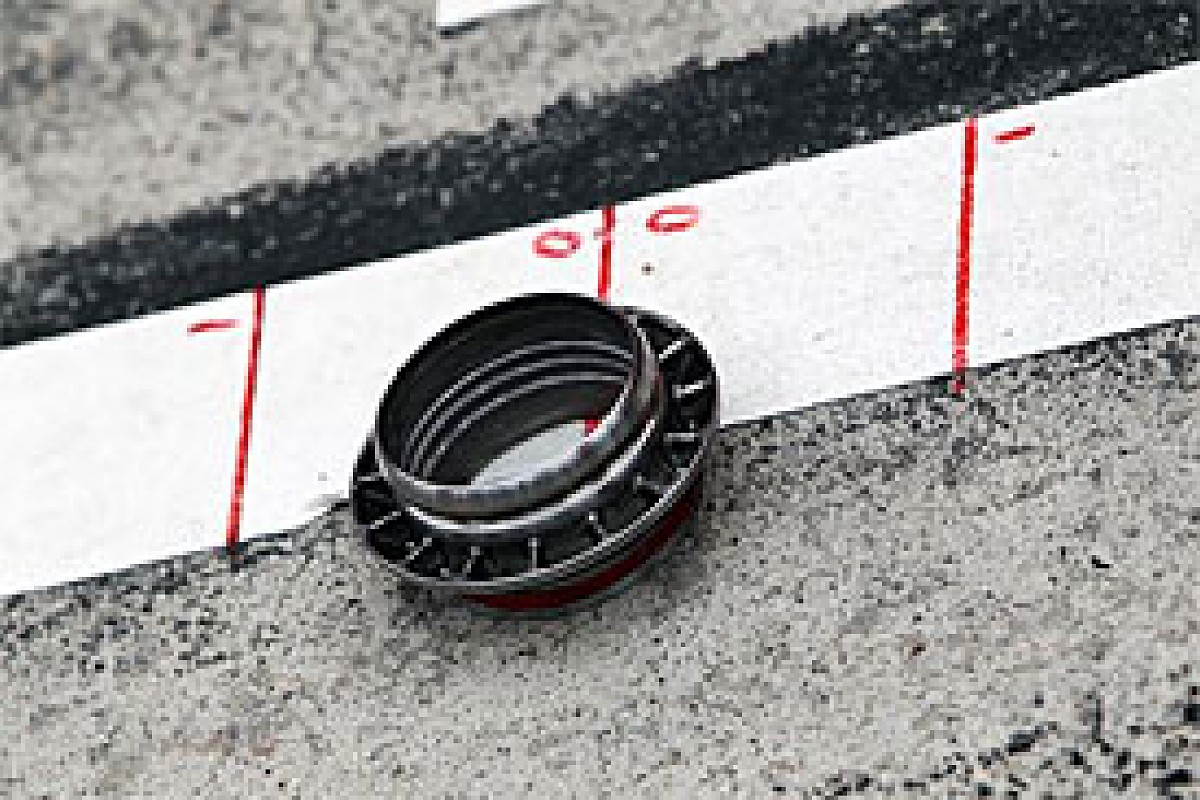 Wheel nuts have also evolved © sutton-images.com
Vowles explains: "It is captive with the wheel - and you get significant improvements in a number of areas there."
The one risk with the design, however, is that if Mercedes GP ever cross threads the nut when it is replaced - then it is going to have to ditch the wheel totally. That would mean a whole new set of tyres being rushed out and readied.
So far, though, such a drama has not happened in a race scenario - something about which Meadows is very proud.
"When we were developing the system, we had some issues, but the design office spent a lot of time looking at that area," he explains. "And touch wood it hasn't happened since then."
6. Getting the car off the ground
F1 has not yet found a quicker solution for getting a car off the ground than using front and rear jacks - especially because automatic systems that are integrated into the underbody are outlawed.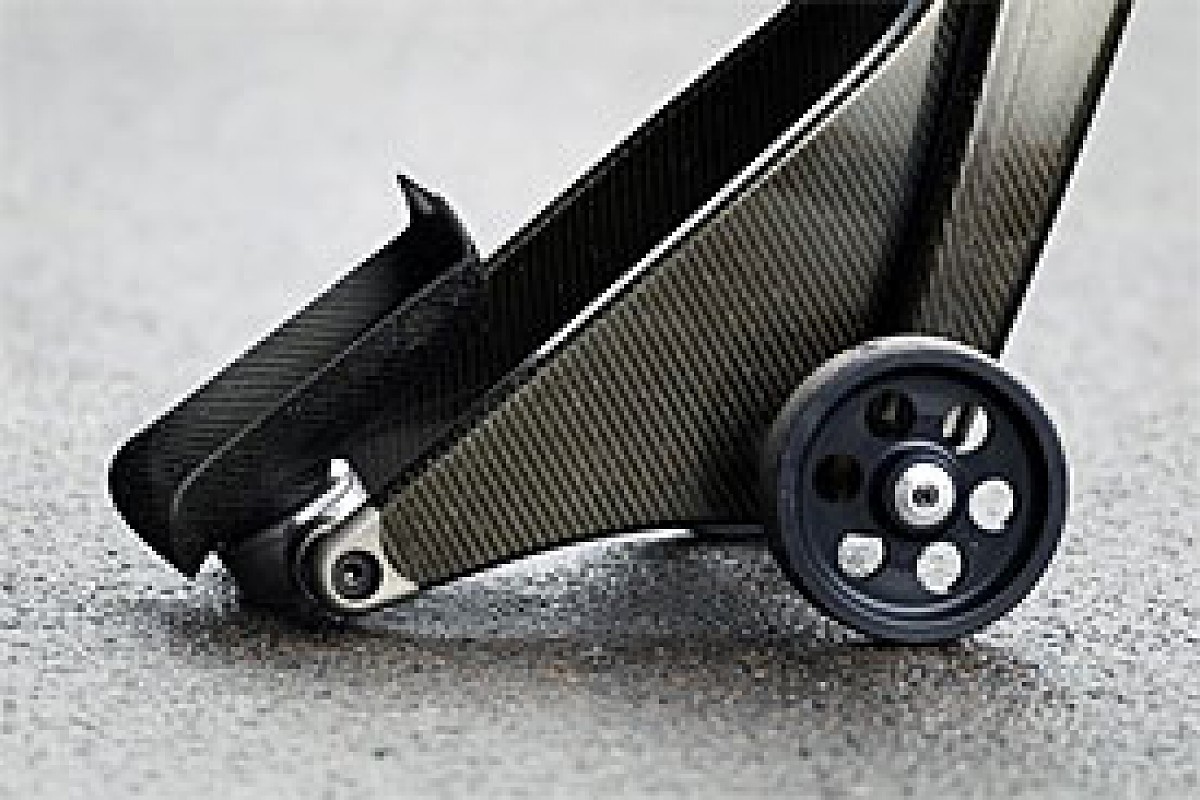 Carbon fibre jack © sutton-images.com
The current jacks are bespoke - and designed not only to lift the car as quickly as possible, but also get released in a clean way too. Last year, Mercedes GP introduced a front sliding jack - that pivoted around so the front jack man was out of the way of the car when it was released.
Vowles says: "The main thing is that you want the front-jack man, who is normally the limiting factor at a pitstop, to be clear and out of the way as the driver is reacting. You also want the rear of the car lifted, so it's up in the air sufficiently fast enough that you don't lose time taking the rear wheels off.
"Our jacks have a huge investment in the design technology, so that they can quickly reload following a pitstop. They release cleanly and connect cleanly every time - and a lot of effort has gone into ergonomics and positioning."
7. Not slowing down for front wing tweaks
With pitstops now down to just a smidgeon over two seconds, it means there is less time available to make other changes to the car when it's in the pits.
That has caused some headaches though, because the arrival of Pirelli rubber this year, and the large variation between compounds, means the drivers needed to tweak front-wing settings during the race.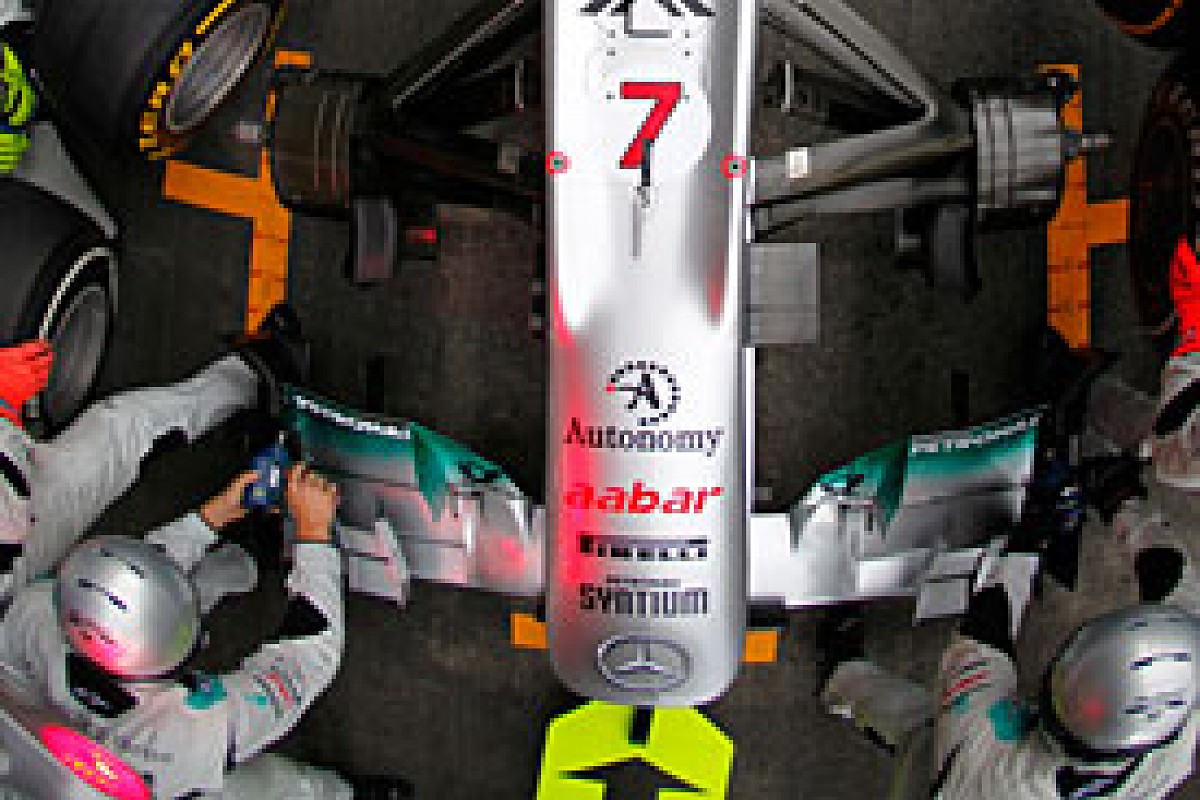 Front-wing adjuster at work © LAT
Using more traditional tools, this would have held up the stops - so a rethink was needed. The end result is that a gun has been designed solely to adjust the wing in an instant.
Meadows explains: "This year we introduced a front wing adjuster because that was a limiting factor - as drivers need to change wing settings as it can be worth half a second to one second per lap.
"Now, a lot of teams have developed their own pre-set gun with the amount of turns they want - and it can be done in a second. It's evolving all the time, and you need to be watching what everyone else is doing."
8. Practice, practice - but not too much
As long as there have been pitstops, F1 has long heard stories of teams spending the winter months practising in their factory car parks - and early in the mornings at grand prix weekends.
Now, things are done with military precision - but Meadows says that there is a danger from over-doing things.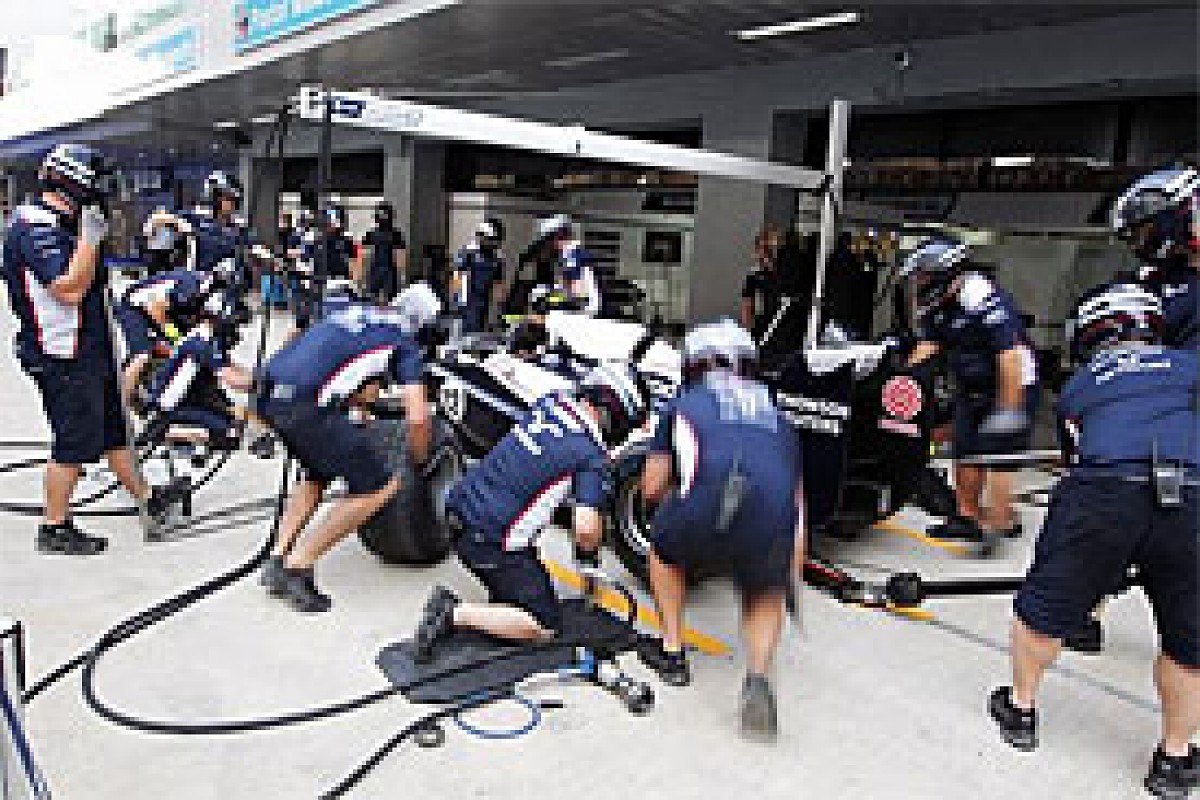 Pitstop practice is crucial, but there's a danger of over-doing it © sutton-images.com
"Each weekend we will do up to 100 practice stops, with three or four sessions," he says. "But you need to limit it because the crew gets tired and you just get worse.
"Also the equipment can be quite temperamental - it is all lifed - so you could end up damaging it. We have about 20 stops a session, and we think that is enough.
"We also video every stop we ever do, and we look at the ergonomics of the people. Who is best where? Who is left handed? What approach are we going to have?
"Everybody gets a go, and the guys are fantastic - they are really objective about it. They don't get upset if they are not doing a certain job, they know it is for the greater good and they are really supportive of each other.
"Of course we do have issues. Things do go wrong, but the best thing is that the boys put their arms around each other and they go again."
9. Keep an eye on the opposition
Just as F1 teams keep a close eye on car designs and developments of their rivals, so they watch closely the different approaches to pitstops.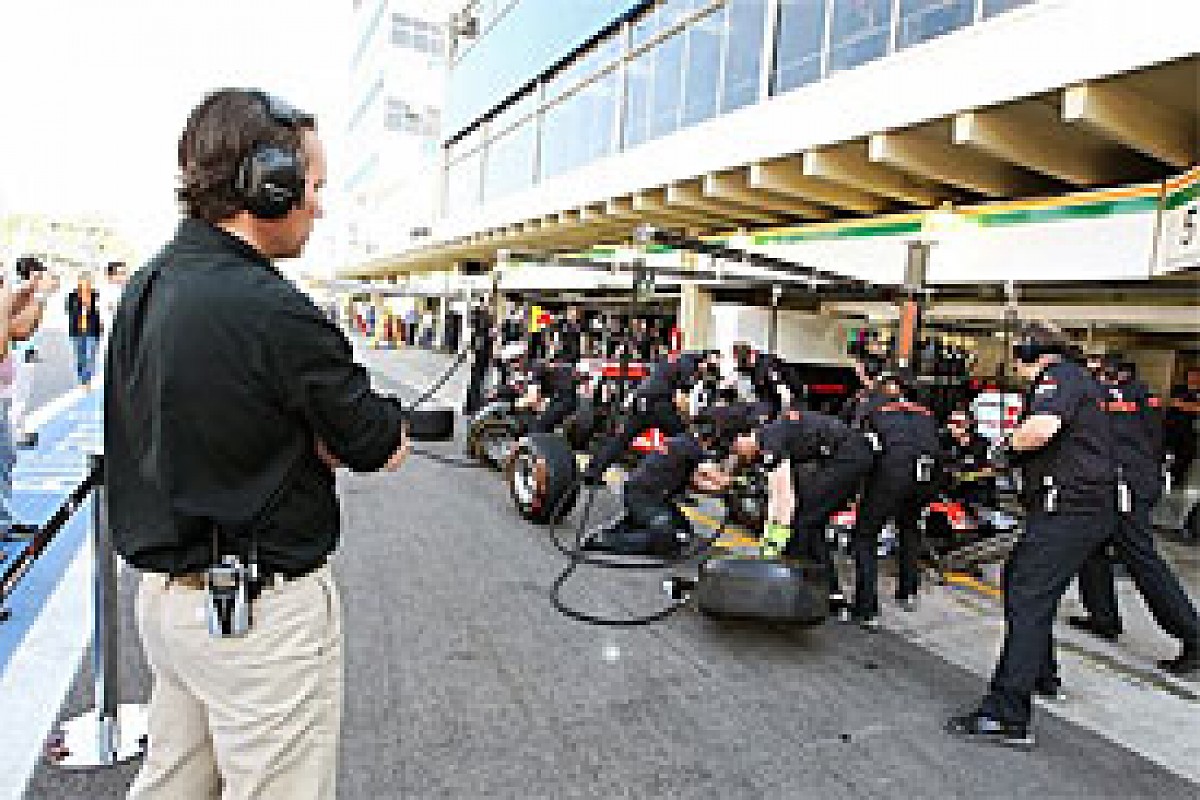 Keeping an eye on the opposition is important too © sutton-images.com
Although Mercedes GP is bullish that it's at the top of the heap when it comes to having its pitstops licked, that doesn't stop it looking at what others are doing.
"I would say that most people have actually copied what we put in place and I wouldn't be surprised if next year you see teams moving towards our wheel nut and gun design, for example," says Vowles.
"From other teams, what you can learn is areas where they are quicker than you and then understand why. That is the key thing we do as well.
"With every single bit of footage and timing data that is available to us, we make sure we are scrupulous in terms of understanding why other teams are close to us or even slightly faster in some circumstances. We learn that technology, then come back and implement our own solution."
And although there was a lot of interest about Red Bull Racing's laser system earlier this year, Vowles does not see much benefit from it.
"With Red Bull, they put a lot of focus into this driver positioning, using four lasers to line up the hands for the wheels. But ultimately, they are still using mechanics' hands to line up the wheels against the car.
"Yes, it is a key area, as positioning is vital. If the drivers can stop within a few centimetres each time, it means you can make your gun connection a bit faster, the guys have a lot more confidence and therefore your average pitstop time is lower over a weekend.
"But I am not necessarily sure that Red Bull's solution is of that much benefit because all you are doing is allowing the mechanics' hands to be that much better, and it is not actually better for the driver."
10. Don't go chasing a record time
While chasing the quickest time is the aim, the reality of being a successful pitcrew in Formula 1 is that there is little point being able to shave off a few tenths if you can only achieve that time once in a blue moon.
It's much more important to find a level that can be delivered each and every time.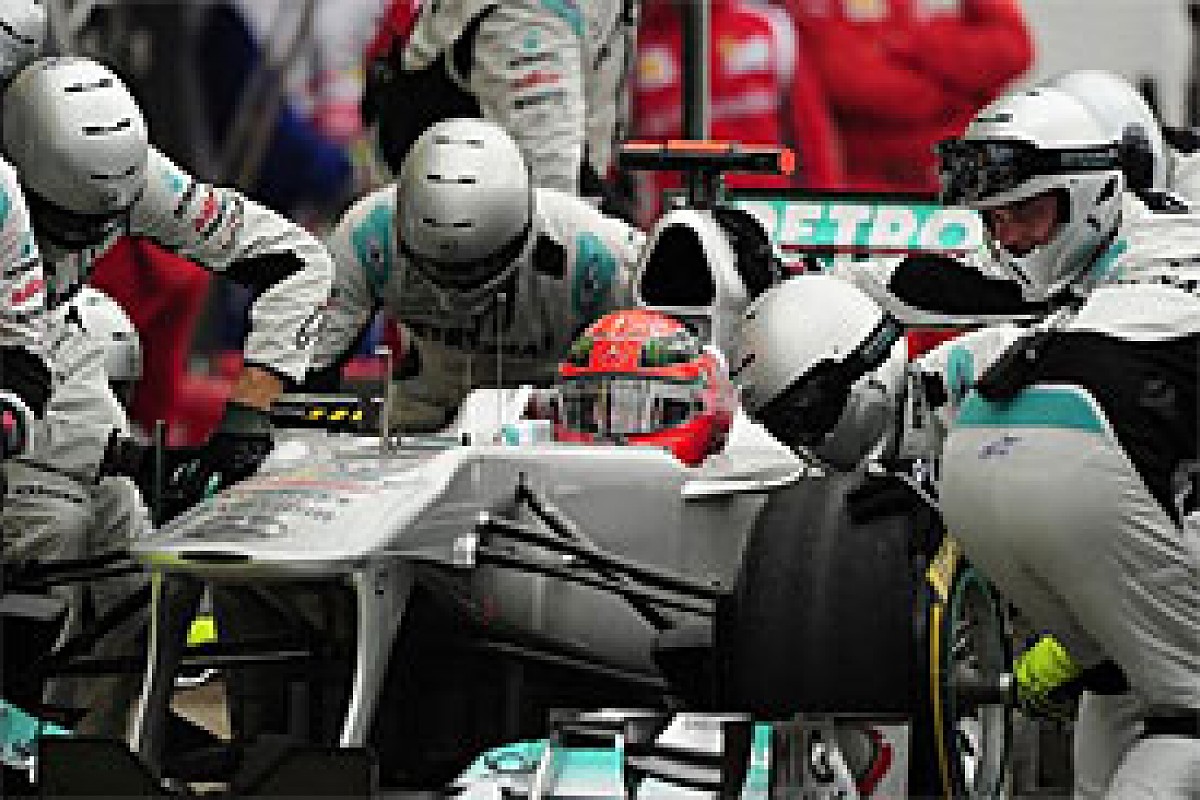 Mercedes's fastest tyre changes was done in 1.9 seconds © sutton-images.com
Vowles says: "Consistency is more important than being frantic for the best overall time. If we really pushed it, I am sure there could be a few more tenths found in an out-and-out perfect stop, but ultimately that is not what gains you points in a race.
"What gains you points is time after time being consistently faster or slightly ahead of your competitors, if not significantly ahead, and that is an area we have been really good at this year. Our consistency has been very good!"
For the record, Mercedes GP's quickest stop of the season was a 2.43-second tyre change for Michael Schumacher in Korea (first stop). The team thinks the fastest it has done in practice conditions is around 1.9 seconds.
So are we at the limit now?
F1 folk can never accept that they can't be faster at something, but Vowles reckons that pitstops are now approaching their absolute limit - and further efforts to make them quicker may not be a good allocation of resources.
However, he still believes that there is a bit more time to be found - which means a standard sub two-second stop.
"I think there is another three to four tenths to find from where we are today," he explains. "And I think the whole field will move forward next year by an order as well. So, in order to maintain the lead we have, we have to make sure that we keep pushing by that order of magnitude.
"In terms of expenditure - you will weigh up the expenditure relative to the performance gains that you will get overall. As we said before, out and out performance, finding a single stop that is four tenths quicker isn't actually of that much interest. Finding an average that is four tenths quicker than now is what we are chasing."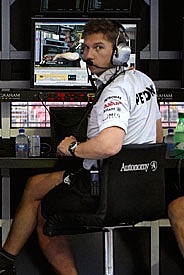 James Vowles © sutton-images.com
There are limitations within the regulations though that prevent major chunks of time being found - such as the ban on auto-lifting of cars.
"There is still a little bit of an improvement with gun technology," adds Vowles. "There is a change of gas for next year, but still improvements can be made in that area. There alone we will find a little bit - a few tenths perhaps. There are also improvements in design of the wheels.
"Like with the car, it is not one area where you will find a chunk. It is 10-15 small areas that we need to improve on."
So is there a golden ticket out there that nobody has thought of yet that could drastically cut pitstop time?
"There is for sure, but not in the current scope of what we have found in the regulations. The FIA reduced down quite a bit of what we can do - in other series they have technologies that would make our pitstops easily half a second, if not one second, faster. But that is not technology that is allowed in F1.
"Talking about an automatic release with an air jack, that is about two people's reaction times straight away, so that is performance for free."
And although Mercedes GP have ended this year on top, such is the pace of Formula 1, that being quickest at one moment doesn't guarantee you'll stay there for long.
As Mercedes GP team principal Ross Brawn says: "For any F1 team, I sometimes draw this analogy of spinning plates on canes. You have to go around and spin the plates all the time, otherwise they will fall off and crash.
"You are constantly going around the team trying to improve it. And, this year, for instance, our pitstops have been among the best. But if we do not do anything then next year they will be average because other people will go forward. Already we are looking at the things we can do to improve for next year."