Reliability is so solid in Formula 1 these days that when a driver loses a grand prix victory to a mechanical problem it comes as a surprise. Look back at history and you'll discover that great drivers from Fangio to Clark to Senna could have scored many more victories than they did had their cars had the sort of bulletproof characteristics normally enjoyed by Sebastian Vettel.
That said, many, many drivers have inherited victories after not just one but several drivers ahead were forced to retire. The point is that they all count, and getting to the end without problems is part of the game.
Of course, there was some good fortune involved at Interlagos on Sunday, but Mark Webber still had to be there to take advantage. And Red Bull was lucky that he was - only twice this year has Mark finished second behind his team-mate. Had Vettel experienced a similar problem at any of the other nine races he won, then a McLaren or Ferrari might have inherited victory.

In fact, the team went into the race with some question marks over the gearbox in car number 1. It was a brand new unit for FP3 on Saturday morning, the team having taken advantage of Vettel's retirement in Abu Dhabi to fit it.
After the race Webber revealed that there had been issues: "I know how hard the guys worked on Seb's gearbox last night because it wasn't completely smooth. They got it together but it turned out, obviously, in the end that something's let them down."
It's worth remembering that under the gearbox rules you can't play a joker at the final race. If the team had decided to switch to another gearbox for Sunday, Vettel would have taken a five-place hit, and Webber would have started from pole.
There were no signs of any problems at the start, when Vettel made his usual superb getaway and put in a storming opening couple of laps to ensure that, when DRS became active, he was out of Webber's range. He opened his advantage to as high as 3.8s by lap 10, but by that stage the team already knew that there was a problem.
"From as early as lap five we could see the gearbox oil level starting to drop," explained team boss Christian Horner. "The early predictions were that it might get to half-distance. We monitored it for a couple of laps and could see a consistent pattern. We informed Sebastian, and then started to try and manage the problem by him adjusting his driving style."
The world was quickly alerted to the drama by the team radio broadcast, as Vettel's engineer initially told him to short-shift in second and third.
The two Red Bulls spent the race in close company despite Vettel's issues © LAT
"It was just about putting less stress through the gearbox," said Horner, "and just trying to put less energy through it. Sebastian managed it fantastically well."
The fact that the message was repeated more than once - and with ever-increasing urgency - suggests that Vettel was initially either reluctant to compromise his pace or found it difficult to adjust. Indeed, by the time he pitted on lap 17, he had lost just a second of his advantage over Webber.
The stop also allowed the team to confirm that there was a real problem. "They saw at the pitstop a bit of oil at the back of the car," said Horner. "We knew it wasn't a sensor - it was a genuine issue."
The timing of the stops confirmed that, like the other top runners, Red Bull Racing had switched its focus to a three-stop strategy.
"We went in open-minded," admitted Horner. "We thought if we could get to lap 21/22 it would be a two-stop. The degradation was a bit higher, and the consumption was probably a bit higher for all the cars as well, and rapidly it morphed towards a three-stop. That's been one of the great challenges of this year: plans can change and you've got to be able to adjust quickly to optimise the strategy."
At this stage Webber did not know why Vettel had come back to him. On the pit wall his engineer Ciaron Pilbeam was aware of the problems that the other car was having, but initially the information was not forwarded to his driver.
"Obviously I found out not long after the team that Sebastian had a problem," Pilbeam confirmed. "For the first few laps we didn't know how bad it was going to be, whether it was going to get worse or whether it would stabilise and he'd get away with it, but it became more and more clear that he needed to look after the car quite a lot. And that's when Mark started to close up. They'd been matching each other pretty well up to that point.
"It wasn't until the gap was starting to close quite obviously, probably about three laps before they changed positions, we told Mark. He didn't know what we were going to do until he got a bit closer. I think he probably worked it out for himself - he got a bit of oil on his visor, and then I told him anyway."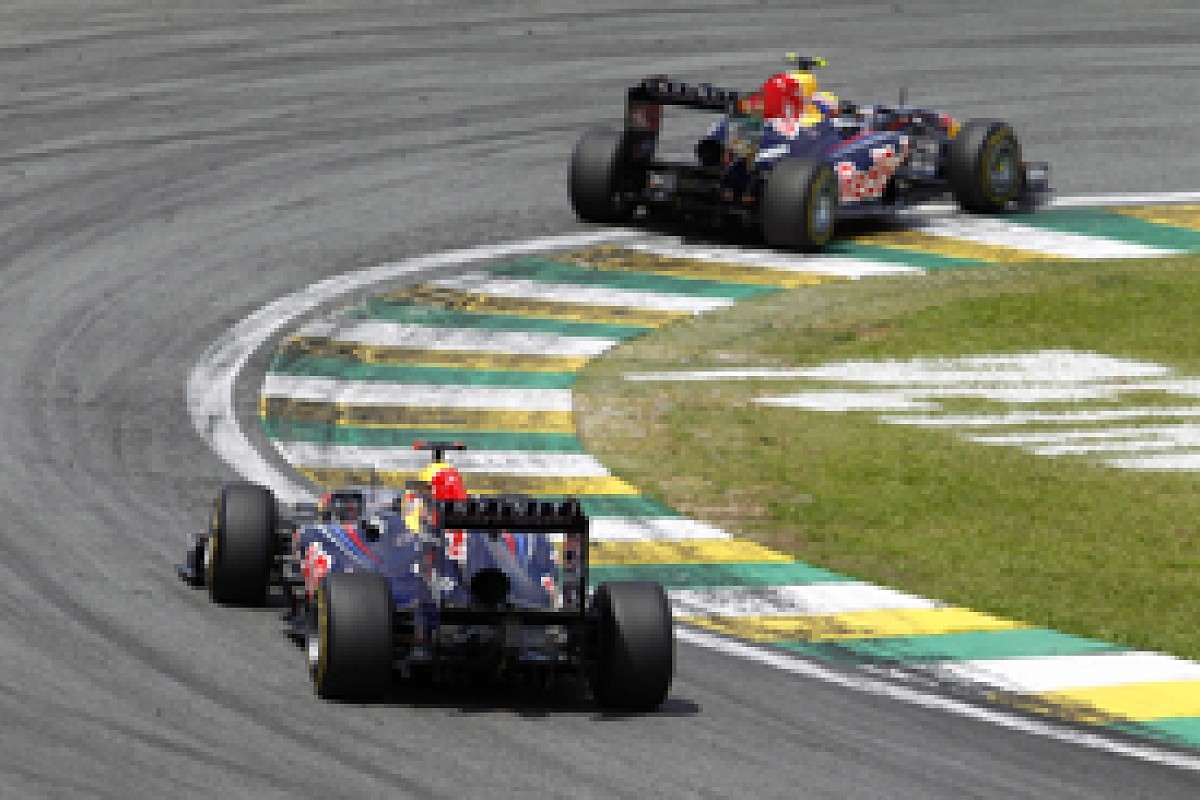 Webber eventually broke clear as Vettel had to back off more © LAT
Webber had indeed sussed out that his team-mate had a potentially serious problem: "I thought he was either in tyre trouble way earlier than he should be, or no KERS or something was going on, because one thing Seb doesn't do is forget how to drive from one lap to the other.
"When I started to take a pretty big chunk out of him per lap, I thought something might have been going down, and then Ciaron informed me that he had a gearbox problem. And I think I could smell it a little bit when I got close, and there was also a little bit of fluid. Normally, that's a nice feeling..."
It's a measure of Vettel's intelligence that not only did he eventually accept that he was not going to be able to defend the lead, he made sure that Mark knew that he would let him past - and where he would do it - to avoid any potential misunderstandings.
"He volunteered that," said Horner. "He got on the radio and said, 'Tell Mark I'll let him past at Turn 1.' Which again epitomises the teamwork that there's been between the two of them this year.
"It then released Mark to get on with his race, while we focused on trying to manage the problem."
The swap took place on lap 30. Webber still had 41 more laps to run, so it was far from over. And while at face value it seemed that the opposition was too far behind to worry about, a change of strategy by Jenson Button created some extra stress. When Button made his second stop on lap 31, he went onto the prime tyres, on which he had felt more comfortable in practice. In theory that also meant that he could run to the flag. Webber thus had to be far enough ahead to be able to make a pitstop and not lose out to Jenson.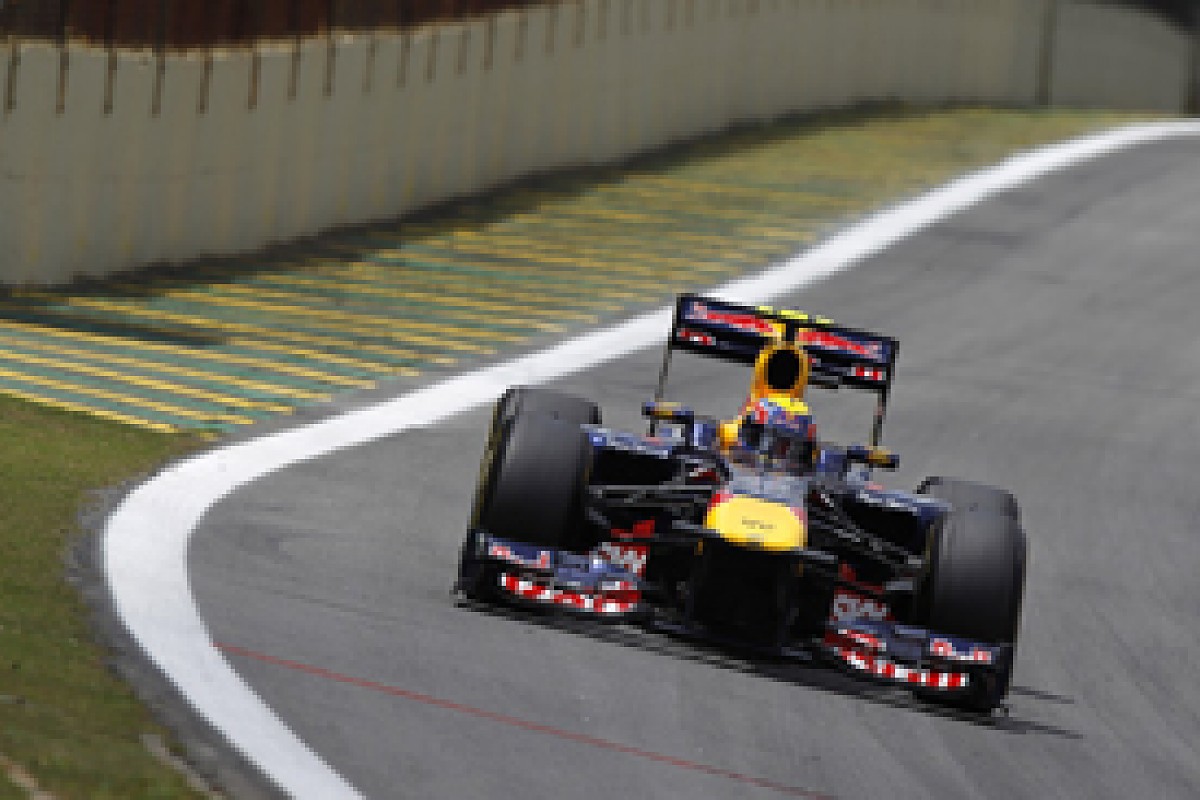 Button was kept busy battling Alonso © LAT
"We realised after the second round of stops that Jenson had put the prime on," noted Pilbeam. "While it would have been a very long stint, it was not impossible that he could have got to the end on that set. We had the gap just enough by 2-3 seconds to do the pitstop, but until Jenson pitted again we thought we might be racing him. After Jenson pitted and Fernando pitted, then it became a bit more obvious, when all the pitstops had shaken out."
The race ran to its conclusion with no unexpected dramas for Webber, and he even found time to pop in a couple of consecutive fastest laps at the end.
Webber had put himself into a position to win with one of his strongest performances of the year, but could he have kept the pressure on Vettel had the race panned out normally?
"Who knows?" shrugged Pilbeam. "You can only win the race you're in, not the one that might have been. The weekend went very well for Mark - we were pretty happy on Friday and again on Saturday morning and in qualifying. We think we should have been a bit closer to Sebastian in qualifying, but as usual Sebastian did a very good job on his final run in Q3, and he's hard to beat in that situation.
"It's been a very good weekend for him, altogether, and it's not come out of the blue really. Over the second half of the season, the last few races particularly, Mark has been getting more and more confident and on top of the car and the tyres. It's a very nice way to finish the season."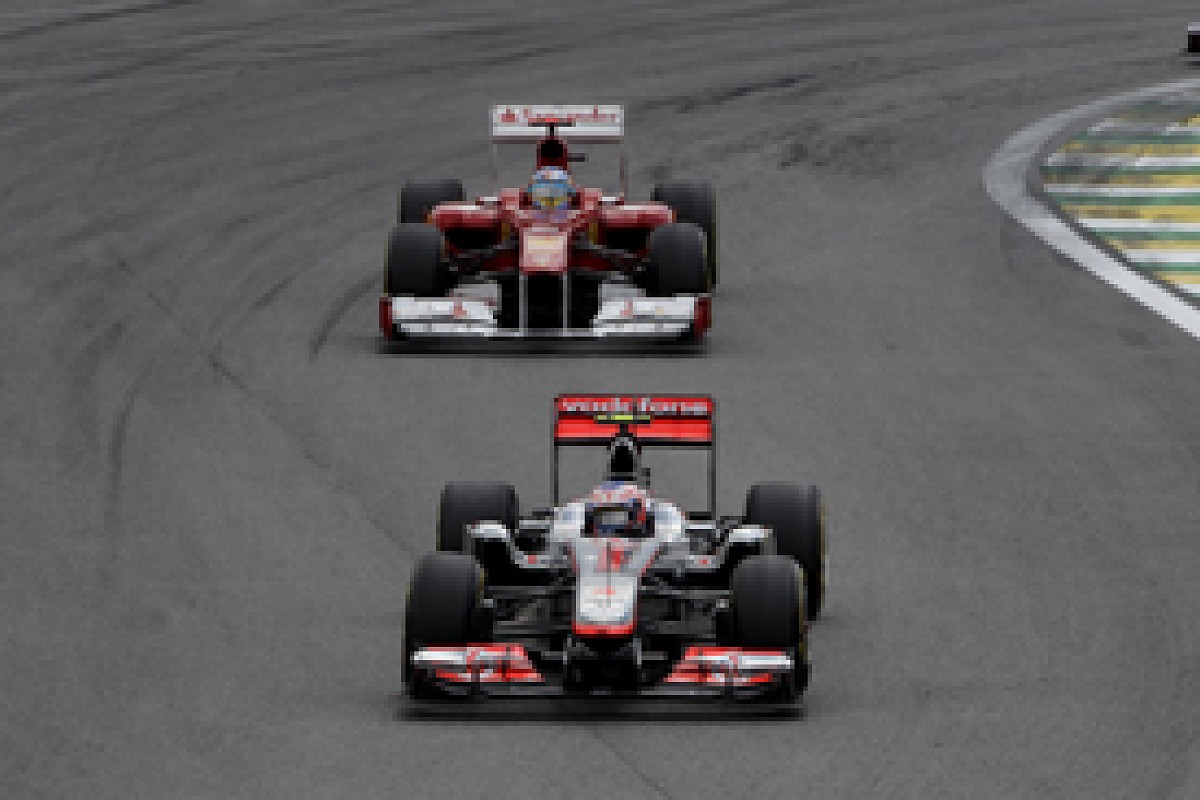 Schumacher famously took second despite gearbox issues at Catalunya in 1994... © LAT
Webber's drive may have been faultless, but inevitably after the race much of the focus was on the way Vettel drove around his problems. Seb himself compared it with Ayrton Senna's victory in Brazil while stuck in sixth gear in 1991, while in his Benetton days Michael Schumacher famously nursed a dodgy gearbox home to second place at Barcelona in 1994. It takes a special kind of driver to deal with a problem and keep up a good pace.
"We really didn't think it would go past halfway," Horner stressed. "We were just trying to help him keep the gearbox alive. I was watching the telemetry with the engineer next to me, and every single lap the oil level was dropping.
"You end up moving around engine mixtures and all kinds of other settings to try and help, but even with that he was still doing the lap times, which was quite remarkable.
"Despite running a gear taller in each corner and trying to reduce the amount of shifts, his pace was still very strong. And then it was a matter of managing the gap to Fernando, and then Jenson. There must be zero oil left in that gearbox because it literally went off the scale in those last five laps! We were glued to the data and the screen just to see if it was going to make it to the end. It was a very mature and measured drive, with strong communication from his engineering team, to help him nurse it to the end."
It was fortunate timing indeed for RBR that the problem occurred at a race where the RB7 arguably had a bigger advantage over the opposition than at many other recent races, so Vettel could drop back from Webber and still not come under serious threat.
"In qualifying we had a reasonable gap," Horner acknowledged. "And then in the race the pace was very dominant, and obviously once it became clear that Jenson was on a three-stop, Mark pulled out enough to have a pitstop in hand anyway - it was a matter of managing the race to the end.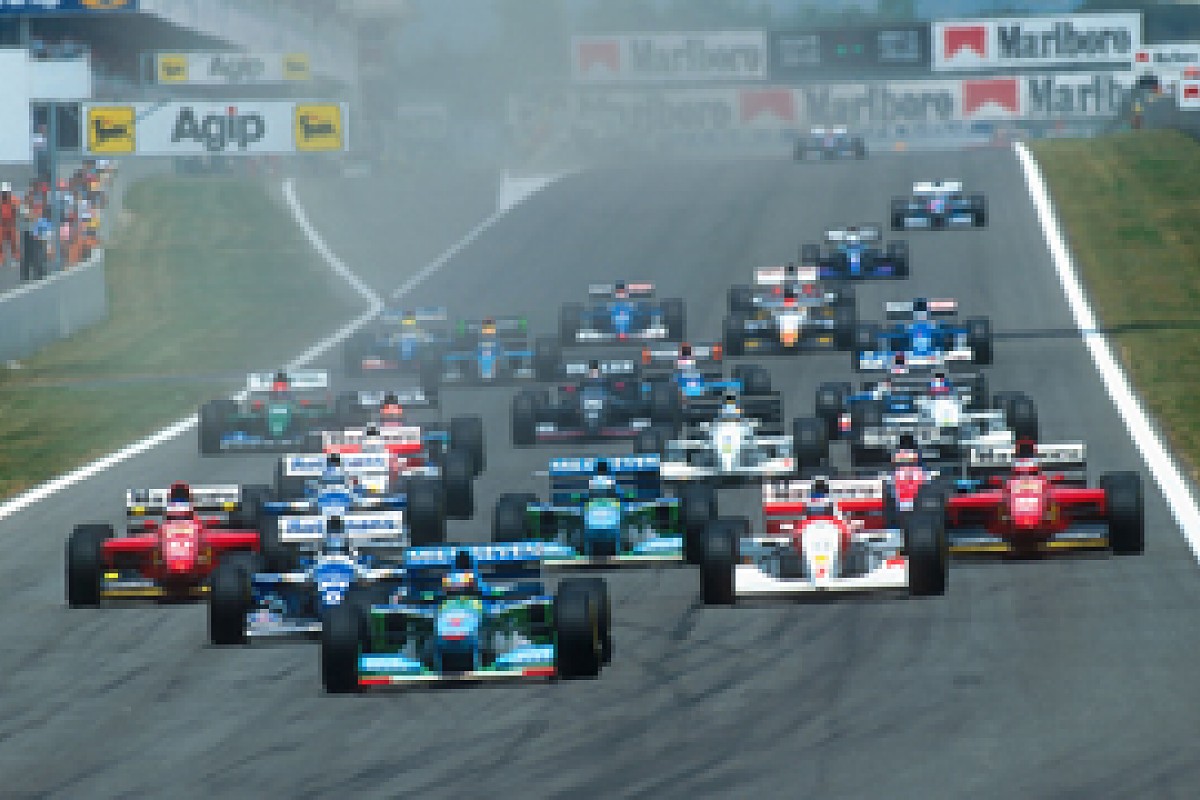 ...while Senna won in Brazil in 1991 despite major gearbox headaches © LAT
"Sebastian, even with the issues that he had, we were struggling to slow him down enough. It was like he was on a Sunday afternoon drive, when he started talking about Ayrton Senna in 1991!
"He sounded so cool driving round, and still doing green and purple sectors. It's the capacity that he has.
"It's a shame because I think it would have been great to have had a clean fight between the two of them, but still a one-two finish. It's testimony to the strength of the team that despite an issue occurring - we learned how to manage that in Montreal a couple of years ago, and those lessons have been applied today - we got it to the end of the race."
Horner has no time for the inevitable conspiracy theories.
"Anybody who listened to the conversation between Seb and the race engineer or looked in the back of the garage at the amount of activity that was going on over that gearbox... Of course there will always be people who have theories, but categorically that gearbox, how on earth it got to the end of the race is beyond me.
"I can absolutely hand-on-heart guarantee you that, based on the blood pressure on the pit wall, you can rest assured it was a genuine, genuine issue."
Whichever way it came to him, the win was a huge bonus for Webber, and in turn it won't do the team any harm.
"It means a huge amount to Mark," said Horner. "It's a great win for him. It's been a difficult year for Mark, but hopefully it will give him a boost going into the winter. I'm sure he would have liked a straight fight with Sebastian, but nonetheless he really deserves it. He drove a very good race today - and he did a Sebastian on us at the end with his fast laps!"