Whatever air of malaise that had set in around the paddock during the recent post-title clincher races has been blown away by Formula 1's arrival at Interlagos. The garage and hospitality areas are poky, the facilities relatively threadbare and it's inevitable that a few thefts will interrupt the weekend for some luckless individuals. That said, it's a fantastic venue that oozes history, atmosphere and unbounded fan enthusiasm.
Interlagos - more correctly called Autodromo Jose Carlos Pace in memory of the 1975 Brazilian Grand Prix winner - is a track that guarantees drama, whether in qualifying or the race. Who could forget Nico Hulkenberg's astonishing pole position laps last year (for those who have forgotten, he set the two fastest times of the Q3 session)? Or Giancarlo Fisichella's sensational win for Jordan in 2003 in a rain-hit race? Or Juan Pablo Montoya's sensational pass on Michael Schumacher and near-victory in only his third grand prix, until the lapped Jos Verstappen intervened in '01? And that's to name only a few of the great memories that this year's race will surely add to.
Interlagos is a place where things happen and despite Thursday's relatively warm weather, which afforded a glorious view of the city of Sao Paulo, the forecast suggests that we should expect rain. Mercedes had a sneak preview of such conditions when a very local rainstorm hit just outside the back of its garage, triggered by an unexpected water leak! As well as the on-track drama, there's always plenty going on off it here.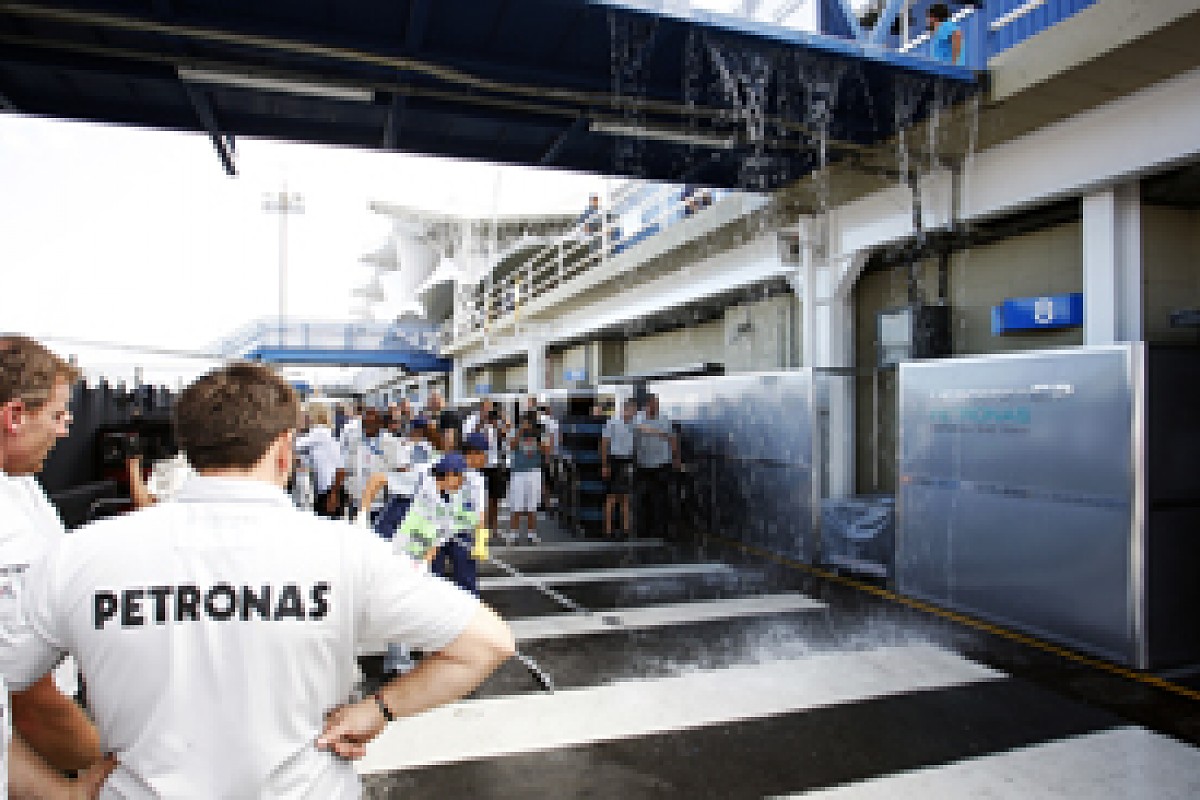 Mercedes created its own rainstorm when a water pipe burst © sutton-images.com
With Sebastian Vettel sewing up the title what seems like some decades ago, and Red Bull long since assured of the constructors' crown, attention is now focused on the scrap for second. Surprisingly enough, how important each contender reckons finishing second in the championship race is appears to be directly related to their chances of taking it.
Right now, that means Jenson Button, who has increasingly warmed to the idea over the last few races. He carries a 10-point advantage over Fernando Alonso into the race and admitted that taking second isn't "so important" before going on to explain why, actually, it's not that bad a thing to do!
"It is nice to know over a season that you can finish in front of some very good drivers and to finish in front of a Red Bull would be great considering Seb won the title in one and Fernando was strong in a Ferrari," said the 2009 world champion.
Alonso himself was less interested in second place, although it will be fascinating to see if he changes his tune should he overhaul Button during Sunday's race.
Mark Webber, who has an outside chance of ending up second, already has half-an-eye on next year. He's looking for a strong start to allow him to re-emerge as a title contender and has probably long since given up on a shot at the spot.
But perhaps the most amusing stories that have emerged relate to the driver market. While there remains a frenzy of speculation surrounding a driver announcement at Williams, which is going to have to wait for a little longer yet, Renault filled the void with its confirmation yesterday that Robert Kubica will not be ready to the start of the season.
So far, so clear. What was less expected was Kubica's manager, Daniele Morelli, denying this and hitting out at Renault's statement through a story that first appeared in Italian daily Gazzetta dello Sport.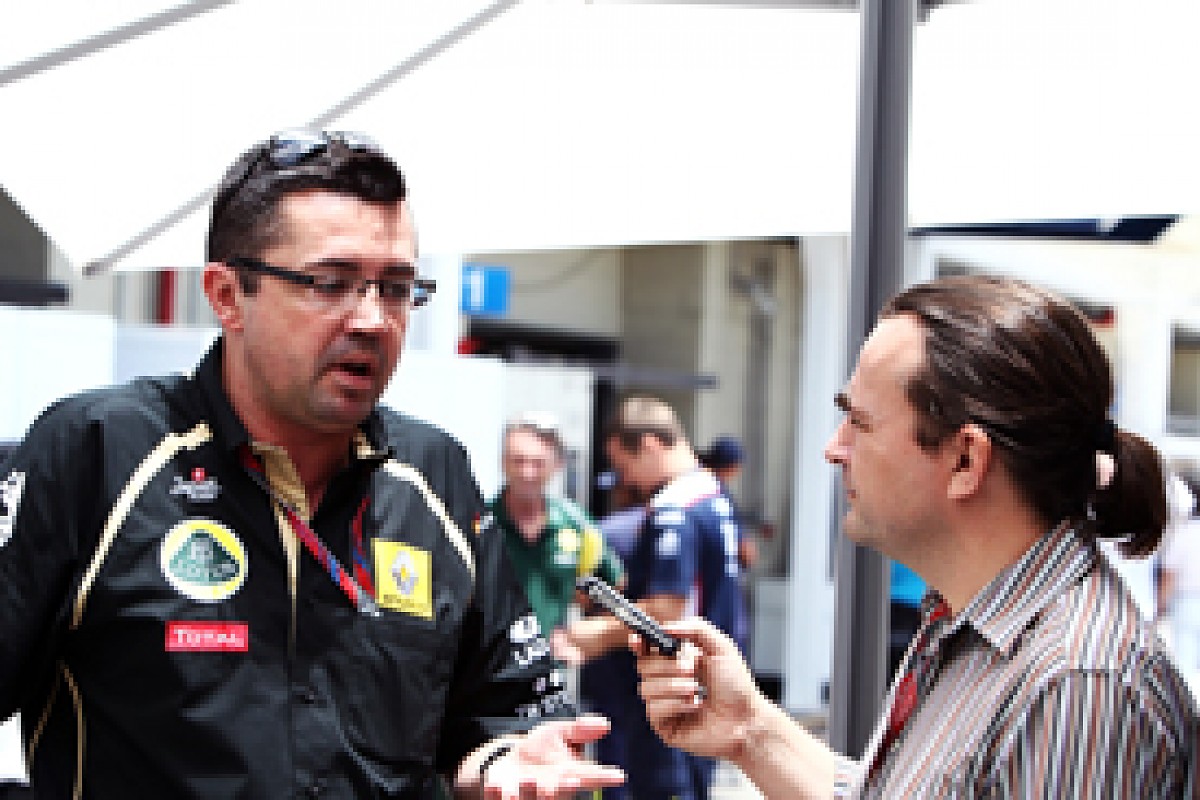 Renault boss Boullier was astonished by Morelli's words © sutton-images.com
The bottom line is that any chance of Kubica and Renault renewing their acquaintance next season seems to be fading after team principal Eric Boullier expressed his astonishment at Morelli's response. After all, according to the Frenchman, Morelli had rubber-stamped the original press release that he claimed to be so upset about.
"He approved the communication, so everything was fine," said Boullier. "And now he is upset with I don't know what. I won't say more because it's a waste of time."
A waste of time, indeed. Not least for Kubica, who now appears almost certain to start next year on the sidelines and must increasingly shift his focus towards 2013 in terms of using his on-track activities in 2012, which could still include a racing return, to prove his fitness. For a driver that is rightly regarded by many as a potential world champion, this is a crying shame.
The same could be said for the fans, who would much rather be reading about the Pole's imminent return than bickering over what should or shouldn't have been said.