What a difference 12 months makes. Last year Sebastian Vettel entered Yas Marina as a championship long-shot, but left as the sport's youngest ever world champion.
Now he returns with a second garland around his neck, the championship having been decided long ago. The German remains the only man to win a grand prix on the Yas Marina circuit, and with 11 wins from 17 races this season the numbers do little to suggest the run will be halted this weekend.
When a champion has been as unstoppable as Vettel, focus invariably tends to shift to fights further down the order. Finishing second also becomes worth chasing, and after a spectacular run in the past seven grands prix Jenson Button can seal the accolade if he finishes comfortably clear of Fernando Alonso and Mark Webber, the second and third parts of last year's three-way championship decider, in Abu Dhabi.
While such battles may provide interest heading into the weekend, in truth the real test will be whether the Yas Marina circuit can produce a decent race. For all the glamour, extravagance and opulence of the nearby surroundings, the circuit itself has failed to live up to its lustre, and was derided in some quarters following a damp squib of a championship decider when Alonso saw his title hopes evaporate behind the rear of Vitaly Petrov's car.
Alonso famously spent lap after lap behind Petrov last year © LAT
There are reasons to be optimistic of course. Two independent DRS zones, the first on the long back straight and the second on the following kinked straight, should make a significant difference to overtaking prospects. But where a modicum of tension was maintained last year by the championship implications, the early settling of the title this year means the Yas Marina layout will come under serious scrutiny should the quality of on-track action not improve.
If that is to happen, it seems inevitable that Lewis Hamilton will have some involvement. The Briton has found himself in the headlines both by design and through mistakes throughout 2011, and he goes into Abu Dhabi as something of a wildcard. The easy question of whether he and Felipe Massa can actually avoid each other aside, Hamilton hinted at a return to something near his best when he became the first non-Red Bull driver to qualify on pole in 2011 in Korea. He would have been on the front row again in India but for a practice penalty to drop him down to fifth - and put him in the position from which he later clashed with Massa. A polesitter at Yas Marina in 2009, and with the fastest lap from last year's race, Hamilton needs a strong result to prove he has put the mistakes which blighted the middle of his season well and truly behind him.
While Hamilton is under pressure over mistakes, there are also a host of drivers facing the stress of the Formula 1 'silly season'. Force India team principal Vijay Mallya should confirm before the race weekend which two of Paul di Resta, Adrian Sutil and Nico Hulkenberg will be retained for next year. With Williams also openly eyeing bringing Kimi Raikkonen back to Formula 1, two of its more senior stars in Sutil and Rubens Barrichello could find themselves out of a drive. Renault meanwhile continues to wait on the fitness of Robert Kubica, whose potential absence could open up a seat alongside Petrov.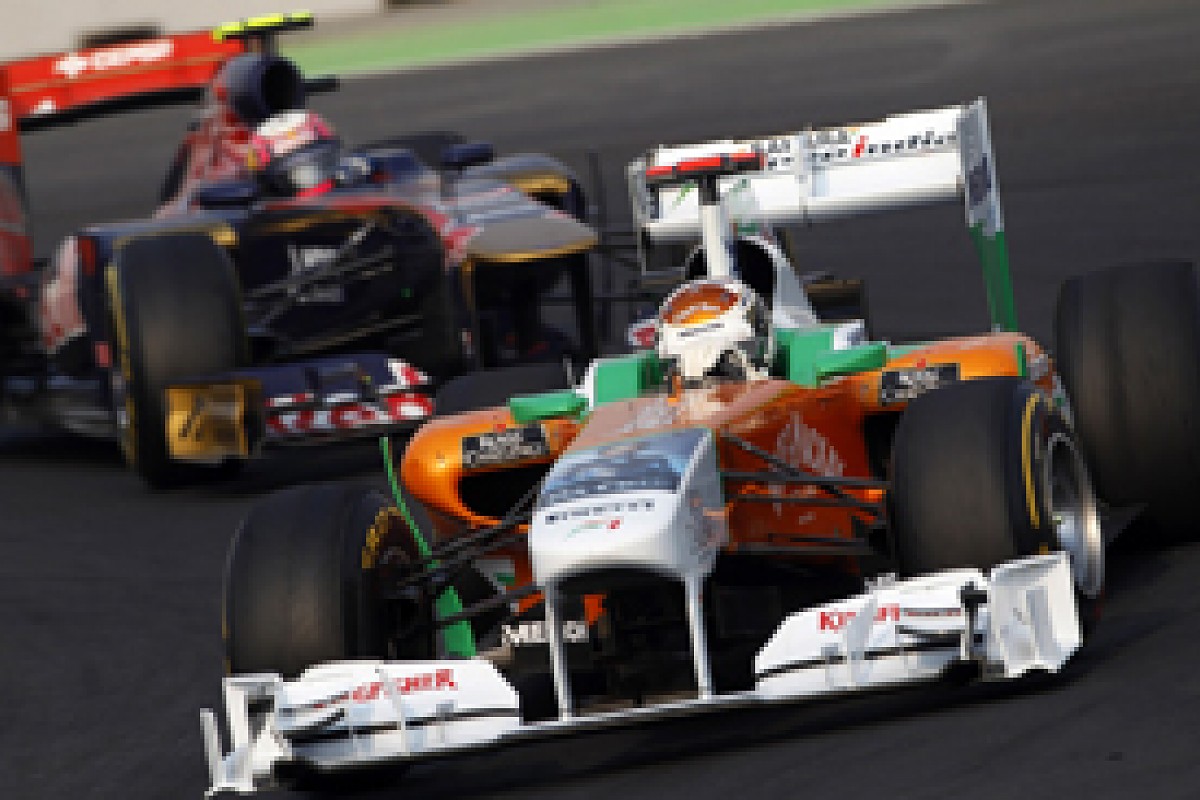 Force India and Toro Rosso are locked in battle © LAT
Alongside driver line-up concerns, teams will also be fretting over the 2011 constructors' standings. Renault could yet be overhauled by Force India for fifth, but Sauber remains in the mix and Toro Rosso's recent surge suggests it too could be a threat. Williams looks assured of ninth, but behind it's a three-way fight for the lucrative 10th spot. Team Lotus provided a strong signal of its intentions by choosing not to put Karun Chandhok in for a one-off appearance in India, and will be hoping to capitalise should the prospect of a shock top 10 finish raise its head.
Strategy
Although it only made its F1 bow two years ago, the Yas Marina circuit is a fairly well-known quantity for teams, who have learnt from last year in particular that overtaking is at a premium. Two DRS zones, located between Turns 7 and 8 and going into the Turn 12/13/14 complex, should help alleviate some of the issues, but good grip and traction on corner exits will still be vital in order to overtake.
Pirelli meanwhile will bring its soft and medium compounds to Abu Dhabi, meaning the short hard-rubber stints we saw in India may not work as effectively. Instead the key will be keeping the Pirellis together, and a three-stop strategy, employed to perfection by Button and McLaren on the same compounds in Japan, could once again prove the optimum.
Weather