It's no surprise to learn that David Richards' helicopter is the fastest available to private pilots. It's an AgustaWestland 109 Grand twin-turbine, capable of 168 knots and muscular enough to climb "higher than you can breathe".
"We've done an Alp or two in it," Richards twinkles, with that trademark conspiratorial grin - the one that says, 'I may be smiling but I'll eat you alive'.
Liveried in navy and silver, rotor head glinting expensively in early-winter sunshine, G100Z coos 'executive express' in a manner that only a super-exclusive wealthy man's plaything can.
And Richards, who got his wings at 17 and has been a helicopter pilot for more than 30 years, clearly relishes not only its power and grace, but the challenge that a sophisticated chopper presents to his flying skills.
We hop in, strap in and ascend from the H-pad on the fringe of Prodrive's Banbury HQ, blasting a billion autumn leaves into hurricane-spirals, and Richards' disembodied voice crackles in over the intercom (even luxury choppers will deafen and an internal comms system is the only way to engage in any kind of dialogue. They make passengers look like 'Nam vets too).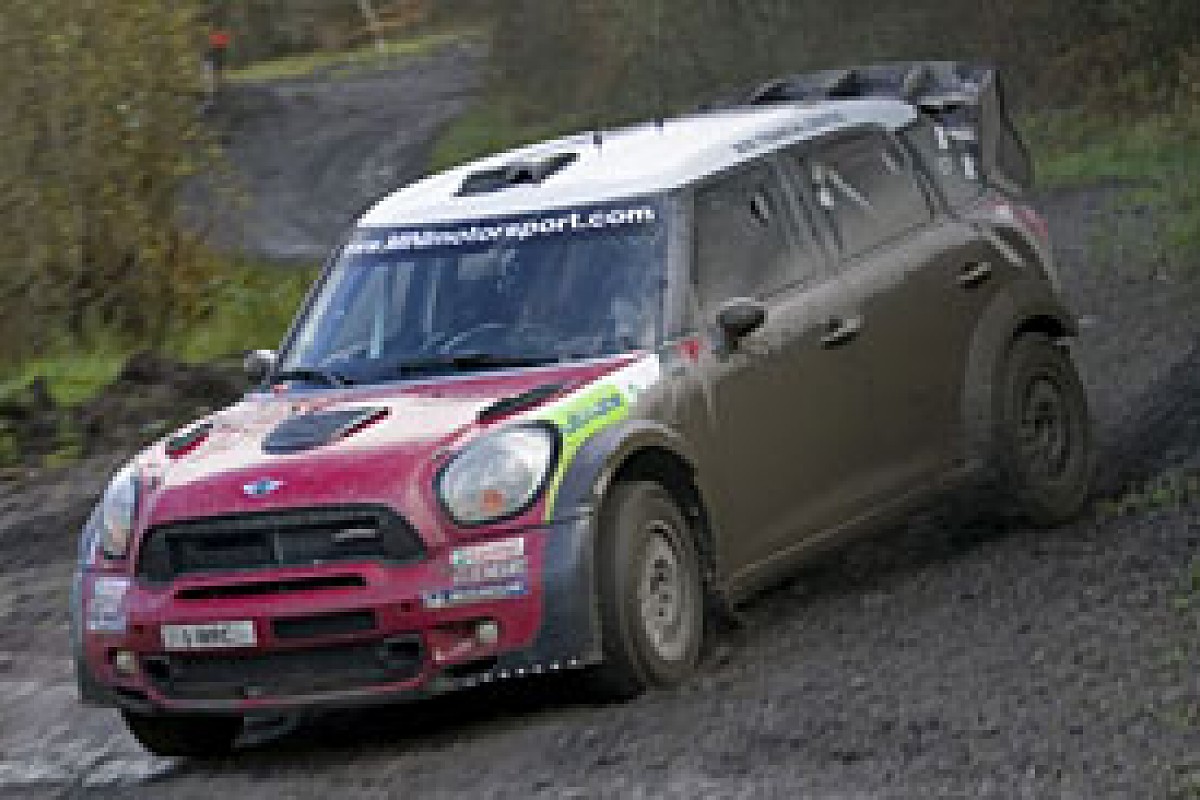 Kris Meeke tests the Mini ahead of this week's Rally GB
"You have to fly regularly to keep sharp and feel that you're on top of things," he counsels, swivelling the Agusta to point west, for Wales, where Kris Meeke and Dani Sordo, a WRC Mini Countryman, test team and truck await.
"We'll only be 40 minutes," we learn. "It's just 150 miles, almost due west." 150 miles, 40 minutes... The penny drops: Richards and his business-racer clan are busy fellows and the opportunity afforded by an execu-chopper to 'drop in' on a day's testing is what might colloquially be termed a 'no-brainer'.
By road this trip, from the M40 and Oxfordshire to the stunning-but-distant Forestry Commission trails of mid-Wales would be a three-plus-hour trawl, doubtless encountering fury-inducing traffic delays en route.
But as the Richards crow flies, this is barely more than a hop - albeit one of rare beauty, past Tewkesbury, over the Wye Valley, north of Cheltenham and skirting the wild, desolate (and on this day, Ansel Adams-spectaular) Brecon Beacons, to destination Glyn-Neath. Never has the equation 'time equals money' been more clearly spelled out.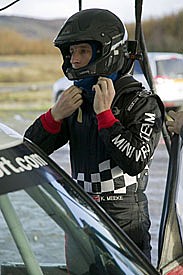 Kris Meeke suits up and gets ready to play
With less than a week to go until Rally GB shakedown, this is the last chance Prodrive's engineers, Meeke and Sordo will get to dial in to conditions similar to those they'll encounter on the rally proper. That means fast open gravel, rain, mud and granite-hard sub-soil. Rally GB's reputation for breaking cars and spirits is founded on the hard, hard earth that lies beneath the loose shale surface.
The guys at Prodrive know of the challenges ahead and they're taking no chances with the crew assembled at Walters Arena (a former Rally GB stage) on a fickle day that laces horizontal rain showers through full-beam sunlight. The rainbows are spectacular.
Engineering chief David Lapworth is here and, during a mid-session break, while Sordo downloads and Meeke zips up his race suit, he locks into discussion with his chassis engineers. The topic is dampers and how best to interpret and isolate telemetry traces that overlay rebound with compression.
The talk is intricate, intimate (four people crammed round a small table in the back of the race trailer) and comes down to a discussion of whether damper A is offering any performance gain over damper B. Stage conditions have changed between runs with the different units, rendering meaningful comparison difficult, maybe even worthless.
It's suggested that a further test is undertaken, in fully controlled conditions, at a closed circuit. But always the pressing concern: "Is there time?"
That relentless constant is the enemy of any motorsport team, of course, and it's when there's not enough of it (is there ever?) that sage voices are most valuable.
"The thing that'll make the most difference on this rally is getting the drivers' heads right," Richards intervenes. "If they're confident, they'll go well and have a better chance of a strong result. In the end that's more important."
He offers this, not to overrule, or undermine his tech team, but to present a different perspective from that of the engineering purist. A racer's instinct, if you like - the same one that took Richards to a World Rally Championship title in 1981, as co-driver to Ari Vatanen.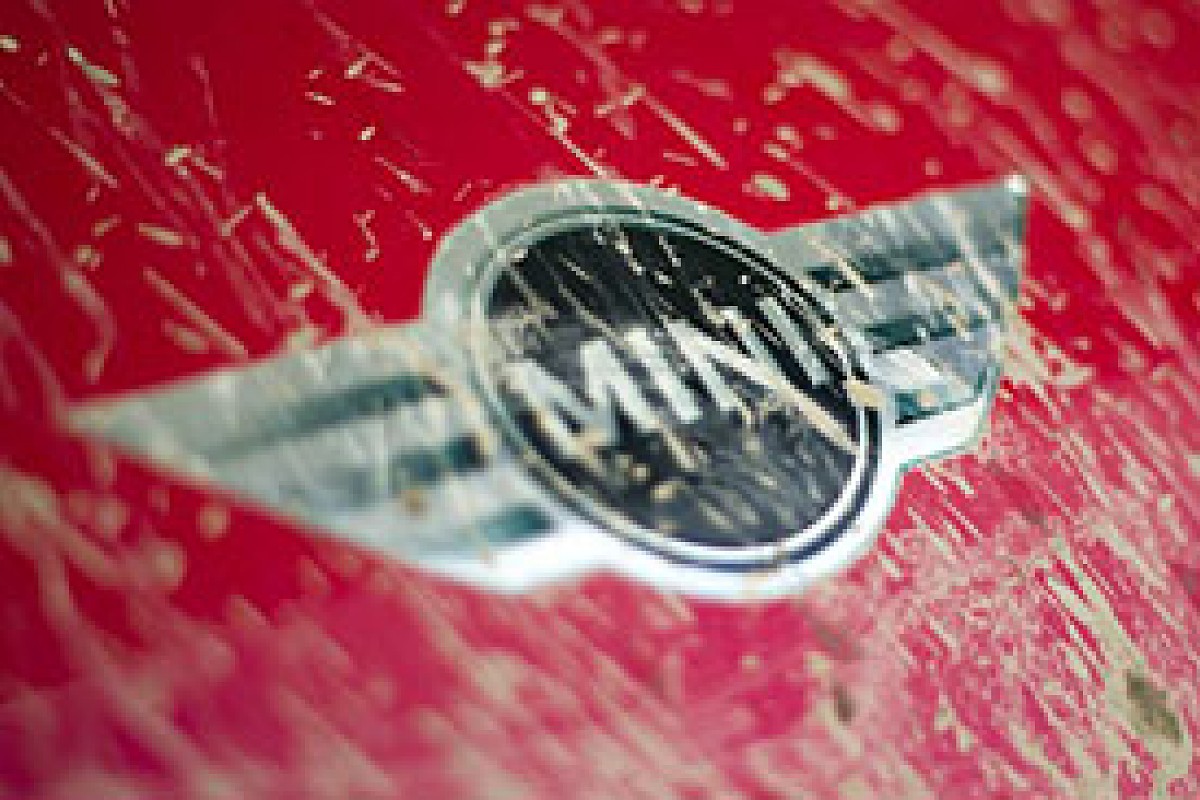 The terrain offered by Rally GB is like no other on the calendar. Expect mud
Though a long way from the cockpit these days (unless it surrounds a chopper seat), he remains a ferocious competitor and it's noticeable how, the instant Richards arrives (heralded by the thwap-thwap of chopper blades, like an Apocalypse Now valkyrie) his entire crew - already grinding through a job list, beneath an awning, mud being scraped away from wheelarches and plastic-sheet flooring - are even more on their mettle when The Boss arrives.
Not that Richards is some demonic ogre: far from it - he connects immediately with his team, both to deliver and receive information. But never, not for an instant, is there any question as to who's in charge.
What his style means for Prodrive's and Mini's success on Rally GB we'll find out this week. One thing is certain, however: amid louder mumblings of a lack of financial commitment to the Mini WRC cause from BMW's main board, no similar snipe could be aimed at the crew - watching the clock, counting the milliseconds, knee-deep in mud, out in the field - making their product look rather good.