One of the most amazing periods of any Formula 1 weekend is the 30-minute countdown to race start - when cars, drivers, team personnel, celebrities and media all amass on the grid in preparation for the battle that is about it come.
While camera crews rush around grabbing interviews with drivers, mechanics go through their pre-race checklists and drivers download the last bits of information from their engineers, elsewhere other snapshots of the endless F1 soap opera are played out.
It can be fascinating spotting various technical chiefs wandering up close to their oppositions' machinery for a sneaky look - as it is the only chance that they can get to see in detail what their rivals are doing.

Newey went for a swift peak at the Ferrari front wing in India © sutton-images.com
On the Buddh grid last weekend, Adrian Newey could be seen staring long and hard at Ferrari's new front wing - which was being raced for the first time since it was given an evaluation by Fernando Alonso in Korea.
What Newey was thinking we will never know, but he could have been forgiven for reckoning the wing was a bit familiar - as its design inspiration had clearly come from the concept that Red Bull has long put to good effect.
In fact, Newey probably had a bit of a grin on his face about what Ferrari had been up to with its wing in India, after Felipe Massa experienced some pretty extreme 'flapping' from his version during practice and the race.
With some of Red Bull's success having been attributed to its abundant (and totally legal) flexing of the front wing - it is clear that Ferrari has now been trying to copy this behaviour for its 2012 car.
Yet the technology is very hard to master - and likely involves the complex laying of carbon fibre patterns and a near-perfect estimation of the forces that are going to be put on the front wing for inch-perfect 3D rotation at 200mph.
It is not the sort of thing that can be done anywhere but on a racetrack and, with testing banned, Ferrari only has a few Friday sessions to get on top of something Red Bull has been doing for years.
The fact that it was left baffled by Massa's extreme 'flapping' in India shows that there is still plenty of work to do if it is going to get itself on a par with the world champion team.
And the more days and weeks it spends focusing on getting its front wing as good as Red Bull's, that is time it is simply playing catch-up - by which point Red Bull will probably be further down the road with the next great thing. And then it will be a case of catch-up again...
It is not just in front wings where Red Bull's rivals are scratching their heads though, because the area of exhaust blowing looks set to still be causing trouble in 2012.
Red Bull has made the most of its exhaust-blown diffuser in 2011 © sutton-images
Red Bull has proved to be the master of the exhaust-blown diffuser - which has helped make its RB7 such a fantastic car in high-speed corners.
Its rivals have been playing catch-up in this area for much of the season - and its influence on car performance was plain to see before the start of the campaign when McLaren's infamous 'Octopus' design proved a complicated disaster, and it had to revert to a RBR-type concept on the eve of the first race. Then check out how McLaren's form slumped at Silverstone when off-throttle blowing was temporarily banned.
For 2012, blown diffusers are effectively outlawed, which you would think would hurt the teams that have mastered it the best.
However, while Red Bull's rivals may have sensed that the end of the blown diffuser era would allow them a better chance, in India last weekend most of them were up in arms about the way the regulations are heading - and already fearing that their 2012 designs have been compromised.
For although the technical specifications of where periscope exhausts can be situated are going to limit which parts of a car gases can influences, with teams perhaps eyeing being able to blow onto rear wing elements, there have also been mutterings about the use of collector tanks to try and get some exhaust gases down to the floor area.
With the FIA clearly getting concerned that this was going to happen, it stepped in ahead of the Indian Grand Prix to effectively outlaw any off-throttle blowing of the exhausts through a limitation of engine mapping in 2012.
This would further discourage teams from blowing gases over aerodynamic parts - especially because, during corners, it would make the car extremely unstable with the exhaust flow stopping and starting.
F1 cars are such complicated beasts these days that one part influences so many others - which is why cutting out off-throttle blowing is not just a case of an engine map tweak. For there is a big unintended consequence of believing one minute you are going to run exhaust blowing and then suddenly realising you are not: fuel use.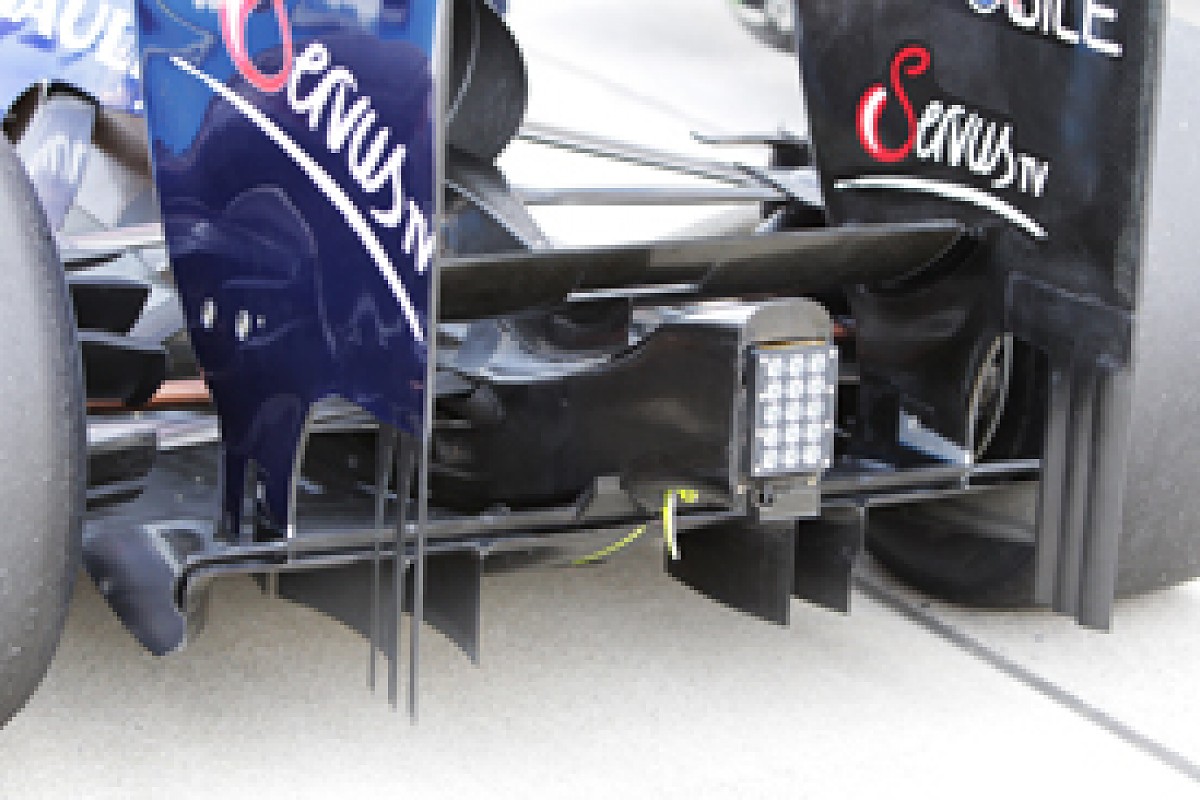 Brawn says fuel use is crucial for 2012 © sutton
As Ross Brawn explained in India: "All of these exhaust technologies cost a lot of fuel, and if you want to have the exhaust blowing fairly continuously you are using a lot of fuel. To start the race with high levels of fuel because you have blown the exhausts, you have to be able to justify it, because it is lap time.
"On the one level you are taking lap time away because of the extra fuel you are carrying, on the other hand you are gaining performance. So as long as the equation looks positive you will do it, but if the gains are not huge then it won't be worth carrying around a lot of fuel at the start of a race."
Most of F1's teams will have signed off their fuel tank sizes about a month ago. So, if they had done that in the belief that they were going to be blowing exhaust gases regularly, then they are going to find out that their fuel tank is too big now for what is going to be needed in 2012.
Renault boss Eric Boullier was one of several team bosses (McLaren's Martin Whitmarsh was another) unhappy about the off-throttle ban, claiming the FIA's rule decision has already hurt their 2012 car designs.
"You have to take a decision now on car concepts and it is already too late," he said. "Some teams like ours have already started producing concepts of the car, so the concept has been finalised weeks ago. We need to stop changing the regulations all the time."
If Red Bull's rivals thought it was going to be a straightforward process to produce something that is going to be a match for the RB8, then the last week has shown that their efforts are going to be fraught with frustration.
And all the while they are struggling, that man Newey, as he wanders, the grid, will be thinking simply of how he can improve on perfection.