Finishing touches are still being made to the Buddh circuit © LAT
After the months, years even, of speculation about the circuit's likely readiness, and amid widespread trepidation that the whole paddock will be struck down with 'Delhi Belly', Formula 1 has finally officially arrived in India. And although the Buddh International Circuit is rough around the edges - and the paddock doubly so - by and large the sport is glad to be here because it can deal with a bit of organised chaos when it heads somewhere that at least has a clear future.
Unlike certain other new F1 countries, where the arrival of a grand prix hasn't always led to a sustained groundswell of interest, India is ready for F1. For a start, it has an Indian-owned team and two drivers. That is hugely valuable for the appeal of this race, even if Karun Chandhok will be on the sidelines once the chequered flag falls at the end of Friday morning practice, leaving Narain Karthikeyan to carry the nation's hopes (which can stretch only to reaching the chequered flag, given his HRT machinery).
What's more, there is a fanbase for the sport as a whole as for almost two decades grands prix have been broadcast live. So it's not just about local interest. This is a nation brought up on the Michael Schumacher v Mika Hakkinen world championship battles of 1998-2000.
Perhaps that's why the prevailing spirit in the paddock has been positive despite some of the asymmetric building work, the questionable cleanliness in some areas, incursions from wildlife, an inconsistent power supply, windowless commentary boxes and the occasional navigational difficulty. F1 is in India to stay and the enthusiasm that so many lament the lack of in places like China and Turkey is here too. Buddh is no white elephant, even if the Jaypee Group, which has been responsible for bringing F1 to India, might have liked another few months to complete the building work!
Inevitably, the tragedies at Las Vegas and Sepang, which have both struck since the Korean Grand Prix, cast a shadow over the paddock on Thursday. There were plenty of questions from the media about what happened to Dan Wheldon and Marco Simoncelli, and as motorsport is a small and interconnected world, the drivers had a lot to say. Most of all, recent events acted as a reminder for F1 never to let its guard drop despite 17 years having passed without a driver fatality.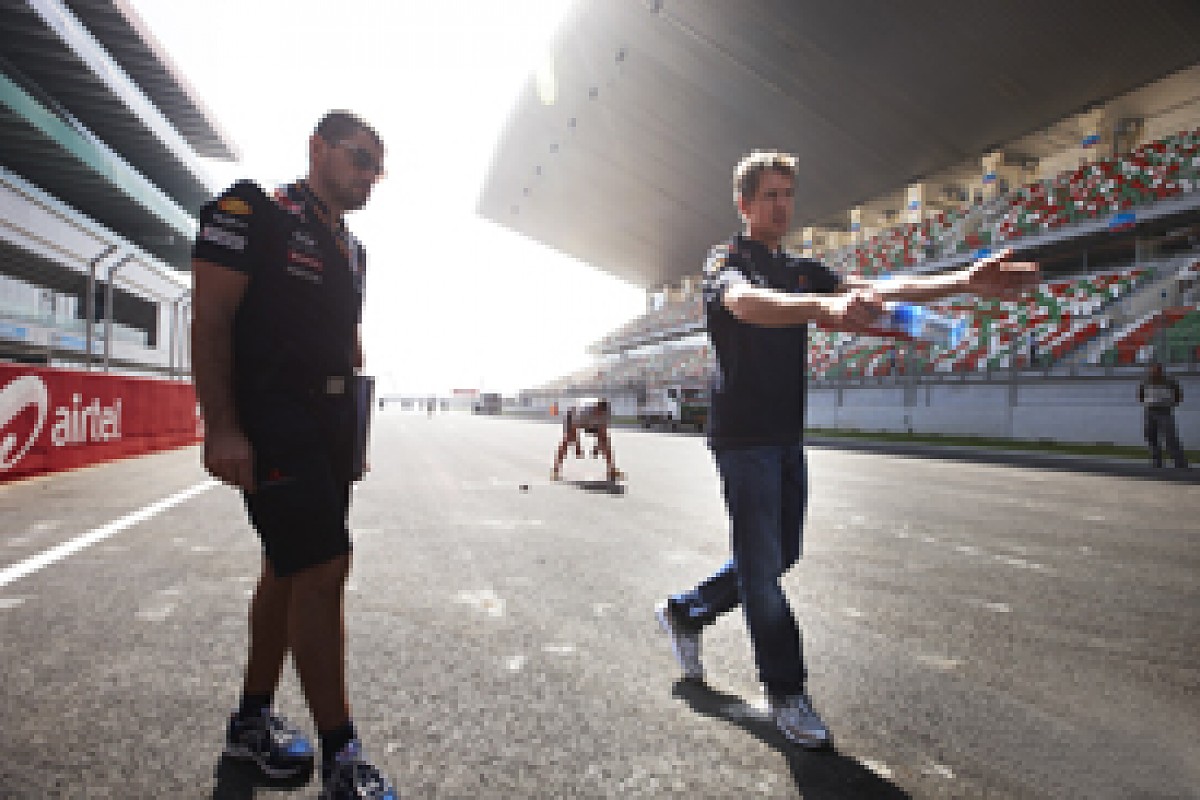 Vettel, and most of the other F1 drivers, have only been round the track on foot © LAT
"These are reminders to all of us to make sure that the socks are well and truly pulled up," said Mark Webber on the effect these deaths have had in F1. Jenson Button echoed Webber's sentiments, but as the driver in the paddock that locked horns with Wheldon most regularly both in karting and Formula Ford, he also paid tribute to the standards that his old rival set behind the wheel.
"He was always the man to beat, he always had a big number one on his kart because he was British champion," said Button. "He was the guy you got out of bed in the morning thinking 'I want to beat him'."
Fortunately, with safety at the forefront of everybody's mind on Thursday, for all the criticisms about certain aspects of F1's latest facility, no-one questioned the track itself. In fact, its relatively fast layout has gone down very well with the drivers, even though the most many have so far sampled is either by foot or by bike. It looks like overtaking will be eminently possible, too, which bodes well for an inaugural Indian Grand Prix worthy of the name.
For that's what really matters this weekend. Despite the gripes, the inevitable moans about this latest 'Tilkedrome' not being like a 1960s Spa or Nordschleife, this is a race that is all about the future of F1 in India, which on current evidence looks very promising. No amount of rat corpses or stairways leading to sheer drops (of which there is at least one at Buddh) or wonky buildings can change that. As long as those power problems have been ironed out come raceday.