As this weekend's Korean Grand Prix is only the second time the race has featured on the Formula 1 calendar, statistical trends around the Yeongam race are only just developing, but here are some of the crucial numbers to bear in mind going into the next round of the 2011 world championship.
0 retirements for Sebastian Vettel since last year's Korean Grand Prix, when he suffered an engine failure. Since then he has always finished, winning 11 times, climbing on the podium five more times and missing it only once, with a fourth in Germany.
1 year without podium finishes for Felipe Massa, third in Korea last year. Since then, his best placing was a fifth, obtained four times.
2nd place in the championship looks tough for Fernando Alonso. The challenge for the runner-up spot can be summarised as follows: in the last five races Alonso never finished ahead of Jenson Button. After the German Grand Prix the Spaniard had a 21-point advantage, now he is trailing by eight.
3 the number of flying laps Jarno Trulli was able to complete last year at Yeongam before retiring.
4 the races without a Red Bull on pole in the last two seasons.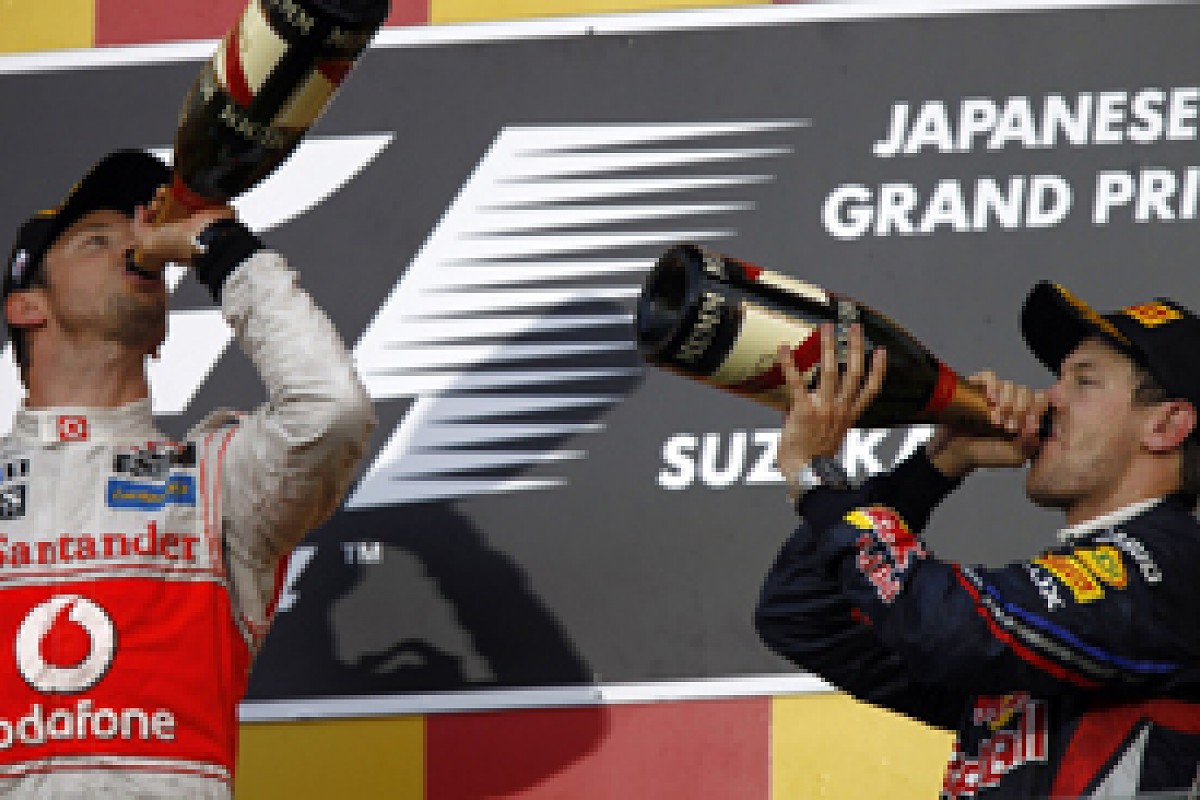 Button and Vettel keep meeting like this... © LAT
5 podium finishes for Button in the last five races. Button and Vettel have always climbed on the podium together from the Hungarian Grand Prix onwards.
6th last year in Korea for Tonio Liuzzi equalled his best career result - scored in the 2007 Chinese GP. That was the last points finish not only for him, but also for an Italian driver.
7th last year at Yeongam was the last time Rubens Barrichello finished that high up the order.
8 consecutive races of finishing the race in a higher position than he started is Alonso's current streak.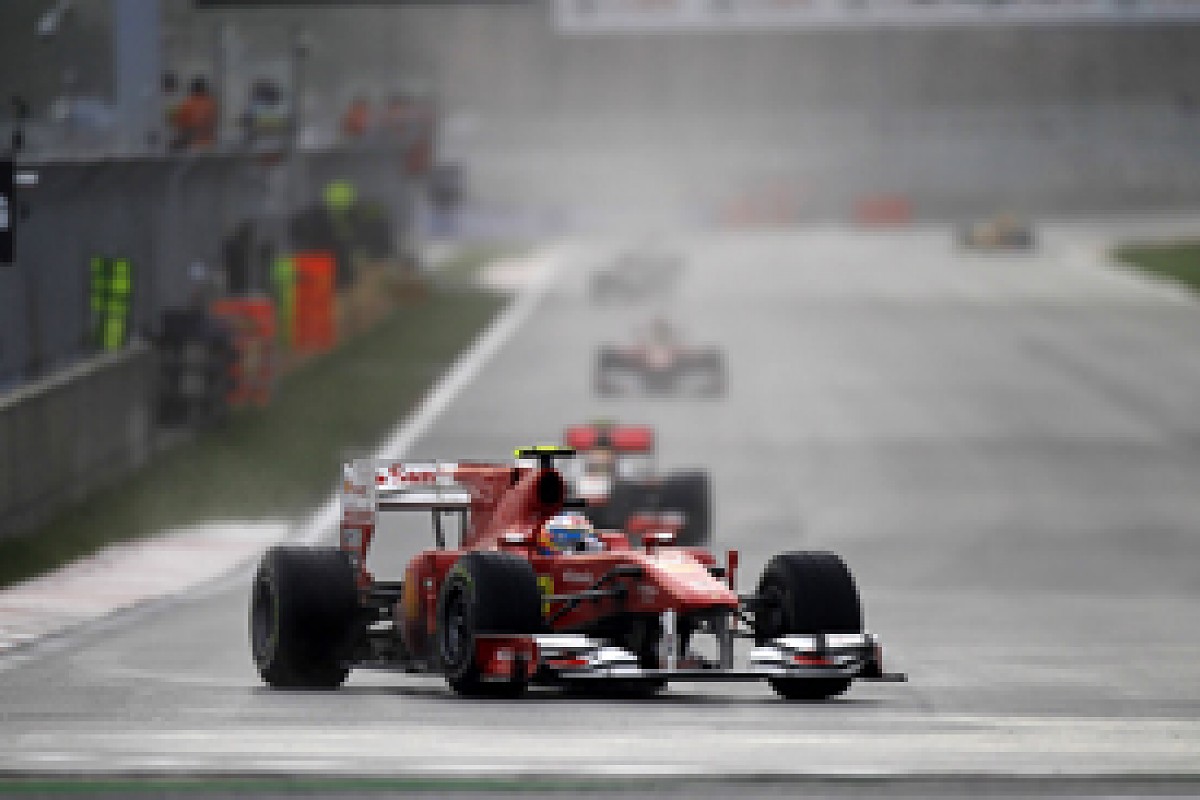 Alonso heads for victory in Korea last year © LAT
10 laps led by Alonso last year in Korea, after Vettel's retirement. Those were the last laps led by the Spaniard last season - in the following races in Brazil and Abu Dhabi he never managed to put his nose ahead of Vettel's Red Bull.
16 straight poles to date for Red Bull. If it qualifies on pole at Yeongam it will tie the second longest string, set by McLaren from Germany 1988 to the same event the following year.
22 positions lost on the opening lap in this year's races by Mark Webber. Michael Schumacher, on the other hand, gained the same number.
24 laps behind the safety car last year at Yeongam.
25 positions gained during the opening laps this year by Sebastien Buemi, best starter of the season. He only lost positions on three occasions.
26 races without poles for Lewis Hamilton, who last started first in Canada in 2010. That's his longest career pole drought.
34 consecutive races with a McLaren in the points.
35 consecutive races with Vettel always in the top 10 in qualifying, starting in Abu Dhabi in 2009.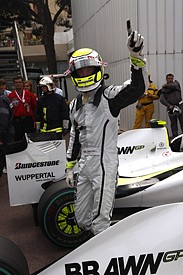 Monaco 2009 was the last time Button was celebrating like this on a Saturday © LAT
45 races without a pole for Button - Monaco 2009 was his last.
51 overtaking moves made by Mark Webber this season. The season record stands at 60 (Schumacher in 2003 and Niki Lauda in 1984).
52 times overtaken - Heikki Kovalainen clearly pays the price for qualifying and starting ahead of his car's capabilites. It was the same last year, when the Finn was overtaken 51 times. Kovalainen could this beat the record of Stefano Modena, overtaken 68 times in 1989.
67 per cent of the total distance run has been led by Vettel this year.
104 races without poles or wins for Nico Rosberg. His father Keke finished his career at 128 races with five wins and a world title.
130 points difference between Vettel and Webber, the highest among team-mates this year.
700 race starts for McLaren in Yeongam. 700 overtaking moves in total through the field this year.