Jenson Button has scored some great wins during his McLaren career, but he was in danger of being typecast as someone who truly thrives only when rain provides an opportunity to score a victory through clever strategy.
In recent weeks he's looked increasingly competitive in all conditions and at all tracks, and at Suzuka everything finally fell into place, allowing him to score a brilliantly judged victory at one of the most challenging tracks on the calendar.
This was a race that ended any lingering doubts about Jenson's all round abilities as a grand prix driver and confirmed that McLaren now has two truly great drivers - although the question as to which one now has the edge is another story.
Suzuka was a race he won with the perfect combination of speed and savvy.
It goes without saying that every race this year has been about tyres to one degree or another, but this time it really was all about keeping your Pirellis in good shape and stringing together four stints - three on the softs and one on the mediums - that got you to the chequered flag in front.
Sebastian Vettel has proved a master of strategy 2011-style, but so too is Button.
"Jenson knew what he had to do," says McLaren's principal race engineer Phil Prew. "He knew exactly what we were targeting on the tyres, how he was going to make the strategy work for us, which involved nursing the tyres a little bit, making sure they lasted to our target laps, so we only had to make a three-stop race, and be able to maintain performance all the way through."
Button managed his tyres perfectly in the race © sutton-images.com
Technical director Paddy Lowe says: "I think it was a race where you were trying to balance it in a way where you didn't wind yourself up needing another stop.
"So if you cascade back from that, the first thing you had to do is decide how long you felt the prime was going to last, and then see if you could make three options last to get you to that point.
"Whereas normally you might be in a game of trying to stop first and get on a new tyre to overtake somebody, I think in this particular race you were much more trying to make sure you used that tyre life up so that it maximised your chances of getting the three-stop to work."
Things very nearly came unstuck for Button at the start. Having got away well he found himself squeezed by Vettel and in backing off he allowed his team-mate through. All that hard work done in practice and qualifying to outpace Lewis Hamilton meant nothing.
"I think he had a fairly aggressive manoeuvre pulled on him at the start," says McLaren team principal Martin Whitmarsh. "He had to lift out of KERS and [the] throttle and steer to avoid [Vettel], otherwise without his actions there would have been a big shunt there, and if he needed any more motivation, I'm sure that gave him a bit more!"
Button had to bide his time behind Hamilton in the early laps, which became a bit frustrating when his team-mate lost performance, having picked up a slow puncture.
When Hamilton really began to struggle, Button did get by. He then had Vettel in his sights, albeit 5.4s up the road.
Although the puncture had prompted Hamilton's early first pitstop on lap eight, that stop also helped to encourage Red Bull to bring Vettel in a lap later.
Button came in a lap after that and in the pitlane alone he gained almost 1.2s on the German, so the gap shrank a little. In fact McLaren's pitlane times would be consistently quicker all day.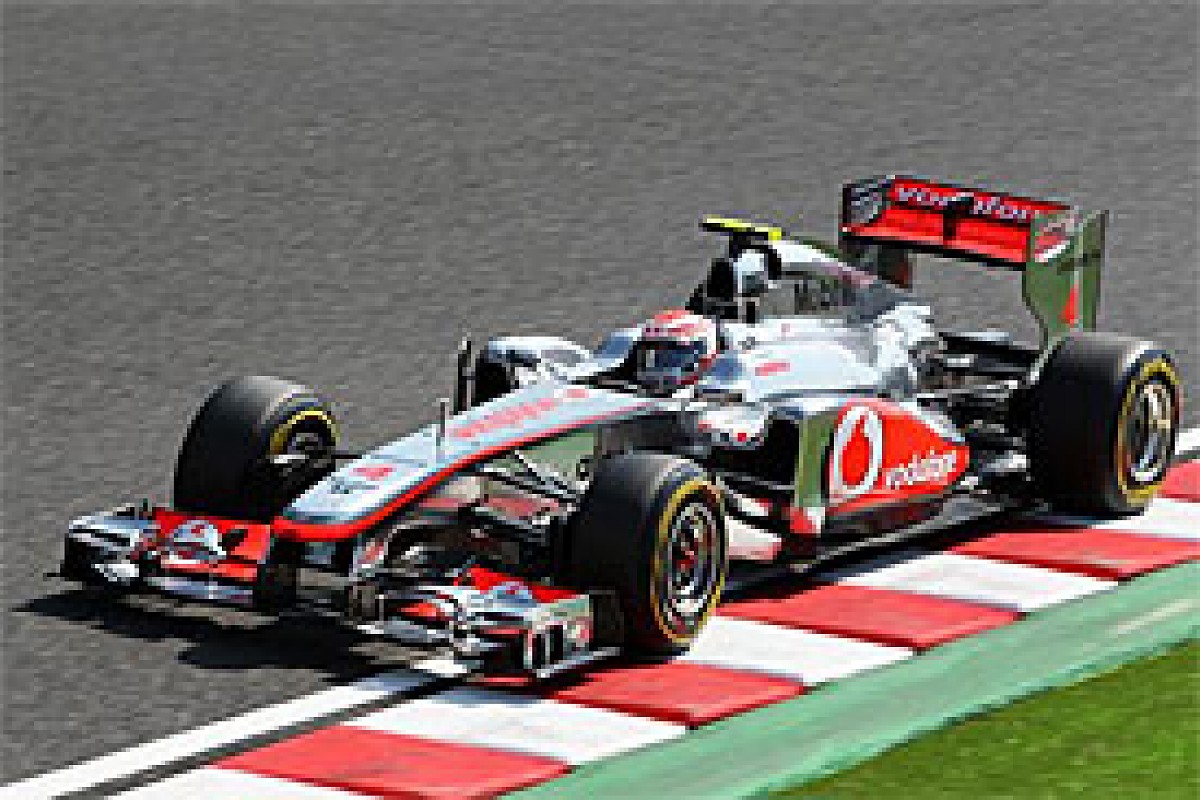 Vettel squeezed Button at the start © sutton-images.com
Mark Webber pointed out that like at Silverstone, Suzuka was a track where having the last pitbox was a disadvantage - the Red Bull drivers could not get up to mandatory maximum speed by the time they got to the line that allowed them to release the limiter, and that cost vital tenths.
The gap from Vettel to Button was quickly down to 2.5s, and shrank further to 1.6s by lap 18. Vettel was suddenly under real pressure.
Vettel stopped for a second time on lap 19, and Button again came in a lap later, this time gaining 0.9s just in the pitlane.
Helped by a mega in-lap, he came out in front of Vettel, an eventuality that even his team had not foreseen.
"I think we were all very pleasantly surprised to see Jenson come out ahead at that stop," says Lowe.
"I haven't done the analysis, but it wasn't predicted. A nice surprise! But our guys did some fantastic pitstops today. There was a very slight problem on one of them, but all the rest were very good stops. I can only assume we had a very good stop that time, and Vettel didn't.
"I think when we saw Vettel stop earlier than Jenson, the thinking wasn't particularly, 'Oh dear, he's going to get the jump', but more, 'Great, we've got more laps on the tyre than him, and that's going to help us out'."
"To be honest, we were trying to complete the fastest race," Prew explains. "I personally thought that the race would be decided in the last stint, and who had got to the end with the tyres in the best condition.
"I thought we'd actually end up with maybe people on different-aged tyres in the last stint, and then it would all pan out from there. The fact that we got ahead at the second pitstop was to be honest a slight bonus, but then once Jenson was ahead he managed the situation perfectly. It did seem that Vettel's tyres were going off a little bit quicker than ours, and it forced him to lead the way, really."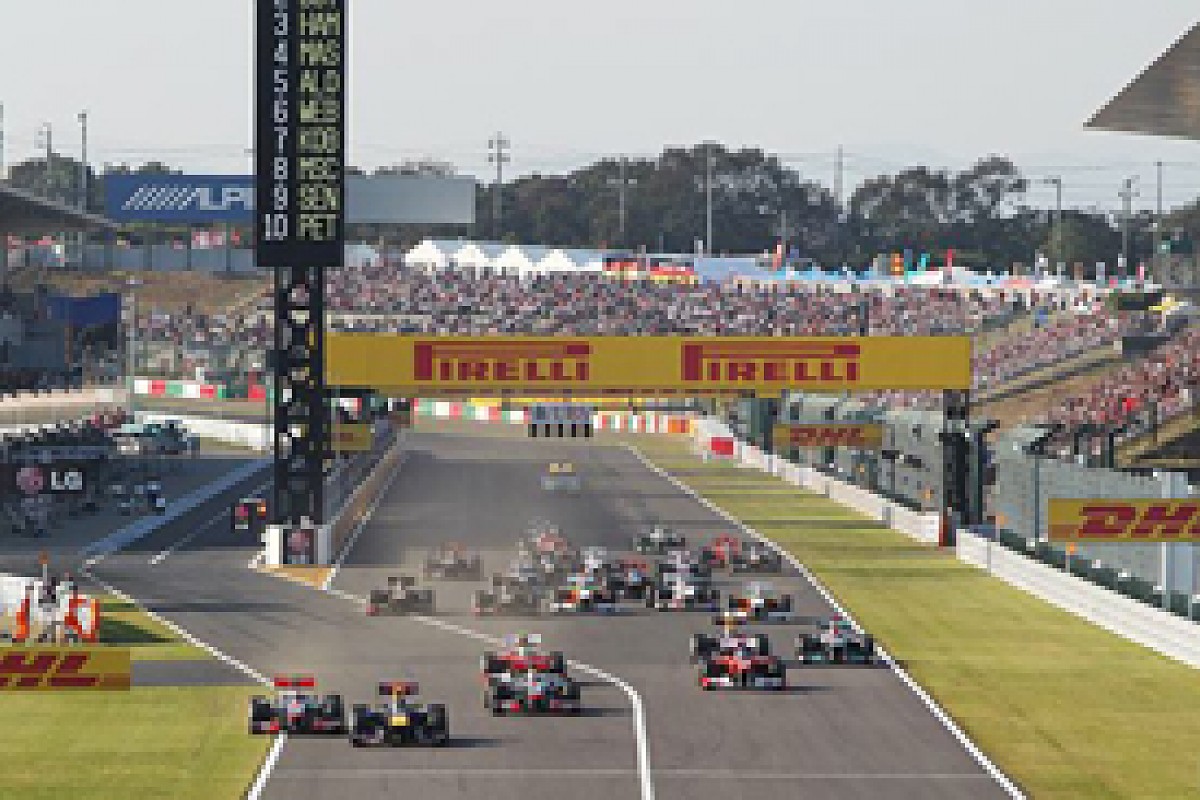 Vettel chased Button but could not nothing to pass him © sutton-images.com
The safety-car period didn't really affect the lead battle since all the top runners had made their stops, and it gave everyone an equal chance to give their tyres a little break.
But what it did do was close the rest of the field up so that as soon as the third stop sequence began, there was a much bigger chance than normal of the top guys dropping behind a pack of slower cars.
The crucial thing was now that third stop, and the transition to the medium tyre.
Vettel set the ball rolling when he came in on lap 33, earlier than McLaren had expected. And sure enough, thanks to the safety car bunching the field up, he came out in traffic.
McLaren was happy enough with Button's pace on a clear track with older softs relative to Vettel on his new mediums, and its man was kept out for another three laps.
Again he had a much faster pitlane time, gaining 0.7s on Vettel, but he didn't even need it as he by now had such an advantage. It's easy to suggest that RBR made a tactical misjudgement, but the tyre situation forced Vettel's hand.
"Vettel had to box early, or relatively early on that final pitstop, and dropped himself into traffic," says Prew.
"We still had some life left in our tyres, and were able to make that work.
"What we experienced in practice is that the tyres perform, and they sit there, and then there's a sudden drop-off in performance. And once that arrives, then you have little choice.
"What we were attempting to do was just maintain a constant level of performance for as long as possible. But once they go... I can understand why he boxed very early, because it does drop-off very quickly.
"If the tyres had gone, he had no choice. He'd obviously used up his three options, and I think there was a slight gamble on their part - would the medium tyre go right to the end of the race, that early.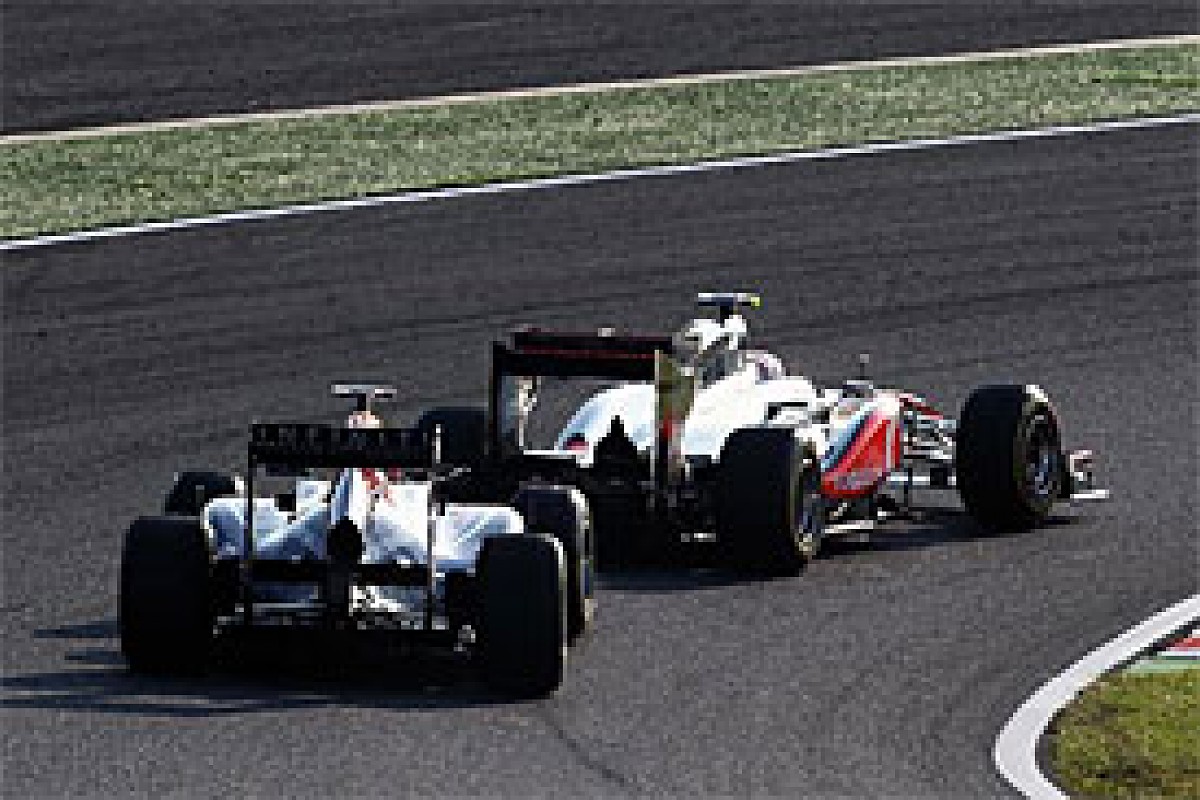 Vettel had to settle for third this time © sutton-images.com
"I can't believe that they chose to do that, because they dropped him into a lot of traffic. But from our experience the tyres go, and you have no choice.
"Again we were waiting for Jenson's tyres to go off; we had the buffer."
"Seb put himself back into some traffic," says Whitmarsh. "And we could get a little bit less traffic.
"The tyres fell away fairly quickly, so when they went I'm sure they didn't have a choice. That was the key moment of the race really: conserving tyres, opening up a sufficient gap."
After his final stop Button had to run 17 laps to the flag on the medium tyre. But his main rival now was Fernando Alonso, who was clearly making his tyres last well - and his later stop meant that his were a lap younger.
Button spent the rest of the race brilliantly managing the gap to the Ferrari, while also have to pay urgent heed to fuel consumption as the team began to have concerns about getting to the flag and having enough left for the FIA fuel sample.
"That wasn't particularly comfortable!" Prew admits. "We were managing the race, and Jenson had quite a bit of work to do to the very last lap.
"He did very well in managing the gap to the DRS, and it just about held up. And we had issues with the car, so we needed to look after it..."
"He looked after his tyres, and he was looking after them in each stint," says Whitmarsh. "And this race was about what you could do to make those tyres last. Overall great control, but he still had the pace at the end and still did the fastest lap of the race.
"I think we were just taking it easy at the end; he controlled himself, let them get close enough but didn't let them in the DRS zone, and just did a good job."
The fuel thing was tight, however, and that's why Button pulled over and stopped, just as Alonso did in Germany earlier this year.
You can't do that in qualifying - you have to make it back to the pits - but the FIA reluctantly turns a blind eye in races, as long as teams don't do it routinely.
The argument from the teams is that they can't be accurate enough to run fuel that low as a matter of course, so we won't ever see 20 cars stopping after the flag.
"We were not taking any chances!" concedes Whitmarsh.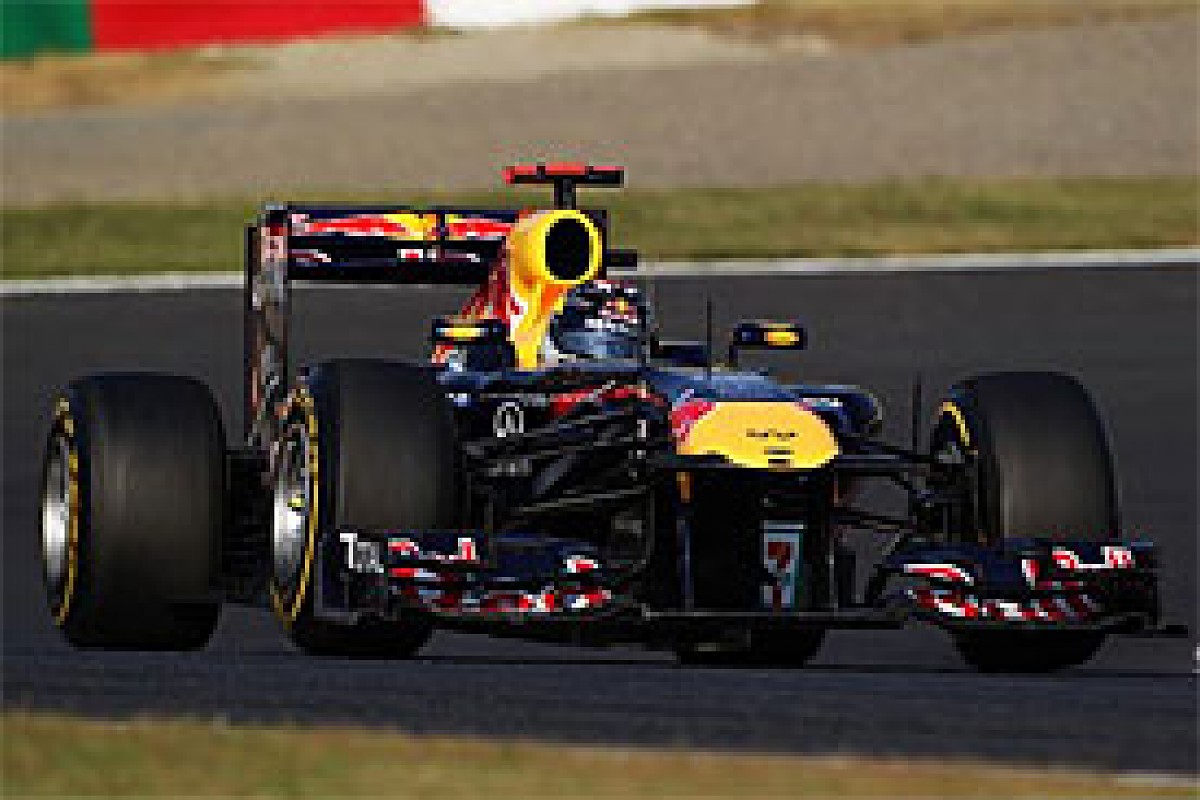 Alonso pushed Button in the end, but it wasn't enough © sutton-images.com
"One thing you can guarantee is that if you stop you are going to have at least a litre of fuel taken out, and we knew we were okay.
"We were able to get twice as much as we needed out of the car to do that."
Lowe confirms that Button could not have driven back to parc ferme and provided a sample - it was that tight...
"It was a great, great drive by Jenson," says Whitmarsh. "A great weekend really. He was unlucky not to be on pole."
But what then of Hamilton? He finished 24s behind his team-mate, and this in a race where a safety car had allowed him to regain time lost in the first half of the race.
"He had a slow puncture in the first stint, which he reported as poor rear-end ride, feeling that the tyres had gone off," says Prew.
"It seemed to affect his performance quite significantly. We had to box early, and that really put us out of synch from where we wanted to be - into the traffic - and that ruined his race.
"Then that coming together with Massa as well didn't help the situation.
"Lewis wasn't happy with the balance of the car, and felt we were down on grip. Again we just managed the tyres, didn't want to make an additional stop, really wanted to avoid doing a four-stop."
"We knew after three or four laps that we had quite a big pressure differential across the rear axle [McLaren-speak for puncture!]," says Whitmarsh.
"At that point we knew that it wasn't helping him, but we also knew that if he stopped, he was destined to four-stop.
"So we tried to hang on as long as we could. But that harmed him a little bit, probably ultimately cost him a couple of places, but the alternative would have been a four-stop, which would have been very difficult.
"He was struggling a bit more on the tyres and a bit more for balance than Jenson."
In conclusion Whitmarsh makes a fascinating snap analysis of how Button got it just right: "I think Jenson was just driving with great confidence and great smoothness to score a fantastic win. He was the guy who did the fastest lap, which he did two weeks ago as well, so he had the pace.
"And he just knew how to control it. He used his experience and he used his intellect to preserve [his] tyres and be truly competitive."