Formula 1 has had a near 25-year love affair with the Japanese Grand Prix at Suzuka - and there was an even bigger desire to see the 2011 event succeed following the harrowing news of the earthquake and tsunami that struck the country earlier this year.

F1 loved being back in Japan © sutton-images.com
The likes of Honda, Toyota, Mugen and Bridgestone, which at one time ensured a near-continuous Japanese presence in the sport for decades, might have gone, but even so there was a tremendous spirit at Suzuka as the fans and the F1 fraternity came together.
And believe me, there's nothing that can put a smile on the face of F1 personnel like turning up at a track on race morning and seeing thousands of spectators streaming into the circuit, witnessing them huddled around entrances with their flags, T-shirts and cameras to catch a glimpse of their heroes, and simply being enthusiastic about everyone and everything in the sport.
Thank you Japan. F1 loved being back.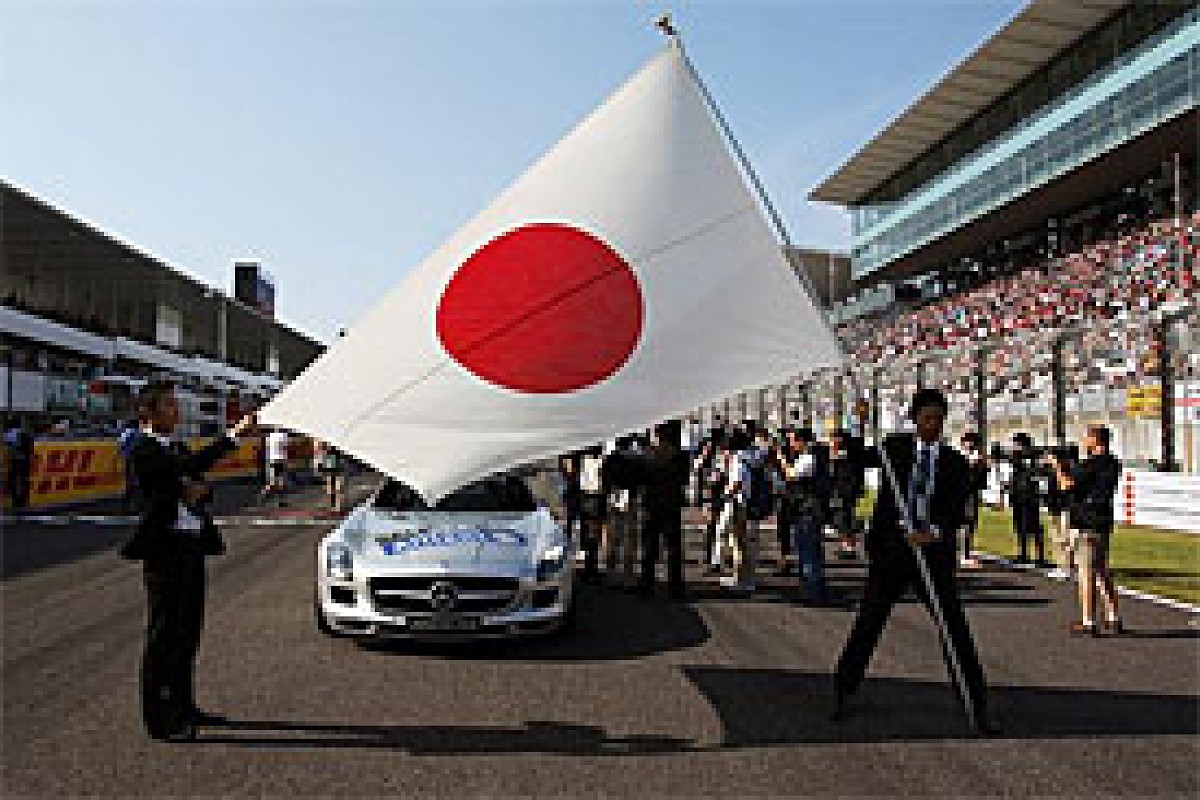 Those who follow the behind-the-scenes goings-on in F1 know that the paddock is gripped with the fitness bug - which is why in the evenings, when the work in the garages is done, you'll find people out on track in their running shoes or on a bicycle.
The running efforts have ramped up this year thanks to the generosity of F1 partner UBS, which started a campaign donating money to charity for every lap completed over the course of the season.
With the www.runthattrack.info initiative proving a huge success, it was decided that the Japanese Grand Prix would be the perfect venue for the third 'Group' run of the year, after events in China and Hungary.
This was the biggest yet and, with word of F1's running club growing, 120 people lined up on the start-finish straight on Saturday night, once parc ferme was underway, ready for the off.
And while earlier this year the runs were being done solely by team members and journalists, at Suzuka some drivers even decided that they would join in the fun and do their bit for charity.
So while www.runthattrack.info world champion Matthew Kingston-Lee from Sutton Images tore away at the front in a battle with Nico Rosberg's trainer Daniel Schloesser, behind him the German driver was taking things much more leisurely as he enjoyed what for him was a slow jog with some of the guys from his team.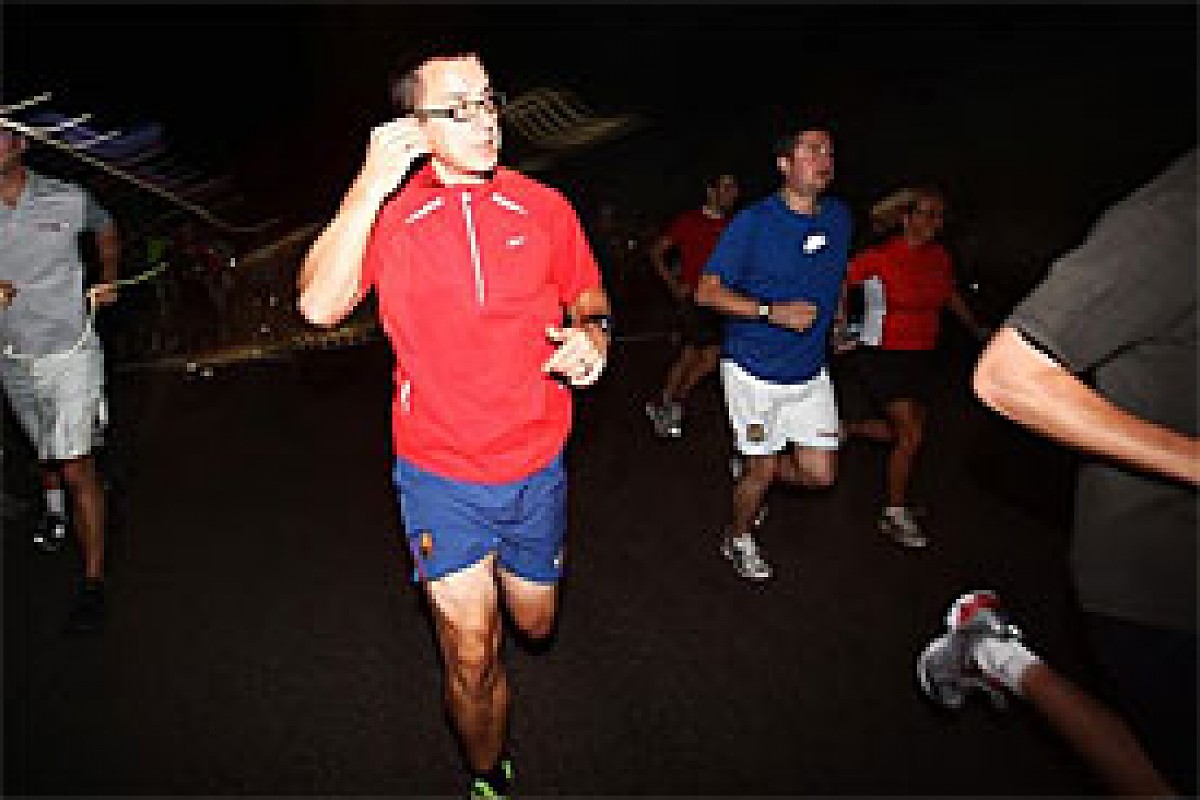 Our man Noble starts his lap of Suzuka © sutton-images.com
Elsewhere, Nico Hulkenberg finished fourth overall - with strong efforts from Romain Grosjean, Luiz Razia and Heikki Kovalainen's girlfriend Catherine Hyde.
However, a few of the Spanish contingent had a bit of a helping hand when going into the Suzuka hairpin, as a certain Fernando Alonso was seen giving lifts to his mates on his bicycle to help them on their way. I suppose you can call it team work!
Regardless of how people got to the chequered flag, UBS donated $300 to charity for every lap done - which meant by the end of the weekend the current total amassed this season for the Make-A-Wish-Foundation is $121,750 dollars.
It's a great effort and well worth those achy leg muscles in the morning.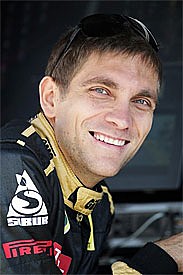 The fitness bug was not just reserved for those running the Suzuka track, because Vitaly Petrov revealed in Japan that he's taken up a new sport: squash.
Having travelled back to Britain after the Singapore Grand Prix for some work at Renault's Enstone factory, the team's press officer Ben Nichols had challenged him to a game - which he duly lost.
However, like any truly competitive sportsman, Petrov has vowed to get some training under his belt so he doesn't lose again.
"Now I have to find a teacher, because I had never played before," smiled the Russian. "My first time was against him [Ben], so in one week I will kick his ass! He is not fast enough..."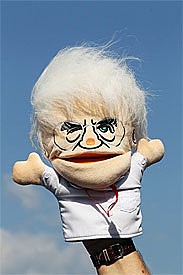 Vitaly Petrov © sutton-images.com
Interestingly, in Japan McLaren team principal Martin Whitmarsh revealed that his drivers were banned from taking part in any sporting activity that held a high risk of injury - a position that was further strengthened after what happened to Petrov's team-mate Robert Kubica earlier this year.
"I normally remind them of such incidents, but it's the nature of drivers that in a very healthy way they feel invisible so they won't help themselves," said Whitmarsh.
"It happens reasonably frequently: can I do this, can I do the other? They introduce additional risk. But there is already risk in F1, so to introduce others is something that we are not wildly enthusiastic about."
When asked if tennis was on McLaren's approved list, following Juan Pablo Montoya's shoulder injury a while back, Whitmarsh said: "No, we have banned that. We had an incident a few years ago - to play tennis on a motorbike is quite difficult!"
Of course a lot of the focus over the weekend was on F1 doing its part to help the victims of the Japanese earthquake.
Ahead of the event, there were plenty of announcements about charity initiatives - with Jenson Button, Jarno Trulli and Vitantonio Liuzzi creating special helmet designs that are being auctioned off this week, and Lewis Hamilton wearing unique race boots that will similarly help raise money.
But perhaps more moving was what Bernie Ecclestone and Kamui Kobayashi did on their own initiative.
Ecclestone didn't make the trip to Japan, but it emerged over the Japanese GP weekend that he had paid for 3000 grandstand tickets out of his own pocket, which would be given to people who'd been affected by the earthquake.
Furthermore, he had commissioned paintings of F1's five current world champions and their cars, which he got signed after the drivers' briefing on Friday, for auctioning off this week.
Bernie Ecclestone's puppet © sutton-images.com
As well as that, proceeds from specially created merchandise - which included an amazing hand puppet of Ecclestone himself - were also being donated to charity.
Kobayashi also did his part and paid for a group of 60 people, which included members and their families of a school choir, the MJC Ensemble from Minami-Soma in Fukushima Prefecture, to have a weekend on him at the Japanese GP after he heard they were due to sing before the start of the race.
"I invited them here, have paid for their hotel and transfers and bought them grandstand tickets," said Kobayashi, before smiling about Ecclestone's generosity.
"I know Bernie bought 3000 tickets, but of course he has different money. If you look at my bank account, it is a shame you know..."
Good on you Kamui and Bernie.