"Well, we're sort of hoping they weren't on the same fuel loads as us," said McLaren's Paddy Lowe when asked about the Red Bulls' apparent advantage on the long runs of Friday afternoon at Suzuka. It's a hope that most of the rest of the paddock is sharing - because if not, no-one else will see the RB7s on Sunday.
Sebastian Vettel and Mark Webber were each able to lap in the mid-high 1m37s consistently, this around 1.2s better than Jenson Button in the faster of the McLarens.

Paddy's comments may sound like a clutching of straws - but that's not necessarily the case. There have been a few Friday practices this year where Red Bull has apparently used a second stint fuel level in the long run phase of this session, around 30kg lighter than the first stint load used by McLaren. Teams are notoriously secretive about fuel loads, but if Red Bull was indeed replicating the fuel load it would be carrying going into the second stint of the race and McLaren was using a first stint fuel load, the circa 30kg difference would account for - about 1.2s, or, the very margin by which McLaren was trailing Red Bull here in the long runs.
On the other hand, Red Bull tends to fuel more heavily on the short-run practice laps - and in that phase of second practice, Vettel and Webber were only third and fourth fastest, a couple of tenths adrift of Button and the Ferrari of Fernando Alonso. But no-one is being fooled by those headline times.
The Red Bulls were consistently able to keep their DRS wing slot open through the 190mph turn of 130R, the McLarens did so only occasionally, the Ferraris not at all. Indeed Felipe Massa raised his eyebrows in surprise upon being told what the Red Bulls were doing there. That's probably as good a clue as any of the respective pace of each car.
McLaren was running its new more aggressive DRS wing that should help it in qualifying, giving a more spectacular drag reduction than the conservative one it has used for most of the season.
Jenson Button was quickest of all in both sessions © sutton-images.com
This has contributed towards the pattern seen in several races where the McLaren was as fast - or occasionally faster - than the Red Bull on Sunday, despite trailing it significantly in qualifying. The new McLaren wing should eliminate at least some of that qualifying deficit.
So we are left, as ever, with a big question mark about relative fuel levels. In terms of reading between the lines of that, Red Bull must remain favourite to maintain its 100% record of poles even if the McLarens were running heavier in the long runs. There appears to be very little separating Vettel from Webber; their best laps on both low fuel and high were within a tenth, Seb did five laps in the 1m37s on his long run, Mark four. It's a track with plenty of the long fast corners through which Webber is at least as fast as Vettel and few of the slow corners where Seb has been finding most of his advantage over him this year. If Webber can for once get his car off the line well, this race probably represents his best chance of the remaining races to win this year.

Lewis Hamilton's running was more interrupted than Button's - and specifically he lost out on what should have been his best laps to yellow flags. The underlying pattern is that he is around 0.1s faster through the middle sector.
The Ferrari appears to be slightly adrift of the McLaren's pace here, maybe 0.3s off on the medium tyre, 0.1-0.2s on the soft - though Massa did do one very quick lap after a very slow lap to cool the tyres off. Getting them up to temperature around Suzuka is not going to be a problem, the succession of long fast turns and the forecast of continuing good weather likely to help Ferrari alleviate its usual difficulty with this.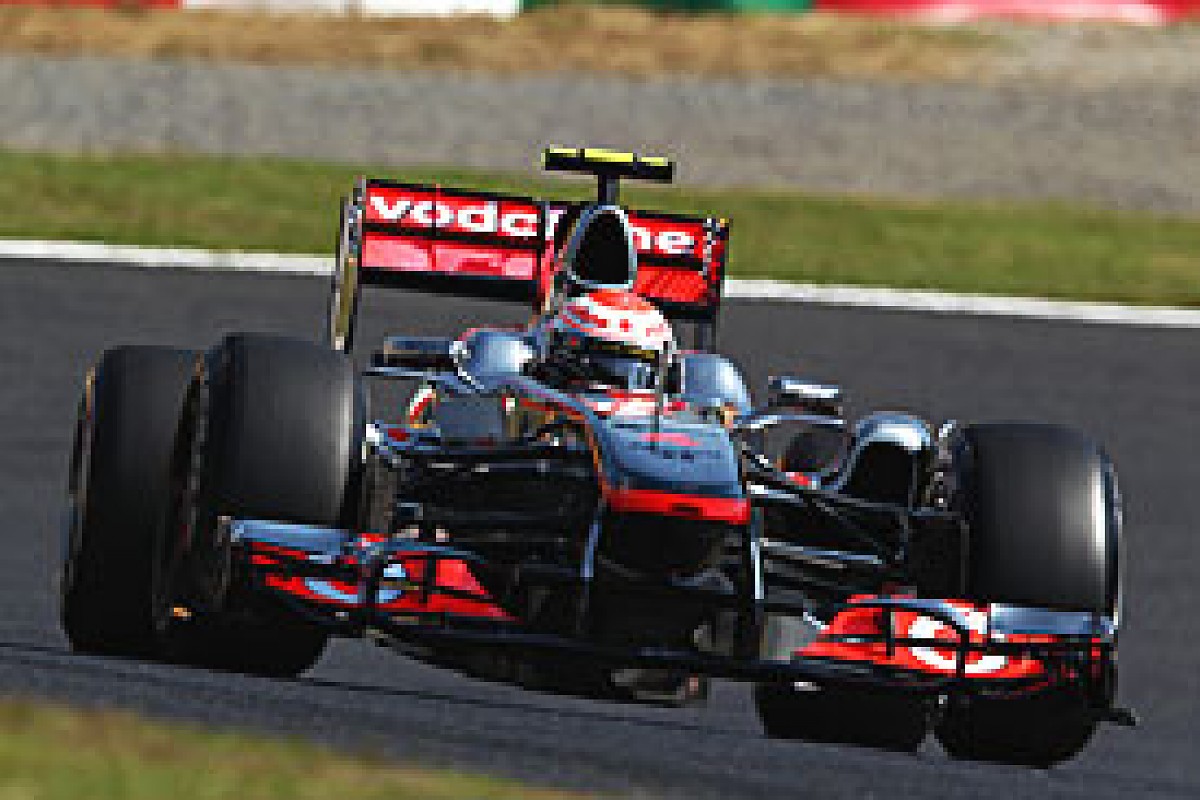 Fernando Alonso has not encountered tyre heating problems so far © sutton-images.com
Both wear and performance degradation of the tyres was less than Pirelli anticipated and a conventional mix of two and three-stop strategies looks likely.
It would be nice to believe that Paddy's hope will prove true and that the McLarens can give the Red Bulls a race. We can assume Vettel will end Sunday afternoon as 2011 world champion - but might he have some competition in the race this time around? If Paddy's hope about fuel levels proves false, then only Webber could conceivably prevent a Vettel clean sweep.