He might have made it look easy, but Sebastian Vettel's victory in Singapore was earned the hard way.
It was the result of a typically polished performance from the irrepressible German, and another faultless weekend from the team that has worked so hard to customise its car for each circuit this year.
Singapore was yet another box ticked, leaving just Montreal, Yeongam and the new race at Buddh still missing from the team's CV. And two of those could well be taken care of by the end of next month.
Red Bull had a big corporate presence in Singapore - the company has its roots in Thailand - and while the visiting VIPs didn't get to celebrate the world championship, winning what has quickly become one of the most high-profile events on the calendar was a pretty good consolation prize.

Vettel was certainly pleased with his Singapore win © sutton-images.com
"This is arguably the toughest and most demanding race on the calendar," says team principal Christian Horner.
"It's very bumpy here, it's close to two hours in duration, and massively hot and humid.
"So to have won this race in the dominant fashion that Sebastian did was a sensational result for the team.
"And to have Mark [Webber] up there in P3... it was a great team performance."
"It was a very good weekend," says the team's chief technical officer Adrian Newey. "We take each race as it comes, so it's good to come back to a high-downforce circuit and be competitive.
"We had a reasonably smooth weekend, I'm glad to say. No major dramas with the car."
It might have appeared to be very routine, but Seb and the team still had to get everything right though Friday and Saturday.
And while pole for car #1 was no great surprise, managing Q3 was no easy task for any of the teams, as the sheer length of the lap made for a very short break between the first and second runs.
There was no margin for error in getting the car turned round, as McLaren found out when it had a refuelling glitch with Lewis Hamilton.
Having lost out in Monza, Vettel needed no reminding that he had to get the start right, and he did it to perfection.
What stunned his rivals and the whole pitlane was his storming pace over the first 10 laps.
His margin over Jenson Button went 2.5 seconds, 3.5s, 4.4s, 5.5s, 7.0s, 8.2s, 9.1s, 9.9s, 10.9s, 11.6s, at which point it pretty much stabilised.
It was astonishing progress that told us all we were not going to get any kind of battle for the lead.
"They were amazing opening laps," says Newey. "He felt comfortable in the car all weekend, and he felt confident.
"He felt confidence in the car and therefore confidence in himself to chuck it around a bit. It's the normal thing. You want to get enough of a gap to be able to not be undercut, but there's probably no point in opening it further."
Ferrari's supersofts were gripless within eight laps © sutton-images.com
Despite his pace he still had life in his supersoft tyres, in stark contrast to Ferrari, where both drivers found themselves in trouble after just seven or eight laps.
Vettel stretched his first set out to 14 laps, and Button followed him in, so he retained the lead, extending his advantage by a second here and there through the second stint.
Indeed, it was up to 18.4s at the point at which Michael Schumacher crashed, and the safety car emerged.
It was hardly unexpected given the event's history of at least one safety car per year, but frustrating nevertheless.
However, it was Red Bull's good fortune that once the pitstops had shaken out and the queue formed up, Vettel had the lapped cars of Jarno Trulli, Vitantonio Liuzzi and Kamui Kobayashi between himself and Button. They provided a welcome cushion.
"It was frustrating to lose the gap," admits Newey. "But he had the pace in the opening stint, so no reason to think that he couldn't open it back out again.
"After the restart Button was stuck in traffic, and Vettel was able to make the most of that."
A clear track would have given Button some kind of shot and created a little stress for Vettel, but Jenson had no chance. Just crossing the line for the restart he was already 4.0s behind the leader.
He soon dealt with the two Italians, but Kobayashi proved intransigent, and sat in front of the McLaren for over a lap.
After just one lap of green running, Button was an amazing 8.9s behind Vettel. Quite rightly, the Sauber driver earned himself a penalty.
Even with a clear track Button couldn't hold the gap and over the next few laps it edged out to around 12-13s, the number with which Vettel appeared to be comfortable.
Vettel could have gone to the end on those tyres. But as has become standard practice, he pitted in response to Button coming in, to head off any danger of a second safety car closing up the field and giving the McLaren driver a chance to jump him with fresher rubber.
"Strategy-wise we were just covering what the others did," says Horner. "We could have run to the end on the prime; we stopped to cover Jenson and the other cars on the eventuality of a safety car.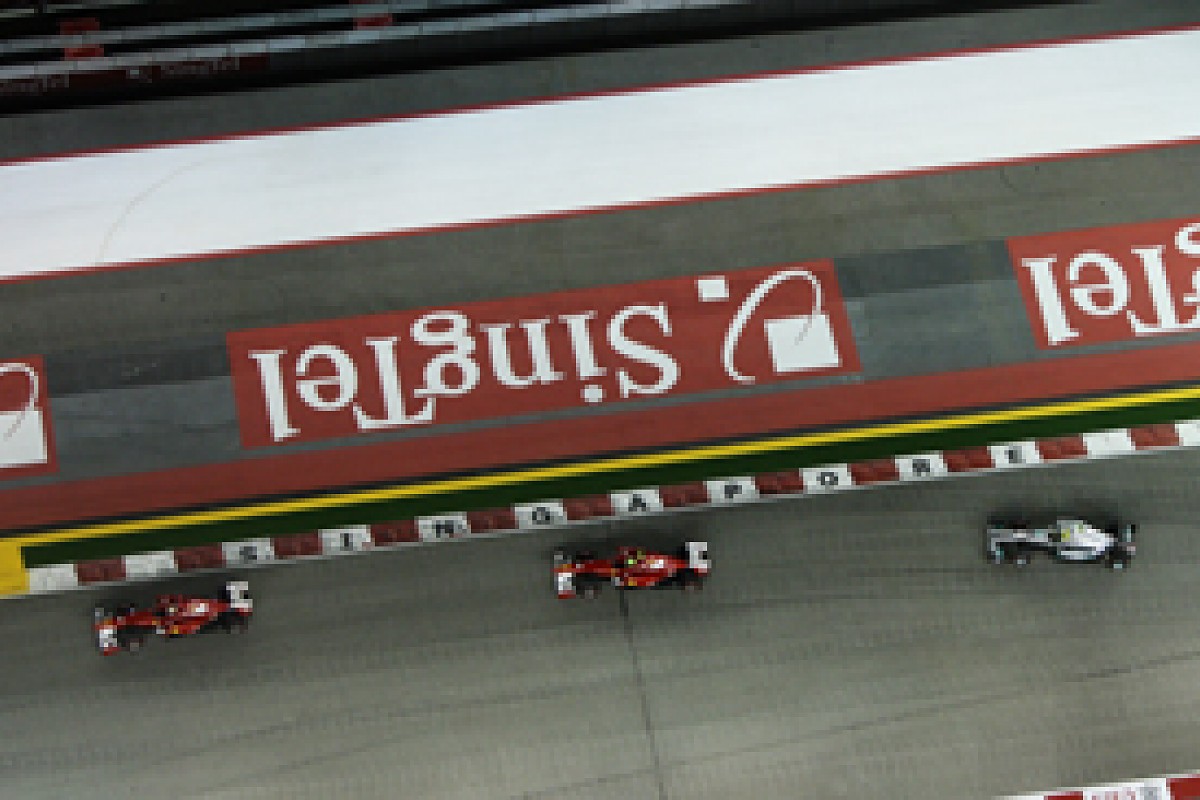 Red Bull had the luxury of just covering the rest strategy-wise © sutton-images.com
"We could have run options at the first stop for the second stint, but it was a situation where we were able to respond and look at what the others were doing.
"On this circuit we decided not to go a different route to effectively mirror the strategy of the cars behind."
After his last stop, and with 11 laps to go, Vettel was 9.5s clear of Button. And then the gap began to come down.
Was there a problem with fuel consumption, or something else?
McLaren urged Button to push and the margin continued to shrink, traffic making life difficult for both men. In fact Vettel had it all under control.
"We were just managing the car," Newey insists. "It's a tough race round here. There's no point in taking more out of it than we needed to.
"There were a few things we were worried about, so we were prepared to sacrifice a bit of pace to manage it."
"I think we just took some precautions at the end of the race just to make sure we didn't stress the car," says Horner.
"We had a few little issues: it's tough on the brakes, it's tough on the transmission, and we just didn't want to overstress any of those components. It was prudence more than anything.
"There was a lot of traffic, and they were all fighting for position. He picked his timing to move through that traffic, which was the right thing to do, but at no point was he under any real pressure."
It didn't look that way from the outside, especially when the gap came down to 3.7s with three laps to go, and Button appeared to be on a mission.
"As they went through traffic it concertinaed down to that," said Horner. "But the reality was the net loss was never more than five or six seconds.
"It was something Seb managed. I think he's driven some fantastic races this year, but that one is certainly well up there."
"That was a function of traffic," Newey confirms. "Seb had to get through the traffic and then obviously Button had the same."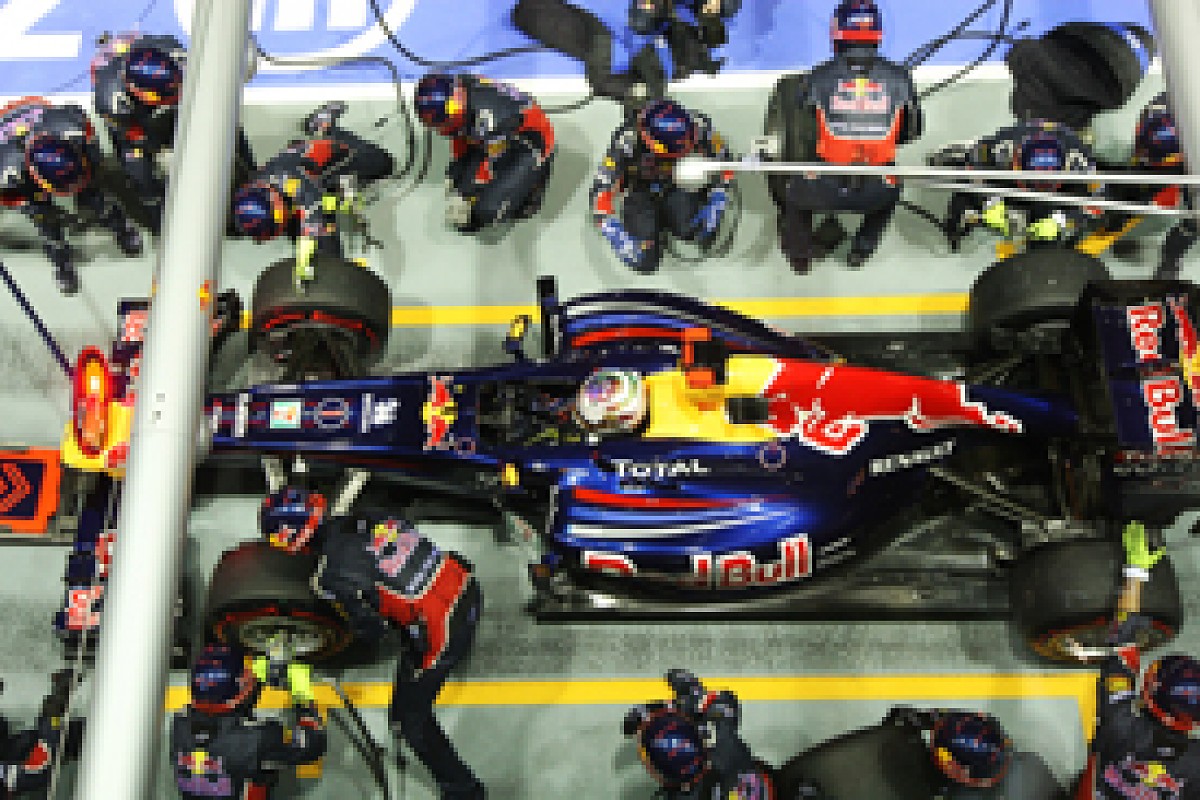 Vettel had lapped traffic between himself and Button behind the safety car © sutton
Indeed, any excitement was dulled when Button came across the scrapping Williams drivers.
But Vettel did cut it pretty fine on the last lap, dropping 7s off the pace to give himself just 1.7s as he cruised past the flag.
Webber meanwhile paid the price for another bad start, losing out to both Button and Fernando Alonso.
He eventually recovered to third, but he was 29s behind, and a fastest lap that was 1.6s off that of his team-mate spoke volumes.
"Mark had a good day," says Horner. "His start [was] from the dirty side of the grid. It looked like that whole line lost out into Turn 1, but thereafter his recovery and his performance were good.
"He seemed to enjoy passing Fernando - he did that twice today! It was a good drive from him at a circuit that probably isn't among his favourites."
Vettel failed to secure the title by the tiniest of margins.
Had Webber finished second, the Aussie rather than Button would have been his only remaining challenger, and RBR would at least have been able to leave Singapore knowing that it was guaranteed the drivers' title.
"For us it makes absolutely zero difference," shrugs Horner. "We can't control what the others do, we can only control our own performance.
"Jenson drove a good race today; the two of them stood out. You've only got to look at the lap times that both Jenson and Seb were doing.
"All we could do was try to win the race. We've done that, and we've got third position.
"There are only two drivers left now with five races to go and Sebastian has to achieve one more point. I think that it looks encouraging."
That's about as close as Horner is willing to get to acknowledging that it's done and dusted. Don't expect RBR to back off any time soon, however.
"We keep looking forward rather than backwards. For us it's all about the next race," says Horner.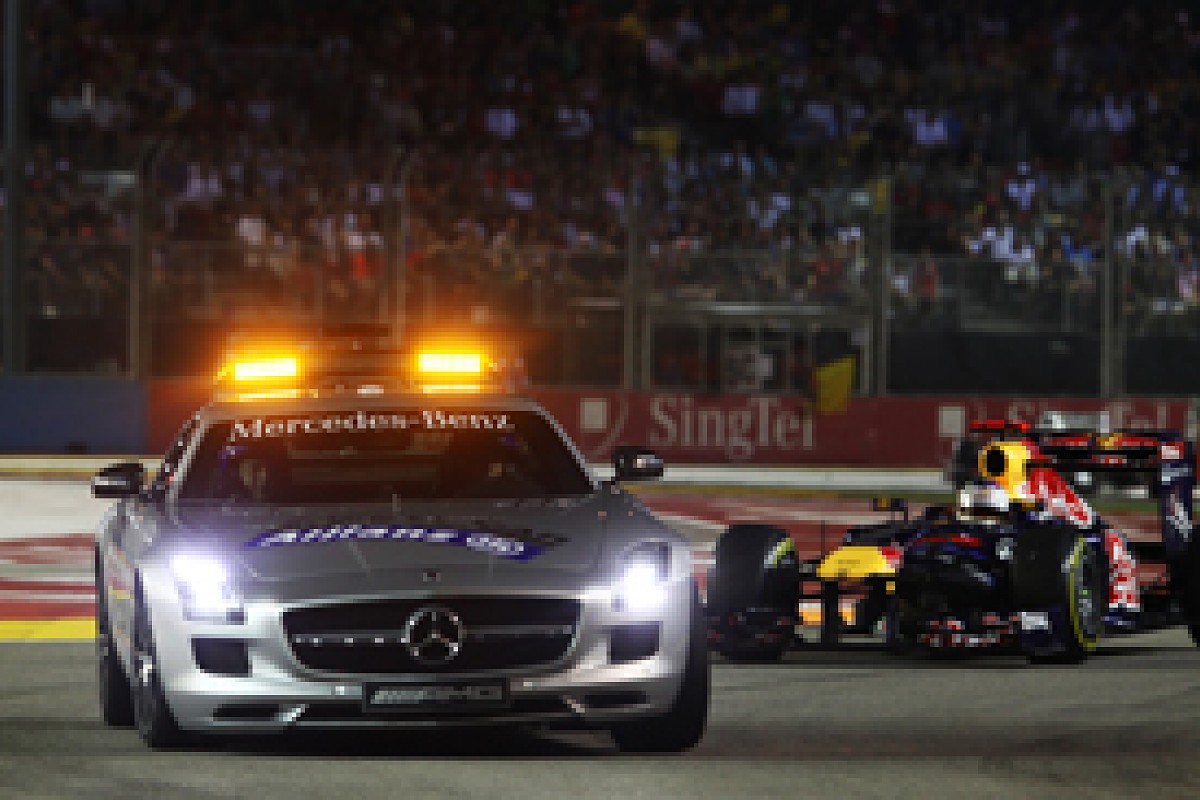 The team celebrates its success together © sutton-images.com
"There's five more races that we will attack with the same commitment that we've attacked every GP so far this year.
"We'll see if whatever lessons we learn now are beneficial to next year as well."
So now we head to Japan. No longer the final or even penultimate race, by chance Suzuka nevertheless looks set to once again be the setting for the crowning of a world champion.
And it's a track that should suit the RB7 to a tee.
"In theory, but you never know," cautions Newey. "It's difficult to predict these things. It's not been a predictable season.
"Spa, Monza we managed to get the car pretty decent, and Seb did a great job of taking the most out of that.
"Silverstone, Germany, Hungary weren't our best races, but I think they were also very unusual races."
"Suzuka is a track that Sebastian certainly has thrived at in recent years," says Horner. "It's a track that the car's performed well at.
"It will be great to finish the job off. There are still five races to go, and we're going to push to the end of this championship as hard as we can.
"I only asked in the last 10 laps what the mathematics were, because our focus is very much on the races.
"In the championships we've got ourselves into great positions, and hopefully they will take care of themselves."