After winning five of the first six grands prix of the year, it was a matter of when, rather than if, Sebastian Vettel would secure back-to-back world championships.
His third place in the Japanese Grand Prix was enough to put the title beyond the grasp of his rivals with four races to spare, but his dominance has been about more than just having the best car under him.
When it comes to the crunch, Vettel has usually delivered when it matters, ensuring that he claimed maximum points more often than not and laying the foundations for the most dominant championship victory since Michael Schumacher strolled to the 2004 title.
Here are the top 10 key moments that really made the difference to Vettel's title charge, both on- and off-track.
Vettel was one of a few top drivers to take part in Pirelli test © sutton-images.com
10. Pirelli tyre test
Five days after winning his first world championship at that dramatic four-way decider, Vettel returned to Abu Dhabi for the Pirelli tyre test. He wasn't the only regular race driver to do so, but he was one of the few to complete two full days of running on the new rubber.
While others might have chosen to relax after the intensity of the championship shoot-out, Vettel was determined to start the job of making it a back-to-back title victory as soon as possible.
It would be stretching a point to say that the 144 laps that he completed over two days at Yas Marina laid the foundation stone for the tyre knowledge that allowed him to steal a march on his rivals early in the year, after all, Fernando Alonso also ran during the test (although the McLaren drivers didn't). But you can argue that the process of retaining his title started within a week of him winning it.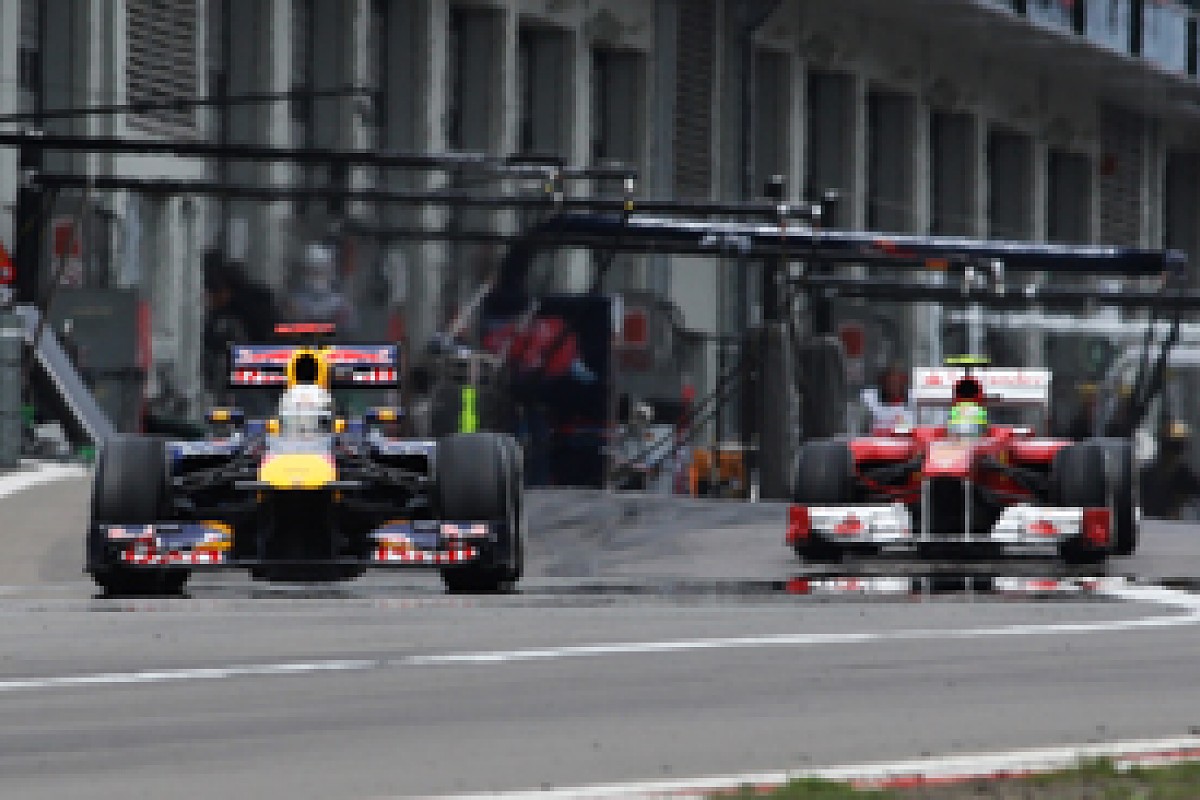 Vettel beat Massa out of the pits late on to salvage fourth © sutton-images.com
9. Nurburgring salvage job
There's an adage that you win championships on your bad days. While the 12 points that Vettel pocketed at the German Grand Prix in July proved to make little difference in the final reckoning, it told us a lot about his resolve.
He didn't have race-winning pace all weekend, qualifying a disastrous (for him) third and then spinning while chasing Alonso for the same position in the race. But despite losing time, he stuck to his task, jumping Felipe Massa in a penultimate lap pitstop shoot-out to take fourth place.
By his standards, it was a poor weekend, but compare Vettel's worst weekend with those of his rivals and you get a very good idea of the consistency that has gone into making him champion.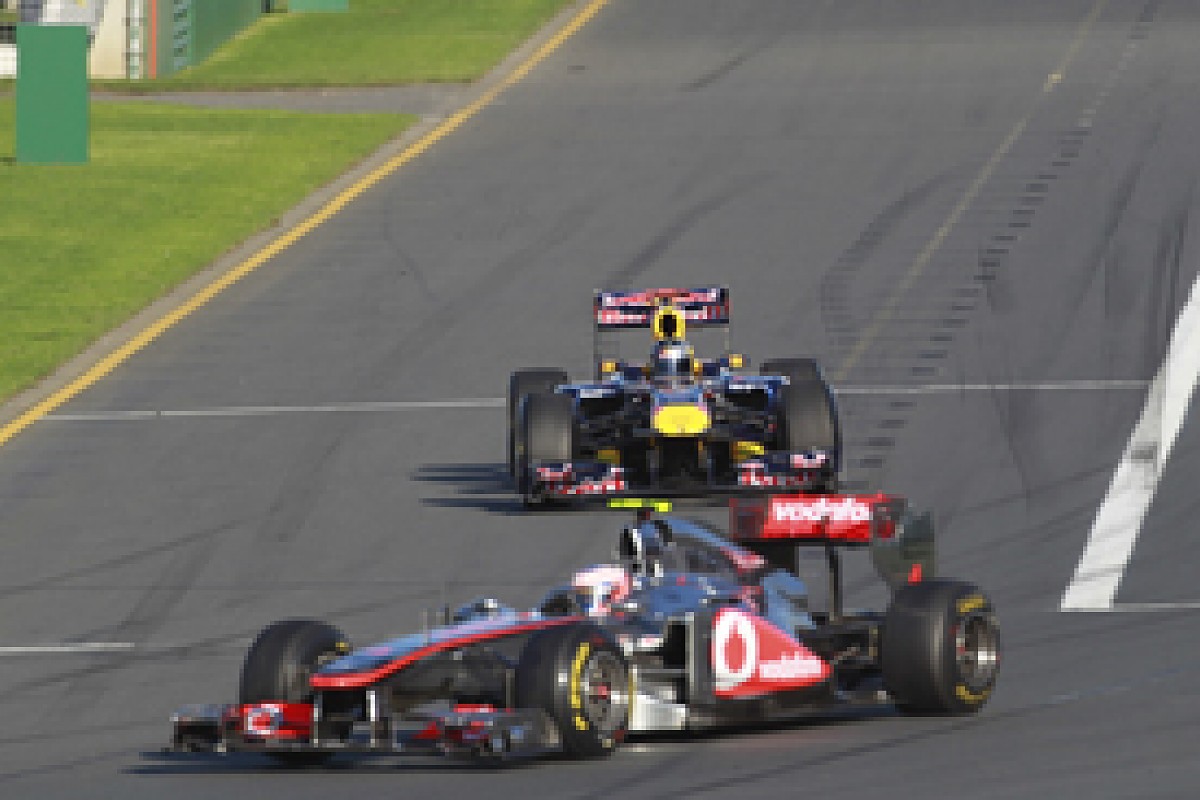 Another pit exit, but Vettel didn't stay behind Button long at Melbourne © LAT
8. Passing Button in Australia
Vettel was taking it easy at the front of the Australian Grand Prix with McLaren driver Lewis Hamilton not far behind when he headed in for his first pitstop. He emerged behind Hamilton's team-mate, Jenson Button, and knew that he had to act fast.
Unwilling to wait a lap to get into the DRS zone on the start/finish straight, Vettel saw his chance at Turn 4, going around the outside of the McLaren and vanquishing his chance of losing victory due to wasting time behind the 2009 world champion.
Yes, he had a speed advantage, but the haste with which he scythed past Button was the first on-track sign in 2011 that Vettel would be at his ruthless best this year.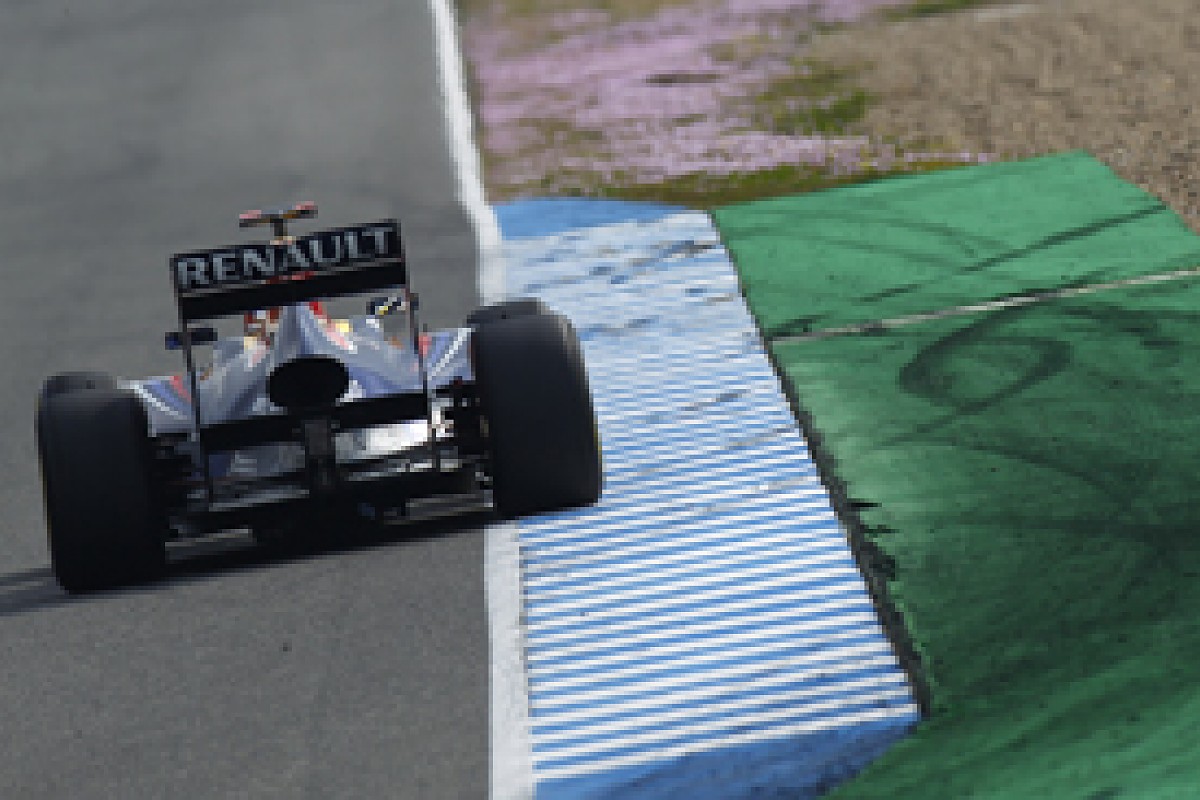 Red Bull optimised the DRS in testing © LAT
7. DRS mastery at Jerez
Vettel realised from the start that getting the DRS rear wing opened as quickly as possible when exiting a corner could be worth valuable hundredths of a second in qualifying. During the second pre-season test at Jerez, AUTOSPORT's Glenn Freeman witnessed just how quickly Vettel was able to push the envelope.
"The only word to describe the RB7 once it was thinking about leaving a corner is 'planted'," wrote Freeman. "The cars from Renault and Ferrari didn't seem too far behind, but neither looked like it was glued to the road.
"Vettel was even able to get the adjustable rear wing slot open almost as soon as he was on the power exiting Turn 2. It then stayed open throughout Turns 3 and 4; both quick left-handers."
This mastery of the DRS, albeit aided by the Red Bull having so much grip from its exhaust-blown diffuser, surely played a part in Vettel's early-season qualifying dominance.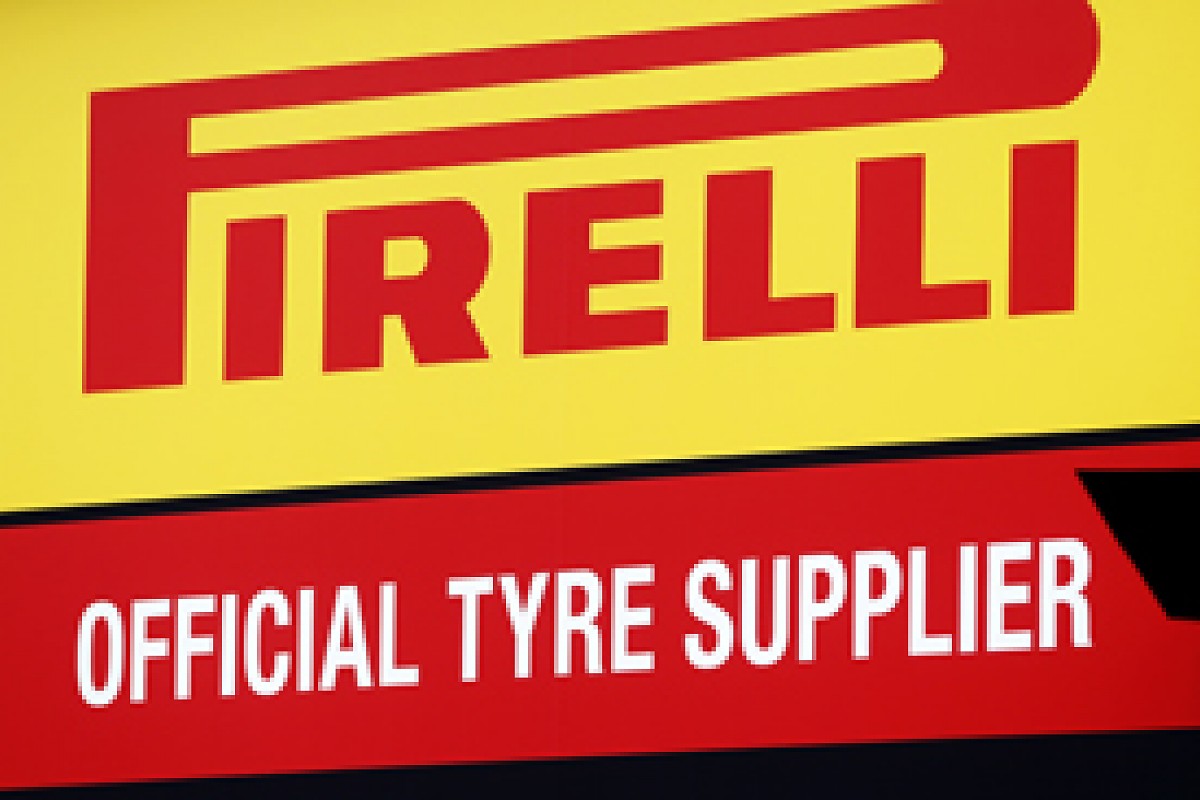 Pirelli were impressed with Vettel's commitment © LAT
6. Visiting Milan
Only one F1 race driver took the trouble to visit Pirelli's Milan base in search of that vital extra little bit of understanding of the 2011 rubber. You've guessed it... Vettel. And Pirelli Motorsport boss Paul Hembery was impressed.
"We were impressed when he came to see us, and I think it gave us a little insight into what he is like as a driver," said Hembery. "What he did with us, he clearly does that in all areas that he operates in. The only other driver that asks us a lot of questions is another German - who is a bit older with quite a few more championships under his belt. We found that interesting."
Little wonder Vettel was on top of the tyres come the start of the season in Melbourne.
Monza pole was an emphatic one © sutton-images.com
5. Monza pole position
With a car geared for race conditions, Red Bull knew that Vettel needed a perfect lap to take pole position. And that's exactly what he delivered, extracting the maximum out of the RB7 to take top spot by over 0.4s.
That margin didn't do the lap justice, for both McLaren drivers underperformed and had they not both made errors on their final runs, it would have been a much closer-run thing.
But as Lewis Hamilton said after the session, Vettel was simply untouchable, to take what many thought before the weekend was an impossible pole position.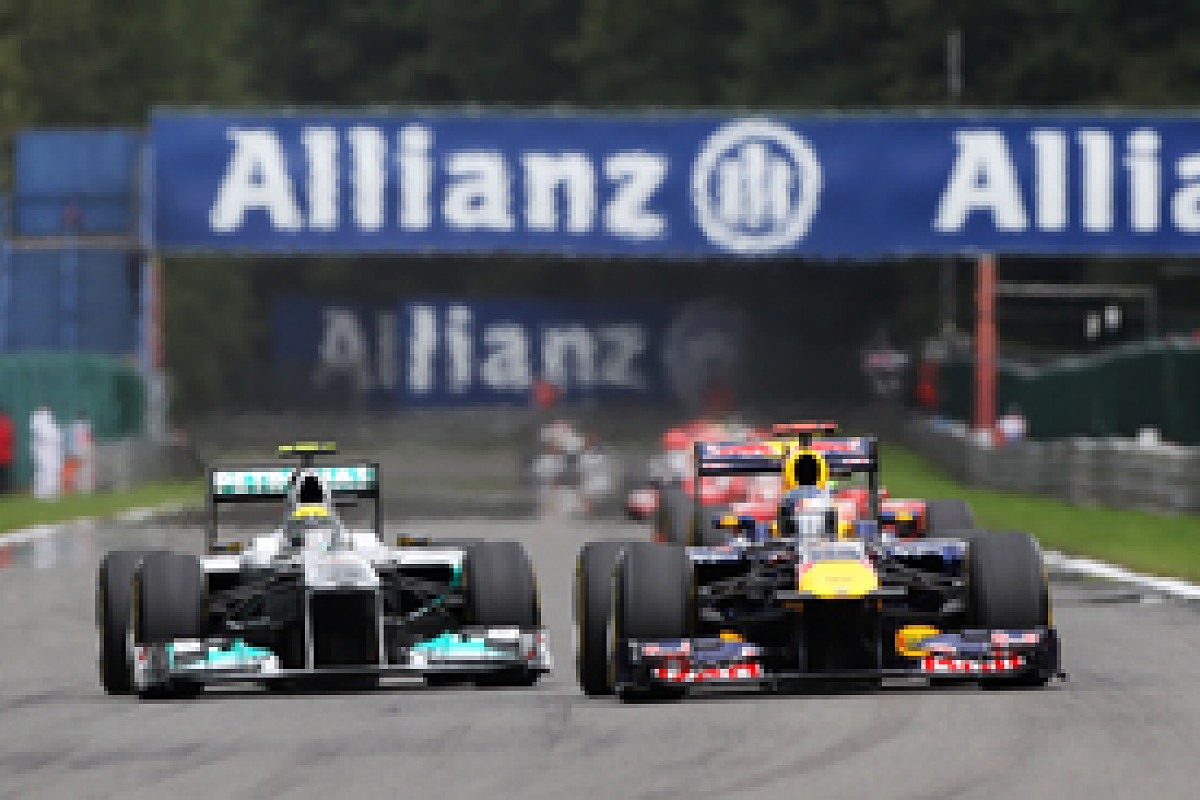 Using that mastered DRS to ease past Rosberg for Spa lead © sutton-images.com
4. Spa spectacular
Vettel headed to Spa with a near-insurmountable lead in the world championship, but his rivals still held out a little hope. Red Bull had traditionally struggled at Spa and Monza, which followed two weeks later, and a double-win here for the likes of Hamilton, Alonso or Button might just keep their world championship hopes alive.
Even on Saturday night, after Vettel had taken pole, there was hope, for Red Bull's front Pirelli tyres had blistered. This was the legacy of running too aggressive a camber setting and serious thought was given to starting from the pitlane to allow a set-up change.
But Vettel still wanted to win, so, along with his team-mate Mark Webber, he went out on tyres that might have let him down. Both made early pitstops, but it was clear that they were the class of the field. Again Vettel showed that he could overtake by passing Nico Rosberg for the lead using the DRS early on, and he never looked back.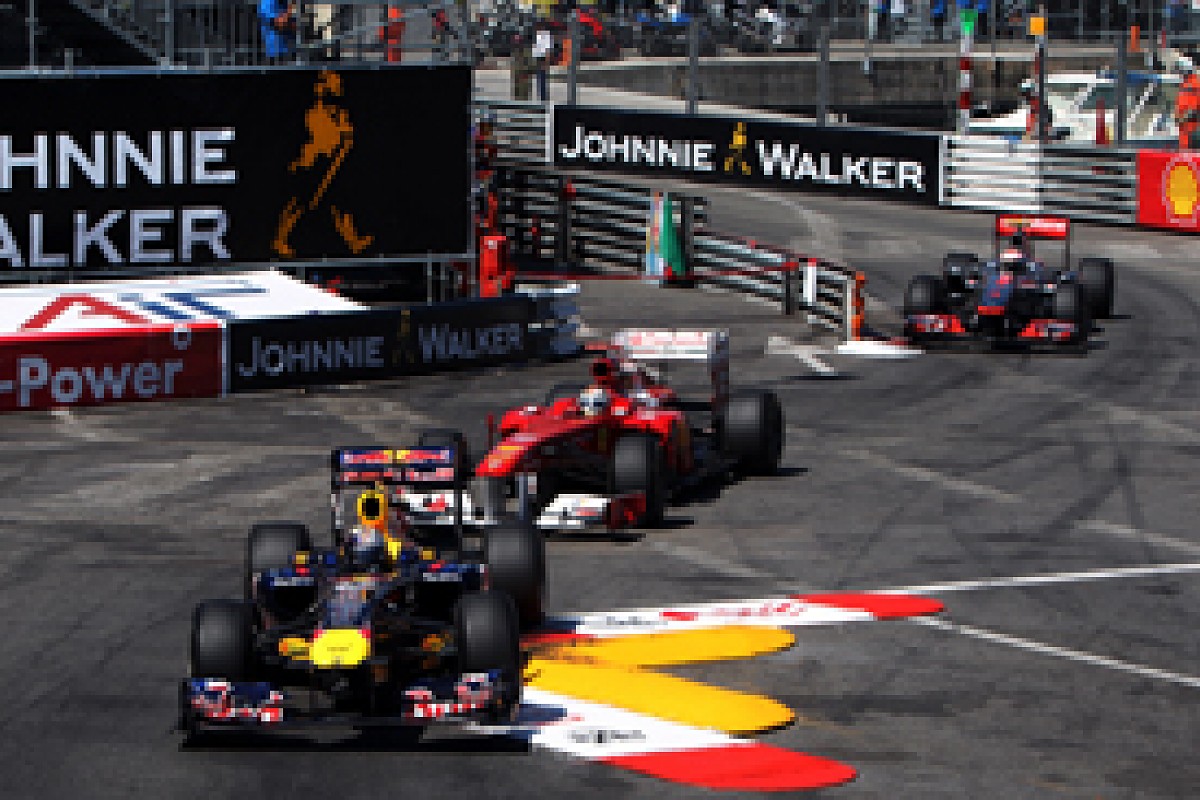 Vettel held off Alonso and Button on worn tyres at Monaco © sutton-images.com
3. Monaco rearguard
The Monaco Grand Prix was working towards perhaps the most dramatic conclusion in its long history. Vettel led, chased by Alonso on younger tyres and Button, who had opted for a three-stop strategy and had even fresher rubber. The top three were, in effect, in reverse order of speed.
At the start of the 62nd lap the trio was together. Vettel had a huge challenge on his hands, but drove immaculately to answer those critics who assert that he is weak under pressure. With Alonso on his tail and Button just behind, Vettel knew that he didn't have the pace so turned to classic defensive tactics. In short, he was slow where he needed to be. Through the last corner he was cautious on the throttle to ensure that Alonso couldn't carry more speed onto the straight and into the DRS zone, while on the run towards the tunnel and the chicane - the other possible passing zone - he did the same.
Then, an accident involving Adrian Sutil, Vitaly Petrov, Jaime Alguersuari and Hamilton brought out first the safety car and then, on lap 72, the red flag. The race restarted, but all three of the frontrunners were allowed to change tyres and held position to the finish.
Maybe Vettel would have lost had the race run its course, but the way he was defending, it would have been tough. But you can't judge drives on 'might have beens' and what actually happened at Monaco was another Vettel masterclass.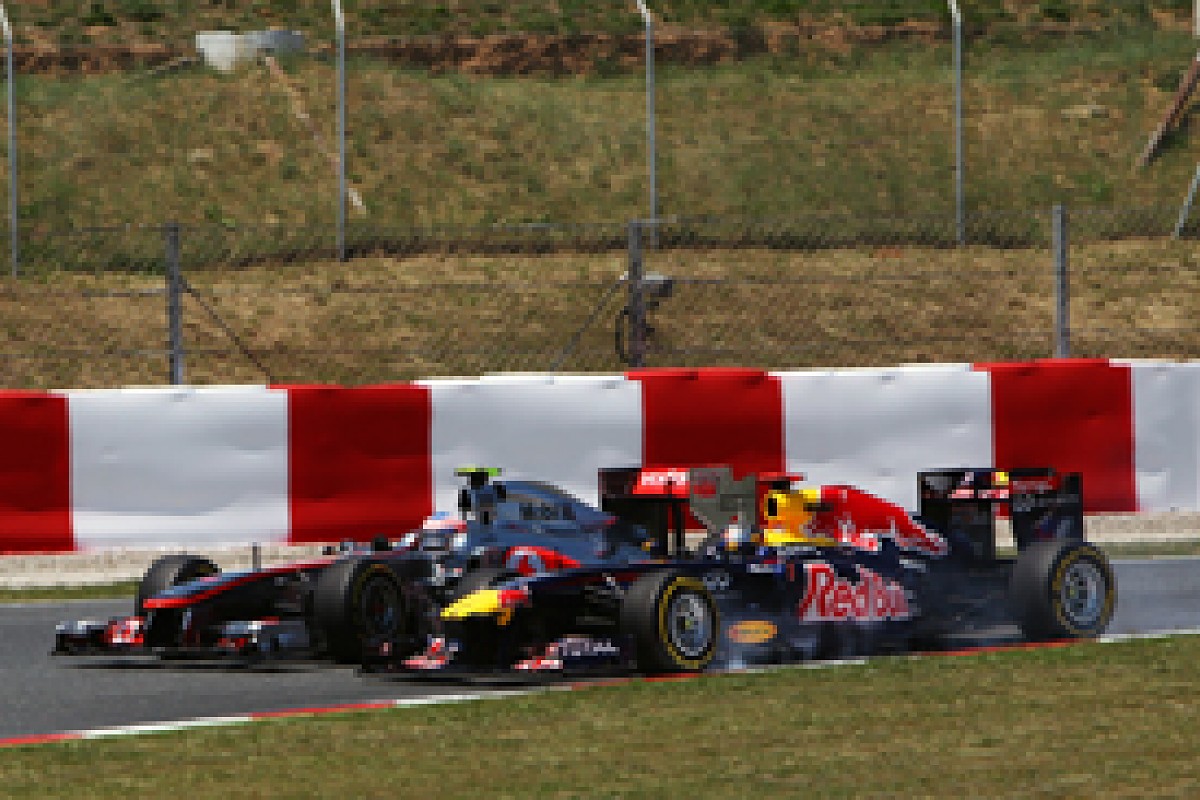 Passing Button on a stunning outlap at Barcelona © sutton-images.com
2. Barcelona outlap
Early in the season, we rapidly became used to drivers exiting the pits and having to get past far slower cars on worn tyres - even if it took the FOM production team a little longer to realise that while the action used to be in the pitlane, it was now on the outlap.
Vettel pitted from the lead and re-emerged with a queue of traffic ahead of him. During the next lap, he dispatched Button, Massa and, at Turn 1, Rosberg, minimising the time lost on new rubber. Given that this was a race he won by only 0.6s, this was one of those laps where he could easily have lost the race.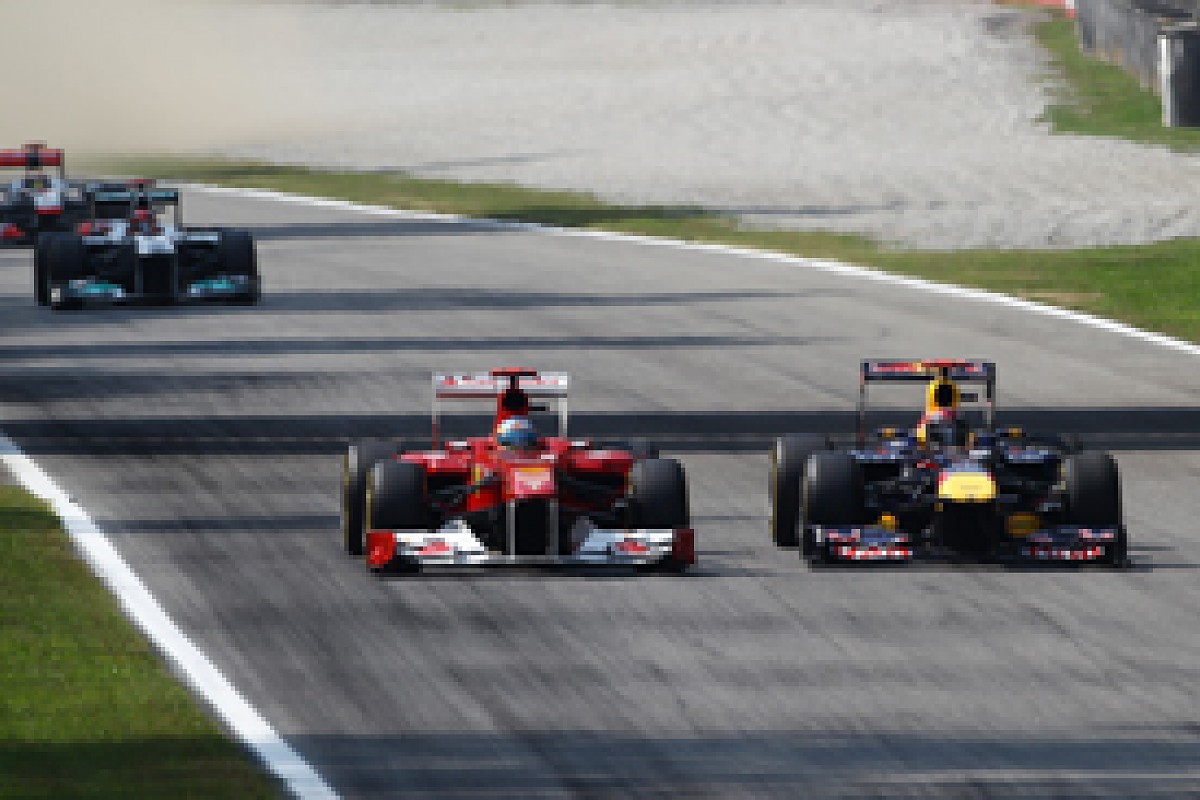 Background dust shows how far off the track Vettel went to pass Alonso © sutton
1. Grasstracking into the lead
When Alonso catapulted into the lead at the start of the Italian Grand Prix, it was bad news for Vettel. At the bottom of the main speed trap during qualifying, he was geared not for the DRS zones, but for peak pace under normal conditions. The plan was to lead from the start, but by squeezing past on the run to the chicane, Alonso had upset that plan.
Red Bull reckoned that Vettel could simply have waited until the pitstops to undercut Alonso, something that would have been eminently possible given the pace of the Red Bull. With both McLarens behind Michael Schumacher's Mercedes and losing time, there was no great urgency. But Vettel disagreed. He wanted to win and win in style, and on the fifth lap, having made Alonso defend into the first chicane, he had a run on the Ferrari through Curva Grande.
Alonso didn't make it easy and Vettel had to take to the grass at an estimated 160mph to get alongside. He completed the move on the brakes into the chicane and went on to win the race comfortably. With a huge championship lead already in his pocket, he could have played it safe, but he wanted to win in style.