Practice one
Lewis Hamilton and his McLaren team hit the ground running in the opening practice session of the weekend, suggesting it was the British squad which, perhaps as expected, would be the team to beat over the weekend.
Lewis Hamilton set the initial pace at Monza © LAT
The British driver was nearly a full second ahead of team-mate Jenson Button as Red Bull had a low-key start to the weekend, with Sebastian Vettel in third but already over 1.3 seconds off the pace set by Hamilton.
Ferrari showed signs early on that it would not be as competitive as it was hoping in its home race, with Fernando Alonso and Felipe Massa over 2.5 seconds off the best time.
In a session under clear skies and with warm weather, there were few incidents on track, with an off by Michael Schumacher at Parabolica the biggest scare of the day. Heikki Kovalainen and Jerome D'Ambrosio lost valuable track time after stopping with mechanical problems.
Practice two
After his slow start in the opening session, Vettel showed he was not as slow as it initially looked, the German going quickest in the afternoon. He beat Hamilton to the top spot, the Briton having been hit by traffic on a lap that looked to set better Vettel's.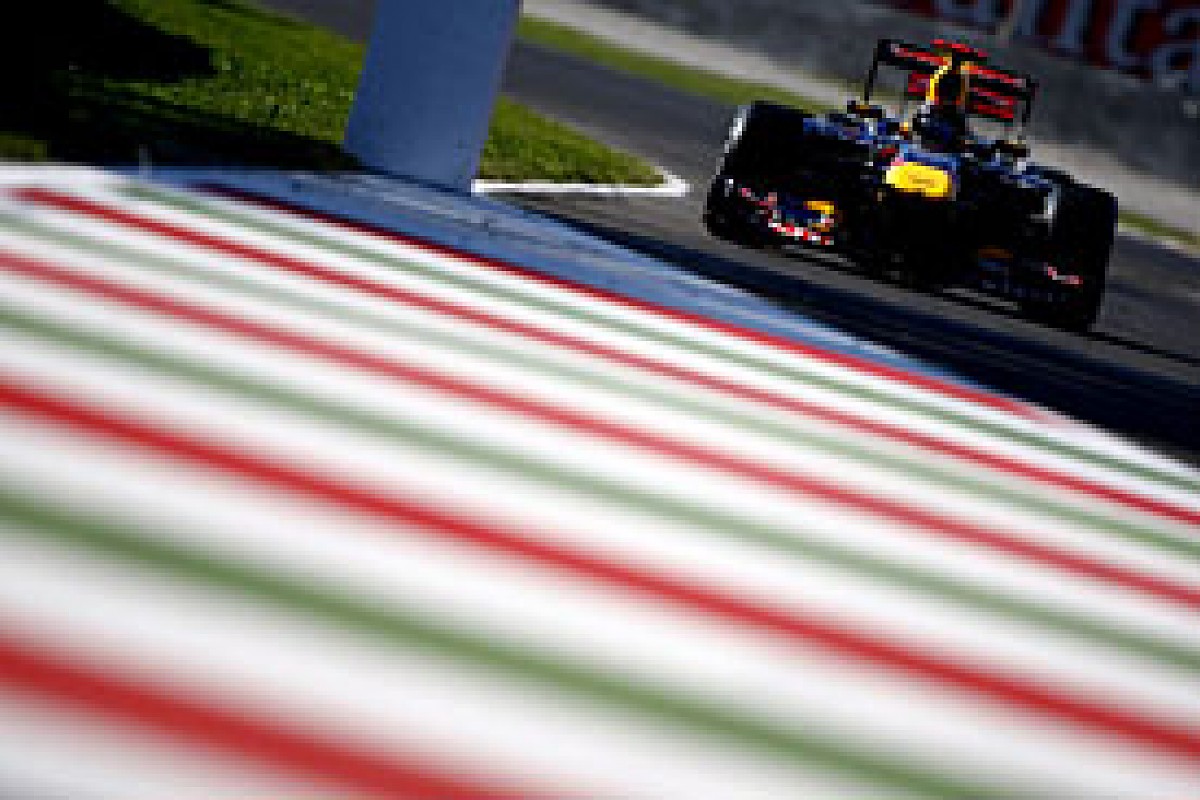 Sebastian Vettel hinted at Red Bull's Monza pace in FP2 © LAT
Vettel did not managed to improve on Hamilton's morning time, however, leaving the McLaren driver delighted about his prospects for the weekend, and suggesting fuel levels had flattered Red Bull. Hamilton finished just 0.036 seconds behind Vettel, with Schumacher a promising third with the Mercedes.
Ferrari fared much better in the afternoon too, with Massa and Alonso less than half a second adrift, even if both men were cautious about their chances given their pace.
The most remarkable incident of the session took place when Sebastien Buemi went off at Parabolica, making contact against the barriers at high-speed. The Toro Rosso driver escaped injury, but his car did not.
Practice three
If Friday gave McLaren and Ferrari good reason to fear Red Bull, Saturday morning confirmed that Sebastian Vettel was the man to beat in qualifying. The German set a time of 1m23.170s during his qualifying simulation, 0.364s than team-mate Mark Webber and a mighty half-a-second clear of the next best car, Felipe Massa's Ferrari.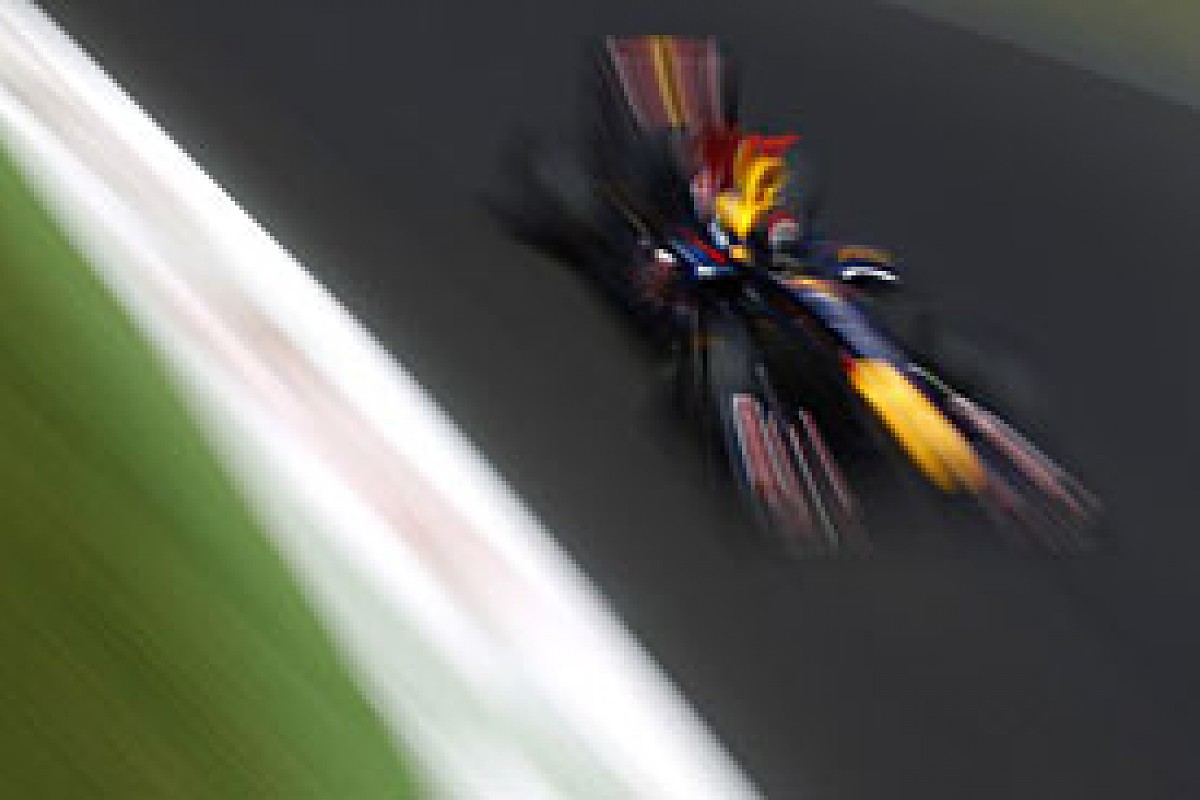 Sebastian Vettel was quickest again on Saturday morning © LAT
Much of the session was spent with teams finalising their aerodynamic setups and understanding of the prime tyres. Red Bull also set the overall pace in terms of laptime on the longer runs.

McLaren pairing Lewis Hamilton and Jenson Button were five and six-tenths off the pace respectively, while Fernando Alonso's single serious flying lap on options left him almost one second adrift.

Mercedes confirmed that its strength on low downforce tracks would allow it to be closer to the top three teams at Monza than at a more orthodox track, ending up sixth and seventh fastest having opted to complete its qualifying simulations a few minutes before the bulk of the field.
QUALIIFYING
1st Sebastian Vettel
"We just got everything out of ourselves. Even though we were carrying around quite a little wing, the balance is very good and the car is behaving great. I felt I got everything out of the car today."

2nd Lewis Hamilton
"I think my first lap was almost perfect. We were relatively close and then as always they [Red Bull] pull out another half-second in Q3!"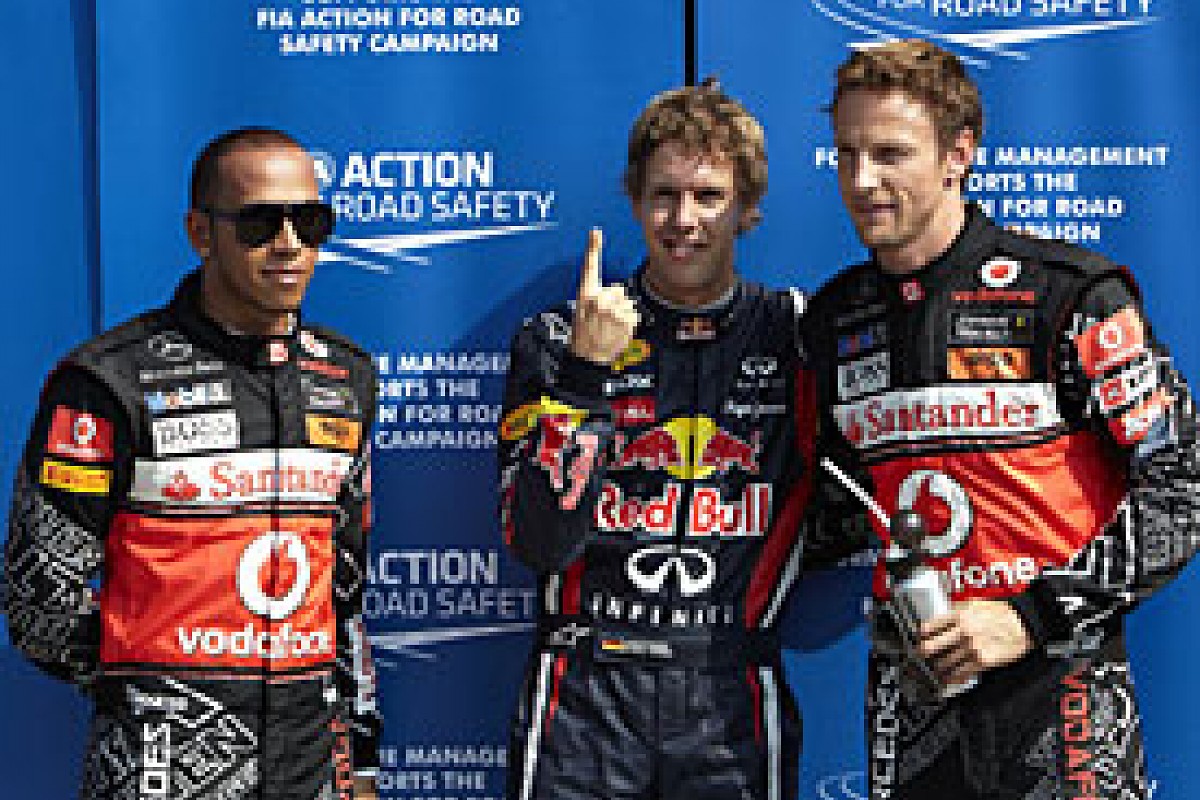 The top three qualifiers for the Italian Grand Prix © LAT
3rd Jenson Button
"Even if we had got a little bit more out of the car, we were never going to challenge Seb. The strange thing is that these guys don't look like they were carrying a lot of wing, but they are quicker than us in the last sector, which is the high-speed corner, so it's difficult to understand."

4th Fernando Alonso
"We didn't find the right balance and speed all weekend. We are still lacking braking stability, but the positive is the result. We are in a very good position and we will be fighting in the first places for the first couple of laps. It opens up the possibility of a podium tomorrow."

5th Mark Webber
"It wasn't the smoothest session at all. We were late out there managing some KERS stuff. The guys got that in eventually, which didn't affect us too badly. Q2 wasn't too bad, but I could have done a better job in preparing the run-plan for Q3. I was in doubt about whether to do two runs or one run."

6th Felipe Massa
"It was okay, but it could have been better. I had a very good two from Michael Schumacher, but I close too much and lost a bit of time in the second chicane. To be more than one or two positions in front would have been difficult."

7th Vitaly Petrov
"I am extremely pleased to qualify in P7. It was a tough start to the practice session this morning, as we had a few aero issues to cope with. It looks like we have brought the right downforce package to this race."

8th Michael Schumacher
"The lap itself, I had Lewis in front of me that I was trying to take a slipstream from. He made a mistake at the second chicane, locking up, but as he locked up I sort of got excited myself and locked up! P7 would have been our optimum place."

9th Nico Rosberg
"It's disappointing to come out of qualifying with ninth place, but we made a big compromise to be strong in the race tomorrow by starting on the harder tyre. It could be a really good race for us tomorrow."

10th Bruno Senna
"We decided to save tyres in Q3. I'm happy with the result. This was the first qualifying of the year where everyone had the advantage of knowing the cars and the tyres better than I did."

11th Paul Di Resta
"I'm fairly happy. Unfortunate is probably the word to use. You look for a tow, you try your best to find a car that's in sight to pick up that point whatever of a kilometre and Bruno Senna has got lucky and picked one up off Lewis Hamilton."

12th Adrian Sutil
"I'm not really surprised at missing Q3. I would say that we expected to be either in Q3, or close to it, and it happened that we were just close. We've not really lost anything and we are in a good position for the race. We also saved a set of [option] tyres. I'd say that the lap was the maximum.

13th Rubens Barrichello
"I had a really good qualifying. I never in my life expected to be happy with 13th because we thought we were only just going to manage Q2. To overcome our problems and to be faster than guys like Sauber and Toro Rosso is pretty good."

14th Pastor Maldonado
"We had a KERS problem in FP3 and we put in a new one. But time was so tight that we were a bit late for Q1 so the car was not ready. KERS wasn't working 100 per cent during the lap and my lap wasn't so clean."

15th Sergio Perez
"I think 15th was pretty much the maximum. Maybe the Williams' were reachable today, but we just have to improve. Monza does not suit us, so this is what we expected."

16th Sebastien Buemi
"I was reasonably happy with my lap, but of course, it's a bit hard to take after our much better qualifying in Spa a fortnight ago. Getting into Q2 is not bad, given how little track time I got yesterday."

17th Kamui Kobayashi
"It wasn't a happy day. We really struggled in qualifying and this is our result. From free practice, our performance didn't change, but others, like Force India, improved a lot. It's difficult to understand what has happened.

18th Jaime Alguersuari
"The lap was quite good, to be honest, but Sebastien [Buemi] did a really good lap at the end. My lap was simply not quick enough to move up to the next session. The pace is not there."

19th Jarno Trulli
"We made some changes since yesterday, which took the car in the right direction in terms of aerodynamic balance and configuration. So we were more competitive. I had a little bit of understeer, but all in all it's okay. The gap to the next car in front is still a lot, so it shows that there is still work to do next year."

20th Heikki Kovalainen
"The balance is not exactly like I was hoping for. All weekend we have struggled with it. I need more response from the car, which is mostly down to the setup. It was also difficult to get the time out of the soft tyres."

21st Timo Glock
"We had a problem with the rear wing, first in free practice three, where the wing would not close again. It didn't close under braking, especially early in, and then popped back closed as I went down the gears. That made it very hard. It was disappointing, because I think we were quite close to Heikki and in a position to fight the Lotuses."

22nd Jerome D'Ambrosio
"It wasn't a bad qualifying and I'm generally very happy with it. It was difficult to try and get a tow as there was quite a lot of traffic and that made it even harder. But I felt very comfortable again in the car and in general I'm very satisfied.

23rd Daniel Ricciardo
"I'm pleased to be ahead of my team-mate, but it would have been nice to have been ahead of the Virgins as well. But we're not too far off them and here we can race. There have been times this year when our race pace has been competitive compared to them and here of all places, if you're close enough you can really race."

24th Vitantonio Liuzzi
"Everything went well until qualifying, when I couldn't get the right spot on track. Here, the slipstream is very important. Daniel was behind and in my slipstream and that's the reason why he was ahead of me. The race will be interesting and what is most important to me is that we are closer to Virgin."

THE GRID

Pos  Driver                Team
 1.  Sebastian Vettel      Red Bull-Renault
 2.  Lewis Hamilton        McLaren-Mercedes
 3.  Jenson Button         McLaren-Mercedes
 4.  Fernando Alonso       Ferrari
 5.  Mark Webber           Red Bull-Renault
 6.  Felipe Massa          Ferrari
 7.  Vitaly Petrov         Renault
 8.  Michael Schumacher    Mercedes
 9.  Nico Rosberg          Mercedes
10.  Bruno Senna           Renault
11.  Paul di Resta         Force India-Mercedes
12.  Adrian Sutil          Force India-Mercedes
13.  Rubens Barrichello    Williams-Cosworth
14.  Pastor Maldonado      Williams-Cosworth
15.  Sergio Perez          Sauber-Ferrari
16.  Sebastien Buemi       Toro Rosso-Ferrari
17.  Kamui Kobayashi       Sauber-Ferrari
18.  Jaime Alguersuari     Toro Rosso-Ferrari
19.  Jarno Trulli          Lotus-Renault
20.  Heikki Kovalainen     Lotus-Renault
21.  Timo Glock            Virgin-Cosworth
22.  Jerome D'Ambrosio     Virgin-Cosworth
23.  Daniel Ricciardo      HRT-Cosworth
24.  Tonio Liuzzi          HRT-Cosworth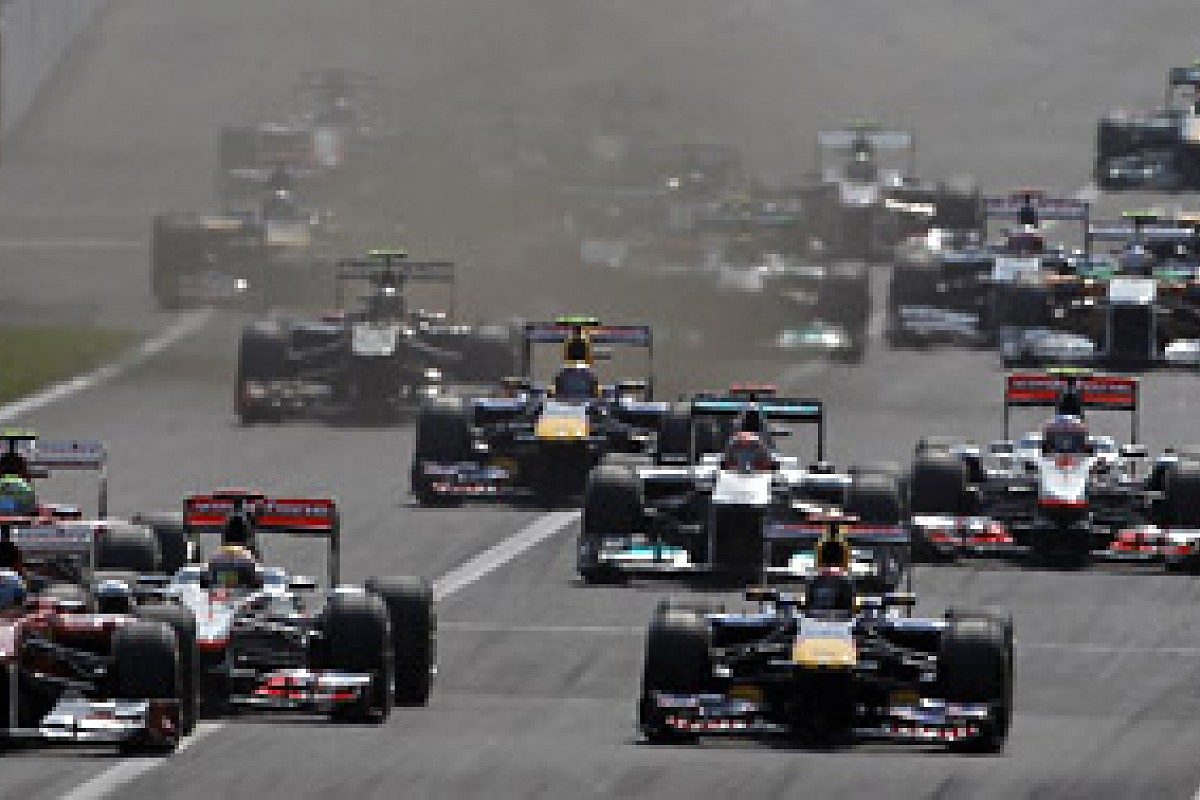 RACE
If the aim of creating two independent DRS zones at Monza was to turn the 2011 Italian Grand Prix into a breathtaking (but probably purist-enraging) slipstreaming festival of overtaking - like the celebrated 1960s and early 1970s races at the venue -then it was a failure.
There was no five-car pack fanning out across the line in a record breaking photo finish. Instead the man who has run away with so many of this season's grands prix did so again - and more emphatically than usual, if anything.
But we did get the crowd's hero squeezing through from fourth to the lead at the start, the man who started 24th contriving to take out the men who started seventh and ninth at the first turn, what both his fans and detractors would describe as some classic Michael Schumacher battling, and more wheel-to-wheel racing than the average pre-2011 grand prix - even if it wasn't as akin to oval racing as optimists might have hoped on hearing news of the DRS plan.
When polesitter Sebastian Vettel made a tardy getaway, it initially looked like outside front row starter Lewis Hamilton would be the man to benefit, with the McLaren edging ahead of the Red Bull as they approached the Rettifilio braking area.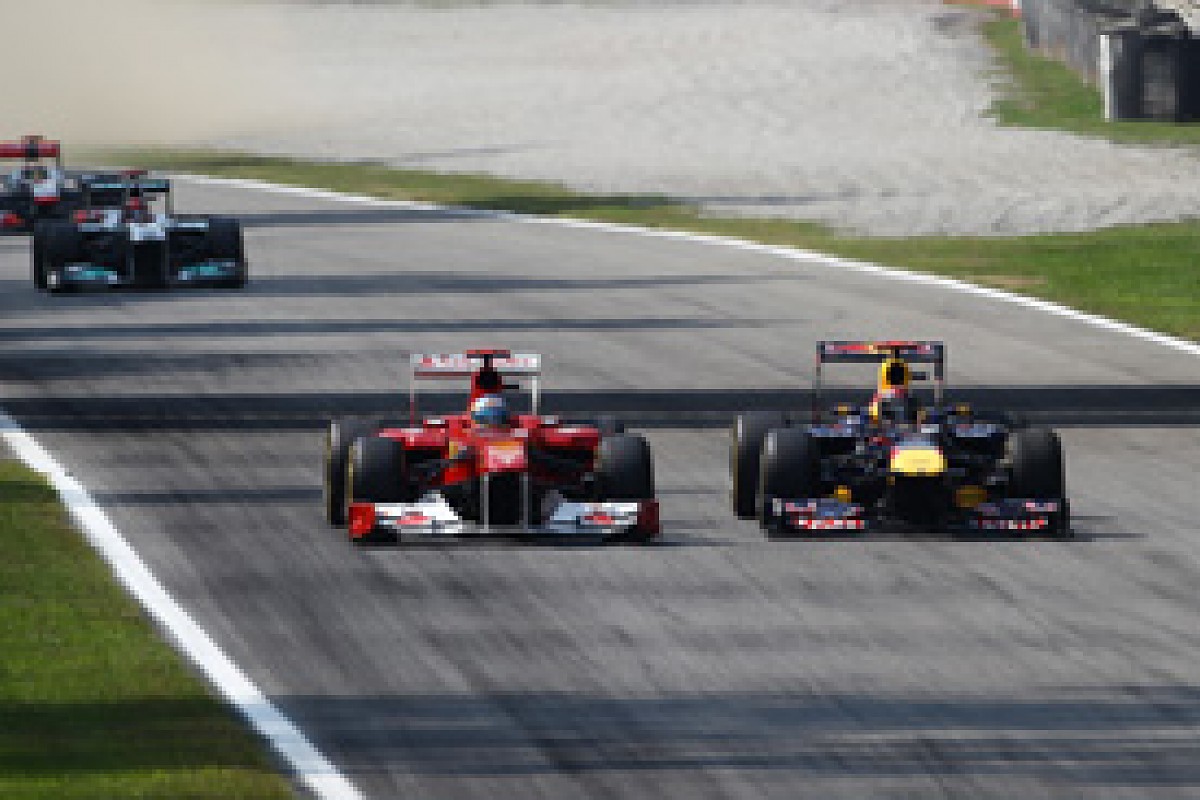 Alonso and Vettel battled for position early on in the race © sutton-images.com
But fourth-placed qualifier Fernando Alonso's getaway was the best of all, and undeterred by the narrowing gap, he resorted to using the grass verge to squeeze alongside Vettel and Hamilton, and assert himself into the lead under braking, while the McLaren ran out of space and had to tuck into third place.
Vettel instantly started tried to re-pass Alonso, but would have to hold off for three laps as the safety car was required to clean up one of the more unpredictable startline shunts of recent years.
Everyone knows Monza's first chicane can get overcrowded, but row four and five starters Vitaly Petrov and Nico Rosberg can't have expected to find themselves skittled out by last-man-on-the-grid Tonio Liuzzi.
The Italian had made a superb start but then took to the grass when the gap alongside Heikki Kovalainen proved smaller than an HRT. Liuzzi caught and then lost a series of wild fishtail slides before ended up skittering sideways down the grass at high speed on the way to using the Mercedes and Renault as a brake.
"Liuzzi flew like a torpedo over the grass and put me out of the race," said the peeved Rosberg, but Liuzzi reckoned he was the innocent party.
The safety car was brought out in the opening laps after Luizzi ploughed into the midfield © LAT
"I couldn't do much because Kovalainen pushed me completely on the grass and that's why it happened. I was just a passenger," he argued, just before finding out he had been given a five-place grid penalty for Singapore as a punishment.
Kovalainen took to his Twitter account to hit back: "He should look at the video and also read the report from the stewards."
As well as ending Rosberg, Petrov and Liuzzi's days, the shunt trapped Rubens Barrichello's Williams, which then suffered wing damage as he and Rosberg tried to disentangle themselves. Sebastien Buemi clipped Rosberg at the same time, Bruno Senna had to take a detour that put his Renault to the back, Adrian Sutil found himself crawling through the gravel, and Kamui Kobayashi was caught at the tail of the traffic jam and left with wing and tyre damage.
When racing resumed at the start of lap four, Vettel attacked Alonso with such urgency that it was obvious the Ferrari was never going to be able to hang on for long.
But the double champion wasn't going to make it easy for the man who is on the cusp of taking that accolade. So when Vettel got alongside the Ferrari on the exit of the first chicane on the second lap of racing, he found himself having to put two wheels on the Curva Grande grass before he completed a pass for the lead into the Roggia chicane.
"He didn't give me much room there," Vettel noted. "I don't know if he still believed I was on that side. I was halfway on the grass but it was just enough."
Alonso admitted he hadn't exactly been generous.
"We have nothing to lose in the battles with Sebastian," he shrugged. "He is leading the championship by 100 points I think, so when we have to defend we will be a little bit harder with him. Sorry..."
By the end of the lap, Vettel was already a couple of seconds clear in the lead. And that was the last time he would be involved in any of the race's excitement as he motored off to take win number eight of his mind-blowing season.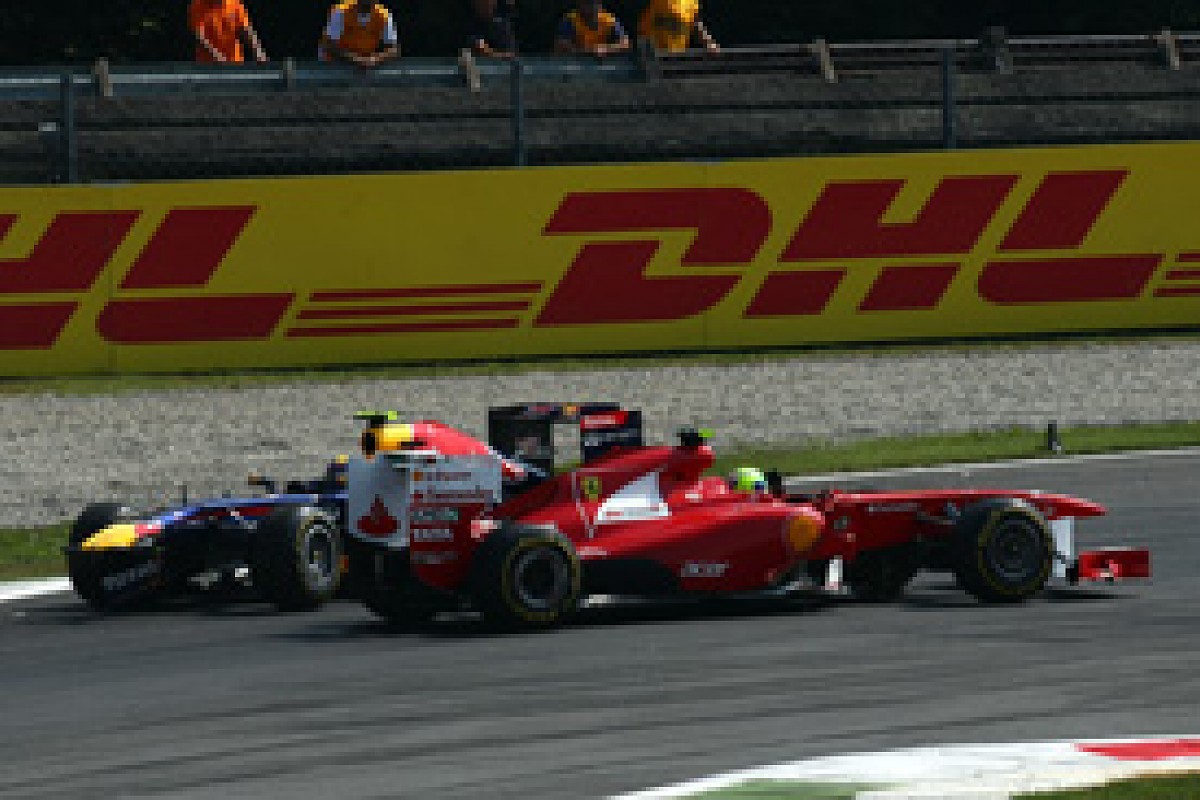 Massa and Webber made contact resulting in the RB7 losing its front wing © sutton-images.com
The other Red Bull wasn't contributing to the thrills after lap five either, but for a different reason. Mark Webber and Jenson Button had both lost ground at the start, and though the Red Bull got past the McLaren for sixth with no fuss at the safety car restart, when Webber came to try and take fifth from Felipe Massa a lap later, things were less tidy.
"Felipe started to come across and then I thought 'okay, maybe I need to get out of here...'" said Webber, who ended up punting the Ferrari into a spin halfway round the Rettifilio. The contact smashed the Red Bull's front wing, which also caught Webber out when he found himself going straight into the Parabolica barriers later in the lap: "I knew there was some damage of course but I didn't know that the front wing was jammed under the front of the car..."
Another restart move had seen Schumacher snatch third from Hamilton - the Mercedes having already blasted from eighth on the grid to fourth with a great start.
Hamilton was about to find out that a double DRS zone made little difference when a McLaren with average straightline speed was faced with a Mercedes with monstrous straightline speed, driven by a wily seven-time champion known for vigorously defending positions.
Despite trying move after move, Hamilton always found the door firmly shut - sometimes in a borderline legal manner, as Schumacher made the permitted 'one move' on the straights before sweeping back across to the racing line under braking.
Hamilton did manage to get past into the first corner on lap 13, only for Schumacher to accelerate back around out on the outside of Curva Grande. By that time Alonso was escaping and Button was right with the battle too.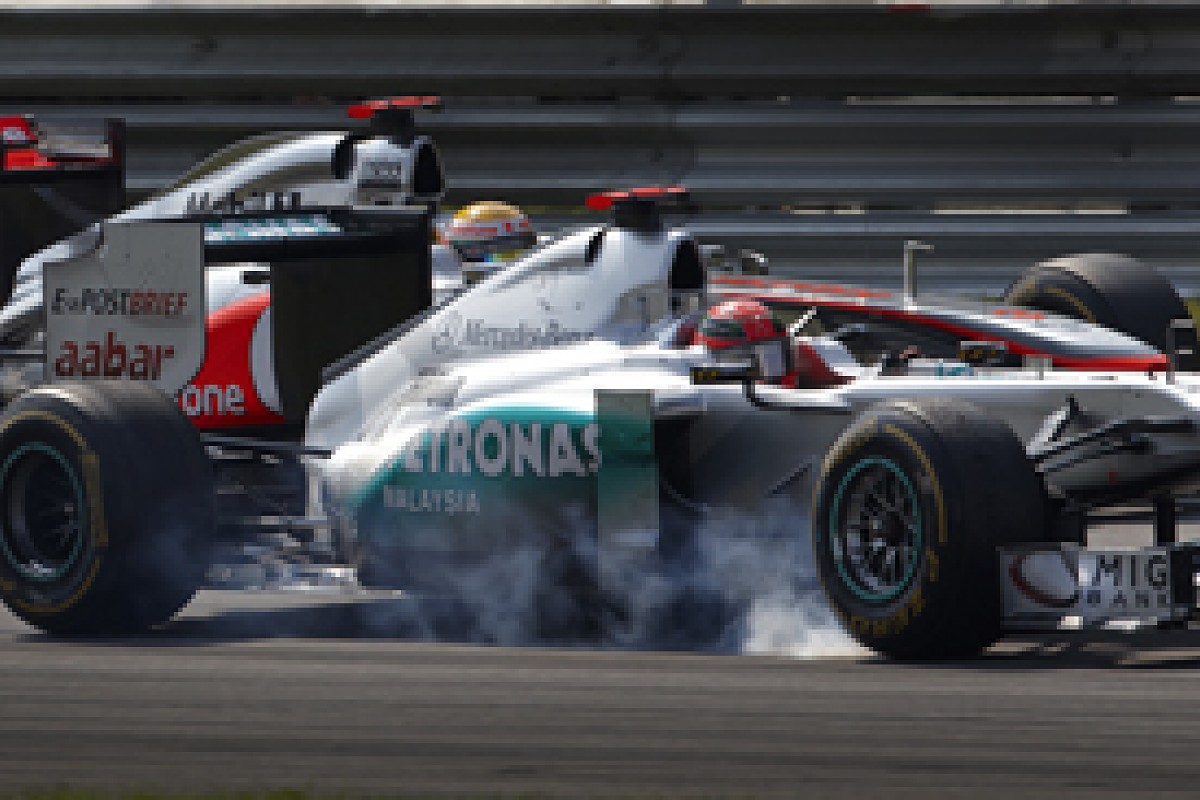 Schumacher and Hamilton continued to battle for position © LAT
"It was tricky to catch them but when I did all hell broke loose really," said Button. "There were cars everywhere. It was a lot of fun."
It was more fun for Button then anyone else. When Hamilton found himself harshly squeezed at Curva Grande on lap 16, Button hit his KERS button and surged past his team-mate into the Roggia. Half a lap later, he was storming down the outside of Schumacher under braking for the Ascari curves - an achievement that would elude Hamilton for a further 11 laps until Schumacher hit the rev limiter while distracted by a radio message.
As the battle had got ever more intense, Mercedes team boss Ross Brawn got on the radio - prompted by a nudge from race control - to remind Schumacher to leave sufficient room for his combatant. Hamilton's radio traffic had been somewhat frustrated, though afterwards he was reticent on the subject of whether Schumacher had been illegally blocking, just laughing "that's racing..."
Schumacher was confident he had been within the law: "I felt I did exactly what I was supposed to do. As far as I understand, there was no request for me to see the stewards, so I guess all was in order."
Once free of the Mercedes, both McLarens gained on second-placed Alonso. Button made it past on lap 36 - using another well-timed punch of the KERS button into Curva Grande after the Ferrari squirmed on the Rettifilio exit kerbs. Hamilton did not manage to get onto Alonso's tail until the final lap, which was too late to achieve anything, though the Spaniard openly admitted that he probably wouldn't have been able to resist the McLaren if the race had gone on longer.
Massa was able to quickly recover from the Webber clash to take sixth behind Schumacher, running long before both his tyre changes, but not really gaining anything from this slight tactical quirk.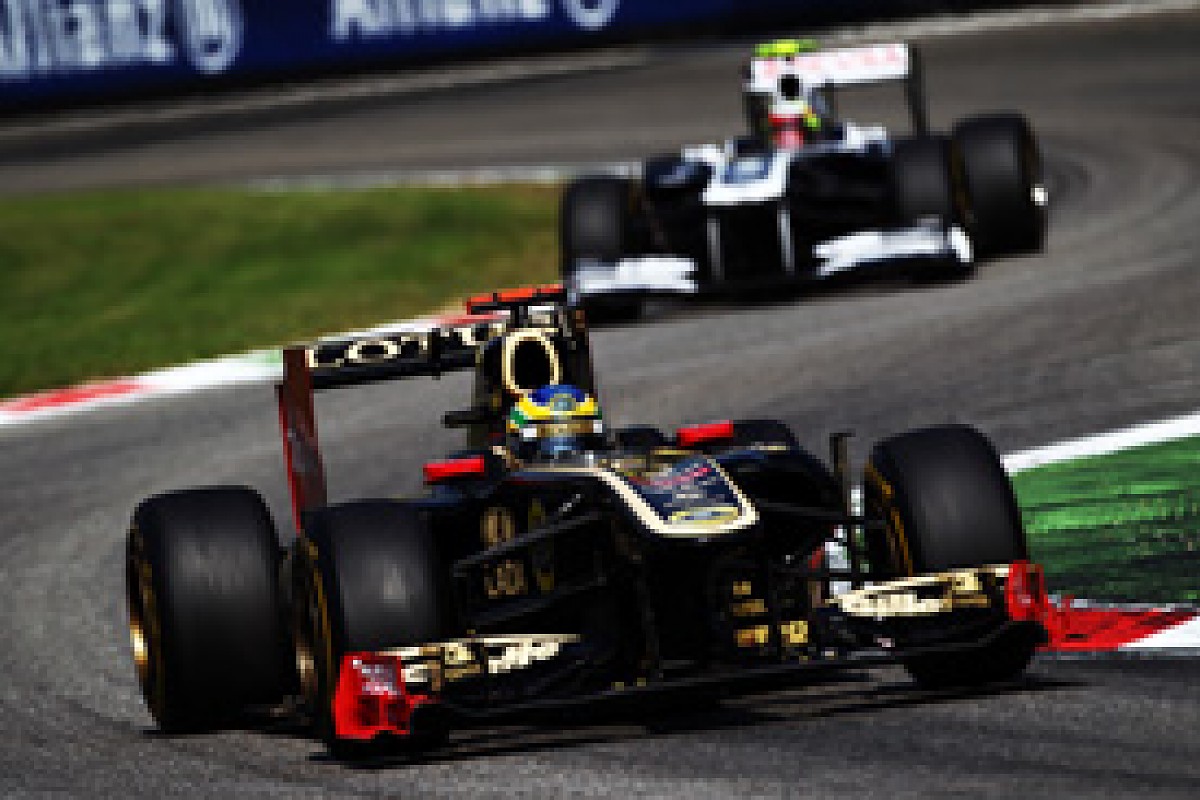 Senna drove a strong race and finished in the points © sutton-images.com
Seventh went to Jaime Alguersuari after another excellent race performance that saw the Toro Rosso driver turn a Q1 elimination into a Sunday points finish with apparent ease. That place should have gone to Sergio Perez, as Sauber looked set to pull off a one-stop strategy successfully again. But a gearbox failure halted him, as it would Kobayashi before his fightback from the lap one mess could really get going.
Sutil suffered the same fate thanks to a hydraulic issue, but his team-mate Paul di Resta drove well to beat the recovering Senna to eighth, as Renault's Brazilian scored his first points in F1 - and the first for his family since Australia in 1993.
Buemi salvaged 10th despite some damage to his Toro Rosso, while Pastor Maldonado found himself in sixth for a while after a great start, but only 11th at the finish as his Williams lacked the pace to achieve any more. A similar shortage of speed meant 12th was the best his team-mate Barrichello could manage after his opening lap delay.
The high attrition was a bonus for Lotus, which got Heikki Kovalainen and Jarno Trulli to the flag in useful 13th and 14th places. Timo Glock wasn't far off Lotus pace on the way to 15th, but with HRT already having a 13th from Liuzzi in Canada and Jerome D'Ambrosio delivering two 14ths earlier in the year, it didn't help the team's constructors' championship countback tally.
At the top of both championships, everything now seems settled.
A 112 point lead for Vettel means he can put his second title beyond doubt in Singapore, while Red Bull is 126 points clear in the constructors'. When it comes to championship interest, the focus will now have to be on the 14 points that cover Alonso, Button, Webber and Hamilton in the race to be second. But with Vettel proving that he and Red Bull can now blitz the field even on tracks that were supposed to be their Achilles Heel, that fight for the runner-up spot will unfold - like the excitement at Monza and pretty much everywhere else this year - somewhere in an unstoppable German's wake.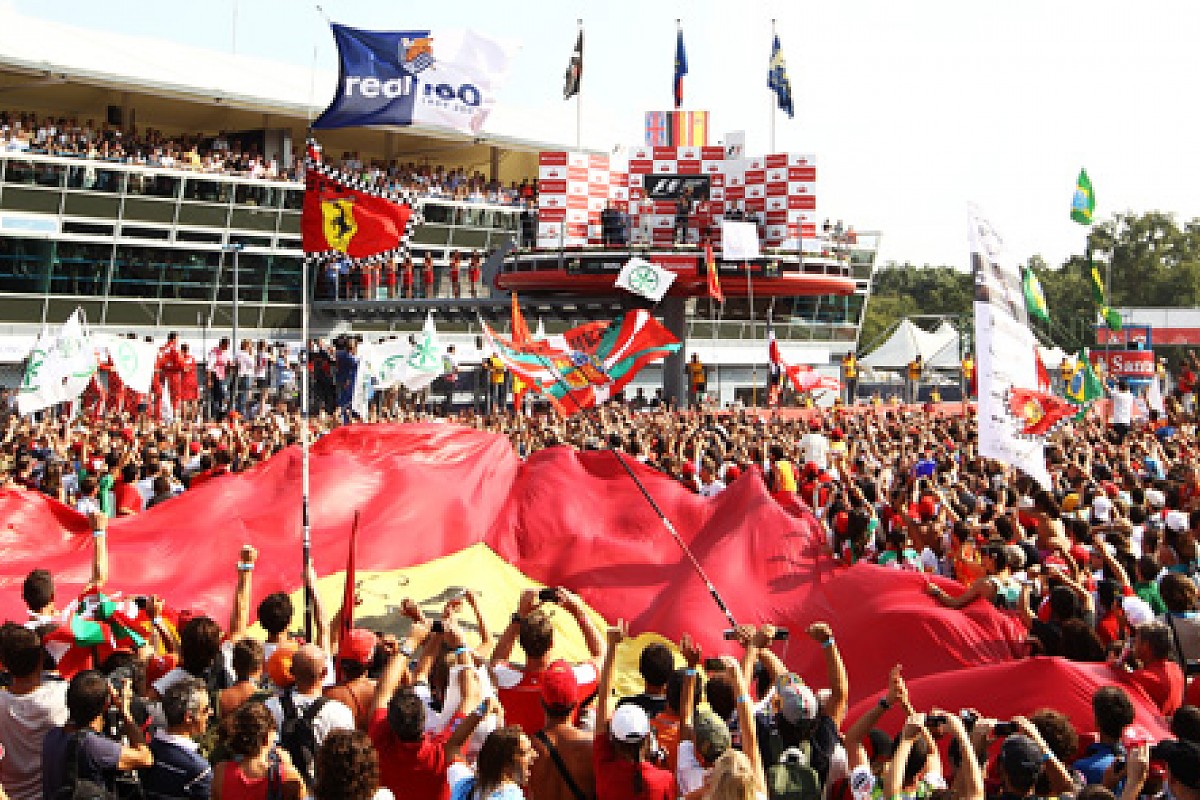 RACE RESULTS

The Italian Grand Prix
Autodromo di Monza, Italy;
53 laps; 306.720km;
Weather: Sunny.

Classified:

Pos  Driver        Team                       Time
 1.  Vettel        Red Bull-Renault           1h20:46.172
 2.  Button        McLaren-Mercedes           +     9.590
 3.  Alonso        Ferrari                    +    16.909
 4.  Hamilton      McLaren-Mercedes           +    17.471
 5.  Schumacher    Mercedes                   +    32.677
 6.  Massa         Ferrari                    +    42.993
 7.  Alguersuari   Toro Rosso-Ferrari         +     1 lap
 8.  Di Resta      Force India-Mercedes       +     1 lap
 9.  Senna         Renault                    +     1 lap
10.  Buemi         Toro Rosso-Ferrari         +     1 lap
11.  Maldonado     Williams-Cosworth          +     1 lap
12.  Barrichello   Williams-Cosworth          +     1 lap
13.  Kovalainen    Lotus-Renault              +     1 lap
14.  Trulli        Lotus-Renault              +    2 laps
15.  Glock         Virgin-Cosworth            +    2 laps

Fastest lap: Hamilton, 1:26.187

Not classified/retirements:

Driver        Team                         On lap
Ricciardo     HRT-Cosworth                 40
Perez         Sauber-Ferrari               34
Kobayashi     Sauber-Ferrari               23
Sutil         Force India-Mercedes         11
Webber        Red Bull-Renault             6
D'Ambrosio    Virgin-Cosworth              3
Petrov        Renault                      1
Rosberg       Mercedes                     1
Liuzzi        HRT-Cosworth                 1


World Championship standings, round 13:                

Drivers:                    Constructors:             
 1.  Vettel       284        1.  Red Bull-Renault          451
 2.  Alonso       172        2.  McLaren-Mercedes          325
 3.  Webber       167        3.  Ferrari                   254
 4.  Button       167        4.  Mercedes                  108
 5.  Hamilton     158        5.  Renault                    70
 6.  Massa         82        6.  Force India-Mercedes       36
 7.  Rosberg       56        7.  Sauber-Ferrari             35
 8.  Schumacher    52        8.  Toro Rosso-Ferrari         29
 9.  Petrov        34        9.  Williams-Cosworth           5
10.  Heidfeld      34       
11.  Kobayashi     27       
12.  Sutil         24       
13.  Alguersuari   16       
14.  Buemi         13       
15.  Di Resta      12       
16.  Perez          8       
17.  Barrichello    4       
18.  Senna          2       
19.  Maldonado      1       

Lap-by-lap as it happened on AUTOSPORT Live
TEAM-BY-TEAM
Red Bull
Fastest times for Vettel in two of the three practice sessions hinted that Red Bull had Monza sussed, and a crushing pole proved it beyond doubt. He then delivered a runaway win in the race after a muscular re-pass on fast-starting early leader Alonso.
Webber's weekend was far more messy, with various glitches in practice and qualifying, which ended with him only fifth on the grid. He lost a little ground at the start and then crashed out early when his Red Bull's wing folded underneath the car after it had been dislodged in a collision with Massa.
McLaren
Hopes were high when Hamilton dominated first practice, but Vettel had the edge from then on.
Hamilton and Button started second and third, and had combative races to fourth and second. Button made a slow start before picking his way through the field with some great moves. Hamilton found himself fourth behind the opportunistic Schumacher after the safety car restart and then spent half the race trying to get back around the defensive Mercedes - getting overtaken by Button along the way.
Once free of Schumacher, Hamilton chased down Alonso but ran out of time to pass the Ferrari for third.
Ferrari
It was obvious in practice that Ferrari wasn't in stunning shape this weekend, so fourth on the grid for Alonso and sixth for Massa was a good effort. As was Alonso's amazing start, which took him into the lead - but not for long before Vettel came past.
Button would also overtake Alonso eventually, but with Hamilton arriving on his tail too late to challenge, the Spaniard was able to give Ferrari a home podium in third.
Massa ran fifth until he was punted into a spin by Webber. He quickly recovered from 10th to sixth but could not catch the group ahead.
Mercedes
Stunning straightline speed and sector one pace only translated into eighth and ninth on the grid for Schumacher and Rosberg, the latter choosing to run on medium tyres in Q3 in the hope of trying an alternative race strategy. He never had a chance to see how it might have unfolded though, as Liuzzi landed on him at the first corner and ended his race.
Schumacher was in the thick of things, though. He flew to fourth at the start then grabbed third from Hamilton at the restart, before defending hard against the McLaren's many attacks. Button got past Schumacher before Hamilton did, but eventually the Mercedes was back to fifth, where it would finish for the second straight race.
Renault
Signs of progress as Petrov and Senna qualified seventh and 10th. They came off badly from the first corner chaos, with Petrov taken out by Liuzzi's HRT-shaped missile, and Senna dropping to the tail of the field in avoidance. He then pitted to get rid of his medium tyres and spent the rest of the afternoon on softs - which helped him charge to ninth and his first F1 points.
Williams
Barrichello was so downcast about his car's pace on Friday that 13th and 14th on the grid for himself and Maldonado felt like a reason to be cheerful. Maldonado's result came despite KERS issues and a crash in qualifying.
They had divergent fortunes amid the start crash, with Maldonado vaulting to sixth and Barrichello ending up last and with a damaged car. But by the end they were back in much the same place, as Maldonado was edged back to 11th by faster rivals and Barrichello could only reach 12th.
Force India
Di Resta and Sutil just missed out on Q3 and started from row six. The Scot then drove a battling race to eighth, with a strategy of relatively early pitstops really paying dividends for him. Sutil had to go through the gravel to dodge the start crash and suffered a hydraulic failure later on.
Sauber
After a promising Friday, seeing Perez and Kobayashi struggle to 15th and 17th on the grid was a disappointment for Sauber.
Race day was gloomy too. Kobayashi was delayed in the start shunt then had a gearbox failure, while the same problem halted Perez when he had seventh place in his grasp on a bold one-stop strategy.
Toro Rosso
Buemi crashed on Friday then qualified only 16th, with Alguersuari reverting to his old habit of dropping out in Q1 and starting 18th.
But he also maintained his habit of turning Q1 knockouts into brilliant points finishes as he charged through to seventh in the race. Buemi took 10th, despite his car taking a damaging knock in the lap one chaos.
Lotus
Trulli re-signed for 2012 and revelled in the revised power steering to comfortably beat Kovalainen to 19th on the grid. They both profited from the first corner collision to emerge in 12th and 13th, Kovalainen ahead. He hung on to turn that into a 13th-place finish, while Trulli had to pit for repairs after being caught up in the aftermath of Massa's tangle with Webber, but still recovered to 14th.
Hispania
Ricciardo outqualified Liuzzi for the first time, but despite some promising pace on Friday, they found themselves on the back row once again.
The start was a disaster for both, with Ricciardo's anti-stall coming on and leading to various other problems that left him four laps adrift in 16th at the end, and Liuzzi losing control on the grass after a fast launch and triggering a first corner crash that delayed most of the midfield and earned him a grid penalty for Singapore.
Virgin
Glock was troubled by his rear wing flap misbehaving in qualifying. As usual, he lined up behind the Lotus duo in 21st, ahead of team-mate D'Ambrosio.
The Belgian's race was over pretty much immediately thanks to a gearbox problem, but Glock made the flag in 15th having lapped within range of the Lotus drivers.
RACE DATA