It's a cliche, but there's no other way to describe it: Monza oozes history. Saturday will be the 89th anniversary of its first Italian Grand Prix, won by Fiat driver Pietro Bordino. Little wonder that as you wend your way through the roads of Monza's Royal Park to the paddock, every concrete tunnel and each ageing tree stands as a shrine to nine decades of racing at arguably Europe's most atmospheric circuit.
The ever-enthusiastic home fans heard the call of the past, with greater numbers turning up on Thursday than appear to for the average Turkish Grand Prix race day. With no on-track action to watch, they too honoured the ghosts of Monza. And one in particular.
During this afternoon's pitlane walkabout, they thronged in their thousands to catch a glimpse of a silvery figure of a bygone age. They waited, hoping for this apparition to appear and they were not to be disappointed. The barriers that separated the garages from the teeming mass of humanity that had flooded the pitlane flexed under pressure - worryingly so, and the few stewards on duty had to use all of their strength to prevent a full breach.
And as the tifosi cheered, there he was. Five times Italian Grand Prix winner Michael Schumacher was hailed as if still bedecked in the holiest of Ferrari red, a relic of the glory days. It remains to be seen whether the fans will give him a similar warm response if he continues his recent run of showing strong race pace and flirts with getting in among the Ferraris come race day.
Certainly, a Mercedes running at the front is not in the script for the home fans and even though the MGP W02 is at its best on this type of track, Monza is likely to be all about Red Bull, Ferrari and McLaren at the front.
Despite nobody outside Red Bull realistically thinking that they have a hope of mounting a title push now (although, inevitably, some are wary of admitting so emphatically in public), winning the Italian Grand Prix still genuinely matters. In fact, it's as if the 2012 phony war has already got underway, five months before pre-season testing, with the paddock awash with talk of focusing on next year, exciting new cars and unrealistic hopes that are yet to be dashed.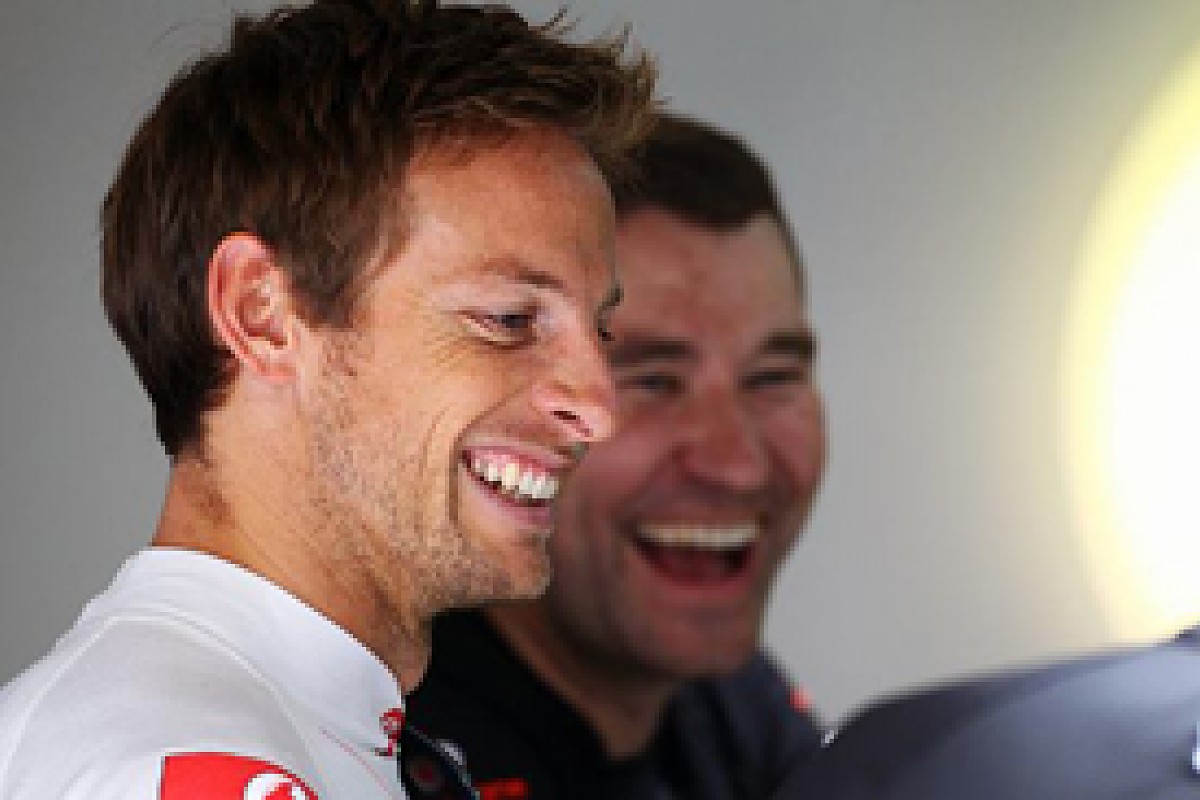 Jenson Button is pondering McLaren's 2012 hopes © sutton-images.com
Jenson Button summed up just why the next seven races will still matter despite Sebastian Vettel having as good as sewn up the silverware. "Whatever we do this year will help us next year," he said, the only position he can take since Red Bull slammed the window of opportunity on McLaren or anyone else making a race of it to the end of the year.
So where does this weekend's Italian Grand Prix fit into this narrative of a championship fight that is already a foregone conclusion? First and foremost, it's a chance to win a race, and for Red Bull, it's a chance to do so at a track where its rivals would quite reasonably expect to have the edge. Mark Webber warned that "Spa has given us a little bit of confidence". Confidence is not something that what now has to be recognised as currently the best team in F1 needed a great deal more of, and it's clear that despite Red Bull's relative weakness when it comes to top speed, at least a maiden Italian GP podium finish will be on the cards.
Despite this, both McLaren and Ferrari will fancy their chances. There's no question who the home favourite is. With Felipe Massa not having looked like a potential grand prix winner since Hockenheim last year, Alonso, perhaps destined to be Schumacher's heir as a multiple world champion for Ferrari, is the man in the centre of the spotlight.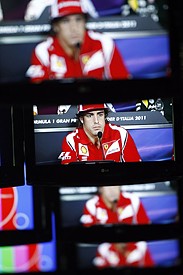 Fernando Alonso will carry the crowd's hopes © sutton-images.com
But as Alonso himself said, "it is impossible to be confident or be sure in Formula 1." Granted, he was talking about Ferrari's expectations to be fighting for the title in 2012 (another example of the narrative of this season increasingly turning towards next year), but his point stands. With two independent DRS zones, whoever wins the race is unlikely to find it a straightforward affair.
And when discussing straightforward races, it's difficult to stop Lewis Hamilton coming to mind. He's had his fair share of grands prix that are best described as 'not straightforward' so far this year, the most recent of those two weeks ago at Spa when he moved across on Kamui Kobayashi's Sauber and turned himself nose-first into the barrier. He's relaxed enough about his situation, even though inevitably there is an air of the defensive about him, and after crashing out on the last lap at Monza in 2009 and on the first lap last year, perhaps the law of averages say that he is now due a result.
"I don't read them," said Hamilton about his recent bad press. "But I hear there are pretty bad stories that are written about me. So I am thinking it will be good to give you guys something good to write about me. I guess I am an easy target at the moment because I am always in trouble."
No question, the media would be delighted to write some positive column inches about a driver who has the capacity to thrill and infuriate in equal measure. Perhaps of all of the potential victors, Hamilton is the one most in need of it?