Another month, another Formula 1 calendar for the incoming season. On June 3 the FIA World Motor Sport Council issued a press release with the 2012 calendar being top of the agenda.
A list of 21 dates appeared beneath the phrase: "The 2012 FIA Formula 1 World Championship calendar is confirmed as follows," yet no sooner had this column pointed out that the 2010-2012 Concorde Agreement (the sport's tripartite covenant signed by its governing body, Commercial Rights Holder and all 12 teams) allowed for just 20 races in any one season during its duration, than FIA president Jean Todt told the media that there would be just 20 races.
"We don't know which one will go, but the championship will be 20 races," he said.

Then, at the end of July, during the Hungarian Grand Prix weekend, a 20-race 'discussion' calendar was circulated among the teams, a schedule that omitted the Turkish round. While it was a vast improvement over what went before, it packed the event into a spree of seven flyways on four continents over just 10 weeks at the season's end. Even worse (to many), was that it included the contentious Bahrain event in November in order to grant the Middle Eastern Kingdom maximum time to solve its political issues.
Team bosses flagged their concerns over the flyaways and Bahrain, and during the course of the weekend it became evident that yet another calendar would be issued.
However, cynics in the paddock suggested that a hidden agenda lay behind such open distribution of what is normally a closely-guarded secret: That the CRH, whose responsibility it is to present a structured calendar to the WMSC for ratification, had one or two problem areas, namely Turkey and Spain.
Turkey has a wonderful circuit, but attracts zero interest on account of many factors, not least that the CRH has apparently not yet taken on board the fact that building circuits and granting dates does not guarantee crowds if little motorsport interest exists in a territory. These things need to be nurtured at grass-roots level, not forced down gullets at huge expense to tax payers.
Thus Turkey, which long ago did a deal with the CRH whereby it would be paid to promote the race, jibbed at the eye-watering overall costs (believed to be £10m in race-hosting fees plus the same again in promotional subsidies), and failed to put pen to paper, with the net effect being that the country has a state-of-the-art circuit (certainly the best of the 'Tilkedromes'), yet no international fixtures after MotoGP and WTCC had deserted the place. F1 was its only hope of salvation.
Turkey was left off the latest 2012 F1 calendar © suttons
Spain, meanwhile, has myriad problems, including a faltering economy coupled with two races situated just 200 miles and six weeks apart. As outlined here, the Iberians have no problem in hosting five MotoGP rounds in a single season, but that is understandable: for the price of two F1 tickets, a fan could attend the full quintet of top-class motorcycle rounds; for the price of one F1 Paddock Club pass, a well-heeled Spaniard is able to secure access to the MotoGP VIP Village at all five races.
The Catalunya circuit is in desperate need of a substantial spruce-up - particularly to the pit and paddock complex - while Valencia's has simply failed to approach the aspirations local politicians had for the event, namely that it could ultimately match Monaco for Mediterranean pizazz.
Thus the Circuit de Catalunya and the Valencia Urban Circuit are said to be anxious to cut timeshare deals of the (myopic) type agreed by Germany's Nurburgring and Hockenheim venues, whereby they host their country's GP in alternate years, the logic being that their individual losses will be halved.
So went the logic. The CRH, i.e. Bernie Ecclestone, has included the two Spanish rounds but omitted Turkey, causing much sweating in three places. Turkey would come begging (sources in Istanbul say that the sports ministry already has), while both Spanish venues would squiggle every which way - a situation the bargain-driving CRH loves - for three races into two dates simply won't go, and you don't reach multi-billionaire status without an understanding of numbers.
Allegedly much haggling has gone on behind the scenes, with the Turks being adamant that they wish to have their flag flying above an F1 podium, while the Catalans and Valenciens have kicked numbers every which way without success, for ultimately it comes down to Ecclestone agreeing to their plans. He holds firm contracts (incorporating stringent penalty clauses) with the Iberians, while the Turks - politically desperate as they are for a race - have no valid document with Ecclestone's signature. 'Rock' and 'hard place' spring to mind in triplicate...
Then, lest August felt lonely without a calendar of its own to brag about, on the last day of the month came yet another 'confirmed' calendar from the FIA, again with 20 dates and including the two Spanish rounds (and still only six weeks apart), yet no Istanbul visit in sight. Talk about superb timing: On the very day Bahraini activists announced that a young boy had been shot during a protest march by the country's forces, the FIA calendar revealed that the desert island's 2012 race would be moved to April; even earlier in the season than this year's planned event.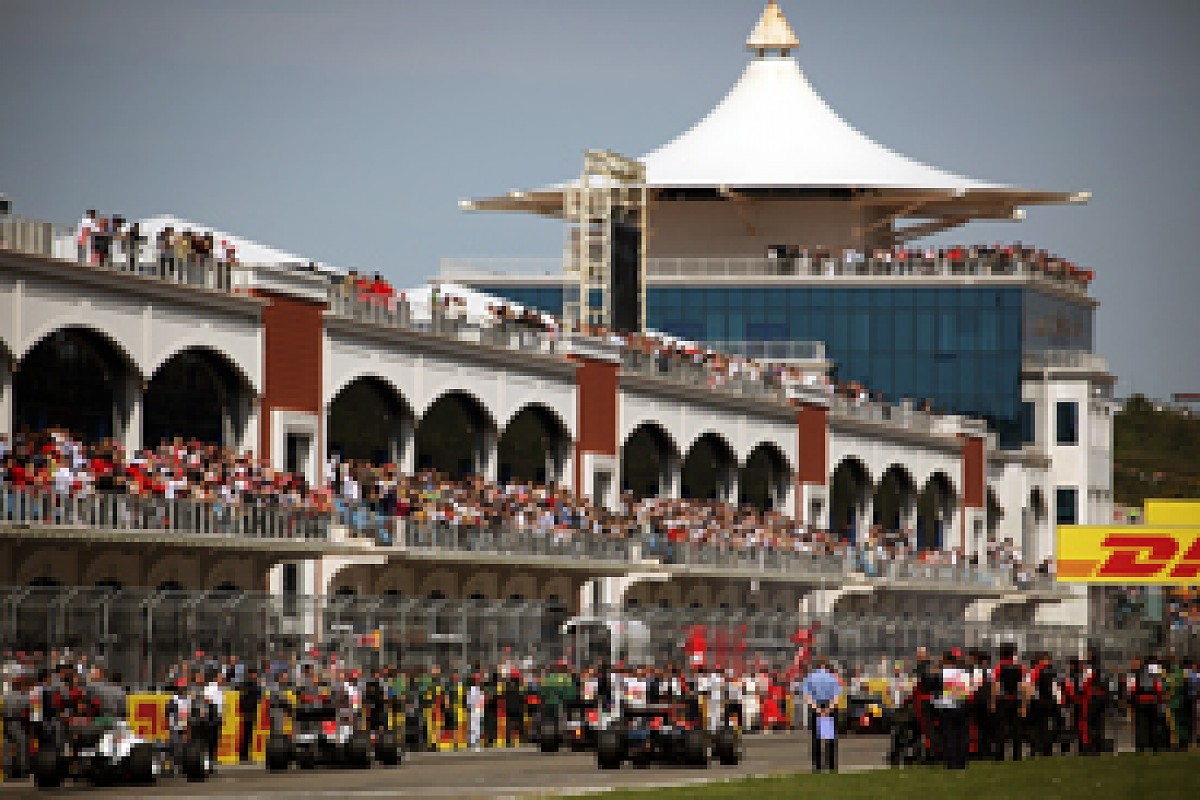 Valencia wants to alternate Spanish GPs with Barcelona © suttons
Although the calendar features seven flyaways at the season's end, their grouping is much more logical and cost-effective - an important consideration for folk without access to well-padded travel budgets or private jets, which is increasingly becoming the case in F1.
Does that, though, mean that two visits to Spain's Mediterranean coast are on the cards, with no crossing of the Bosporus by F1 personnel next season? Not necessarily, for already the FIA has indicated that the word 'confirmed' can be applied elastically, as further suggested by the very next item on the August 31 FIA World Motor Sport Council Press Release under the header 'FIA GT1 World Championship.'
What followed read: "Following the cancellation of the Curitiba (BR) event counting towards the 2011 FIA GT1 World Championship and initially scheduled for 23 October 2011, a replacement event in China has been approved: 10/09/2011 - Beijing Goldenport Motor Park."
Thus, if an FIA World Championship event in a current season can be cancelled and replaced by a substitute six weeks earlier and on a different continent, consider how just as easily the powers-that-be could slot a Turkish race into one of the two Iberian dates. And there is a clue; This year the Turkish round was the first event after the initial run of flyways. Next year Barcelona occupies that slot.
Therefore, should an agreement be struck, it would be the matter of a moment to slot Turkey into the Barcelona date - enabling the circuit to go about its renovations - with Valencia hosting its race as scheduled in June. However, should Valencia agree to sit out in 2012, then Turkey goes into May and Barcelona into the June date. Happiness all round - although, as one insider advised, be sure to book cancellable hotel rooms in Barcelona in May.
Equally intriguing is the situation with the Belgian Grand Prix. It has long been known that the race in the Ardennes is one of the worst attended - certainly of the 'classics' - and this year was no exception.
While the circuit - the longest on the calendar by over a kilometre, with the potential to accommodate many more than the likes of Monaco - has a capacity of around 120,000 punters (of which about a third can be seated, either under cover or on open stands), this year it pulled under 45,000.
Stands at Spa were generally half-full © suttons
In fact, so smoothly did the traffic flow afterwards that many locals wondered whether the race had attracted even half that, with the promoters being reluctant to issue crowd figures, saying they were waiting for outstation agents to return unsold tickets, while on-the-day gate sales could only be totalled after the event.
Pretty lame excuses, those, given that online barcode readers are used to check in ticket holders, and that gate sales would be minimal due to the requirement that car passes are shown before folk are allowed anywhere near the circuit. How many casual fans - for diehards would have no doubt sourced their tickets well in advance - would park in some deserted field miles from circuit, then trek over (slippery) hills and through (wet) dales to the gate in the hope of securing a reasonable view?
That Spa is losing money hand over fist is clear, a situation compounded by exorbitant ticket prices and already terrible access that's made worse by the ineptitude and arrogance of local gendarmerie, who seem to make up traffic-flow plans as the day goes on. A three-day pass at the bottom of Eau Rouge, one directly facing the cars and thus with a limited view of the action, cost £400, and in this day and age there are not many that can afford that sort of money. Yet, with a hosting fee of £20m per edition, the promoters are forced into such a position.
In fact, so cash-strapped is the event that the budget did not extend to non-slip paint (at Spa, of all places!), with sources advising that drivers were variously warned to steer well clear of the circuit's white lines. Certainly, during the course of the weekend various drivers proved precisely how slippery the going was when wheels strayed onto the paint.
Thus the grand prix recorded an estimated loss of £5m, a sum the local Walloon administration will carry, with taxpayers being the ultimate bearers. Cue a total sense of humour failure in Belgium when coincidentally it was revealed by the British media on Monday that the wedding of Petra Ecclestone, who was driven to the ceremony at Odescalchi Casle in Italy in a vintage Rolls-Royce by former F1 driver Jean Alesi, had cost Papa roughly the same amount as the race had lost the day after the nuptials were sealed...
Yes, it can be argued that the wedding was paid for by family money whereas the hosting fees are charged by the commercial rights-holding entity (CVC Partners, which via a circuitous route acquired them from Ecclestone's family trust), but the fact remains that to the world at large Ecclestone is F1, and perceptions are reality until comprehensively disproven, particularly where taxes are involved.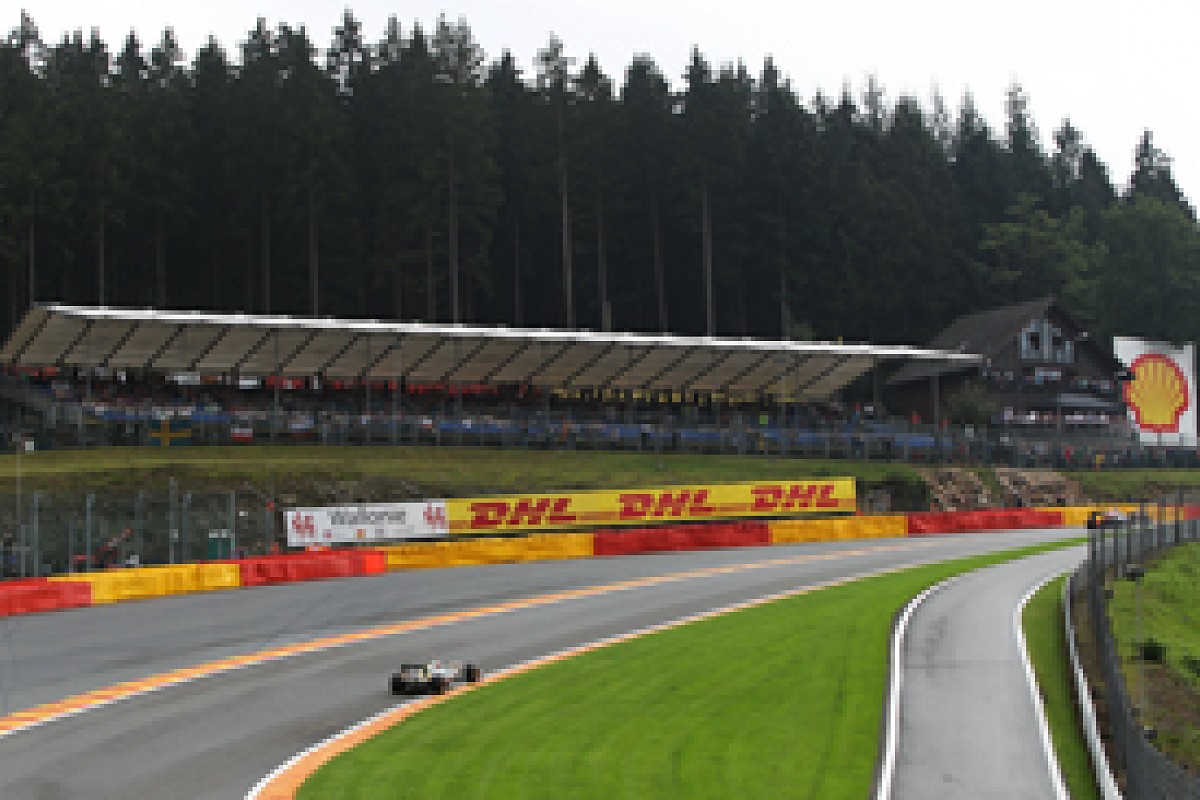 Ecclestone's high race-hosting fees have put venues under pressure © suttons
Belgium is a highly complex country, being effectively a collection of around 10million people made up of two main cultures and three language groups packed into an area of just 31,000 square kilometres for a density of 350 per square km (UK is 250), with its two main regions acting virtually autonomously. As a result, the grand prix is carried by the (French-speaking) Walloon region, with no support forthcoming from the federal 'government' (which in February relieved Iraq of the record for going the longest without a peace-time government).
However, the Walloon administration recognises the tourism value of the event and is prepared to subsidise its running, but not at any cost. In fact, sources suggest politicians are happy to carry it to the tune of a maximum of 2million euros per year, but any more and it would need federal support.
Hence why a timeshare deal had been sought - initially with the Nurburgring, but that was scuppered when a deal was cut with Hockenheim - and so the next best neighbour is France, which has been without a grand prix since 2008 - this despite it hosting the world's first four-wheeled grand prix and that it houses the FIA and its French president in Paris.
A letter of intent was due to be signed last Sunday at 12:00pm, with France's Le Mans-born prime minister and amateur racer Francois Fillon and Etienne, Viscount Davignon, a Belgian politician, businessman, and former vice-president of the European Commission, doing the honours for their respective countries, and Ecclestone in attendance.
The deal was for Belgium to host its final race as per the existing contract in 2012 and then enter into a new 10-year deal for races in 2014 and every following even year to 2022, with the French picking up five editions during odd years, starting 2013.
By 12:05pm it became evident all was not well. Fillon failed to arrive after being called to an emergency economics meeting by president Sarkozy, instead sending a deputy. In any case, the French do not have a grand prix date, so cannot enter into an agreement until that is cleared, particularly as the country faces national elections next year amid major Euro Zone worries. According to Davignon, an astute businessman who has headed up multi-national companies in his time, no deal can be cut unless Ecclestone substantially reduces his hosting fees - as he has been forced to at other venues.
The Belgians are hopeful of a new government being formed, one with a Walloon at the helm. In that case the new federal government could be persuaded to support the race - much as president Francois Mitterrand for years provided support for the French Grand Prix at Magny-Cours, situated in his Nievre constituency - so why bother to do a deal with the French when all may become clear sooner rather than later?
The fate of the Belgian GP, it would seem, lies as much in the hands of the French electorate as it depends on Ecclestone's hosting fees.