The tyre controversy that blew up in Spa on Sunday morning developed so quickly that many people in the paddock didn't know that anything was going on, and even team insiders who were aware weren't fully on top of what was really happening as the goalposts moved quickly.
In the end there the FIA took no action to assist Red Bull Racing or any other team with tyre worries. And then despite any pre-race concerns, RBR went on to score a crushing one-two victory.

So was the Spa tyre saga a storm in a tea cup that will quickly be forgotten?
Don't bet on it.
There's little doubt that the consequences will linger, because what happened at Spa has clearly damaged the relationship between Red Bull and Pirelli, and has done the team few favours with the FIA.
It will also very likely lead to changes to the way Pirelli allows the teams to operate from Monza onwards. And while all teams will have to run to the same rules, Red Bull could well suffer more than its rivals. This story is far from over.
Why are cambers significant?
First it's necessary to explain what it is all about. For each circuit Pirelli gives the teams guidelines for various parameters in terms of how they should treat the tyres, and one is a maximum recommended figure for camber - in simple terms the angle that the front wheels lean towards the car, when viewed from the front. That particular number varies by circuit - in Hungary for example it was 4.5 degrees, and for Spa, it was 4.0 degrees.
The key thing is that while that number is a recommendation, and is not enforced by any rule, it is there for a reason - after doing its sums and simulations, Pirelli decrees that that is the maximum level it wants teams to use to safely operate the tyres at that particular track.
Of course over the years teams have ignored advice from tyre companies, often on pressures for example, because they think they know better - and because it makes their car more competitive.
And those margins become very fine at tracks like Spa, because the combination of extreme cambers and high speeds can generate blistering.
"Our limits vary by circuit, from low 3s to 4.5 degrees," says Pirelli's Paul Hembery. "It's affected by straight line speed, and the type of corners.
Basically you're putting a lot of energy at the end of the straight into two peaks of the tyre, as the tyre isn't flat on the ground. In the corner the idea is it goes flat and your footprint increases. But in a straight line it's almost like running on peaks."
Camber is an especially big issue at Spa because of the nature of the undulating and twisty Sector 2. If you run extreme levels of camber, you can significantly improve your performance through it, and perhaps make up for lack of pace on the high speed runs that comprise Sectors 1 and 3.
Pushing the limits
Naturally every team tries to push the limits each GP weekend, and in normal circumstances they soon find out if they have gone too far and compromised tyres. They then adjust the set-up to suit.
Spa wasn't normal in that it rained in every practice session, and there were only very small windows of dry running. Teams were lacking information about many things, and the impact of camber on slicks - especially the softs - was just one of those.
"The bottom line is very clear," says Hembery. "If we'd all had the runs on Friday that we normally have in the dry, we wouldn't even be talking about it, it would have been sorted. That's the real issue."
Williams backed off on its cambers © sutton-images.com
Having said that, some teams did recognise a problem in the small amount of running they did. Williams for example backed off on cambers after Friday, while knowing that it would compromise the pace of the car in the crucial Sector 2. Mercedes also had some problems and acted to address them. It was just normal race preparation stuff.
"We had maybe a suggestion of the situation," says Hembery, "because we had a number of teams on Friday, that had a limited run, and had worked out they needed to back off on the set-up. And that resolved their issues. Some teams maybe didn't have the benefit of that running."
Red Bull had as much access to a dry track as anyone else, and why the team didn't detect a problem - or didn't react to it - remains something of a mystery. But winning is all about pushing the limits, and the team chose to go in to qualifying with a reported camber angle of 4.3 degrees, breaking Pirelli's recommended figure. McLaren meanwhile was right on the limit at 4.0, while having done their homework others went as low the mid-3s.
Newey insists that RBR was not aware of any potential issues before the team committed to remaining over the recommended camber level for qualifying: "If we had known, we would have changed. Yes, we were very, very slightly beyond their recommendation, but it is a recommendation, they hadn't flagged any concern up."
And it wasn't the first time RBR had gone over the limit?
"No. And it was a very small amount. Almost within the error of what you can set the camber to."
Meanwhile Martin Whitmarsh insisted that McLaren always sticks to the guidelines: "We changed the camber coming here because Pirelli reduced the allowance by half a degree. It was 4.5 and it went to 4.0. We obeyed the instruction to do that. I think if your tyre manufacturer tells you it's safe to be four, and not safe to be more than that, then you shouldn't do it, should you?"
The problem emerges
After the first proper dry running of the weekend - four or five consecutive hard laps in Q3 - the Red Bulls, Hamilton's McLaren and Jaime Alguersuari's STR all showed signs of front tyre blistering when they arrived back in parc ferme.
That's when Pirelli became concerned that there might be an issue that needed addressing, and shared its views with the teams and the FIA. It was any tyre company's worst nightmare - and had shades of a Michelin/Indianapolis scenario.
Newey explains: "Post qualifying when Pirelli looked at our tyres they felt they were in danger of structural failure as a result of the damage on the inside shoulder. Obviously at any circuit, and particularly here, your drivers' safety is of paramount importance. We took that very seriously.
"So it was Pirelli who said to us at 5pm Saturday evening that there was a safety issue. From a performance point of view it wasn't an issue. Blistering in that area doesn't cause any significant degradation in performance. So it was purely a safety question. It was worse on the left, but both."
Newey's 5pm reference is interesting, because it bookmarks Pirelli's concerns as being in the immediate aftermath of qualifying.
Hembery makes it clear that initially Pirelli wasn't fully aware of the exact camber situation at Red Bull, although he won't elaborate on how or why that information proved elusive.
Once Pirelli had the real numbers - and understood for example that Hamilton's McLaren was right on the limit - the company knew that there was not an inherent manufacturing problem, or anything of that ilk. This was about set-up.
But until that became clear, there was a definite sense of urgency.
Discussions developed on Saturday evening, and at one point Pirelli was asked if it could provide 20 brand new replacement soft front tyres for the top 10 qualifiers, should that be deemed necessary by the FIA. The company had three spares at the track, and 17 more were shipped in from the UK overnight.
"You imagine, on Saturday night the details were sketchy on what was going on," says Hembery. "We had some details that were far from qualified in terms of car set-up. We had some tyres here, we needed a few more. It seemed a prudent measure at the time, because we couldn't have done that in the morning. They were driven down overnight.
"We didn't have all the information, and things started becoming clearer in the morning. Also the information I was given Saturday night wasn't necessarily correct. It wasn't until I managed to speak to all of the teams, and I wanted to get all of their points of view, that things evolved."
Red Bull puts its case
Newey and Horner spent much of Sunday morning in race control trying to convince the FIA's Charlie Whiting of RBR's case, even involving the drivers at one stage, while McLaren also kept abreast of developments, but was not pushing quite so actively.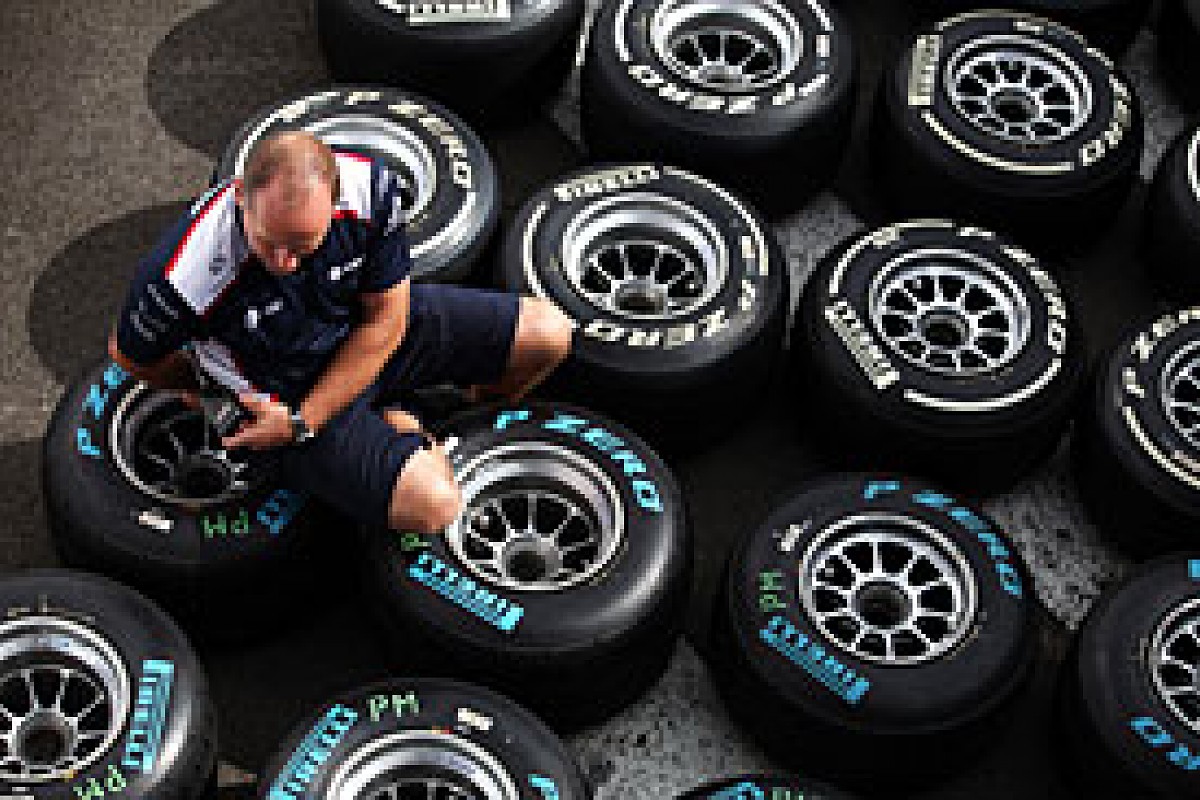 McLaren had de-mounted Hamilton's Q3 tyres © sutton-images.com
At one stage teams were told that blistered tyres could indeed be replaced with new fronts from their own race allocations (ie not the ones shipped in as extras). McLaren even de-mounted Hamilton's blistered Q3 fronts on the basis that they would not be needed for the race. Fortunately that's not a problem with Pirellis - in the Michelin days, the tyres would have been damaged.
However, the situation changed as new information surfaced and the other teams became more aware of what was going on, and lobbied the FIA. Quite rightly they pointed out that they had gone for conservative camber levels, and sacrificed speed in S2. If RBR had a problem, it was of its own making.
Once fully aware of the camber numbers, Whiting - with Pirelli's full support - clearly lost sympathy with RBR's plight. He decreed that everyone would have to start on the tyres they had used in qualifying, as per the rules. If Red Bull or anyone else had concerns about their Q3 tyres, they could pit immediately and change to a new set of tyres.
Red Bull also requested that it be allowed to reduce the cambers for the start, so that the problem would not re-occur during the race. The FIA's simple answer was that as with any set-up change, the team was free to do it, but that would mean dropping out of parc ferme and starting from the pitlane.
"There was a lot of debate about whether camber angles should be allowed to be reduced," says Newey, "or whether the people who were in Q3 who'd suffered damage should be allowed to start on new fronts if they wished too.
"I don't know exactly what happened in the debates between Pirelli and the FIA, but in the end, it was decided that it was down to the teams, which for me was a very worrying and uncomfortable position to be in. Starting the race on tyres which Pirelli believed... They wouldn't say how far they would go before they unzipped.
"Charlie of course is trying to keep it fair for everybody, but I just think when safety is concerned, it's tremendously difficult."
Pirelli was totally comfortable with the final decision.
"You have to bear in mind that if every single car had it, you'd have a different point of view," says Hembery. "When you have a small number of vehicles with that issue, you have to be careful about what you do, because you might be providing a disadvantage to others that have already made modifications.
"The bottom line was could you solve this with set-up? They could have started from the pitlane if they felt it was to a point where it was not secure. So they had that option, and clearly didn't choose to take it."
He downplays the emphasis on safety, confirming that once the camber issue became clear, Pirelli knew that the tyres were inherently safe.
"What we were saying is if you run a certain set-up, and create a blister, you create a safety issue. So I think there is a little bit of semantics involved there.
"Basically it was along the lines of you're creating blisters, your set-up's wrong. If you carry on like that, it's not good. That's what we'd say. You don't want to see blisters, obviously. We knew the integrity of the tyre was alright, there were no worries there. But it meant the drivers had to make a judgement call during the race.
"If you go to too much camber, you're moving the points at which the blisters occur. If you make the blisters occur too far outside the centre of the tread then it starts moving into an area where yeah, you could get into safety issues, but it's all related to camber levels."
In the end Newey and RBR decided not to take the safest route - a pitlane start with new tyres and revised set-up - and both RB7s duly went to the grid on their qualifying tyres. The fronts had been swapped left to right, to give the more damaged left a little respire (McLaren did the same with Hamilton's remounted tyres).
"It helped, but it's difficult to know how much," says Newey. "That's the problem, it's very unscientific. You're trying to weigh things up. The other thing that helps in the race is the fact that we don't have DRS initially at all, and then when you do have assistance, it's in a much more limited area. And that reduces the speed and therefore the problem.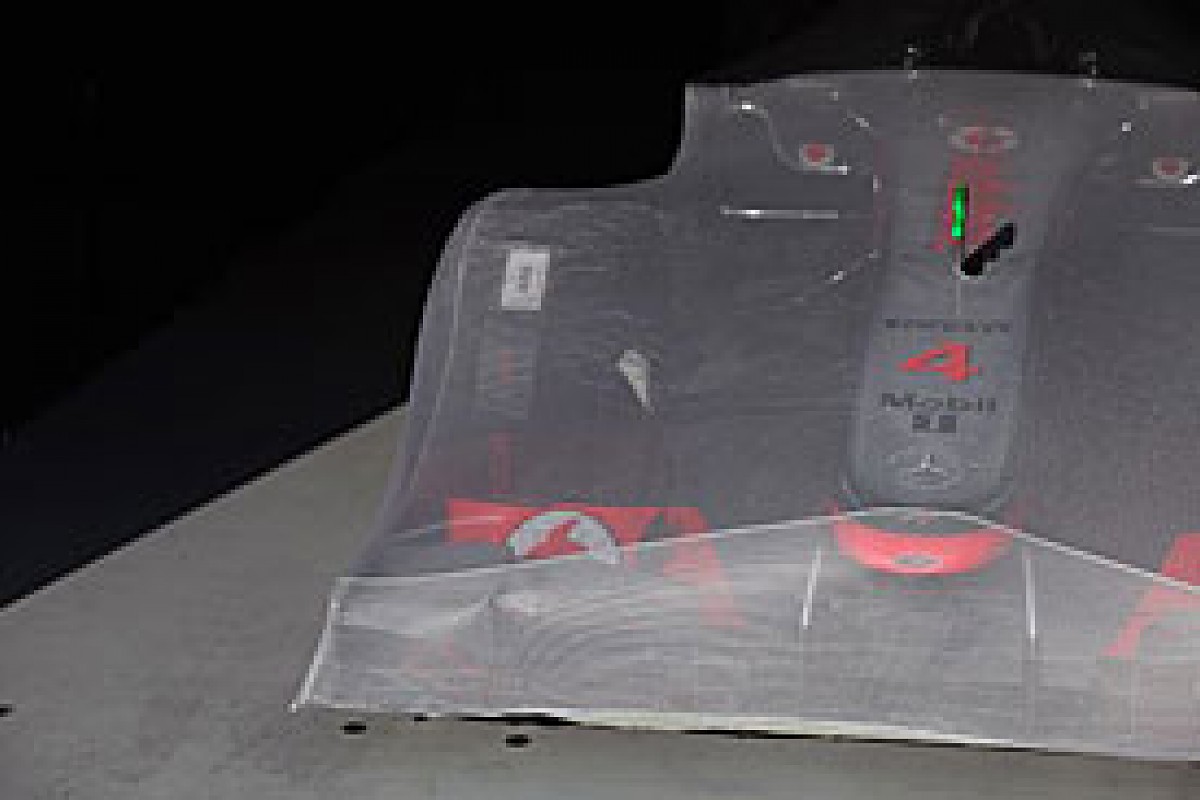 Adrian Newey was relieved at the end of the weekend © sutton-images.com
"Because it's a function of speed, then obviously you can also be a little bit more careful. The two areas that seemed to be worst were over the hill after Eau Rouge, and entry to Blanchimont. So we were trying to manage it through those corners.
"For the race we made some changes in terms of what we could do, so we increased the front tyre pressures - a lot - to try and make it safer, and we stopped early with both cars, for safety concerns. From a performance point of view, we hurt ourselves by stopping so early, but on the grounds of safety I felt that was morally what we needed to do."
A similar story was unfolding at McLaren, although the concerns, like the cambers, were less extreme.
"We do have tyre engineers in our team," says Whitmarsh. "If they told me it wasn't safe to have run the cars with those tyres, with that camber, and with the tyre pressures we had available, I have no choice but to stop the car. Where does that line fall?
"I know Adrian felt very distressed about it, and I can sympathise with his plight. Various teams took various positions. If you put a team in a dilemma where you say if you're going to make a safety change you but you have to start from the pitlane, that's an uncomfortable position to be in. They made their decisions based on their data, we made ours. No one had real amounts of information to be as comfortable as you'd like to be normally."
Business as usual at RBR
Once the race got underway Webber stopped after three laps and took the much less sensitive mediums, running them to the flag. Meanwhile Vettel pitted after five laps for new softs, and again only eight laps later under the safety car. Later he went to mediums. The blue cars finished first and second, and in parc ferme both cars - even on the mediums they used in the last stint - exhibited some signs of front blistering.
Newey's tearful reaction after the race gave some indication of the emotions he'd been through over the previous 24 hours. As technical director he carries a major responsibility for the drivers, and we shouldn't forget that he knows what it's like to lose a driver in one of his cars.
However, the safety card can be played all too easily (by teams and the FIA), and many in the paddock took a more cynical view. The widely-held view is that RBR had screwed up and was doing anything to avoid having to compromise its strategy or face a pitlane start.
"If he was that worried, then he would have started in the pitlane," says Hembery bluntly. "So he clearly couldn't have been that worried...
"The vast majority of the teams clearly knew where they were at, and made the adjustments themselves. There was more than one team that made that sacrifice. For the vast majority as we saw in the race it wasn't an issue at all because they made the modifications to their set-up to avoid it.
"At the end of the day imagine if we had given new tyres and the possibility to change camber to all the teams, and we got this result. I think you'd be asking some different questions about why I'd just handed Red Bull the championship! Myself and Charlie Whiting would probably have come in for a lot of questions in another direction.
"So we knew we were in a no-win situation. But we tried to do what we felt was correct for the sport and for the majority of the teams. It was a tough decision, but with hindsight, we made the correct decision."
The consequences
As mentioned earlier, Pirelli clearly wasn't impressed by how events unfolded, and the focus put on the safety of its products by RBR (even if Newey says that the tyre company first raised the issue) was hardly conducive to good PR.
Equally the indications are that the FIA lost patience with RBR as the saga progressed and the camber story became clear. A similar process occurred with the blown diffuser issue, when the Newey/Horner double act tried to put pressure on the FIA, especially during the Silverstone weekend. Then over time more information became available, in part from rival teams, that cast a fresh light on some of RBR's claims.
You could even argue that RBR has cried wolf on this occasion, creating a big fuss when perhaps it didn't need to - next time when the team might have a genuine grievance, it might find that it has pushed its luck a little too far with regard to the governing body is concerned.
There will be one definite consequence, because Pirelli intends to make what was a recommendation into a mandatory figure that will be controlled by the FIA.
"We were aware that people wanted to push the limits, I think it's fair to say," says Hembery. "We sort of felt there was a tendency to go towards the limit. Some of that is coming from the fact they've been trying to find the limits of the structural integrity of the tyre, that's where they've been trying to get to, and they haven't found that.
"It's only an advisory level, it's not an obligatory level. Probably in the future we need to be more conservative, and make it obligatory that you don't go over. There will be a much tougher policing of that."
FIA sources have confirmed that the process is there for that to happen. If Pirelli writes to the FIA citing safety grounds, and emphasises the importance of the camber limit, then camber levels will indeed be routinely measured. Anyway going over will henceforth be penalised. Not only that, but as Hembery says, those limits are likely to be stricter.
The next race is Monza, which is one of the biggest tests of Pirelli's debut season. The company has been there a couple of times with its Toyota, most recently last month with Lucas di Grassi. And while there were no issues, it's acknowledged that the TF109, which is slower and has less downforce than a current car, doesn't always provide up to date information.
Spa has pretty much guaranteed that Pirelli will henceforth trim camber levels from the previously agreed figures - and by definition that will impact harder on any team that has been routinely using extreme camber levels. And that of course means Red Bull Racing.