Whether it was the fact that everyone in grand prix racing just loves Spa-Francorchamps, or simply that the entire paddock was refreshed and raring to go after the three-week summer break, Formula 1 personnel had a genuine spring in their step as the final phase of the campaign got underway in Belgium last weekend.
There were certainly a fair few tanned faces and new term haircuts on display, as the first day back at work was dominated talk about vacations and who had had the most fun over the August shutdown period.
Not everyone had had a properly relaxing time, though. Mark Webber, who celebrated his birthday on Spa qualifying day with a fresh Red Bull Racing contract, was left in no doubt that the best days of his summer were spent with former world champion Alain Prost, as they cycled up the famous Alpe d'Huez Tour de France stage.
One man whose summer break extended a little longer than the others was Bernie Ecclestone, who did not appear in Belgium until race day. He had a pretty good excuse though, as he had given away the hand of his daughter Petra in marriage the previous day in Rome...

Time moves fast in Formula 1, and it is hard to believe that the Belgian GP is the penultimate European race of the 2011 campaign.
What the end of the European season means is that the punishing end-of-year flyaways are now just around the corner - when the F1 world will spend more time sat on aeroplanes than actually watching track action.
That annual prospect means that the Belgian GP has become a must-do road trip event - especially as door-to-door, if you can get your hands on something fairly nippy, then it's just as quick to drive as it is to fly, with all the parking, checking-in, immigration, customs and baggage hassles.
Always up for trying something different, and as the result of a crazy idea over dinner earlier on in the year - I thought with Ferrari technical partner Shell sponsoring the Belgian GP, and the oil company also working closely with Ducati in MotoGP, what better way to get to Spa than on a motorcycle.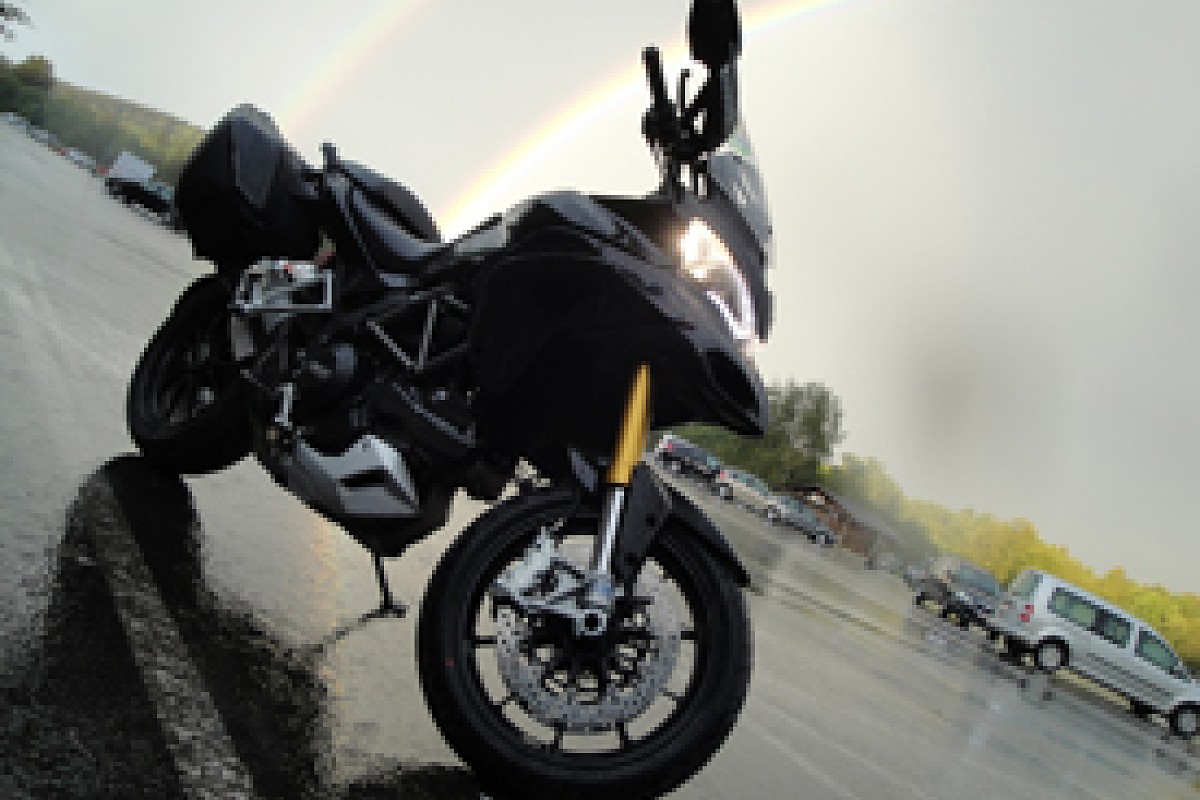 © autosport.com
Ducati and Shell both thought it was a good idea too, and I was lucky enough to be loaned a Ducati Multistrada 1200S for the weekend - with a nice 150hp on tap to power me down to Spa (although there are engine mapping settings to turn it down to 100hp for 'Urban' or 'Enduro' riding!).
There was definitely something sweet about blasting through the Ardennes to Spa every morning on just two wheels, even if the Belgian weather may have done its best to throw a lot of water my way.
And amazingly, I found I wasn't the only one who had taken the two-wheeled option for the Belgian GP. Renault press officer Andy Stobart rode out on his Honda CBR600, before taking it on to Misano for this weekend's MotoGP event.
While BBC commentator Martin Brundle was raving about riding down to Spa on his BMW touring bike. "Going to a race on the bike is so different to doing it any other way," he said. "Normally in F1 we are try to get from A to B as quickly as possible, but on the bike I'm happier getting off the motorway and taking the longer route, so I can go and enjoy myself."
So, who's up for riding to Melbourne next March then?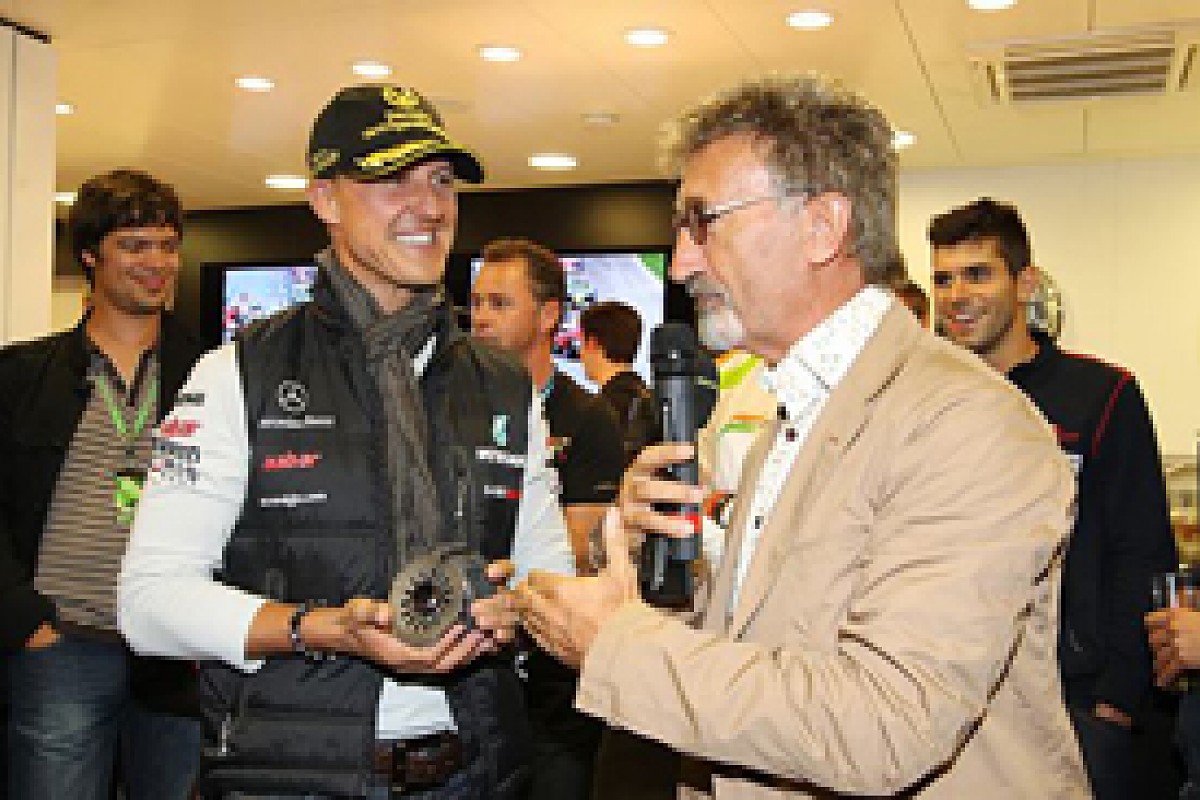 Formula 1 loves a good old anniversary, so it was no surprise that there was such a huge fanfare last weekend when Michael Schumacher celebrated his 20th anniversary in grand prix racing.
Schumacher has come a long way since that debut outing for Jordan back in 1991, but few would have bet money on the seven-time champion topping the times in Friday practice 20 years later with a margin of eight seconds from the next best-placed team!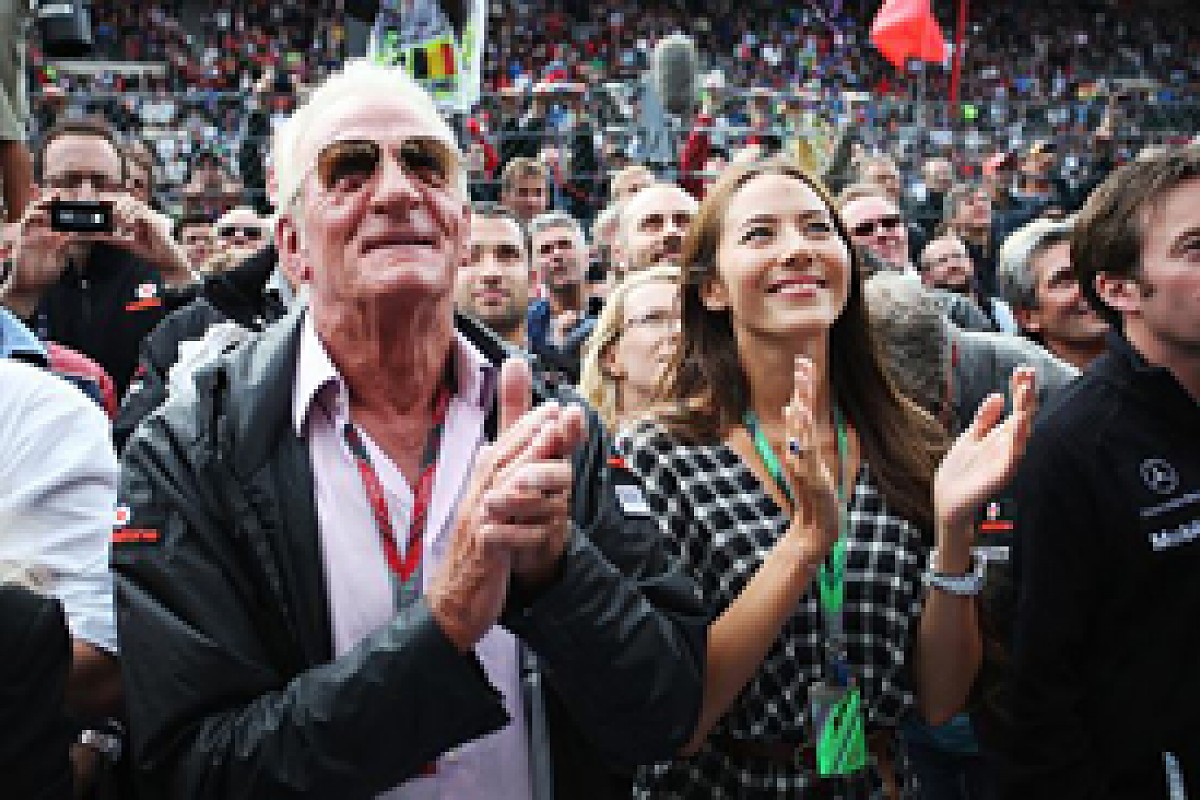 Eddie Jordan presents Michael Schumacher with a souvenir clutch © sutton-images.com
Everyone got involved to join in with Schumacher's celebrations over the Spa weekend though. Helmet supplier Schuberth provided him with a special 21-carat gold plated helmet, which he wore as a special one-off for the weekend.
At a party in the Mercedes GP unit on Saturday - where only German sausage and German beer was served - almost every senior member from the paddock turned up over the course of the evening to give the seven-time champion a pat on the back and wish him all the best.
There were gifts aplenty too. Ferrari team principal Stefano Domenicali presented Schumacher with a signed Ferrari engine cover as a thank you for all the success at Maranello, while Eddie Jordan gave Schumacher something he could have done with at La Source 20 years ago - an F1 clutch!
Earlier in the weekend, however, there was an amusing moment at the end of the official FIA press conference where Schumacher had spent a lot of time reflecting on that Spa 1991 weekend and his career ever since.
As the drivers on duty left, Sebastian Vettel leaned over to Schumacher and picked up a piece of paper that had been taped to the table to let the drivers know where they needed to sit.
Smiling at Schumacher, Vettel pointing to the words 'Michael Schumaker' and grinned - "You'd think after 20 years people would know how to spell your name..."
Schumacher's was not the only landmark achievement being celebrated in Belgium - although there was some dispute over whether one paddock regular had actually counted up correctly.
While respected journalist David Tremayne marked his 400th grand prix at the launch of McLaren's new luxury hardback book 'McLaren: The Wins', which he had helped write, elsewhere in the motorhome, Jenson Button's father was raising a glass to what he claimed was his 200th GP.
Jenson Button's father John is an ever-present figure in the paddock © sutton-images.com
He reckoned that with Jenson having celebrated his 200th race in Hungary, and having just missed only one race after illness forced him to skip the 2001 Brazilian GP, then Spa surely had to mark his own double century.
His son though was not convinced... claiming that his father had forgotten about being at the 2003 Monaco GP which he did not start after a qualifying accident, plus the 2005 Spanish and Monaco races that he missed as part of BAR's two-race ban.
"It's not actually his 200th... he thinks it, is but it is his 203rd," said Jenson. "He has been at every race bar one - so that means he has done 203 as I didn't start three of them. I've corrected him but he still does not listen to me..."