Mark Webber described re-signing for Red Bull Racing as a "no-brainer", but it might just as well have been team principal Christian Horner saying that of the decision to give the Australian a new one-year contract. It was the obvious choice for what is now Formula 1's best team.
Inevitably, the critics will cite his record compared to Sebastian Vettel this year. The reigning world champion's side of the garage has won six races this year and racked up a monstrous 234 points, only 22 fewer than he scored to win the title last year. Webber, by contrast, has no wins and only one second place to his name and trails Vettel by 85 points. It's easy to brand him a relative failure, to say that he is very much "not bad for a number two" and therefore unworthy of a Red Bull seat. But that misses the point.
For a start, Red Bull is no longer the pretender. It is the F1 powerhouse and has taken 21 wins since the start of its breakout 2009 season. It's a team that is gunning for the constructors' championship and it needs two drivers to score heavily. To judge Webber's value to the team, you don't need to glance at his points relative to Vettel, but his overall contribution.
After all, the team's championship position would not be any different had its two drivers taken points off each other regularly, as they did last season. Webber has taken only three points off Vettel all year, courtesy of his third place in Germany and his consistent points scoring record has been vital to Red Bull's advantage. The points contributed by each driver are only one part of the winning equation, and what is more important is the net points score. After all, if Webber finished directly behind Vettel in every single race, the points difference would still be hefty.
The constructors' championship is often undervalued in the public perception. While there's no question that the world perceives the world champion driver and team of any given year based on individual points, the constructors' crown is vital both financially and in terms of prestige.
Next year, we can assume that McLaren will be up there and in contention and with Lewis Hamilton and Jenson Button scoring heavily, Red Bull can't afford to risk giving away next year's constructors' championship by gambling on one of its stable of up-and-comers. After all, Ferrari's chances of winning that title are severely hobbled by running Felipe Massa, who has managed only 54 per cent of Alonso's points tally over the past 18 months. By contrast, Webber has scored 80 per cent of Vettel's points, and even if you look at 2011 in isolation he's scoring at 64 per cent.
Daniel Ricciardo is seen as Red Bull's next big star © LAT
Right now, Daniel Ricciardo is the golden boy. He has shown a decent rate of improvement over the course of his three outings for HRT and will surely be a Scuderia Toro Rosso race driver next season. Perhaps he has greater potential than Webber, but when you have a junior team, it's logical to use it to educate your rising stars so that they are not uncooked when they join the 'A-team', just as Red Bull did with Vettel. With neither Sebastien Buemi nor Jaime Alguersuari deemed ready to be seriously considered as a Red Bull driver, what were the other alternatives?
Of the elite drivers, Fernando Alonso and the McLaren drivers were not realistic possibilities. It's hard to imagine McLaren will let slip its option on Button (they are currently working on getting him to agree a new, longer-term deal instead of simply taking that path), and it would have cost way too much to extract Lewis Hamilton for 2012. Besides, with Vettel, why does Red Bull need Hamilton?
With the other gold standard driver, Robert Kubica, currently out of play, where else do you look? There are several drivers with huge potential knocking around - Nico Hulkenberg and Paul di Resta for example - but with Vettel established as its driving force, now is not the time for Red Bull to go hunting for them. The 24-year-old is signed up until 2014, and on current form it's clear that he's going to be the drivers' championship shot in the future. And if you start casting the net wider, you're at best looking at a like-for-like replacement for Webber or, more likely, a less accomplished one.
But what if Webber suddenly starts pushing Vettel, or even beating him, as per last year? That sounds like a long shot, given what has happened this year, but it has happened before so it cannot be discounted as potentially happening again. Well, is that such a bad thing for Red Bull?
Despite public perception to the contrary, Red Bull as a whole isn't too worried about which driver wins the title - and Dietrich Mateschitz certainly isn't. After last year's Turkey and Silverstone flashpoints, Mateschitz is understood to have given very clear directions - let them race. For all of the conspiracy theories, Webber could have won the 2010 world championship. He had a fair shot in the best car and, until he made that mistake pushing a little too hard in the wet of Korea, he was within touching distance of the title. And had Webber prevailed on that remarkable evening in Abu Dhabi last November, you can be sure that the celebrations would have been just as frenzied.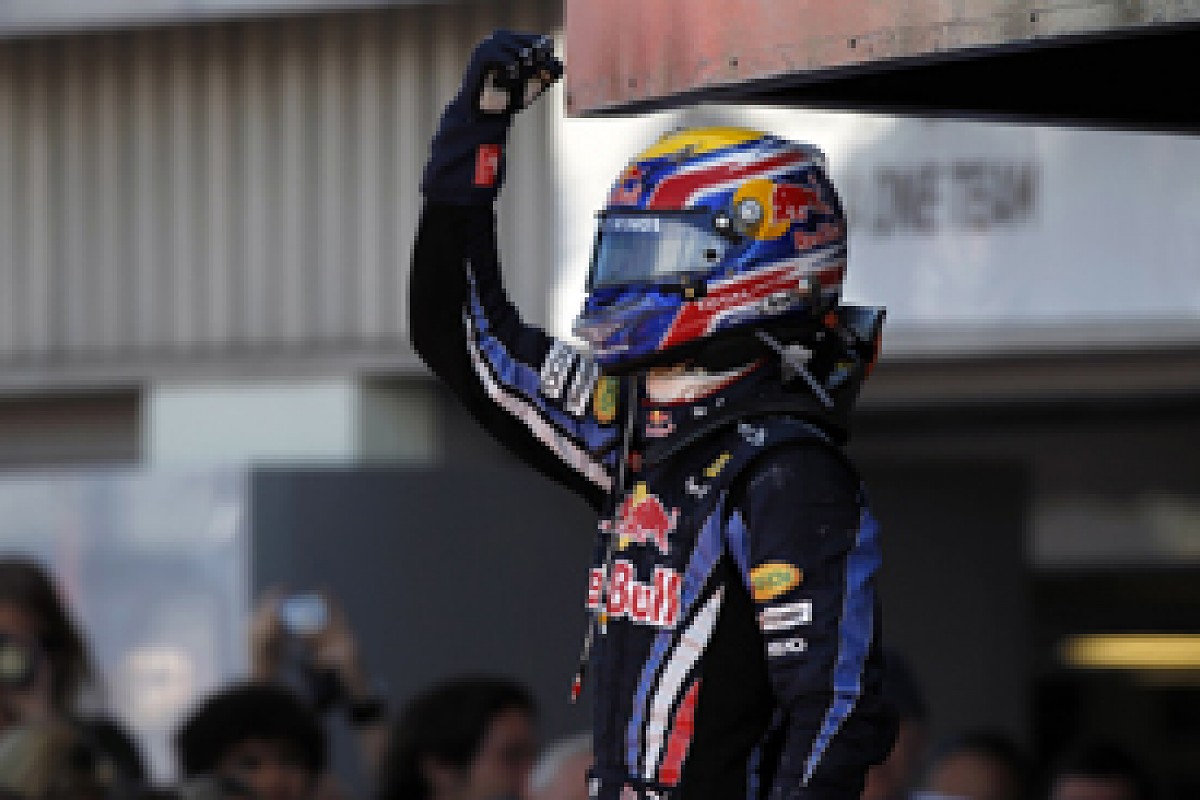 Webber famously won at Silverstone in the middle of a team favouritism row in 2010 © LAT
That brings us to Webber's occasional outburst. For some teams, his behaviour would be beyond the pale and it's fair to say that there have been a few sighs of frustration within the team. It's clear that the Australian revels in being the outsider and in beating the odds. After all, he did so even by making it to F1, let alone ending up in the best car on the grid. It drove him on at Silverstone last year, for example. Because while some blame the media for stirring up such stories, it was Webber who sat in the post-qualifying press conference and made very clear his opinions on the front wing controversy.
Red Bull knows that this sort of thing will happen again. For example, only a few races ago, we had the team orders storm-in-a-teacup at Silverstone. But it's crucial to remember what this team is. It's Red Bull - it's edgy and extreme and Webber shooting from the hip is not the corporate disaster it would be elsewhere. Webber also generates headlines because he knows exactly how to deal with the media. Usually, if you see a controversial headline based on something Webber has said, it will rarely have been an innocent comment taken out of context or spun into something it isn't - he's too intelligent for that. He knows what he's saying and he knows who is listening.
He is also too intelligent to throw away another year at Red Bull. Webber is a superb grand prix driver and criticism of his performance level has to be seen in its correct context. At worst, he's fractionally less good than Vettel. And Vettel is a driver who will go down as an all-time great. To go down as a Gerhard Berger or a David Coulthard type figure is no disgrace, both are rightly regarded as outstanding drivers ranked in the drawer marked 'race winners but not world champion material'. And Webber has come a lot closer to winning the title than either of that pair ever did.
Maybe Webber's only shot at the world championship was shattered when he struck the wall in Korea? Maybe he will go down in history as "not bad for a number two" rather than anything more glorious? But you can be absolutely certain that he still believes he's got a world title in him. Maybe 2012 will be his last year (just as some have insisted that 2010 and 2011 were), but you can be sure that the motivation remains sky-high for Webber as he celebrates his 35th birthday.
That in itself is enough to ensure that he will do a great job for Red Bull next year. And that is all that really matters to Mateschitz, Horner and even Helmut Marko.