Hey, this boy is getting serious about the world championship. At Jerez he nearly won and at Spa he perhaps inherited the victory when his team-mate retired. But at Montreal, from Friday morning on, he dominated, putting pole position beyond Ayrton Senna's reach and the race beyond realistic challenge. This time the gang of five took the first five places, and Nigel Mansell wiped them out.
It was, of course, an 'economy' race, as everyone expected. In an attempt to forestall embarrassment, the organisers shortened it so that the 'safety' limit on fuel would not look the foolish red herring we have seen so often in the past, but Mansell's average speed was nevertheless a new record. Alain Prost, Nelson Piquet, Keke Rosberg and Senna followed him in and Rene Arnoux completed the top six, but none presented a serious challenge.
Qualifying
The accuracy of the weather forecasters in North America is a source of constant wonder. Every evening and morning they put a percentage figure on the chances of rain as a way of summing up the coming day that actually means something, and usually they are very close to right.
Leaving the airport on Wednesday afternoon, the weather was fine and warm but the prognostication for Thursday was not promising: 60 per cent rain, they said. And the occasional showers duly came. For Friday 13, there were no doubts whatever. "If I could go over a hundred per cent, I would do it," said the CBS man the night before.
And Friday was awful, with constant drizzle and now and then a downpour. "A wasted day," said Senna. "You learn nothing when conditions are like this - unless, of course, it rains on Sunday."
A wasted day, though is what it was. The weekend, CBS told us, would be beautiful. Senna and the rest had only Saturday to play with, which maybe explains why the 1984 pole time (set by the late Elio de Angelis) was ultimately beaten by only 0.5 seconds.
Conditions were at their worst during the untimed session on Friday morning, and in that Mansell served notice of intent with a quite stunning lap, more than 2s faster than anyone else and set when the rain was at its worst. It may have been the lap of the season, in fact, the Williams-Honda seemingly riding the ragged edge yet never looking like going off.
The timed session was much less straightforward - downright messy in fact. There was rain some of the time, and there were innumerable incidents. Three times the session was red-flagged, finally finishing 45 minutes late - by which time a dry line of sorts was down and the very brave were on slicks and going for it.
After only five minutes they halted proceedings so that Martin Brundle's Tyrrell, whose engine had cut, could be collected from its 'dangerous' place and returned to the pits. Out they came again.
A wet qualifying session presents risks too obvious to need explanation. In these circumstances wet tyres and not subject to the 'two sets' rule, and consequently the drivers tend to stay out there pounding around and building up confidence, feeling out the conditions, looking for a reasonably clear lap. The track is busy.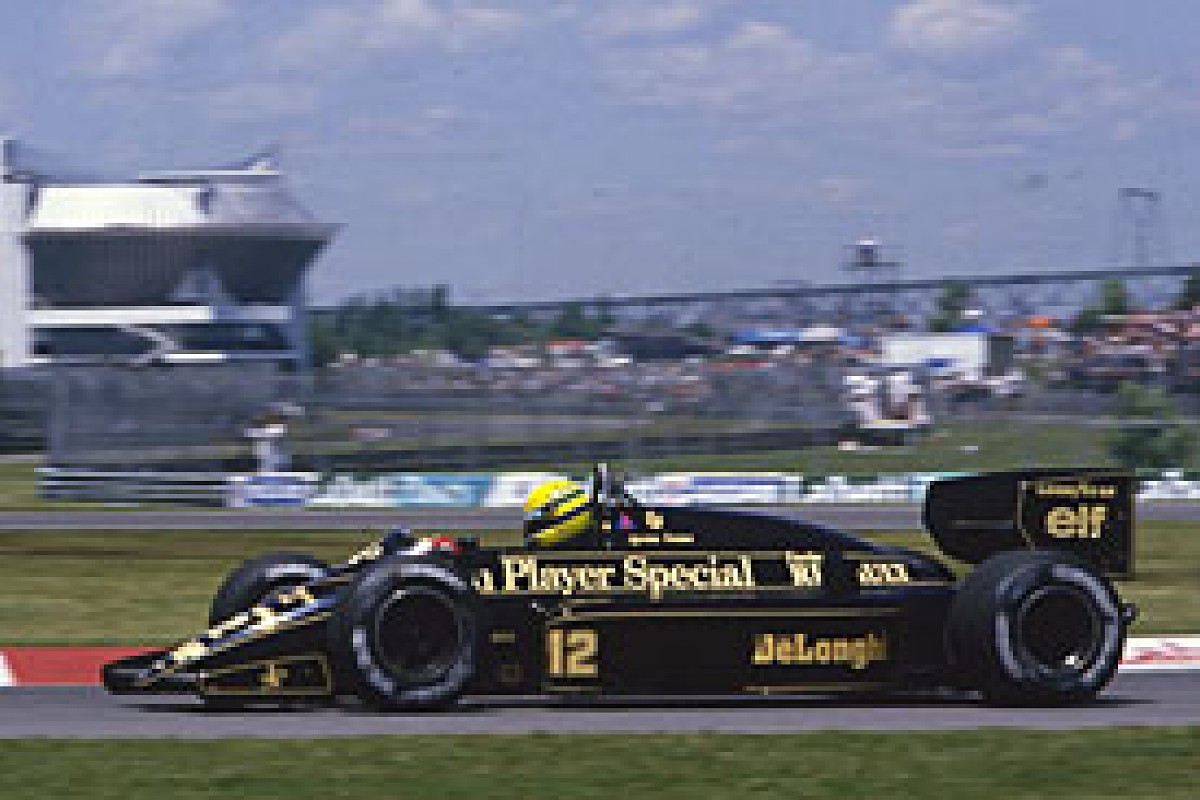 Senna put his Lotus on the front row in Saturday's dry qualifying © LAT
Add to that the topography of the Circuit Gilles Villeneuve. Immediately before the end of the lap is a very tight hairpin, taken in first gear, followed by a left-hander round the end of the pitwall, then the straight, then the ultra-quick right-left-right esses. All this, in other words is a stretch of searing acceleration, much like that of Imola between the final chicane and Tosa. This is one of the reasons why fuel consumption is especially critical at these two circuits.
At Montreal, though, much of this acceleration - especially around the pitwall - is not in a straight line. On a bone dry road the really energetic have their cars twitching and scrabbling for grip as they come onto the pit straight. In the wet the problem is amplified many times.
For two or three minutes we watched them through, saw the flash of gloves in the cockpit as opposite lock - some planned, some snatched - was applied. And then there was that awful sound of revs screaming momentarily and then fading, followed by the swish of tyres sliding on water, then the heavy sound of impact. Small bits of carbon fibre shrapnel were in the air, and then flags were urgently waved.
Teo Fabi had crashed heavily into the pitwall, then bounced right across the road into the guardrail on the other side. The car was clearly wrecked, and there was debris all over the road, but the driver was out okay, and that was fine.
What was not fine was that many following drivers paid the marshals no credence whatever, blasting through the accident scene within a couple of feet of the Benetton, Fabi and track workers. Prost, by contrast, saw the waved yellows, throttled back and cruised by, an abject lesson to some of his colleagues. This was mentioned to one of the team principals, a man with a fine, dry, humour. "Does it surprise you?" he enquired. "That was, after all, an intelligence test of a fairly instant kind."
"There was a puddle there, just off the normal line," Fabi said. "And I put one rear wheel into it - and the car just went away."
That meant quite a long stoppage, of course, and when they were allowed out again conditions were a little better. It was still very wet on the circuit, but at least the rain had as good as stopped.
The session swung between Piquet and Mansell and Rosberg, with a brilliant interruption by Stefan Johansson, whose Ferrari was a match for anything in conditions such as these (ie. in which nobody had any grip). In the last few minutes, though, everyone changed to slicks, most having selected one set of soft racers and one set of qualifiers. And now Senna burst into the picture.
Time was running out as Senna pitted to change tyres, and a random weight check in pitlane was the last thing he needed just then. Given the signal to go, the Brazilian accelerated to his pit, and the qualifiers went on. There was just time, maybe.
In fact, Senna broke the Longines timing beam on the startline less than a second before it was switched off for the session. If it had been merely a very good lap, rather than an exceptional one, it would not have registered at all. But it was brilliant, more than a 1s quicker than anyone else's best and only about three away from a hot lap in the dry. Senna, though, was the first to admit it meant very little. It had been a demonstration of courage and control, but Saturday was going to be sunny and hot. "It had better be," said Mansell. "I was sure I was going to be quickest this afternoon, but by the time I got out on qualifiers the traffic was terrible."
Twenty four hours later, he was content. The day was indeed perfect, and he was on pole. It was a session fought out between Senna and himself, with Piquet also prominent. At the vey start Senna flew around in 1m24.188s and that stood for three quarters of an hour. Mansell went into his first run in meaningful style, but was away a long time and finally headed slowly for his pit. Halfway round the lap he had encountered Thierry Boutsen, who simply never saw him. "I was flat out," said Mansell. "And I understeered off the circuit, clipped the wall and went over the kerbing."
Damage to the car was confined to the undertray and, that repaired, Mansell came back out on the same set of qualifiers. They gave him what the Williams team likes to call 'a banker lap' in 1m25.1s and then he gave it everything on the second set, pipping Senna by 0.07s. Out went the Lotus once more, Senna locking up more than once on his way to 1m24.7s, 0.5s slower than before. And right at the end both men came out for one last go, on 'watered' used tyres.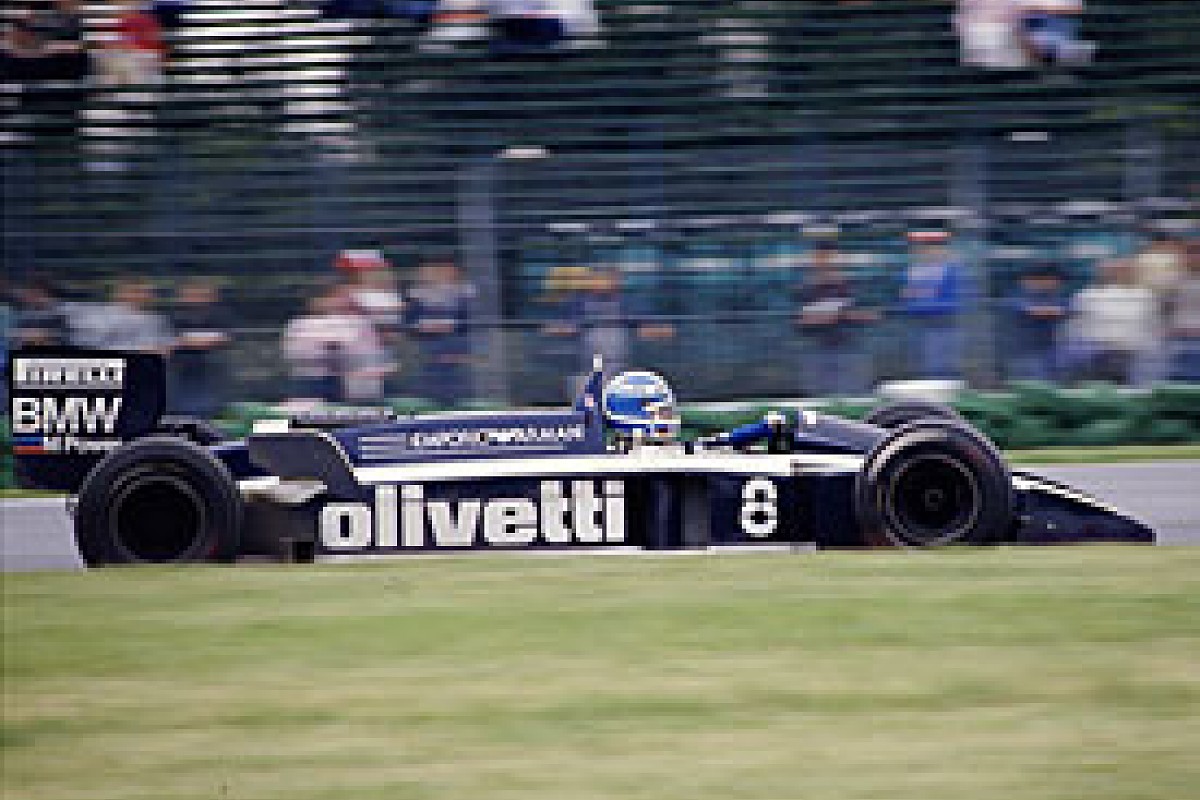 Warwick was a fine 10th on the grid for his Brabham debut © LAT
Mansell put in another fine sub-1m25s time, but Senna was all over the place on what Niki Lauda used to call 'a chaotic lap'. All the way round the Lotus was over kerbs, locking up, getting sideways - and the result was 1m25.7. The issue was settled, in Mansell's favour.
At the post-session press conference he was asked if the pole lap had been perfect. "Not quite," he replied. "I left my balls behind at one of the corners. In fact, I told Patrick Head about it on the radio link, and then did an extra slowing-down lap after the chequered flag to pick them up again."
Away from the microphone he was rather less flippant. It was going to be, he felt sure, one of the best races for a long time. The crucial factors would be fuel and brakes, for Montreal makes heavy calls on both. "Senna reckons that the Lotus-Renault won't be able to compete on consumption with the Williams-Honda," it was put to him.
"Oh, he always says that," Mansell replied. "He's been saying it all year. I reckon he'll be right there. In fact, I think four teams will be in the picture tomorrow: ourselves, Lotus, McLaren and Ferrari. I know they haven't qualified well, but I have a feeling Ferrari will be good in the race."
Both Williams drivers had slight top-end misfires during the last session, although neither claimed to have been hampered. Piquet actually set his best time on his third 'used set' run, having messed up at the right-left sweepers on his first and found traffic on his second. During the morning session, Piquet had to abandon his car after a fire had started in the electrical loom, but he took out the T-car and set the best time of the unofficial session. No question about it, Williams had two potential winners yet again.
Senna was between them on the grid, his Lotus back on the 1986-specification rear suspension used prior to Spa and now fitted with the rear uprights taken there, but not used. Sparking vigorously for much of the lap, the 98T was always a contender for pole, but not in the way one expected at such circuits as Jerez and Imola. Senna tried everything, including running deliberately wide at the hairpin prior to beginning a quick lap, so as to pick up a little bit more on acceleration and straightline speed.
"I'm not too disappointed about missing the pole," he said on Saturday. "Because here in Montreal it's not so important. The only real advantage is to be clear of any kind of accident at the start. What will determine the pace of the race - and the man who wins it - is the car, how strong it is with brakes and fuel efficiency. And for that it will not matter if you lead the first corner, or if you are 10th. But a good balance is also important, because if the car gives you an easy time in the corners you can give the engine - and the fuel - an easier time. And today I was not so pleased with the balance."
His team-mate Johnny Dumfries - still with 1985-spec rear suspension - was impressive, if a little scary, in the wet conditions of the opening day. After Friday's qualifying session he was 12th fastest, and on Saturday morning was up to ninth with a time he was unable to equal in the afternoon, when it mattered. "I am disappointed," he said of his 16th position. "Because I think maybe we changed the car too much for the last session, and on my last two runs the engine was very hesitant out of the hairpin. I'd hoped to be much higher."
Fourth on the grid was Prost, and not very thrilled to be a full second away from pole position. Both he and Rosberg were unhappy with their cars' behaviour on qualifying tyres.
"The problem," Prost said, "which seems to affect us more than most of the other Goodyear teams is getting the tyres balanced. The rears are finished before the fronts have come in properly, which gives us terrible understeer - particularly through the hairpin, where we are really slow. And that means, of course, that we lose out on the straightline speed past the pits."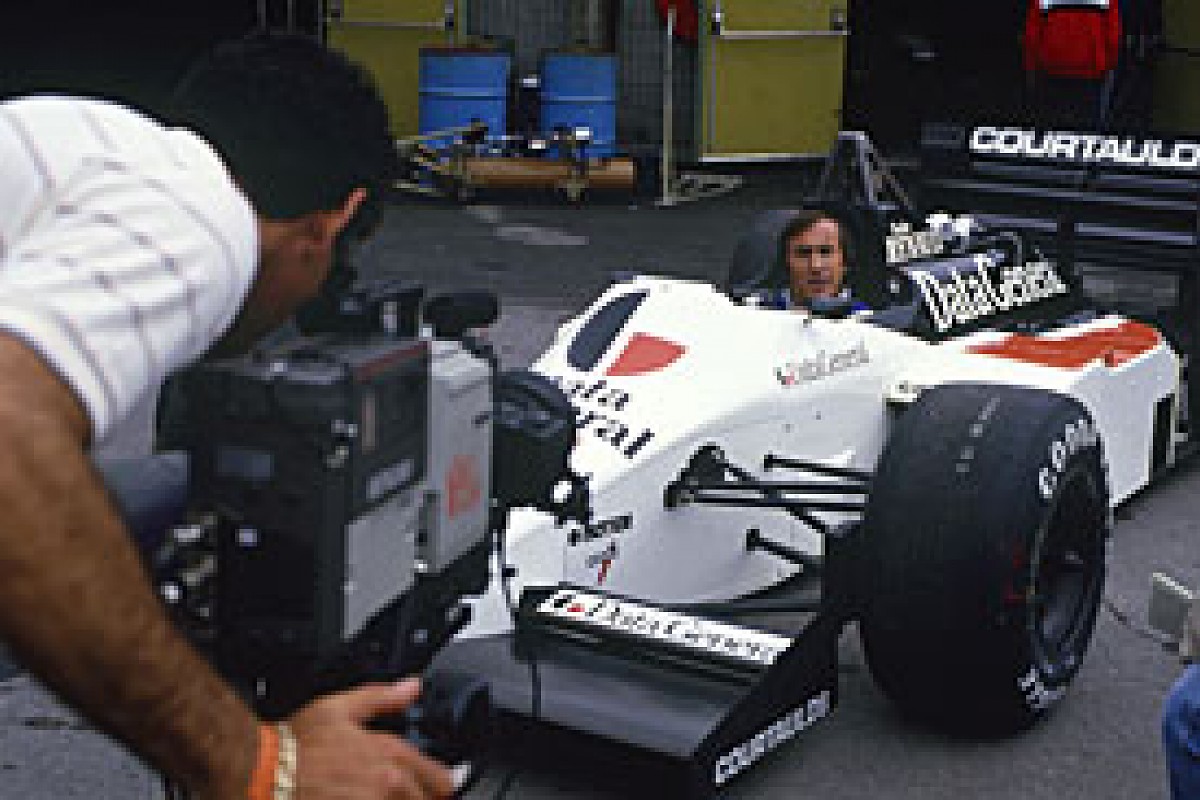 The Tyrrells weren't as quick as when this bloke used to race them © LAT
For Montreal the TAG V6 engines on both cars had a new fuel injection system, tested successfully at Silverstone and Hockenheim. In Canada though it gave trouble, Alain and Keke complained of very poor pick-up out of the slow corners. After adjustments before the first session, Rosberg's car was fine, but they never did get Prost's working to his satisfaction. "I think we'll be ok for the race," the world champion said. "But it was a pity that Friday was wasted to the rain." Below par in their own terms, McLaren were nevertheless in there as ever, fourth and sixth.
In Belgium the gang of five was infiltrated in qualifying by Gerhard Berger, and at Montreal it was the turn of Arnoux, who split the McLarens with a fine fifth in the Ligier-Renault. Arnoux, who won here for Ferrari three years ago, loves this circuit and was always among the front runners. Prost, indeed, displaced him from fourth only in the last few moments of the final session.
It was Prost too who unintentionally baulked Jacques Laffite as he warmed up the tyres for his final run. Lafitte was not upset with his pal: "No, no, it was nothing. My main problem was that in the morning I had run over some debris in the track and damaged the left sidepod of my car. That meant I couldn't try qualifiers in the morning, so I wasn't sure what to expect in the afternoon. No problem - eight is not too bad." Off he went, whistling as usual.
Berger, second in qualifying at Spa, had to be content with seventh this time. He had a new car for Canada, and began well on Friday morning, beaten only by Mansell's scintillating lap.
In dry conditions the following day though he was a little disappointed with the car, never able to get it balanced as he wished. And Fabi, running the spare Benetton after the destruction of his own the previous afternoon, had a misfire through the final session, finishing up 15th. The team's test car was flown out to Canada on Saturday to serve as the T-car for the rest of the North American tour.
Despite the fact that the Brabham-BMWs looked unable to get out of their own way on initial acceleration from the hairpin (and that only the Ferraris looked more unstable through the fast sweepers), Riccardo Patrese and Derek Warwick claimed the last two positions in the top 10. They did not have it easy.
Warwick was in trouble almost immediately with gear selection problems (first refused to go in, and first you need at Montreal), so he transferred to the spare BT55, which he found more to his liking, deciding to keep to it. "I'm having to get acclimatised again," he said of his return to Formula 1. "For instance, you have to learn all over again how to get the best out of the qualifiers - which I didn't get on my first run. It's great to be back, but I need these two races over here to play myself in. We haven't got a very nice balance on the car yet - we've got a lot of work to do."
Towards the end of the session Warwick went out for a third run, and was on what he thought was his quickest lap when the engine died, an electrical problem causing the fuel pressure to disappear. Still, 10th fastest went down very well with his new team.
Patrese was one place higher despite engine failures in both his own car and the spare (Warwick's original race car) during the last session. In the morning he had managed only half a dozen laps before gearbox troubles halted him.
Mansell's suggestion that Ferrari would be race-competitive would have cheered Maranello's two drivers on Saturday afternoon, for they hardly felt the same way. Michele Alboreto and Johansson, first and second in the race last year, were 11th and 18th on the grid.
At the end of the first day Johansson at least was in good spirits. In the poor conditions he was superb, second fastest much of the time, third at the end - and this in the spare F186, his own having suffered a turbo failure. It was a reminder to the world of his flair, usually disguised by his car's inadequacies, which became abundantly clear once more in Saturday's dry conditions. "We changed the set-up of the car quite fundamentally," he said. "And it was almost undriveable - even in a straight line." Amazingly, he was unable to equal his 'damp' time set the day before.
On Friday Ferrari was going through Garrett turbos like Carter's Little Liver Pills; Alboreto losing three, one of which blew spectacularly in the afternoon. In normal circumstances he might have hoped for the T-car - but that was already in Johansson's hands! Therefore the Italian sat out most of the session, missing the semi-dry portion of it. By the end he was down in 23rd. On Saturday he climbed a dozen places, but was hardly thrilled about his chances.
In 12th place, reward for a very fine effort, was Boutsen in the elderly Arrows A8 - and he reckoned he might have scraped into the top 10 had the engine been free of an irritating misfire. This weekend the Belgian was Jackie Oliver's only representative in the race, Enzo Osella standing between Christian Danner and the second car. By the time the two parties had 'reached an accommodation', FISA declined to allow the team's race entry to be changed. Danner began the first session in the cockpit of an Arrows, but finished the day behind the wheel of an Osella. All being well, he will partner Boutsen at Detroit this coming weekend.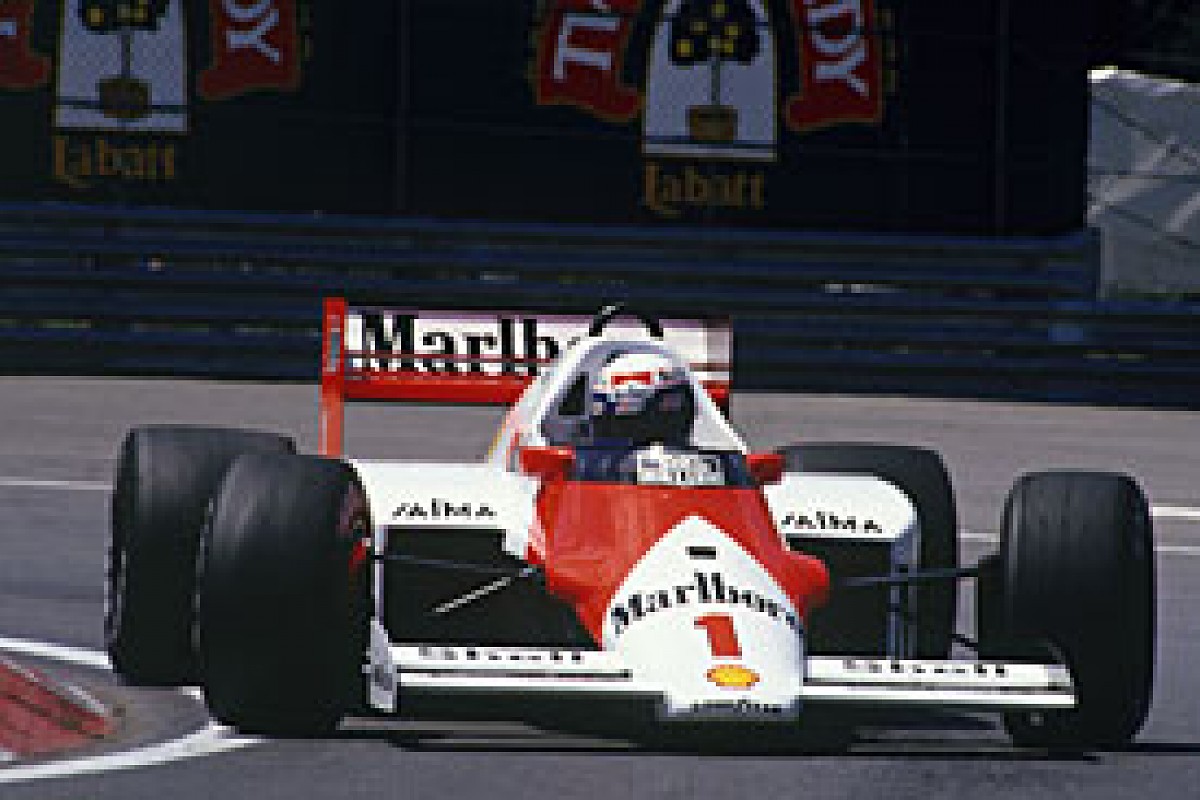 Prost had trouble finding a balance on the Goodyears in qualifying © LAT
13th and 14th were the Lola-Fords of Alan Jones and Patrick Tambay, each drastically short of horsepower for qualifying. Both were pretty happy with their car's handling, but each complained of gear selection problems. "We've got to solve this problem," Jones said. "Because there was hardly a lap when I didn't miss a gear, and Patrick said his car was the same. It's a silly reason to be losing time. Otherwise, no complaints, the balance was pretty good, and the engine was fine - but without qualifying boost."
In the wet Friday morning session Jones slid off the road and into a tyre barrier, which damaged the right rear corner, and during the timed session spun at the hairpin and knocked off the nose. Curiously, Tambay did the same thing on Saturday morning, had the nose replaced - and this one flew off of its own accord! The problem in this instance was traced to the bonding of the carbon/Kevlar in that area of the car, and for the race it was decided to bolt the nose cones directly to the monocoque.
Tambay was consistently impressive in the wet conditions, but after his Saturday misfortunes declined to use qualifiers in the final session, preferring to work towards a race set-up. In the circumstances, his time looked promising for Sunday.
The faster of the Tyrrells this weekend was that of Philippe Streiff - remarkable in that he was in the older 014. "Had it not been for his shunt at Brands," Ken Tyrrell said, "we'd have had three 015s here, instead of two. Detroit is a very important race for Data General, our sponsors, and I cannot jeopardise that. So here he's in the old car all weekend - and on the first day in Detroit. If all is well at that stage with the newer cars, he can have one for the second day."
Streiff put a brave face on it, and did well indeed to qualify 17th, two places ahead of a disconsolate Brundle. "I don't believe I can ever remember a weekend like this," the Briton said. "Every bloody thing that could've gone wrong has gone wrong."
On Friday afternoon he stopped out on the circuit when the engine cut dead, causing the session to be briefly halted while the car was brought back. Then, towards the end of it he spun off at the chicane when the brake pedal went to the floor. "That was probably our mistake - and we had the ducts taped over when it was really wet, and didn't take it off as it dried. The left rear caliper overheated and broke."
The following day was no better: "The T-car, with the qualifying engine in it, lost pressure to the valves (a pneumatique remember), so I had to take the race car - which had a race engine in it. I checked it out, came in for a fuel top-up, and the quick-release fuel cap stuck open! After that the session was virtually over. I went out for one last try, hit a patch of oil and lost a load of time. I don't ever want two days like this again."
Immediately behind Brundle were the two Minardis, an impressive Alessandro Nannini outqualifying team leader Andrea de Cesaris, and the last four slots were filled by the Zakspeeds and the Osellas. Jonathan Palmer, an excellent 11th in the mixed conditions on Friday, was vastly disappointed to drop to 22nd in the last session.
"For some reason we couldn't get full boost today," he glumly reported, "and I think the car was set up too soft - which was perfect in the conditions yesterday, but not so good today. Pity. I thought we were looking better." Huub Rothengatter, who shunted on Friday, damaging the right rear corner, was a couple of seconds slower.
See FORIX for the full grid and all the stats from the 1986 Canadian Grand Prix
Race
Sunday began badly. In the awesome sweepers past the pits Tambay lost control of his Lola, and at a place like that - without a runoff area worth the name - it became a shunt of Indy proportions. After spinning, the car smashed into the barrier on the left and then rebounded into the right hand one some 60 yards further on. It looked very serious, and there was vast relief when the Frenchman was seen to climb out unaided from the wreckage.
Initially there were fears of fractures, particularly to the toes, but the doctors found nothing broken. Tambay had cuts on his legs and feet, miraculously light injuries when you consider that the pedals were gone. Indeed he spoke of maybe racing the T-car, but the medics thought otherwise. This was a 170mph accident, and he suffered severe bruising (from the belts) to his shoulders, chest and ribs, which may well keep him from running at Detroit.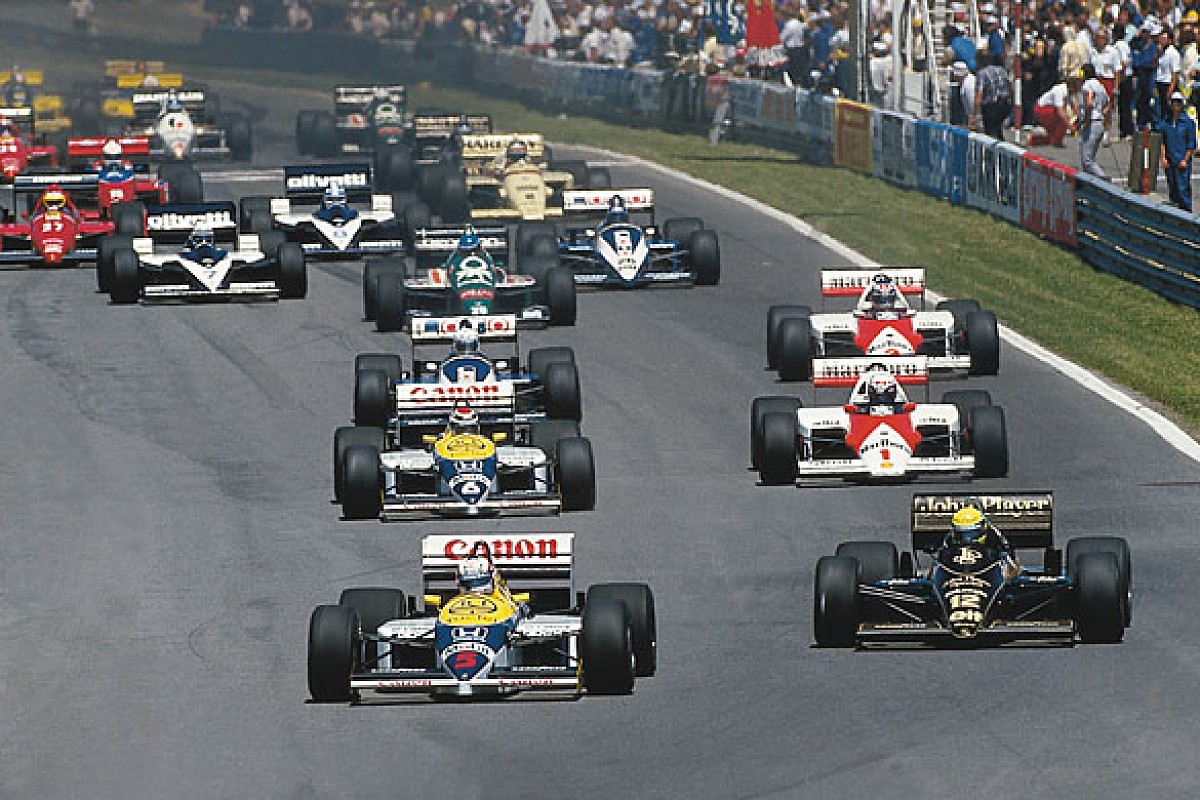 Although the car was obviously destroyed, the monocoque - survival cell, if you like - held up remarkably well. The initial impact, even after 150 yards of spinning and sliding and scrubbing off some speed, was colossal. There are bumps in this area that unsettle a race car, but the suggestion was that something had broken, with some eyewitnesses convinced that it was the rear suspension. Another was that a steering arm had failed.
This inevitably put something of a dampener on a glorious and blue morning, but the mood lightened as news of Tambay's escape spread through the paddock and pits. He will never be more fortunate. It is most definitely a spot where you do not want to go off.
Otherwise the warm-up was, well, mainstream. The McLarens of Rosberg and Prost topped the list, but Mansell was still right there, third fastest, followed by Arnoux, Piquet and the Ferraris of Johansson and Alboreto. What was that Mansell had said about Ferrari on race day?
Less happy was Lotus, Senna only 11th and not at all thrilled with his engine, and Dumfries blowing his up. With the midday start not that far away, and plenty of other work to do, it was decided that Dumfries should start in the spare 98T habitually used by Senna for qualifying.
As the witching hour loomed, there were sundry dramas on the grid. During the warm-up laps, Piquet was unhappy with his brakes, which were tending to stick on, and some thought was given to transferring him to the Williams T-car, which was rolled out and readied. In the end, though, Piquet decided to stick with his regular FW10.
In the pits, Osella mechanics worked frantically to remedy an oil leak on Danner's car, which would oblige him to start from the pitlane. And when they were flagged away for the final parade lap Palmer's Zakspeed refused yet again to fire up, resisting even a protracted push start. Palmer's race would start late.
Mansell's, however, began right on the button. He got away quite perfectly, fairly rocketing clear of the rest, who were led by Senna. At the end of the first lap, incredibly, the Williams led by almost three seconds! Behind Senna ran Prost, Piquet, Rosberg, Arnoux, Berger, Patrese, Alboreto, Laffite and Warwick.
Lap two: Mansell now more than 4s clear of Senna, who had a small queue forming behind him led by Prost, who was obviously keen to get by before the leading Williams was out of reach. A couple of times Prost flashed down the inside into the hairpin, but Senna is not an easy fellow to pass and wanted nothing of that. All the time Mansell was capitalising.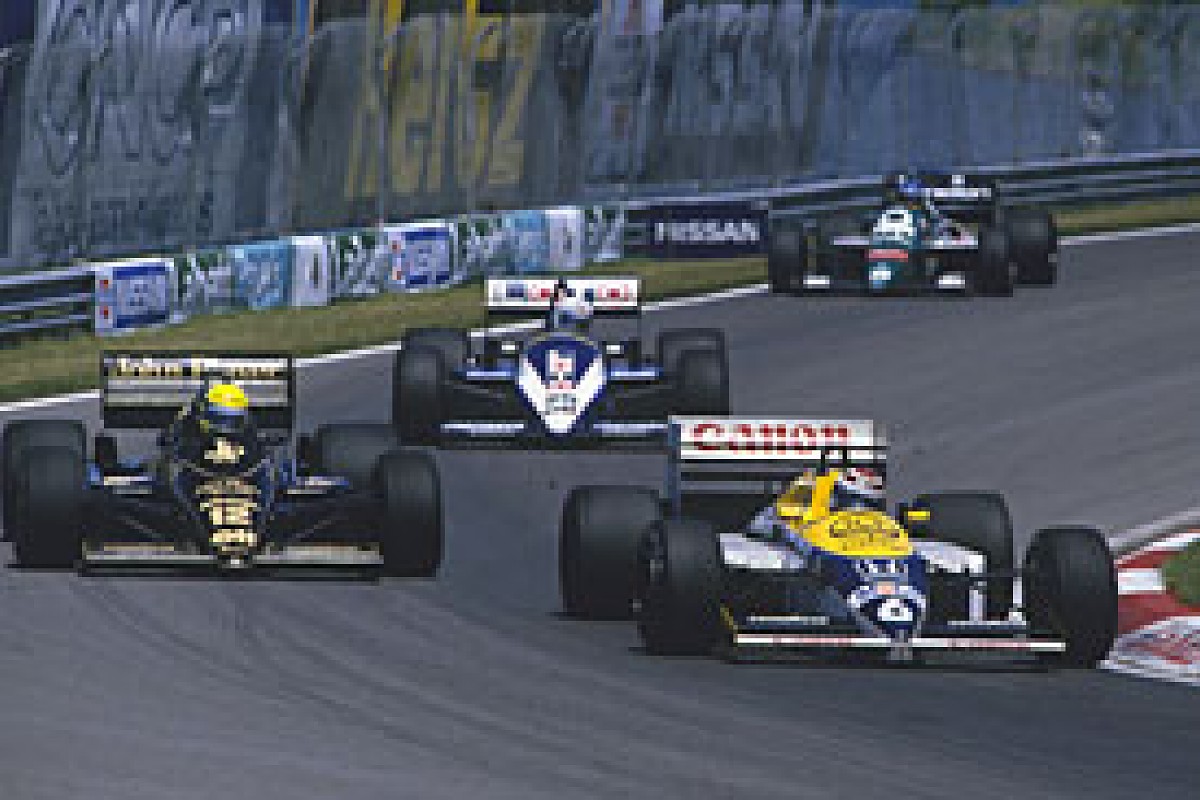 Arnoux amazingly kept pace with Piquet and Senna early on © LAT © LAT
Back in the pack Johansson was proving that his warm-up time meant something. The Ferrari is, in any case, usually at its best on full tanks, and Johansson really went to work in those early laps. From 18th on the grid, he was 14th on lap one, 11th by lap four and seventh by lap nine. But we jump ahead of the story. Up front too there were changes.
Prost, not wishing to spend the balance of his afternoon studying Gerard Ducarouge's changes to the Lotus rear suspension, put a move on Senna that helps to explain why the man is world champion. As the two of them went for the right-left-right sweepers at the beginning of lap five Prsot had the McLaren up alongside, to Senna's right. As they shaped up for the left-hand portion he was drawing ahead, and into it he calmly moved across to claim the line, obliging the Brazilian to lift a little and drive over the kerbing.
It was done with the ruthless precision and glitter of a meat slicer: I'm coming through, so you'd better make your own arrangements. Moreover, Prost took the rest of the queue with him, for Senna's lifting off allowed Rosberg, Piquet and Arnoux to get momentum on the Lotus down to the next corner. In a matter of seconds Senna had gone from second to sixth.
"It's a satisfying place to pass," Prost said afterwards. "A dangerous place, yes, but satisfying, because you have to be very precise there - even when you are not close to another car." One or two on the spot claimed that the cars actually brushed each other, but Prost said this was not so. There were others, too, who thought the move perhaps a little too assertive, but Senna was not among them: "No, it was quite fair. Hard, but fair." And in Senna's memory bank now is the knowledge that Prost is not to be trifled with.
Once into second place, Prost began slightly to trim back Mansell's lead but did not make any great impression - a tenth here and there. Rosberg was keeping well in touch, but Piquet was falling gradually away. After the leading quartet, however, there was a sizeable gap to Arnoux and Senna (who would battle most of the afternoon), and then another gap before Berger came through, tailed by the Ferraris, which were swiftly to dispense with him.
After seven laps Jones was into the pits for the maddeningly trivial reason that a front wheel balance weight had been shed. He rejoined at once, but was in for another day of frustrating gear selection problems. Through the race his lap times varied by as much as 7s for this reason. "Coming into the hairpin was an adventure every time," he said afterwards. "I never really knew which gear I was going to get next."
It was at the chicane, too, that Patrese spun on lap eight while trying pass Berger. This he momentarily managed before the Brabham snapped sideways and stopped - right in the path of Warwick's sister car. "He told me he thought I was very gentlemanly about it," Warwick said. "I sort of stopped, and waited for him to get on his way again."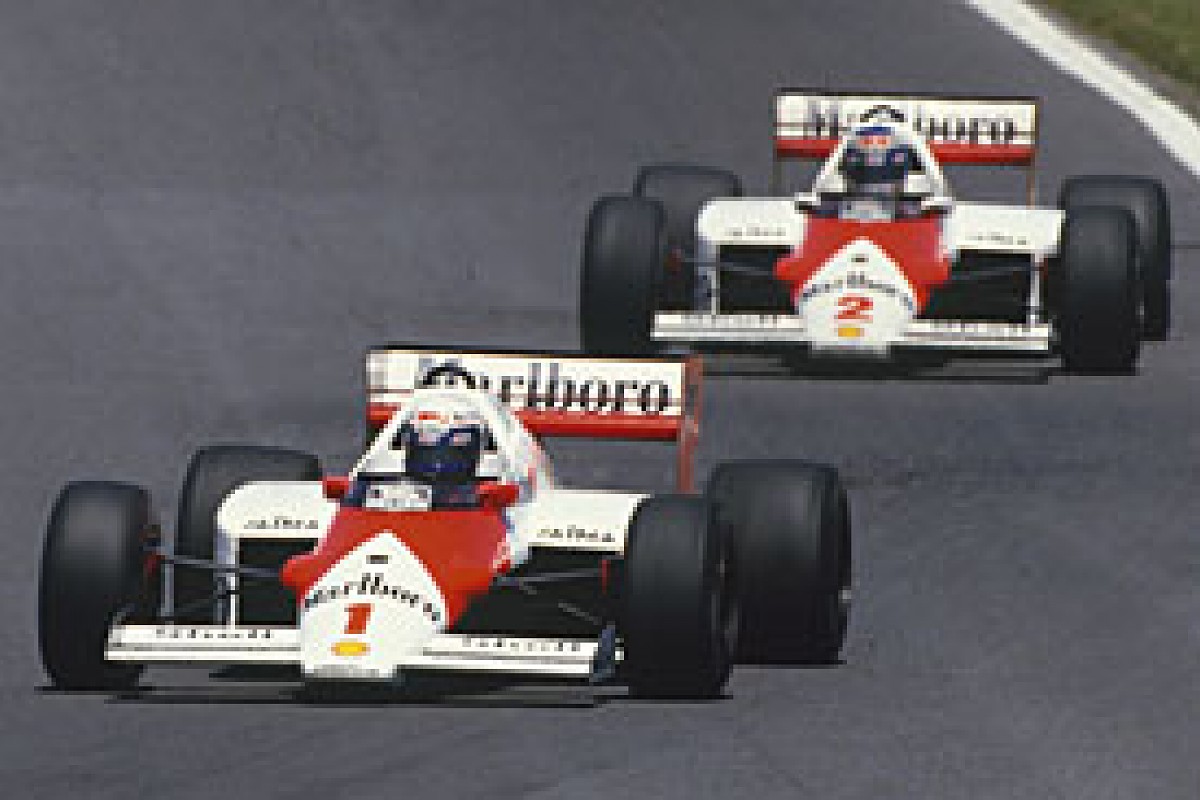 Rosberg was on Prost's tail by lap 13 and soon got by as they lapped a Minardi © LAT
Lap 13 brought changes. For some time Rosberg had been showing signs of wanting to get by his team-mate, exactly as at Imola. And as two McLarens came down to the hairpin he boxed Prost in behind de Cesaris' lapped Minardi, took second place and immediately set about catching Mansell. A lap later the Williams led by under 2s, and at the end of lap 17 the McLaren was in front. Did Mansell have a problem?
"No, not really," he said later. "It was the old fuel thing again. I was starting to get slightly the wrong side of the calculations, so I was quite happy to let him through and run second for a bit. The car was running perfectly, and fuel consumption was the only thing I had to worry about all day." Later in the race, indeed, Mansell got on his radio to say that things were a bit boring out on the track and was anything exciting going on in the pits.
Although Rosberg had the lead, extending it briefly to more than two seconds, he never looked likely to pull away. And after five laps of running second, Mansell, happier now in his computer room, went back into first place while the McLaren was held up by Jones' Lola. He would lose the lead momentarily during his tyre stop, but otherwise would run unchallenged for the rest of the day.
Lap 21 was the end of Warwick's Brabham debut, the BT55 stopping out on circuit, engine dead. "It was an electrical problem somewhere, I think," reported Warwick. "The car actually ran quite well, and I'm very encouraged. We were conservative on tyres, with hard on the front and very hard rears, and we weren't going too badly. I don't think I could have expected much more from my first race back."
Lap 25: Mansell and Rosberg still running in tandem, with Prost three seconds back, then Piquet. Every Goodyear driver in the race, bar Nelson, had gone for Cs all round, the Brazilian opting for harder Bs at the rear. This, as well as a binding right rear brake, which tended to pitch the Williams a little sideways whenever the pedal was pushed hard, was keeping Piquet from the centre of the action.
He was still well ahead of Senna, however, for the Lotus driver was having his most dispiriting race of the year, unhappy with the balance of his car and getting erratic information from his fuel computer read-out. Arnoux was not very far behind him, the Ligier man very clearly holding up the Ferraris.
Johansson had been driving a stormer of a race until catching the Frenchman, who successfully kept him back for lap after lap. Alboreto, indeed, had caught up with his team-mate only because Johansson was trapped. At the beginning of lap 30, however, an incident at the first right-hander sweeper past the pits was to end the Swede's race in controversial circumstances.
The pit exit at Montreal is perhaps the most dangerous at any circuit in F1 use, leading straight out into the beginning of the top gear sweeps. The usual procedure is to keep to the left, leaving the man on the track to find his own way by. As Johansson hurtled into lap 30 Dumfries emerged from the pits after a tyre change. Acting with the best intentions, if not the best judgement, Dumfries decided to move over to the right.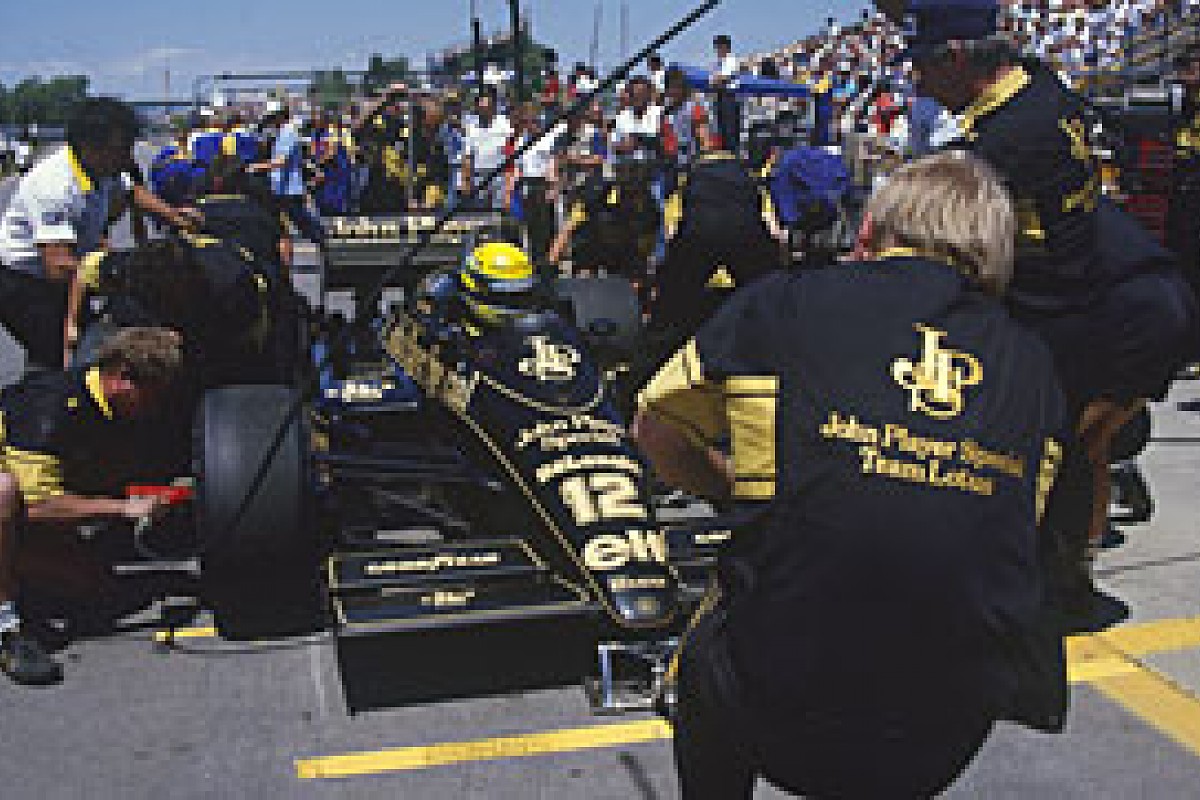 Senna made his pitstop on lap 33 © LAT
"I didn't want to block on the apex of the left-hand part of the corner," he said, "so I thought I'd be more out of the way on the right."
It seems that the Ferrari was approaching rather more quickly than Dumfries envisaged, Johansson finding the Lotus precisely where he wanted to be. As he hit the back of the black car, so Alboreto, following closely, put his car into a spin to avoid the carnage. Alboreto was very fortunate not to hit anything, as was Streiff, who had a grandstand view of the whole thing and had to take to the grass as he threaded his way through.
Johansson and Dumfries were obviously out on the spot, the former absolutely livid that his very fine drive had been for nothing. Alboreto, too, lost a lot of time, and Streiff had shortly to pit to replace his flat-spotted tyres.
Amidst all this the leaders were beginning their tyre stops, with Rosberg the first to come in after 29 laps. He resumed in fourth place after a routine change, and a lap later it was Mansell's turn, the Williams mechanics' work up to their usual high standard. For that one lap Prost had the lead, but he came in next time and his tyre change did not go well, the left rear wheel nut proving troublesome. Only after 23s did Prost get out again, and this dropped him temporarily to fifth.
Senna pitted on lap 33 (resuming sixth), and two laps later Piquet was in, so the gamble on rear Bs had indeed been a mistake. This time, of course, he took on Cs all round, and for the first time became a serious factor in the Canadian Grand Prix.
One man not involved in such matters was Arnoux, whose Ligier had been shod originally with hard Pirellis, and was going through non-stop. That had also been Laffite's intention, but a delaminating rear sent him in. Once out again, Lafitte really charged energetically, unlapping himself on both Arnoux and Senna, although it profited him nothing.
Senna's stop had put him behind Arnoux once again, and he spent endless laps behind the Ligier. "My second set of tyres were terrible," he reported. "From the start they vibrated, and then they began to grain badly, and I lost more and more grip. Whenever I got close to Arnoux he put the boost up, and I didn't know what to do to get by."
More than once the Lotus locked its front wheels into the hairpin, but Arnoux is resolute in these situations, and remained stubbornly ahead.
At the front, though, there was no dispute whatever. The pitstops had served only to increase Mansell's advantage, and he continued to pull effortlessly away from Rosberg. By lap 44 the Williams had lapped last year's winner Alboreto and was serenely in a race of his own. Rather more uncertain were the places behind him, for now Prost, fighting back after his slow stop, was beginning to catch his team-mate - and Piquet, with suitable rubber at last, was closing on the world champion.
By now the race track was only busy in fits and starts. After problems with a sticking throttle, which caused him to spin at one point, Berger's Benetton-BMW lost boost pressure and retired, joining Fabi's sister car, which had earlier attempted to shed its battery to the considerable detriment of the computer settings.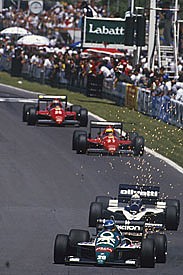 Berger didn't keep Patrese or the Ferraris behind for long © LAT
Boutsen's Arrows was out, its engine cutting dead with a recurrence of the electrical problem encountered at Spa, and de Cesaris' Minardi retired with a broken gearbox - team-mate Nannini's car having expired earlier with a spectacular turbo fire. Brundle's race had been ruined by a long tyre stop, the left front refusing to cooperate. "I wanted them to leave it on," he said. "I don't know exactly how much time we lost, but apparently it was over a minute. Then I got a puncture on the second set, which meant another stop." This was not a weekend he will remember with favour.
For Mansell, though, it was a day easy beyond his dreams. With success has to come a remarkable confidence, and he reeled off lap after immaculate lap, keeping a weather eye on his read-out figures, not much concerned with anything else. On lap 60 we beheld the astonishing spectacle of the Williams calmly lapping Senna's Lotus! It cannot have been a sweet moment for the Brazilian but he benefited from it, finally squirting past Arnoux on the run down to the hairpin.
There was little incident during the closing laps. With 10 left, Piquet surrendered second place to Prost, hurtling in for a second tyre change. His charge had been enough to blister the left rear, and the mechanics left the fronts alone. He rejoined in fourth place, but in a couple of laps was able to pass Rosberg, who was low on fuel and also hobbled by an engine problem such as Prost suffered at Ricard last year. Occasionally the TAG V6 would cut out altogether, obliging Rosberg to bump start it. In the circumstances he was happy to make the finish somewhere in the points.
So another win for Mansell, his fourth in the last nine grands prix. It was not memorable in the Kyalami sense, where he was under serious pressure for most of the way. This one he won by command, taking pole position, leading all but a handful of laps and stamping his authority on the race in the Prost tradition. And I thought back to something Harvey Postlethwaite had said during practice: "Do you realise it's exactly 10 years since there was a British world champion? I have a feeling we're going to get another this time."
Mansell and Prost had little fuel to spare at the end of the race ñ a litre each, according to the scrutineers - and the Frenchman was well pleased with second place: "It was my best finish ever in Montreal, and there was no way I could run with the Williams today. No way. I was concerned about the fuel, yes, so six points, I am quite happy."
Piquet, third, smiled bravely at his team-mate's triumph, just as Rosberg did at Kyalami last autumn. Senna, a distant fifth, did not smile at all, and Arnoux, claiming the last point, said that his fuel read-out had hit zero half way round the last lap, adding that waiting to see if the Ligier would make the line was the only exciting thing that happened to him all day! Alboreto, who held the laurels 12 months ago, pondered his eighth place, his spin to avoid the Johansson-Dumfries fracas and his closing laps without either fourth or fifth gears.
And Jones, who gave the Lola-Ford its first race finish, perhaps thought back to that triumphant battle with Villeneuve seven years ago, when they were able to race throughout, with no thought of fuel economy.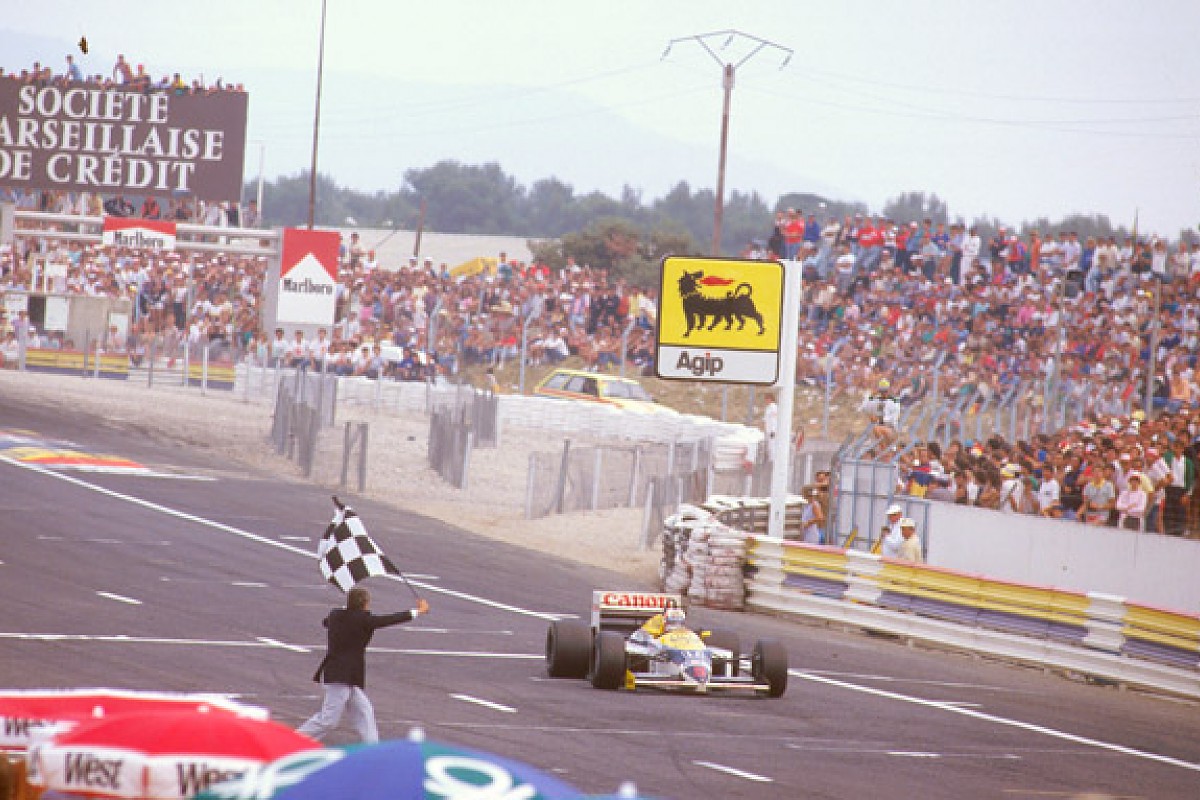 See FORIX for the results and stats from the 1986 Canadian Grand Prix