Jenson Button's brilliant win in Sunday's Hungarian Grand Prix elevated him another step up the ladder of British motorsport success as he matched Graham Hill's tally of 36 podium finishes.
That result put Button equal 18th in F1's all-time podium list, although his achievement took 24 races longer than Hill's. His next target is 16th placed Riccardo Patrese, on 37 podiums, while his McLaren team-mate Lewis Hamilton is just ahead of the Italian on 40.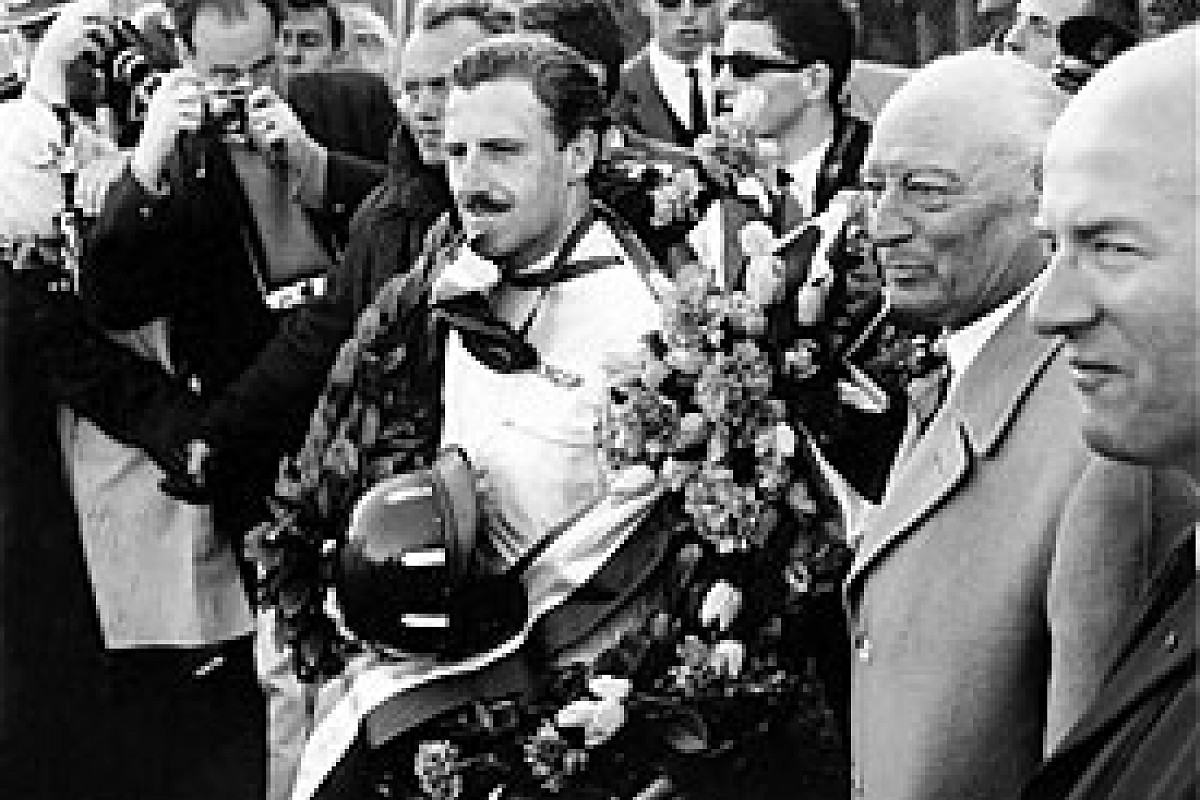 Graham Hill celebrates winning the 1962 Dutch Grand Prix © LAT
It was a special weekend for the McLaren driver for several reasons, not least because it was his 200th race.
Button's win also the 11th of his career and the 2009 world champion's past four wins have all come in wet/dry races.
RACE
• McLaren has now won successive GPs - this hasn't happened since last year's Turkish and Canadian GPs. McLaren has also scored points for 30 straight races.
• Sebastian Vettel's second place marked his 10th podium finish of the season - the same number he scored last year. The German is only 22 points adrift of his 2010 world championship tally (256) and increased his advantage over Red Bull team-mate Mark Webber to 85 points. He has now increased his margin eight times out of 10 since the second GP of the year.
• Mark Webber lies second in the championship despite not yet winning a race this year. He has finished every race between second and fifth.
• Fernando Alonso is currently the only driver with an active podium streak, with four in a row. In each of the past four GPs he has finished two places higher than he qualified. His top-three finish was also the 69th of his career, putting him ahead of Rubens Barrichello (68) on and into fourth place on the all-time list behind Michael Schumacher, Alain Prost and Ayrton Senna.
• Felipe Massa has been classified either sixth (twice) or fifth (three times) in the past five races.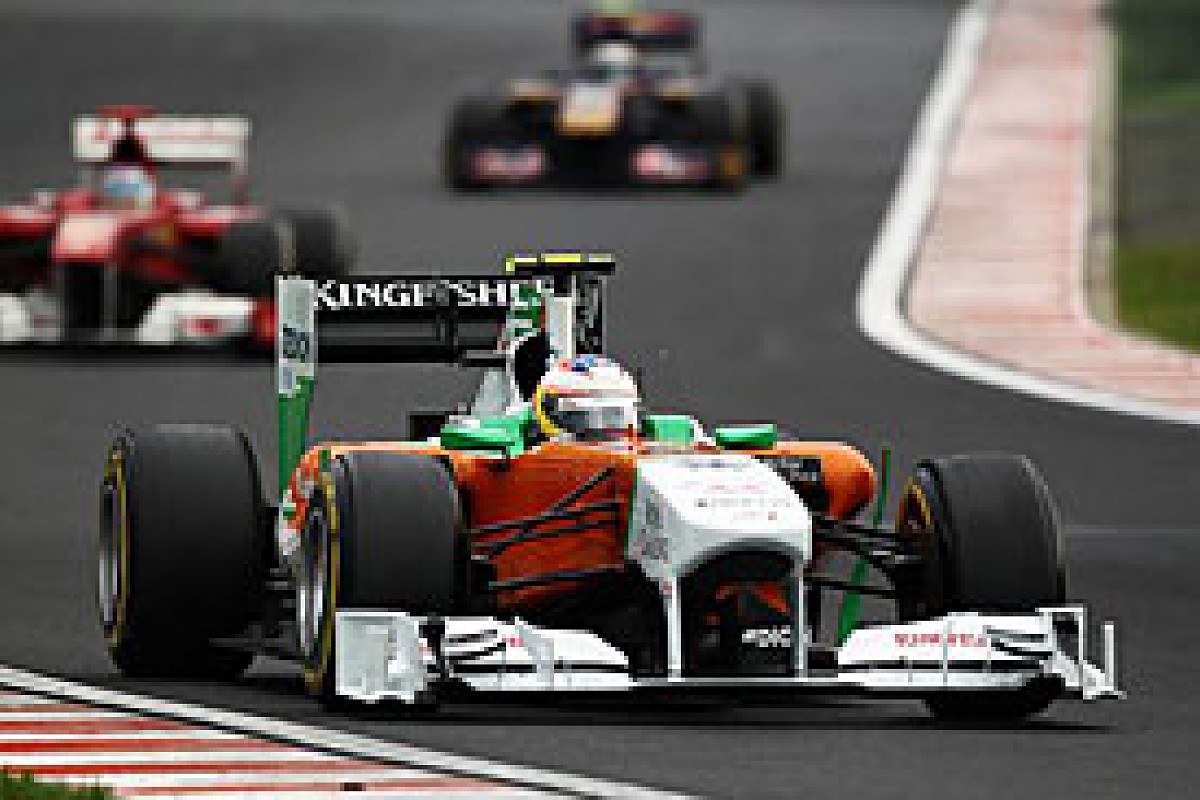 Paul di Resta scored a career-best seventh © sutton-images.com
• Paul Di Resta scored a career-best result of seventh - his first points since Malaysia back in April.
• The 'Q1 rejects get points' streak continued for a fifth straight race. The Hungarian GP comeback guy was Sebastien Buemi, who qualified 18th, started 23rd after a five-place penalty, but finished eighth.
• Toro Rosso got both its cars into the points for the second time this year. Canada was the other occasion.
• Neither Renault finished in the points for the first time since last year's Japanese GP.
• The pitstop record was again broken. There were 88 visits to the pits, beating the previous record of 82 set in Turkey. With 77 stops in Spain and 76 in Canada, this season has produced the four races with the highest number of pitstops.
QUALIFYING
• Sebastian Vettel scored his 23rd career pole and the 31st for Red Bull. The British squad has now secured the top spot 12 times in a row, equalling the third-best tally of all time, recorded by McLaren between the 1989 Belgian GP and the 1990 Mexican GP. The absolute record is exactly double that: 24, set by Williams between the 1992 French GP and the 1993 Japanese GP.
• Lewis Hamilton has started from the front row in back-to-back races for the first time since the two opening races of this season. His last pole came in Canada last year.
• Jenson Button's third-place qualifying slot was his best result since Monaco, when he started second.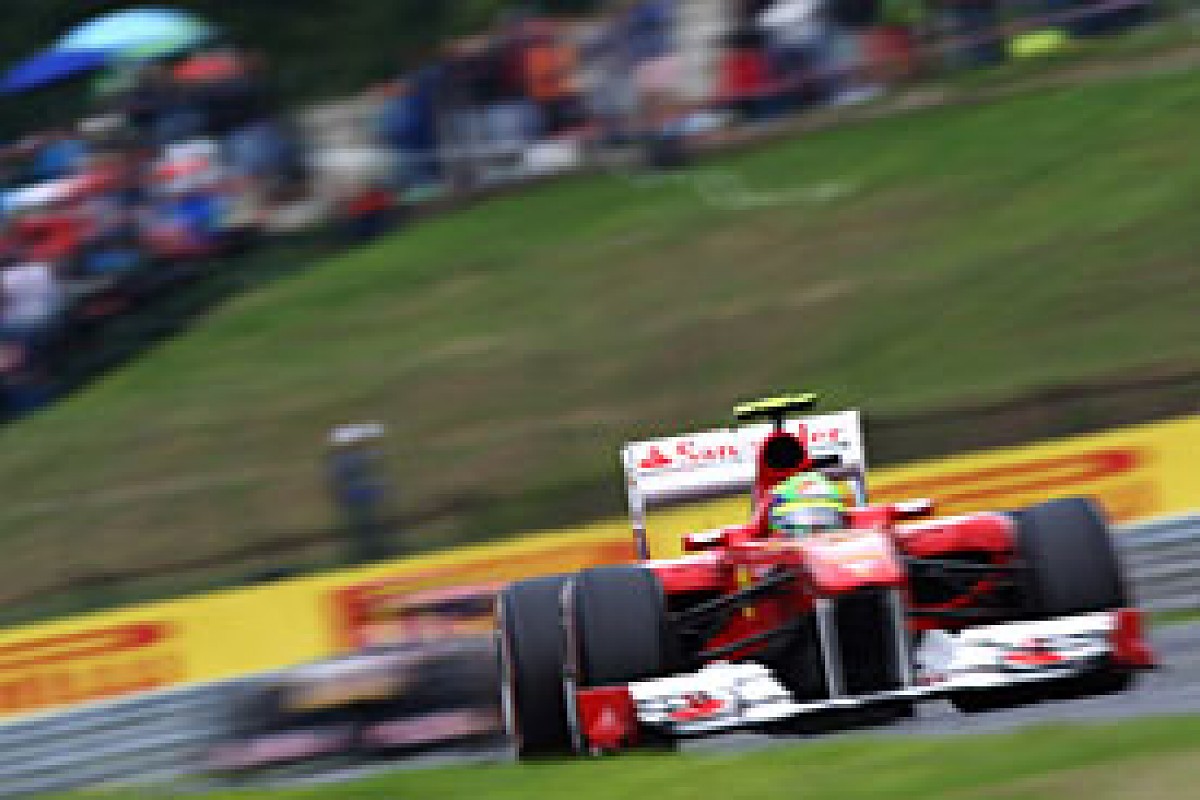 Felipe Massa outqualified Fernando Alonso © LAT
• Felipe Massa was able to outqualify his team-mate Alonso for the first time since Belgium last year - almost a year. The intra-team score is now 25-5 in favour of Alonso since the start of 2010.
• Fernando Alonso hadn't qualified so low (fifth) since the Turkish GP back in May.
• Mark Webber recorded his worst grid spot (sixth) since China, when he was 18th.
• For the fifth time this year, Nico Rosberg was seventh on the grid.
• Adrian Sutil (P8) was able to qualify in the top-10 in successive races for the first time since the four opening rounds of the 2010 championship.
• Renault failed to make it into Q3 for the second time in the past three events. That hasn't happened the last three races of the 2009 season.
• Thanks to penalties, Sebastien Buemi has started the past two races in his worst two grid spots: 24th at the Nurburgring and 23rd in Budapest. Prior to that he had never started lower than 20th.