At Silverstone, I had cause to speak to Jacques Laffite about the 1986 British Grand Prix at Brands Hatch - the one that ended his Formula 1 career with badly-broken legs.
It was for a feature that will appear in AUTOSPORT magazine and while reminiscing, the Frenchman said with a smile: "Not a good outcome for me but pretty good for Nigel [Mansell]. He'd broken a driveshaft off the line and if I hadn't crashed, that would have been it for him. But there was a restart and he was able to take the spare car and beat Nelson [Piquet], which was important for him."

I'd been there that day, captivated by the atmosphere like everyone. It was that season in which Mansell emerged as a superstar. The Brands race was his fourth win in five races. It ended, of course, with him losing the championship to that agonising tyre blow-out at the Adelaide finale.
Mansell is always good for an argument. At that stage not many regarded him as anything special. That he would go on to win 31 grands prix, more than any other British driver, and be spoken of in the same breath as Stirling Moss, Jim Clark and Jackie Stewart, was barely credible.
There are those who say that he was a driver who was much better than the single world title he claimed in 1992, and that he was an 'unlucky' driver.
This always provokes my response that there can't be many 'unlucky' drivers who get to spend more than 30 per cent of their F1 careers in blatantly the best car on the grid.
There's a contemporary of mine who always gets quite uppity about how anyone can possibly not see how brilliant Mansell was. I always counter that his early record at Lotus was not the kind that warranted a seat in the best car on the grid, which is what Mansell had from midway through 1985 until the end of 1987, then again from midway through 1991 until the end of the following season.
Mansell was out-qualified by de Angelis during his Lotus years © LAT
He always snorts at that. "Early record? Early record?!! What were you doing in 1977? Did you not see that he won 33 of 42 Formula Ford 1600 races in a sh**box? And then was mega in F3 with uncompetitive cars and no money... Good job Colin Chapman was watching."
I always have to concede that in 1977 I was more concerned about whether Niki Lauda was still a force to be reckoned with at Ferrari in F1 after his Nurburgring accident, than the intricacies of the Brush Fusegear FF1600 Championship, but ignorance is no excuse.
What about the Lotus years, I always counter, contending that a man who was outshone by Elio de Angelis over a four-year period was highly fortunate to find himself, shortly afterwards, in a Williams-Honda that was comprehensively the class of the field.
"You can't use that as a gauge," he always says. "Mansell's face didn't fit. Peter Warr was a posh former guards officer and Nigel was a chippy Brummie. The other bloke was an aristocrat and so no prizes for guessing where the effort went. Look at it in detail. Compare the Chapman years with the Warr years."
So the other day I did. Back then, race reliability wasn't like it is today and arguments about the merits of respective racing drivers tend to be about how ultimately fast they were, so I looked at qualifying performances.
In the Lotus era before Chapman's death at the end of 1982, de Angelis outqualified Mansell 21-8. In the Warr era, the Italian led 14-6, and in that assessment all but the last four races of 1983 have been discounted either because Mansell had a Cosworth car while de Angelis had a Renault turbo or, when Mansell did run a turbo, it was in a Lotus 93T while his team-mate had a 94T. Only in the final few races did they have comparable equipment.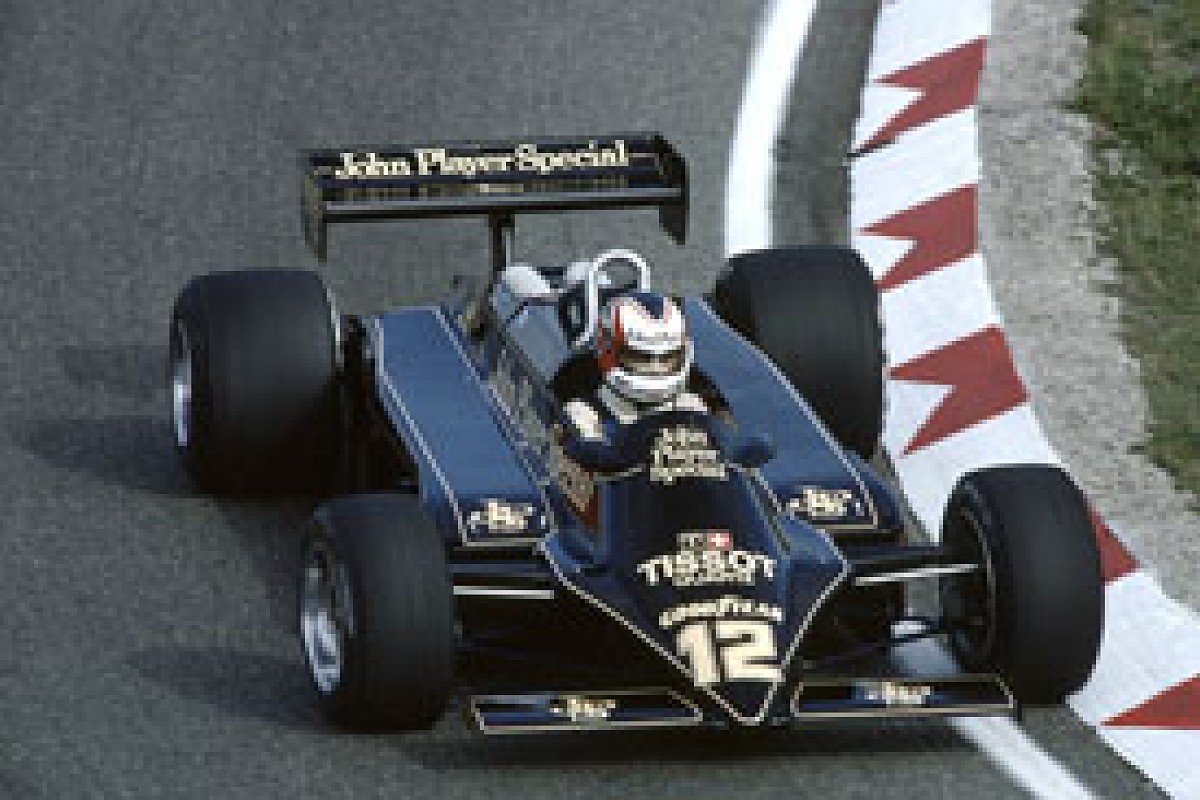 Mansell put Piquet in his place at Brands Hatch in 1986 © LAT
Over the period as a whole, de Angelis comes out on top 35-14. To put that into perspective, de Angelis was psychologically crushed when Ayrton Senna arrived at Lotus the following year after his first F1 season with Toleman. Senna took seven Lotus poles and started from the front row 10 times, while de Angelis managed it once. Senna came out on top 13-3 over the season and, suddenly, de Angelis had an altogether different talent barometer.
Mansell, meantime, had gone to Williams. At the time it was not a plum seat. The team had just had its first year with Honda turbo power in 1984. Keke Rosberg said that power delivery was like a light switch - on or off - and that, allied to an aluminium chassis with considerable flexing issues, had meant that the FW09 was not the easiest car to drive. But Honda was throwing big money at engine development and there was a carbon car in the wings. Things could only get better.
Truth told, Frank Williams had signed Mansell as a plucky number two to Rosberg and there were those who thought the Finn would annihilate him. It didn't happen. Rosberg won in the USA and Australia and there was that fantastic 160mph Silverstone pole, but Mansell won his first GP at Brands Hatch in October and followed up with another win at Kyalami.
He finished sixth in the championship, nine points behind third-placed Rosberg, and the qualifying score was just 9-7 in favour of the 1982 world champion. And now, Keke was off to an understeering McLaren and a nightmare season alongside Alain Prost, while Mansell had to contend with the incoming Piquet, twice a world champion in seven years with Brabham.
Rosberg of course, was rated, and Mansell's 1985 season gave him tremendous confidence heading into the following year, when the Williams-Honda FW11 was the class of the field.
The Brands Hatch race that Laffite recalls was a turning point in Mansell's career. Piquet had won the first 1986 race in his own back yard at Rio but, since then, Mansell had won three times. Piquet put one across him to take the Brands pole and then Mansell broke his driveshaft off the line and had to drive the spare - set up for his team-mate - at the restart.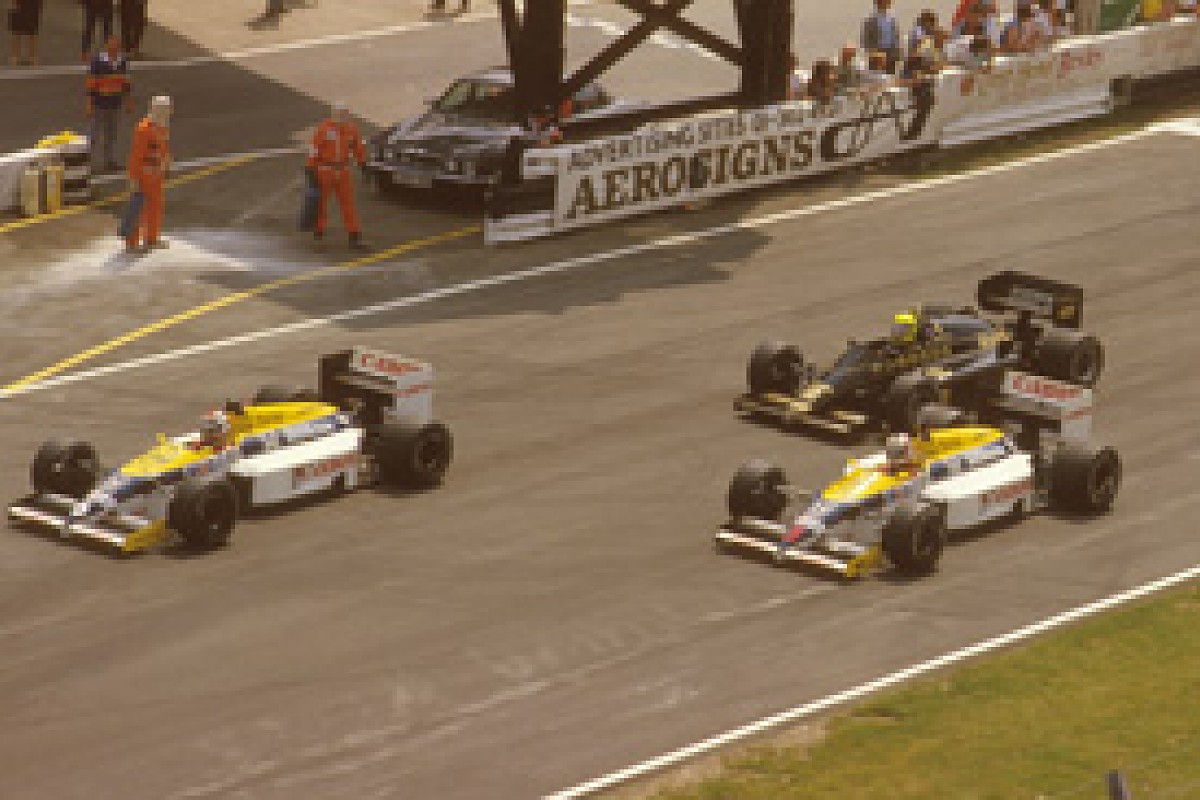 Mansell matched both Berger and Prost in Ferrari qualifying © LAT
Just before one-third distance Piquet missed a gear and Mansell passed him. The order stayed the same at the tyre stops and then they started trading fastest laps. Brit blew Brazilian away as they lapped the entire field and crossed the line 5.5s to the good. Never again would he be regarded as a number two.
In qualifying that year, it was 8-8 between the pair of them and, in 1987, it was Mansell on top 9-4 across the 13 races they both did, although it was Piquet who emerged with a third world title after Mansell injured his back in Japan and missed the final two races. There are those who claim that it took Piquet a long time to get over a big bang on the head from an early season shunt at Imola's Tamburello.
The reward for those two seasons for the Williams troops was that Ron Dennis and McLaren pinched their works Hondas and in 1988 Mansell - probably at his peak - had to fight the turbos with a normally-aspirated Judd. It was the only time in his career that he comprehensively shaded a team-mate for one-lap pace, 13-1 against Riccardo Patrese.
Then it was off to Ferrari, where his qualifying records alongside Gerhard Berger and then Prost were 7-7 and 8-8 respectively, before he tired of Maranello politics and returned to Williams after scoring just over half of Prost's points total in 1990.
And what a time to come back. Just as the FW14 came along! Mansell had some reliability problems early that season, when Patrese somehow outqualified him at the first seven races. Over the entire year it worked out 9-7 in the Italian's favour but the true picture was that by the end of the season Mansell and the Williams were the quickest combination and finished as runner-up to Senna in the championship.
What one-lap pace doesn't reflect, however, is the bull strength, determination and sheer bloody-mindedness and bravery that made Mansell such a formidable race driver. Piquet couldn't take him that Sunday afternoon at Brands Hatch in 1986 and neither could he a year later at Silverstone in one of Mansell's best drives.
The most feared sight for any driver of that era was a yellow helmet in their mirrors, but a close second was Mansell. They knew he wouldn't go away and they also knew he was brave enough to go around the outside of Berger at Mexico City's Peraltada on the last lap.
Still, I find it an odd stat that in races where a direct comparison is valid, the man who won more grands prix than anyone bar Schumacher, Senna and Prost, was just 87-83 in qualifying versus the bloke in the same car across his entire F1 career (and 34-12 of that is against Patrese). You wouldn't imagine a similar stat with a Vettel, Hamilton
or Alonso when they hang up their lids.