There was a funny scene after the British GP at a press gathering with Ferrari boss Stefano Domenicali. The BBC website's irrepressible Sarah Holt suggested that Fernando Alonso's win might be a one-off, because he'd won as a result of the Red Bull pit mistake.
That immediately brought forth a torrent of arm waving and angry muttering from the team's communications boss, to the extent that Stefano - ever the gentleman - attempted to calm his employee down so he could address Sarah's point.
The significance of the RBR pit delay was the big question of the day, and one for which we'll never know the answer. The fact is that Alonso jumped into the lead when Vettel had a delay in the pitstop, and it's easy to suggest that that mistake was the key to the victory. But equally had the change of position not happened then Fernando still had 35 laps in which make a pass on the track, as well as one more pitstop sequence.
No one can say for sure how things might have panned out - although bear in mind Alonso's best lap was 0.657 seconds faster than Vettel's - and in many ways that's a great shame, because that little question mark will forever hang over what was a fantastic result both for the team, and for the sport.
"The race pace was good," said Domenicali. "And even without that problem, that we have [also] suffered in the past, we could have won the race in any case. Honestly today, we were very, very strong. I really hope that after this one, some others will come."
This time Vettel had to concede Alono was stronger © LAT
And then there's the equally-hard-to-judge matter of the engine mapping saga. Inevitably, everything that happened last weekend had to be judged against the background of the rule clarification, whether Team A gained or Team B lost, that sort of thing. The usual ebb and flow of form from track to track, weekend to weekend, became totally obscured by the one issue. At least until Ferrari wins again this season, cynics will suggest that the team only won because Red Bull was handicapped by the changes.
One answer to that is that the FIA has officially stated that cars were running illegally up until Silverstone. And since that interpretation is set to return for the Nurburgring, it follows that Ferrari will have won the only race of 2011 in which all the cars were legal by the FIA's own definition. And that will be a handy piece of PR for Luca di Montezemolo to trot out when he's asked to analyse the season...
"We don't have to be focussed as a lot of people are on this saga of the hot and cold gases," said Domenicali. "Because I think all the people are fed up about this, because they don't understand what we are speaking about.
"I think that we really need to look ahead and consider that we had a good performance, that I really hope will be the basis for the next part of the season, where we will try to be very strong and try to attack without looking at the classification, but try to maximise the points and see where we're going to be in some races."
Ferrari has made huge steps over the last three or four races, and in Valencia - under the 'normal' rules - Alonso was Vettel's biggest challenger, beat Mark Webber, and was miles ahead of the McLarens. For Silverstone there were new parts on the car as the team's aero programme continues to get back on track since the wind tunnel issues were sorted a few weeks ago.
"We don't have to forget in the last couple of races, we were quite competitive. If you think back, Monte Carlo, if you consider Canada in a way we could really have done a great job, if you consider the last race, where we were fighting. I think that for sure we have improved, and this is the reward for all the team. I really hope to do races like today in the next part of the season."
Amid all the usual F1 politicking, there was also a little magic in the air on Sunday. Ferrari itself had made little fuss about the 60th anniversary of Jose Froilan Gonzalez's 1951 Silverstone win, and it was a deal between the TV guys from Argentina and car owner Bernie Ecclestone that saw the winning 375 brought along for Alonso to sample on Sunday morning.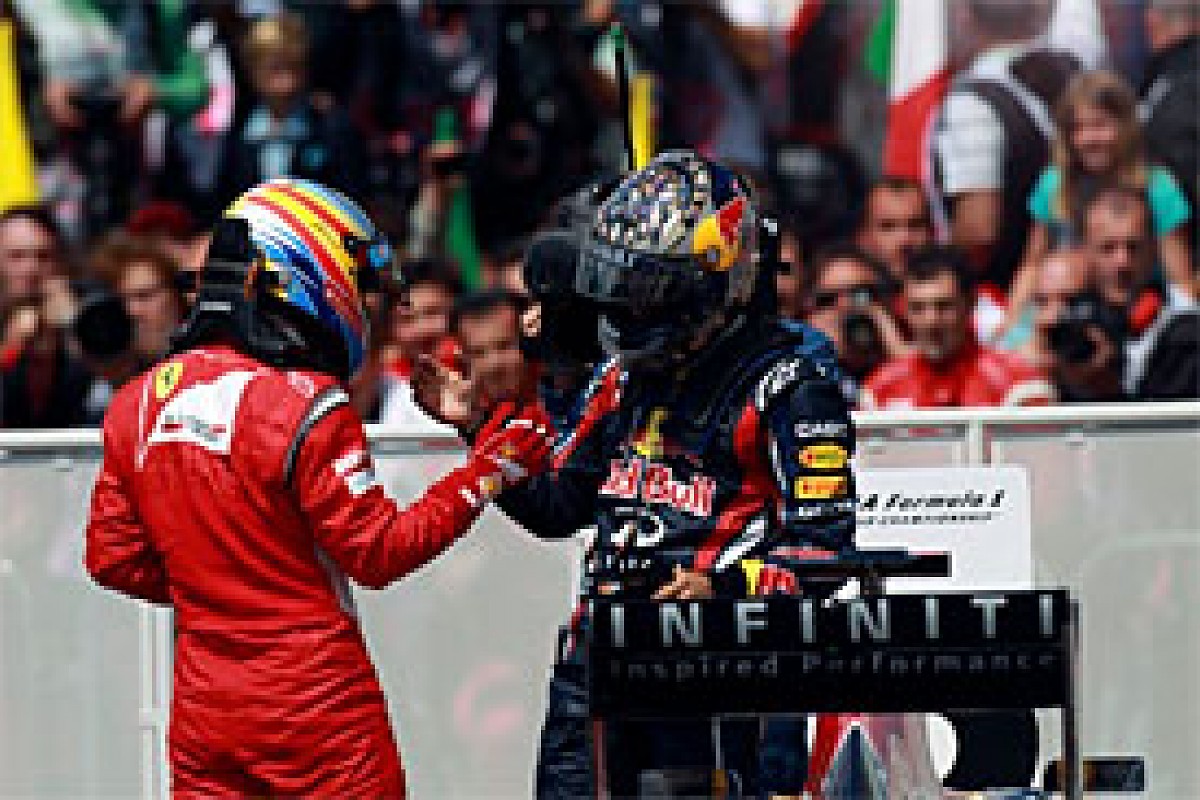 Domenicali was a happy man in Britain © sutton-images.com
He was smiling when I asked him about it on Saturday evening, and the smile was even bigger after he'd done a couple of laps in the car shortly before the race. It just looked like it was going to be Ferrari's day.
"For sure we were expecting to be competitive, and to win was a great result," said Domenicali. "But if I may say, it was great to win after 60 years, This was something unique, that was belonging to this team. The history of this team is done day by day, and the fact that we were able to win here once again means a lot to us. I think in the last 18 years, correct me if I'm wrong, we always won something, so that means a lot for a team like Ferrari.
"I would say for sure it was an incredible performance today. We were expecting an improvement, for sure. It was so big, to be honest we need to be cautious, we need to understand the data, we need to understand what the others are doing. We saw that the performance of our car was really good in all conditions, wet, soft tyres, hard tyres, even yesterday was not too bad."
How the race was won
As Stefano said, the Ferraris seemed to be quick in all conditions on a day when form varied wildly as the race developed. Alonso had a bit of a go at passing Webber into Turn 3, and having failed to make it past, dropped a couple of second back in the early laps, which at least kept him safely out of the spray. As the track dried and the first stops approached, he edged a little closer.
The move to slicks was triggered by Michael Schumacher, who was forced to come in on lap nine after his shunt with Kobayashi. Nick Heidfeld came in a lap later, and by then Michael's sector times showed that the crossover point had been reached. Next time round on lap 11 sixth-placed Button was the highest placed driver to come in.
Vettel's lead was such that he could afford to stay out on lap 12, as RBR instead focussed on Mark Webber, who was under more immediate pressure. He came in with Alonso and Hamilton following him down the pitlane. Ferrari had to briefly hold Fernando to let the McLaren go pas, and in fact he lost nearly 2.6 seconds to Webber just in the stops, a huge amount given the margins involved.
Alonso was a little hesitant in those opening laps on slicks, and within three laps he was passed by a flying Hamilton in a brilliant move at Copse that saw the Brit edge onto the wet line. Since they had pitted it at the same time it wasn't as if Lewis had any advantage from getting his tyres up to temperature - this was just a ballsy move by an man who has already taken a few risks as he jumped up from 10th.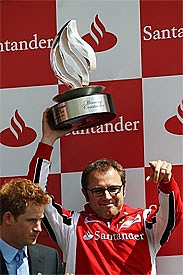 Vettel's problem in the pits was costly © LAT
Was Alonso also taking his time, playing the long game, and protecting his tyres in those early dry laps? If so, it worked well. Within a few laps he was trading fastest laps with Lewis. And exactly 10 laps after Lewis passed him, Fernando repaid the favour, with a little DRS assistance, at Brooklands. Lewis ducked straight into the pits on lap 24, and from now on, Fernando's focus was on the Red Bulls. He was 7.1 seconds behind Vettel, and 3.0 seconds behind Webber.
And everything would change over the next three laps. On lap 25 Alonso was 6.7 seconds behind Seb, and on lap 26, the gap was 5.8 seconds. Protecting those tyres at the beginning of the stint had paid dividends, and the pressure was now on Red Bull. Once again Webber was the most vulnerable to attack, so he got the first stop on lap 26. Alas, there was a minor wheel issue, and he lost around 1.5 seconds.
On the next lap Vettel dived into the pits, and Alonso followed him in, having by now cut the gap to 5.2 seconds. Ferrari clearly felt it was better to have Fernando on the same tyre strategy at this point and hope that he could continue to close the gap on new tyres and perhaps, by extending their life, jump Vettel by going further to the final stops.
In the end he didn't need to, because it all went wrong for Red Bull when Seb's stop took almost 7.5s longer than Alonso's. It's worth pointing out that the problem was an unprecedented rear jack failure rather than the 'finger trouble,' so in that sense the delay resulted from pure bad luck rather than a mistake generated by pressure from Ferrari, which is all part of racing.
Nevertheless Alonso had to be close enough to take advantage, and it was his pass on Hamilton - and the fact that he brought the gap down to 5.2 seconds - that put him in the right position.
Hamilton also got past of course, and in some ways that spoiled what could have been a great fight - instead of seeing if Alonso could have closed that 5.2 seconds gap on Vettel and found a way by, we would have seen if Seb could have dealt with a 2.7 seconds margin on Fernando.
Hamilton couldn't match the pace of the other two, and it would get worse when, as we later found out, he was forced to save fuel. It's easy to say that Lewis protected Alonso and allowed him to get away, but the fact is that getting past people is part of the game, and Vettel simply couldn't do it.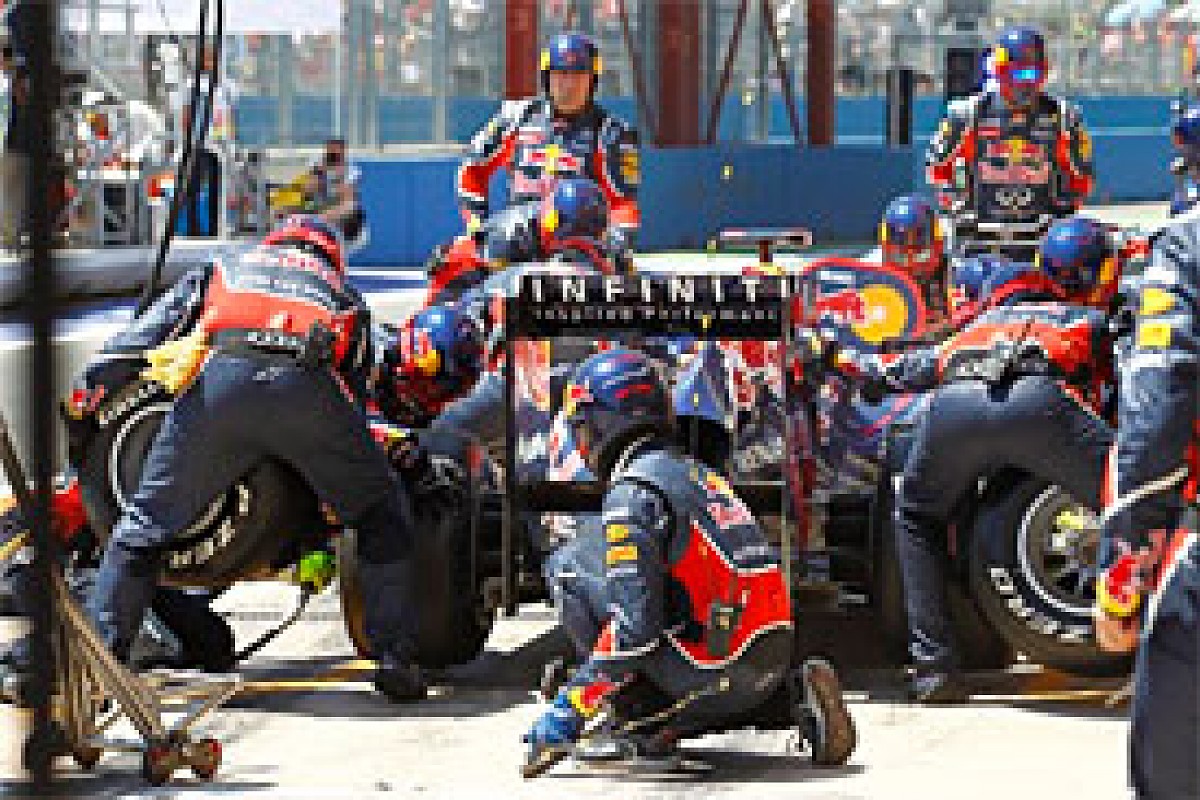 Hamilton charged to fourth place © sutton-images.com
Lewis was quick enough where it mattered to make it hard, while Seb, we can only presume, wasn't prepared to take a risk with the man who has perhaps the widest car in F1. We also don't really know what Vettel's potential performance was on that set of tyres, as he spent the whole stint behind the McLaren. But Alonso also had more speed in his pocket.
"Without Hamilton keeping Sebastian behind, obviously the race was a little bit different, for sure," said Fernando. "We had to push more to open the gap. With Lewis there, the race was a little bit more comfortable for us and we could drop the revs a little bit and take a bit more care of the engine, the tyres, and things like that."
From that 2.7 seconds on lap 28, the first lap out of the pits, the gap between Alonso and Vettel grew to 10.3 seconds before Seb came in on lap 36. The stop finally allowed him to jump Lewis, who pitted a lap later.
Again Alonso had protected his tyre and he was able to go three laps further, and while Vettel did make some inroads into the lead, with a later stop Ferrari was ensuring that Fernando's tyres would be in that much better shape come the closing laps, should he need to have a bit in reserve.
It wasn't necessary, because once Fernando got onto his fresh tyres, he simply pulled away. Vettel in contrast came under pressure from his own team mate, and as we saw, tried to put some extra life into his tyres by cooling them in puddles. He was 10.3 seconds behind when Lewis released him into clean air, 19.9 seconds behind on the penultimate lap while fighting Webber, before Alonso finally slowed for his cruise to the line.
Not for the first time this year, Vettel faded in the closing laps as the tyre situation played itself out. Sometimes he has hung on, sometimes he hasn't. And this time the battle was for second, and not the win.
Would Alonso have done it anyway?
The evidence certainly suggests that Alonso would have had a very good chance of beating Seb on pure speed, with or without the pitstop glitch. You can perhaps see why Maranello's communications man, whose blood runs Ferrari red, bristled at the mere suggestion this was a lucky win...
It would have come down to a question of passing on track, or in the final stops. And as Alonso made clear in Monaco, where he didn't get his chance to launch an attack on Vettel with his fresher tyres the closing laps, the Red Bull man has a lot more to lose in any confrontation.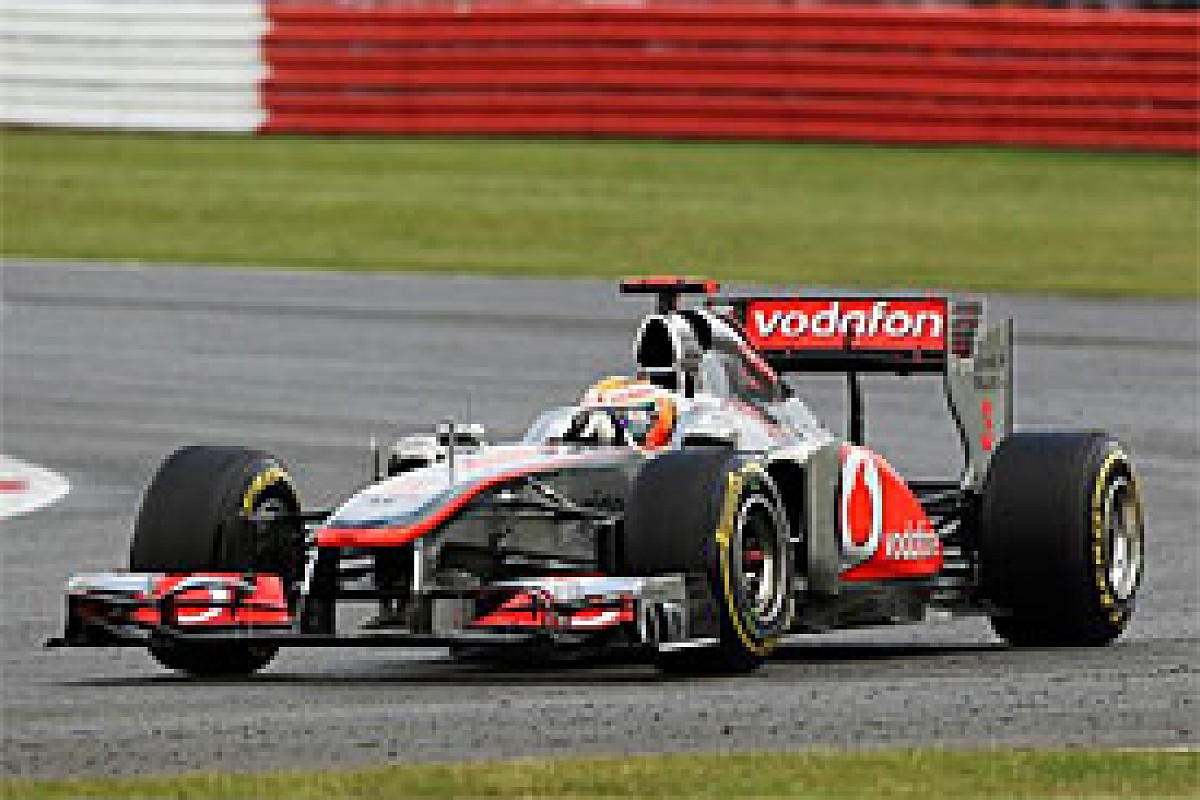 Was the race won in the pits? © LAT
One other intriguing aspect is worth a look. Because everyone started on intermediates, the requirement to do a stint on hards was cancelled out, so once the track dried everyone could run all the way on options.
Ferrari has not been happy on the hard tyres this year, but as Domenicali said earlier, the situation was not so critical on Saturday at Silverstone. Nevertheless, the formbook suggests that Red Bull is stronger on the hards.
Alonso himself admitted that we won't know how the afternoon would have panned out had the primes come into play: "After the first couple of laps with the intermediates, we didn't need to use the hard tyres anymore, so we chose to do the whole dry race with the best performing tyre, which was the soft on this occasion. So there's a question mark [regarding] how the car would have performed with the hard tyre.
"In FP3 and Q1, we were very, very competitive with the hard, so we approached the race with no problems and no doubts as we had in Barcelona. There [it] was a big problem, but here we were convinced that we were OK with hard tyres. But obviously it was just a thought..."
You could talk all day about luck, and how much the Vettel pitstop or the weather may or may not have been the crucial factors. You could also look back at races like Monaco, or Montreal, where Fernando was looking good until punted off by none other than eventual winner Button. These things have a habit of balancing out over a season.
The question now is whether Ferrari can carry its momentum into the next race.
"We could have won already some races," said Domenicali. "As a relief for sure it's important, because after such a tough time, something that was not really going in the right direction, it was a relief for everyone that was working so hard for Ferrari.
"For sure we will try to put some other updates on the car, and see where we are. That's our objective, our goal is to try to win some other races, and that's going to be the approach we're going to have in Nurburgring.
"Let's wait for the next couple of races, and then we will see. I'm sure Red Bull and McLaren will push like hell, and also Mercedes, to do another step of performance. It's a never-ending story..."