OK, the European Grand Prix wasn't a NASCAR-style in-yer-face overtaking-fest that you could follow with just one eye on what's going on and the other on eating your Sunday lunch. It was a bit more subtle than that, something we used to get every other weekend until this year's simultaneous introduction of DRS and Pirelli tyres.
Mark Hughes is a master of peeling back the multi-layered onion of grand prix strategy and telling you why a race panned out as it did. Find out what he thought of what led to Sebastian Vettel's sixth win of the season, under constant pressure but never really being challenged that closely on the circuit.
Mark Hughes column - Grand prix editor Hughes also assesses the impact of the no-changing-engine-maps-between-qualifying-and-race rule for Valencia. In short, not a lot... But what about the rule tweaks to come? And who does Red Bull think it's kidding with this hot-blown diffuser business?
GP2 Valencia - Also at Valencia was our Glenn Freeman, who reports on the GP2 action, where France's last next-big-thing showed them how to win again, and France's next next-big-thing showed them how to crash again. Contrasting times for Romain Grosjean and Jules Bianchi...
GP3 Valencia - A step below GP2 is GP3, and Glenn details a weekend where the Brits invaded the Mediterranean, with a win for Adrian Quaife-Hobbs, a pole for Lewis Williamson, a reversed-grid win for James Calado, and heartbreak for Dean Smith.
IndyCar Iowa - It was five years since Marco Andretti had taken his first IndyCar win, but finally he broke his drought last weekend after a thriller at Iowa Speedway. It wasn't such a good story for the hitherto dominant Will Power...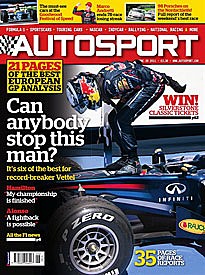 'Ring 24 - AUTOSPORT sent Team Lanky to the Nurburgring Nordschleife, where Charles Bradley reports from the epic 24 Hours (the twice-round-the-clock race that every hardcore racer wants to win and where every hardcore German fans wants to sink as many beers as possible), and Marcus Simmons spends his time among the British encampment in the Porsche Carrera World Cup - the world's greatest, and craziest, one-make sportscar race.
Goodwood preview - Finally, there's another Marcus who isn't so lanky, and Pye of that ilk talks through prospects for the Goodwood Festival of Speed, the epic three-day motorsport party that begins on Friday at the Sussex pile of Lord March. Read what MAWP thinks will feature among the highlights...
To read this week's edition of AUTOSPORT, subscribe to the digital edition.