Hamilton under pressure
Lewis Hamilton claims that having the likes of Niki Lauda accusing you of being dangerous has no effect on him, but there's no doubt that events in the Monaco and Canadian Grands Prix will be on his mind during Sunday afternoon's race. Speaking after qualifying, he said that he had no plans to change his approach, although he admitted that perhaps he might think twice before launching one of his trademark overtaking manoeuvres. He will be determined to have a clean, relatively uneventful race, and it's only natural that he might choose to curb his more aggressive tendencies.
Balanced against that is the fact that to beat a Red Bull you have to take every single opportunity presented to you. So if he is to win the race, can he afford to hang back? From third on the grid, four tenths down, there is every reason to expect McLaren's stronger race pace to put him into the fight for victory if he can clear Mark Webber at the start.
So the one thing you can probably count out is a low-profile afternoon from a driver who rightly still believes that victory is possible. After two disastrous races, don't bet against Hamilton bouncing back with the kind of virtuosity that he has proved himself to be capable of so many times in the past.
Red Bull still on song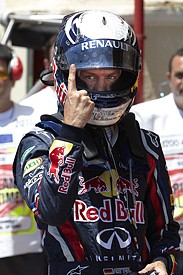 Vettel still took pole despite the mapping rule tweaks © LAT
There has been a lot of speculation and misinformation, claims and counter claims about the potential effects of the rule changes - or clarifications as some might characterise them - on the competitive order. So you might be surprised to see Sebastian Vettel on pole position for the seventh time in eight races this year. From this weekend, teams are not allowed to change their engine maps between qualifying and the race. Despite that, drivers will still have access to various engine modes from the steering wheel, albeit without the wholesale map changes that can be achieved by plugging directly into the ECU.
The idea of this is that it prevents teams using exotic engine maps to optimise so-called hot blowing when off-throttle, whereby exhaust gases are used to create downforce when the driver is off the throttle pedal. Vettel's pole proves that anyone blaming this for Red Bull's dominance over a single lap is living in a dream world. That said, the pattern this season has been for McLaren to be stronger on race pace, so on Sunday we will see if the engine mapping rules have made any difference on longer runs.
At Silverstone, off-throttle blowing of the diffuser is banned outright, which could make a bigger difference to the competitive order. But don't expect that to make the team that has had the fastest car in F1 for the past three seasons to drop down to 10th place just like that. If anything, the rule changes might even help the Bulls!
Passing fancy
The three grands prix previously staged around the snappily-named Valencia Street Circuit have produced very little in the way of overtaking. This year, things will surely be different with two DRS zones. One is located on the run down to Turn 12, with the second on effectively the following straight that leads down to Turn 17.
Both are long runs into second gear right-handers but in contrast to Montreal two weeks ago, where the second zone on the start/finish was relevant only if you were passing Kamui Kobayashi on the last lap, there will be plenty of passing in the second zone. In fact, some drivers reckon that the best thing to do will be to use the first zone to close the gap to nothing, get on the car ahead's tail in the slow complex that leads onto the next straight and then breeze past. The bottom line is that you should expect passing.
Strategic thinking
Fernando Alonso helpfully suggested that he expects between one and three stops during the race. Pirelli believes that one is very much possible, but whether it is desirable with overtaking supposedly relatively easy is another matter. With track temperatures expected to be in the mid-40C bracket during the race, one-stoppers are likely to be the exception rather than the norm. Most suspect that it will be a choice between two and three stops, although as ever in 2011, anticipating the number of pitstops is a dangerous game, especially once teams start altering strategy according to track position.
Button on the move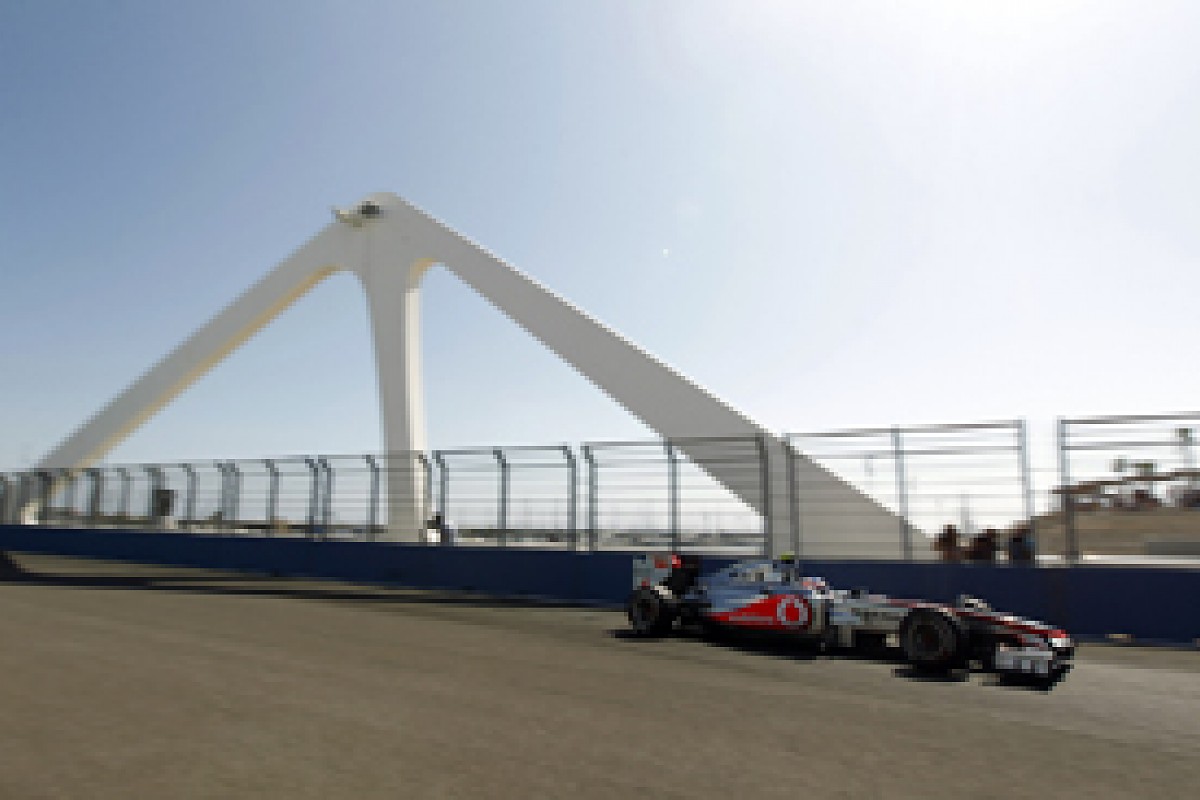 Button starts only sixth, but the races are where he really comes alive © LAT
Jenson Button wasn't delighted to qualify down in sixth, with both Ferraris and a quarter of a second separating him from team-mate Hamilton. But the Canadian Grand Prix winner is thriving among the demands of the 2011 regulations, which allow the thinking driver to play the long game and come out on top. He's on a good run too, having proved himself to be a potential winner in Monaco before the race was red-flagged and then charged from last to first in Montreal.
As far as street circuits go, Valencia is a little closer to a normal track than the previous two, but with high track temperatures anticipated his knack for extending tyre life could pay dividends if the frontrunners find themselves having to stretch a two-stopper. That's why there's every reason to keep a close eye on him if he's still up the sharp end in the closing stages. Then again, by then McLaren might be on the prime tyre, which the team hasn't always got to work as it would hope over the course of this weekend.