Canada loves Formula 1 as much as F1 loves the Canadian Grand Prix.
With the event's future now seemingly secure, after years dogged by doubts that it could afford its place on the calendar, Montreal has returned to its rightful place as a firm favourite with the F1 community.

With time on his hands after retiring from the race, Lewis Hamilton shows Rihanna around the McLaren © LAT
And it is not hard to see why. Walking around downtown Montreal you cannot but help know that the F1 race is on - as there are grand prix street parties throughout the weekend, the shops refit their windows with motor racing themes, and all the talk is of the action taking place at the Circuit Gilles Villeneuve.
Even at the track itself, there was a huge effort. Race organisers had commissioned cartoon drawings of all the drivers plastered across posters at the track and above the garages - while it amused some that a local promotional push featuring F1's 'Motorsport Gods' did not feature a certain Michael Schumacher...
And for all the weather dramas, it says much about what F1 is delivering this season when a host of celebrities made their way to the track on race day - including Hollywodd star Colin Farrell, Gymkhana-expert Ken Block (who is soon to test an F1 car), Star Wars director George Lucas and singer Rihanna - plus her umbrella.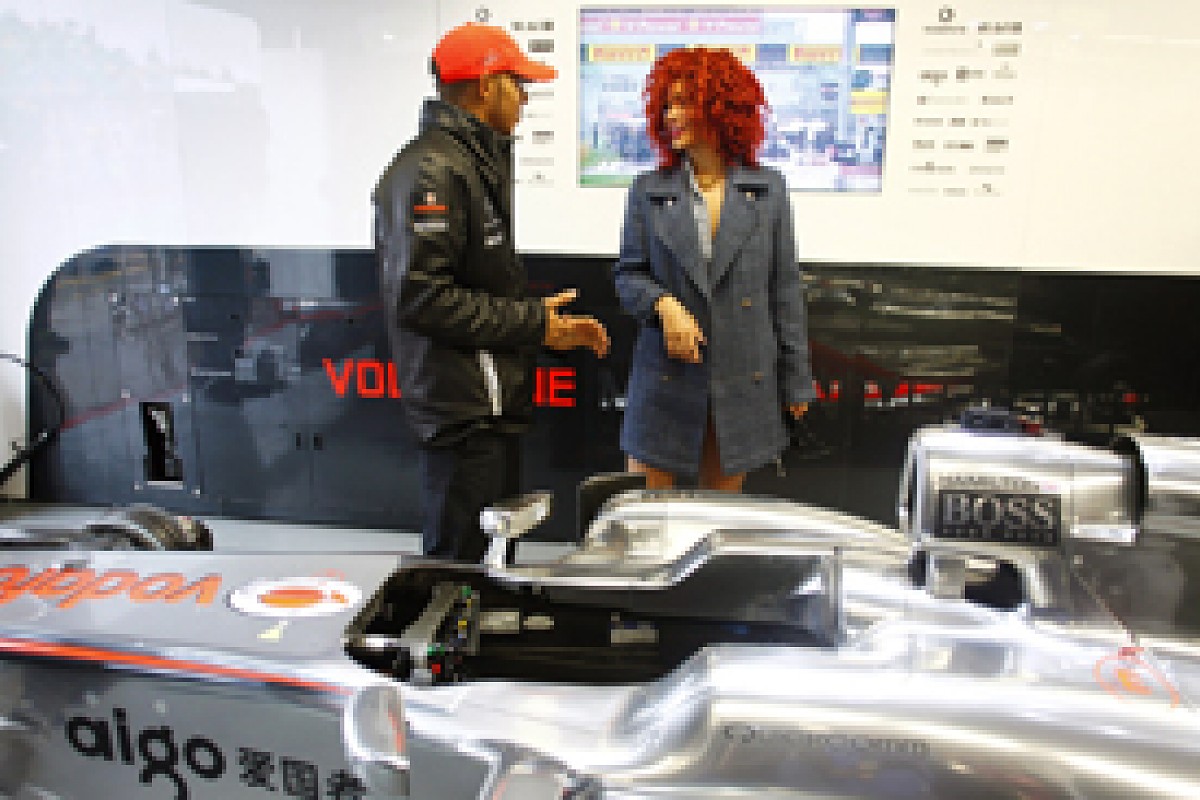 It is no surprise for people to say that Jenson Button is in a pretty sweet place at the moment - having secured one of the best ever Formula 1 victories in Montreal last weekend.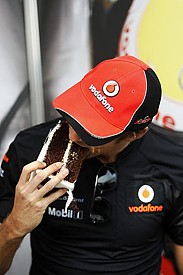 Button tucks into his celebratory cake © sutton-images.com
However, Button experienced the 'sweetness' of his current run of form quite literally in Canada when he was presented with a special chocolate cake to celebrate an historic milestone that he reached at the Monaco Grand Prix.
On lap 17 of the Monte Carlo event, Button took the lead of the race - and in doing so ensured that McLaren enjoyed its 10,000th lap in the lead of an F1 event. By the end of the Monaco race, the tally was at 10,015 - and it is amazing to think that after his great Canada triumph it only increased to 10,016.
Button unveiled his special cake in front of photographers in the paddock at the Circuit Gilles Villeneuve on Saturday evening - before cutting a huge slice and even trying out a bit himself.
The big question now though is whether McLaren's catering geniuses Absolute Taste will need to bake up another cake for Valencia - with Button's Montreal victory helping the team break through its 4000-points barrier in the world championship.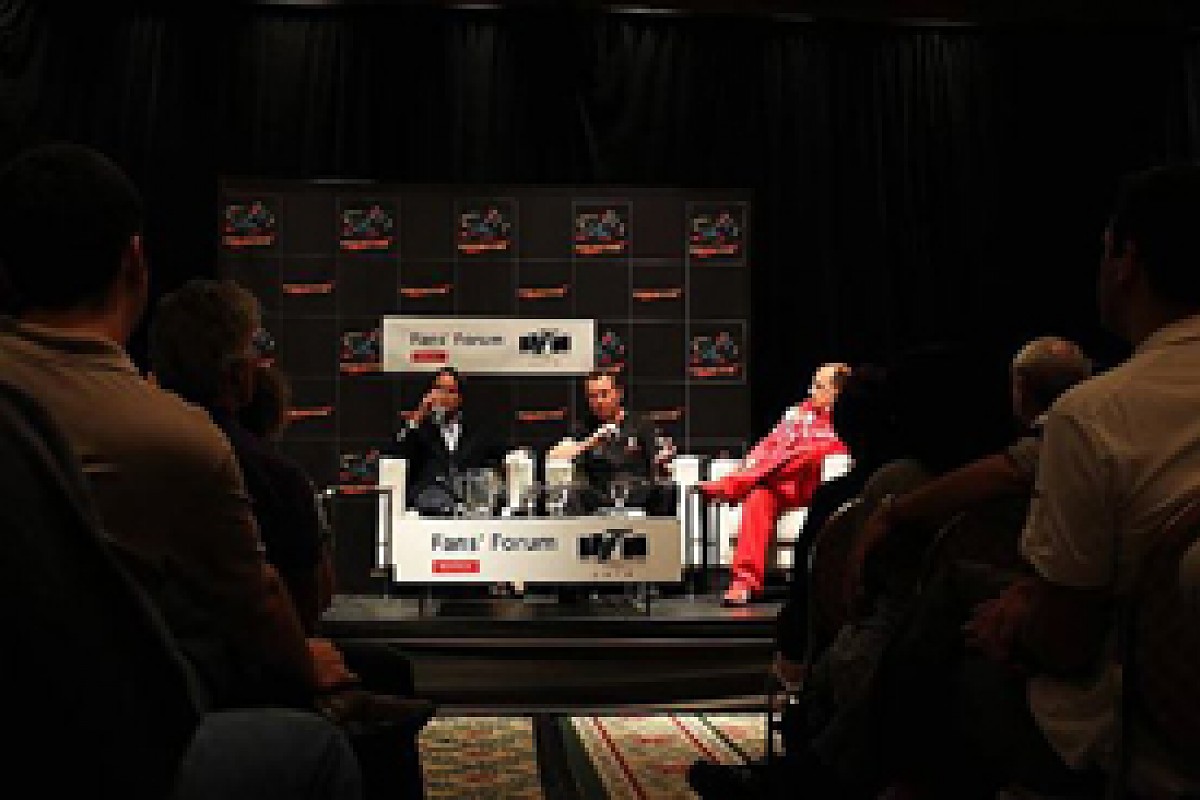 Canada's love-affair with F1, and the fact that the fans are so passionate and so knowledgeable about the sport, meant it was an obvious place for the Formula One Teams' Association (FOTA) to hold its first 'Fans Forum' of 2011.
On the Thursday night of the Montreal event, FOTA representatives met with around 200 fans for an interesting debate about where F1 was heading, what the feelings were on current rules, and how better it could integrate with its spectators.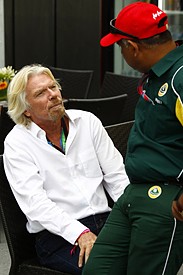 The Montreal FOTA Fans' Forum © sutton-images.com
One of the most interesting discussion points was about the expansion of Twitter, which is changing the way that everyone is following the sport.
With Rubens Barrichello getting close to one million followers on Twitter, McLaren's Group Brand Director John Allert offered some fascinating insight into how his team allows its drivers to use the social media network.
"Twitter is a terrific medium for F1," said Allert. "It's a dangerous medium for any sport because we've seen it backfire on a number of high profile sporting personalities. It's something that needs to be treated carefully by all of the teams because, unlike something like soccer, we have a lot of confidential information that, if leaked, could give an advantage to our competitors.
"Our drivers have total autonomy on what they tweet. Sometimes they have too much, but that's the magic of the medium. That it's real. Anything you read from our two drivers have been tapped out with their own thumbs and you can see the spelling mistakes to prove it! We supplement that with our own feed, and I know other teams are doing it and doing it very well."
However, one team that is not going to be releasing the tight reins on its drivers is Ferrari - with its press man Luca Colajanni making it clear why Fernando Alonso and Felipe Massa will not be tweeting for a while.
"Social networking and the internet as a whole presents a big issue: anonymity," he said. "I often have to deal with rumours spread on websites, of which I don't know the source. I can mention one today from a Dutch website, which says Flavio Briatore is coming to Ferrari. It's complete bulls**t!
"As it's nearly impossible to control, sometimes you have to take decisions that are unpopular. Unlike McLaren, we don't let our drivers use Twitter because we don't want them writing something that can be misinterpreted. We want control and we need to find the right balance."
Richard Branson is a man never afraid of a challenge - and he made one of his rare appearances at a Formula 1 race in Montreal to make it clear that he remains fully committed to seeing Virgin Racing moving up the grid.
Richard Branson chats with Tony Fernandes in Montreal © LAT
Yet Branson, like many successful entrepreneurs, is someone who is never happy sitting still - so it was little surprise to find out during a chat on Saturday that he has signed up for a pretty amazing challenge later this year.
Even though he is still recovering from a nasty skiing injury, Branson is ready to do his best in the water over the next few months.
"I am doing well," he said about his rehabilitation. "It is about a nine month recovery process, but I am still doing a swimming leg of a triathlon - and foolishly have agreed to swim across the Irish sea at the end of August.
"When I said I would do it, I thought it would be about eight hours. But, since then, I've found out it is 36 hours - so I am going to be miserable! But I am getting there."
Branson's vow to swim the Irish Sea also means he is certainly fit enough to fulfil the famous 'stewardess' bet he had with Team Lotus rival Tony Fernandes last year for being beaten to 10th spot in the constructors' championship.
"I can't say I am swimming the Irish Sea and then say I'm not able to put on a stewardesses' uniform," smiled Branson. "I have given Tony a date when I am in Australia to see if that works, flying out there - but I have to get over it soon. No excuses!"
Over to you Tony...
Monaco, Singapore, Delhi and Abu Dhabi... find out more about Amber Lounge