Monaco personal scorecard
• Sebastian Vettel's most successful Monaco Grand Prix appearance was his maiden one as he climbed from 18th on the grid to fifth by the flag in a wet race in a Toro Rosso. The following year - 2008 - he crashed out early on, but he did finish second last year.
Webber won last year © LAT
Mark Webber dominated last year's race, winning from pole position and leading each and every lap. The Australian has been a frontrunner every year at Monaco since 2005 - the race at which he took his maiden F1 podium finish with third for Williams. Since then he's had a fourth and a fifth before winning in 2010. He has qualified in the top 10 for the last six Monaco Grands Prix and has an 8-1 qualifying record against his team-mates; only being beaten by Vettel in 2009.
Lewis Hamilton finished second at his inaugural Monaco GP appearance in 2007 behind his McLaren team-mate Fernando Alonso, and then won the following year despite swiping the barriers early on. A mistake in qualifying meant a low grid position in 2009 and a 12th place finish, but he partially made up for it with fifth last year.
Jenson Button has only been on the podium twice from his 10 starts in Monaco, although he did manage a victory for Brawn in 2009 and a second place for BAR in 2004. His qualifying record against his team-mates is a poor 3-7, however.
Like Button, Alonso has only made two podium appearances in the Principality, and like the Briton, one of those results was a race win - for McLaren in 2007. Last year a practice crash at Massenet forced him to miss qualifying and start last. From there, he recorded one of the best comebacks in Monaco history as he recovered from 24th to sixth. Only Andrea de Adamich (in 1973) and Eric Bernard (1990) can match that.
Felipe Massa missed out on victory in 2008, finishing only third after starting from the front and becoming the only polesitter not to win the race in the last seven years. His retirement in 2002 is the only blot on a run of consistent top 10 finishes at Monaco. Recently, his results have come in pairs with two fourth places following two thirds and two ninths.
Michael Schumacher's five wins at Monaco leave him second only to Ayrton Senna (six) in terms of victories at the race. Last year was the first time he finished outside the top 10 in his career - a last-lap move on Alonso after the safety car had pitted netting him a post-race penalty that dropped him to 12th. Last year was the first time he was 'properly' beaten by his team-mate in qualifying, his rearward starting position in 2006 coming after his pole - and all other - times were disallowed.
Nico Rosberg has always started from inside the top 10 at Monaco and has finished in the points for the last two years; a sixth place in 2009 his best result.
Nick Heidfeld scored points every year from 2004-2007, his best result being a second place in 2005 for Williams. He has failed to make the top 10 in either qualifying or the race on both of his last two appearances.
Vitaly Petrov missed the top 10 in qualifying last year, but has made Q3 at each of the last seven races he has appeared at. He picked up a puncture at the start at Monaco last year, but finished second in the GP2 feature race in 2009.
Rubens Barrichello has finished second at Monaco on four occasions, the last such race coming two years ago with Brawn. He has only failed to qualify in the top 10 once - in 2008, where he took his recalcitrant Honda to a comparatively high 13th. However, he has not made Q3 in 2011. He finished inside the top 10 for 10 years in a row, but ended that run last year when a suspension failure pitched him out of the race.
Pastor Maldonado took two poles and two wins during his GP2 career at Monaco (plus one in Formula Renault 3.5), and added a pair of second places as well - including one last year when he was beaten by Sergio Perez.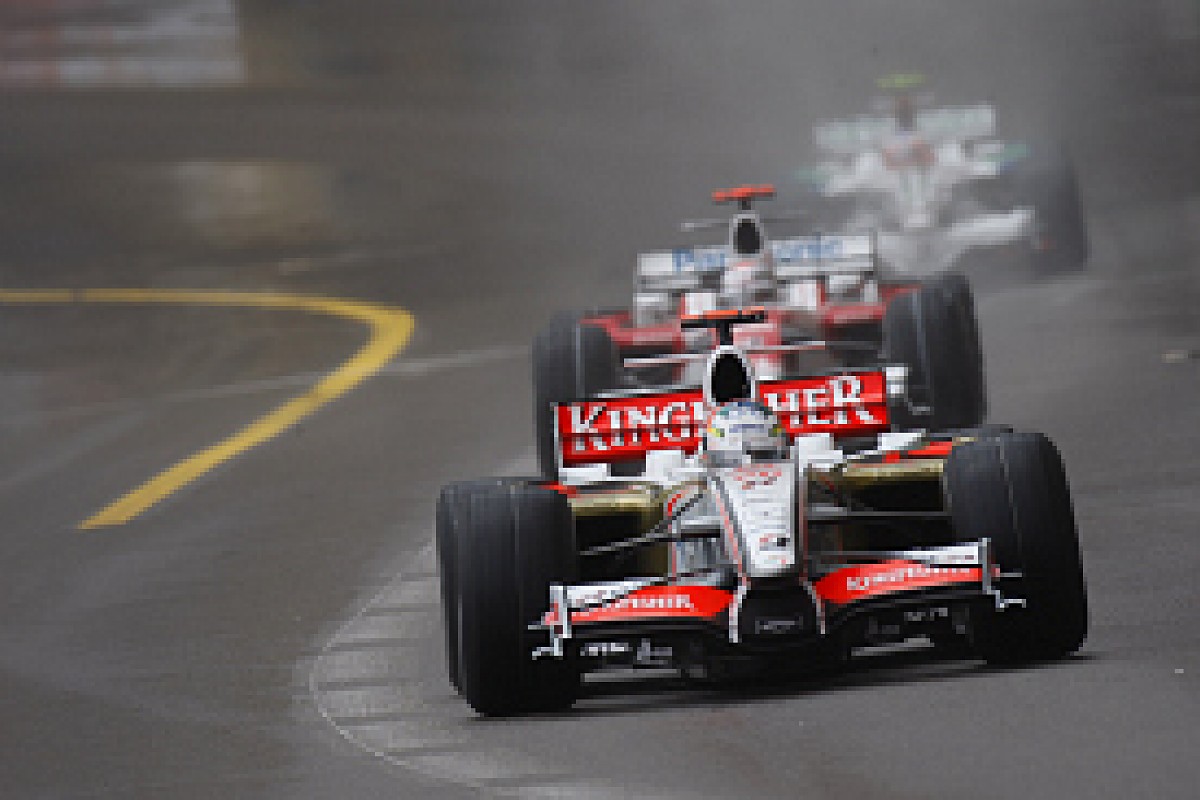 Sutil lost a clear fourth spot in 2008 © LAT
Adrian Sutil's eighth place last year was his best Monaco result, although his best performance there was in 2008, when Kimi Raikkonen ran into the back of him exiting the tunnel a few laps from the end, robbing the German of what would have been fourth place. He has improved his qualifying spot every year, a 12th spot in the 2010 grid his best to date.
Kamui Kobayashi retired with a broken gearbox on his Monaco GP debut last year, and didn't have much luck in GP2 either as he retired from three of his four races there.
Perez won last year's GP2 feature race at Monaco, beating Maldonado and Dani Clos to the chequered flag.
Sebastien Buemi has always driven solidly at Monaco, the Swiss starting 11th in 2009 only to be eliminated following a collision with Nelson Piquet Jr's Renault. He scored a point for 10th last year after starting 13th.
Heikki Kovalainen has scored only one point at Monaco, that coming in 2008 for McLaren. He had started 20th, however.
Since recording his lone grand prix win in 2004, Jarno Trulli has never scored a point. He has an impressive qualifying record against his team-mates at Monaco, a 13-1 success rate with the only strike against him coming thanks to Kovalainen last year.
Vitantonio Liuzzi started and finished in the top 10 last year, collecting ninth place in the race.
Timo Glock has never scored a point at Monaco, despite starting four grands prix there.
Jerome d'Ambrosio won the last time he raced at Monaco - the Belgian victorious in the GP2 Sprint race last year from pole position on the reversed grid.
Teams scorecard
Monaco holds happy memories for Red Bull. David Coulthard scored its maiden F1 podium finish in 2006. It's only other appearances on the podium came last year, although with Webber and Vettel scoring a one-two finish, the team doesn't mind.
McLaren is the most successful team in Monaco GP history, the British team winning 15 times - seven more than nearest rival Ferrari. Its last win came via Lewis Hamilton in 2008.
It's been 10 years since Ferrari won at Monaco, that victory coming courtesy of Schumacher. It has not finished higher than third during the last five years, however, and failed to make the podium last year.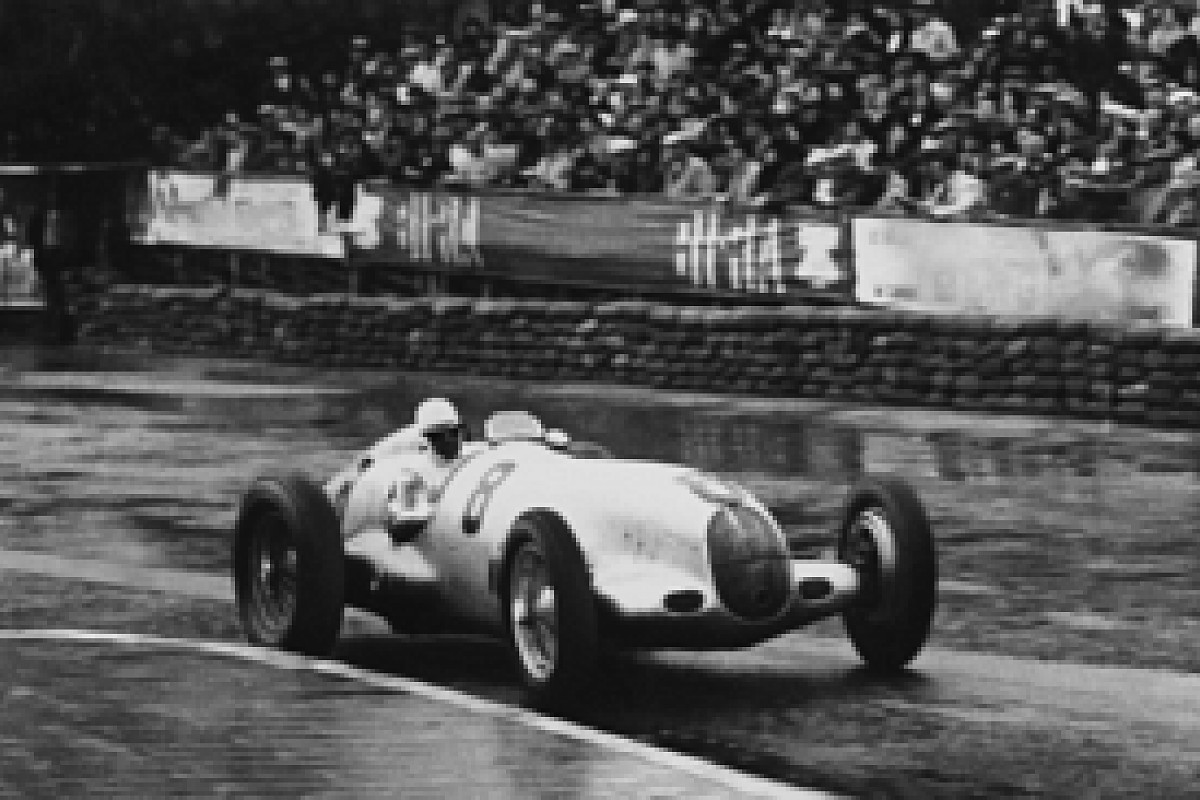 Mercedes won from 1935-1937 © LAT
Mercedes won the Monaco Grand Prix for three successive years between 1935 and 1937 thanks to Luigi Fagioli, Manfred von Brauchitsch and Rudolf Caracciola - all before the inception of the World Championship. It's only recent win - sort of, anyway - was in the current team's former guise as Brawn in 2009.
Renault has won twice at Monaco, Trulli and Alonso taking victories in 2004 and 2006 respectively, but since then, Robert Kubica's third place last year has been its only rostrum spot.
Williams has three Monaco wins to its name, but has not tasted victory since 2003 and not featured on the podium since 2005, when both Heidfeld and Webber received trophies. Both cars retired before half-distance last year.
Force India scored its best Monaco result last year as Sutil and Liuzzi scored the team's first double points haul with eighth and ninth.
Sauber last scored a Monaco point thanks to Kubica's runner-up spot in 2008 (as BMW Sauber). Mechanical failures for Kobayashi and Pedro de la Rosa last year allowed the team to pack up by lap 30 last year.
Toro Rosso has scored points for the last three years at Monaco. Only Ferrari can boast a similar claim.