Every race so far this year has given us another lesson in how a grand prix can unfold under the 2011 rules. Last weekend a track notorious for dull Sunday afternoons produced a gripping contest with the three top teams - and three greatest drivers of the era - all involved in the lead battle.
It was a fascinating event from start to finish, and one that produced some surprises. With all the talk about how important qualifying really is this year who could imagine that a driver could jump straight from fourth - on the dirty side of the grid - into the lead? Or that despite inferior pace and all the fuss about DRS passing being easy, the same driver would still be leading on lap 19? Or indeed that in 44 subsequent laps he would then drop from the lead to being lapped?

In China a few weeks ago the top six was covered by 15s, and 14 cars finished on the lead lap. In Spain the top four alone were spread over 47s, and everyone from fifth on back was lapped. The same guy may be winning most of the races, but this season is anything but predictable.
Unlike such as China and Turkey, in Barcelona we didn't have an endless stream of DRS inspired passes, so the complexion of the race was a little different from what we've seen recently. There were a few involving the frontrunners, but clearly it wasn't easy, and it only happened when there was a significant difference in the tyres used by each driver. And nobody was very keen to be on Pirelli's new 'super hard' prime.
For the most part those at the front were running round together on tyres in near identical condition. When somebody was on better tyres - for example when Vettel emerged from the pits with fresher rubber after his first stop, or when Jenson Button was on softs while Mark Webber/Fernando Alonso were already on hards - passing clearly was possible. But it could happen pretty much anywhere on the track, and not just where the DRS helped.
As Mark Webber said, it was more of a game of chess than anything else, and a complicated one as well. Recounting the race afterwards even Christian Horner mixed up the first and second stop sequences as he tried to explain how Sebastian Vettel eventually got ahead of Alonso.
With three teams involved at the front everyone had to work out who they were really fighting, and some strategic choices seemed, at first glance, to be a little odd. At the end of the day, the result was a familiar one, as Vettel took his fourth win of the year. But how he did it was a little bit different from what we've grown used to.
For once Vettel didn't take pole, losing out to team mate Webber by a margin that was less than the loss he faced by not having KERS when it mattered. The German didn't make a big fuss about that, and clearly on Sunday all his efforts were focussed on getting past Webber into Turn One. He managed it, but he certainly didn't expect that both of them would also lose out to Alonso.
Alonso flew at the start of the race © sutton-images.com
Having already pulled out an awesome qualifying lap to get himself into fourth - finally hauling himself out of the fifth place he'd become accustomed to - Alonso made a superb start, taking advantage of the fact that the RBR guys were so focussed on each other. It helped too that there's a fairly long run down to Turn One, and he was able to get a tow. But mainly it was down to his opportunism and bravery as he went for a gap that was fast diminishing.
Alonso had respectable pace while on soft tyres, but he clearly wasn't going as fast as Vettel would have been able to, so RBR's game plan was out of the window.
"Our feeling at the start was if anybody was going to get the jump and the tow, which is the most powerful of pretty much all the circuits into Turn One, it was likely to be Lewis," said Christian Horner. "But Fernando appeared to make a great start, got the benefit of the tow, and went clean past both of our guys. He then didn't seem to have fantastic pace, and of course you end up in the dirty air, putting quite a lot of stress into your tyres."
In an attempt to resolve the situation, Vettel was the first guy to stop for new tyres, coming in on lap 9 as his softs began to edge towards their sell-by date. The timing committed him to a four stopper, and thus did the same for those who copied him.
What we saw then was quite unexpected. He came out mired in traffic - and some very competitive cars at that - something that teams have always been loathe to do their drivers.
And yet now, if you have a quick car and fresher tyres, it's not a drama. In the space of a lap he passed Button, Massa and - with some DRS help - Rosberg. He'd taken on used options in the stop, so they were effectively just those nine laps younger than those on the other cars, and yet the difference in performance was still extraordinary.
Ferrari reacted immediately by bringing Alonso in, while Webber followed him into the pits. Having run fourth, Hamilton pitted on the next lap and - thanks to a great in-lap - managed to get ahead of Webber, defeating the undercut.
Vettel's busy out lap meant that Alonso stayed out in front, so RBR chose to try the undercut again, and at the first possible opportunity. Vettel was in on lap 18 after just nine laps on that second of options. It was a very late call, and Alonso was already committed to carrying on round the lap.
A lap later Alonso and Webber pitted together once more. This time, Vettel did get ahead, helped by the fact that he now had his single set of brand new options, and that gave him a boost on his out lap. Down the straight he also had a handy DRS tow from backmarker Timo Glock.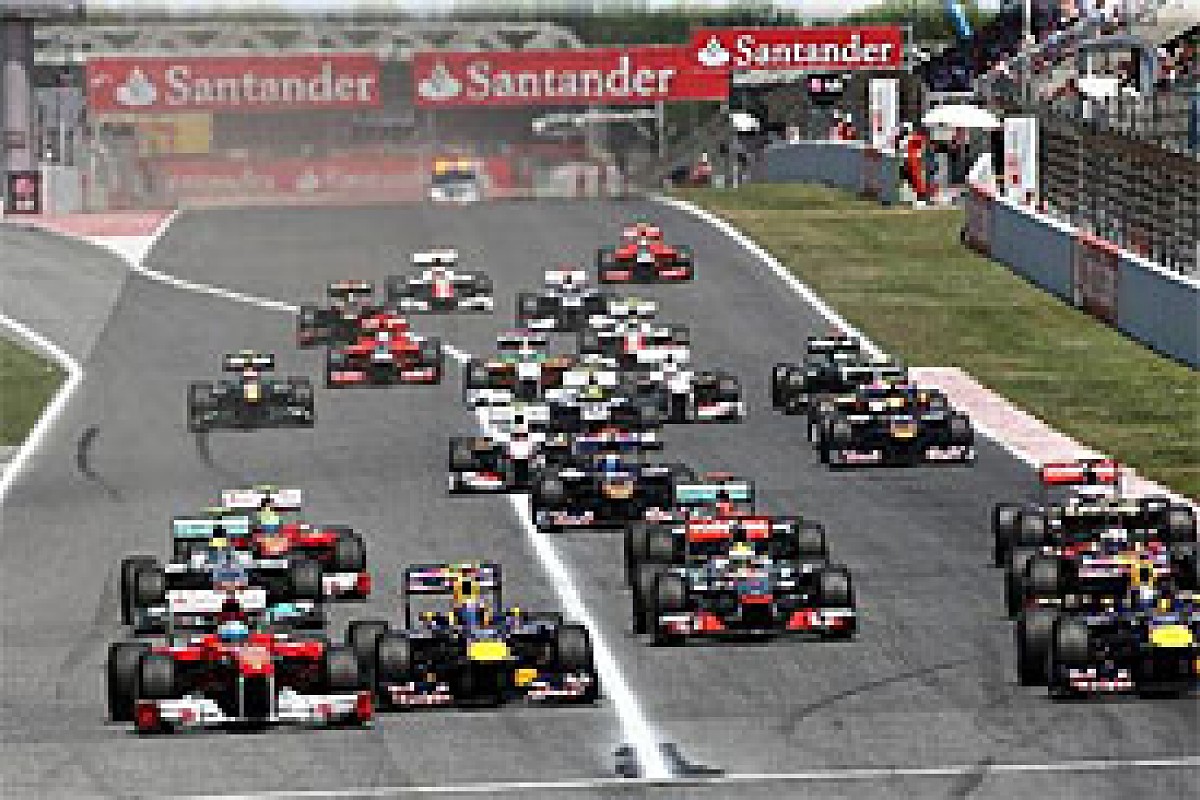 Webber chassing Alonso © sutton-images.com
The problem for Vettel was that he had used up two sets of softs after just 18 laps he was already on his third and final set of softs. They were at least the new ones, so that gave him a bit of extra mileage to play with, but clearly he was going to have to go a long way on the hards.
"At that stage of the race we'd obviously taken an aggressive undercut at the second stop," said Horner. "And those tyres were going to have to go a long, long way. It was a matter of then managing the race to make sure the tyres don't degrade too much and then you end in a world of pain."
If it was a challenge for Vettel, it was even worse for Alonso. He and Ferrari were well aware that they would struggle more than the others once they switched to hards. But by chasing RBR's strategy he had used two sets of softs by lap 19. And unlike Vettel's, his third set was old, so they weren't going to last as long.
Webber meanwhile remained stuck behind Alonso throughout the third stint, increasingly frustrated while Vettel and Hamilton gradually pulled away in front.
Since Alonso and Webber had both used their three sets of softs, the next stop would inevitably involve a switch to hards. Given the speed differential - with old softs potentially still quicker than new hards - the undercut scenario was not clear cut. Instead of being faster if you pitted one lap earlier than the guy you were racing, you could be slower. At least that was the fear at Ferrari.
Alonso and Webber both came in to take hards on lap 29. Both drivers still had some life left in their soft tyres, and both knew that it would be better to go longer before committing to hards, but still they came in. Red Bull made the call first, gambling that if Alonso didn't pit, Webber would be able to extract enough speed from the hards on his out lap to jump the Spaniard.
Ferrari reacted as before, on the basis that if Alonso pitted at the same time as Webber, lap time differentials wouldn't matter, as he'd simply be able to drive out of the pits still in front. That was the stop when they had a drag race out of the pits, which Alonso duly won.
So we were back to the status quo, with Alonso ahead of Webber and both men committed to a massive 37 lap run to the flag - on the hard tyres that everyone said they'd been trying to avoid...
Horner said that strategy choice had been left open: "It really depended how far we could get on the option, but by the time that they were struggling on lap 9-10 on the option, you knew you were looking at a four-stop strategy. At one stage we were even considering a five-stop, but I'm not sure what was left in the garage to put on the car!"
To get Webber out of Alonso's slipstream, RBR then pulled off a clever trick. On lap 39, after just 10 laps on the first set of hards, the team sent its guys out into the pitlane, suggesting that Webber was about to pit.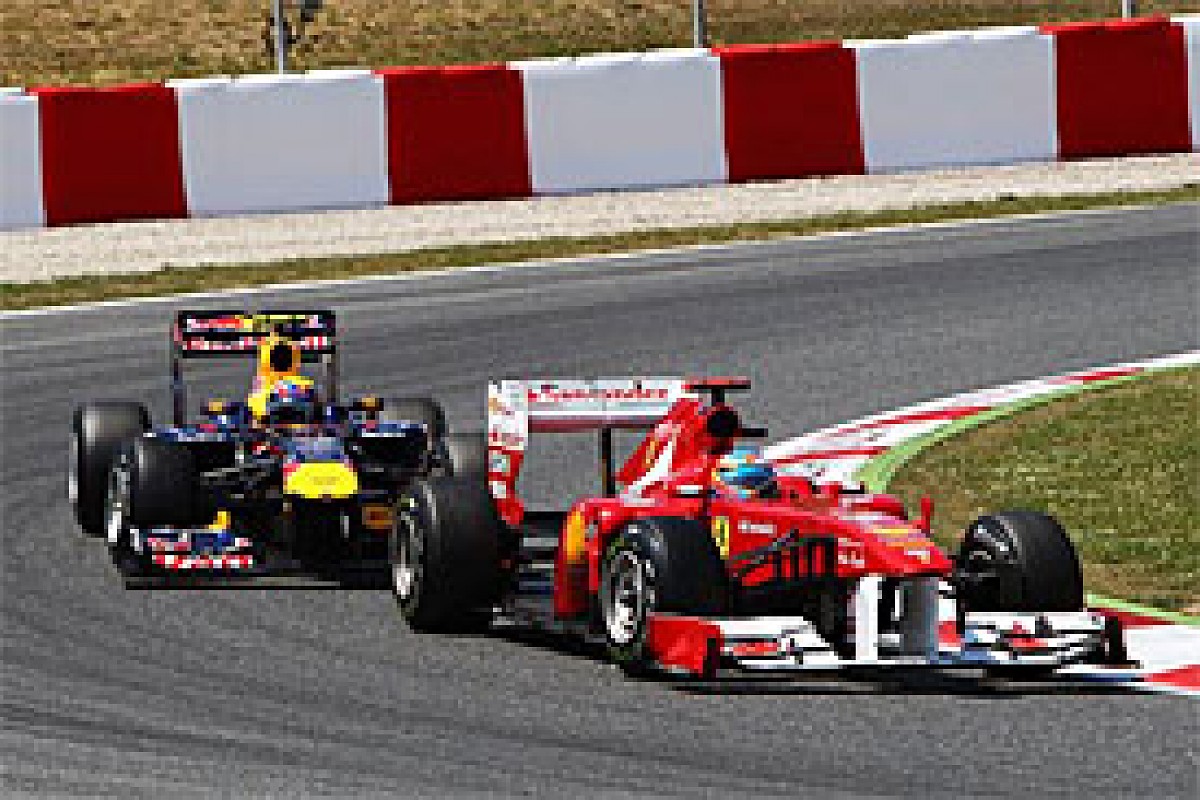 Red Bull outfoxed Ferrari in the pits © LAT
For the fourth time Ferrari reacted immediately to RBR pit activity, and Alonso came in. But Webber drove straight past the pits. On Alonso's tail, he had been lapping in the 1m30.5s bracket. Suddenly in free air, he banged in 28.6s, 29.7s, 29.3s, 28.8s, and so on.
Meanwhile we heard a forlorn Andrea Stella give Alonso the bad news that he had to run 25 laps on this set of hards. On his out lap and first flying lap he lost so much time that Webber was easily past. In fact Webber stayed out for another eight laps after the 'phantom' stop, and when he pitted, he was 8 seconds clear of Alonso.
"Ferrari seemed to cover us," said Horner. "Whenever we called Mark they'd come into the pitlane. In the end we sold them a dummy by sending the crew out and they went for it and brought Fernando in, and that released Mark. But he'd lost so much time by that stage, it was too much ground to make up."
When told how proud Horner was of the gamesmanship, Stefano Domenicali just shrugged and said that they had to react as it was the only way to try to postpone the inevitable pass by Webber. He was quite right, as there was no threat from behind, and it was worth a try.
Horner said that Ferrari reacted to the RBR guys rush into the pitlane, but after the race the ever controversial Helmut Marko claimed that there was something more sinister at work, telling German TV that Ferrari was listening to RBR's radio, and that had prompted some of the Italian team's lightning decisions to cover Webber.
He didn't make it clear whether he meant the pit-to-car radio - which is open to the FIA, and provides us with a few snippets on TV - or the internal team radio between the engineers on the pitwall. If he did mean the latter, which is generally accepted to be totally secure, that would be a lot more surprising...
So the Webber/Alonso battle was over, and thereafter Ferrari went backwards from there at an astonishing rate. Indeed from the lap he lost the lead to when Vettel lapped him shortly before the flag Alonso lost ground at over 2s a lap relative to Vettel. He was so slow on the hards that his best overall lap time was set on softs on lap 22, with 44 laps of fuel still in the car...
Vettel vs Hamilton: Not the China Syndrome
Meanwhile there was another and ultimately more important race going on at the front between Hamilton and Vettel.
As noted earlier, Hamilton had sat dutifully in fourth in the first stint and then jumped Webber despite making his first stop a lap later. In terms of the bigger picture, after the first stints he also in effect had two laps' worth of tyre use in hand over Vettel, the man he was ultimately racing.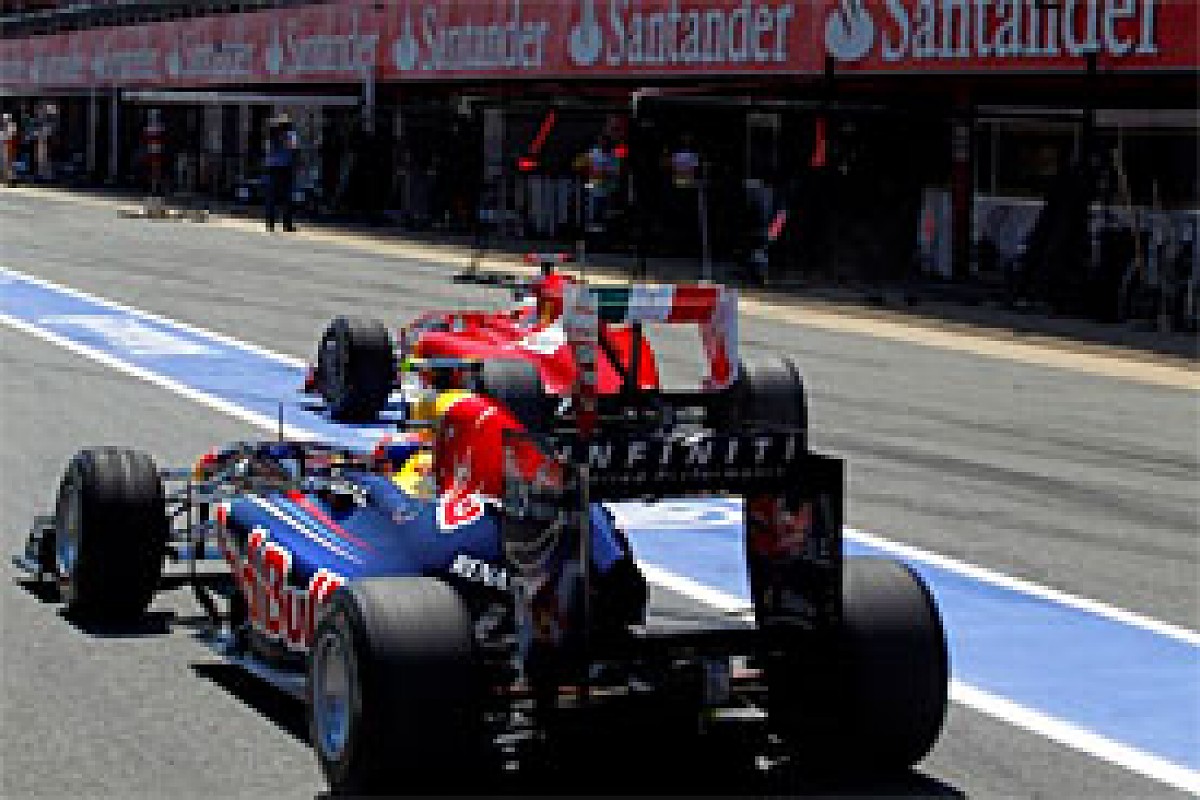 At the second stops he ran five laps longer than Vettel, and four more than Alonso. The Ferrari had new tyres but Hamilton now had clean air, and some great laps ensured that he emerged from his second stop on lap 23 still in front of Alonso, and behind new leader Vettel.
So as of lap 24 the battle for the lead became a straight fight between Vettel and Hamilton, who was 4.9s behind. They would subsequently would run near identical strategies, and thus unlike China, we might have expected Vettel to at least hold onto that gap, if not increase it. And yet some 30 laps down the road they were nose to tail, just 0.7s apart, with 12 laps in which to decide who would get the biggest trophy...
In other words this was an awesome and unexpectedly strong performance by Hamilton and McLaren, and one that showed beyond all doubt that Red Bull's huge lap time advantage in qualifying means relatively little come Sunday.
"I think it's all about the tyre," said Horner. "We managed to extract a lap out of the tyre in qualifying, there was a hugely impressive margin yesterday, but I don't think you can abuse the tyre like that in the race. You either do and you go for a five stop, or you make your stints to suit your strategy, and to react to the pace of the people around you.
"McLaren were certainly a lot more competitive as we expected they would be in the race. It's funny because Ferrari were the main competitor in Turkey and today we lapped them. It varies from circuit to circuit."
On lap 24 Hamilton had the advantage of being on soft tyres that were five laps younger than Vettel's in terms of the race - but the German's had been brand new when they went on the car, whereas Hamilton's had been used in qualifying, so the real advantage was actually less.
Nevertheless, by lap 34, when Vettel stopped to take on hards, he had already closed the gap from 4.9s to 1.2s. Vettel wasn't helped by ongoing KERS issues, which again impacted both RBR drivers, and he clearly lost lap time when he ran without it.
Hamilton did one more lap before he came in. Vettel's hards (a used set) proved to be significantly faster than the old softs, and that one extra lap allowed him to increase the gap to 2.7s after the stops.
It was completely the opposite situation of what happened when Alonso switched to hards and went backwards relative to everyone else. There's certainly a good case to suggest that had Hamilton made the switch to hards first, he could have jumped Vettel there and then.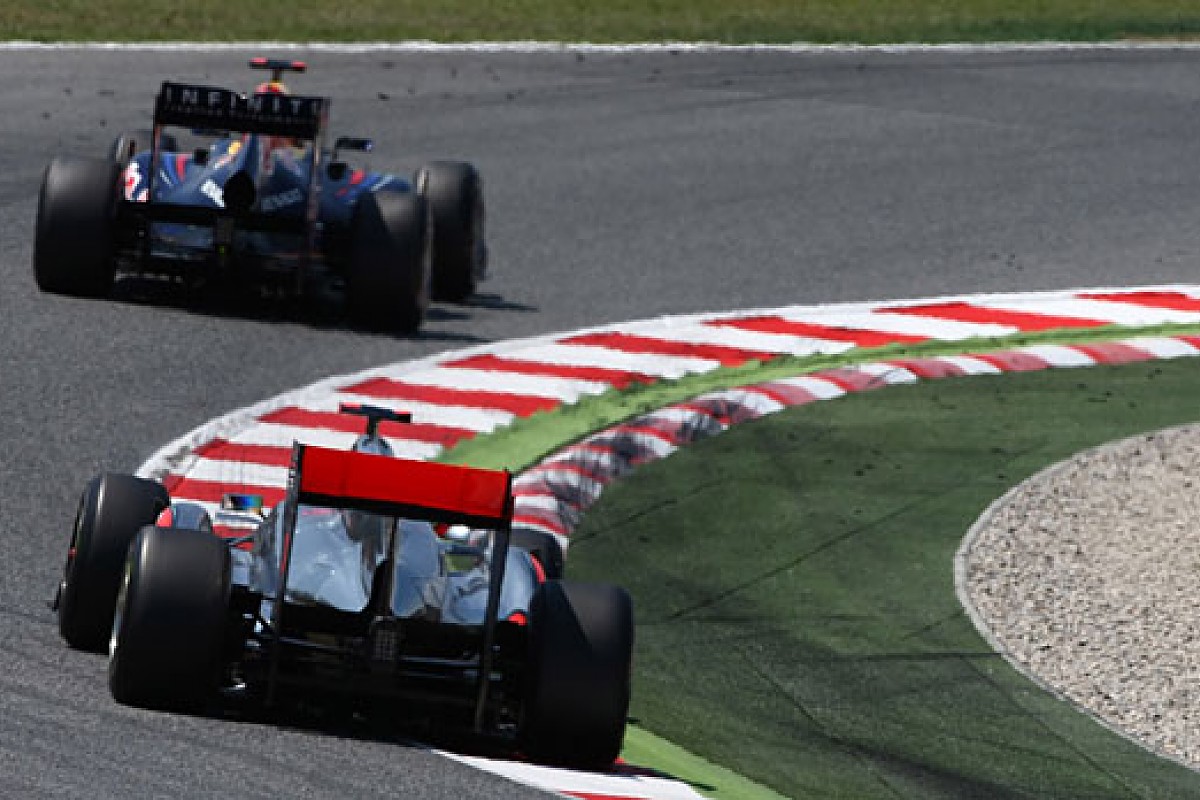 Hamilton pushed hard, but had to settle for second © LAT
So now it was down to the fourth pitstop, not a switch from well used softs to qualy used hards like the previous one, but worn out hards to brand new hards. It's not easy to keep up...
With both now on similar tyres, Hamilton started going faster than Vettel. The gap came down from 2.7s, 2.5s, 2.3s, 1.8s, 1.5s, to 1.2s, went out a bit in traffic, and the stabilised briefly at about 1.1s.
Vettel pitted first on lap 48, and Hamilton came in a lap later rather than just follow him into the pitlane. Not surprisingly Vettel was quicker on the new hards, and extended his lead with a single extra lap on them. And once again, had Hamilton pitted first, he just might have had a chance to get by. It certainly would have been close as he came past the pits and Vettel exited. Indeed had it been a better stop, we might have had a similar scenario but the other way around...
"We did some good stops, consistent stops, all day today," said Whitmarsh. "The worst stop was probably Lewis's last stop, which wasn't a bad stop, but had that been the very quickest I think he would have exited alongside Sebastian, and that would have been very entertaining for sure."
As of lap 50, the gap between them was 1.9s with 16 laps to go, and Hamilton on tyres that were just one lap younger, but which still gave him a slight lap time bonus on every lap to the flag.
Once again Hamilton began closing the gap, getting down to just 0.7s by lap 54, with 12 to go in which to find a way past. In the end, he didn't quite make it. Nevertheless it was a fascinating game of cat and mouse, and Vettel didn't really need the 'Try to shake him off' message from engineer Rocky...
Hamilton consistently had the benefit of DRS, but couldn't make it pay, perhaps because he couldn't quite squeeze enough momentum out of his seventh gear ratio. Vettel meanwhile was allowed by the team to activate KERS again, and used it defensively as best he could.
"We had it come back for the last few laps," said Horner. "There were some laps that we turned it off and regenerated the system. It was intermittent. There was a huge amount going on, because obviously as soon as you change the KERS, it affects the brake balance.
"Lewis seemed very strong in the last sector. And once you're in that DRS zone, it's worth almost four-tenths free lap time. Seb just couldn't quite break him at the end there. It's very difficult because you're almost racing yourself, because you know if you abuse the tyre, you might run out towards the end of the race. You've got to have tremendous mental poise to deal with that, especially when you're running in the lead of a Grand Prix. He coped with that tremendously well."
On some laps - including a couple of crucial ones near the end when his tyres were potentially a concern - Vettel earned himself a DRS activation off backmarkers, which gave him welcome respite. In the end he did just enough to stay ahead.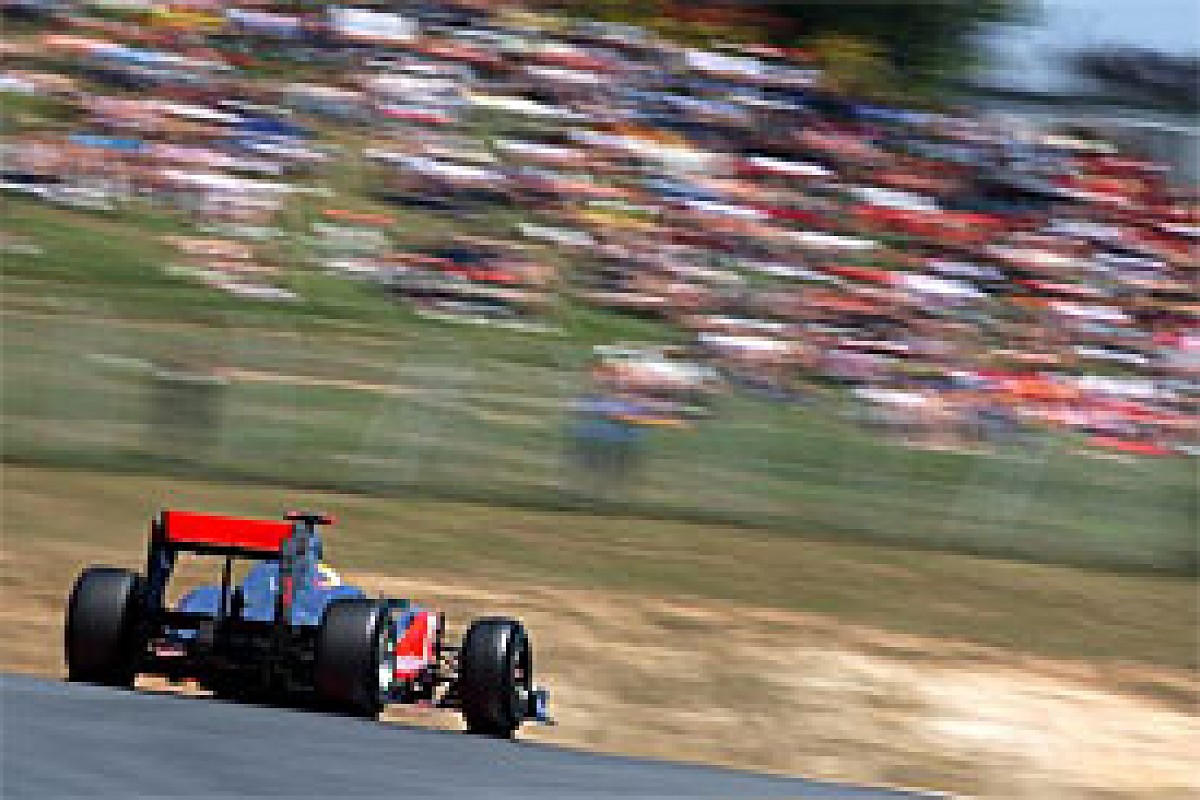 Vettel had to work hard for his win this time © LAT
"At the end of the race we've seen that it's possible to attack if you're on slightly fresher rubber," said Whitmarsh. "I think Sebastian did a great job. I think we'd have liked the race to be slightly longer! Sebastian was assisted by having backmarkers, so he could defend with DRS, which was a shame...
"Early on when he first caught up, he had a real go. There were a number of defensive moves on the straight, I thought, by Sebastian, and I think we've suffered from that sort of thing. With these tyres if you spend time behind someone else, unfortunately they start to go off, and it's get very difficult. Lewis could catch him easily, if he'd got past he would have been able to pull away."
Could Hamilton have paced himself a bit more conservatively in the final stint, perhaps leaving a bit more in the tyres before catching Vettel with a late surge?
"He could have done. One, it's not Lewis, and two, if you've got the tyres and you feel you can get there, you want to get there and have the maximum opportunity to get by."
Four stops good, three stops better?
The one man who dared to be different among the frontrunners was Jenson Button. Frustrated to be hung out to dry on an unsuccessful three-stopper in Turkey, he tried it again in Spain after his bad start left him in 10th at the end of the first lap.
He ran stints of 14, 16 (his new set) and 18 laps on his soft tyres, and paid little or no heed to what any other frontrunners were doing, with no jumping into the pits to cover the guy ahead or behind. He left himself with a tidy little 18-lap run to the flag on new hard tyres.
"Now it's clear you've got to decide as the race unfolds," said Whitmarsh. "After he came round in P10 at the end of lap one, at that point we felt that a three stop was fairly desirable. He was clearly quicker than lost of the cars in front, he did some great overtakes, he got past them. You can lose so much time.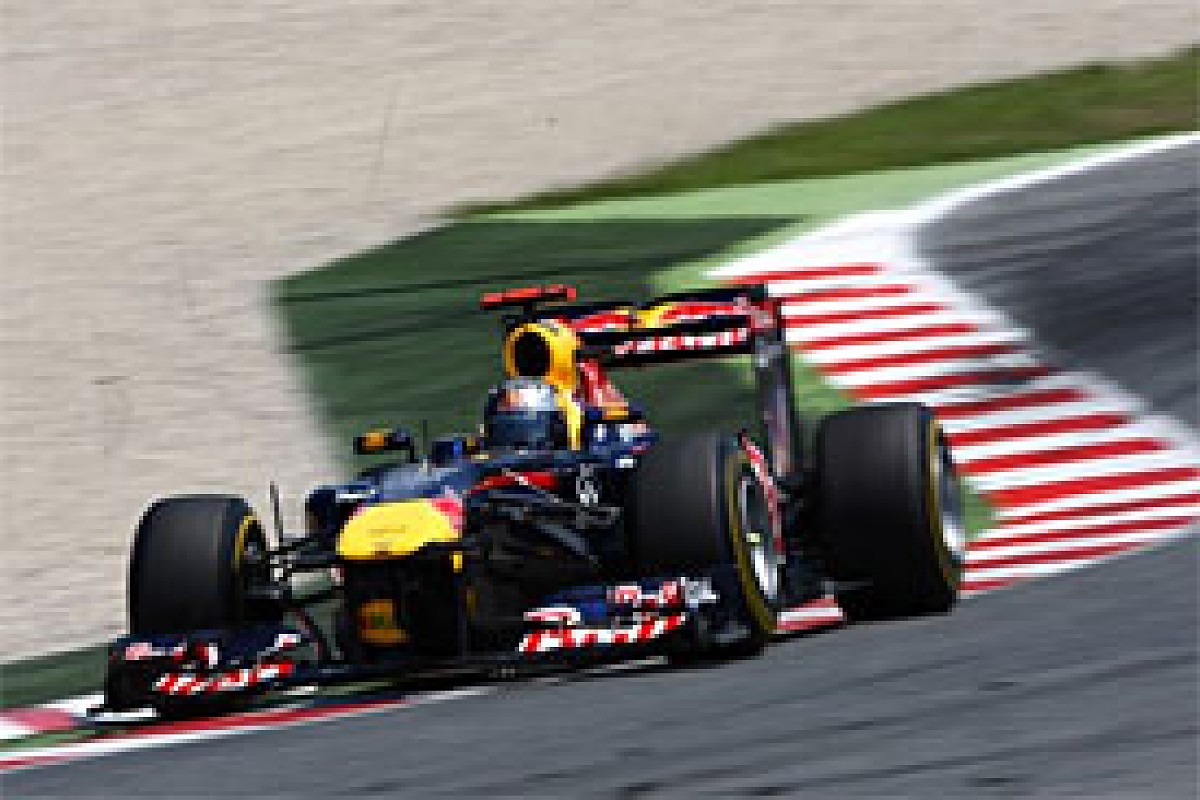 Button opted for three stops © sutton-images.com
"If you look at where Jenson was at the time of the first stops, you're 20 seconds down the road, you're in a no win situation. The strategy was right, the execution of it was right in terms of when we stopped him, the team did a great job and Jenson did a great job of looking after the tyres and making it work."
The bottom line was that Button stayed on soft tyres for 48 laps whereas Webber/Alonso only managed 29, and had to do 37 laps on two sets of hards. That helps explain how Button jumped from 10th on lap one to third at the end...
"That's what we were trying to do for both drivers," said Whitmarsh, "either on a three or four stopper, minimise the amount of time we spent on the prime here. The prime obviously in qualifying was 2s a lap slower, in the race probably at least a second a lap. If you're out there for 10 laps more on the prime than the option, that's 10 laps you've given away to your competitor."
And now we go to the lottery of Monaco - where a 'big picture' strategy like Button's could prove to be just the ticket..