Could the Bahrain Grand Prix be on after all?
It is no secret that the three sides of Formula 1's triangle - the FIA; FOM, the commercial rights holder; and FOTA - are all intent on staging the race, not least for the sake of having 20 races to honour commitments made to sponsors and TV broadcasters, plus, of course, the lucrative income such an event provides.
Let it be said here that there can be no other considerations, for all sides vow they are adopting apolitical attitudes to happenings on the besieged desert island...
In a rare lapse, Bernie Ecclestone allowed that the race's hosting fee amounts to ±$35m (£20m). Of this the parties (commercial rights' holder/ teams collectively stand to share around £16m on a 50/50 basis, with potentially lost television revenues should the race not be run this year, bumping that figure up by an equal amount. So, no small beer in these beleaguered times.
Simultaneously the CRH (and FIA) are keen to provide India's Buddh circuit outside Delhi - scheduled to host its inaugural event on 30 October - with maximum preparation time to prevent the fiasco that was Korea last year. Then there is the question of F1's rookie tests, last year held after the final race of the season in Abu Dhabi - this year complicated by the fact that the finale is due to be held at Interlagos in Sao Paulo, Brazil on 27 November.
The FIA's World Motor Sport Council is due to take a final decision on 3 June during its meeting in Paris, but rumours are mounting that a decision has all but been taken, with Delhi being moved to 4 December to provide maximum preparation time by a potentially vital five weeks - particularly as the region faces its monsoon period in June/July, which could potentially delay final touches to the facility.
That would leave 30 October vacant for Bahrain's event - at a time when the climate in the region is about as friendly as it gets, with Abu Dhabi running as scheduled on 13 November, with the rookie tests run on 15-17 November at the same venue to provide direct comparisons. Then cars, kit and personnel would cross the Atlantic for Brazil's race before proceeding to Delhi.
Thus Bahrain could be accommodated, the Indians would receive maximum preparation time, and the rookie tests could be run at the same venue as last year, while the two-week gap between Bahrain and Abu Dhabi would enable personnel to return to Europe for 10 or so days.
Is it all logistically doable? Absolutely: consider that last year the circus proceeded straight from Sao Paulo for Abu Dhabi for the emirate's race a week later without a hitch, and Delhi is but two flying hours further. Yes, there allegedly exists a mandate from the FIA/CRH prohibiting back-to-backs where one race is a new addition to eliminate potential customs issues, but here all parties could legitimately plead force majeur caused through civil unrest.
Asked to comment, one usually informed paddock said: "That's the best solution I have yet heard to the problem of still holding Bahrain this year."
So, will it happen? That depends on developments in Bahrain over the next fortnight, but the fact is that such a change to the calendar is being discussed.

* * *
June 29, 2008 was a historic date in the development of Formula 1: it was on that day that representatives from all the (then ten) Formula 1 teams travelled to Ferrari's hallowed headquarters in Maranello to meet with Bernie Ecclestone and the F1 tsar's immediate boss, CVC Capital Partner's managing partner Donald McKenzie.
So far so good, but had the parties not met each other before? Yes, absolutely, except that it was on that day that Ferrari president Luca di Montezemolo announced the founding of the Formula One Teams' Association, aka FOTA - whose formation would shape the sport for (at least) the following four years, and likely longer.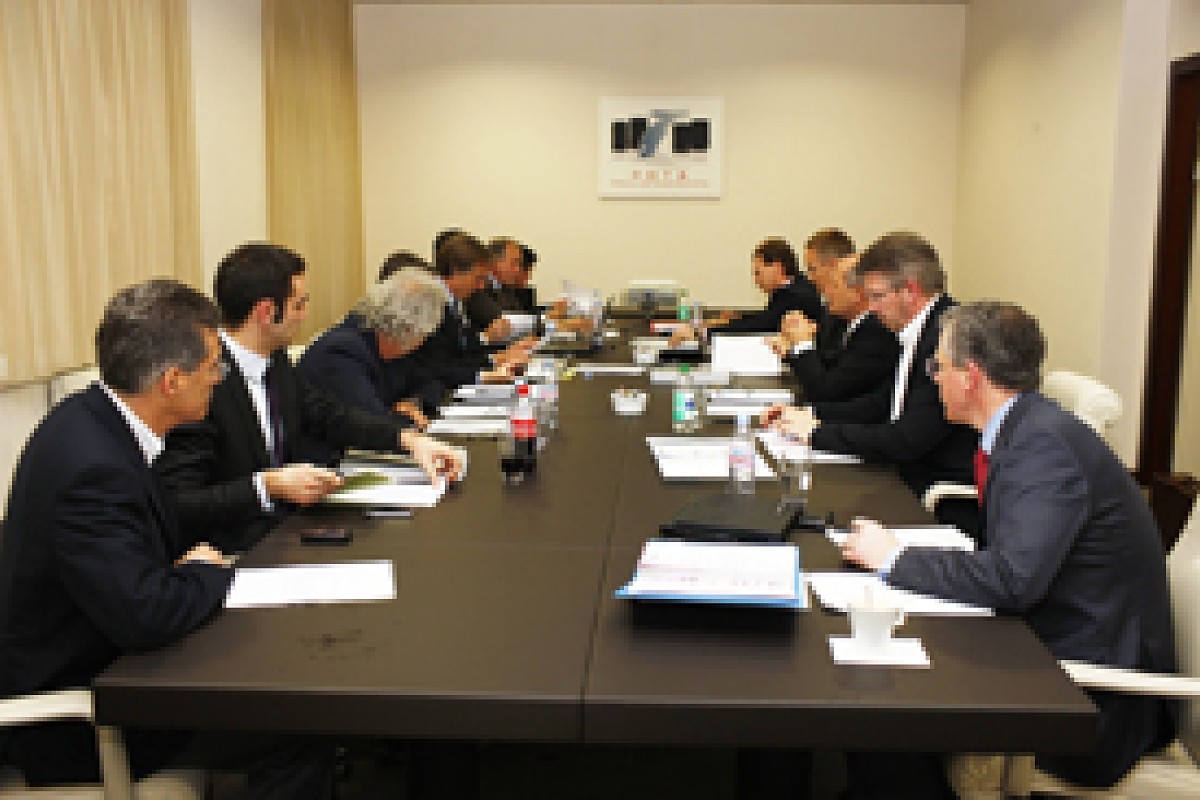 FOTA meeting © LAT
However, 'likely' is the operative word, for questions are increasingly being asked about the long-term viability of the organisation, particularly in view of recent commercial developments such as the widely-mooted acquisition of the lease over F1's commercial rights by a conglomerate made up of media moguls, industrialists, (predominantly Middle Eastern) sovereign wealth funds and show-biz agencies.
Wading into this mix have been the ultimate owners of a cross-section of the teams, intent on getting increased slices of the annual action estimated to be worth in excess of a billion US dollars, and rising by the season.
So, where F1 operations currently share 50% of the pot and likely rising to 75% if/when a new Concorde Agreement comes into play after 2012, the likes of Mercedes (majority owner of the eponymous team); Aabar (the Abu Dhabi fund which owns the balance of the Three-Pointed Star's F1 operation); Red Bull boss Diedrich Mateschitz; Mumtalakat (the Bahraini royal family's piggy bank, 42% shareholder in McLaren Group); Mubadala (another Abu Dhabi fund, this one with close links to Ferrari) and others of similar ilk, seem to be figuring ways and means of grabbing some of the balance.
Formula 1's landscape has changed massively since that end-June day three years ago. Not only has the embattled Max Mosley departed the scene, but Jean Todt, formerly Ferrari sporting (later managing) director, has taken his place. The teams' share of the revenue pot has risen from 23% overall to half, and the Concorde Agreement's Schedule 9 now ensures the teams have a more equitable say in the sport's governance.
However, the most noticeable change has been to FOTA's make-up: to a large degree the 'old guard' has gone, replaced by, predominantly, employees.
Where the membership of FOTA's predecessor FOCA was made up primarily of team owners, FOTA's charter members fathers were, in addition to Montezemolo as Ferrari president and FOTA founder, a mixed bag of corporate executives - installed by the likes of Toyota, BMW, Renault and Honda, a non-motor company employee (Christian Horner at Red Bull Racing) - and entrepreneurial owner-team principals such as Ron Dennis and Frank Williams.
Now, though, FOTA is chaired by a McLaren employee (Martin Whitmarsh), ably supported by Genii Capital/Renault F1 employee (Eric Boullier).
At general meetings the attendance register invariably reflects the presence of Christian Horner (Red Bull, employee), Stefano Domenicalli (Ferrari, employee), Norbert Haug/Ross Brawn (Mercedes, employees both), Adam Parr (Williams, employee), Bob Fernley (Force India, employee), Peter Sauber/Monisha Kalteborn (Sauber, owner/employee), Franz Tost (Toro Rosso, employee), Tony Fernandes (owner) and Graham Lowdon (Virgin - minority shareholder). Spot the difference?
Above all, spot the potential for conflict if the teams' ultimate owners take decisions in vastly different directions to those envisaged by their employees at FOTA level?
Asked to comment whether a meeting of ultimate owners had taken place in Stuttgart a week ago, one team boss, whose operation is believed to have been excluded from the meeting, said: "Yes, as far as I can ascertain what has been reported by the press about the meeting is correct."
Asked how he felt about the development, his answer was rather more clipped. "We'll see," he said.
Of course it can be argued that FOTA members are in possession of all the facts at ground level to take tactical decisions whereas their paymasters have the luxury of helicopter views to aid them in their strategic planning, but the fact remains that payers call the pipers' tunes, and what they dictate invariably happens in their operations - yet seldom do such captains sing off a single hymn sheet.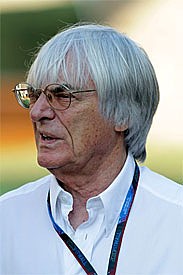 Bernie Ecclestone © LAT
However, imagine how the likes of (in numerical order) Renault, Williams, Force India, Sauber and the three newcomers feel about being dominated not only on-track, but in F1's commercial stakes as well - albeit not through their sporting performances, but by virtue of the ownership structures of their opponents. Seldom have such matters been totally fair in F1; more seldom, though, have they had the potential to be so unfair.
There is, of course, a team conspicuously absent from the lists above: HRT, which departed FOTA under a cloud late last year, having failed to settle the remaining 75% of its €100,000 (£80,000) current membership fee. While the outstanding monies cannot be disputed, the team maintains it departed FOTA due to executive decisions which favoured the bigger outfits - pointing to further fragility in the organisation.
Then there is the question of FOTA's much-vaunted Resource Restriction Agreement, announced amid much fanfare almost two years ago: while the original RRA was adopted by all teams, news has now reached this column that Red Bull Racing has refused to commit to its successor, which outlines and regulates spending cuts through to 2017. Yet another fracture in the making?
The 2013 regulations also have the potential to split FOTA, for its members are divided down the middle on almost every aspect, be it the four-cylinder, turbocharged 'green' engines, the low profile tyres, ground effects chassis or even the basis issues such as aerodynamics.
Once again it is a matter of haves versus have-nots, with (unconfirmed) news now reaching these pages that Cosworth has internally taken the decision to cease development of a new engine on cost grounds. Where does that leave certain FOTA's members?
In the past FOTA's raison d'etre (and strength) lay in unity in the face of an authoritarian FIA and a CRH well versed in the ways of the sport - often acting in unison. Now, under Mr. Todt, the governing body has adopted a conciliatory approach while seldom aligning itself with the CRH. By the same token the CRH, majority owned by CVC, is finding itself under increasing pressure from all sides.
Thus FOTA's external 'enemy' has all but vanished. In its place, though, have come enemies within of the body's own making. These are arguably more difficult to eradicate, for they have the potential to split the very unity that was totally integral to its being until a year (or so) ago. Has FOTA's time come?