There was a time in Formula 1 when the start of the European season meant we travelled to the rolling beauty of the hills of the Emilia Romagna region in Italy for Imola, or the fun-filled streets of the metropolis that is Barcelona.
Instead, F1's European season in 2011 started in... Asia - with the Turkish Grand Prix getting a slot earlier in the calendar to be the first of the non-flyaway events of the year.

A wet debut for Pirelli's new motorhome © LAT
But even more bizarre than where the race kicked off was the weather. Turkey has normally been one of F1's hottest races, but year a cold front that had blown in from Russia left the thermometers struggling to get out of single figures, and our first running at Istanbul in the wet.
There was at least some familiarity to the weekend though, with the return of the motorhomes for the first time this season.
The star of the show in the paddock was undoubtedly the new Pirelli unit - painted in a wonderful matt black finish with photos of four girls from the Italian company's famous calendar dominating its backdrop. Pirelli in 2011 certainly is racy...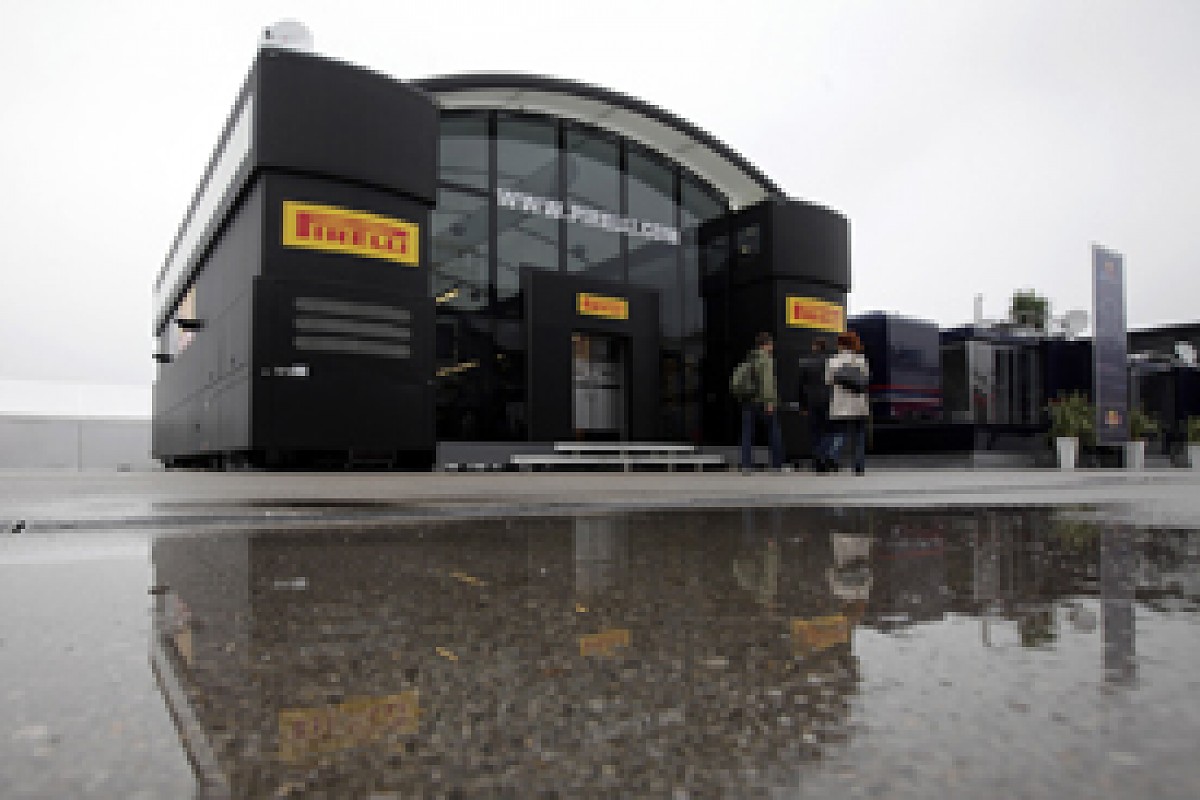 Anyone who watches a lot of Formula 1 cannot have failed to notice Sebastian Vettel's trademark celebrations after his pole position and race wins.
Love them or loathe them, there is that pointing of his index finger and his repeated radio shrieks of 'Now that's what I'm talking about' and 'I'm so proud of you boys...'
So much has his revelry become a part of Vettel's brand that you could have forgiven him for feeling a bit uneasy when FIA race director Charlie Whiting brought up the topic of post-race activities in a drivers' briefing.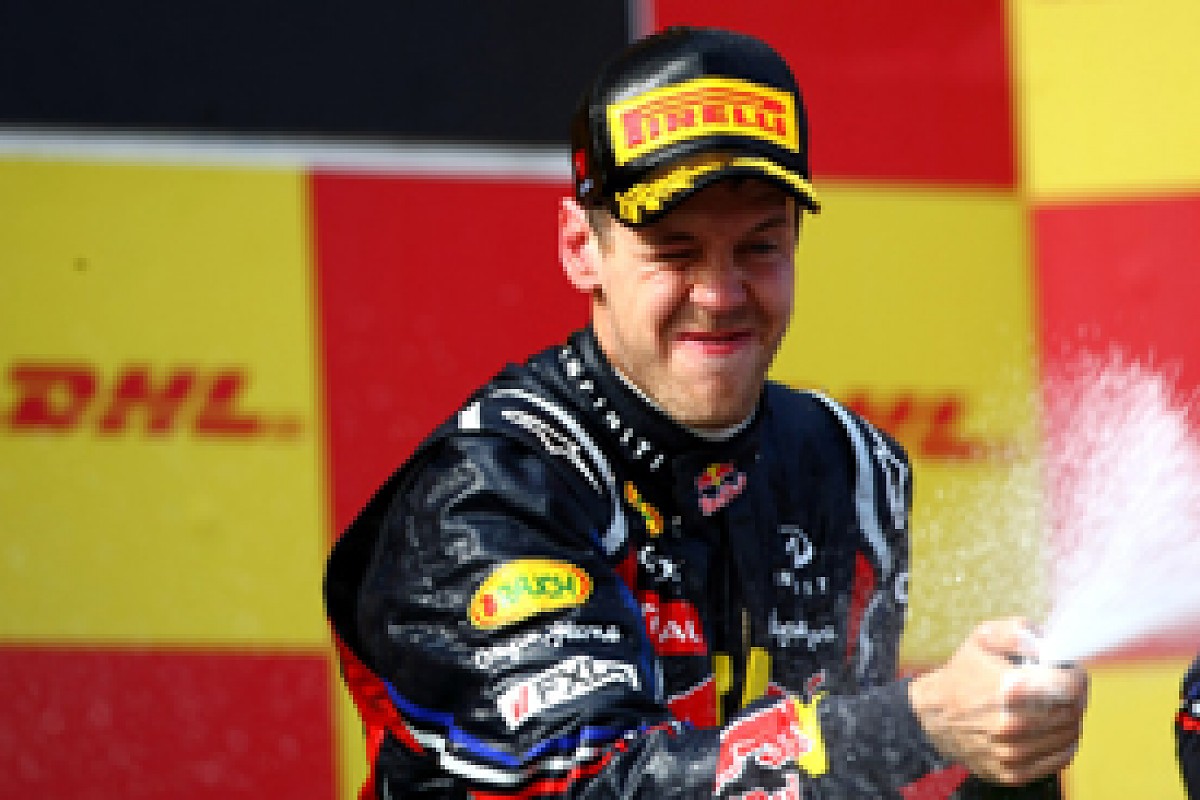 Be careful with the champagne, Sebastian... © LAT
But rather than it being a warning about him thinking up some new kind of post-flag expression, it was about some of the younger drivers not getting too carried away with the champagne on the podium.
Earlier this year, Turkey imposed much stricter controls on the sale and promotion of alcohol - and F1 was not exempt from the regulations.
Teams were banned from advertising such products - so at Sauber, for example, Jose Cuervo Tequila was out and Cholula Hot Sauce was in...
Of more intrigue for the drivers was that the legal age for drinking has been lifted to 24 - which meant in theory Vettel, a year below that, would be breaking the law if he let any podium champagne pass his lips.
His team boss Christian Horner said: "Seb is so young he is not allowed to even drink the champagne on the podium here, because he is underage! It was mentioned in the drivers' briefing..."
However, it looks like Vettel may have forgotten about hit all in the heat of the moment - as he was seen knocking back a quick swig from the unbranded champagne bottle as he savoured another brilliant victory...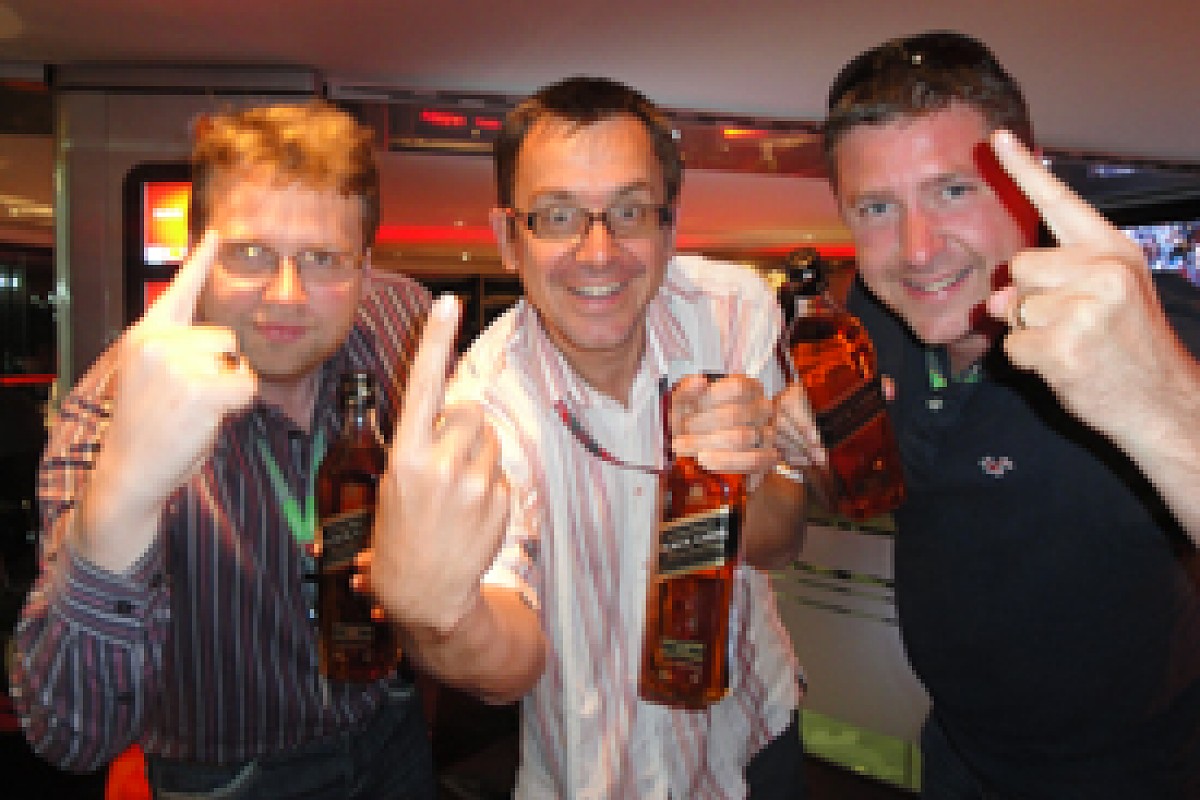 There was no such fear of underage success for celebrations at McLaren on Saturday night when the Woking-based team hosted the British media for its first quiz night of the year.
McLaren has a tradition of testing the brain power of journalists at its event, having famously for years hosted a super challenging quiz at a season-opener at the Stoke House in Melbourne.
In recent years, however, the increasing use of Internet phones and Blackberries had meant that cheating had become a big problem - with various underhand tactics being employed in the hunt for answers off the web.
One individual once famously texted an 'Any Question Answered' phone service all evening to try and earn his team a few more points.
So for 2011, McLaren tried to head off such nefarious actions with the launch of its 'Uncheatable Quiz'.
Instead of straight questions that could be web searched, those present were asked to recognise F1 race circuits from small satellite images of individual corners (it's much harder than you think!), name years when pictures were taken and then try and recognise drivers from a mash-up of the eyes, hair, nose and necks of 12 former McLaren drivers' heads.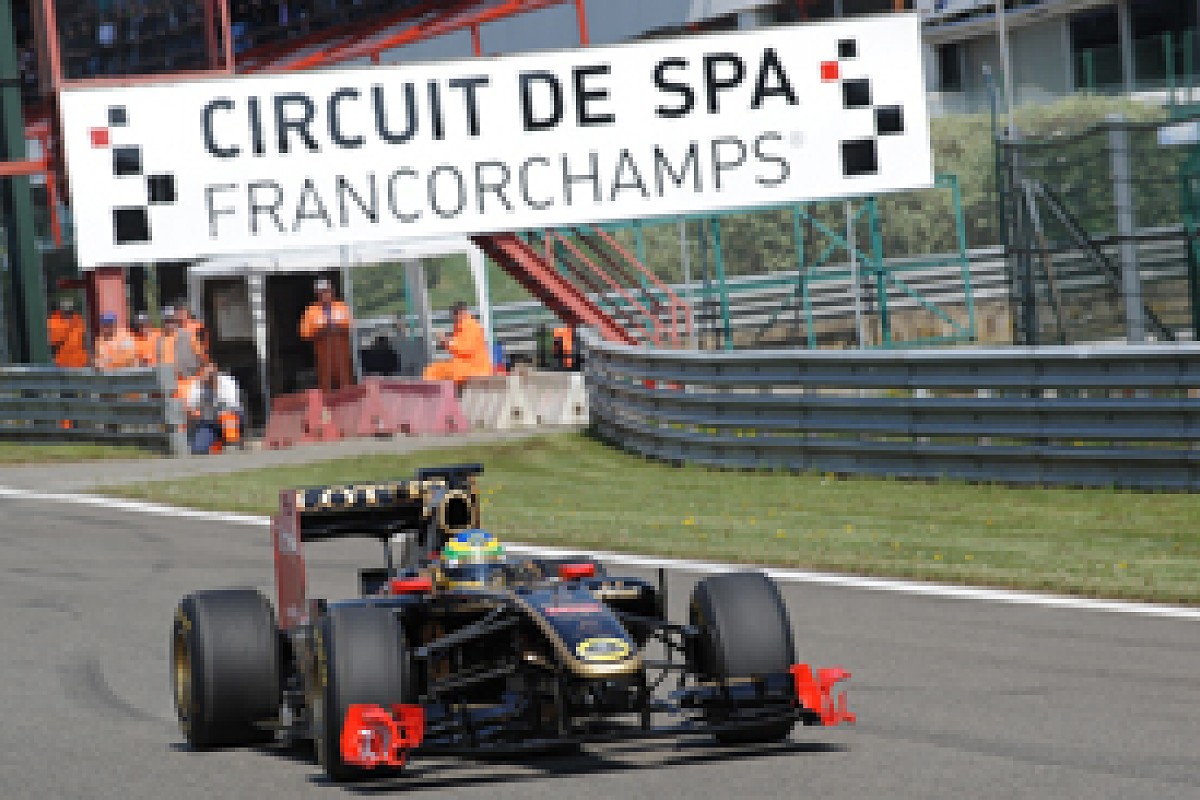 AUTOSPORT's Andrew van de Burgt and Jonathan Noble, and Radio 5 Live's David Croft celebrate their victory in true Vettel style
The tricky nature of the questions put brain cells to maximum use - and the success of the inability to cheat was proven by how low the scores were. In the end the top three teams were separated by just one point - with the winners scoring just 16 points out of the 34 available.
And you will be pleased to know that it was myself, plus AUTOSPORT editor Andrew van de Burgt and BBC Radio 5 commentator David Croft who came out on top to secure glory - and a nice bottle of Johnnie Walker Black Label to boot.
Now that's what I'm talking about!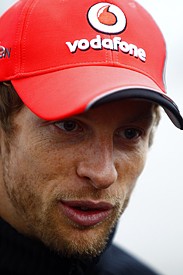 Although Blackberries have proved to be a bit of a problem for the McLaren quiz, down at Renault it is Bruno Senna's private one that has become a bit of a worldwide hit.
F1 chiefs have long talked about the need to make the most of the opportunities available from the Internet, but so far it has been brilliant ideas by individuals that have served best to carry things forward.
And so it was with Senna, who found himself the centre of attention in the Istanbul paddock after putting together a bit of YouTube brilliance.
The Brazilian had taken part in an F1 demonstration run at Spa-Francorchamp the week before the Turkish Grand Prix - where he would run a Renault R30 show car from the new Bus Stop chicane up to Les Combes.
Senna enjoyed himself at Spa
However, the route would run the circuit in the wrong direction too - and he was keen to show the world what Eau Rouge was like being taken from the other side. So how better to do it than with the video camera from his own Blackberry?
Footage from that was posted by Senna on his Twitter account, and it instantly became a huge hit.
"It was awesome," Senna told AUTOSPORT. "I did three runs on each of the two days, and it was on the last run of the second day when I did that video. I had to show people how Eau Rouge was with some donuts and stunts!
"There was no onboard camera there we could attach. We tried to see if it was possible to put the phone on the car properly, but if the phone detached from the car it would be bad, so I just took it in my hand!"
When asked if he was surprised his Spa movie had been such a hit, Senna said: "Yes, totally. If you look at the number of views it has had, it is more than 250,000 in a week!"
Bruno, you just need to convince one of your friends to carry your Blackberry in a race now.
While Bruno Senna had spent the week before the Turkish Grand Prix enjoying himself - poor Jenson Button had a less stellar time.
Button is super keen on his fitness, and signed up for a 25-mile time trial bike race in Guernsey along with near-neighbour Andy Priaulx.
But if Button thought that competing in the Cycling Inter Insular was going to bring him the kind of success that he enjoyed in F1, he was going to be disappointed.
"I got absolutely annihilated by the local boys, which was rather embarrassing," laughed Button as he recounted his efforts in Istanbul. "62 people took part and I finished 34th! But at least I beat Andy, which is the most important thing.
"There was a 14-year-old and I beat him - although I got beaten by two 40-year-old women. But then again they are cyclists, so that is alright. They put me in my place, showing how good cyclists are compared to triathletes.
"The winner did it in 55 minutes. I did it in one hour, two mins. It was good training but it was emotional. It was the most pain I have been in for an hour."
Monaco, Singapore, Delhi and Abu Dhabi... find out more about Amber Lounge