After Bridgestone exited the sport, Formula 1 desperately needed a replacement tyre supplier prepared to service the sport on its terms.
Depending on to whom one spoke to at the time, there were plenty of candidates, including Michelin (said to have insisted upon tyre rivalry as a precondition of entry), Avon (reminiscent of the turbulent 80s, when F1 tsar Bernie Ecclestone supplied teams with Avon rubber via his own International Race Tyre Services operation) and even a proposal which had Bridgestone's technology and infrastructure acquired by the teams collectively.
In the end Pirelli won through by promising to provide tyres to 'show-spicing' specifications while keeping costs low - around £1.2m per team a year. What really clinched it for the Italian brand, which previously withdrew from F1 in 1991, was its willingness to support F1 through comprehensive trackside signage and hospitality programmes. With the current Concorde Agreement providing for 50/50 revenue splits between teams and commercial rights holder, teams are arguably getting their tyres free.
Still, being sole tyre supplier generally means taking stick when races are lost, and very little, if any, credit when victory smiles. After all, there are 24 cars and each race has but one winner. What better scapegoat than those round black things?
Still, Pirelli committed massively to grand prix racing - over 50,000 F1 tyres across the specification range will be produced this year at its plant in Izmit, situated around half an hour's drive from the Istanbul Park circuit, scene of this weekend's Turkish Grand Prix.
While petrolheads rejoice, the question remains why the company entered F1, particularly in such straitened times? After all, while two Pirellis will physically cross the line on Sunday even before the driver, it is equally indisputable that tyres bearing an elongated "P" will cross the line last.
"Well the first thing is that F1 is the pinnacle of motorsport, it's the biggest motorsport championship in the world. You've probably got NASCAR, which is obviously huge but very specific to the US, but F1 is a global brand. It's also a genuine world championship - a lot of events call themselves world events, but they don't actually go around the world," Paul Hembery, Pirelli's Motorsport Director told this column during an exclusive discussion in the Shanghai paddock.
"For a brand like ourselves which is strong in South America and Europe, the ability to be present and visible, in Asia in particular, which is a huge growing market for us, and in the future USA when we go to Texas, we've got Russia coming - again we've made some very significant investments in Russia - it gives us a perfect platform to be visible globally, every year. And it's also a world championship, it's not every four years like the football or the Olympics, it's an annual event."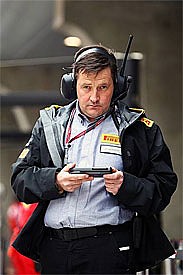 Paul Hembery © sutton-images.com
The company, which is now essentially a tyre company after leaving the cables business and selling its real estate portfolio, considers F1 to be very much a branding event, viewing F1's 20-odd highly visible events as a 'heavy media push'. Thus Pirelli does not view the lack of tyre rivalry as a negative.
"I don't think there's much of an appetite in any motorsport anymore to have competition amongst tyre makers because it's an element they can control. From a tyre manufacturer's point of view in reality the cost of competing in something like F1 is vast, but secondly there's no testing allowed now so how would you actually come into the sport and actually develop product and be competitive?" Hembery, the most senior non-Italian in the company, questions logically.
"The teams don't test, you've got four weeks in February, and we were lucky we had a 2009 Toyota but going forward what would we have? There isn't actually any way for developing and testing your product. Of course you can do a lot of simulation work, you can work maybe simulators like the manufacturers are doing, like the car companies and also the F1 teams, but that's still an unvalidated model for F1 and it's still a number of years away from being able to provide a guaranteed solution so that when you arrive at the track the product is going to be perfect. So I can't see at the moment how you could actually do competition in F1, I think it would be very difficult."
But saliently, Pirelli is not pocketing savings brought about by this non-competitor situation, instead investing in the sport, as it did during its successful spell as sole tyre supplier to the FIA's World Rally Championship.
"We found that with World Rally, for example, it gave us you an opportunity to invest either in the sport or more in your brand, which is really why you're here. With rallying we spent obviously a very significant amount of money on young driver development, and that was very important to us.
"We will try and do similar things here, we're doing GP3, GP2 and F1, we will try and provide some opportunities for younger drivers coming through, but equally we want our business to invest heavily on the activation of F1 in each individual market.
"So we're (also) asking our marketing departments to push our involvement in F1 through to the point of sale to try and stimulate sales of course on one level, but also make sure the message is transferring through the world that we're supplying F1."
In addition, Hembery envisages a similar programme to its WRC driver development scheme, one in which promising youngsters are given a crack at testing an F1 car as part of the tyre development programme. While the various 'i's and 't's need to be dotted and crossed, discussions with GP2 bosses are planned for this weekend in Istanbul.
"I will in Turkey sit down with Bruno Michel and talk about it, but I'm envisaging something like using maybe the Toyota or maybe one of the F1 teams' cars, loaning it and giving a driver an opportunity to test. I'd like to show some drivers how to test tyres. It sounds really ridiculous, but we're looking for test drivers at the moment. Nobody's got testing experience, so I either go with some drivers that really are, with the greatest respect to them, at their retirement point. But young drivers, how can I go testing? They've never tested, they don't know how to test."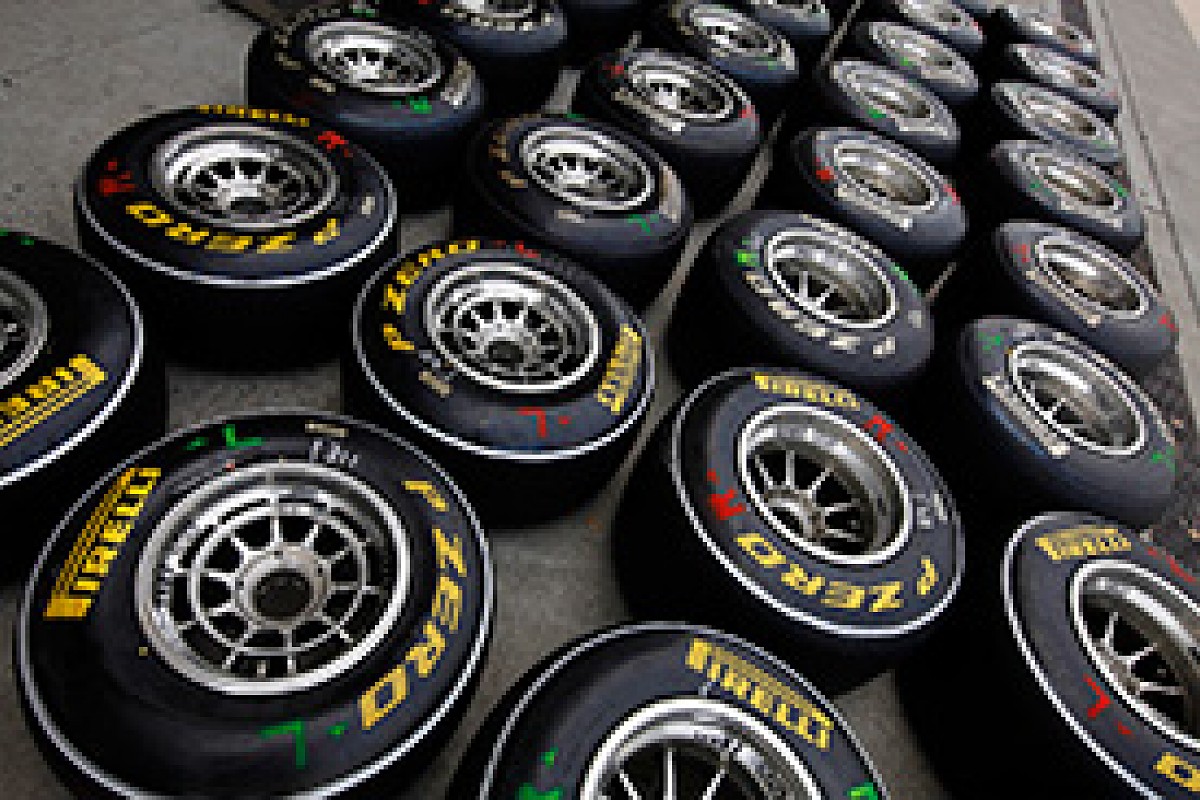 Pirelli has returned to F1 after leaving in 1991 © LAT
In fact, this aspect is one of F1's more remarkable peculiarities: Whether Formula BMW or Renault, followed by GP3/2, young drivers are provided with off-the-shelf kit - whether chassis, engines aero stuff or tyres - all of which hamper development potential. Once in F1, test days are severely restricted, yet their first task very often is to develop ultra-sophisticated bespoke racing cars during Friday practice!
"Yes, it's an area that needs addressing," agrees Hembery, who openly admits to steering Pirelli into F1 after first experiencing the category and its paddock/people via its suck-and-see relationship with GP3. How would the envisaged programme work?
"Maybe the winners...my idea was that I take them, and we'll pay for that, take a group of different specification tyres, take along one of the experienced testers, and say to them 'right, test these tyres and tell me what you think,' explains the man who came to work in motorsport on the back of a massive passion for rallying.
"When they've gone through, we'll tell them what they should have thought, what they should have been looking for, maybe show them big differences and see if they can pick them out and see what the sensitivity's like. It's just a small little bit what we'll do with that, but going forward I really don't understand how we can develop the drivers into F1 drivers."
"Obviously there are people with exceptional talents and people like Lewis have managed to just do GP2, F1 and fly. But he's one-off, he's one of the most exceptional drivers. None of the teams run, in the season all the cars go in a garage and don't come out again. Ferrari possibly do a little bit with Corse Clienti, but all the others... the cars are there, the actual physical machine is available."
Although Pirelli considers F1 to be a branding exercise, surely there exist equally compelling technological benefits to be derived? Here the company is developing exciting products, many with intelligent and/or interactive properties. How, then, does Pirelli's F1 campaign impact on the man in the street?
"Well, a lot of our works basically starts with simulation, finite element analysis, and that is work we do on all products, be they F1 or top-end car products, all of our products. And of course F1 teams have a lot of data, a lot of analysis, and they allow us to develop simulation tools which impact back on our top-end road car business, because it's stimulating the understanding of how the tyre is working in extreme environments on a car. OK, the car is completely different, but the way you make your models work, the way you analyse the data certainly has an impact," explained Hembery before agreeing there exists no direct pass-over between F1 and road cars.
"There isn't, but there are conceptual pass-overs, so you'll find, particularly in 2012 when we will be developing the product quite substantially, we will be using materials that will most definitely see the light of day on road car tyres at the top end in the next year or two. Might be slightly different strengths, but the concepts will definitely have come from F1."
Talking of 2012 - what of the next year, when swingeing changes are introduced in order the make F1 'greener' and more road car relevant? Has Pirelli already begun developing low profile tyres? Hembery's answer, although perfectly logical, will come as a major disappointment to fans of low line rubber.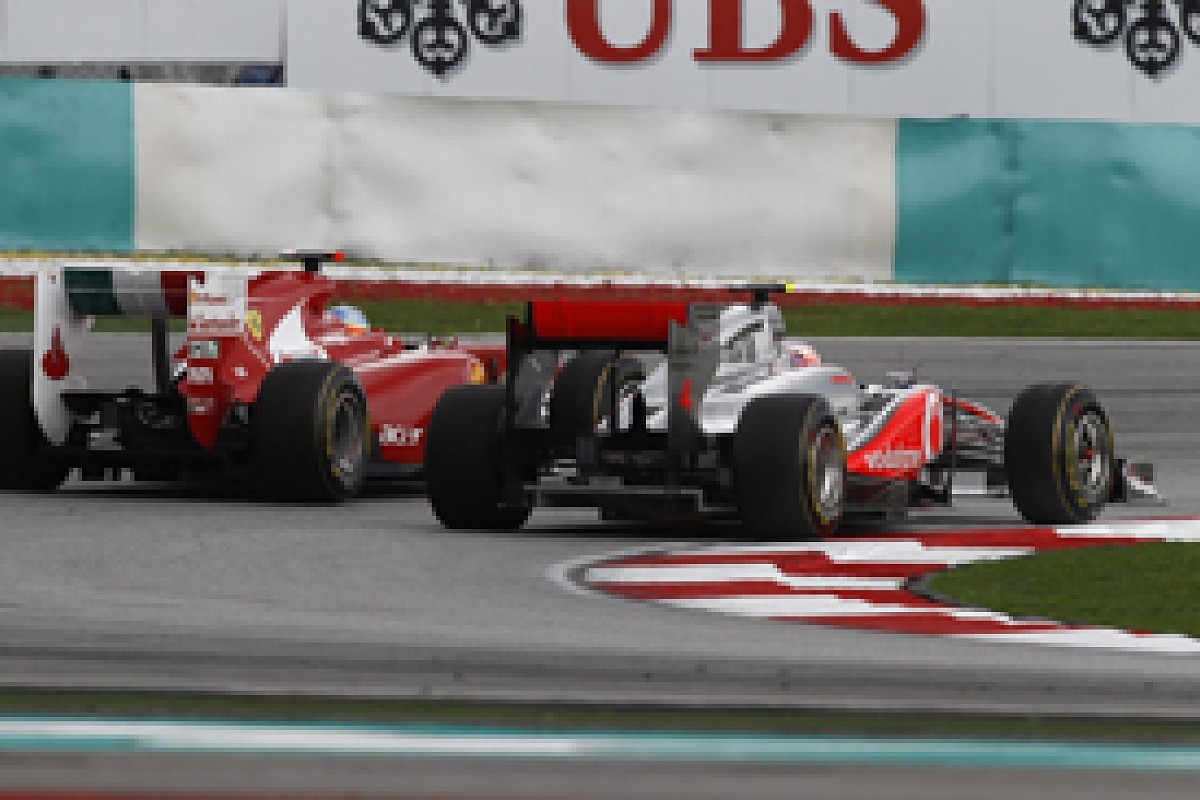 Tyres have been hailed a success in improving the show in F1 this year © LAT © LAT
"The future is up for discussion at the moment," he says. "I have to be honest, I mean the talk of going 15, 16, 17 inches is from one point of view attractive because it brings you closer to current road car dimensions, but I'll come back to the testing: if we're going to go 18 inches, 16 inches, it means that I need a test car that's got suspension. Who's going to build me a test car in advance? Because I'm not going to turn up for winter testing in February of 2013 never having done extensive (advance) testing..."
Fair point, but still Hembery is not finished: "Imagine if we start going over kerbs and we find that with an 18 inch with small sidewalls, we start having integrity problems. I think it would be reckless for the sport to do that, and certainly from our point of view it would be reckless. And because I'm struggling at the moment to get a current car to test with, I can't believe anyone is going to build me a car in advance, or if they do it's going to cost me I don't know how many tens of millions to make them do it."
Hembery is not convinced that the appetite for low profiles exists in the F1 paddock, either.
"We've discussed it," he says, "but I don't believe there's any appetite whatsoever to change. If for me it meant the cars were going to just evolve, it's a potential... but we need to change the cars so substantially to go to 18 inch, the suspension geometry, and that's the big thing. If it was just a case of the current car we're changing, that'd be fine, because we can take the current car, go testing and we'd be fine. But we can't do that."
However, fascinating news could be on the technical horizon, particularly with regard to 'intelligent' tyres and puncture resistance.
On the former Hembery will say only: "It may be that we ask McLaren (for example) to provide us with channels on the black box that give us information, then we can show people what's happening to the tyre. It might not be linking to the car's electronics, but it would give us feedback so we can show people what happens to a F1 tyre when it's going around the circuit in terms of pressure distribution, the footprint, the temperature build-up, and show you what we could actually feed into, if we wanted to, an electronics system on a car."
Could this be broadcast for the benefit of fans sat in their living rooms? "Ultimately that might be the type of thing that could happen. Because at the end of the day our job is to put rubber on the ground, a footprint, you know, so if we can show people the difference between you staying on the road and going off the road is that. Because the other thing is people say to me, well, F1, there's no competition - we say 'yes', but you've got to look after your tyres. And that's something that seems to always get forgotten."
Despite Pirelli having contested only three grands prix to date since making its return , Hembery has seen "a few tyres come in with a few screws and nuts and bolts on", and so is investigating the feasibility of introducing self-sealing tyres to the sport. The company had patented new 'puncture fix' technology which makes its road car debut shortly.
"(There) was mousse we had inside originally, then we went to reinforced sidewalls, but now (we) have another technology that we patented. It's a self-sealing technology, it's a special material. Self-sealing's been around a long time, but we have a very special material that we use."
Save for confirming that it operates from "inside the tyre" Hembery refuses to divulge further details, saying only: "You'll have to wait and see how it works..." before adding "It's those things I think are all equally as important as maybe going for just the 'green' issues, which are in our business, we deal with it, we treat it, but I don't want people to forget that ultimately we are a product that is stopping you going off the road, and it's a safety product. So that also needs to come out in our message over time and that's what I hope to do."
All of which ties in wonderfully with the Making Roads Safer campaign coordinated by the FIA...