"Oh my god, is it really that long? That's a long time." We're talking a little over a week and 20 years since Mika Hakkinen made his grand prix debut with Lotus, at Phoenix in 1991 and the Finn shakes his head at the reminder. He's genuinely shocked by the thought.
"It doesn't seem that long ago," he says. "The only way you see the time going past, and the time going forward, is when you see your own children.
"You look in the mirror and you think, 'heh, nothing has changed,' and even when you look back to the racing it doesn't feel like that long ago, because I am still involved in it all the time."
He doesn't look that different from the Formula 1 days either, truth be told. The lines in his face may be deeper, and there are traces of age in his expression, but the blonde flick and the adventurous cheeky grin complete with raised eyebrow are still present. So, too, the trademark precision-timed quips.
The black and yellow overalls he's wearing are unfamiliar though. On this day Hakkinen has been participating in the Goodwood Festival of Speed media preview, taking journalists for a spin in a Johnnie Walker-liveried Caparo T1 roadster, which he does in his role as an ambassador for the drinks company's Never Drink and Drive campaign. An experience, one might suggest, that could lead you directly to the bar without passing go...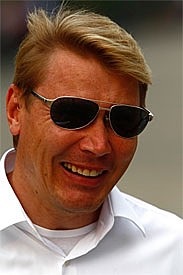 Mika Hakkinen at the 2001 Chinese GP © LAT
Now he's taking questions in the boardroom on the first floor of the Sussex mansion, though his attention has been distracted momentarily by a rorty burst from an Audi Quattro unquestionably breaching 100mph as it rockets past the window. Mika smiles wickedly: "Mega."
Looking back on that first grand prix two decades past, with what was then an underfunded Team Lotus on the downturn, the Finn's performance was standout. The team had just managed to get things together after a takeover in time to bolt in some Judd V8 engines where old Lamborghini V12s had been, upgrade the 102 chassis to a B-specification, and with minimal testing cart the predominantly white and sponsor-less cars off to the US along with Julian Bailey and rookie driver Hakkinen.
The Finn had made the jump straight from Formula 3 as the British champion, just as Ayrton Senna had done seven years prior to that. To hold your own after making such a jump was interpreted as a sign of a great talent. Hakkinen would prove a revelation.
Hakkinen's debut is often remembered for his steering wheel becoming unattached from its column on lap eight. But what was more remarkable was that he had qualified 13th, and after the aforementioned incident, returned to the race to post the 13th fastest lap before finally retiring with an oil fire.
"I was so confident going in," he says. "That helped a lot, but I knew it was very difficult because of the lack of testing we had compared to the other teams.
"We knew we had some technical issues and our car was 50 kilos overweight. It meant we had no chance to perform because it was like two or three tenths for every ten kilos. But I was very positive in my thinking. 'We are here in Phoenix, we have to do the job, we have to use the material we have now and do the best we can do, and let's improve for the next race and the race afterwards.'
"Now it was time to just focus and do the best we could do. There was a lot of incident in that grand prix that you don't forget so easily. But now when I look back I would have done some things differently for sure."
What he would have done differently in that debut, or indeed whether he would have even made it at all at that time, in that place and with that team, Hakkinen prefers to keep inside his head. But it is such decisions, with the benefit of hindsight, that he aims to help other drivers make more efficiently through his involvement in Aces Management alongside his own long-time manager Didier Coton. The company has, among others, Williams tester and rising Finnish driver Valtteri Bottas on its books.
"I am taking part in the management at the moment, because of my own experiences," Hakkinen says. "I did my first grand prix 20 years ago, but I remember it like it was yesterday.
"What was happening, what I was doing, did I do this right, did I do that wrong... I carry this experience in my brain and my heart to use for the management of other drivers who are coming in the future, and who might become top racing drivers.
"I want to take these experiences and tell them, 'Do it like I said, this is definitely the right way to do it.'"
Hakkinen's two-year stint at Lotus was an F1 apprenticeship of sorts before joining McLaren, the team with which he is synonymous in the minds of many, in 1993.
After an initial spell on the bench, watching Michael Andretti's painful adaption to grand prix racing sadly fail, before taking over the American's seat in time for the 1993 Portuguese Grand Prix, Hakkinen's McLaren career evolved into the team's second longest standing service from any driver. It encapsulated two hard-earned world drivers' titles and 20 grand prix victories from 131 races.
But before those statistics, he first faced a fight for his career and his life. Hakkinen's accident during Australian Grand Prix qualifying in November 1995 left him with a fracture to the base of his skull and head injuries related to a sudden deceleration from 120mph, after a tyre deflated and sent his McLaren flying headlong into the barriers at Brewery Bend.
His recuperation through the winter of 1995 and early '96 was miraculous - Hakkinen was testing again by the beginning of February - but it was enormously challenging, both physically and mentally.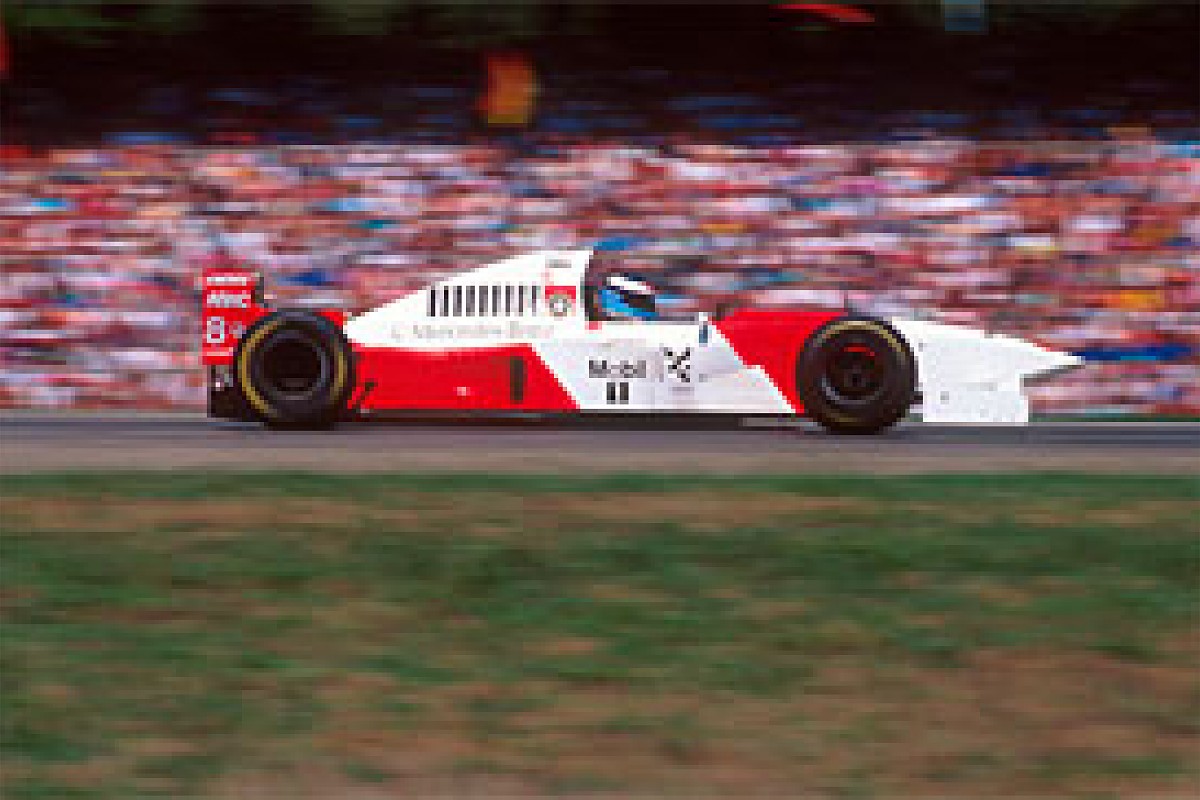 Hakkinen was sidelined in 1995 after his crash © LAT
Though his injuries were different to those suffered by Renault's Robert Kubica this year, his predicament draws parallels with that of the Pole, who is now fighting to recover fitness and and the ability to operate at F1 level.
We begin to discuss Kubica's accident, and Hakkinen shudders. He knows that Robert's challenge will be overcome as much in the head as in the physical healing - which in Kubica's case is more-or-less the entire right side of his body, and most significantly the appalling injuries to his forearm.
"When I had my accident and I had been in hospital doing different tests and operations, it was a really painful time," explains Hakkinen, taking deliberately long pauses between sentences. "In those moments and those weeks you are really thinking, 'This is nuts. This is crazy, I have a beautiful life and why would I want to destroy it.' You just want to get rid of the pain that you are going through.
"There is so much pain that people don't even understand. You can't if you haven't gone through it. It is in your body and in your head. You just don't even want to think about going racing.
"I had great support when I was in the hospital from my parents, from the management, from my girlfriend at the time. I had great support and a great team of doctors who looked after me. And building, step-by-step, my heath automatically came to the point where I really had to start thinking what I was going to do. Should I just stop? Nobody put any pressure on me saying 'do you want to continue? Do you want to stop?' But I knew the day would come when I would have to face these questions.
"I was getting better, the headaches were getting less, I was able to leave the hospital to go for walks and I started to think. I started to look back at my career, my karting, the different categories, getting to F1, signing with McLaren, getting closer to the performance.
"I was just coming to my peak, the technical side, the working with the people, the marketing, the racing flat out with the car in the different configurations, different weather conditions. Then here I am walking in a bloody hospital park feeling like shit. I decided - not in that moment because it was still painful, but a bit later on - I said to myself I cannot give it up. I'm not going to stop now because otherwise I felt like I would have given up. So I decided let's go for it. Then we did it. A few years later we won the world championship..."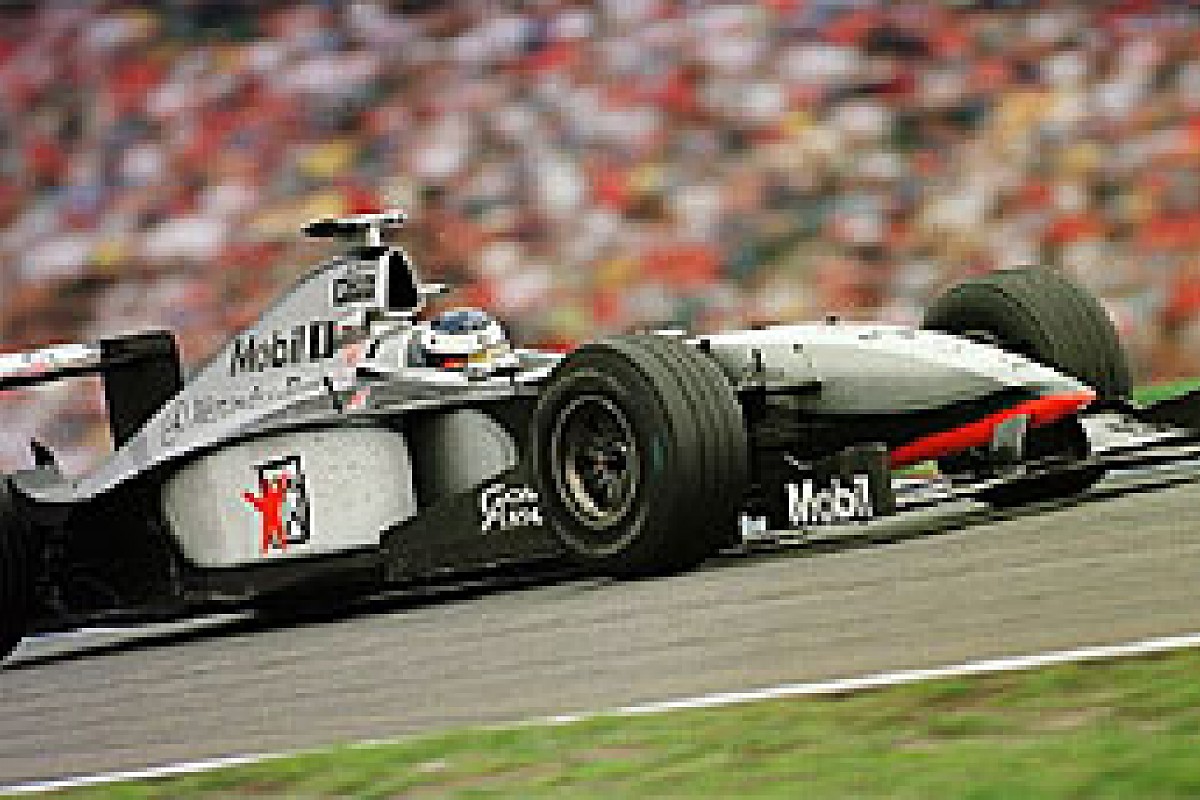 The Finn took his first title in 1998 © LAT
And so he did, in 1998. And then again the following year. In the history of the sport only nine men have achieved consecutive world championship titles. Hakkinen was the seventh, after his own nemesis Michael Schumacher. Sebastian Vettel, at 23 years of age, is bidding to become the tenth.
Hakkinen's second title was a protracted confrontation with Eddie Irvine, and in particular Ferrari. It was earned, finally, in Japan in the final round. But for the Finn - the challenges were multiplied by the increasing demands made on a reigning world champion away from the clinical environment of the garage and the track.
"The amount of marketing work I did after '98 was just horrendous," he recalls, when asked if he thinks this will make Vettel's task harder this year. "That is guaranteed if you win the championship. I think for me it was harder because I had so much work. After '98 there was all the marketing work, all the testing work.
"You are not allowed to test [mid-season] these days, but marketing work is a bit different than it used to be so you burn much more physical and mental power through that."
Intriguingly, Hakkinen reckons Vettel's chances of taking consecutive titles have actually been increased by the nature in which the first was secured. Rarely has a campaign been so closely fought, rarely the outcome so uncertain going into a finale. The power of knowledge unlocked by living through that experience, coming through it on top, is something that the German can use to his advantage this year.
"Of course the world championship gives you confidence," says Hakkinen. "It really gives you confidence. You know you have done it. You've won a title. It's no longer a weight on your shoulders. So now you can focus on the details.
"You don't have to shine the diamond any more, you can just work on the details of how to win. Then it becomes very enjoyable, you start calculating a little bit, it is really good fun. Other guys are suspecting and wondering how, but you know exactly how it works.
"That allows your pressure level, what you can take in terms of pressure, to be much higher than others. Because you understand things that other people have yet to experience.
"Take Vettel for example, it was the last grand prix when he won the world championship. It was the same for me. That last grand prix, it was a moment after I had been fighting all year. In that one day you can lose the whole year, and there is no second chance. There is no 'next' weekend. You lose everything.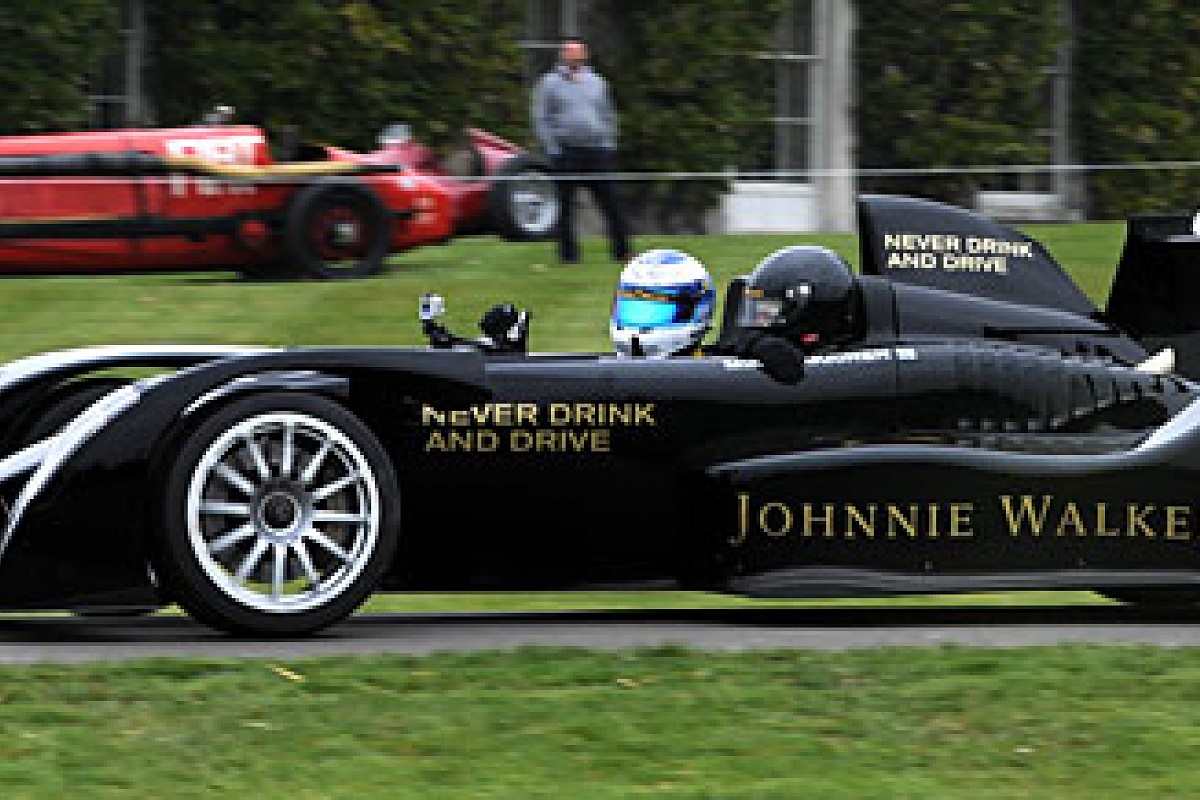 "The pressure is so big you don't know where to go, so you really have to go into yourself. You have to really start talking to yourself, because the bustle around you is amazing in a moment like that. So the level of how you handle the pressure and control your mind becomes so high, so it is an advantage over other drivers who haven't won it."
Hakkinen could have won a third consecutive title in 2000, and there are some who'd argue that his driving level was even higher as a double world champion. Fortune and timing didn't play out that way though, and after another year where things just didn't click, and ten years after beginning his F1 career - ten years ago from now - Hakkinen quit the sport.
He returned to race in the DTM between 2005 and '07 and in that time he won three races, but it was in the November of 2006, that he pricked the attention of the world's media again when he turned up in silver overalls at the post-season Barcelona F1 test, intent on finding out whether he still needed grand prix racing. McLaren provided a car for him, while in another, on the other side of the garage, was the new GP2 Series champion Lewis Hamilton.
The difference between them in time was 2.3s, as the youngster laid the foundations for an outstanding rookie season. But the lap speed was inconsequential - the time could have been found, but something else wasn't there. At the time, a Hakkinen comeback had always seemed unlikely however enticing its prospect, particularly with Michael Schumacher already retired...
Looking back now though, Hakkinen explains his reasons are too complex for one simple response.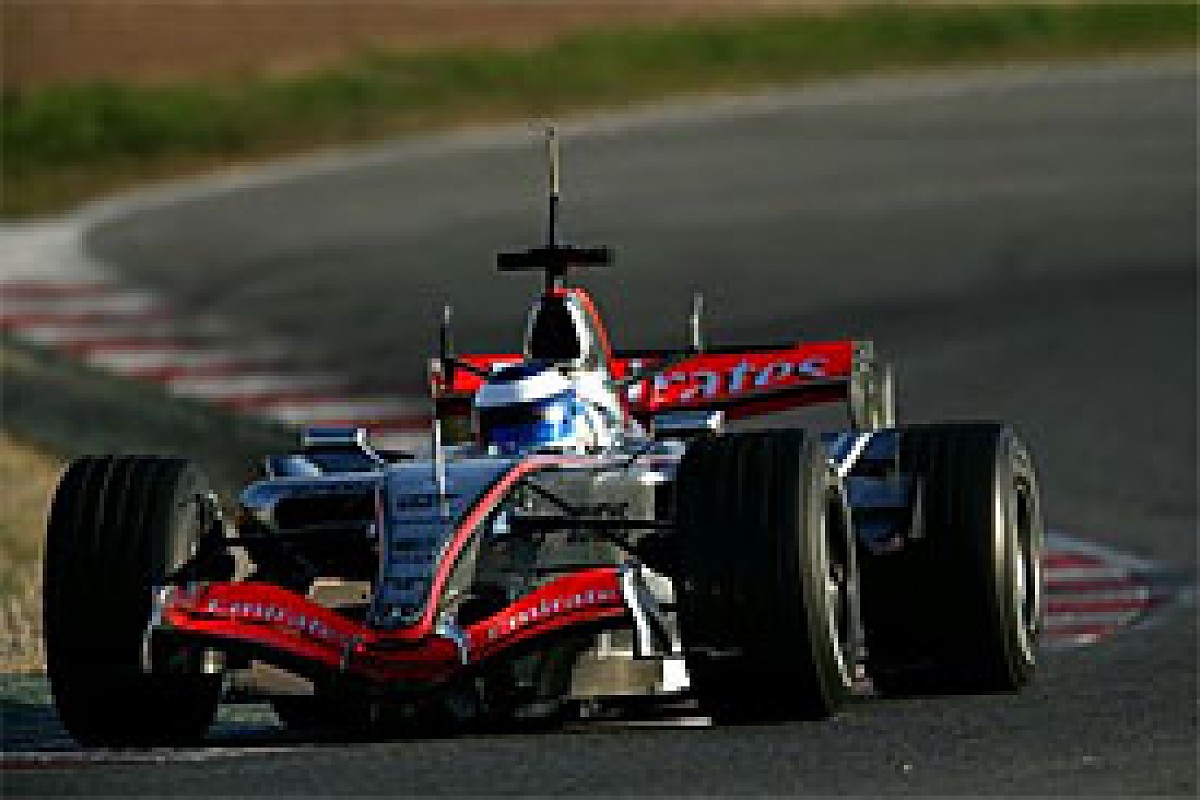 Hakkinen tests a McLaren during 2006 © LAT
"It's never straight, clear, to answer questions like that," he says, pausing for long periods again. "It's very, very complicated to give you an answer, especially for the readers. I need to give you a very good answer because I just don't want to give you 'that's why' or 'it was bad weather' or 'I had a bad day'. That is not a point of view here.
"It's a very, very complicated matter when you make decisions about your future, your life, the commitments of your life... the sacrifices of your life! It changes everything the moment when you push the button to join F1 after you have been retired."
Hakkinen's approach to the test was typically brave. He didn't hide away. With the relationship he had with McLaren, a private run could have been arranged, but instead he opted to drive in a typical open session, in full view of a fascinated paddock, and media.
"There were lots of other teams running at the same time: using different tyre compounds, different fuel levels, different materials, different aerodynamics. So it was a very complicated day to make a comparison of anybody - who was doing what.
"It was a very challenging, because it was not a private test for Mika Hakkinen, going test[ing] somewhere, analysing himself, what he feels like, analysing the team and the car. It wasn't a day like that. It was a day when you come back from many years without racing, jump on to a racetrack where everybody is going flat out, developing their car for the future. So it was difficult.
"There are many, many reasons when you look at the time list in black and white why the performance, speed and lap time, wasn't there. There are - of course - very good technical explanations for those reasons, so there is no point for me to start going into details. And that's not even the point.
"My point of view for testing in Barcelona was; how am I going to feel? What am I going to think about? When I have to park the car at the end of the day, will I feel good? Is my mind positive? And to be honest..." Mika pauses, "when I came out of the car," and again, "I felt," a final time... "'No, thank you.'
"It was not only looking at the times: where did I finish today with my lap? That was not my analysis. It was much deeper within myself, understanding what I'm going into. What is the purpose of this now? If I push the button, it's a big, heavy, tough road to go on. And then it goes to the back of my mind: 'Mika, why did I retire? Oh yeah, it was for all those reasons. Oh my God. Oh my God, shall I do this again?!'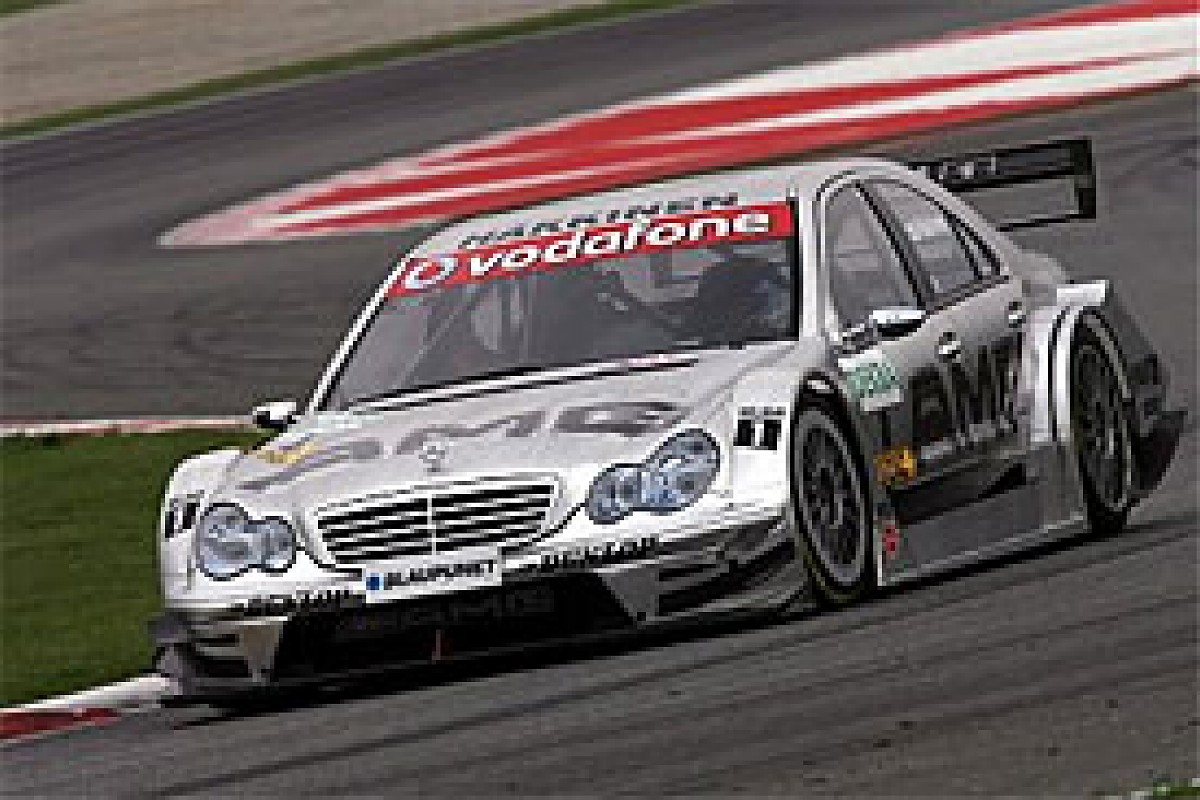 Hakkinen tired the DTM after F1 © LAT
"And time is ticking. You cannot put the time back. You have to continue. And you have to start everything over again from that moment. And from my experience it takes sometimes a long time before you can get all the parameters right with the car, with the team. And the regulations are changing all the time, so everything can be more complicated. And challenges get harder. It never gets easier."
Hakkinen's greatest rival Schumacher is still racing against time, having returned from a three-year hiatus from the sport.
The seven-time world champion has the credentials in spades, and you might argue, if anyone can make a successful return to the sport it should be him. But Schumacher, now driving for Mercedes, has been eclipsed by his younger team-mate Nico Rosberg since re-engaging at the beginning of 2010, and from this perspective Hakkinen's views seem perspicacious.
"This is purely my personal point of feeling, and what I experienced," Mika replies when asked what he thinks of Schumacher's decision to come back. "Michael has probably a different type of... he's thinking competition. That is his life. That is the circle he is living in. I cannot answer your questions about 'why' and 'what do you think, how he felt?' I can guess a lot of things, but I don't think it's fair to me and it's not fair to the readers to give them a wrong, misleading answer, because only Michael knows what he felt.
"But Michael definitely gave his decision very careful thought. He knew 100 per cent what he was going back into - there's no question about it - just like I knew. But I made a different decision.
"And he knows he's in a great team. He's in the Mercedes team. He knows the power that they have, and he took the decision to go for it. Maximum attack."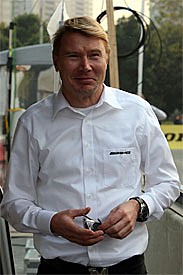 Racing is still in Hakkinen's blood © LAT
But signing off from Formula 1, doesn't necessarily mean turning your back on racing cars, and there is still some of that famous 'maximum attack' left in Hakkinen's reserve.
"I'm definitely focusing on my ambassador work with Johnnie Walker and with Mercedes-Benz, doing work with the logistic company back in Germany. I'm taking part in the management for the drivers. I have three children. I'm... I'm busy at the moment. But all very positive!
"I mean the life is absolutely great. I'm having fun. But driving, of course, is my passion. It's in my heart. It's in my blood. I'm 42 years old, so I never, never know what's going to happen in the future. But every time, whenever I drive a road car, it makes me feel great!
"So I don't think I'm too old yet. I'm not young anymore, for sure - that's definitely guaranteed - but I don't think I'm old yet. So I have still time to fulfil my passion with this driving one day with something."