Sorting out the problems with its KERS has become top priority in Red Bull's development plans after it encountered further issues with the system in China and allowed McLaren right into the hunt.
Mark Webber has been plagued by KERS issues © LAT
The team only introduced KERS for the first time at the final Barcelona test and has been battling to get it working properly ever since, partly because of designer Adrian Newey's desire not to compromise his aerodynamic packaging.

With Sebastian Vettel's inability to resist Lewis Hamilton in the closing stages of China the latest in a growing list of KERS-related problems at Red Bull, Formula 1 editor Edd Straw reveals why the situation is a bigger concern at Milton Keynes than the team is letting on.

Kimi not tempted by the money - Despite a multi-million dollar offer to move into NASCAR Sprint Cup full-time, AUTOSPORT reveals that the former world champion has no plans to make his stock car move permanent.
Chinese GP report - Formula 1's new regulations finally come to the fore as Lewis Hamilton edges out Sebastian Vettel in a thrilling race at Shanghai, while just behind them, Mark Webber rebounds from a disaster in qualifying to get himself onto the podium. We take you through the weekend from start to finish, complete with a full analysis of all the technical updates wheeled out over the weekend, facts and stats, and ratings for all 24 drivers.
Mark Hughes - China produced a stunner of a race in terms of spectacle, but with drivers now spending large parts of their Sunday afternoons looking after their tyres rather than going flat-out all the time, our grand prix editor wonders whether all the overtaking has come at too high a price.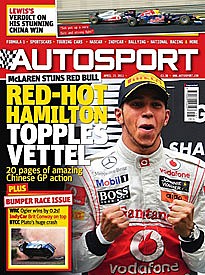 Scandinavian Touring Car Championship preview - With two former British champions in Colin Turkington and James Thompson, a strong field of locals and a diverse range of manufacturers represented, Scandinavia could be tin-top racing's sleeping giant.
WRC Jordan report - Sebastien Ogier pips Jari-Matti Latvala by a scant 0.2s to win the closest rally in WRC history. David Evans was on the scene to provde a comprehensive analysis of how Citroen's other quick Frenchman did it.
IndyCar Long Beach report - Briton Mike Conway takes a dramatic first win on the famed streets of Long Beach.
BTCC Donington Park report - Kevin Turner was on hand as the next generation of BTCC stars claimed the spotlight at Donington, with Andrew Jordan claiming his first non-reversed grid win and James Nash moving into the championship lead.