Every time Red Bull Racing wins a grand prix - almost a formality in recent times - the Austrian anthem is played despite the lifestyle drinks company's team being based in Milton Keynes, England, the team principal being as British as bulldogs and Bulmers; and its chief technical officer having been schooled with Jeremy Clarkson and designed cars solely for British-based teams.
The choice of music is, of course, down to the team's entrant's licence being issued in Austria due to its holding company (and primary pusher, Dietrich Mateschitz) being based in the land-locked country.
Yet, when Scuderia Toro Rosso wins, as the unexpectedly occurred at Monza in 2008 after Sebastian Vettel so dominated that weekend's proceedings, Il Canto degli Italiani preceded Vettel's bubbly shower despite identical team ownership.
How does STR's 56-year-old team boss Franz Tost, born in Trins near Innsbruck, feel about this anomaly, for he would surely have preferred to jiggle to the strains of Land der Berge, Land am Strome as he rejoiced on that wet and blustery day? Yes, Trins lies within 20 kilometres of the Brenner Austria-Italy border post; still...
"We are called Toro Rosso. That's Italian, everything is Italian with us. That means the name is Italian, the team is Italian, and therefore I think it's OK if they play the Italian hymn," the sports science graduate, who took over management of STR in 2006 after a successful period as leader of Willi Weber's Formula 3 team led to spells managing Ralf Schumacher and management of BMW's F1 track operations, explained during an interview in Shanghai.
"I don't care about this. I just want to win; which hymn [is played] is absolutely secondary. For me it doesn't matter..."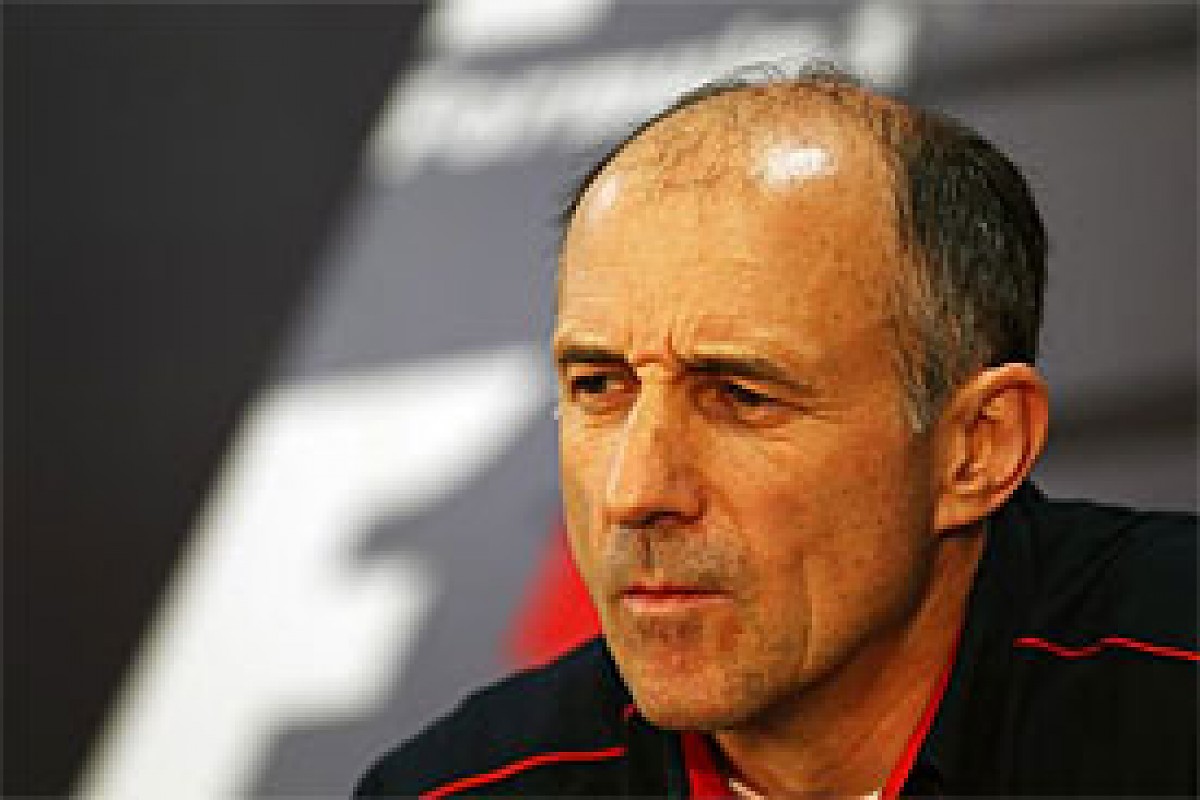 Franz Tost © sutton-images.com
Sadly the question of anthem has not troubled STR since that heady day, although Vettel has heard 'Land of the Mountains' so often he could hum its bars in his deepest slumber. There are numerous reasons for this situation, as Tost explained.
"It was not easy for us when the regulations told us to design and build the own car in-house (for 2010), because we had to build up the infrastructure, which meant we had to bring in designers, we had to bring in the aero department which we did, we bought the wind tunnel in Bicester (UK) and we bought a CFD system."
STR and Super Aguri had previously caused a legal commotion when they turned up in Melbourne for the 2008 season opener with 'customer' cars, the former with chassis design and components produced by Red Bull Technology, an engineering satellite established by RBR CTO Adrian Newey; the latter with used Hondas. Ironically STR then beat RBR to a first win...
Both 'customer' teams were granted two-year exemptions from regulation requiring teams to own their intellectual property. Thus STR ramped up for the 2010 season, with Ben Butler being transferring from RBT to STR as chief designer. Aguri rapidly fell by the wayside.
Is STR still a customer of RB Technology? No, according to Tost.
"The regulations list parts, which says the monocoque, the bodywork, the suspensions, the fuel tank [fuel cell], the IP ... you design everything in-house, you are only allowed to co-operate with another team on the gearbox, and as we have a different [Ferrari] engine, we are running our own gearbox. Therefore currently there's absolutely no relationship on the technical side with RB Technology."
That first season as constructor was hardly kind to STR. Yes, as Minardi the team constructed its own cars in a variety of factory units dotted about the industrial sites of Faenza, situated outside Imola (near Bologna), but when Red Bull, together with former racer Gerhard Berger, made aviation entrepreneur Paul Stoddart an offer he could not refuse at end-2005, technology was bought in from RBT.
Despite having bought-in kit (for the last time), 2009 - when RBR first challenged for both titles before clinching them last year - was somewhat challenging for STR after the test ban hit the team more than most for two reasons: first, emphasis shifted to in-factory development; then, the team's rookie drivers were unable to put in vital mileage.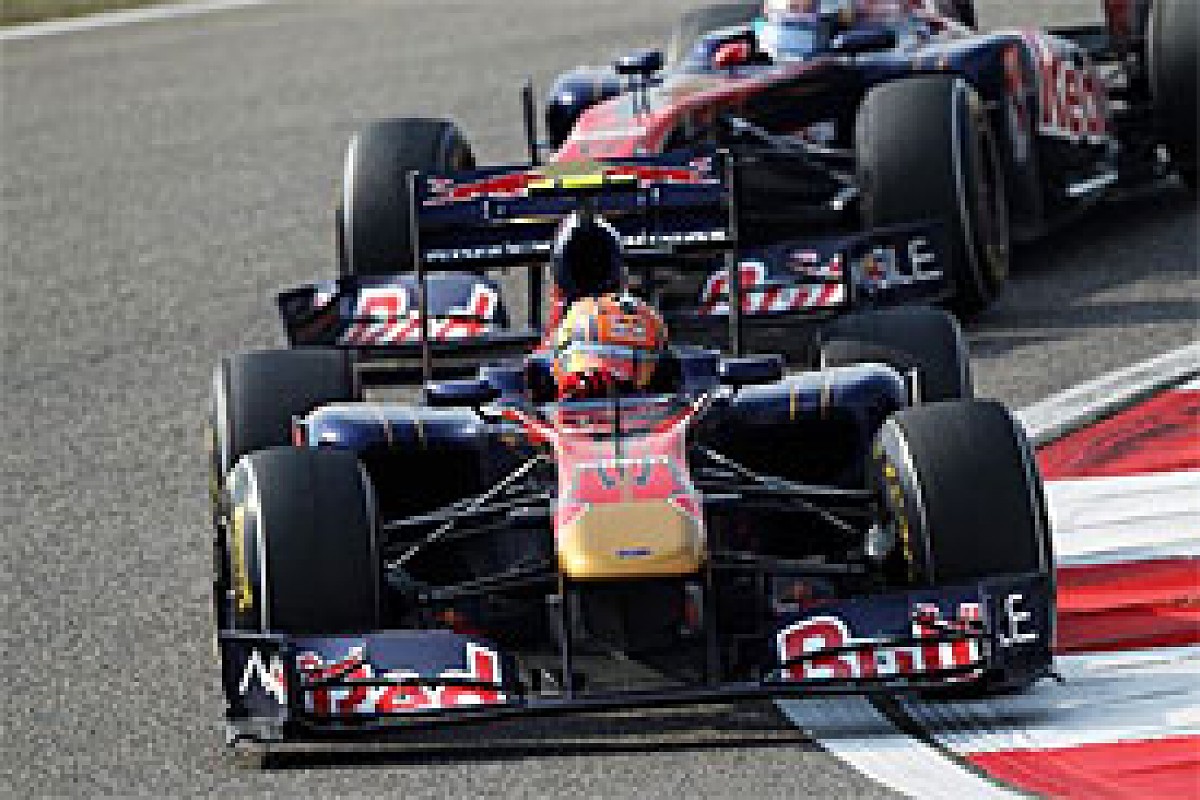 The team has had a promising start to the year © sutton-images.com
In fact, during 2010's first pre-season test Jaime Alguersuari, with eight grand prix starts to his name, admitted it was somewhat novel to be in an F1 car without points being on offer! With no F1 testing at all during his first (half) season, it was no surprise the Spaniard failed to score points, while team-mate Sebastien Buemi took six and the displaced Sebastien Bourdais two to make it eight points in 24 starts for Toro Rosso.
STR's first year as a fully-fledged constructor was little better, certainly on paper: where in 2009 the team finished tenth (and last) in the constructors; last year the team placed ninth (13 points), but still last of the scorers. These cold statistics, though, hide the steep mountain the team climbed in designing and building its own cars as opposed to having plans emailed across from Milton Keynes.
"You know," Tost, who has vowed never to live more than 15 minutes from the team's base ('I do not want to sit in the morning in the car, wasting time in the traffic'), related to this column in his office in the Shanghai paddock, "it's easy to buy a wind tunnel, it's not difficult to buy hardware and software, but it's really not easy to bring in the correct people, people with knowledge, but not only with the knowledge but people who want and can work together. This is a much more beautiful task you have to come up with.
"So far I must say we're making good progress, and also from the production side we increased the number of machines, we increased the number of people, we started to work in two shifts during this winter period and we make good steps forward, but we are far from where I want to be with the team. That means over the next years will cause a lot of work, and we hope to achieve the goal which at the end we have - to be successful."
Indeed, staff levels have almost doubled since those 'buy-in' days, with the total payroll now containing around 260 names, of which about 170 fall within the ambit of the Resource Restriction Agreement, which prescribes how teams split their engineering budgets.
"There are around 50 people for the race team, then there are 165 people for the design of the car, including the production. These are all the people which are responsible directly with the car, and the rest of the people are financial department, logistics, press. The marketing (department) we share with Red Bull," is Tost's summary of the situation.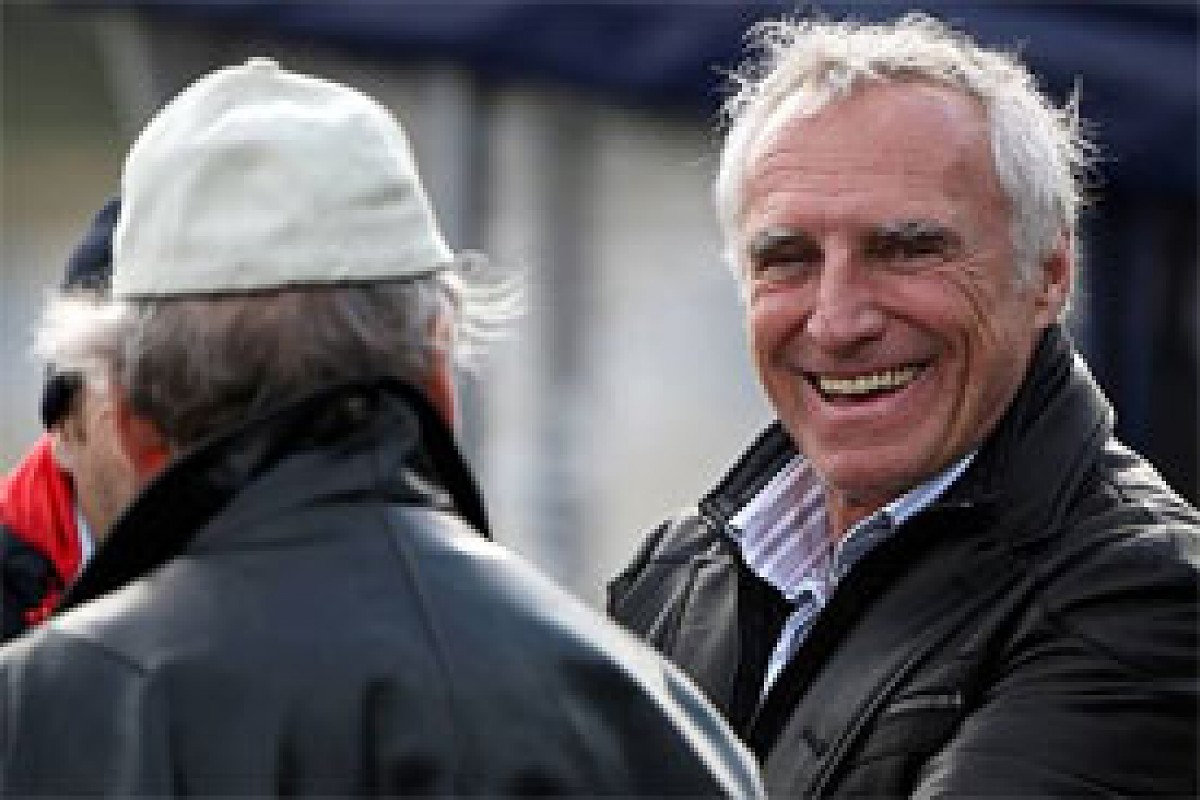 Dietrich Mateschitz © sutton-images.com
Crucially, STR is working well below the RRA's requirements. The glide path initially dropped steeply upon implementation last year, but now has a gentler angle through to 2017.
"We are in the situation where we do not have to cut working positions. We are - whether it's fortune or not, I don't know - in a position where we can bring in people because we are far below the limits of the RRA, as well from the manpower side as from the external expenditures."
This RRA advantage could prove useful in coming years, for STR is seriously ramping up for the future. Where once rumours circulated on a weekly basis that the team was for sale to anybody prepared to guarantee the work force's future for three years, Tost is adamant Mateschitz, who bought out the team from Berger at end-2008, has no intention of selling out, instead investing in the team.
"I'm not tired of answering (the question)," he responds when the inevitable is put to him. "On the one hand it's a good feeling because [if] all the people want something from Toro Rosso, our team must be very interesting to investors.
"My latest information from Mr Mateschitz is that he doesn't want to sell the team as a whole, but doesn't have a problem if an investor comes in, brings some money, buys some shares, but the majority will always stay with Red Bull. This is my information."
Mateschitz has certainly put his money where his mouth is: according to Tost the Austrian billionaire has approved purchase of a factory block in Faenza to boost production space by 400%.
"[Previously] We leased a lot of different working spaces, [but] because we want to have everything under one roof and with this new regulation the cheapest way to fabricate is to do it in-house, we bought a new property.
"We will start with building up the first fabrication hall, it's for composites, in September this year and this first part will take around one year. Then we start with the next building. It's a process over about three years where we want to bring in the infrastructure or the production within our house ['haus' also equates to base)."
Tost maintains they were 'lucky' that the building across the street from the team's headquarters fell vacant and was for sale. Thus the 6,000 square metre (60,000 sq foot) facility was purchased and is presently being revamped. The team currently has 2,000 square meters.
"It's an existing one," he explained, "we don't break down everything, but we renew the halls and we will make more working space out of it. We have our machines in this [current] facility, but we will remove everything within the next two, three years into this new property.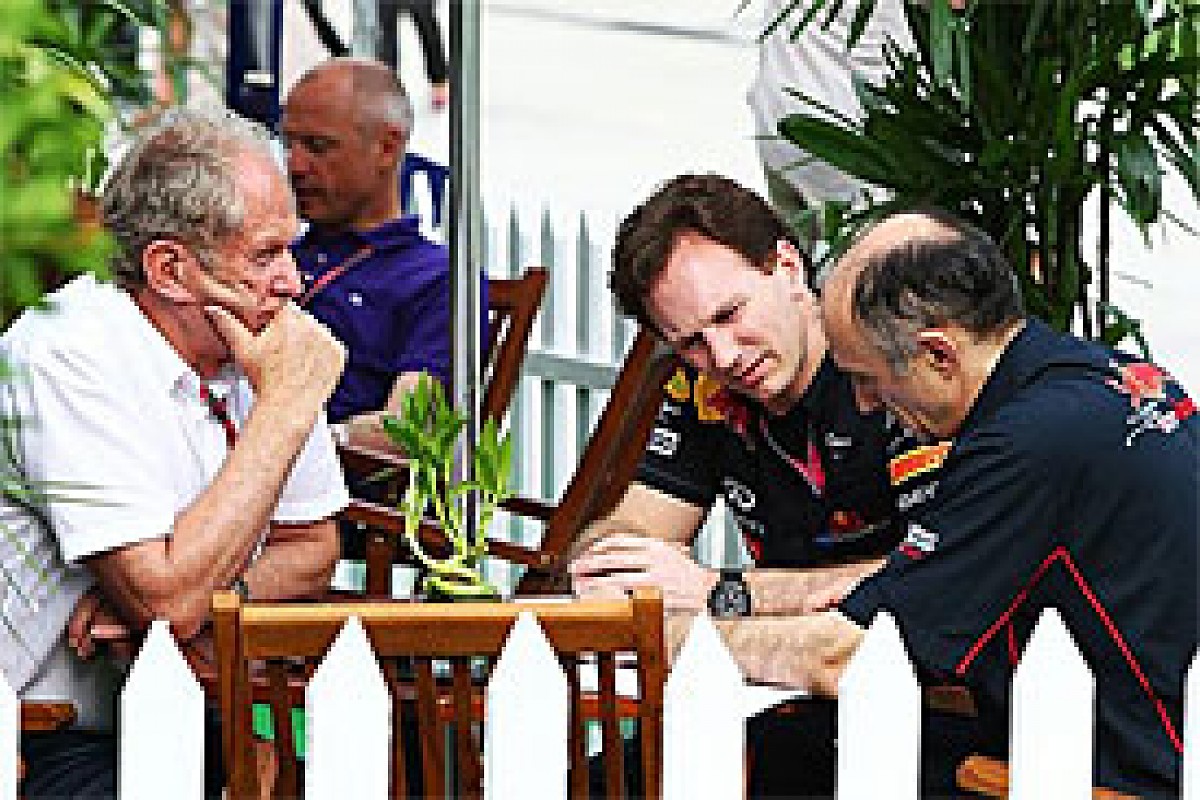 Tost and Christian Horner © sutton-images.com
"We will increase the production capacity within the next years. We are just currently discussing how to optimise our production process. We will bring in more people, maybe we will switch to a three-shift and maybe we'll also bring in some new machines just to increase the number of parts we are fabricating in-house."
On the chassis side STR currently produces around 90% of parts in-house, but mechanically the figure is one-third that.
"At first we want to optimise everything with the bodywork, because there are still some parts we are producing outside. We want to optimise this, and then we look to the mechanical parts fabrication and increase the number there," he allowed.
Although the 2012 car will be the first beneficiary of the increased factory space benefit, Tost believes the real effect will be felt in 2013 - when Formula 1's new regulations come into effect.
He would, of course, have preferred Vettel to remain on, but STR's mission is to nurture young talent: "When Mr. Mateschitz and Red Bull bought Minardi he always talked about a rookie team, and the reason he bought and established this team was to give young drivers the possibility to come into F1.
"As Red Bull fortunately has a number of highly skilled young drivers, they have to get the chance to come into F1, and Toro Rosso is the team doing this. I was always aware about this, and no, I am quite happy and especially as we see with Sebastian that this complete philosophy works and comes to a successful end. Therefore I am really satisfied, we are part of the family and we hopefully do a good job to bring another successful driver to Red Bull."
Could this philosophy also work for technical staff, whereby technicians and engineers are trained at STR before being transferred to RBR (or vice-versa)? Not to the same degree, according to Tost.
"That's a little bit more complicated, because Red Bull is based in England, and we are based in Italy. Our main language is Italian because we are an Italian team and it's not easy to change engineers because there are not so many English engineers who are aware about the Italian language and this communication barrier makes it difficult.
"Nevertheless, for example Ben Butler was originally working at Red Bull Technology where he was responsible for Toro Rosso, and from this relationship he joined us in Italy and is now our chief designer."
Could Butler head back to the UK and onto bigger things within the Red Bull family?
"Currently I hope that he would stay...you know in F1 everything is changing very fast. I think that Toro Rosso would take engineers with open hands from Red Bull because they are very good, and vice versa as well. We are flexible."
Finally, would Tost consider moving to RBR as team boss should Christian Horner depart for whatever reason?
"Hopefully Christian stays there, stays there because I don't think there's a better place [for him]. No, I want to build up this team in Italy. I enjoy this job, because when I came there, there were just 85 employees or something like this. I have so many ideas in my head, and if possible I want to realise them. To bring this team up and to make a successful squad out of it, this is my target to be honest."
It seems Tost is succeeding, too: while the hard pickings after three races this year are meagre - Buemi has scored just four points; Alguersuari zero - the duo claimed three Q3 grid slots, with the other three falling just outside the top ten.
During races both drivers have solidly mixed it in the mid-field - on occasion bumping wheels with the Mercedes of Michael Schumacher - while in Malaysia's first practice session Friday tester Daniel Ricciardo impressed by replacing Alguersuari.
Thus, it seems, STR's role as a 'kindergarten' is set to continue for a while yet - but now further up the grid.