Overtaking boom
In terms of overtaking, the Chinese Grand Prix once again proved to be one of the most prolific on the calendar. Last year, with a wet-dry race, 62 successful passes were recorded. This year there were 63 in a dry one! This means yesterday's race had the highest number of passes since the 1990 Mexican Grand Prix which featured 70.
Mark Webber made no less than 14 passing moves during the race, the highest by one driver since Eddie Irvine recorded 16 in France in 1999. The absolute record was set by Alain Prost, with 22, in the 1984 South African Grand Prix.
As usual, when talking about overtaking, it's worth referring to the overtaking analysis feature we published back in 2007.
Eighteenth and podium
Mark Webber finished on the podium in Shanghai despite starting from eigtheenth on the grid. That in itself is not an absolute record, but reaching the podium from so far down the grid has only been achieved 25 times before in Formula 1 history.
Jarno Trulli fought back from the pitlane to finish third in the 2009 Australian Grand Prix © LAT
The most recent examples are:

• Jarno Trulli, third in the 2009 Australian Grand Prix starting from the pitlane.
• Alexander Wurz, third in the 2007 Canadian Grand Prix, started from the 19th spot.
• Rubens Barrichello took his maiden grand prix victory at Hockenheim in 2000 starting from 18th on the grid.
Race notes
• Lewis Hamilton scored his fifteenth career win in China. Since his last win in Belgium, the Englishman had amassed three second places. It wasn't as easy win for Lewis as he had to pass (on-track) the following drivers to hit the front: Paul di Resta (27th lap), Fernando Alonso (30th), Jenson Button (36th), Nico Rosberg (42nd), Felipe Massa (44th) and Sebastian Vettel (52nd).
• Sebastian Vettel saw his winning streak come to an end, but he still recorded his fifth consecutive podium finish. Red Bull recorded its 30th podium finish.
• Mark Webber recorded his eighth career fastest lap, the same number of Lewis Hamilton
• Jenson Button has now gone a full year without winning a grand prix. The winner of the 2010 Chinese Grand Prix, has since finished in second places on four occasions.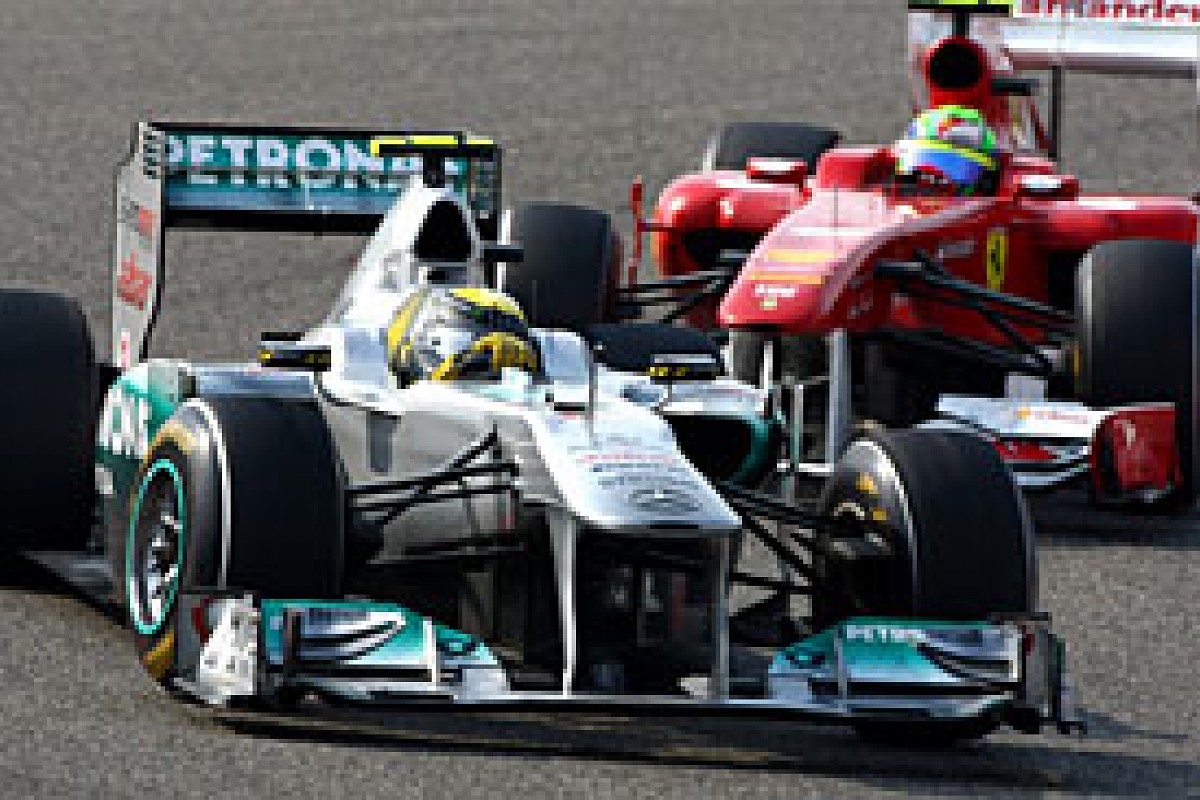 Nico Rosberg led the Chinese Grand Prix for Mercedes © LAT
• Nico Rosberg led a grand prix for the fifth time in his career, last weekend. Currently the German has now led 309km-worth of F1 laps - that's more-or-less a full race distance - without winning a race. This was also the first race he's led since last year's Chinese Grand Prix.
• Fernando Alonso hasn't finished on the podium for four races now. That hasn't happened since 2009, his last year with Renault, when he scored only one podium all season.
• Narain Karthikeyan finished a grand prix for the first time since the 2005 Japanese Grand Prix.
• It's the first time since last year's Belgian Grand Prix that both Virgin cars made it to the chequered flag.
• Williams has now failed to score in the first three races of the year making this its worst start to a season since 1979 when it was also pointless after three rounds.
• There were eight lead changes in the Chinese Grand Prix - that's the fourth highest total in the last ten years. The 2008 Japanese Grand Prix stands out with 10, but as in that race, six different drivers hit the front: Vettel, Rosberg, Button, Hamilton, Massa and Alonso.
• Twenty-three drivers were classified finishers - a new record for Formula 1, improving by one finisher the previous record achieved in last year's Brazilian Grand Prix. There were twenty-four finishers in the 1950 Indianapolis race - always an anomaly in the 'classic' calendar.
Qualifying notes
• Sebastian Vettel recorded his fourth straight pole position - equalling his streak from last year (from Europe to Hungary). The German also started from the front row for the eighth consecutive occasion. He is the first man to do this since Michael Schumacher (France 2002 to Australia 2003). He has now matched Mario Andretti, René Arnoux and Lewis Hamilton at fourteenth position in the all-time list - 18 poles.
• Lewis Hamilton completed a full year starting inside the top 10. The last time he didn't make Q3 was Malaysia, last year.
• Nico Rosberg recorded his best qualifying performance since last year's Chinese Grand Prix, where he qualified in the same spot - fourth.
• Jaime Alguersuari recorded the best qualifying performance of his F1 career, making it into Q3 for the first time in 30 attempts. It's only the eighth time that a Toro Rosso has qualified in the first seven spots on the grid. The team's best qualifying result remains Sebastian Vettel's pole position at Monza three years ago.
• Paul di Resta obtained his best qualifying result - eighth - and made it into Q3 for the first time in his short F1 career.
• Sebastien Buemi recorded his best result since the 2009 Brazilian Grand Prix, when he was sixth in a wet qualifying session. This was his second-best career showing.
• Sergio Perez improved on his best qualifying result and started 12th - he also outqualified Sauber team-mate Kamui Kobayashi for the first time.
• Rubens Barrichello missed out on Q3 for the third straight time this year. The last time he recorded such a streak was in his last year with Honda in 2008, when he was only able to qualify in the top 10 only twice all year.
• Mark Webber missed out on Q3 for the first time in 23. The last time that happened was the 2009 Japanese Grand Prix, when he had an accident in qualifying.