"This is not racing," said Lewis Hamilton back in pre-season testing on discovering how the new Pirellis had to be treated over a race distance, "it's just driving around." With two races and a couple of practice sessions under his belt, he's not any better disposed towards the high-wear rubber than he was then.

Lewis Hamilton is struggling to contain his need to push © sutton-images.com
His technical director Paddy Lowe was making a point that Hamilton will soon need to simply accept, however reluctantly. "Tyre wear is dominating everything," said Lowe. "You have to manage them across both qualifying and race and how you use them in qualifying can have a big effect on your race - as we saw with Lewis in Malaysia. The crucial bit where he lost out in the race was to do with tyre consumption - and that went back to him damaging them in qualifying."
Fresh from having over-used his tyres in Malaysia, Hamilton's frustration with not being able to push to his maximum today as he tried to close the performance gap to Red Bull was again evident.
With Hamilton and Button out on their low-fuel, soft-tyre runs at the same time as Sebastian Vettel's Red Bull, Lewis was driving visibly more aggressively than either of the others His best lap shaded Button's by a tenth and was actually quicker than Vettel's first flyer. So far, so good. But as Button and Vettel then eased into cooling-off laps to prepare for second attempts on the same sets, Hamilton was already radioing in: "These tyres are finished." He didn't mean they were worn out, simply that he had already used up the qualifying-level grip that they give for a short time before a step-change down to race stint level of grip. He pitted as Vettel and Button both showed their rubber had energy enough to put in another fast time after a cooling-off lap.
Vettel improved to 1m37.688s, fastest of the session, around 0.15s better than Hamilton's best. Button was on course to have improved too before encountering Jaime Alguersuari in the final sector.
Hamilton is going to need rein-in his frustration at not being able to express his full talent if his results are not to be compromised by the tyres as they were in Malaysia. But if the fact that tyre wear is not expected to be as high here in Shanghai as it was in Malaysia is good for Hamilton in one sense - it's bad in another: for it also means that Red Bull is potentially in better shape than at Sepang.
If we are looking for a clue to the reading of the weekend at this early stage, a good place to start is the very different gap Red Bull had to McLaren at Malaysia a week ago compared to that at Melbourne. Analysing the reasons why the Red Bull's qualifying margin shrunk from 0.8s at Albert Park to just 0.1s at Sepang suggests that the RB7s might just be about to run away with Shanghai.
It transpired that in Malaysia Red Bull had deliberately engineered-in significant understeer to their cars, such was the extremely high rear tyre wear imposed by the layout and surface of that track. This set up was costing as much as 0.6s of qualifying lap performance and hence the closeness of McLaren. The RB7 does seem inherently a little harder on the delicate rear Pirellis than the McLaren and the harder the track is for tyre life, the more likely it is that the Red Bull's qualifying is compromised relative to McLaren.

With that as context, Pirelli estimates a tyre load reduction of around 30% at Shanghai compared to Sepang. As such, there should be less qualifying lap compromise in the Red Bull's set up this time around. Downforce squares with speed and it's as if the Red Bull's grip advantage increases the faster the corner - but that in turn takes more from its tyres. The high-speed middle sector of Malaysia was doing most of the damage whereas the Shanghai track features mainly medium speed bends - enough for the RB7's aero advantage to be evident but probably not enough to trigger significantly greater tyre wear.
With both Red Bull and McLaren running race stint simulations in the late part of FP2, Sebastian Vettel and Mark Webber were running consistently in the low-mid 1m43s, both on the hard tyre.
As a comparison Jenson Button was running the McLaren on the soft tyres in the low 1m44s. Lewis Hamilton was on the hard tyre at this time and was significantly slower. McLaren therefore might be taking encouragement from signs that Mark Webber's car was continuing to suffer KERS glitches during practice, but there were also suggestions that Button had been suffering with his KERS in practice one.

So Red Bull from McLaren, with a bigger margin than we saw in Sepang. Webber? He was apparently running a very different programme to Vettel, not doing a serious low-fuel/soft-tyre lap. But his race laps looked comparable to Vettel's. He tends to be slightly harder on the tyres than Vettel and this carries much more negative connotations this year. According to those who look at their telemetries within the team, Seb's ability to straighten the car earlier in the corner than Webber is paying back big dividends on tyre wear. Predictably, Webber is no more of a fan of the new rules than Hamilton.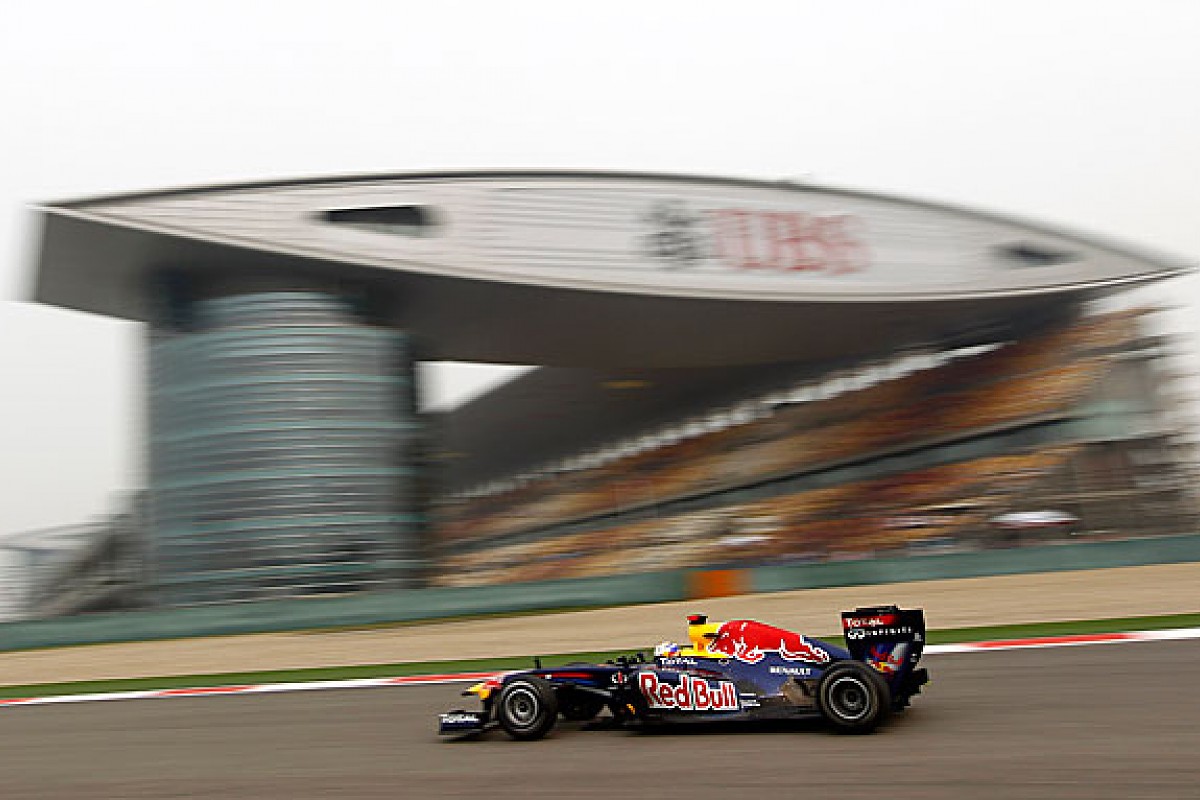 Nico Rosberg made progress with Mercedes © sutton-images.com
It's difficult to see past Red Bull and McLaren, but Mercedes appears to have made genuine progress in taming the airflow reattachment issues of its rear wing. The team's rear wing uses a big main plane and can therefore potentially lose a lot of drag when the DRS is operated, but it's been coming at the expense of taking too long for the proper airflow to re-attach once the DRS is closed. Today it was reported to be working well and on single-lap pace Nico Rosberg was genuinely McLaren-fast, Michael Schumacher just a little way adrift. The indications are that the car is still too hard on its tyres though and as such probably vulnerable to a Renault not quite as fast over a single lap but quicker over a sequence of them.
Ferrari continued with aero testing in FP1, desperately trying to correlate conflicting data from testing and the first two races. Fernando Alonso's FP2 was compromised by hydraulics problems but Felipe Massa's pace suggests the Ferraris are perhaps 0.5s adrift over a qualifying lap.
It's difficult to see through the smog at the track. But it's less difficult to read that the signs are indicating 'Red Bull' even more clearly than they were last time.